2004 AEC Wayfarer Worlds
Thursday's sailing - 1
Paul Robinson photos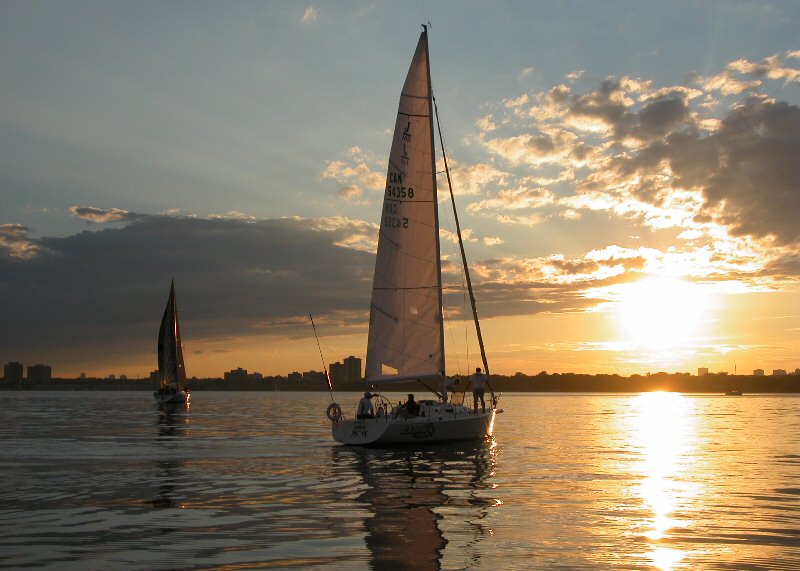 Wednesday night's club race:
...

John Weakley (l) and Frank Koreman on duty
...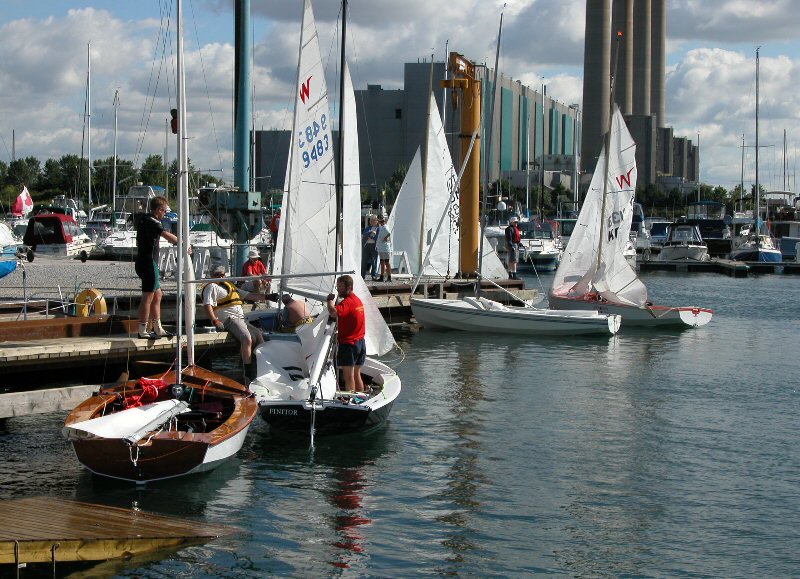 Thursday morning: the Port Credit-based half of the fleet prepares to leave the harbour
in cool, northerly winds gusting to over 20 knots. It feels like fall.
...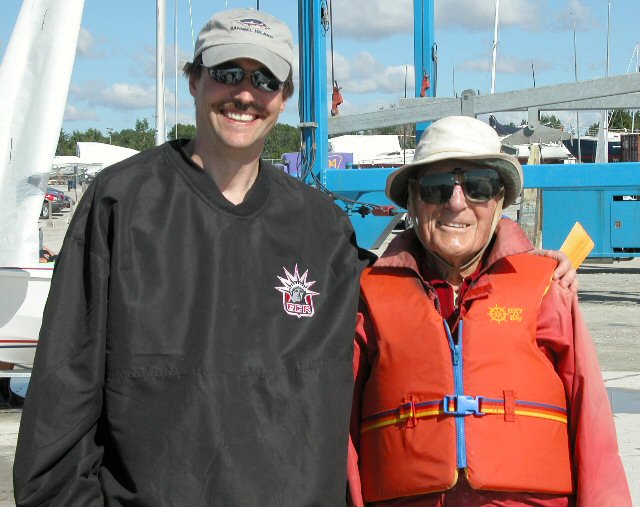 Frank and George, before the latter ...
...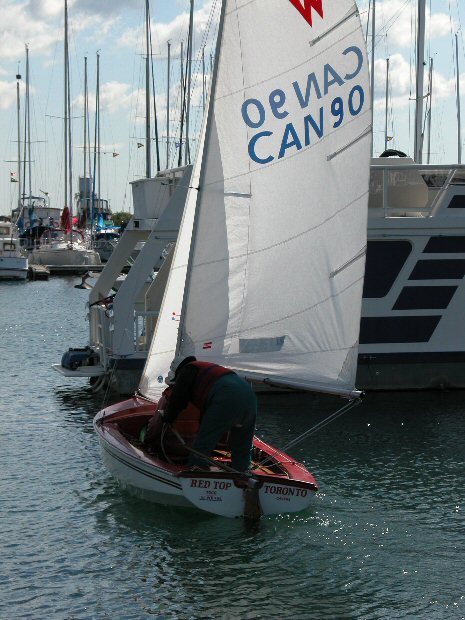 ... heads out for races 4, 5 and 6 today.
...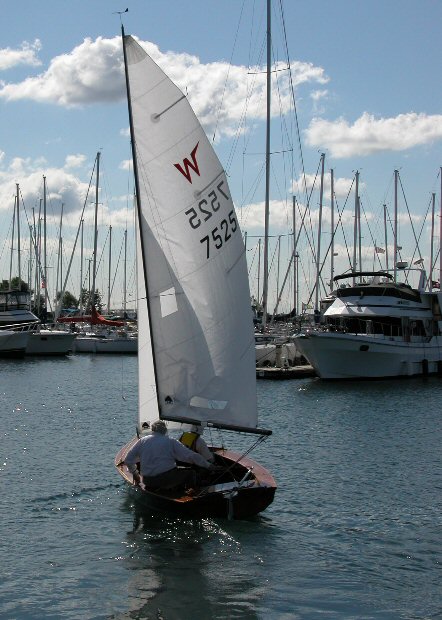 Cold, gusty winds, lots of wave action on the lake - feels just like home to Ed and Winnie from Aberdeen!
...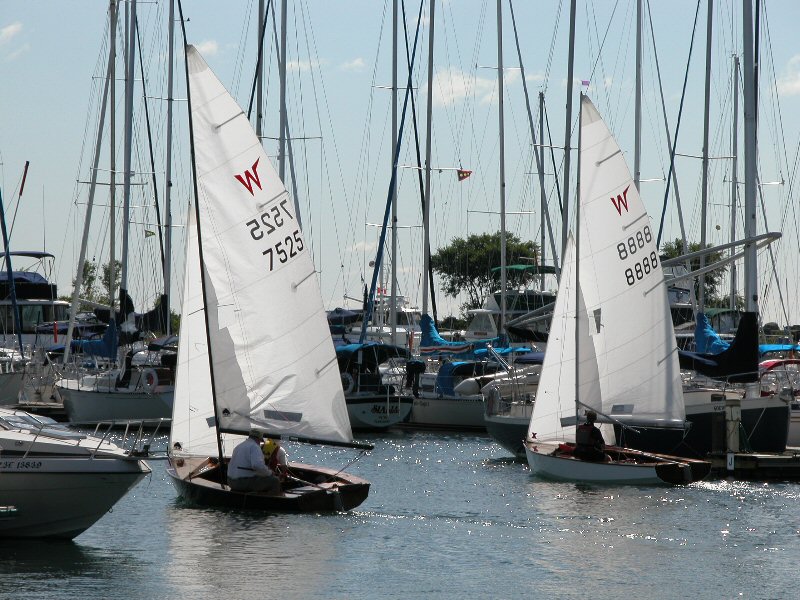 Ed Gillespie and Graham Barker (8888) thread their tricky way out of the harbour.
...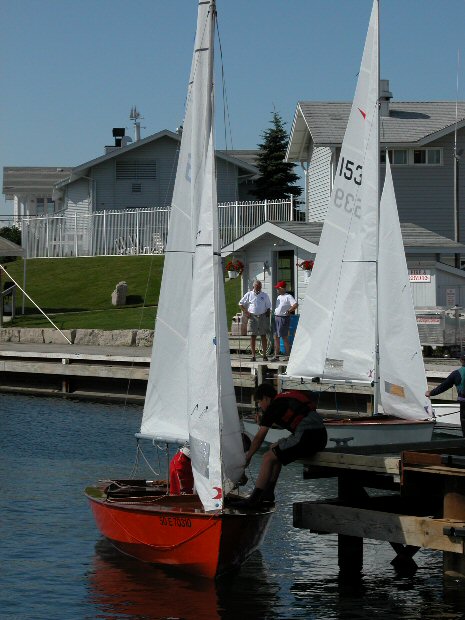 Stephan Nandrup-Bus and Alan Bell (1539) prepare to head out. PCYC pool buildings in the background.
...

The ramp action heats up.
...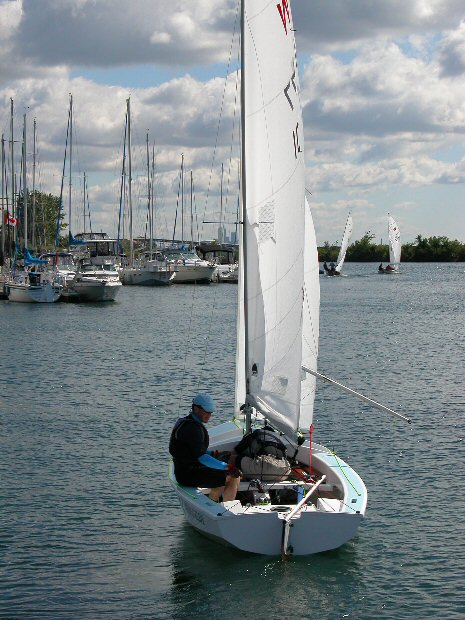 Michael McKechnie and Simon Turner appear to be trawling for something as they head out - or perhaps the spi pole will act as a sensor to tell them when they're getting too close to the million-dollar yachts on either side?
...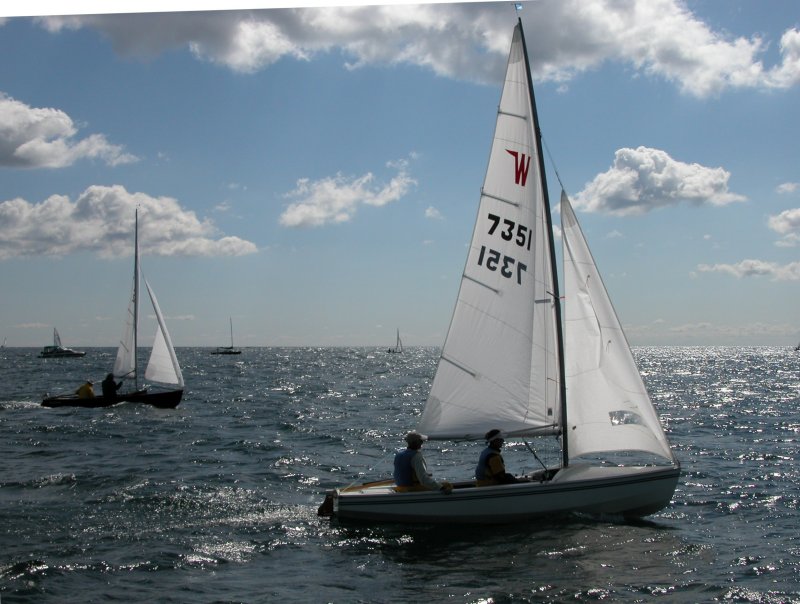 Waiting for the day's first race: John and Dolores de Boer (7351)
...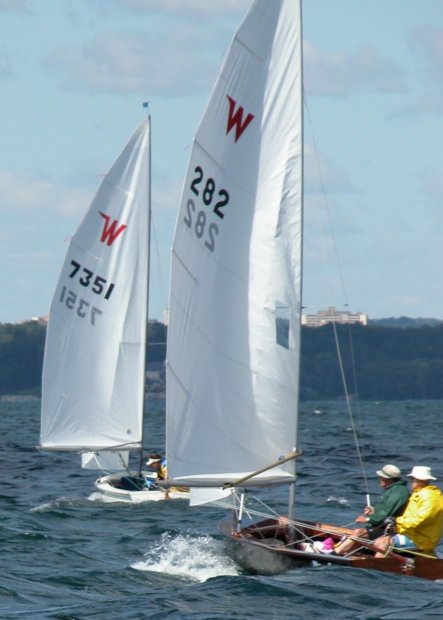 Silverfox (7351) and Banshee check to see how the day's odd wave conditions - two-metre left over rollers from the SE overlaid with the chop from this morning's N wind - will affect downwind sailing.
...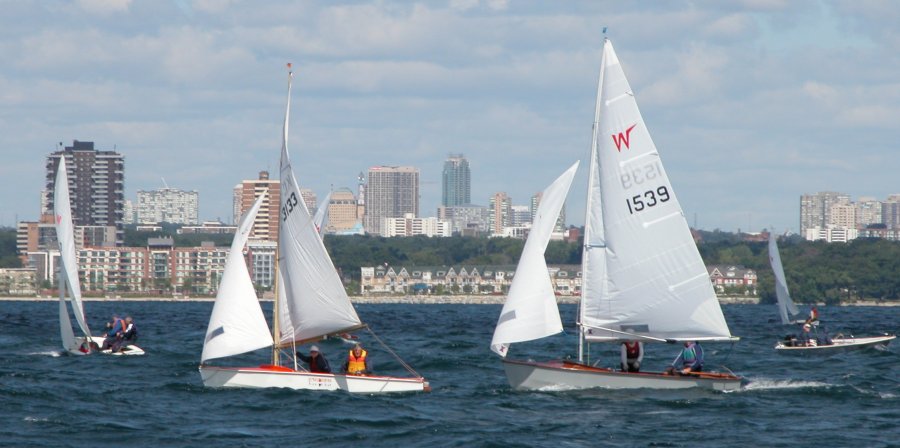 Ditto for Ted Lacelle with Don McLean (3133) and Alan Bell with Gordon Reid (1539)
...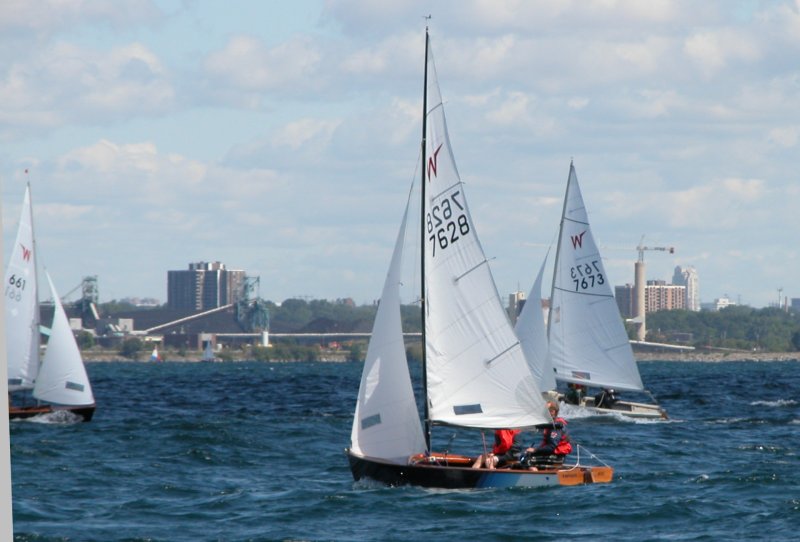 Testing the upwind possibilities are John Hartley with Nick Philp (7628) and Mark and Paul Taylor (7673)
while Jeff and Barry Cox (661) come reaching across on port,
...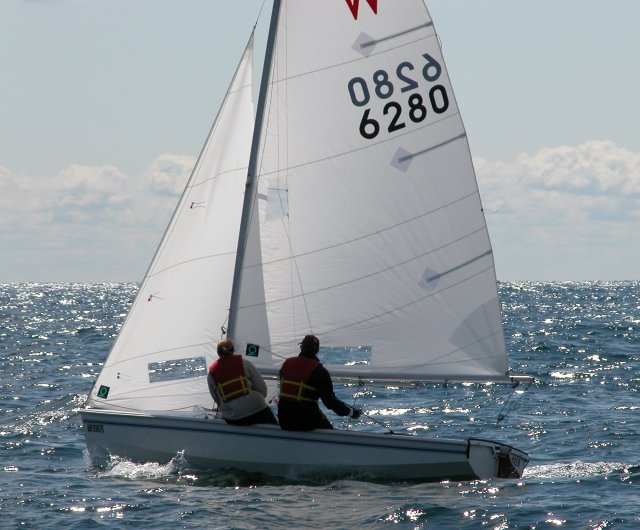 Very nicely trimmed for the upwind going are Doug Honey and Becky Robson.
...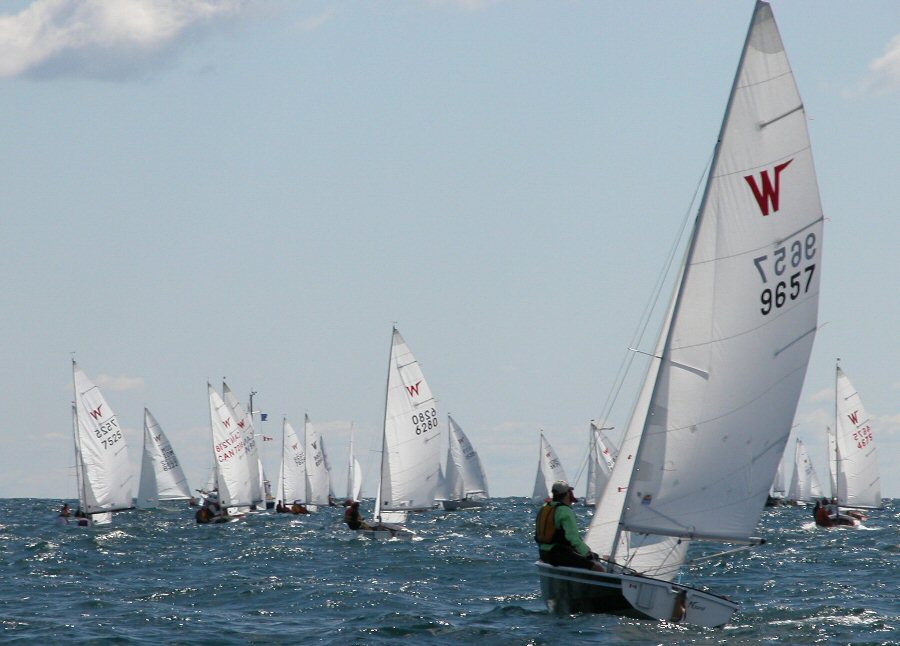 The first (I think!) race of the day coming up. The line has been set and the fleet checks it out.
Andrew Haill and Julie Colbourn nearest the camera.
...

Less than a minute to go (for full-size version, click here)
...


The jockeying begins. (for full-size version, click here)
...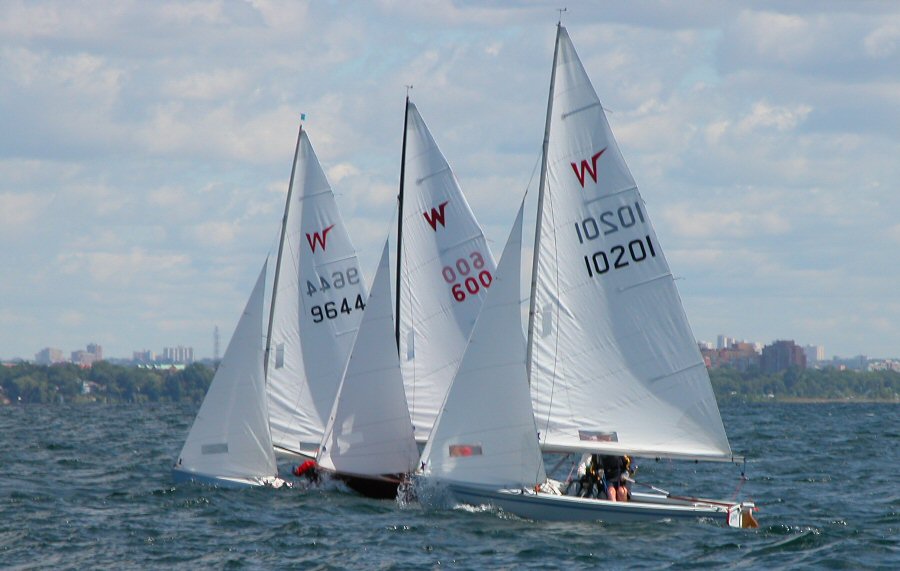 Neil Fletcher (9644), Heider Funck (600) and Brian Lamb (10201) have everything trimmed the way it should be, and ...
...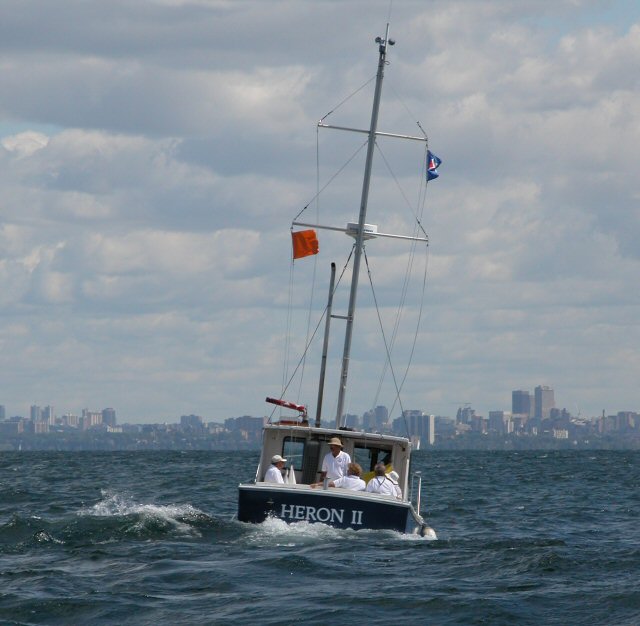 ... aboard our RC boat, Weakley's pith helmet is on at the correct angle, too.