2004 AEC Wayfarer Worlds
the fourth day of racing - 1
photos by Bob Thayer
(note: all of these photos were - in larger size - on the competitors' CD created by Bob)

Bob appears to have passed on Friday's first race, race #7 of the series. And of course, Murphy's Law applied, as that race was the SHADES moment of glory. But I suppose I shouldn't complain. Poor Ian Porter and Kevan Gibb almost never made it into any of the pictures! Don't get me wrong. The photos are great. But a few of Ian in action might have been most illuminating, not to mention that the Scavenger team more than earned star billing.

It was a sunny day with a brisk, cool offshore breeze from the north, and again, a high of only 20C. Beyond that, my own recollections of the day's racing are sketchy at best, so I'll again quote the Mace/Fletcher report on the two Olympic course races sailed on the Friday: Another blustery day, but today was choppy water conditions over moderate swell, rather than the big rollers of Thursday. Race 7 was the first chance of the championships to get some real speed up on the three sail reaches. Mace/Rhodes rounded the windward mark in 6th place but pulled through to second place behind Porter/Gibb at the gybe mark in a tight and delicately balanced F5 reach. Local boats Schönborn/Bennett and the Rahns demonstrated that they too can hack the stronger stuff notching up 3rd and 5th places respectively, their best results of the event.

So, Ian and Kevan were in their element and won going away, clinching yet another World title in a way that left no doubt of their superiority. Toby Mace and Rachael Rhodes notched a 2nd while their main rivals, Fletcher and Harris, faltered (9th, 13th), and moved to the front of the runner-up stakes. For a change, Uncle Al and Marc rounded in the top 10. They sailed sound free legs but made their money playing the shifts on the final two upwind legs, and surprised themselves with a 3rd in conditions where the Brits usually axe them. This was SHADES' best finish of the series, her best placing in fact, since Al and his wife, Julia, won race 2 of the 1980 Worlds at Tawas. Team Barker in Doubloons had their upwind speed back for this one, placing 4th, just ahead of a second Canadian team to hit the top 5: Peter and Alex Rahn for whom this 5th was also their best finish of the series. Søren Jensen continued his fine series with a 6th, while Stewart Reed and Robin Albert had their best placing of a consistent series with a 7th. After 4 sub-par performances in the first 5 races, Mark and Paul Taylor of MSC would end the series in a blaze of glory: four straight single-digit placings. This one was an 8th ahead of the always dangerous Neil Fletcher. Brian Jeffs and Scott Bamford (10th) made it four Canadians in the top ten as they beat out Roger Challis (11th) and Michael McKechnie (12th). Gordon Harris could do no better than a 13th in this one and would now have to play catch-up if he and Emma were to take the series runner-up spot ahead of Waldringfield clubmates, Mace and Fletcher. Our second Danish entry, Stephan and Troels Nandrup-Bus scored a nice 14th in this one, edging out Ted and Wendy Gadd who completed the top 15.

Other race 7 series bests not already mentioned were recorded by:

Geoff Edwards and George Waller (31st)
Ted Lacelle and Don McLean (53rd)
...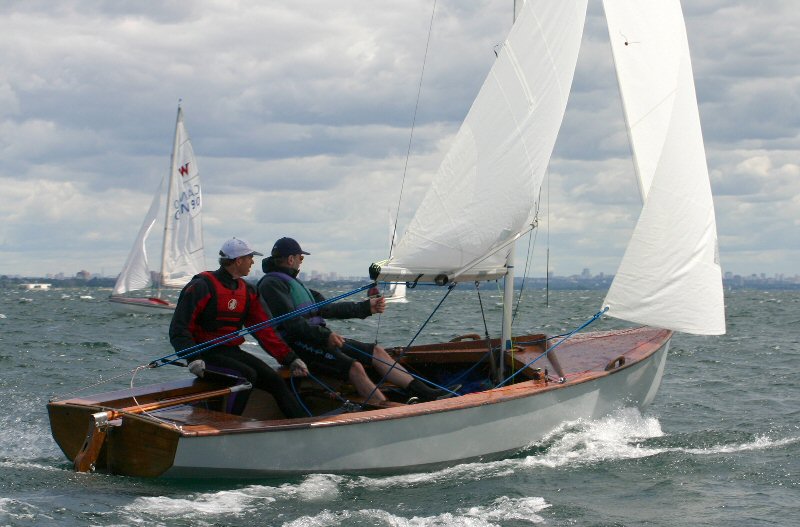 Alan Bell and Gordon Reid put Almera through her paces during our lunch break.
...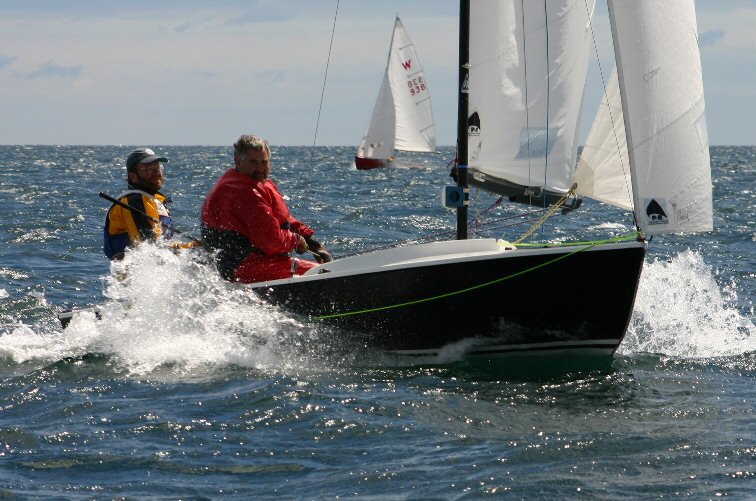 Between races was fine opportunity to get boat portraits such as this one of Finitor with ...
...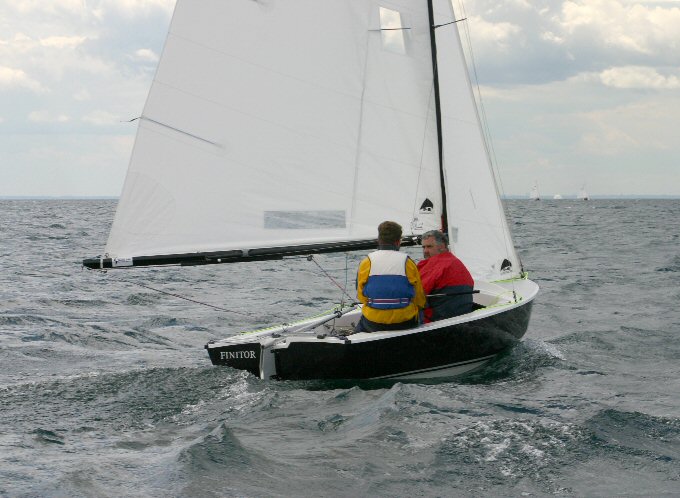 ... Stewart Reed (l) and Robin Albert.
...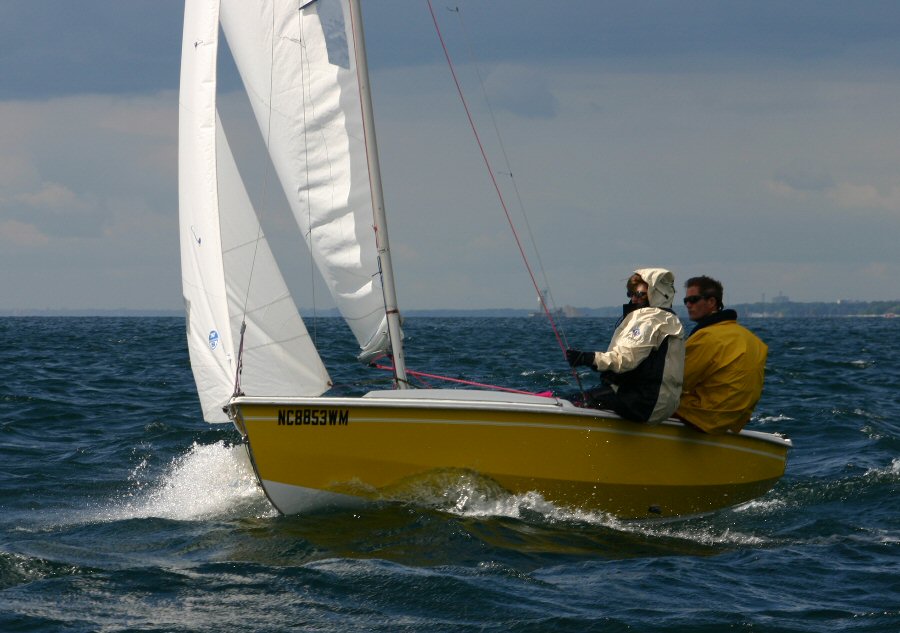 Or this shot of Michele Parish and Richard Johnson (r).
...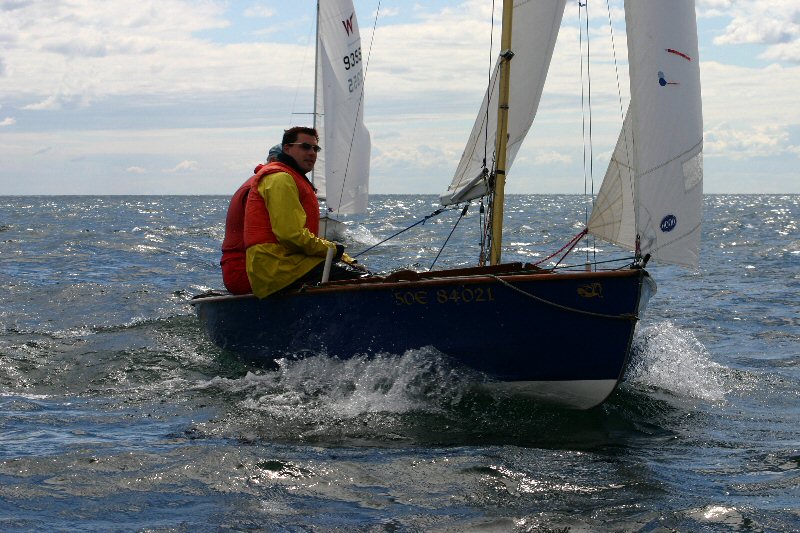 Peter and Jonathan (r) Ayres speed towards the camera as Jesper and Søren dawdle along behind them.
...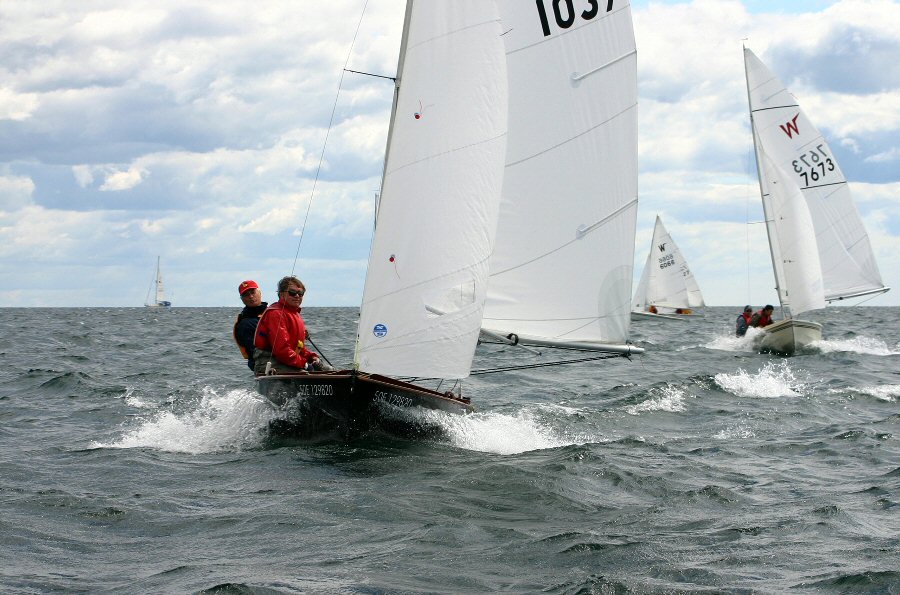 Kit Wallace and David Weatherston (1037) and the Taylor brothers (7673) scream along on a broad reach while Steve Carroll (6066) and Reg Bunt conserve their energies by heaving to.
...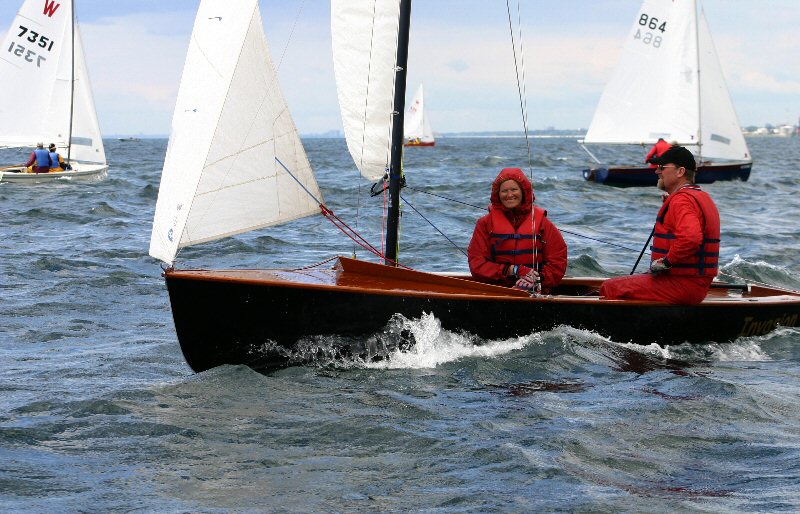 A well bundled up Joanne smiles for the photographer as Roger Shepherd cruises by.
Also taking it easy are John and Dolores de Boer (7351), Hans Gottschling and Nick Seraphinoff (864).
...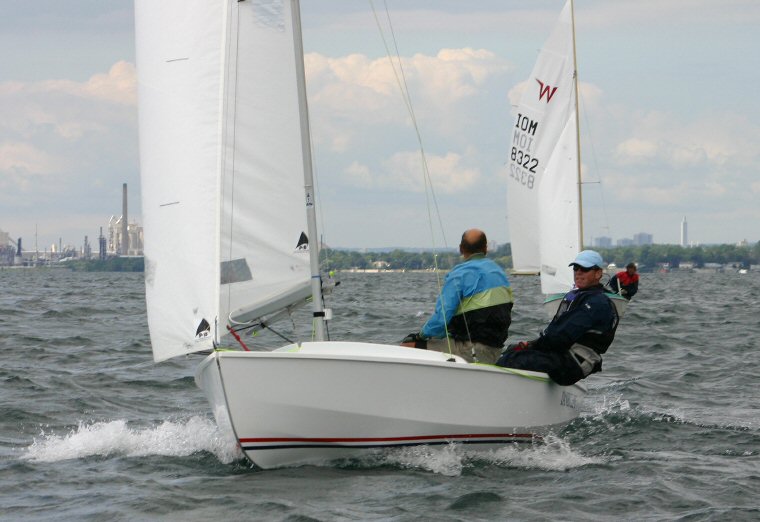 A nice close-up of Michael McKechnie and Simon Turner with John Dowling and Terry Holt cruising along behind them.
...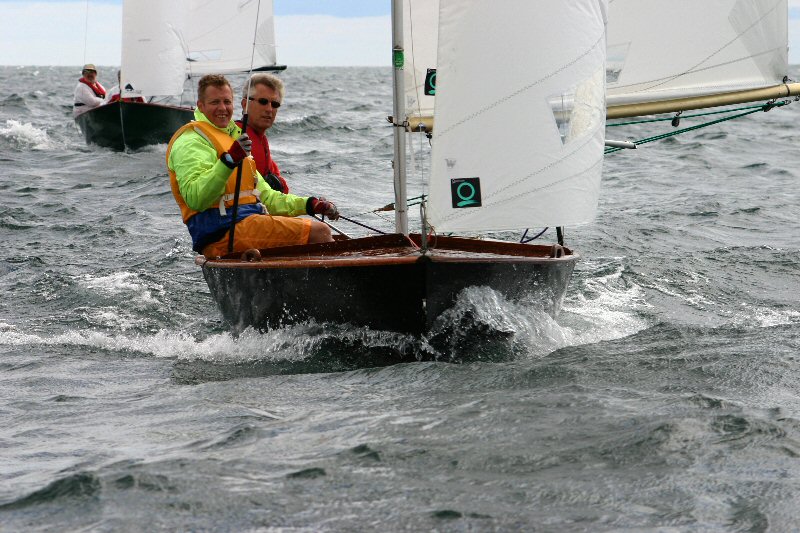 Jeff and Barry Cox (foreground) and Ed and Winnie Gillespie go straight for the camera.
...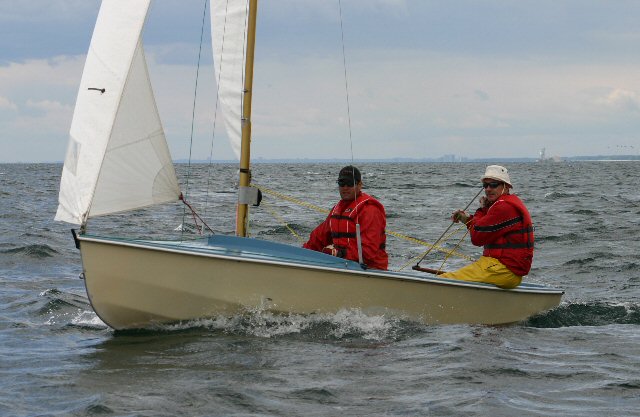 Bob (r) and Scott Kennedy, far from Fanshawe, as they ...
...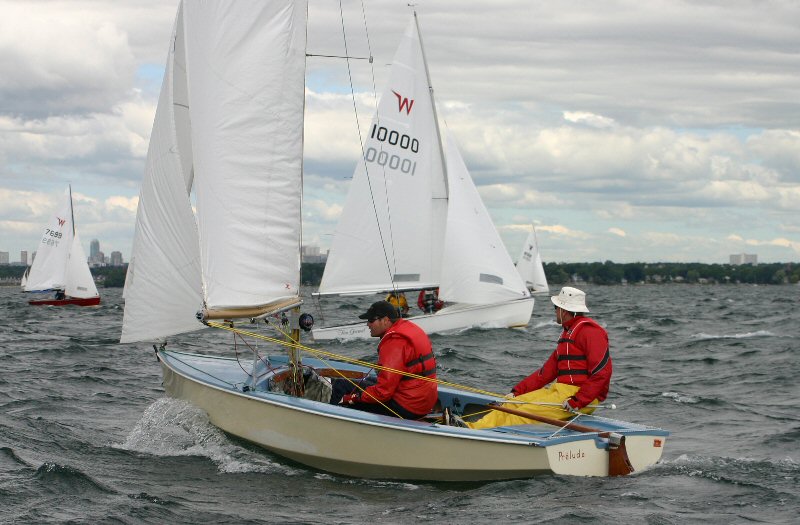 ... meet Liz Feibusch and Frances Lilley (10000). Ted Gadd (7699) and Steve Carroll in the background.
...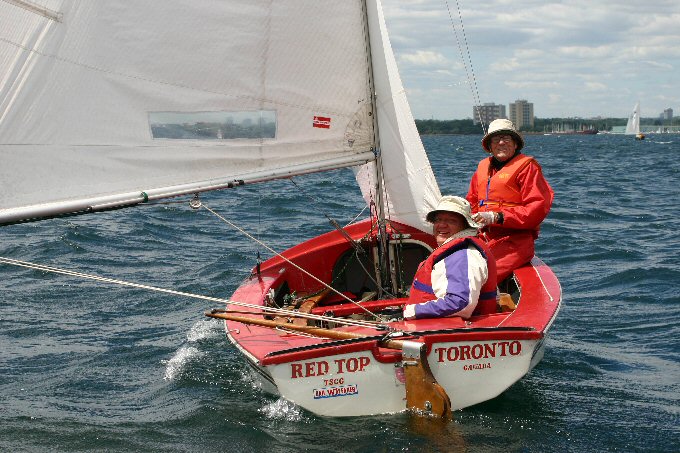 Relaxed, hove to and happy: George Blanchard (r) and Mike Codd
...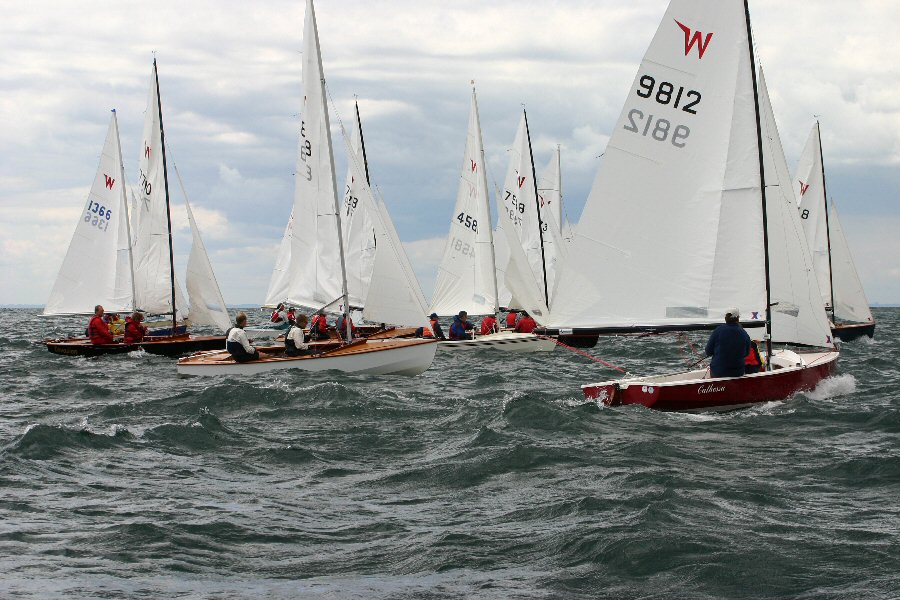 Ample winds as the day's second race is about ...
...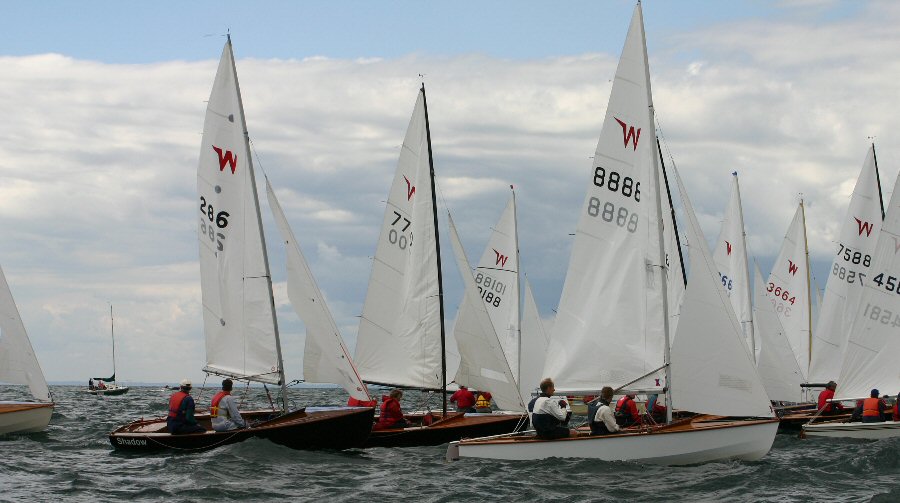 ... to ...
...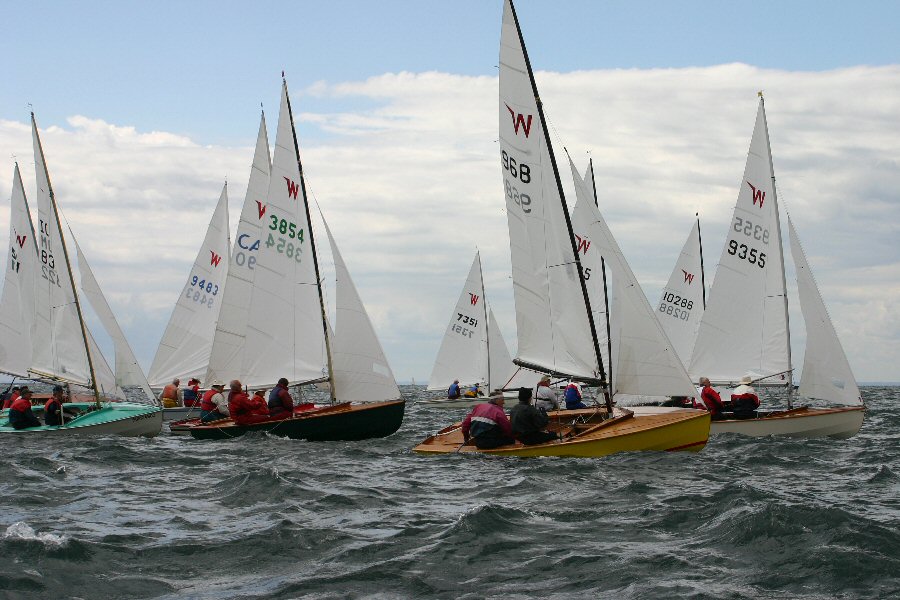 ... get ...
...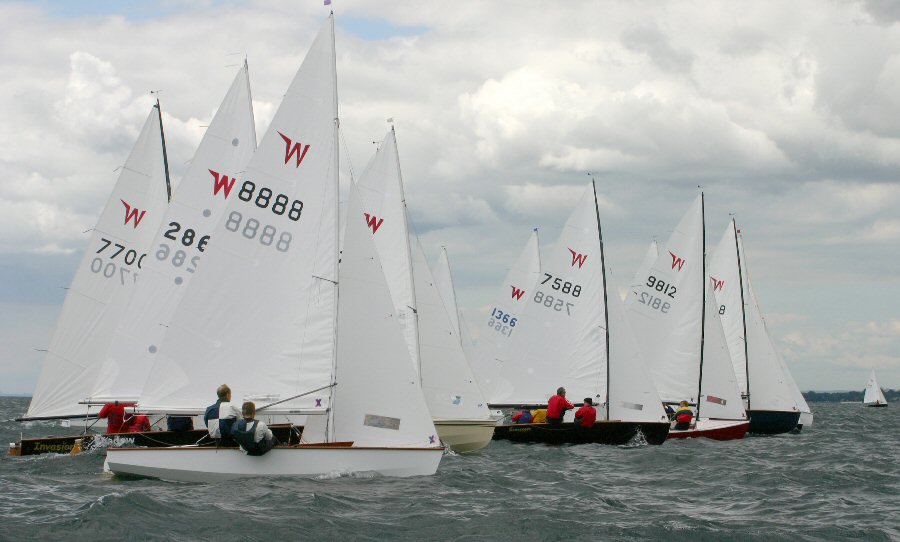 ... underway. Fine starts for Graham Barker (8888) and Ian Porter (7588) but John Goudie (9812) is not moving and will become the meat in the sandwich between Ian to windward and Toby to leeward.
...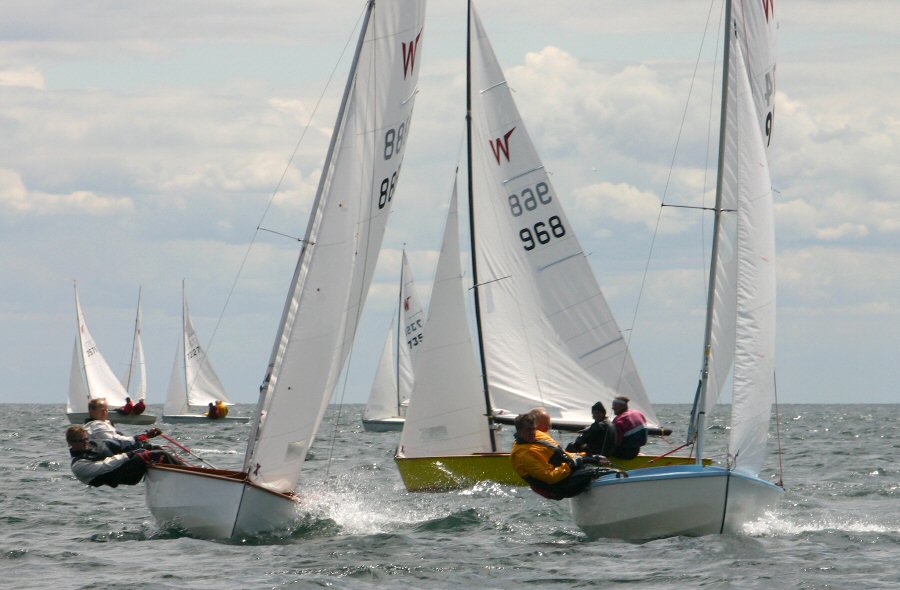 Gordon Harris (968) crosses just behind duelling starboard tackers, Graham Barker (8888) and Roger Challis (9174) who will end up leading the pack around ...
...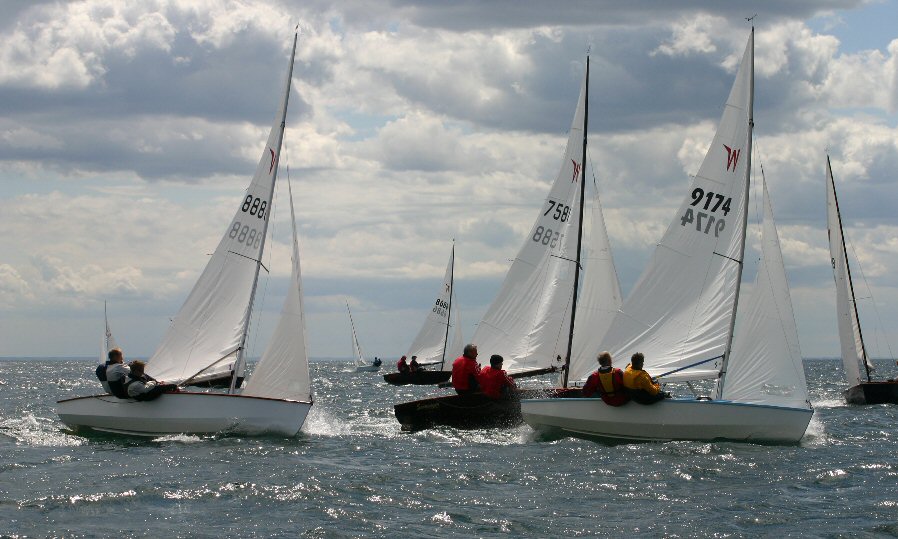 ... the windward mark, just ahead of Ian (7588) and Graham (8888). Poor Roger and Mark in 9174: Little do they know that their mast will break just after they gybe onto the second reach! Just arriving on port is Toby (far right) while between Ian and Graham, we can see Guy Hacon (8686) and Neil Fletcher. Off Graham's leech is Dave Platt of TSCC. After rounding the mark, Ian and Kevan (7588) will put on quite the show as they go low, planing under spinnaker and under apparent complete control to the gybe mark where they hold a comfortable lead. A nonchalant-looking gybe for Scavenger - as far as your Uncle Al could tell from a considerable distance astern while struggling to remain upright under spi - followed by a rousing plane to the leeward mark, left Kevan and Ian with a lead they would not relinquish!

The Waldringfield reporters saw it as follows: Roger Challis made it to the windward mark first again, only to be overtaken on the reaches, now gusting F6, by Fletcher/Edwards and Mace/Rhodes. Meanwhile Porter/Gibb sneaked through in a cloud of spray down to leeward on a hairy, edge of seat reach. Mace/Rhodes gybed outside Challis/Johnston but then the Challis mast decided to call it a day, and Fletcher/Edwards couldn't hold the lay-line and had to drop the kite. This left Porter/Gibb first at the leeward mark, followed by Mace/Rhodes.