2004 AEC Wayfarer Worlds
the fifth day of racing - 6
photos by Kim Bergevin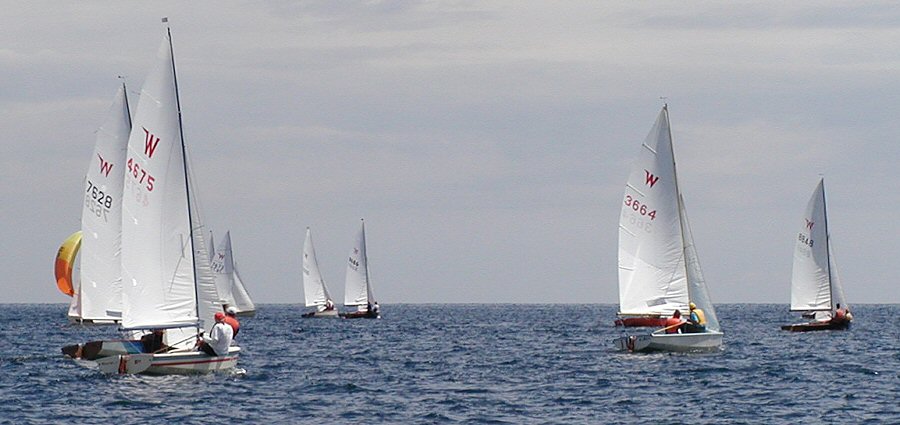 Toby Mace (8848) and race leader, Graham Barker, off his leeward bow, have sailed into the 20-30° starboard lift, as have Doug and Chris Ryan (3664) with Ted Gadd off their leeward bow. Brian Mills (4675) and John Hartley (7628) are about to sail into the lift as well. Mark Taylor has just tacked to port to clear his air, while Guy Hacon (8686) and Søren Jensen to leeward of Guy are beginning to lift. The mainsail behind the Taylors is, I believe, Guy Harris, while Uncle Al will be on the extreme wrong side of this shift, being somewhere not too far to leeward of Gordon.


...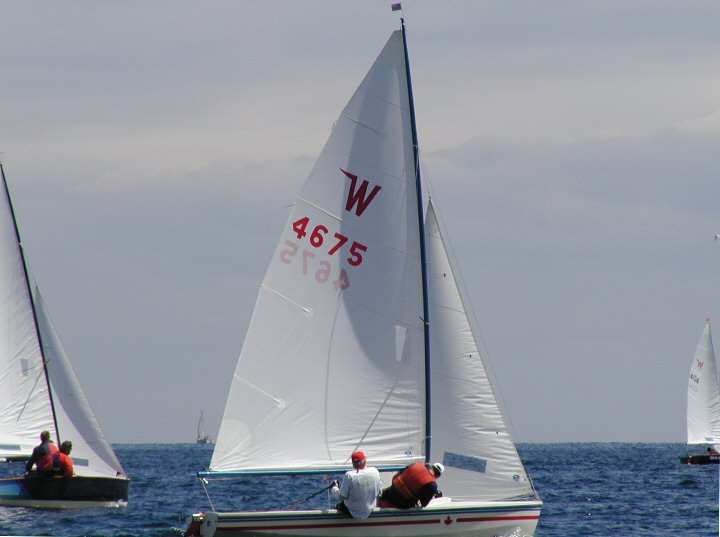 Yup, Brian (4675) and John are into the lift now, as is Jay Colville (r).
...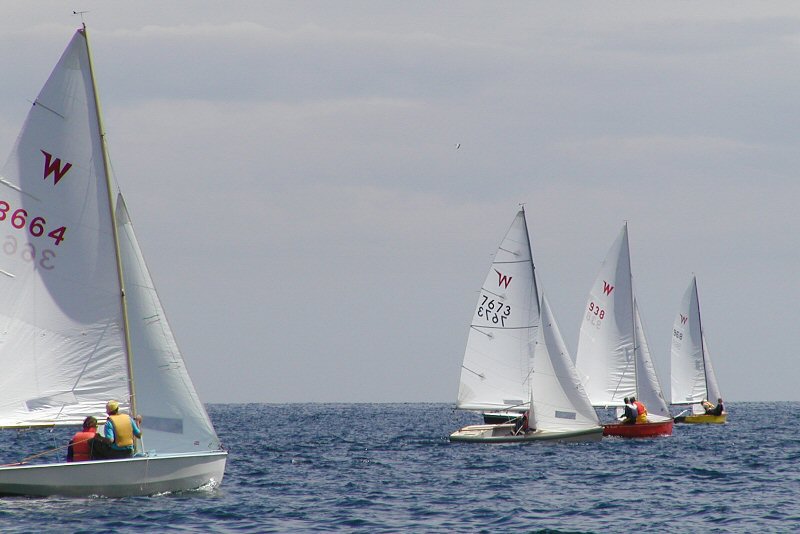 While a mercifully unidentifiable boat begins the first run, he is nearly two legs behind these guys who are nearing the windward mark for the second time already. (l to r) Doug and Chris Ryan, Mark Taylor crossing behind Hans Gottschling (938), and Gordon Harris. Hard to believe that despite the shift that should have totally annihilated them ...
...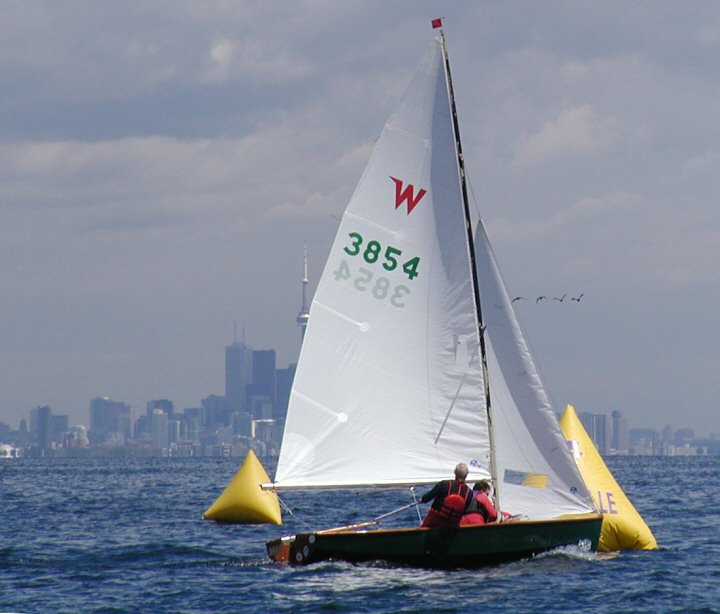 ... Uncle Al and Marc Bennett bear away around the windward mark second only to the already departed Barkers and ...
...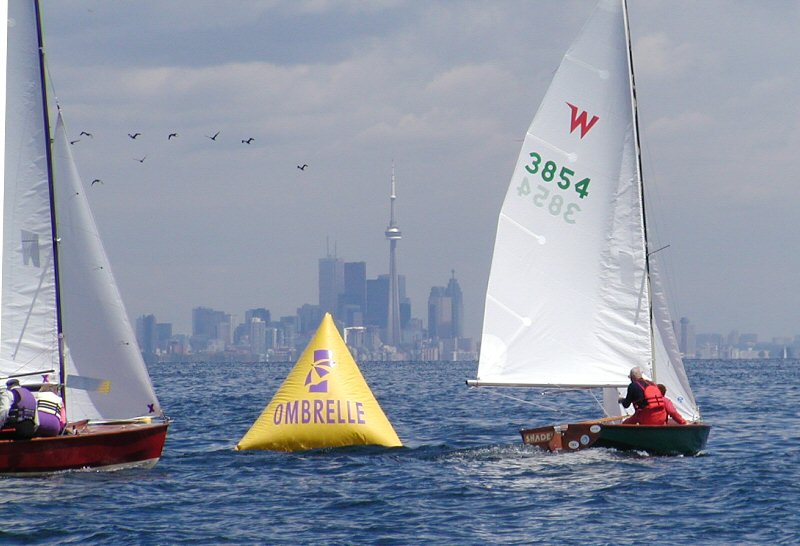 ... just ahead of Ted and Wendy Gadd.
...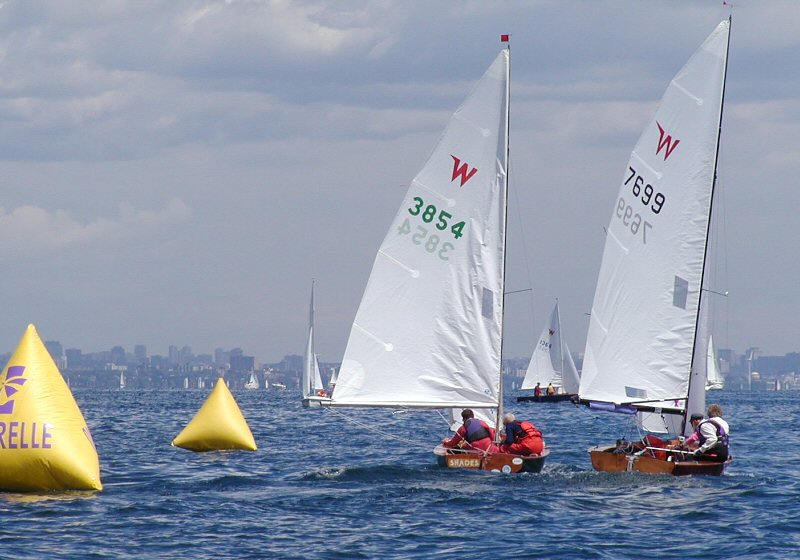 Al has decided to defend the left side of the run, and will leave Ted Gadd (7699) and ...
...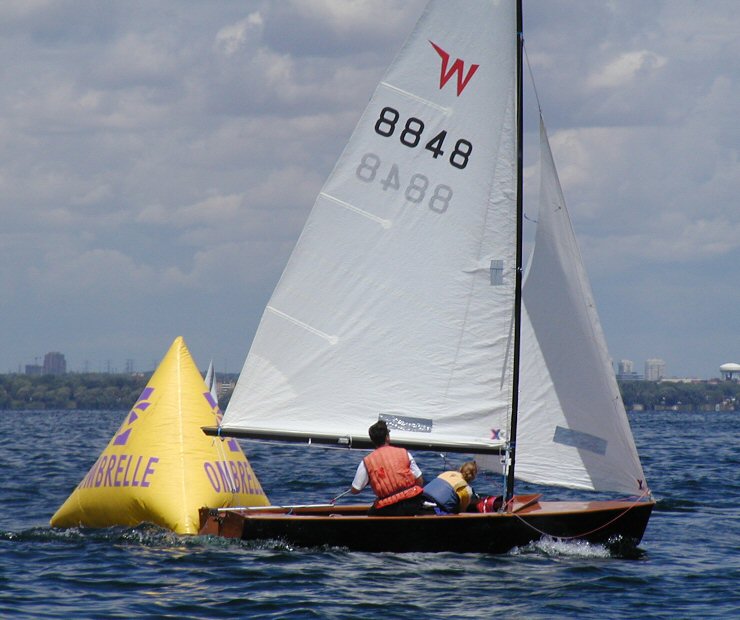 ... Toby Mace ...
...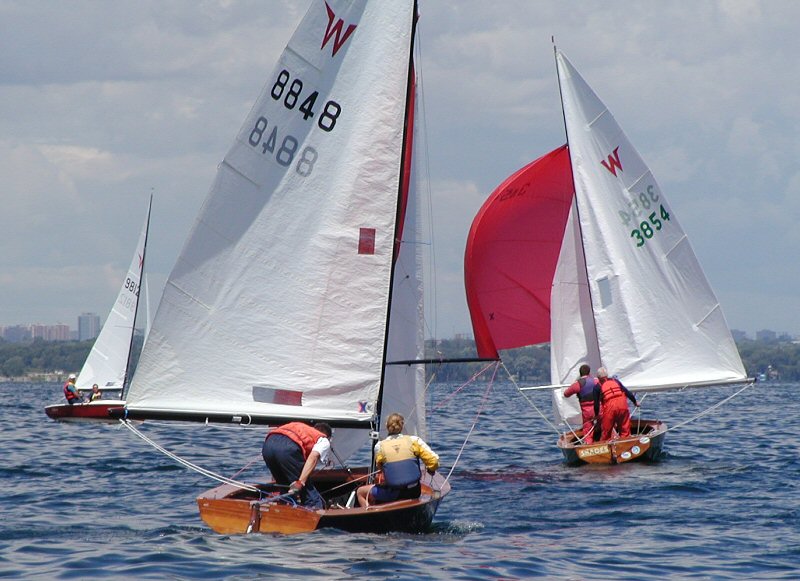 ... to take the right side.
...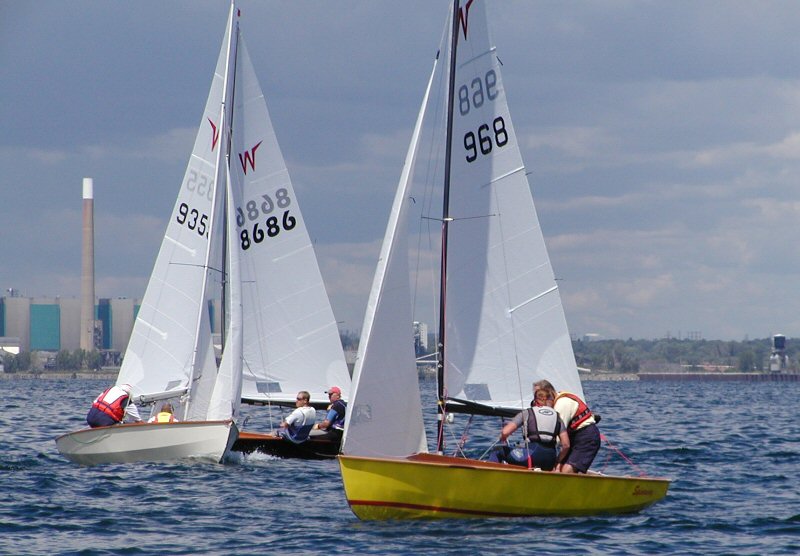 Gordon and Emma Harris (968) tack for the mark, as will Søren and Jesper,
once they've finished crossing Guy and Daniel (8686).
...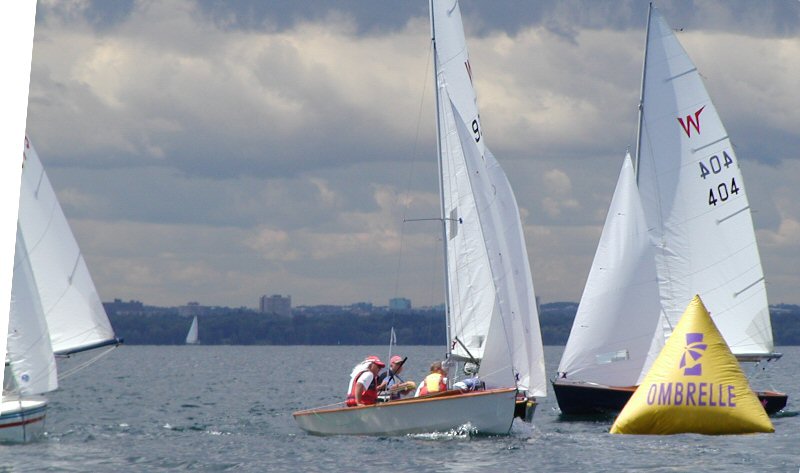 At the offset mark, it's Guy with the inside overlap on Søren with Brian Mills (l) going well wide. Jay Colville (404), meanwhile, nears the windward mark on starboard.
...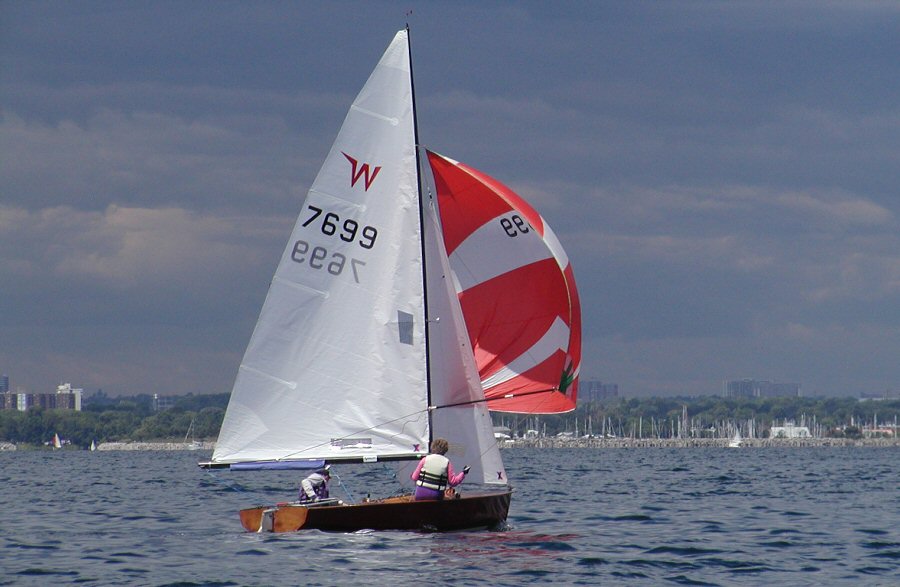 Ted and Wendy are off to try the right side and looking good - note the partially raised rudder blade.
...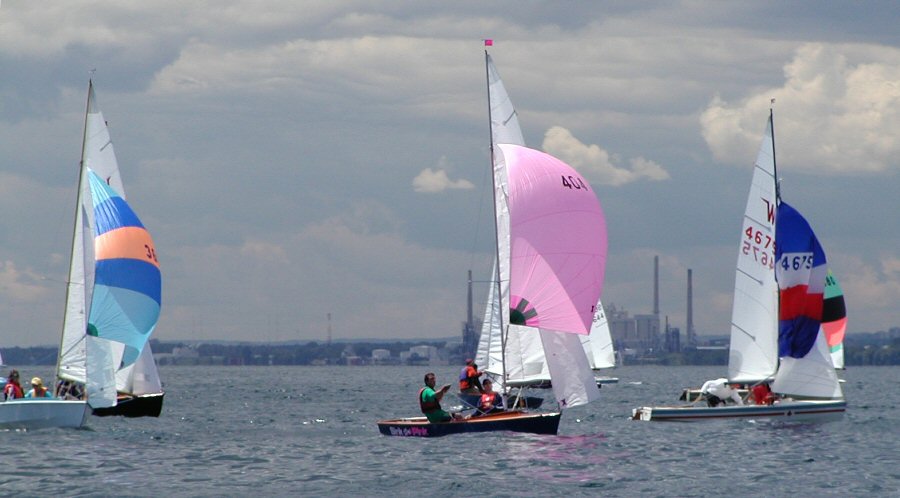 Also heading right are Doug Ryan (l) and Jay Colville (404) while Brian Mills and off his port bow, Paul Laderoute, have gybed to port and are headed left.
...


Perhaps these guys will find the wind a bit more chewed up on this side, though.
...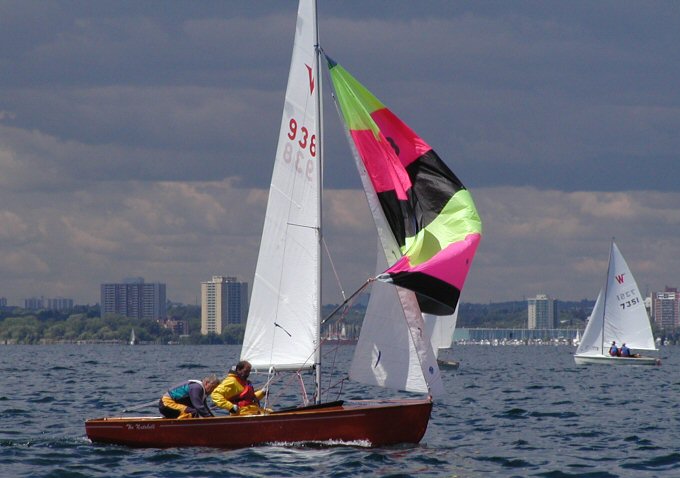 Hans Gottschling and Pedro Santos head right, followed by ...
...

... Steve Carroll with John Attwell (6066) and John Hartley with Nick Philp (r).
Poor Heider and Tom (600), meanwhile, have not found happiness on their second trip to the left corner, either!
...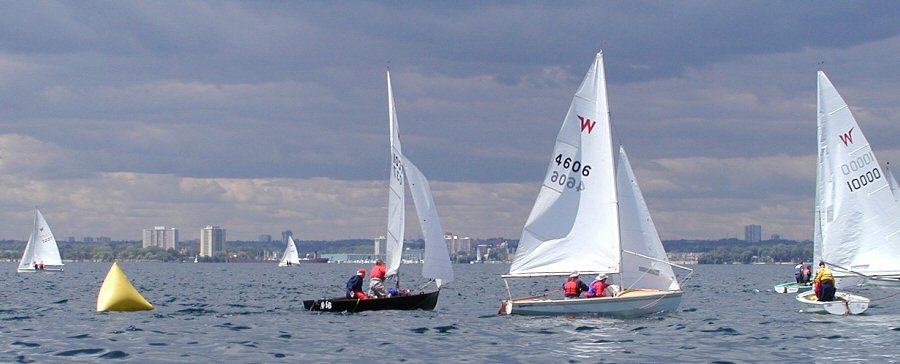 A more relaxed approach as ...
...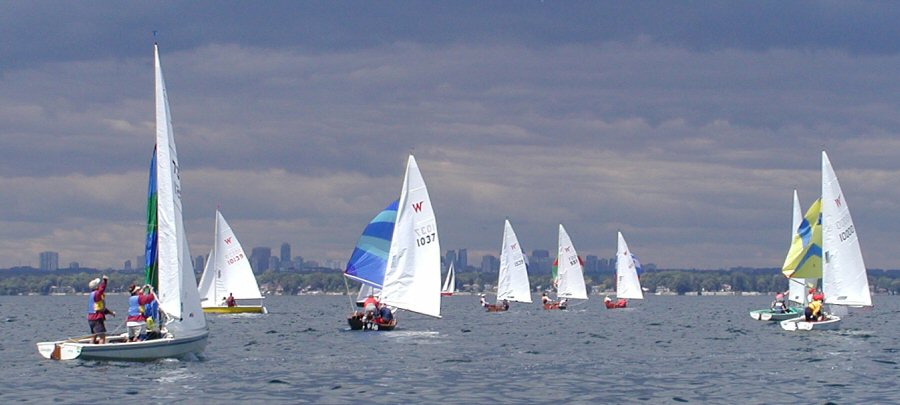 ... the next group begin their second run.
...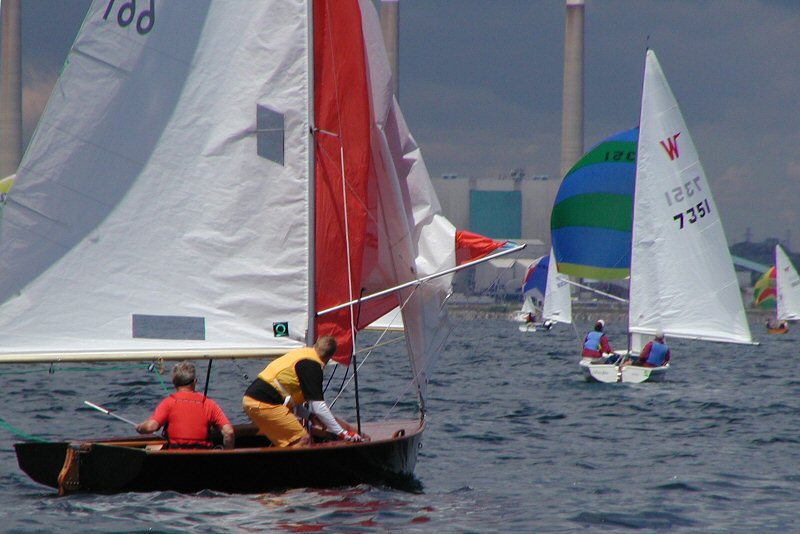 Jeff and Barry Cox demonstrate why it pays to crank the jib in as you hoist the spinnaker,
letting the jib out again, once the spinnaker is flying.
...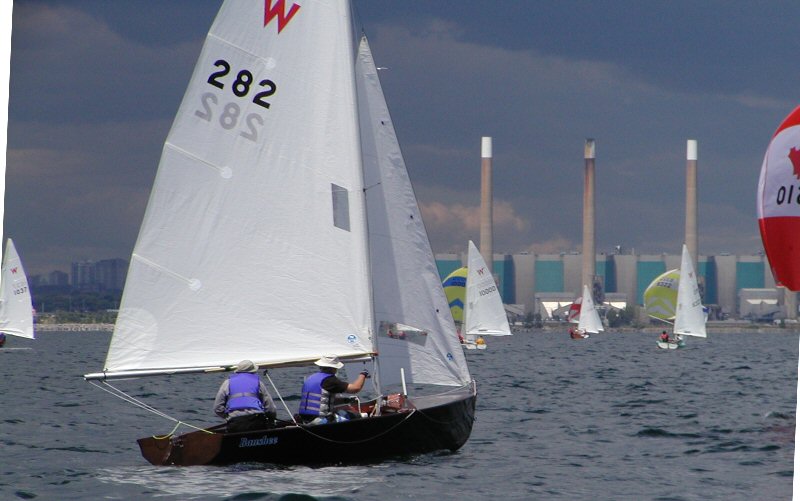 A threatening-looking sky as Charles Hansman takes the helm of Banshee (282)
while his son, Dave, organizes the spinnaker.
...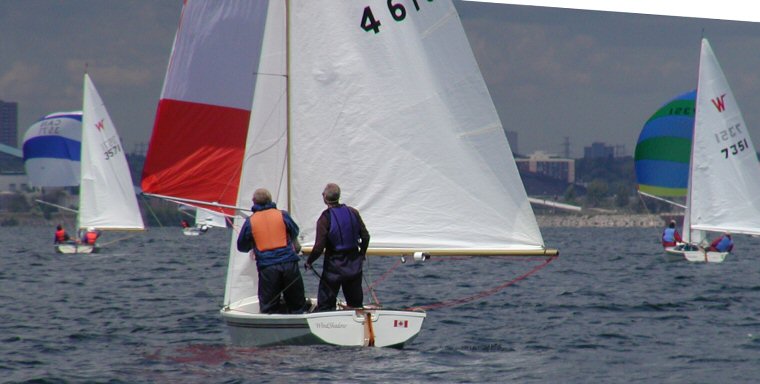 The Brothers Gumley, Andrew (r) and Nigel (4610) set off in pursuit of Bob Kennedy (3571) and John de Boer (7351).
...

(for full-size view, click here) Nearing the finish line and moving extremely well with a comfortable lead over the likes (if any!!) of Ted Gadd (7699) and Uncle Al (3854) are ...
...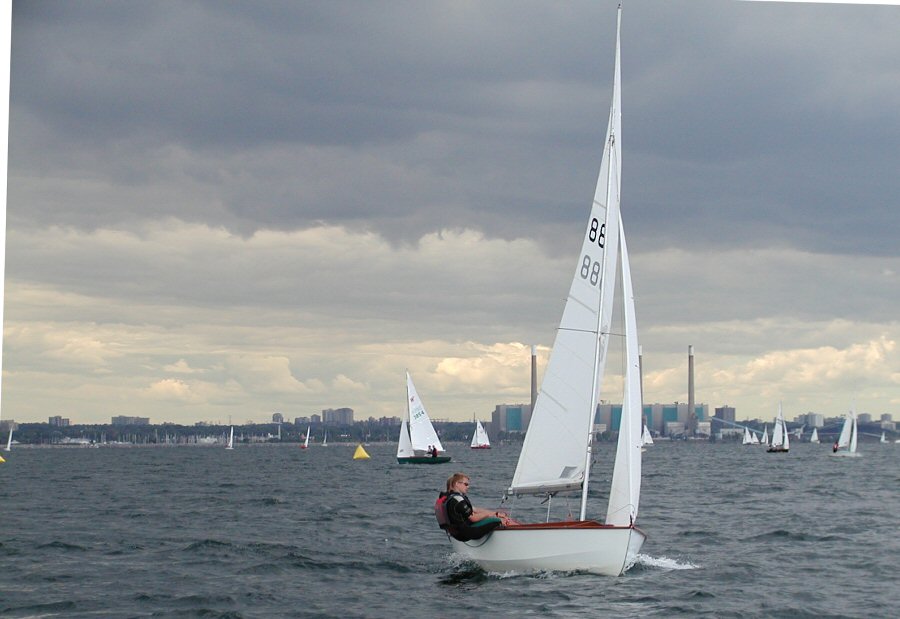 ... Graham and Robin Barker. Note that the finish line was always a bit past the windward mark - offset mark combination which can be seen here - for full-size view, click here
...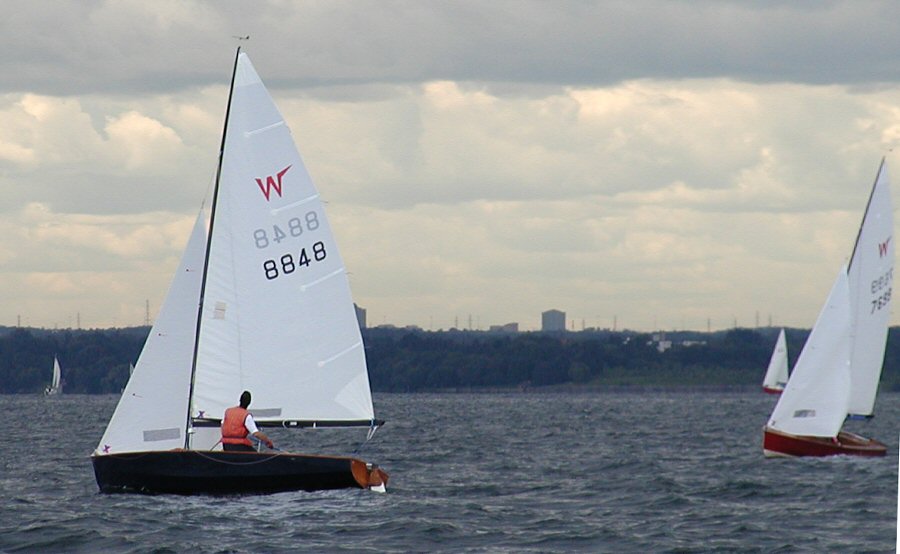 Putting the capper on their runner-up position for the Worlds 2004 are Toby Mace and Rachael Rhodes (no doubt busy scrubbing the bilges in this photo!) while Ted and Wendy Gadd (7699) nip at their heels. Both Toby and Ted got past Uncle Al at the leeward gate where they went right and Al chose badly and went left.
...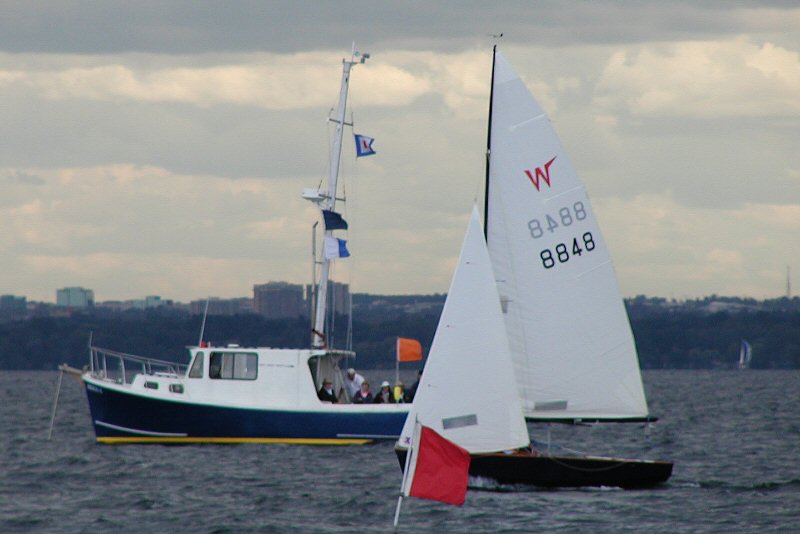 It's official: series 2nd goes to Toby and Rachael in Meg B.
...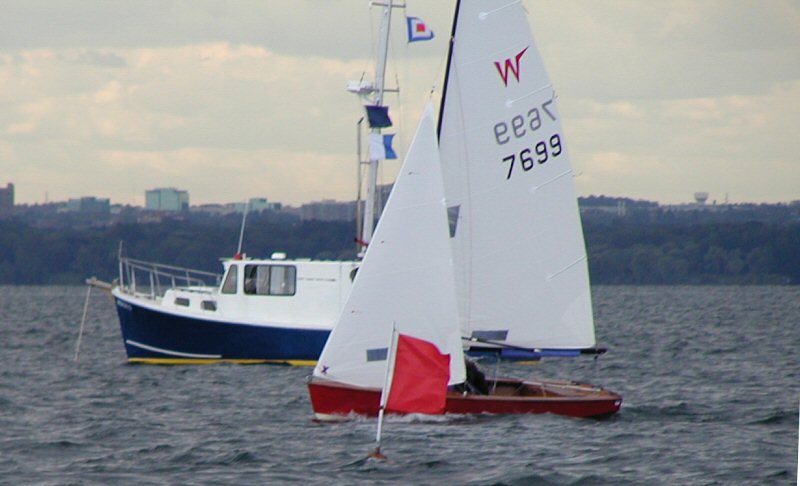 Wild Billy with Ted and Wendy Gadd follows in 3rd place - their best finish of the series, having held off ...
...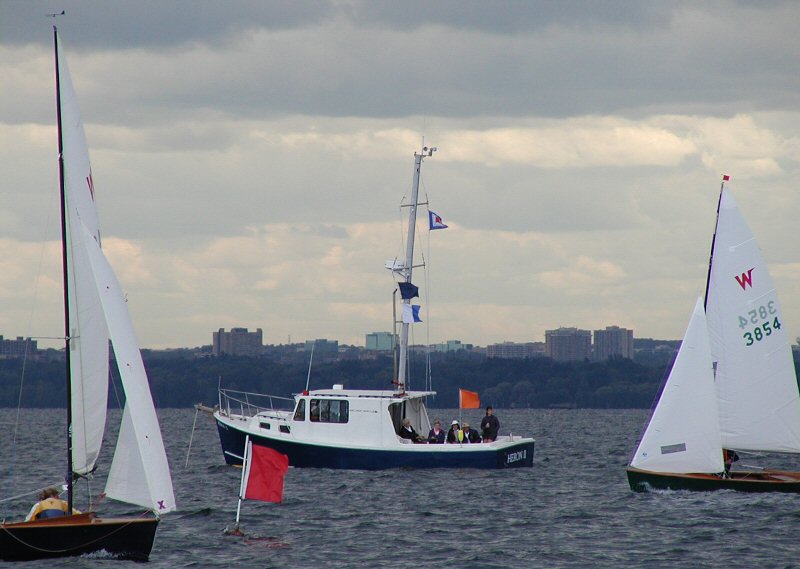 ... SHADES with Uncle Al and Marc Bennett. Unfortunately, we photographically missed the big moment here: Wiarton's Doug Ryan and his son, Chris, had their best race finish ever as they took a marvellous 5th in the Worlds finale. Awaiting heart surgery, Doug had sat out the first eight races while his friend, Chris Purtle helmed. Then Saturday's lighter airs turned out to be ideal and Doug made the most of his opportunity. Great sailing, Doug and Chris!!


...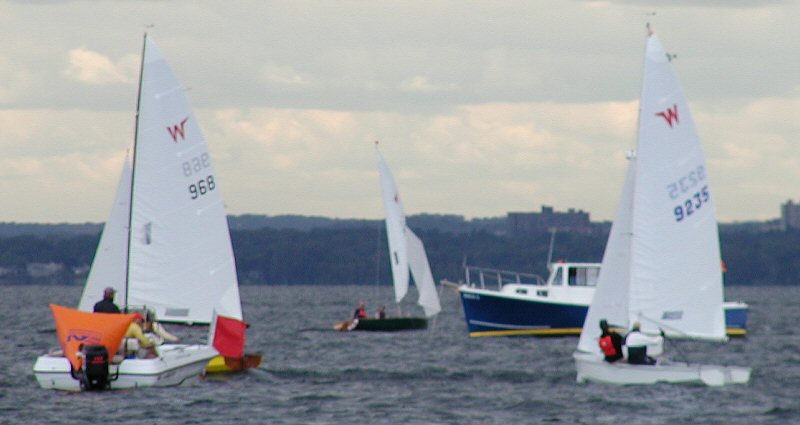 6th place went Spinaway (968) with Gordon and Emma Harris while Brian Jeffs and Scott Bamford (9235) had by far their best race as they placed 7th. 8th place went to Søren Jensen and Jesper Friis who fell just a single point short of cracking the Worlds top five. And it was locals, Mark and Paul Taylor next in 9th as they finished off their 2004 Worlds in fine style with a string of four single-digit finishes! 10th place went to Michael McKechnie with Simon Turner ahead of Guy Hacon with Daniel Watson whose 11th was just enough to give them series 7th by a single point over Uncle Al. The Laderoute brothers, Paul and Alan finished the series on a bright note with a 12th, just ahead of ...


...


... John Goudie with Suzanne Hall (9812). Roger Challis (9174) starboarded Jay Colville (404) ...
...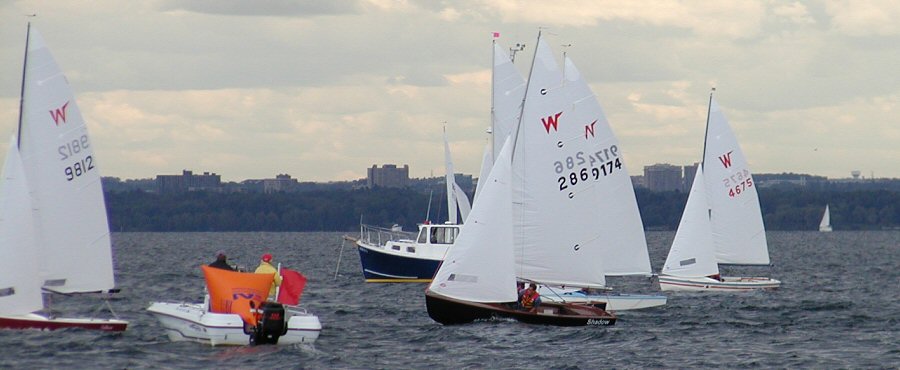 ... right at the finish and managed to edge Jay out for 14th. And judging from the photo above, it's hard to imagine how Peter and Alex Rahn (286) could have come any closer to beating Roger and Jay than they did. And congratulations to Brian Mills and Louis Jaillet (4675) who took a very close 17th - easily their best placing of the series.

Other race 9 series bests not already mentioned were recorded by:

Doug Honey and Becky Robson (26th)
Dave and Charles Hansman (40th)