2004 AEC Wayfarer Worlds
the first day of racing - 2
photos by Bob Thayer
(note: all of these photos were - in larger size - on the competitors' CD created by Bob)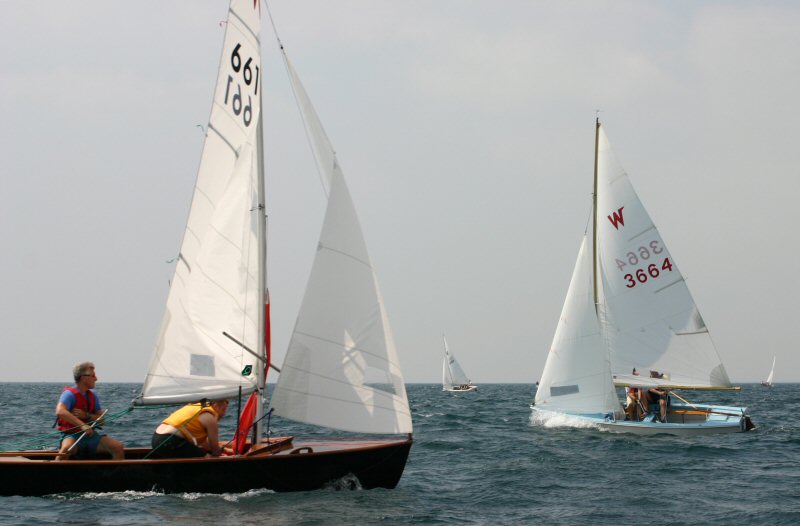 Chris Purtle (3664) has opted to go left as Jeff Cox (661) prepares to start ...
...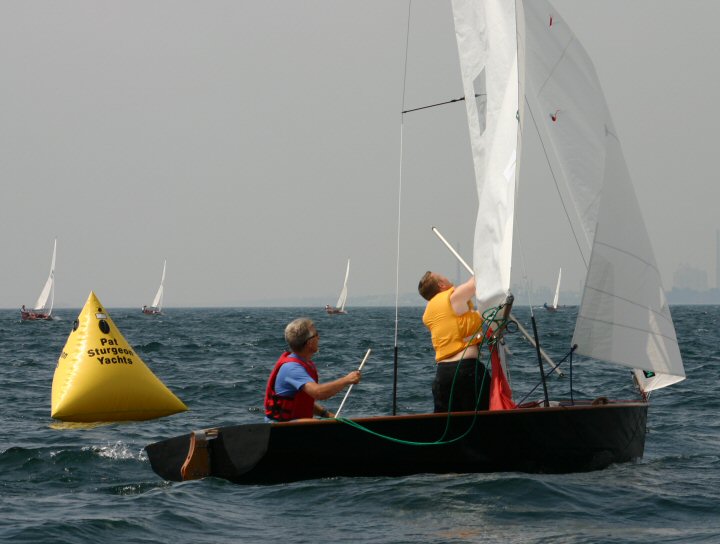 ... beat #2.
...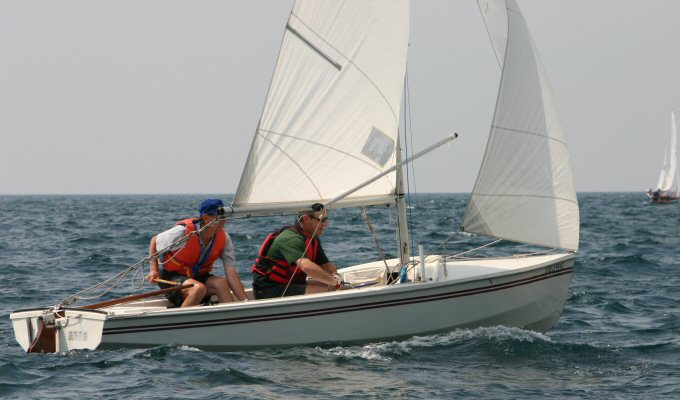 Likewise Alan Simpkins and Paul Earley
...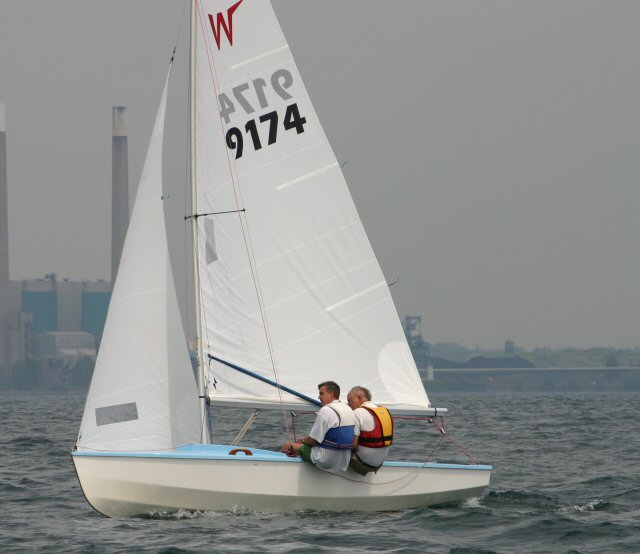 Nearing the finish line: Roger Challis and Mark Johnston have lost Ian Porter and Kevan Gibb
but will finish a fine 2nd (their best result of the series), followed by Neil Fletcher (3rd) and ...
...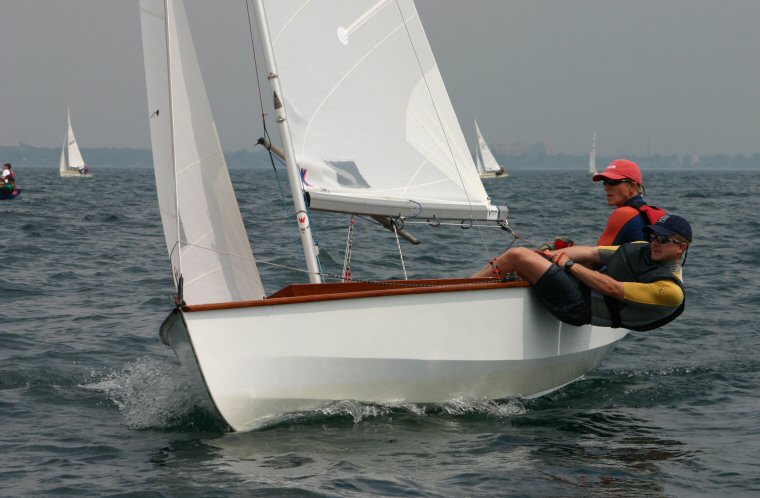 ... Graham Barker (4th).
...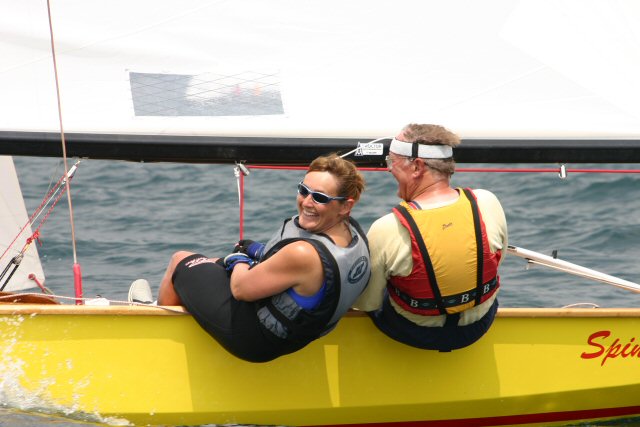 5th place went to Gordon and Emma Harris ahead of Waldringfield clubmates, Toby Mace and Rachael Rhodes.
A fine start to the series for Ted and Wendy Gadd who took 7th just ahead of Hayling Island clubmates ...
...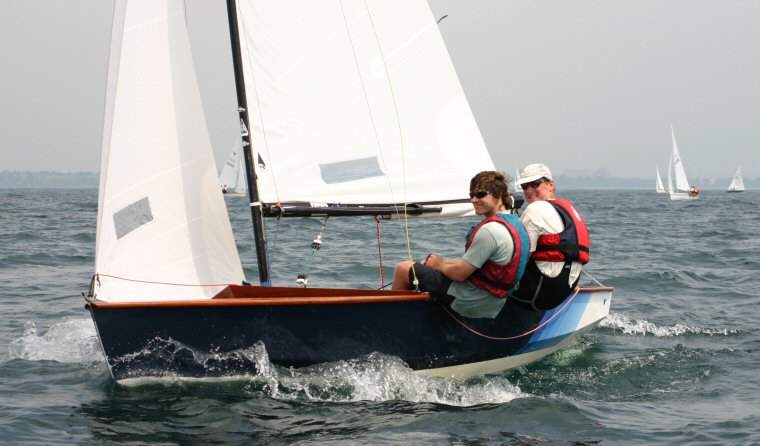 ... John Hartley and Nick Philp.
...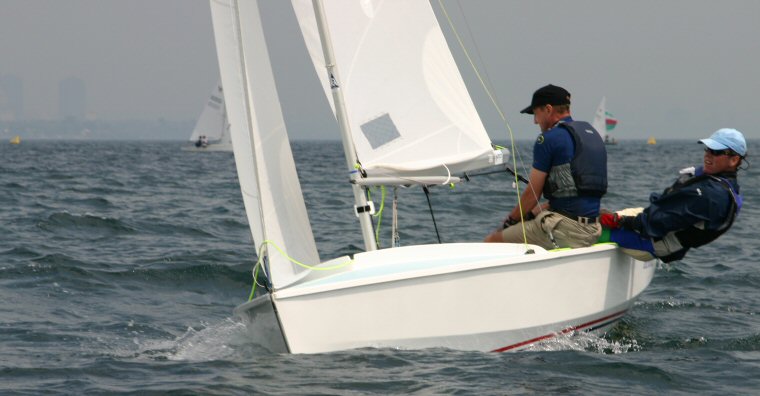 9th place for Michael McKechnie, just ahead of Kit Wallace and David Weatherston
who were the top Canadians with a terrific 10th.
...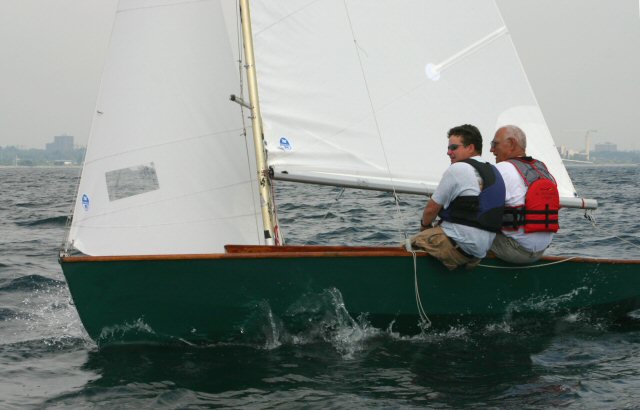 A photo finish between Guy Hacon and Uncle Al (above). When Al heard that Guy had beaten him by an eyelash, he got a funny feeling that this might make a big difference in the series. It did: Al lost series 7th to Guy by that one point. Nonetheless, it was an uplifting comeback for Marc and Al who used their new Mike Mac spinnaker to knock off lots of boats on the runs after rounding 40th+ off the first beat, and had super speed on the final two beats. And when the wind turned patchy near the finish they ended up crossing within 100 yards of half a dozen top 10 boats that had been a half a mile ahead. Three of Uncle Al's last leg victims were: Jay Colville (13th), Peter Rahn (14th) and Heider Funck (15th).
...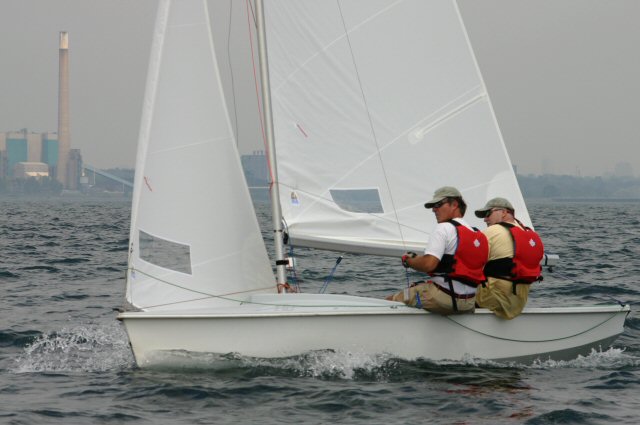 Brian Jeffs and Scott Bamford cruise to a solid 20th in race 1.
...

On their way to a 22nd, their best finish of the series, John and Dolores de Boer ...
...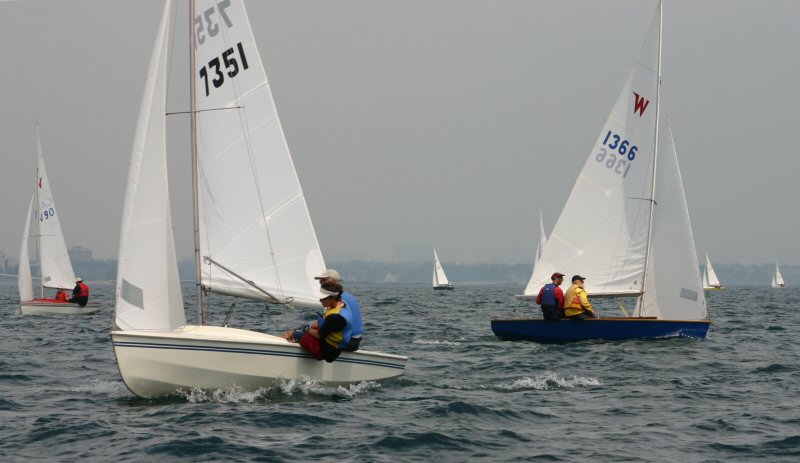 ... near the finish line ahead of Doug Netherton with Roger Redwin (1366) who will place 25th.
...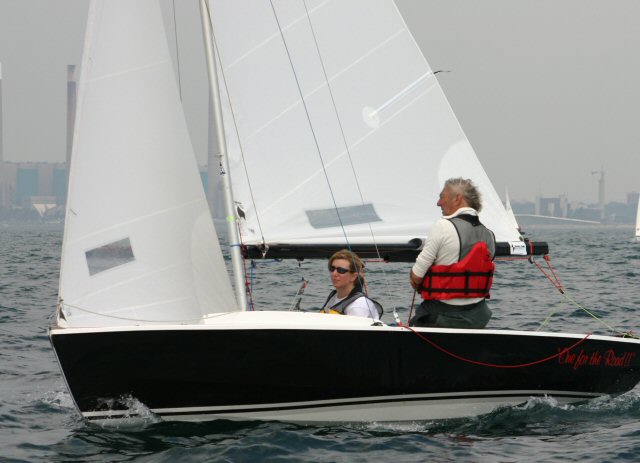 Alan and Lesley Chaplin on their way to a 29th.
...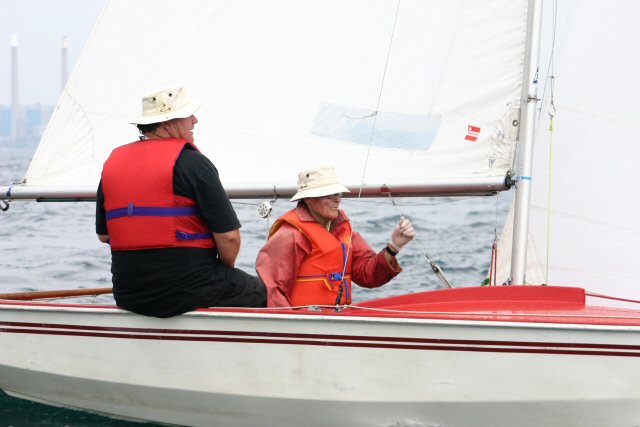 Mike Codd gives the 90-year-old George Blanchard's tiller hand a rest on the final beat.
...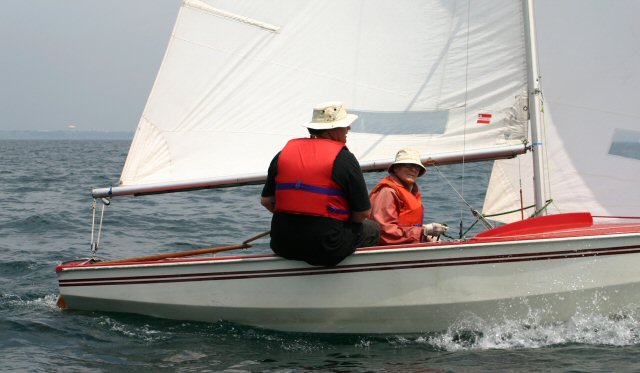 Mike and George placed 35th in this one.
...

Other race 1 series bests were recorded by:

Reg and Christopher Bunt (33rd)
Thomas Vendely and Zoltan Takacs (39th)
Alan Hallwood and Rod McIver (57th - their one and only finish!)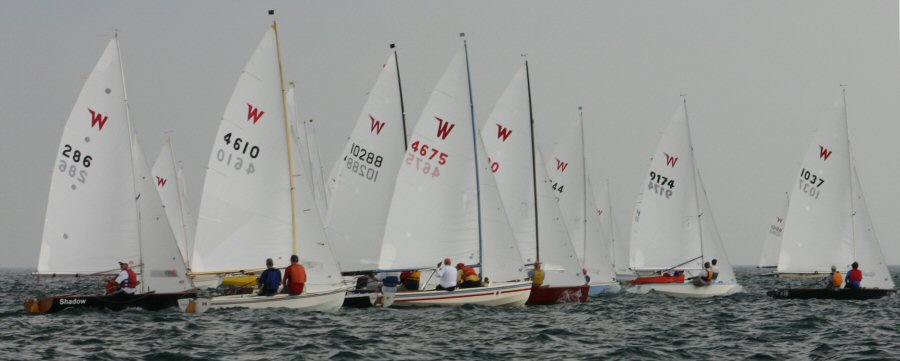 After a short lunch break, it was time for race 2. Here we are, just after the gun.
...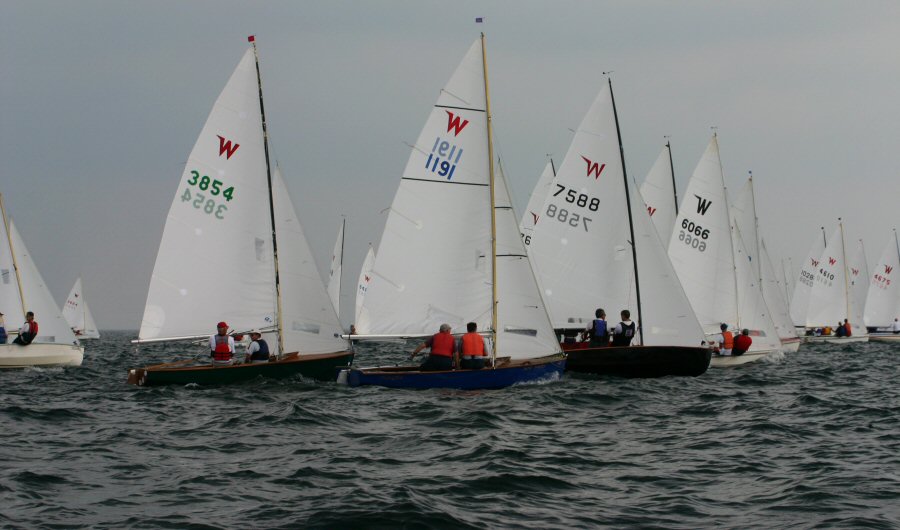 Having decided the windward end was favoured, Uncle Al and Marc (3854 above) sat for the final minute or so near the RC boat where they were ultimately joined by the guest of honour, Ian Porter. With about 15 seconds to go, Al noticed that the still significant current had set everyone about 20 yards down the line from the RC boat and that there was a nice gap which he could fill. So, feeling proud of doing something he'd never managed in 50 previous years of racing, Al and Marc threw in a pair of crisp tacks and parked themselves right by the RC boat with 10 seconds or so to go. Alas, Ian saw our move, liked it and improved on it: he tacked in a perfect leebow on us. And when Peter Ayres (1191) came in a bit late but with good speed, our startline fate was sealed (see photo above).
Still we eventually cleared our air and went middle left where we began to look and feel good - until Marc pointed out that the right corner had tons of wind and a 30° lift. By the time the new wind reached us, we were axed. And quite the wind it was, too. Even knowing it was coming, from the spray blowing off the water, we nearly dumped, completed the tack to starboard that the shift had initiated, vanged like crazy and hiked or little hearts out. For about 30 seconds, after which the wind mostly died. For a while, we fitfully sailed starboard, laying the mark from what had been the rhumbline. The right-side boats were still looking good, reaching gently towards the mark on starboard. So - we were behind the right half of the fleet. "Still better than this morning, eh, Marc?" Not really," replied he, "look over to the left!" The bastards had wind!!!


...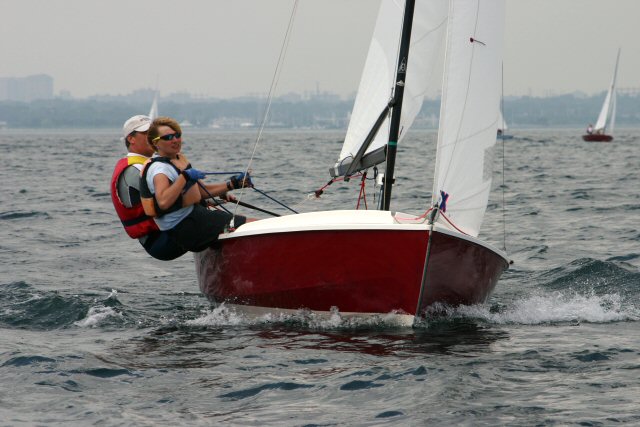 And so did the right-side boats like John Goudie and Suzanne Hall who rounded the windward and offset marks in a nice little breeze with a lead that they held to the end of the first run where the race was mercifully but somewhat secretively ended - secretively to the extent that almost no one realized that the race was over at the leeward gate and most of the fleet sailed another leg into waters that still had waves but hardly any wind.
...

Among those bastards on the left (a side which - according to my crew who sails here a lot - a new wind never never favours when there's a lake breeze!) who got wind were Toby Mace (above) who ended up 6th, ...
...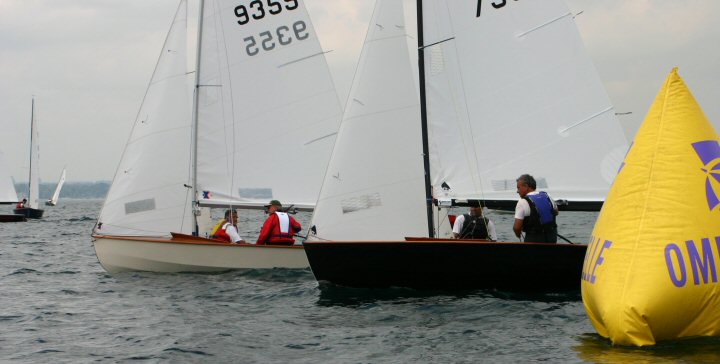 ... Ian Porter (7588) and Søren Jensen (9355).
...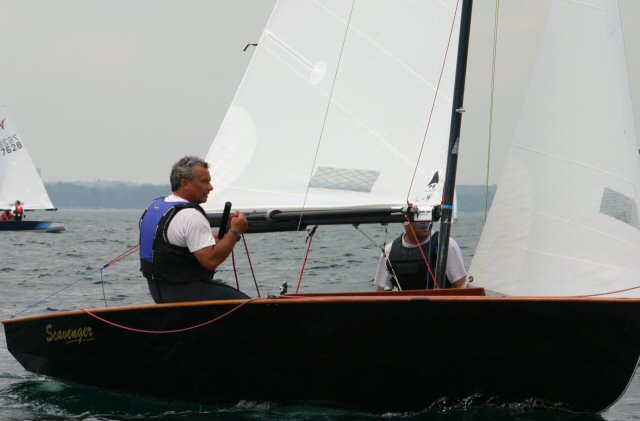 Ian and Kevan would go on to finish 2nd, while ...
...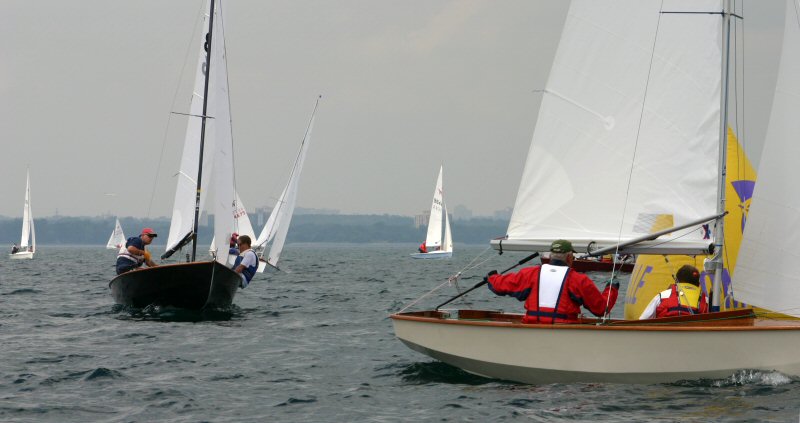 ... Søren Jensen and Jesper Friis would take 3rd, their best result of the series. Mr. Hacon, the unlucky guy (black hull), will not have enough breeze to successfully pinch and fight the adverse current (flowing from left to right), but more of him later.
...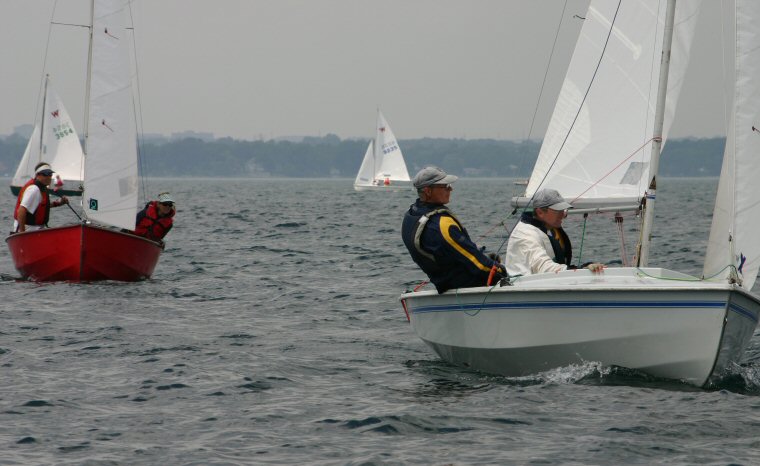 Look! A puff has put an actual bow wave on Grey Matter which Brian Lamb and Tony Hunt will parlay into a 4th-place finish, their best of the series. No such luck for Peter Kozak and Annelies Groen (red hull) who will again have trouble with the windward mark but eventually drift to a 12th, their best placing of the Worlds. One of the few guys still behind Uncle Al at this point (far right) is Brian Jeffs (white hull) who also went middle left.