2004 AEC Wayfarer Worlds
on shore at PCYC
photos by Liz Feibusch and Tony Hunt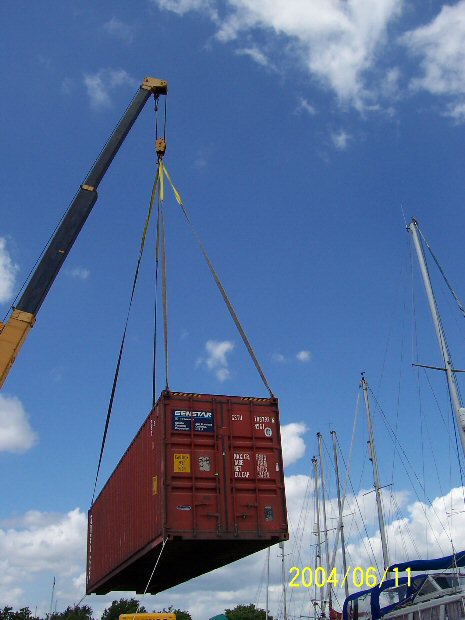 The first container arrives - even if the date on the photo is a bit suspect!
Or was this a photo taken at the point of departure in England??
...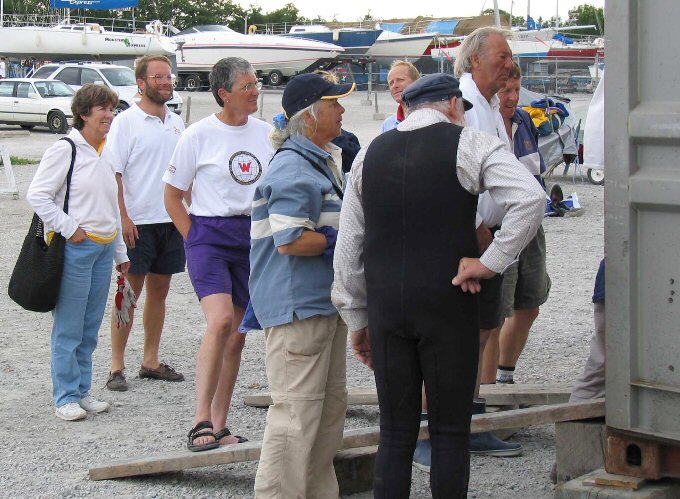 The owners eagerly await their "babies". Have they survived the long journey with no ill effects???
...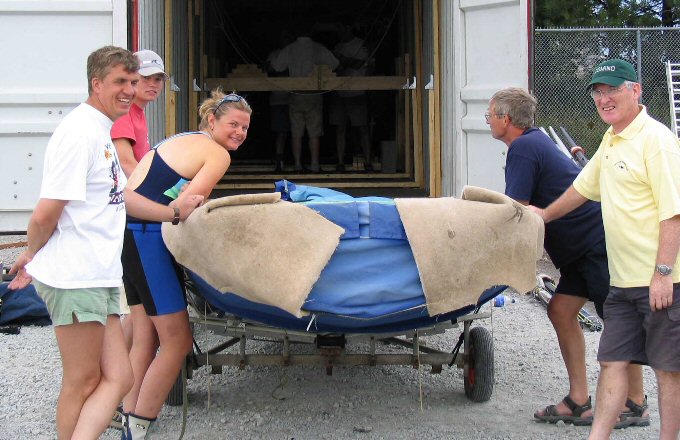 It appears that they have!
...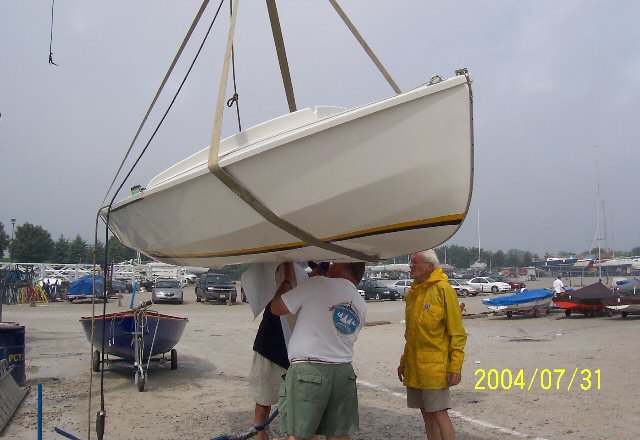 CWA Chief Measurer, Len Macdougall (r) supervises the measurement check of Liz Feibusch's Ten Grand.
...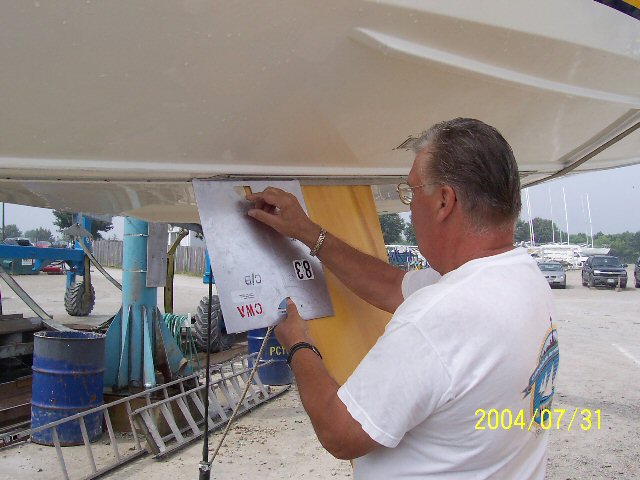 CWA Measurer, Ted Lacelle, checks the angle of the dangle.
...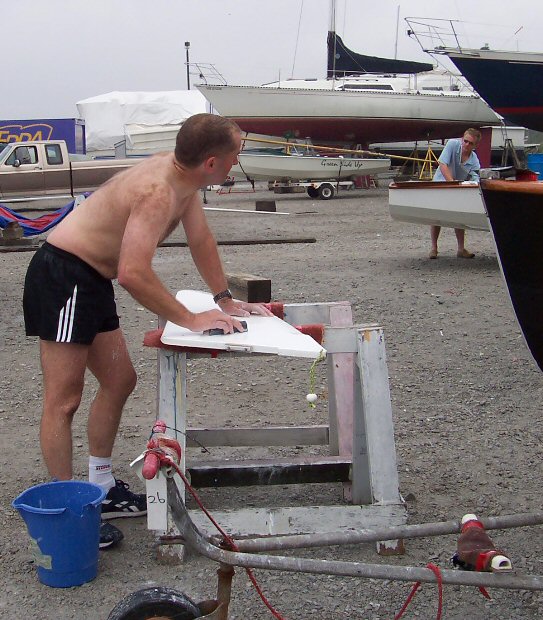 Kevan Gibb polishes Scavenger's spare board.
...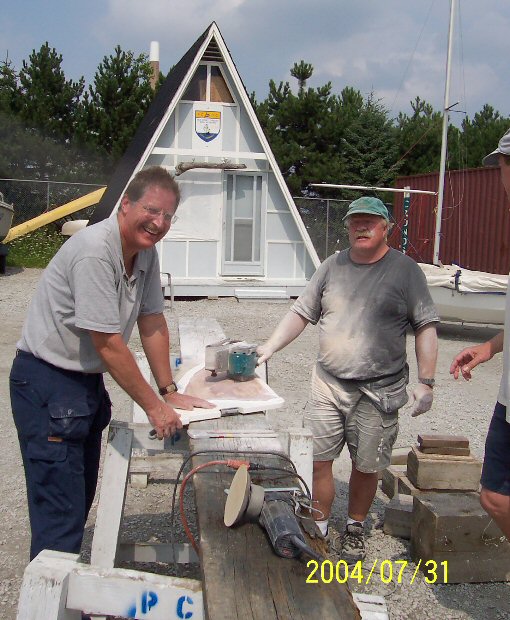 John Goudie (l) and an assistant grind down John's board which has been judged just a bit too thick.
Result of all this?? A victory in race 2 of the Worlds!!
...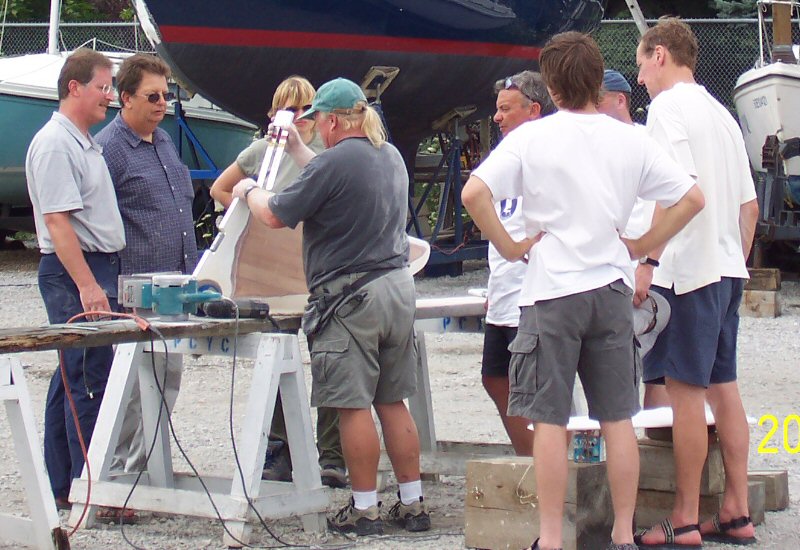 Misery loves company???
...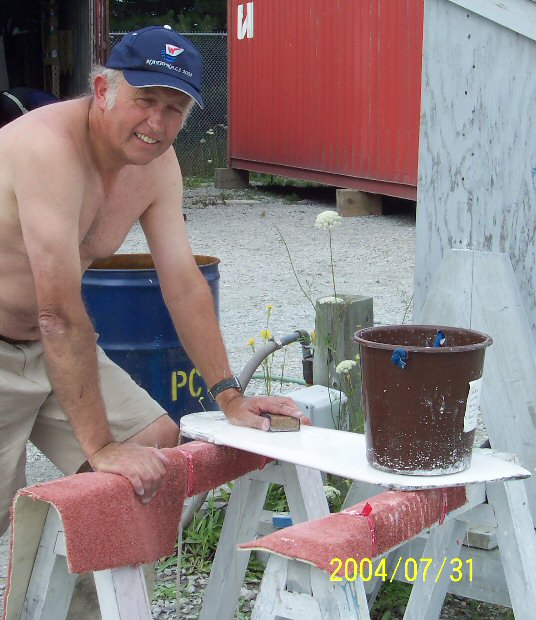 Roger Challis puts the last touches on his rudder blade.
...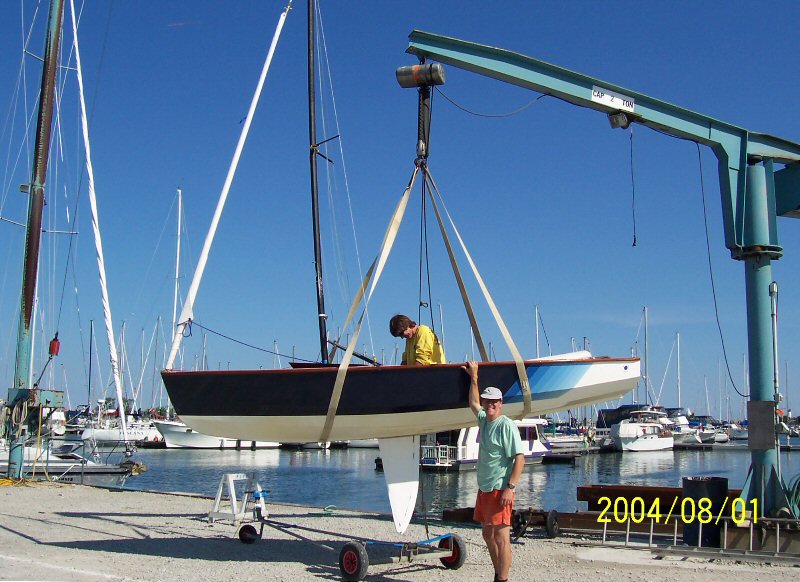 The lovely Fanstasia and crew, Nick Philp, get an uplifting experience,
as helm, John Hartley, prepares for the centreboard angle check.
...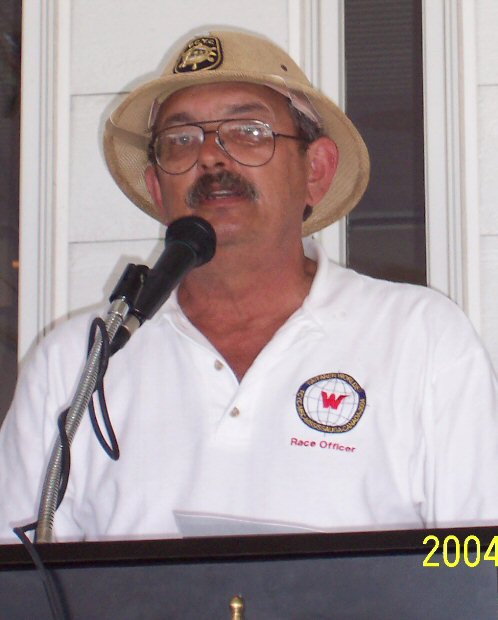 Regatta Chairman, John Weakley, does what he's best at: He holds forth (or was it third??!!)
...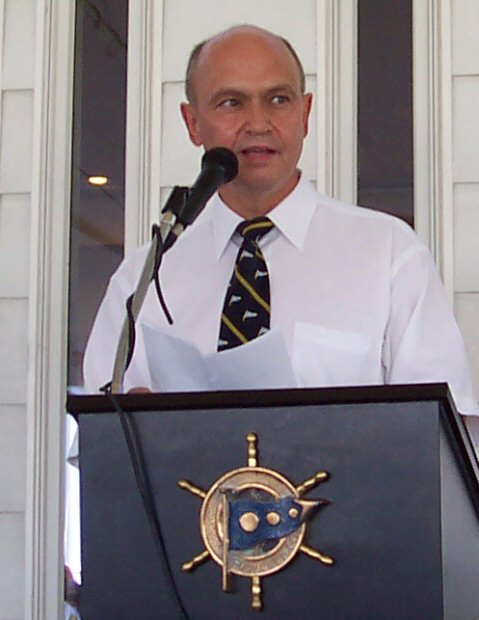 The PCYC Commodore welcomed us at the Skippers' Meeting and Reception on Monday night.
...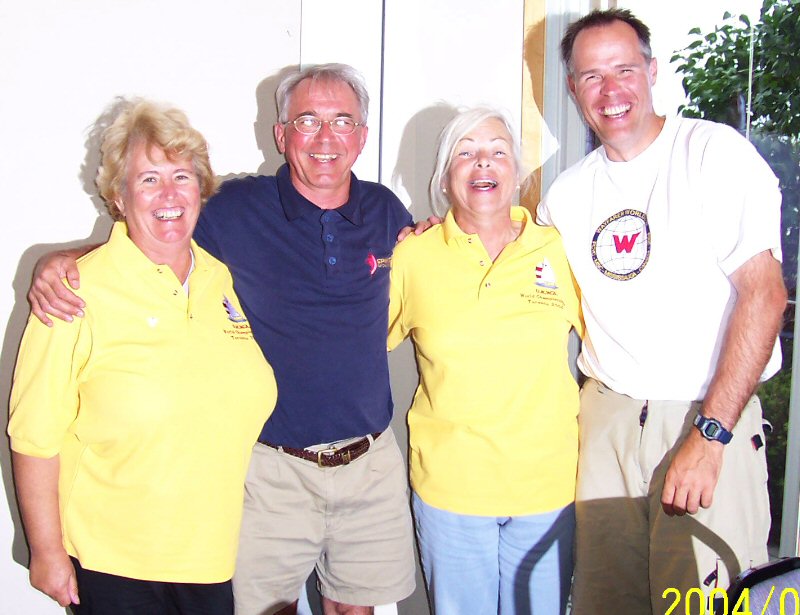 New Wayfarer friendships made: (l to r) Frances Lilley, Brian Mills, Liz Feibusch, Louis Jaillet
...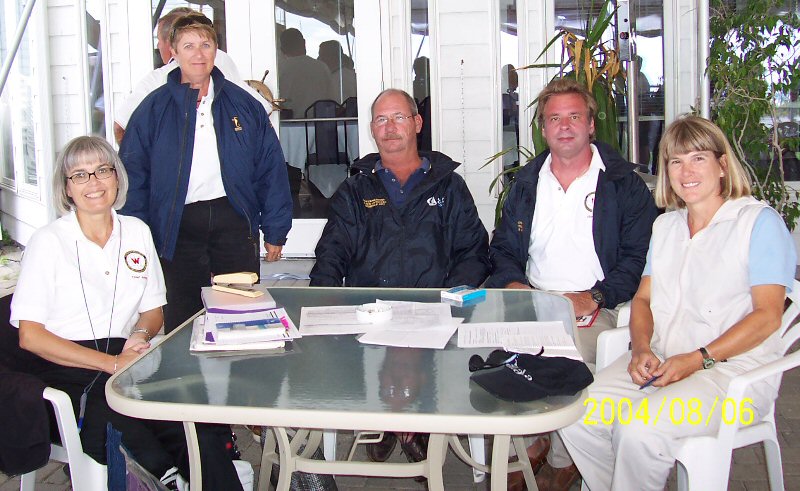 Our Jury: (l to r) Dr. Lynne Beal - Chief Judge, Wendy Loat, Ian Gow, Jake Starr, Katie Coleman Nicholl
...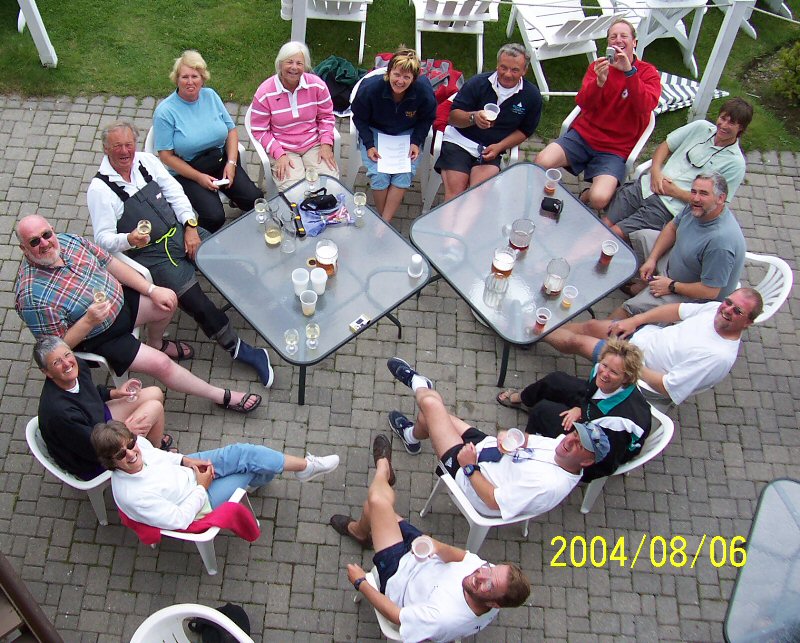 a somewhat more frivolous group is placed just that by the entrance to the bar: (clockwise starting at the gap near the 6 o'clock position) Elsie Chaplin, Winnie & Ed Gillespie, Alan Chaplin, Frances Lilley, Liz Feibusch, Jane & Ian Porter, John Hartley, Nick Philp, Robin Albert, Robin Albert, Roger Shepherd, Joanne K, Kevan Gibb, Stewart Reed (Container Man!!!)


...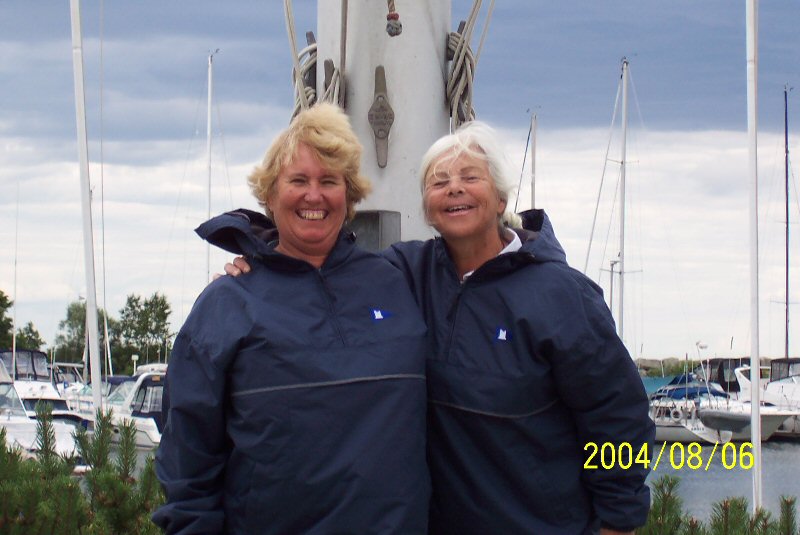 Before the mast? Intrepid mariners Frances Lilley (l) and her helm, Liz Feibusch (UKWA Chairman)
...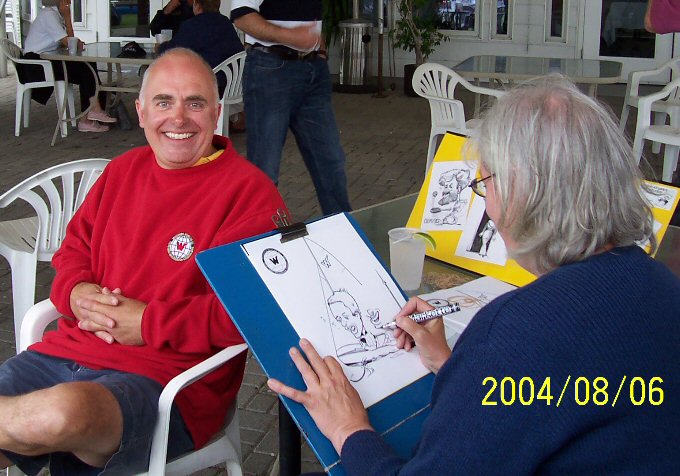 Guy Hacon "sits" for his "portrait", followed by ...
...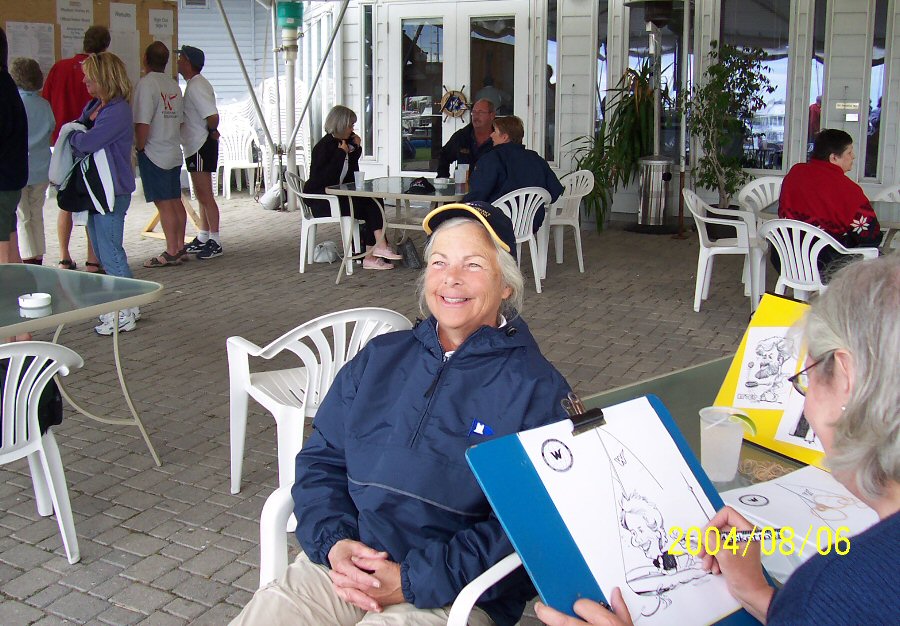 ... Liz.
...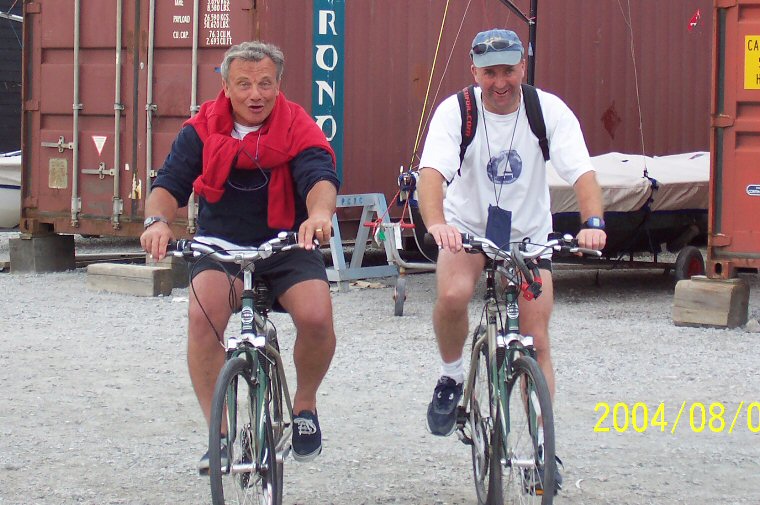 A clever move by Team Scavenger as Ian Porter (l), his wife, Jane, and crew, Kevan Gibb, rented bikes and cycled 15 minutes to and from their hotel each day on a cycle path along Lake Ontario.
...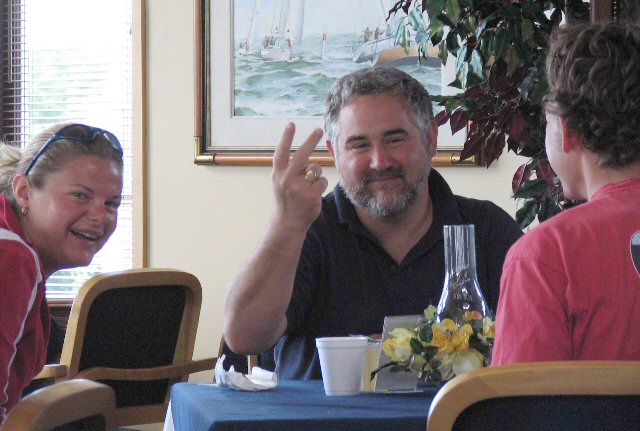 Robin Albert gives photographer, Liz Feibusch, a "cheery greeting" in the dining room
as Rachael Rhodes and Justin Denny look on. Robin is the creator of ...
...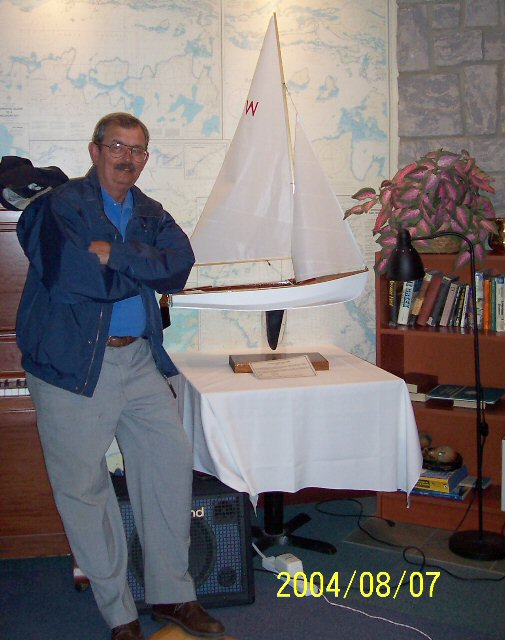 ... this fine Wayfarer model being guarded here in the bar by PCYC night watchman, John Weakley.
...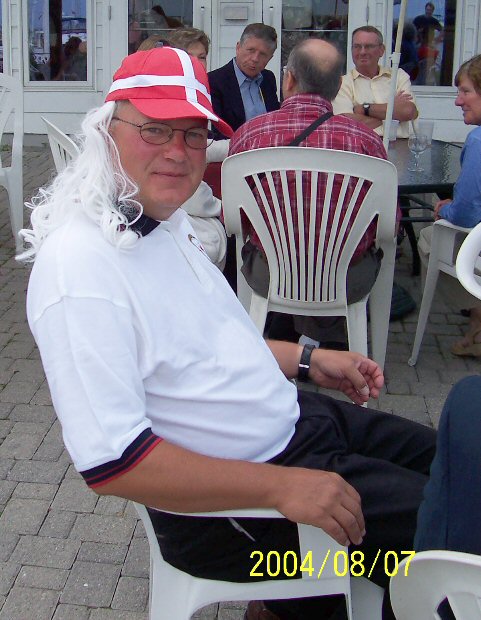 An eager Søren Jensen waits for the dinner gong on Awards Night, along with ...
...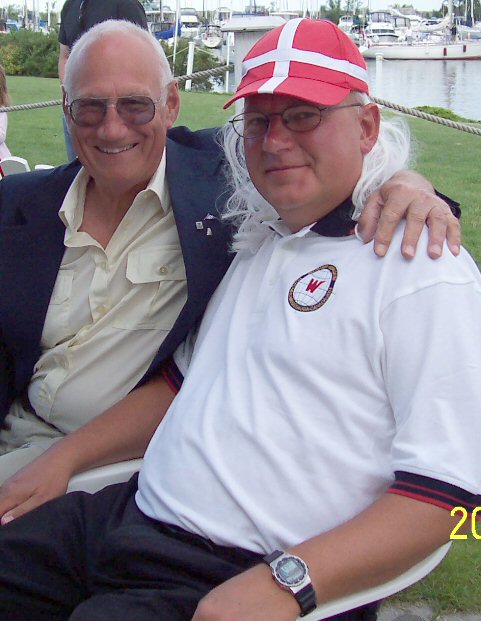 ... an exceptionally formally attired Uncle Al.