2004 AEC Wayfarer Worlds
on shore at PCYC
photos (mostly) by John de Boer and Dave Hansman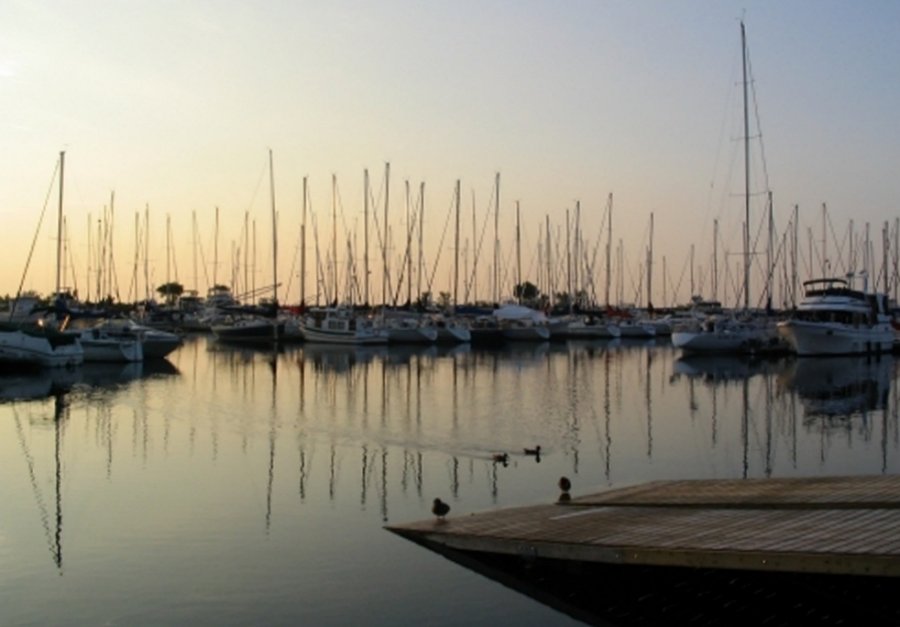 Dawn over the Port Credit YC
...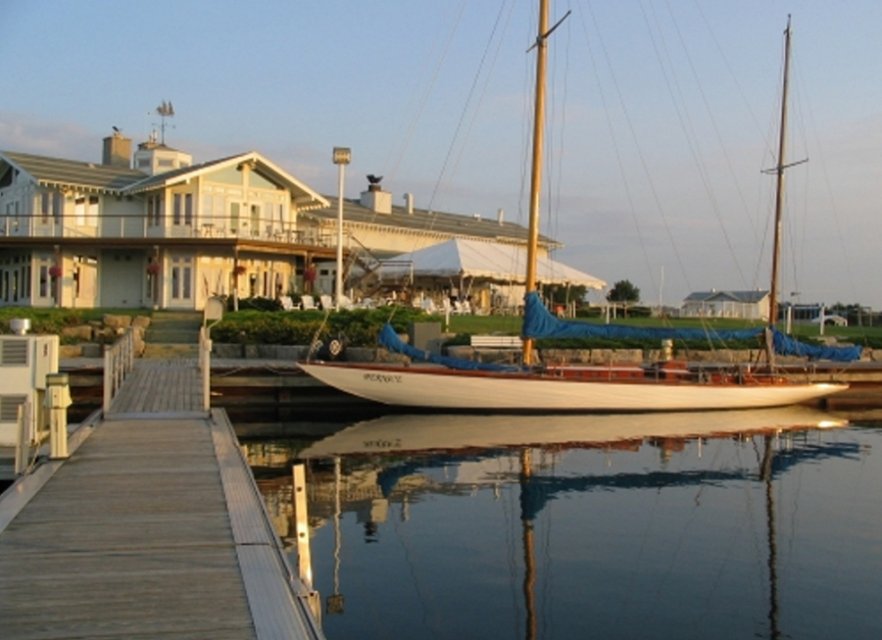 Only a few people get up as early as John de Boer does!
...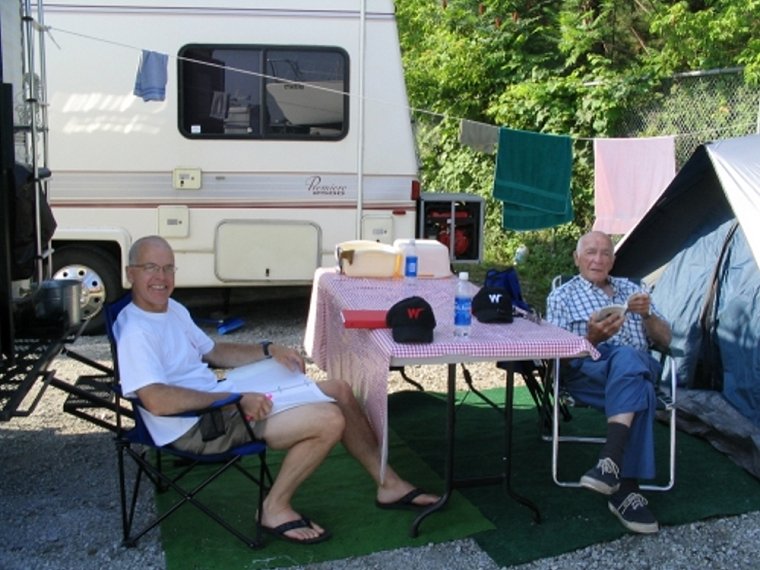 The Hansman homestead in the PCYC back parking lot with the de Boers' "home away from home" in the background, as Dave and his father, Charles, enjoy a restful morning.
...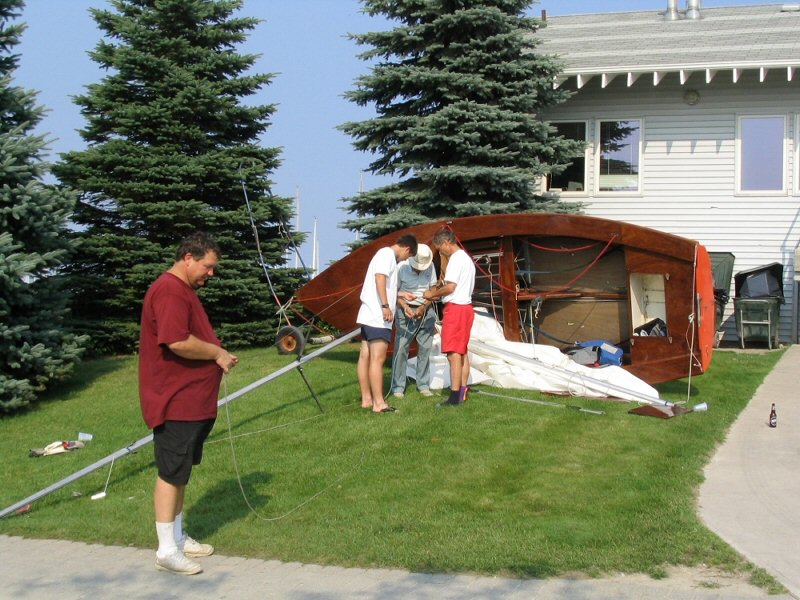 Mike Codd (l) and George Blanchard (hat) help Stephan Nandrup-Bus (r) and his son, Troels,
adapt to Sunkissed which Mike has lent them for this Worlds.
...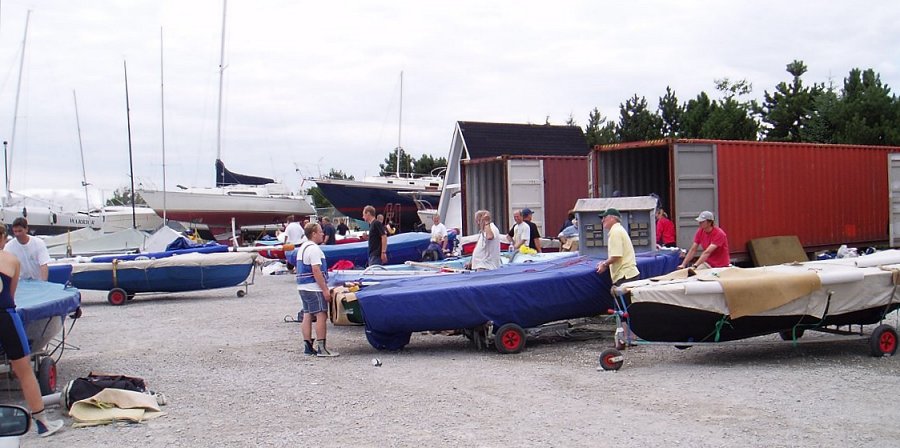 The British boats emerge from their ...
...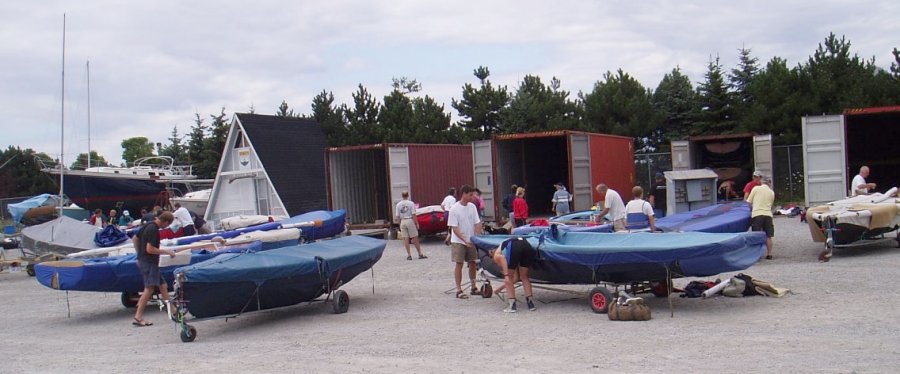 ... CP Ships-sponsored containers in the back lot at PCYC.
...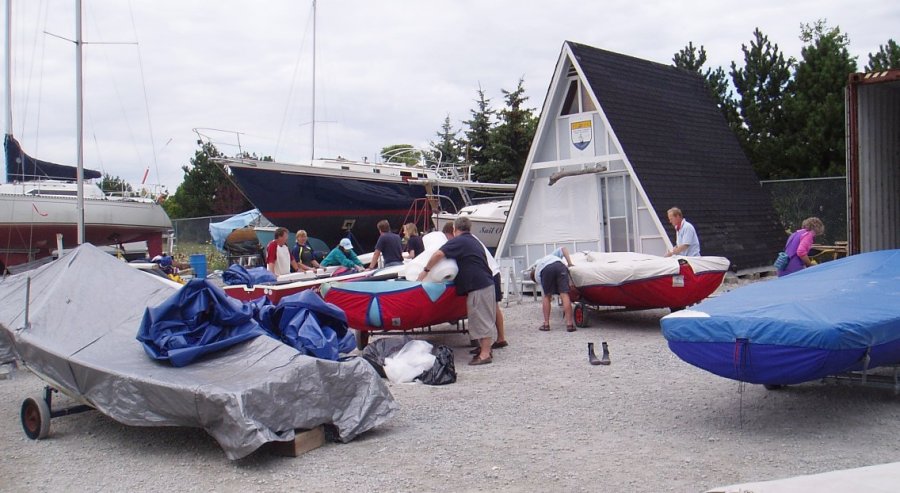 Everything appears to be ...
...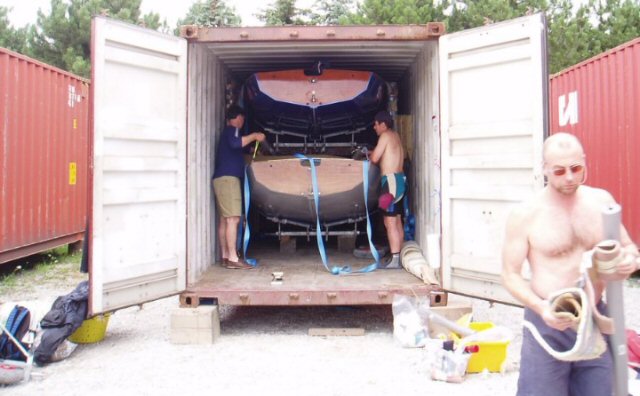 ... intact and accounted for!
...

I believe this is Ian Porter who did a lot of work to ensure that loading, transport and unloading went smoothly.
...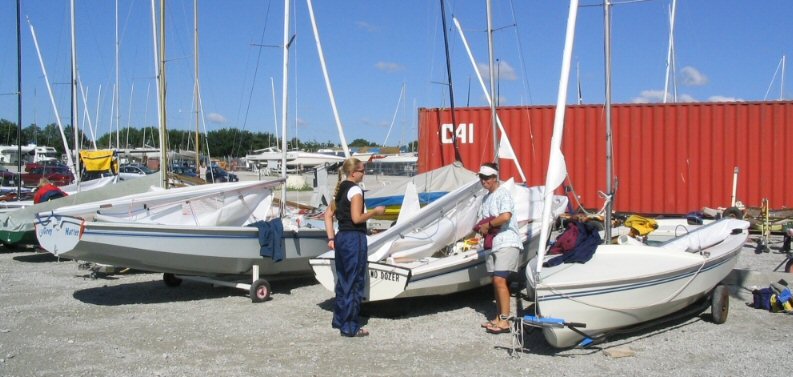 Vancouver's Becky Robson (l) chats with London, Ontario's Dolores de Boer.
...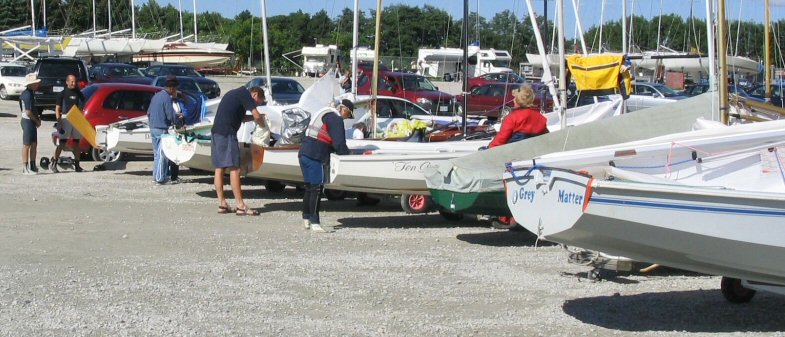 And it's not long before the container entries join their fellow Wayfarers.
...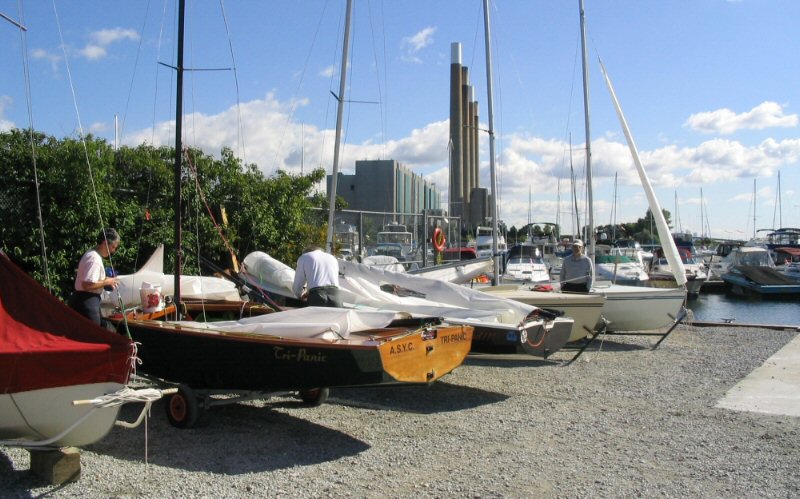 Wayfarers at the ready with the "Four Sisters" of the power plant in the background
...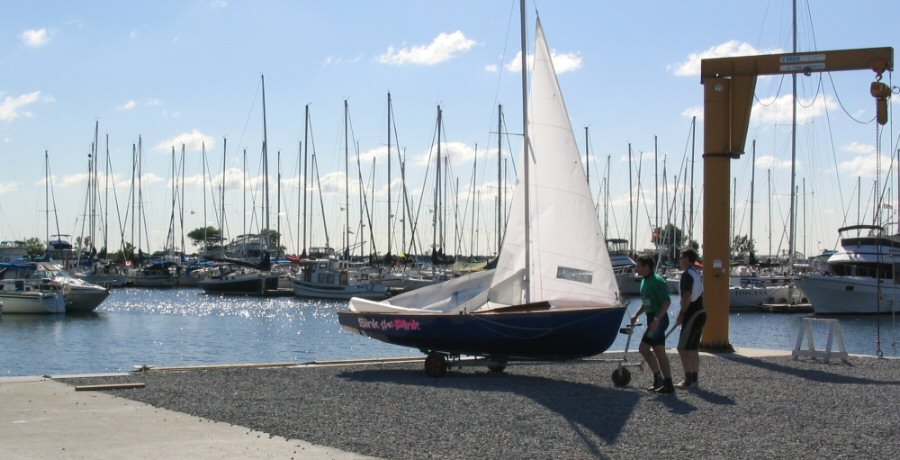 Sink the Pink with Jay Colville and Ian Harley is ready to race.
...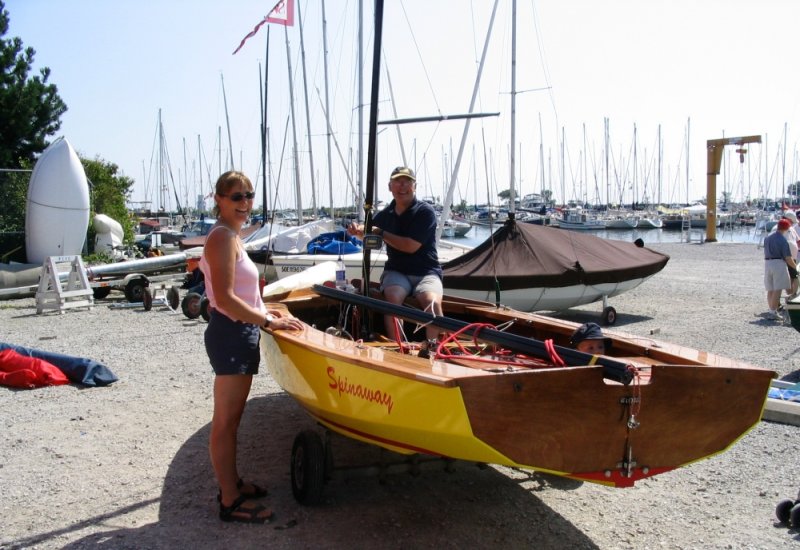 Emma Harris and her father, Gordon, say hello to Spinaway after her long trans-Atlantic voyage.
...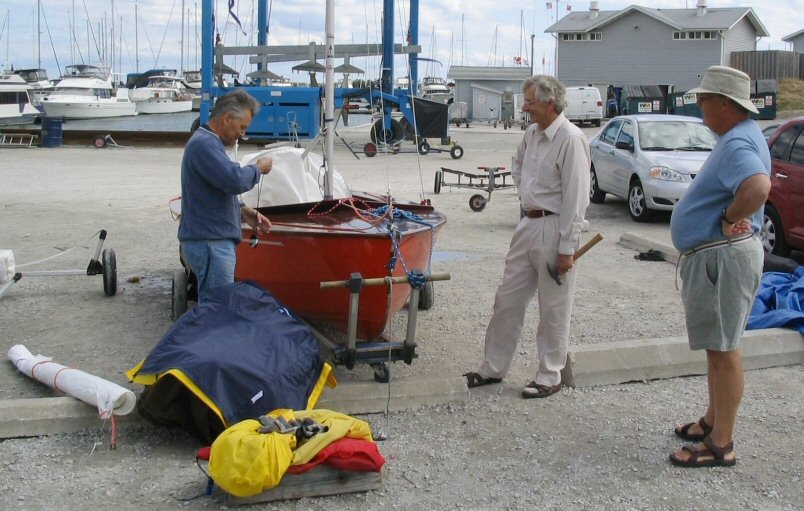 Hans Gottschling (l) prepares The Nutshell under the watchful eyes of Ted Lacelle (r) and former Wayfarer, Alf Easy.
...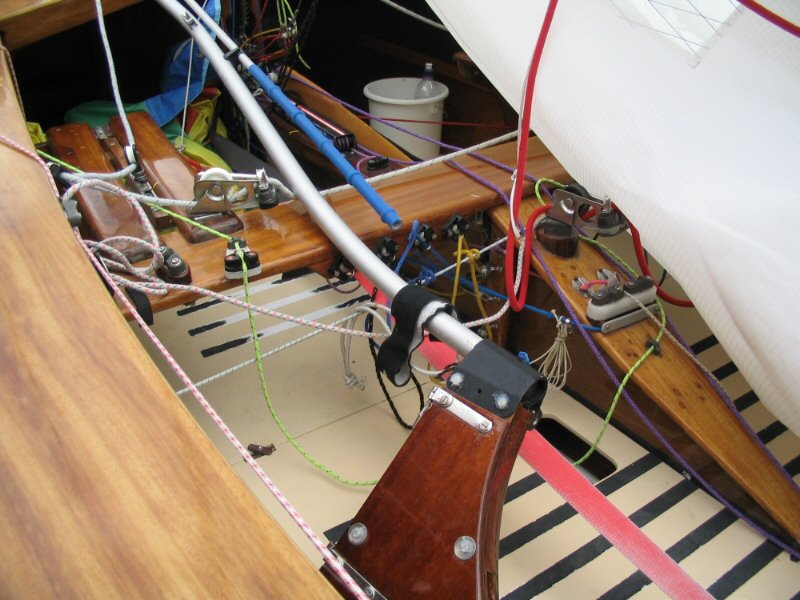 a chandler's dream!!
...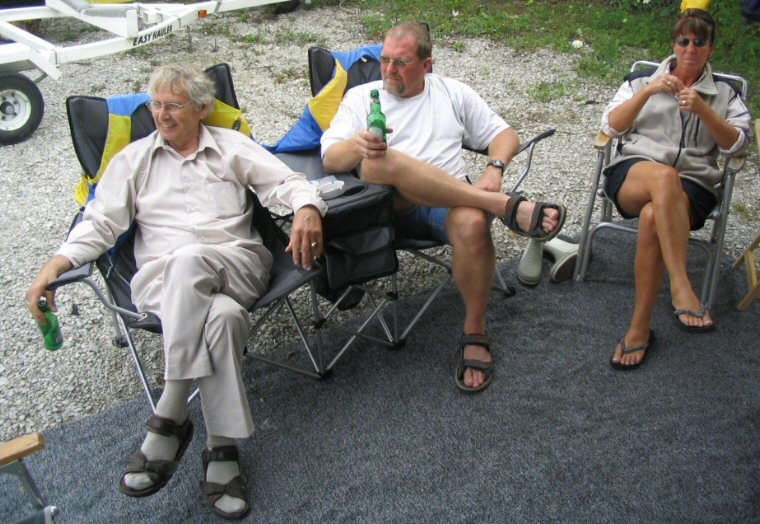 Alf Easy (l) and Roger Shepherd who sailed the 1983 Worlds together in Hayling enjoy some Dolores de Boer hospitality along with ...
...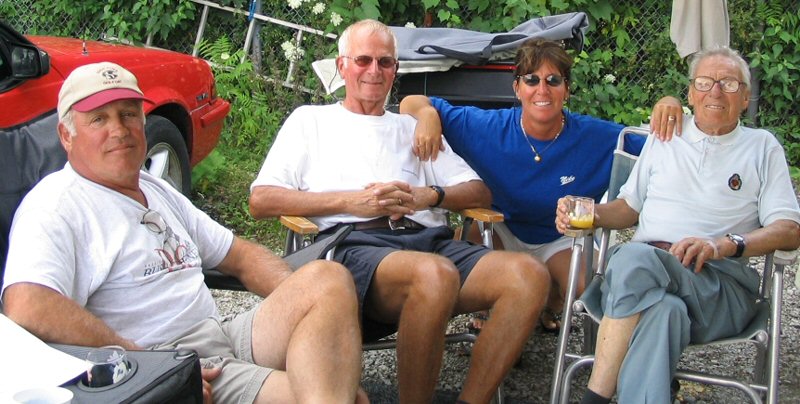 ... (l to r) Nick Seraphinoff, John and Dolores de Boer, and George Blanchard.
...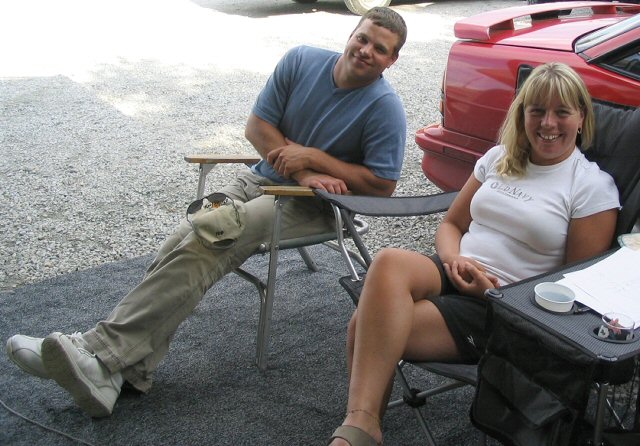 Nick's crew, Joe Blackmore, and Dolores; daughter, Michelle, were there, too.
...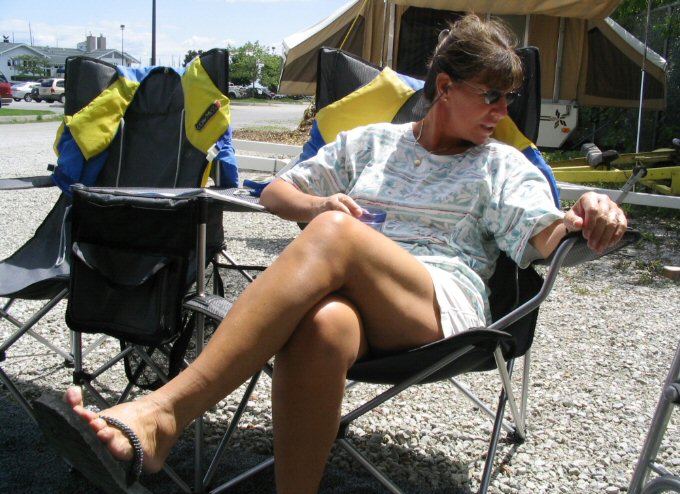 Dolores listens for Misty and Cassie - her new "children".
...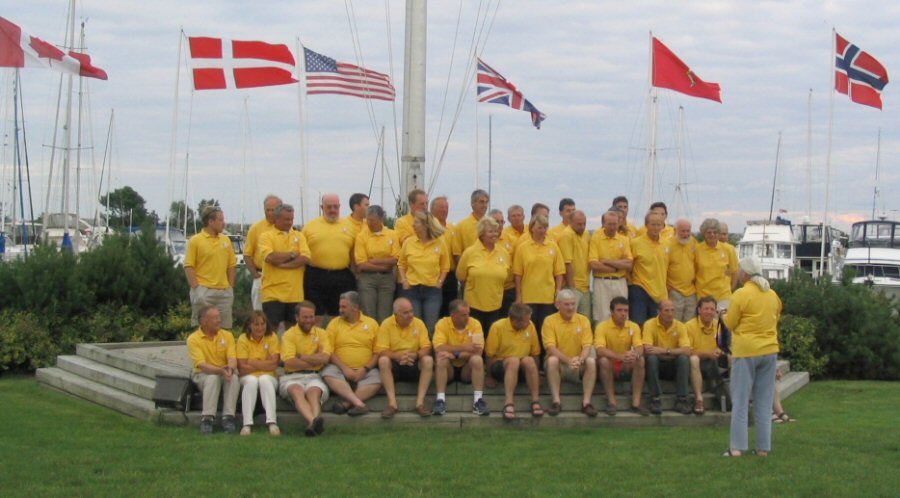 Liz Feibusch orchestrates the Team UKWA photo a signed copy of which, as Liz points out below, will go to each of Team UKWA's sponsors:

----- Original Message -----

Sent: Tuesday, August 24, 2004 11:31 AM

Subject: Team UKWA Worlds sponsors





Hi Al, glad my e-mails are getting through. ... Sponsors are: Canadian Pacific (2 'free' containers, I think), Banks (sailmakers), Selden Masts (loan of masts) & last but certainly not least, Porter Bros. who organised loading used their staff to help, etc. etc. etc. We're having Team Photos made for each of them & framed with 'thanks from the UKWA Team written across them. The UKWA sponsored us with the Team shirts which I organised. Thanks, Liz

...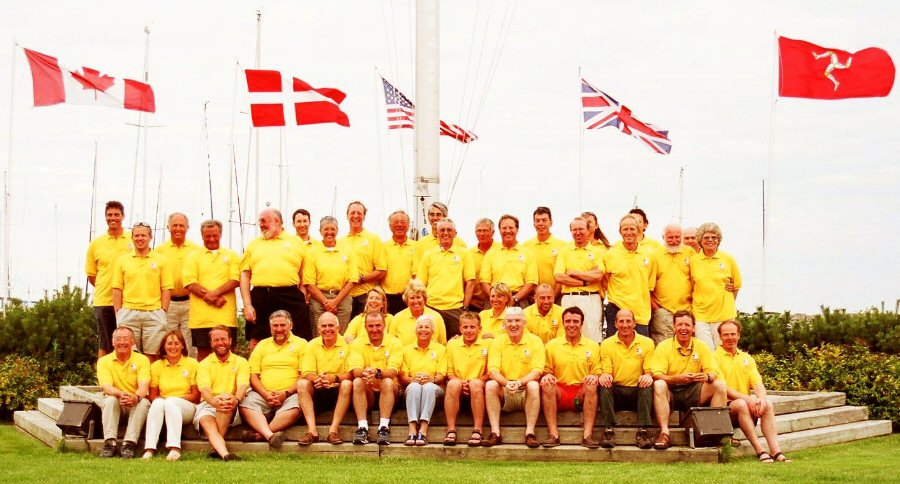 John Weakley went to a lot of trouble to get the Isle of Man flag (r) so I have posted this picture of Team UK despite the poor yellow colouring of the shirts in this version - for full-sized team pic, click here
...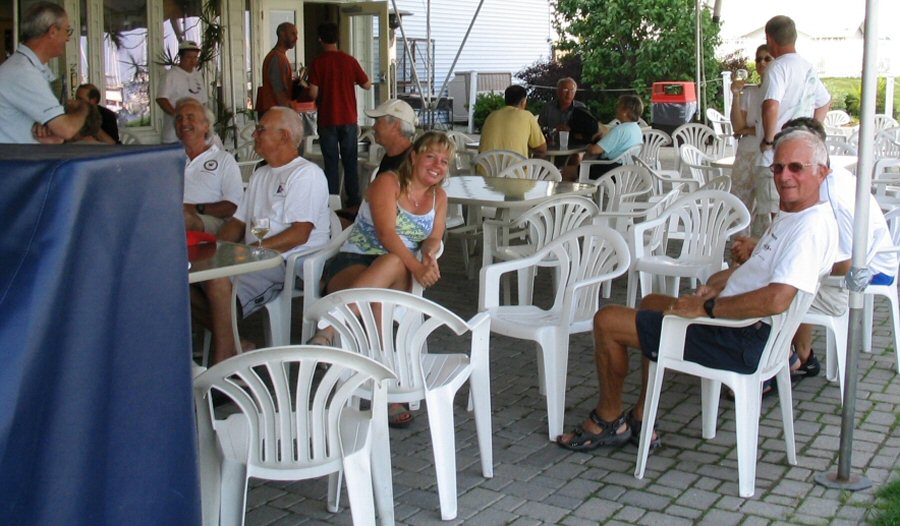 The back patio at PCYC was the perfect fresh-air spot to unwind after a hard day's racing.
...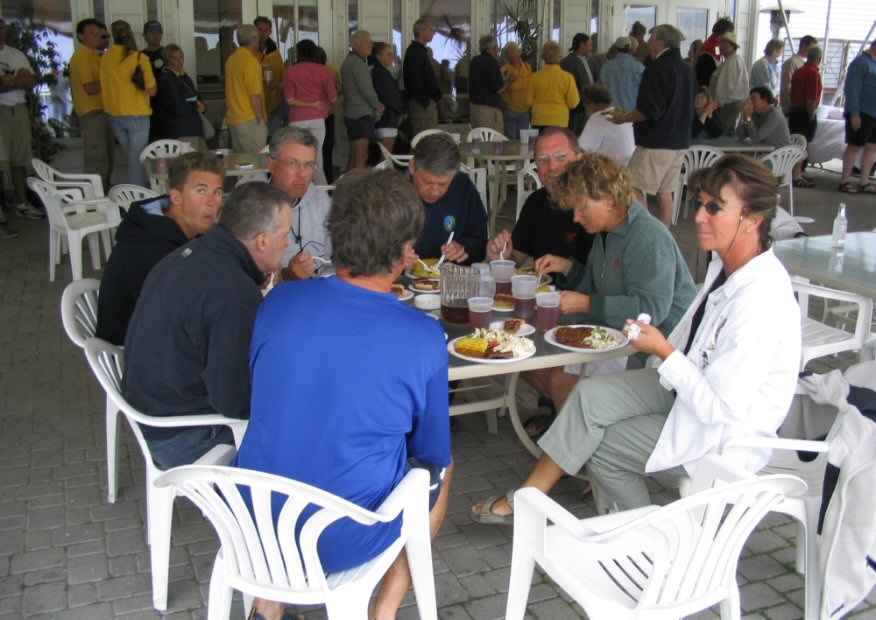 The Thursday evening BBQ at Port Credit
...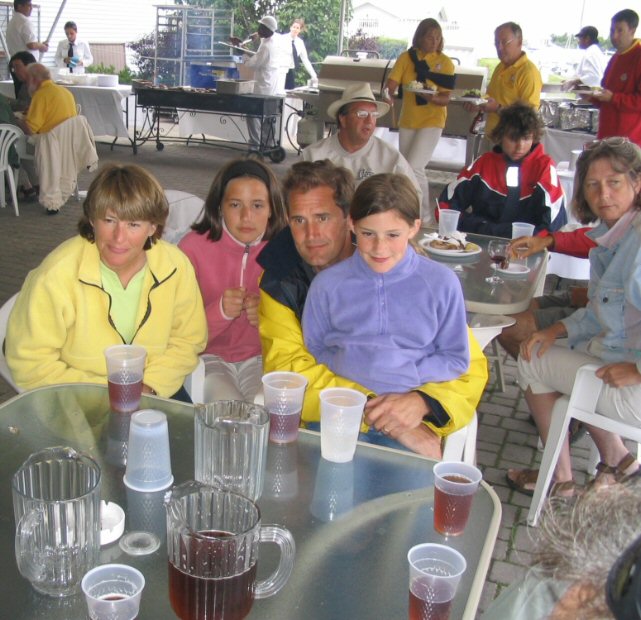 Team Chickin: Richard Johnson, his wife, Michelle, and their ...
...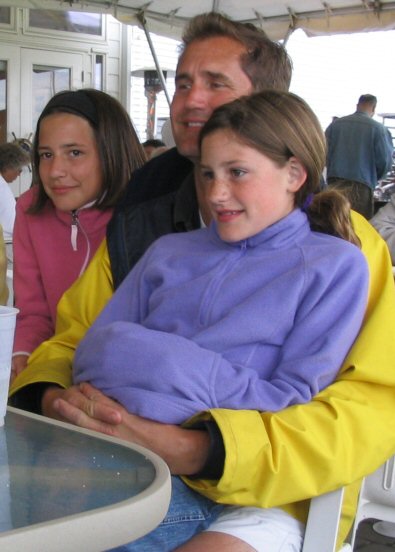 ... daughters, Alyssa and Emily (r).
...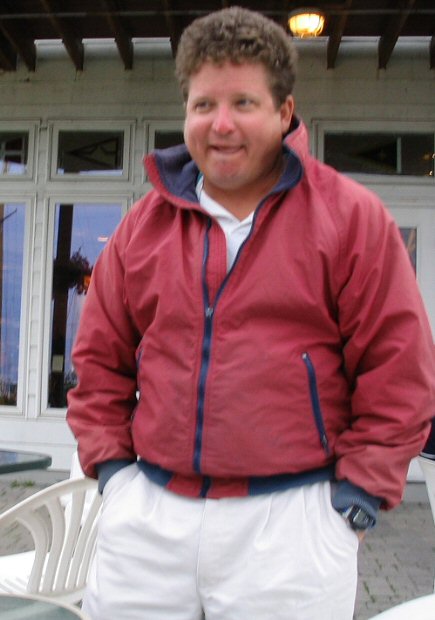 Marc Bennett's Jamaican blood finds this Toronto summer's day to be a totally inadequate substitute for the real thing!
...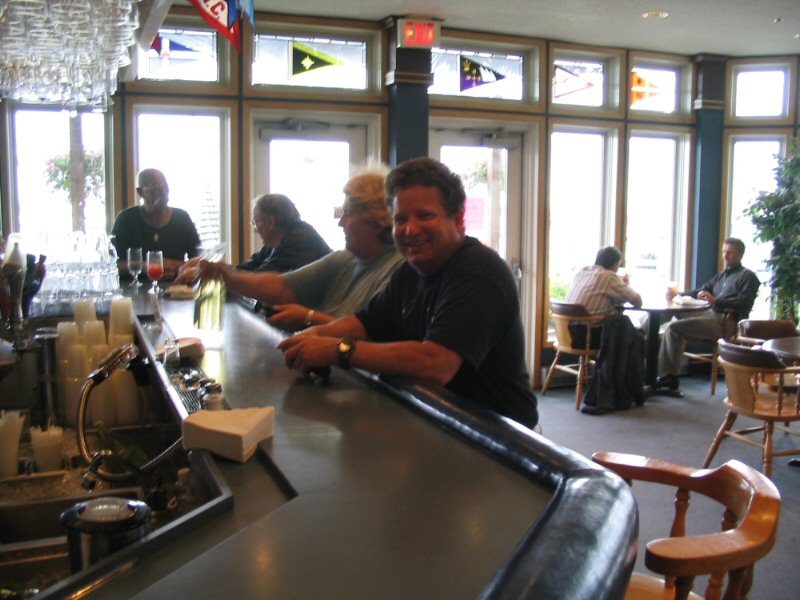 Ah, now this is better - a nice, warm, inside bar!
...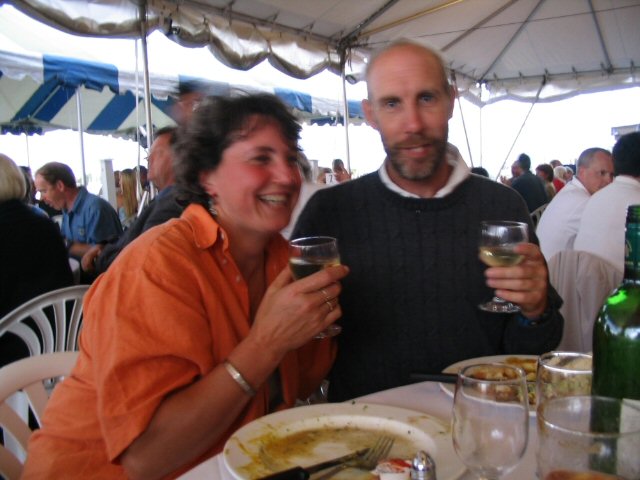 Doug Netherton and Françoise Brossard at Saturday night's Awards Banquet
...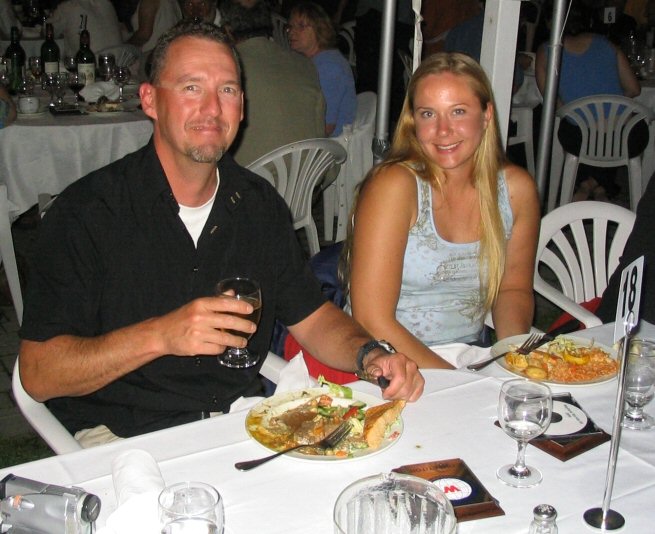 The pride of Vancouver (and of Table 18): Doug Honey and Becky Robson
...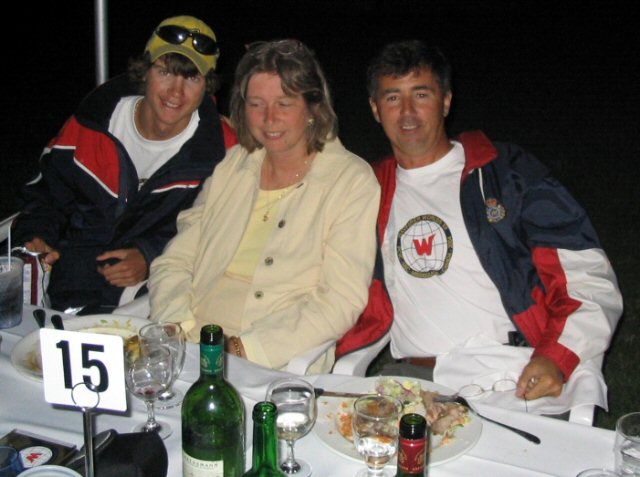 Chris Ryan with his mom, Roberta, and dad, Doug (r)
...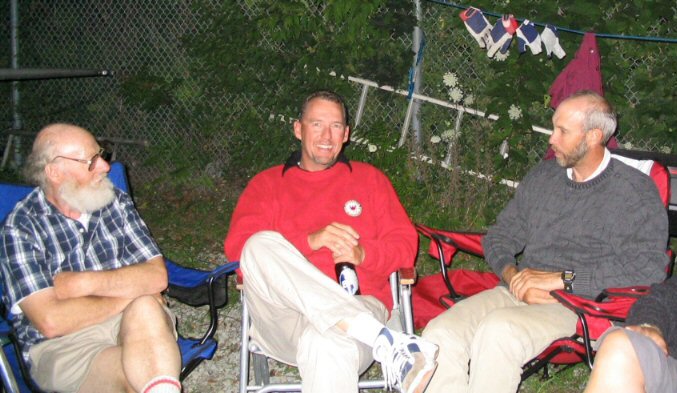 The banquet post-mortem chez les de Boer: (l to r) Roger Redwin, Doug Honey and Doug Netherton
...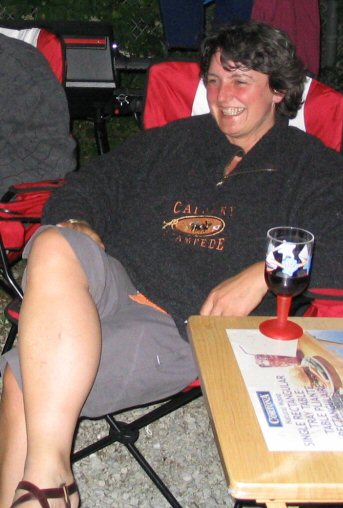 Françoise enjoys a glass of John de Boer's special Wayfarer Worlds wine.
...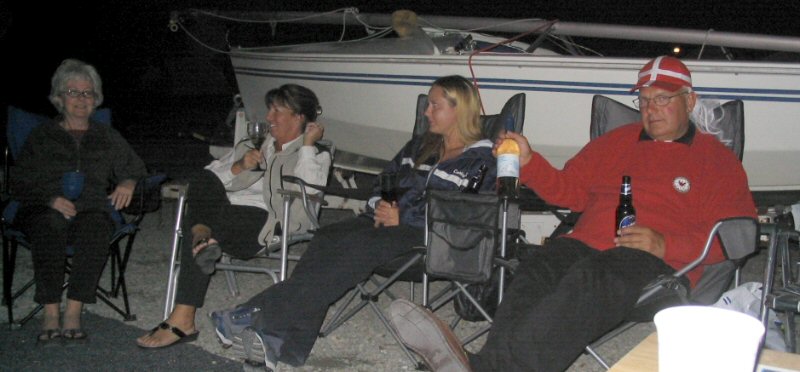 The last evening of the 2004 Worlds winds down: (l to r) Carol Hansman, Dolores de Boer, Becky Robson and Søren Jensen (complete with Denmark hat that came with much needed white replacement hair which gives him that look of a real elder statesman!)