2004 AEC Wayfarer Worlds
the Practice Race - 2
photos by Bob Thayer
(note: all of these photos were - in larger size - on the competitors' CD created by Bob)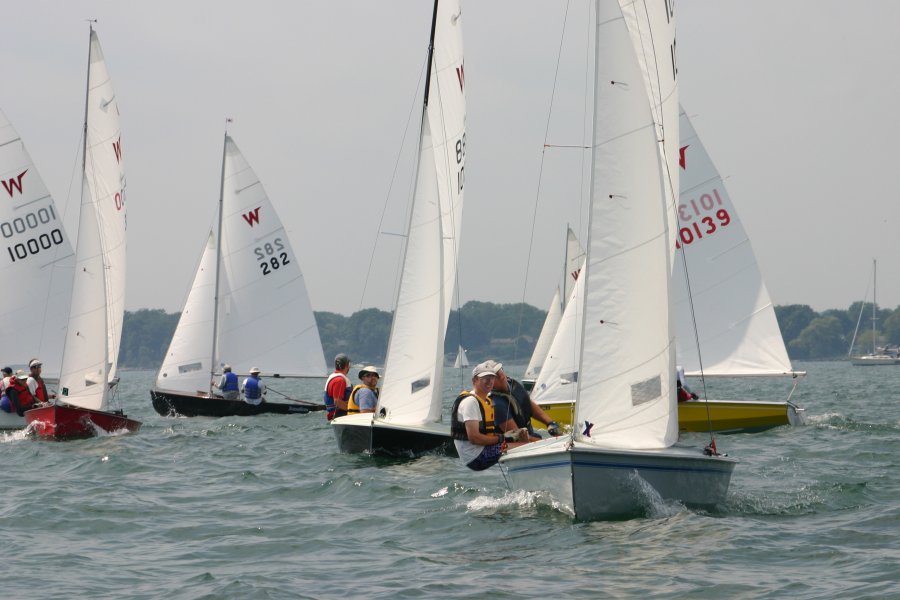 And they're off! Staying on starboard off the line are Brian Lamb with Tony Hunt (l) who are sailing their boat super-flat and will increase the effect of their backwind on Stewart Reed with Robin Albert (10288), while Peter Kozak with Annelies Groen (300) will have to sail well to stay out of Stewart's backwind. Meanwhile the parade of those who have bailed out onto port tack is led by Liz Feibusch with Frances Lilley, Dave and Charles Hansman (282) and Richard Johnson with Michele Parish (10139).
...


Off to a fine start is Brian Jeffs with Scott Bamford (9235) who has just crossed Jeff and Barry Cox (661) and the Manxmen, John Dowling and Terry Holt (8322). Also heading out to the right side are Dwight Aplevich with Al Nichols (4606) and Hans Gottschling with Pedro Santos (938) as well as W4601, Ed Morysiak and Karin Fairbairn who are just crossing Peter Kozak and doing very nicely in their first open Wayfarer race.
...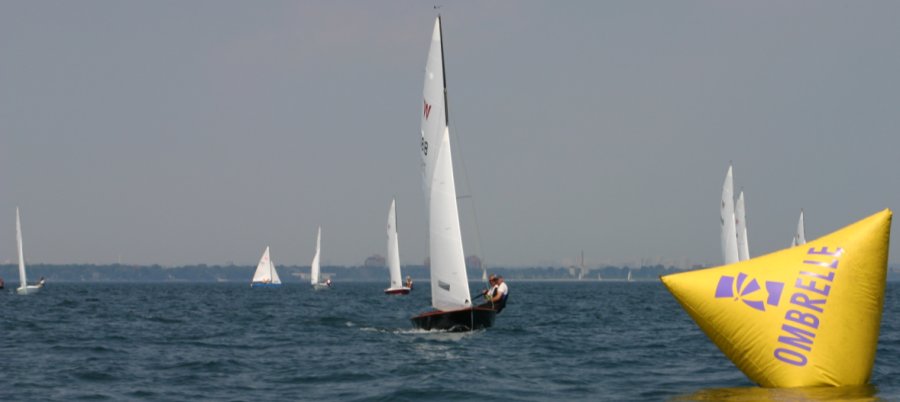 So, lads, here's how it's done: Ian Porter and Kevan Gibb started well and got better. They rounded with a 200-yard lead which they increased on the run. At the end of that first run, they kept right on going back to PCYC, not wanting to risk the supposed jinx that accompanies winning the Practice Race.
...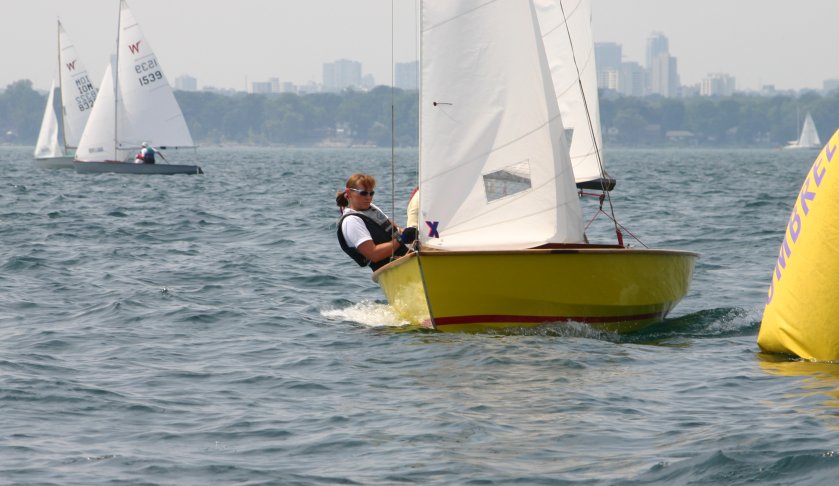 The surprisingly strong east-going current (from left to right in this picture) has set Gordon Harris and daughter, Emma, below the windward mark. Looks like they're about to do a couple of quick roll tacks to get around the mark before ...
...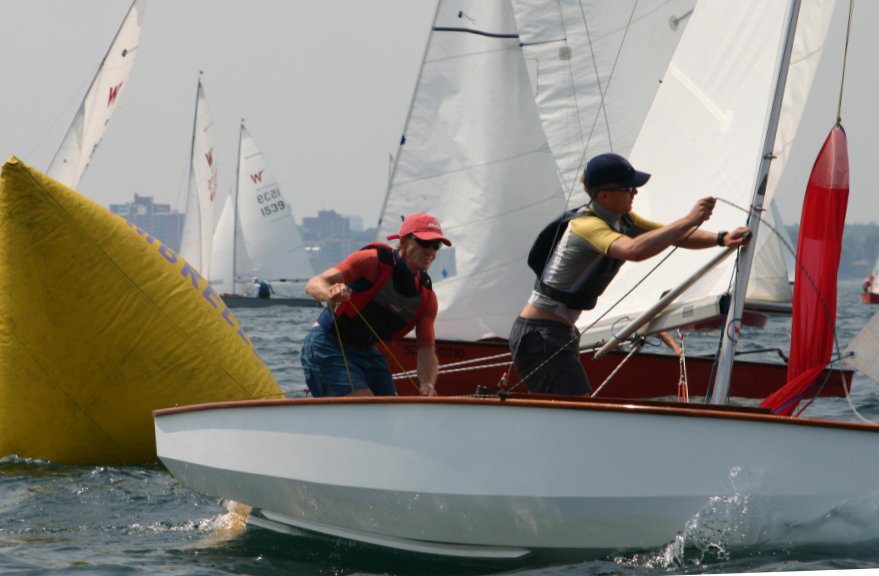 ... the starboard hordes arrive. Above, Graham Barker and son, Robin, get a head start on the run by setting the spi on the short 50-yard leg to the offset mark. Crews take note how Robin makes life easier for himself by bringing th sheet to the pole such that he can easily insert the sheet into the pole fitting - especially useful in waves.
...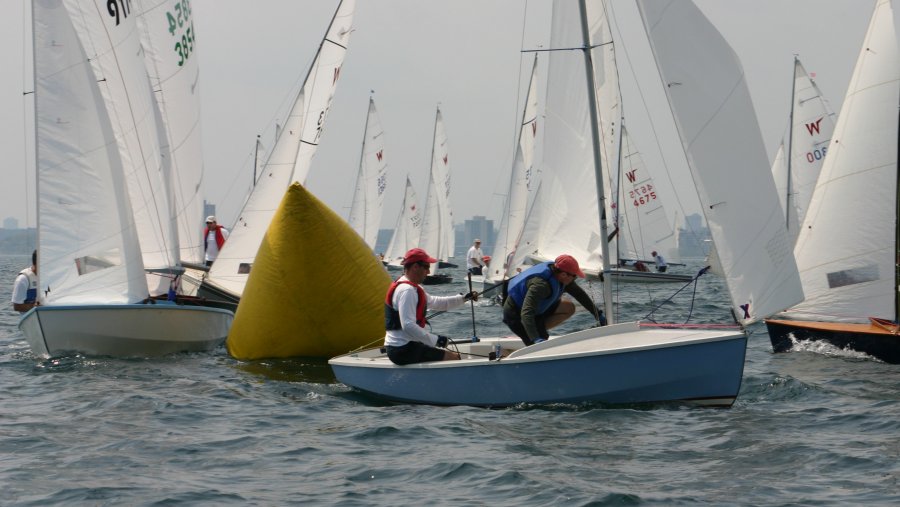 Neil Fletcher and Chas Edwards make it around nicely before the real mess begins. Uncle Al (3854, second from left) had thought he was in OK shape until Stephan Nandrup-Bus (not visible above) crossed him on port just before the mark and tacked on his wind. Still, he had hopes of making it around the mark until Roger Challis and Mark Johnston (left) threw in a nifty tack right at the mark without fouling Al who ...
...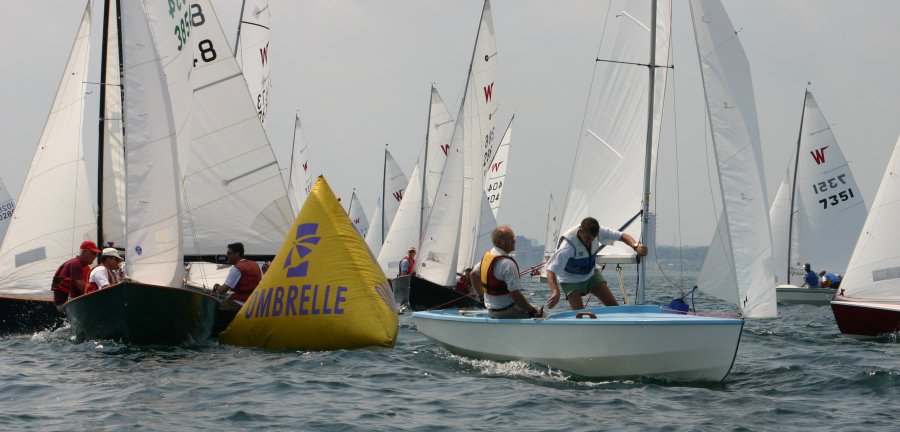 ... nearly made it past the mark before the current pushed him into it.
Nerves of ice on Toby Mace (8848) who nips in just in front of Mark Taylor (7673) to ...
...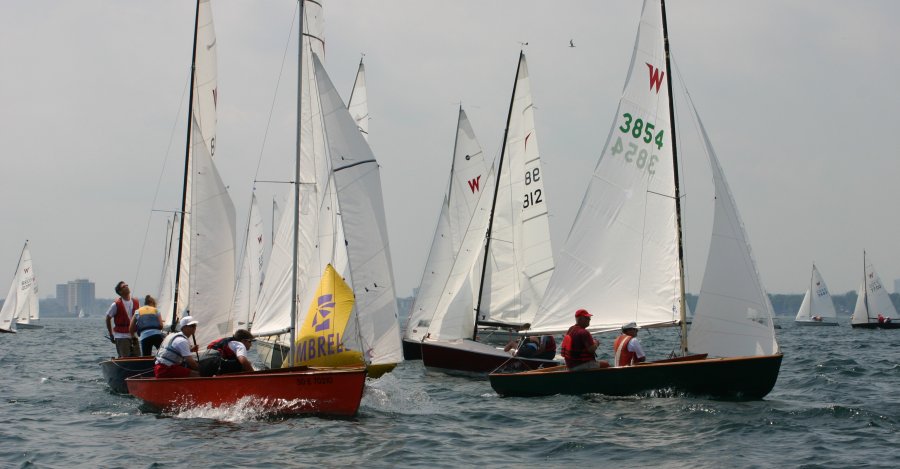 ... round just behind Stephan and Troels Nandrup-Bus. Al (3854) meanwhile, contemplates a 360 but the thought of trying it in the crowded area between the windward and the offset mark was daunting - and then it was too late, so we decided to sail two sausages, retire, and get to the bar early.
...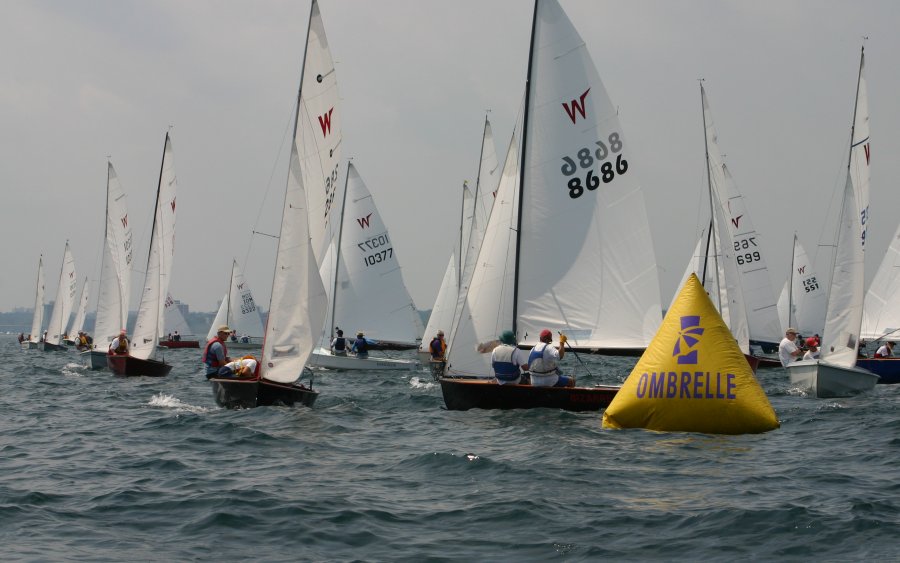 The windward mark traffic jam continues: Guy Hacon and Daniel Watson (8686) look like they'll just nicely have room to tack in front of Heider Funck once they finish bearing away for Peter and Alex Rahn (286), but I wouldn't want to be Brian Jeffs and Scott Bamford (9235, second from right) in this position! Hey, John! Brian's not wearing his life jacket!!!!
...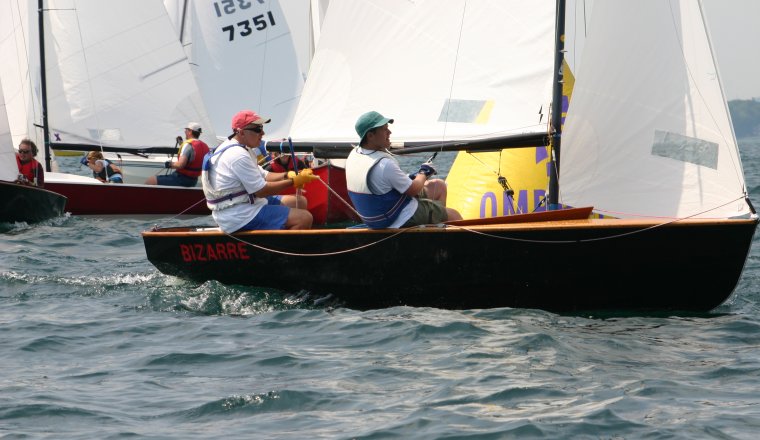 Guy makes it around nicely, but keep an eye on Peter Kozak (red bow) for whom this rounding will be memorable for all the wrong reasons: Here he has no place to go, being boxed in by Roger Shepherd and Joanne Kumpf (far right) and is apparently deciding to shot the mark in a one-knot adverse current. John Goudie and Suzanne Hall (second from left) meanwhile are about to meet a starboard boat and decide to tack, but alas ...

...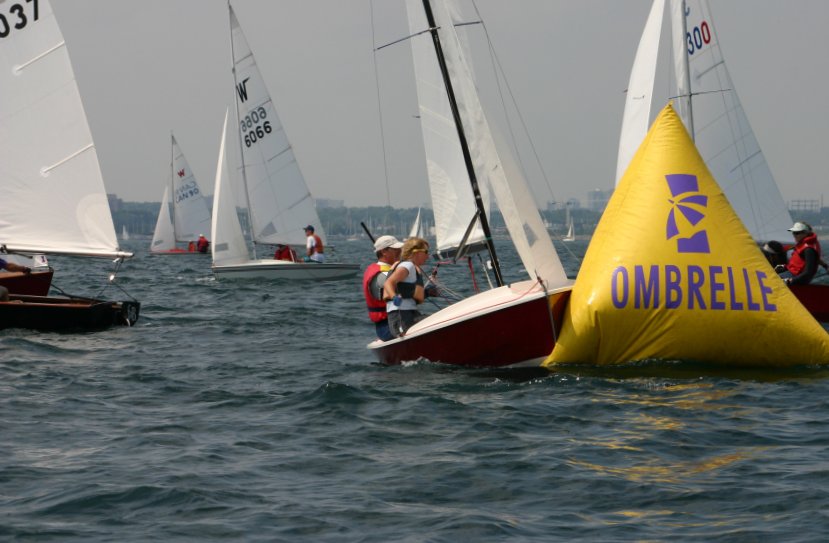 ... the current is too strong and they meet Mr. Mark. Peter, meanwhile has found a spot in which to tack but ...
...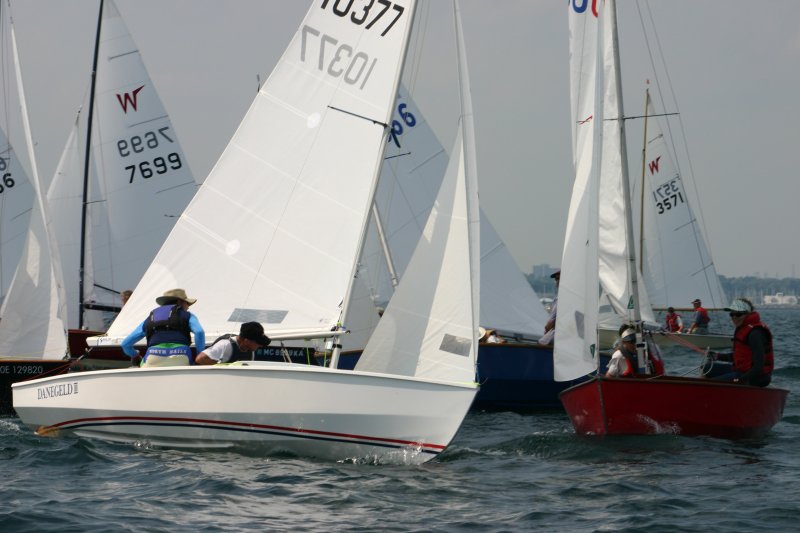 ... dammit, Michael McKechnie and Simon Turner (10377) and Kit Wallace with David Weatherston (black bow at extreme left) are in the way. So he tacks but hits the mark, or so ...
...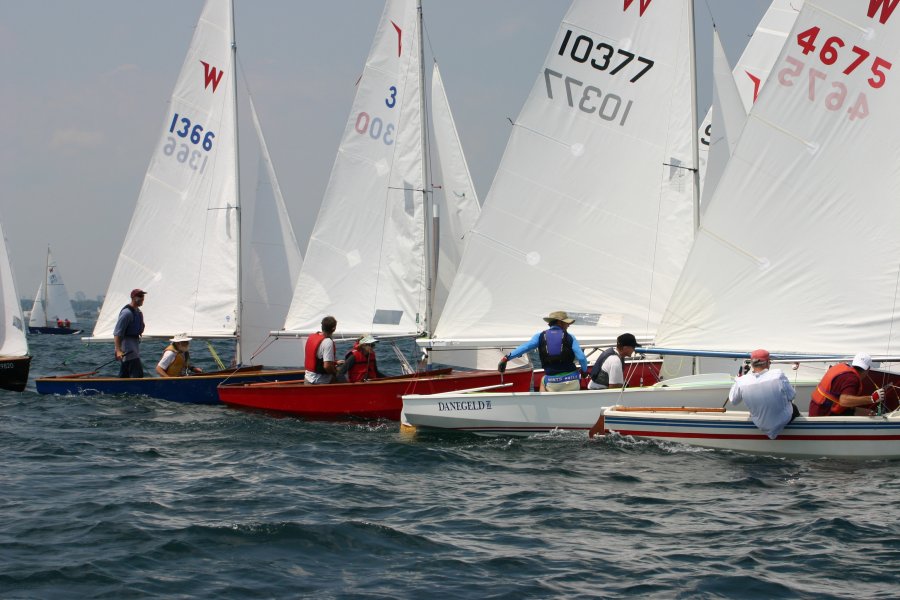 ... Doug Netherton and Roger Redwin (1366) seem to be telling him. During all this,
a wise Brian Mills with Louis Jaillet (4675) has overstood but avoided a lot of stress and aggravation.
...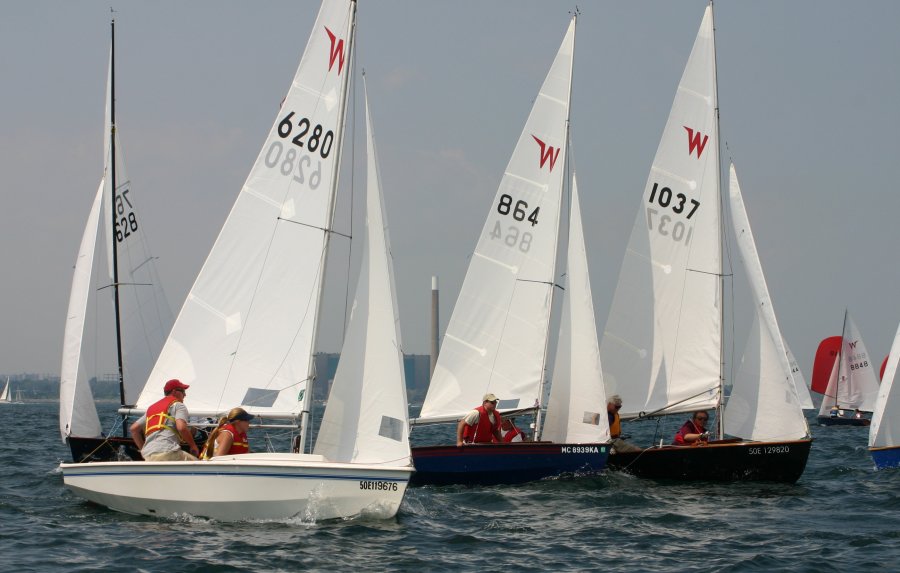 If the pics on Bob Thayer's CD are in chronological order, this sequence is interesting. Near the mark, Doug Honey (6280) appears to be the only one laying it, while Nick Seraphinoff with Joe Blackmore (864) and Kit Wallace (1037) are pinned. Meanwhile, on port tack, John Hartley with Nick Philp (7628) and Doug Netherton (blue bow, second attempt??!!) are about to meet starboard boats:
...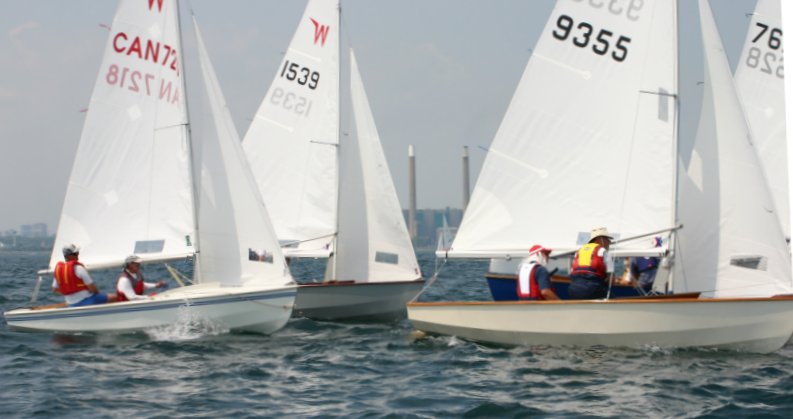 Søren Jensen with Jesper Friis (9355), Alan Bell with Gordon Reid (1539) and Dave Platt with Lou Scaglione (7218). Doug has to take their transoms but John (7628) decides to tack.
...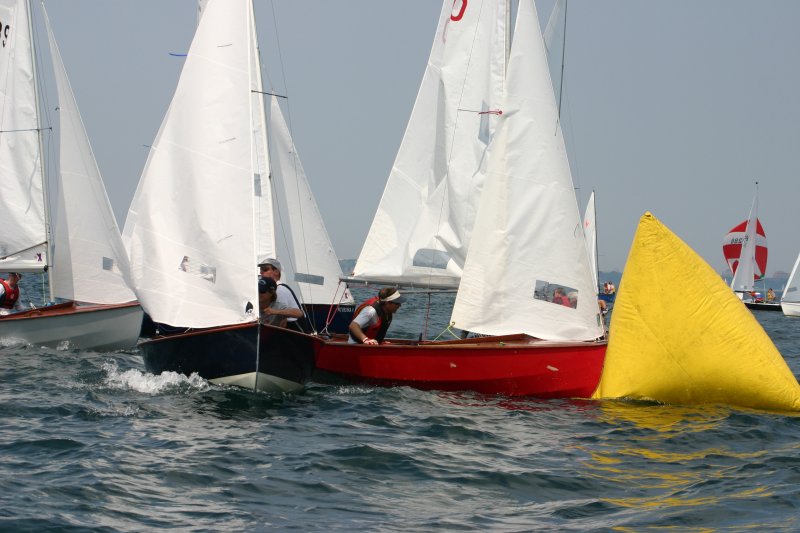 Alas, the current is too strong and he has to tack yet again. Don't know what brought Peter Kozak back here for another date with the mark. These pictures are full of guys that should have been around and gone long ago but of course, we did have quite the current!
...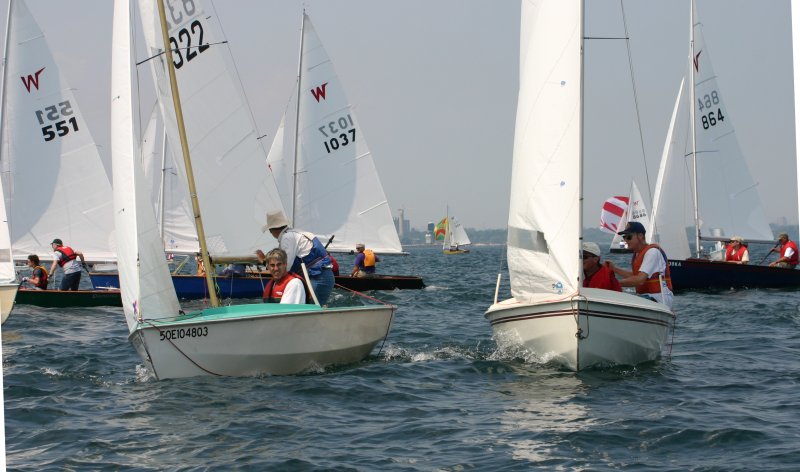 Ah! Some fresh faces: Steve Carroll and John Attwell (red racing stripes) and John Dowling (3613 a.k.a. 8322) are about to tack around the mark, while Mike O'Malley (551) wonders if the starboard layline parade will ever end. Back for another try at the windward mark are: Doug Netherton (to leeward of 8322), Kit Wallace (1037) and Nick Seraphinoff (864). Blissfully uninvolved in all this are Gordon Harris (yellow hull) and Guy Hacon (8686) spinnakering down the run.
...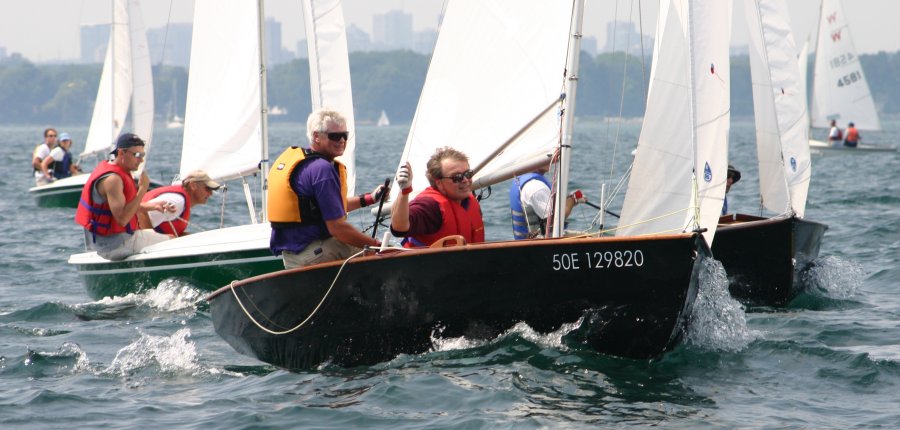 Kit Wallace and David Weatherston look a bit stressed out as they look like they have finally found a clear path to the elusive windward mark. Thomas Vendely with Zoltan Takacs is not quite as well off but not as doomed as Dave Hansman (black bow) who is being blanketed by Kit at a most unfortunate time. Not pushing their luck too hard in their first Wayfarer race are Thunder Bay's Andrew Haill and Julie Colbourn (right) and Outer Harbour's Alan Simpkins with Paul Earley (4581).