2004 AEC Wayfarer Worlds
the third day of racing - 1
photos by Bob Thayer
(note: all of these photos were - in larger size - on the competitors' CD created by Bob)

I have found it impossible to sort Bob's Thursday pics by race, let alone by sequence within races. What I do know is this: Thursday dawned cool with a north wind gusting over 20 knots (F5, 10 m/sec) that was creating a chop over six-foot swells left over from an overnight south- easterly. Strange wave conditions that enabled us to surf while going upwind on starboard tack. Marc (the Jamaican) and I (thin blood) found the day on the cold side for Lake Ontario in early August and with the temperatures never going above 20C, we spent much of the non-racing part of the day hove to.
Three windward-leeward races were on the agenda and easily completed with fine race management by Weakley & Co.
...
Race 4 (Thursday's first race): To quote the Waldringfield report: Alan Chaplin made a perfect pin end start and crossed half the fleet on port tack. A third of the fleet misread the lay line and ended up over standing the windward mark, meeting boats bearing away frantically hoisting spinnakers. John Hartley and Neil Fletcher pushed Porter and Gibb who managed to pick the right shifts to pass and then cover up the remaining beat.
Following the aforementioned trio of Porter, John Hartley with Nick Philp (their best finish of the series) and Neil Fletcher across the line were our Danish buddies, Søren Jensen and Jesper Friis, who recovered startlingly from the previous day's 44th. Toby Mace continued to impress with his consistency as he scored 5th, his best result of the series so far, as he and Rachael beat out Gordon and Emma Harris. A super 7th for Kit Wallace and David Weatherston of the Toronto Sailing & Canoe Club who rounded 2nd after a fine first beat. This, their best finish of the series was a race to remember. Kit recalls if as follows: "In race 4, we actually had one of our worst starts - in the second tier of boats at the committee boat end of the line. So we tacked to port as soon as possible to clear our air. I think most of the fleet was down at the pin end in this race, though another bunch went off to the right, which was going to be our strategy too. However, in trying to get clear air, we lucked into a huge lift down the middle. The boats to the right missed this and those on the left side were lifted further left. We got to the weather mark in second place just behind Porter, who had overstood on the left side and came screaming down on us on a reach. We were also well ahead of the right side bunch who had started earlier. From this point on it was a matter of sailing with the leaders and trying not to screw up. We lost one boat on the first run (Toby Mace?) but generally were able to keep up with the Brits. Meanwhile Porter was off in front by himself (as usual)." Guy Hacon knocked off Graham Barker for 8th while Jay Colville completed the top 10. John Goudie took 11th ahead of our Sarnia (Abbott country) lads, Brian Jeffs and Scott Bamford, while Roger Challis and Mark Johnston who had been sitting in series 2nd after three straight single-digit placings (2-9-3) fell to a 13th, just ahead of Michael McKechnie (14th) and Roger Shepherd (former Ian Porter crew and now living near London, Ontario) who sailed to a fine 15th.
The Uncle Al perspective: Despite a decent start, Al again got confused on the first upwind leg and managed to get on the wrong side of shifts to the tune of rounding off the first beat in 40th+ for the third time in four races. This time, Marc's heroics only got us back to a 17th - our worst finish of the series.
...
Other race 4 series bests not already mentioned were recorded by:

Ottawa's brother act of Andrew and Nigel Gumley (18th)
the 90-year-old George Blanchard wasn't kidding when he said the previous day: "We need more wind!" He and Mike Codd placed 20th

Liz Feibusch and Frances Lilley, our only all-female team (22nd)
Alastair Ryder-Turner with young Andrew (11) got going when the going got tough, and took 29th

Race 5 (Thursday's second race): This was the big moment for Montreal's father/son team of Peter and Alex Rahn who went hard right after a boat end start and rounded with the lead which they held onto the second beat. On the second run, things really began to fall apart for Team Rahn who, amazingly, managed to find a dead area, and ended up dropping to a 10th at the finish. As the Waldringfield lads saw it: The star of race 5 was the partnership sailing Bizarre. After a poor start and rounding 30th at the windward mark, Dan and Guy stormed downwind and picked the shifts masterfully on the remaining beats to finish close behind Porter and Gibb who also had their work cut out with rounding 8th at the windward mark, but surfed the waves in the gusty conditions to cross the line first, with Fletcher and Edwards 3rd.
So, once more it was Porter, this time followed by Guy Hacon with Guy Watson in 2nd - their series best, while Neil Fletcher was looking good for series second after his 3rd left him counting 3-4-3-3. Buoyed by the fact that they had rounded off the first beat in much better shape (the top 20!!), Marc and Al actually beat some of the top British boats at their own game and recovered to take 4th place - not bad for a helm who was holding his tiller in a death grip for fear of losing control and capsizing on the runs. Near the finish, as we covered 5th-place Jay Colville and Ian Hurley with deathly determination, Marc and I fell during several attempted roll tacks and I remember thinking that if I had been in Sink the Pink, I would have been complaining: "How can f...ing uncoordinated klutzes like those two possibly be beating us??!!"
But Team Colville were doubtless pleased with their 5th which was easily their best finish to that point in the series. A third consecutive 6th for Gordon Harris who edged out arch-rival Toby Mace, while Søren Jensen once more hit the top ten with an 8th. An inexplicably slow day for Graham Barker who again placed 9th before Peter Rahn limped home a discouraged 10th after doing so well early in the race. With an 11th in this race, TSCC's Heider Funck and Tom Wharton had their best result of a disappointing series. Mike O'Malley and Justin Denny took a big step up in the standings as they sailed to a fine 12th ahead of John Hartley who had been the runner-up in the previous race. Another disappointment for Roger Challis who took 14th before Michael McKechnie rounded out the top 15.
...
Other race 5 series bests not already mentioned were recorded by:

Scotland's Ed and Winnie Gillespie finally got the winds they're used to and hit the top half of the fleet in 25th
Chris Purtle and Chris Ryan (37th)
Kevin Pegler and wife, Shirley, who entered the series with their mantra: Don't come last! beat a ton of boats in this one and came 38th
Andrew Haill and Julie Colbourn of Thunder Bay beat nearly 20 boats as they took 42nd

Race 6 (Thursday's third race): Despite an acceptable start, Uncle Al again was in no position - 30th+ - to see the leaders at the first windward mark so I will again quote the Waldringfield report: Race 6 saw the wind increase yet again with some severe gusts coming through at times catching many boats by surprise. Some boats even turned ashore to rest tired legs, but not 90-year-old George Blanchard who was still showing the youngsters a few tricks!
The starboard end of the line was favoured and Porter and Gibb rounded the windward mark first followed by the Spinaway father and daughter crew. The downwind legs were very exciting and somewhat scary at times with many boats capsizing. Toby Mace and crew, Rachael, managed to pull through to secure 3rd position closely followed by the Northern Irish boys in Sink the Pink.
Following Sink the Pink which carried Jay Colville and Ian Hurley to a 4th, their best finish of the series, were Canada's own Mark and Paul Taylor. The 5th for the Mississauga SC brother act was their best placing of the series. Fellow-Canadians, Peter and Alex Rahn, ironically scored a much better 6th despite a far less successful first beat than in race 5. John Goudie and Suzanne Hall took 7th ahead of Michael McKechnie and Simon Turner, whose 8th was the best of their series of consistently high finishes. Roger Challis took 9th, ahead of Bosham's Stewart Reed and Robin Albert who finally made it into the top 10 after a couple of near misses. A couple of Wayfarer Worlds veterans were next as Guy Hacon (11th) beat out Søren Jensen (12th). The Isle of Man team of John Dowling and Terry Holt were again a factor: After their fine 16th in race 5, they scored their best finish - a 13th - in this one. Heider Funck (14th) and Neil Fletcher completed the top 15. THe latter subsequently analyzed his race as follows: "Only got an average start race 6 and tried to work the middle of the course. Unfortunately it paid to go right or left but not down the middle. From after the first mark we were in catch-up. The good point to make is how hard it is to 'catch up', as I believe (apart from Ian Porter) that there were 20ish boats all of very similar speed, and it came down to boat handling and tactics, etc. The closeness of the racing is a strength of racing W."
And speaking of Heider, he was one "two of your friends" that Marc told me he wanted to kill as we were floating around later - the other being Nick Seraphinoff. Down the first run, Nick and I were on the starboard gybe with Nick just to windward and behind us where he went through a series of uncontrolled near-capsizes which kept totally screwing up our wind. And we were kind of stuck where we were: boats to leeward preventing a gybe, and other boats to take our wind if we sailed higher. So we kept plodding along, losing boat after boat. Never mind that Nick is one of my best friends, I ended up thinking uncharitable thoughts such as: "Will you just get it over with and dump, for Christ's sake, before we lose more boats!!"
As we started the next run, we were all set for a run (so to speak) at the top 10. In the aforementioned increasing winds, we decided to do the gybe-less starboard gybe first. We passed our arch-rival Heider early in the leg and I gave him no more thought, what with needing all my energies to maintain my nervous death grip on the tiller. Nearing the half-way point of the run, we were still looking for a lighter patch in which to risk a gybe. Suddenly I noticed a truly black patch of water coming up rapidly from astern. "Marc," I said, "we have to gybe now, before that gusts hits us!!" And so I stood up to take the sheets, only to hear an aggrieved yell from Tom Wharton and Heider Funck who had parked themselves right in the spot into which we needed to gybe. And for a little thing like that, Marc later - as he was swimming around SHADES - said he wanted to kill them! "Rats," (or words to that effect) I said, "hold onto your hat, Marc, here it comes!" And it was the strongest gust of the day, lifting us onto a broad-reach plane of epic if brief proportions. Half a minute later, with the spray still flying high, the helm went really soft and SHADES did a majestic roll to leeward. Only 27 years after I had made it, our rudder blade had broken. But the good news was that we had no trouble righting the boat and I had gotten onto the board quickly enough that only my legs got soaked and the smokes had remained dry. Fortunately, Paul Senechal and his Shark MGB, aborted their spectator boat duties and gave us a tow back to MSC - where we discovered that neither compartment had taken in more than half a small coffee cupful of Lake Ontario. Marc and I sincerely thank the several Wayfarers both local and overseas who offered to lend us spare rudder blades. Although we had our own, this helpful friendliness, even in our most competitive event, underscores how lucky we are to be sailing in such a wonderful fleet that is a model of good sportsmanship - one that the world in general could learn from!
...
Other race 6 series bests not already mentioned were recorded by:

Ottawa's Doug Netherton with Winnipeg's Roger Redwin (22nd)
Loondon, Ontario's Bob Kennedy and son, Scott (23rd) (Al's note: my spell checker caught the misspelling of London but it's so good I hate to consign it to the trash bin!!!)

Mississauga SC's Jeff Cox and son, Barry (30th)
Charlotte, North Carolina's Richard Johnson and his wife, Michele Parish (38th)


Unless somebody knows differently, this was the start of the day's first race - click here for full-size picture
...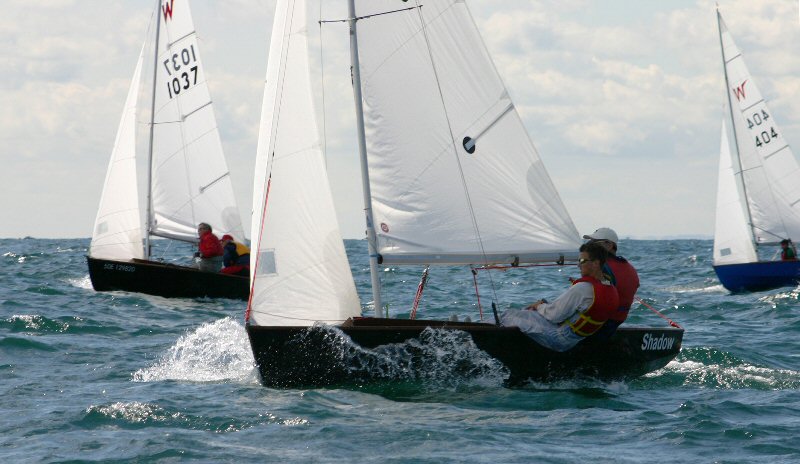 It was good day for all three boats above: (l to r) Kit Wallace, Peter Rahn and Jay Colville
...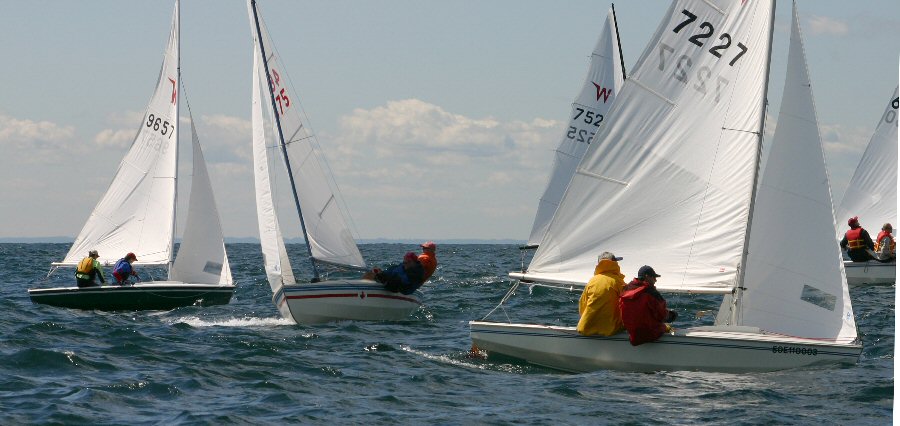 Reg Bunt (7227) demonstrates the effect of the swell as he fights it out with
(l to r) Andrew Haill, Brian Mills, Ed Gillespie and Doug Honey.
...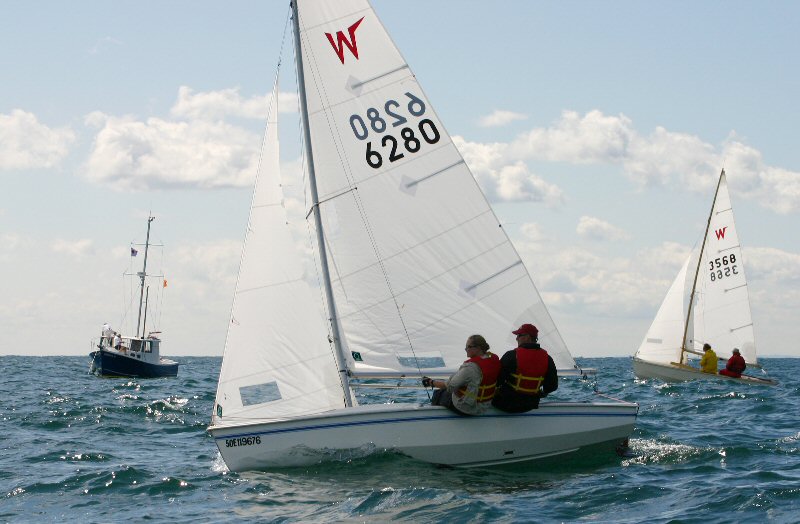 More swell effect as Doug and Becky (6280) are off to try the right side of the beat, as are Alan Hallwood and Rod McIver.
...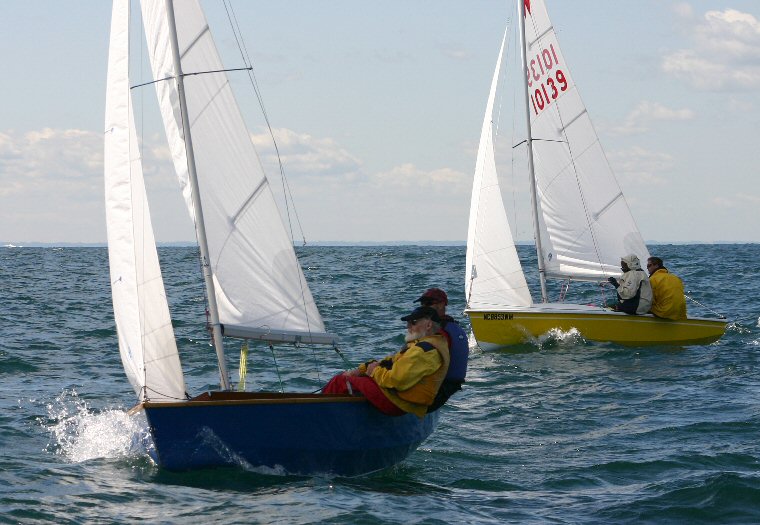 A startling difference in pointing as Doug Netherton and Roger Redwin in Toodle-oo are plucking the Chicken.
...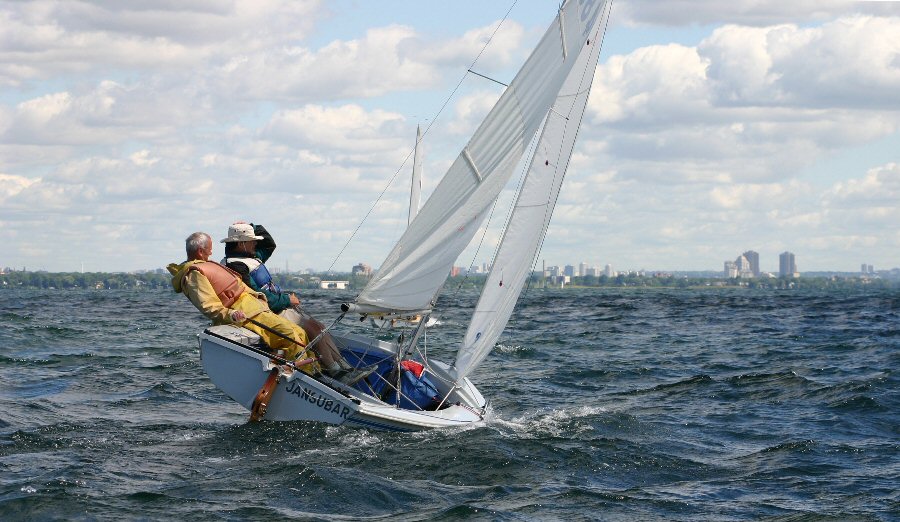 Geoff Edwards and George Waller cope with a gust the hard way. While this may look good as an action shot, this much heel is creating helm which Geoff is having to fight (note the turbulence caused by his rudder!) Jansubar would make better progress upwind if Geoff went with the flow: He should luff up a bit and/or ease his main (and jib) slightly, as Dwight Aplevich appears to have done off Geoff's bow. See also the next photo where ...


...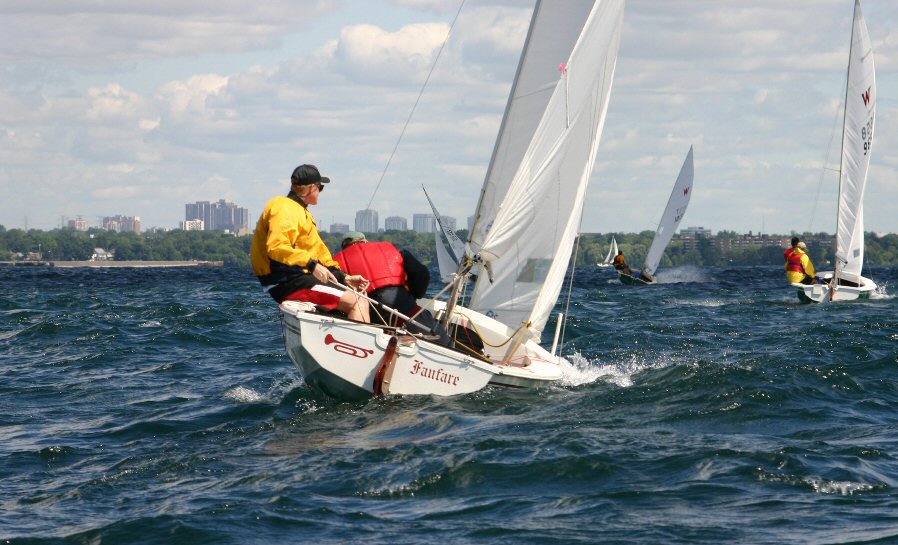 ... Steve Carroll and John Atwell are beginning to luff Fanfare and Steve is keeping a sharp eye on an even stronger gust that is approaching. Thomas Vendely (9658) has eased his main in anticipation of the big gust which has already hit Alastair and Andrew Ryder-Turner (10137 off Steve's bow) and which has severely hit and heeled Alan Chaplin crossing Steve's bow on starboard.


...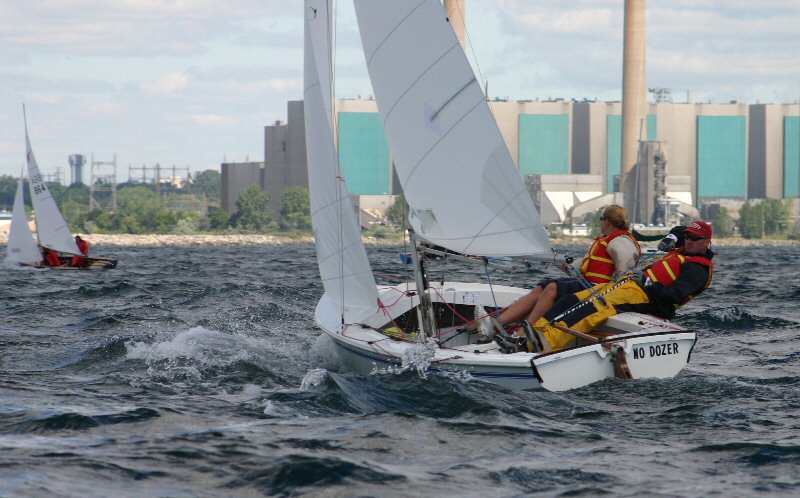 While Nick Seraphinoff (l) has discovered what many of us did, that he has overlaid the windward mark on starboard, Vancouver's Doug Honey and Becky Robson display excellent upwind form in No Dozer borrowed from Knox Ritchie.
...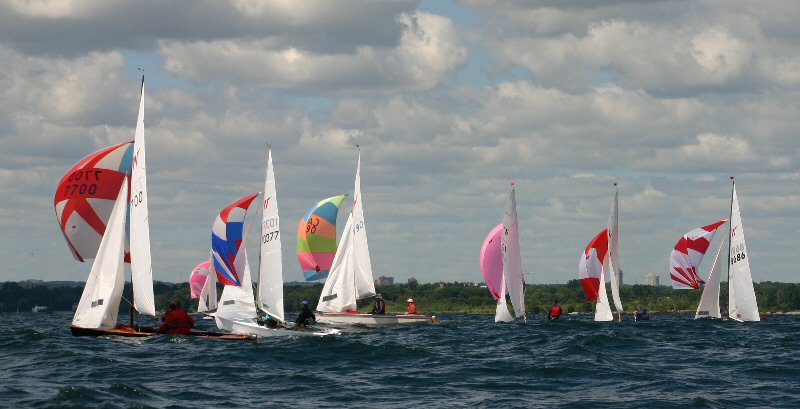 A lull on one of the runs: This could well be the start of Guy Hacon and Daniel Watson's massive comeback that saw them move Bizarre 8686 (far right) from 30th to a second-place finish in race 5. Others from left to right are: Roger Shepherd, John Goudie, Michael McKechnie, George Blanchard, Jay Colville and Peter Ayres
...


The gusty conditions have caused many to forego their spinnakers: (l to r) Reg Bunt, Ed Gillespie, Stewart Reed, Al Schonborn, Thomas Vendely, Andrew Haill, Peter Ayres behind Brian Jeffs (9235), Richard Johnson, unidentified, Alan Bell, Bob Kennedy, Alan Simpkins, Steve Carroll, John Dowling behind Brian Mills, Peter Kozak, Stephan Nandrup-Bus, Kevin Pegler - click here for full-size picture
...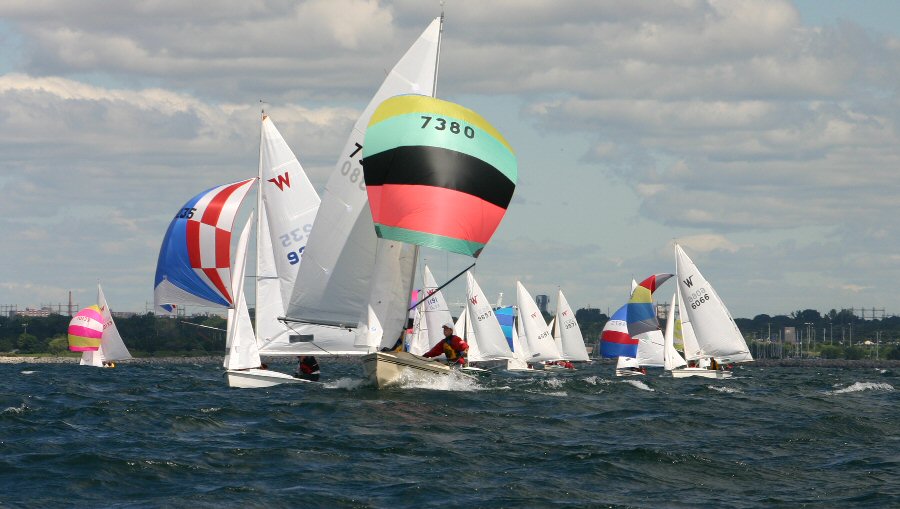 Paul and Alan Laderoute complete a gybe to port while the rest hold starboard: (l to r) Richard J, Brian J, Peter A, Andrew H, Alan Simpkins (spi now flying), Bob K, Brian M, John Dowling behind Steve C.
...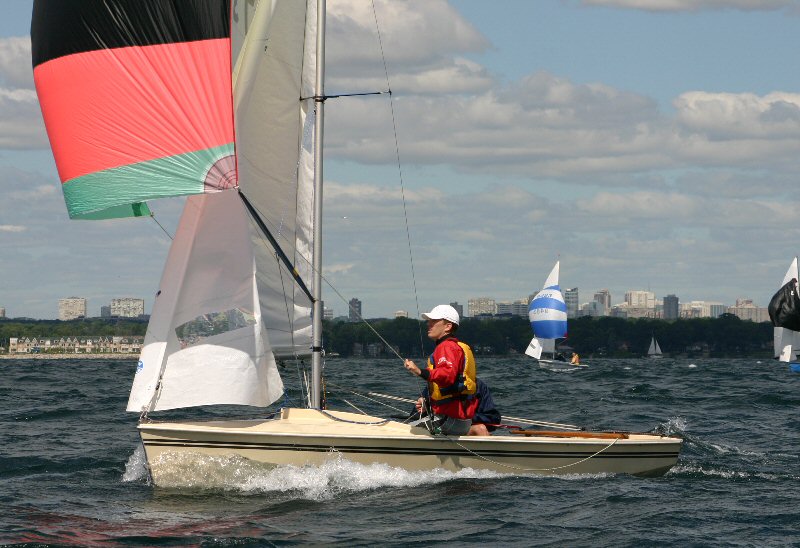 Paul and Alan have been joined on starboard by Geoff Edwards and Anne Armstrong (r).
...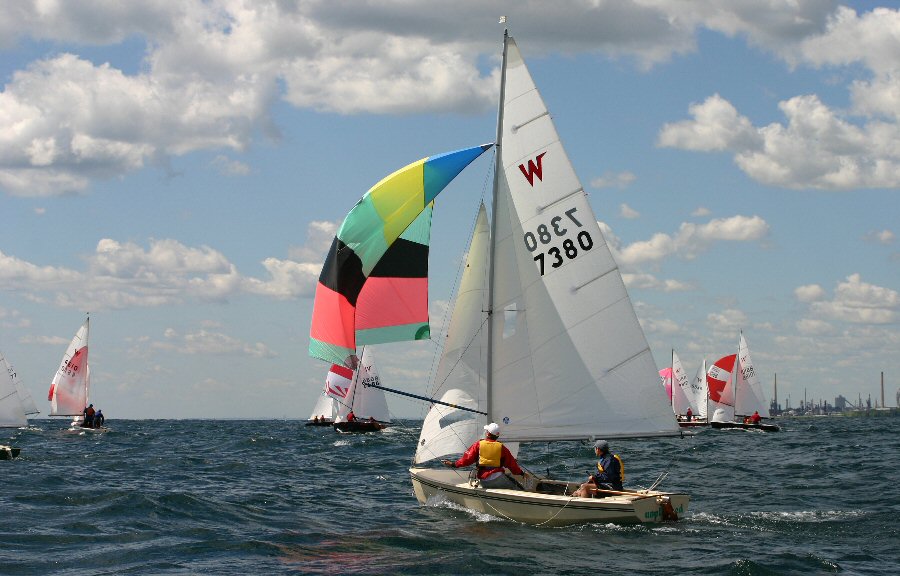 Guy and Daniel (red & white spi under the 7380 spi) continue to slice their way through the fleet. Others on the run (l to r) unidentified, Michael McKechnie, Andrew Gumley, John Goudie, Alan Chaplin; proceeding up the next beat on starboard are Toby Mace (behind John and Alan) and Kit Wallace (disappearing behind Guy). Kit's position here leads me to believe this is the first race of the day after all.


...

The first time through the gate (l to r) Jay Colville, Gordon Harris,
Paul Laderoute, Dwight Aplevich (4606), Uncle Al (3854), Roger Challis (beating).
...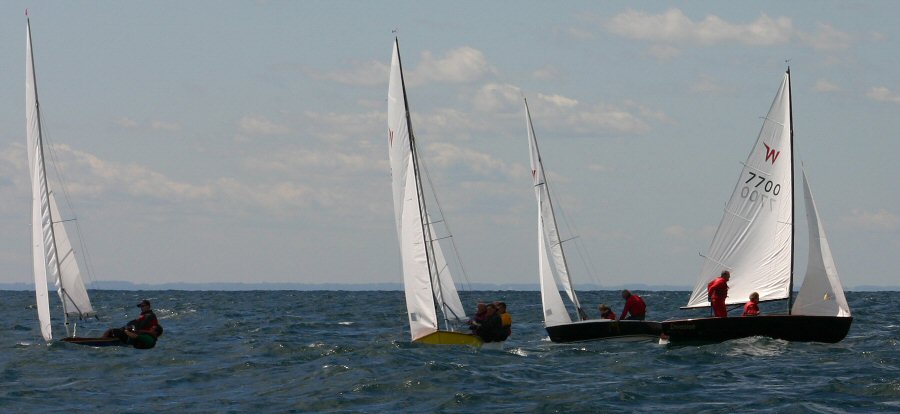 The second (?) beat (l to r) Jay Colville, Gordon Harris, Alan Chaplin, Roger Shepherd