2004 AEC Wayfarer Worlds
the Practice Race - 3
photos by Bob Thayer and Ralph Roberts
(note: most of these photos were - in larger size - on the competitors' CD created by Bob)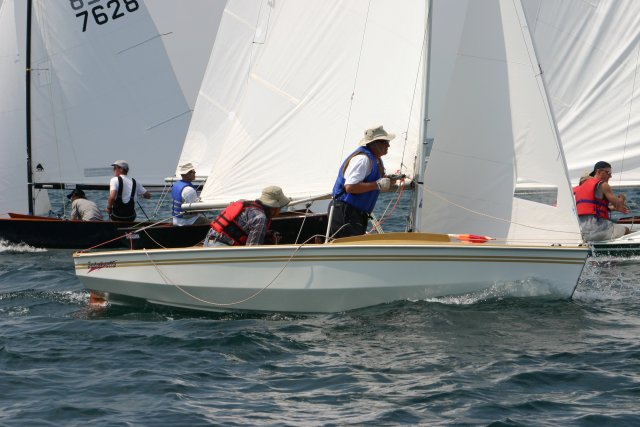 Dwight Aplevich and Al Nichols (also showing good sheet to pole technique) head for the offset mark with Thomas Vendely just to leeward and ahead, while John Hartley still searches for that elusive windward mark in the current.
...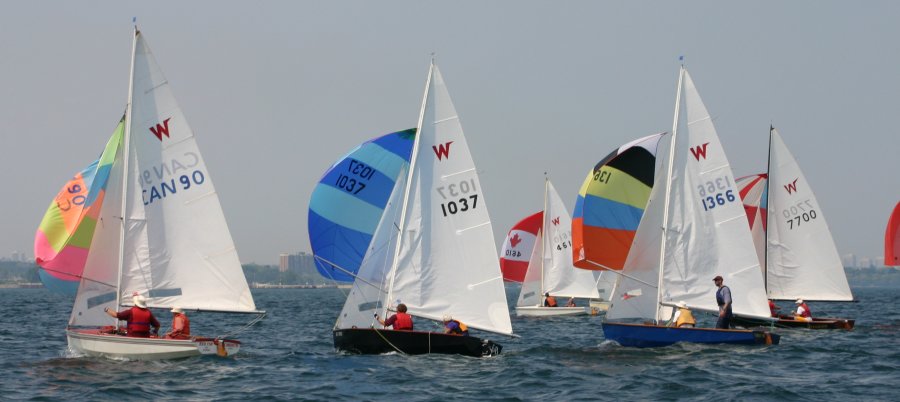 l to r: George Blanchard with Mike Codd; Kit Wallace; Andrew and Nigel Gumley (4610), Bob and Scott Kennedy (bow only); Roger Shepherd with Joanne; Jeff Cox
...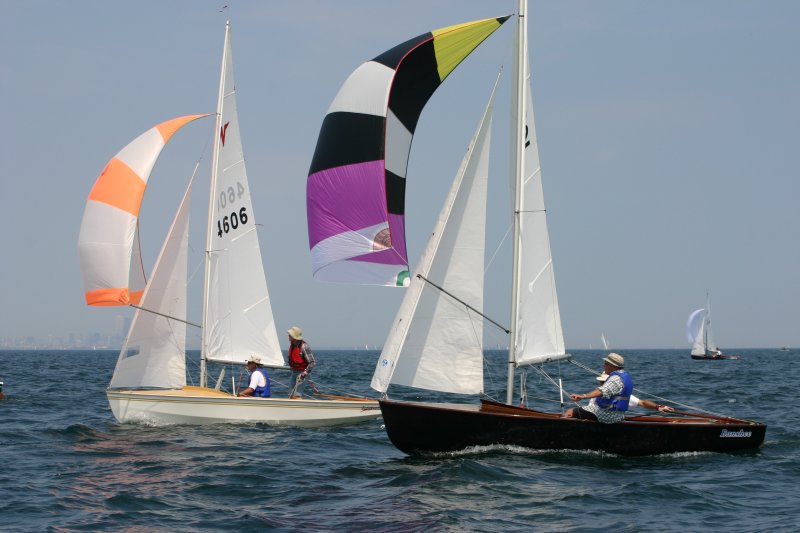 While Dwight Aplevich (4606) and Dave Hansman fight it out on port tack,
John Hartley (white spi) is trying the right side of the run.



A panoramic view of a crowded first run which is split up into three groups below:
...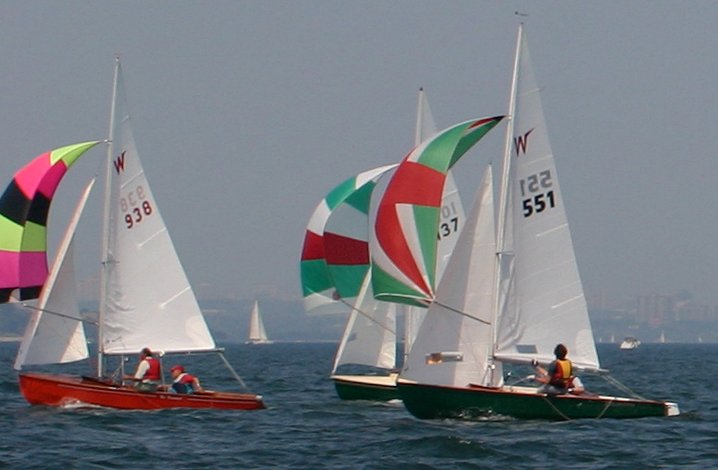 Hans Gottschling (938) works to hold off Mike O'Malley (551) and Alastair Ryder-Turner with son, David.
...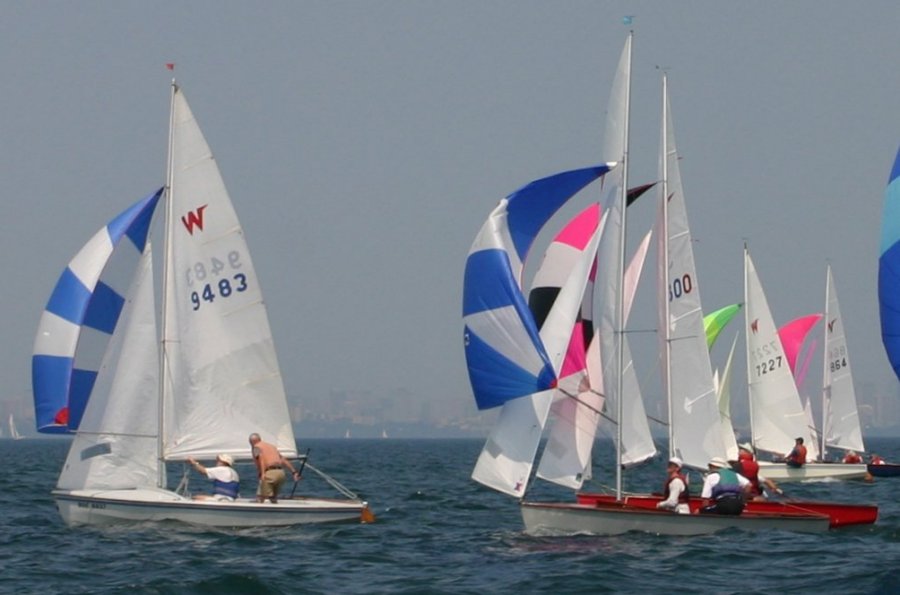 Not much wind left for Geoff Edwards and George Waller (9483) who might have tried for wind in the gap in the middle of the four following boats: Alan Bell (gray hull), Peter Kozak (300), Reg and Christopher Bunt (7227) and Nick Seraphinoff (864).
...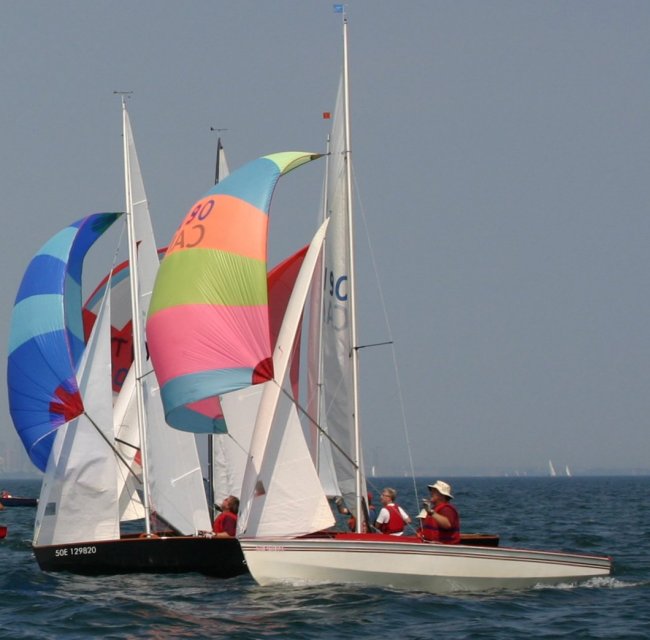 spis from l to r: Kit Wallace, Roger Shepherd, George Blanchard (having a nap??), Jeff Cox

...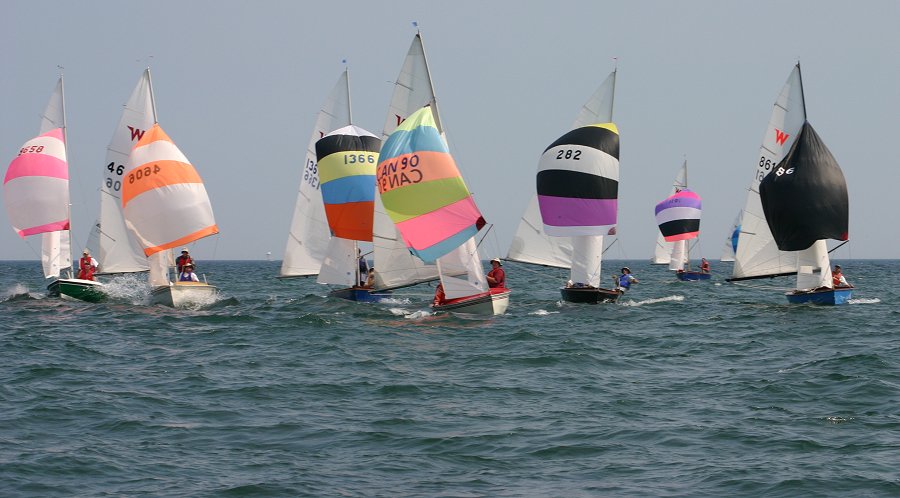 Later on the run (l to r): Thomas Vendely, Ed Morysiak behind Dwight Aplevich (4606), Doug Netherton, George Blanchard, Dave Hansman, Peter Ayres, Alan Simpkins behind Anne and Gary Armstrong (861)
...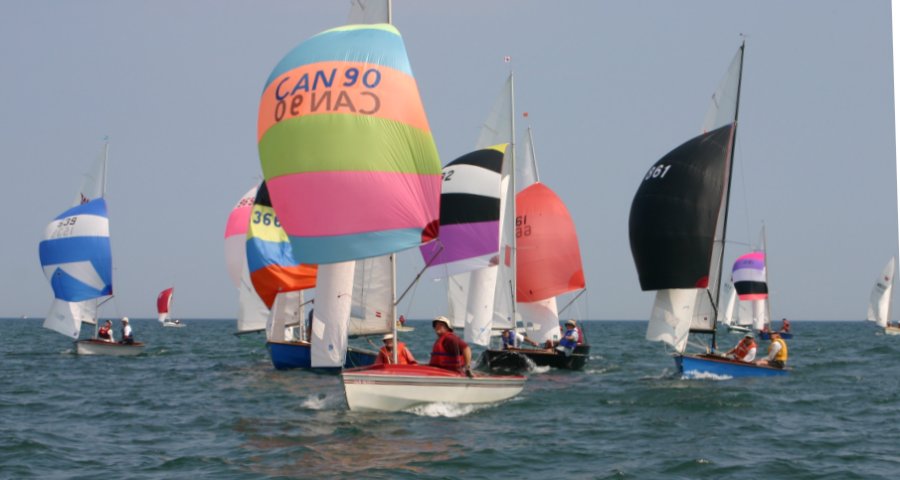 Still later on the run (l to r): Alan Bell (1539), Dave Platt, Thomas V, Doug N, George, Dave H, Jeff C, Anne A, a spinnaker-less Andrew Haill, Peter A and Ed Morysiak.
...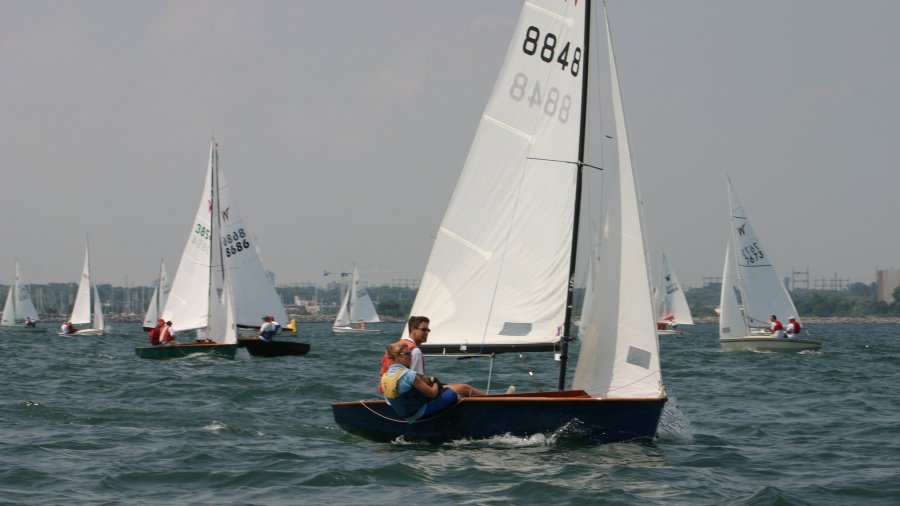 As always, fine form for Toby Mace (8848) who is among the race leaders. Pursuers (l to r) are: John Dowling, Brian Mills, John Goudie, Uncle Al just crossing Guy Hacon with Søren Jensen just visible under his boom in the full-size photo, Doug Honey, unidentified boat behind the 8848 jib, Steve Carroll just finishing his run, Mark Taylor.
...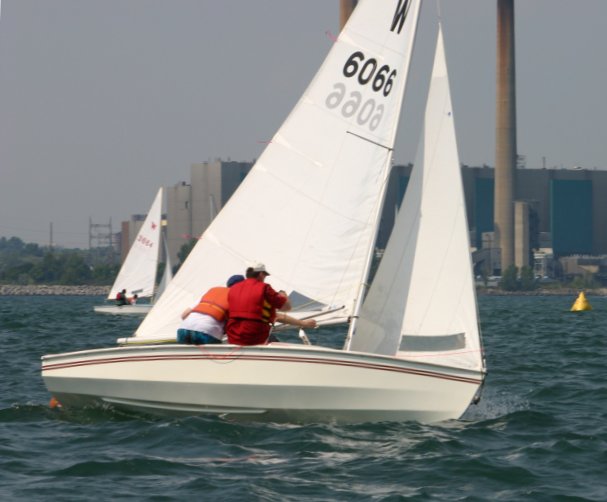 This is what happens in a breeze when the helm decides that the explanations are taking too long and he'd be better off to do it himself!!! In the background: Chrisses Purtle and Ryan.
...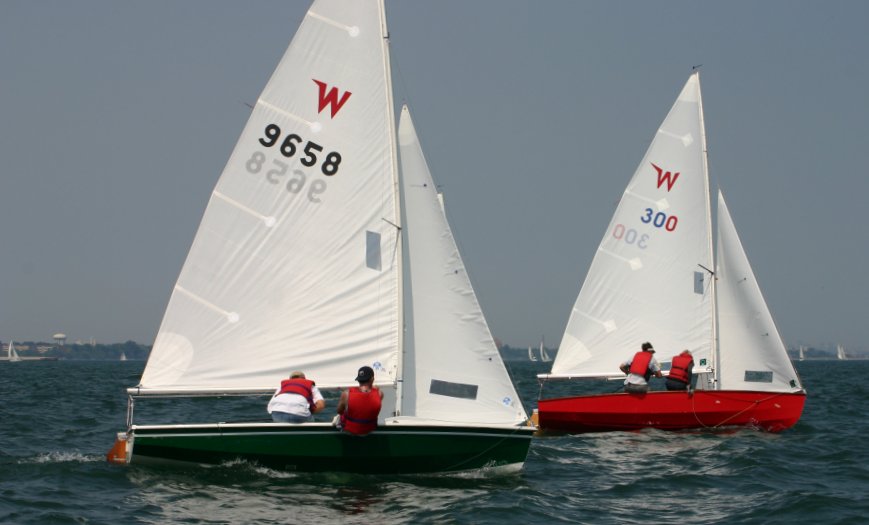 Thomas and Zoltan continue to give Peter and Annelies (300) a good run for their money.
...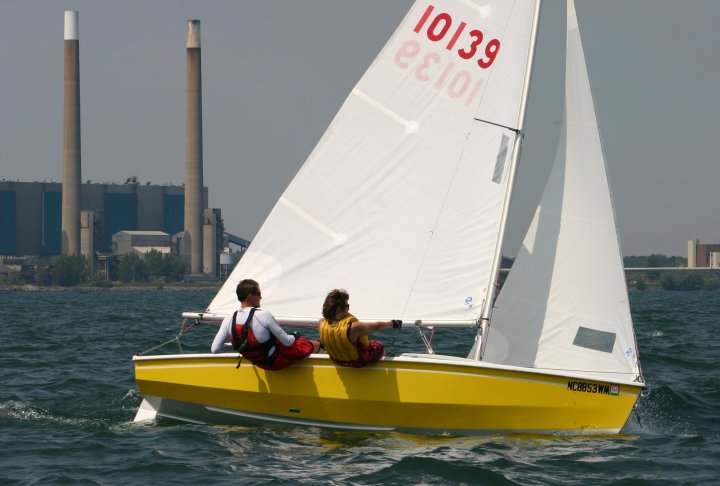 Too much heel > helm for the Chicken, as Richard Johnson and Michele do their best
to keep her flat with what little weight they have.
...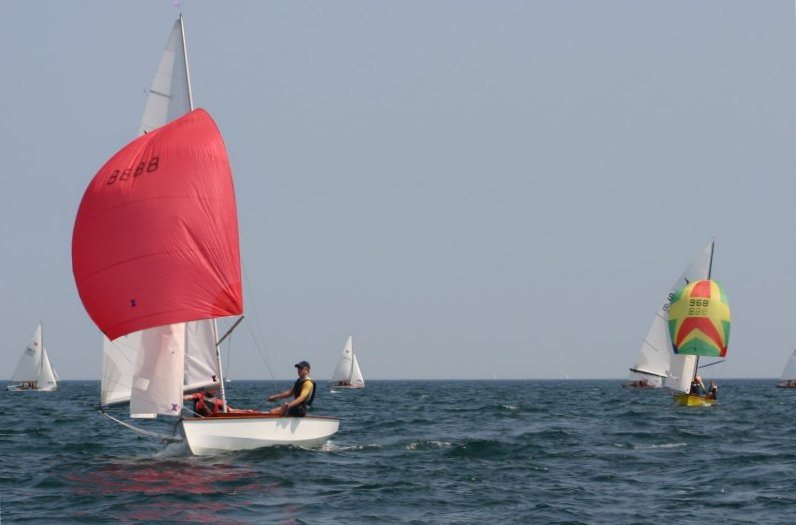 With Porter retired from the race, Graham and Robin Barker in Doubloons (8888) were left to fight it out for the lead down the second run with Gordon and Emma Harris (968) and their Waldringfield clubmates ...
...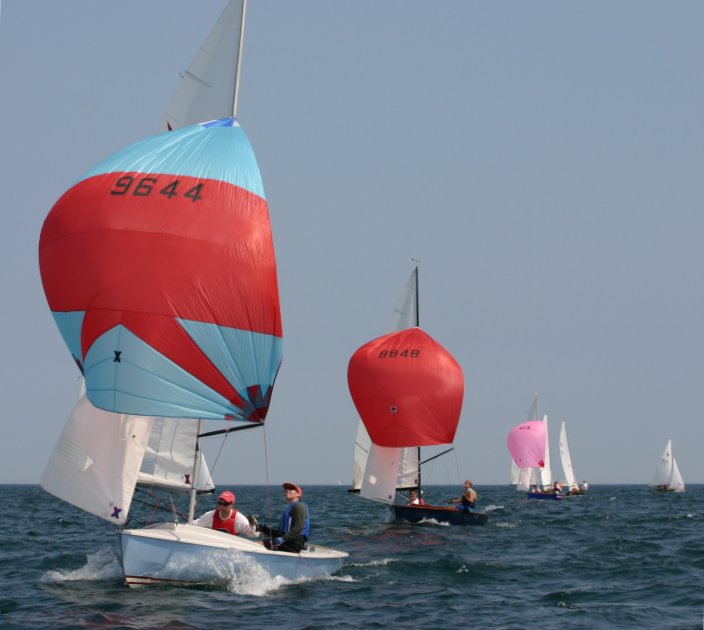 ... Neil Fletcher with Chas Edwards in 9644 and Toby Mace with Rachael Rhodes (8848)
as well as Jay Colville with Ian Hurley (pink spi) in pursuit.
...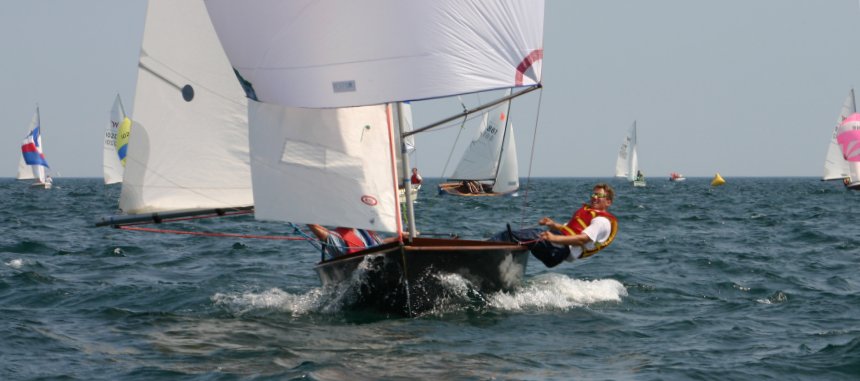 Peter and Alex Rahn head straight for the camera while in the background, we have (l to r): Brian Mills, Brian Lamb (yellow/blue spi), Mark Taylor (behind Peter's mast), Anne Armstrong with Kit Wallace to windward of her, John Dowling and John Goudie.
...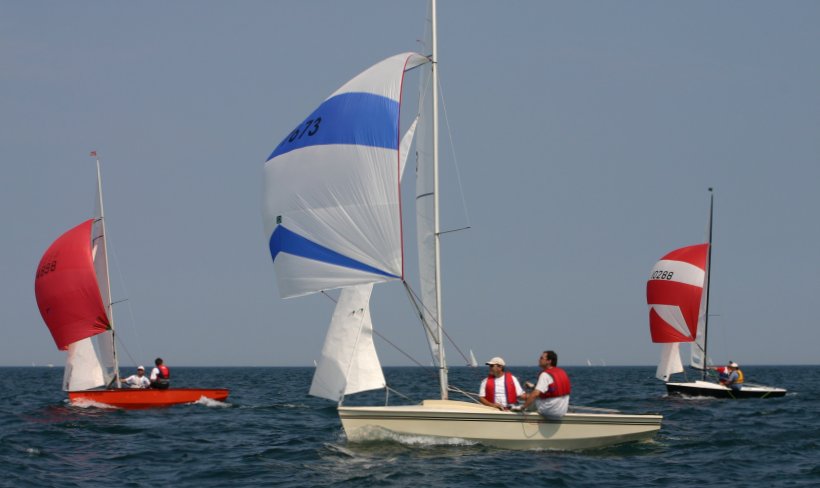 (l to r) Stephan Nandrup-Bus, Mark Taylor, Stewart Reed
...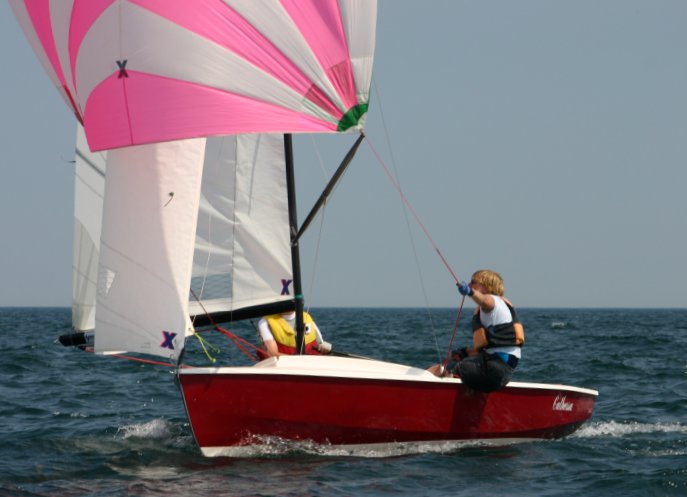 Suzanne Hall aboard Cathessa grabs the spi guy to bring the pole aft a bit and keep the spi trim perfect.
...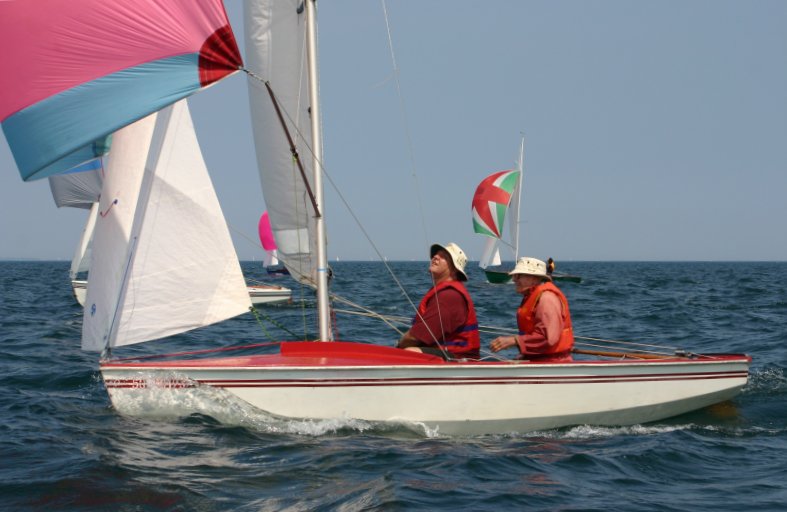 George and Mike are bow to bow with Steve Carroll, I believe, while Nick S. (pink spi) and Mike O'M. are closing in.
...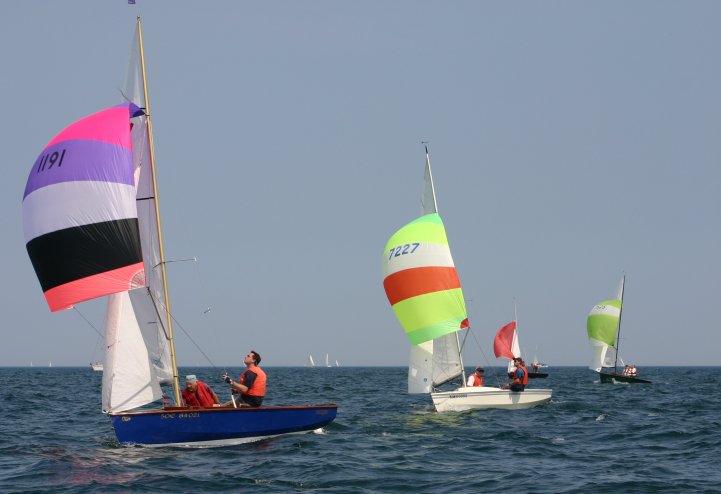 l to r: Peter and Jonathan Ayres, Reg and Christopher Bunt, Jeff Cox, Ed and Winnie Gillespie
...

Dave and Charles Hansman hold off Richard, Michele and the Chicken (10139).
...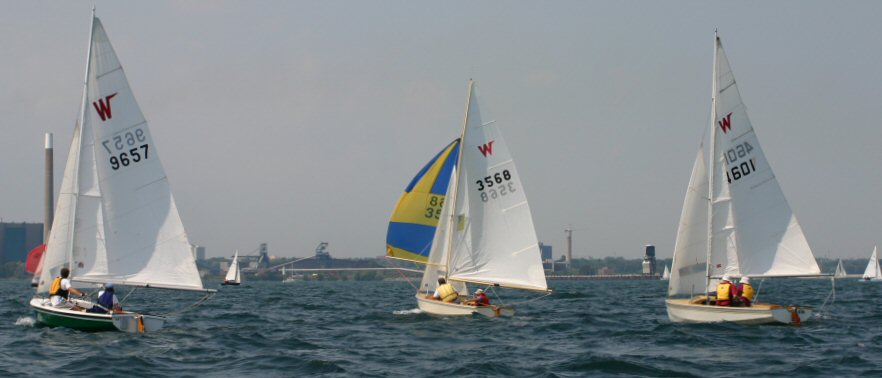 Andrew Haill (9657) and Ed Morysiak (4601) give Alan Hallwood and Rod McIver (3568)
a good battle even without their spinnakers.
...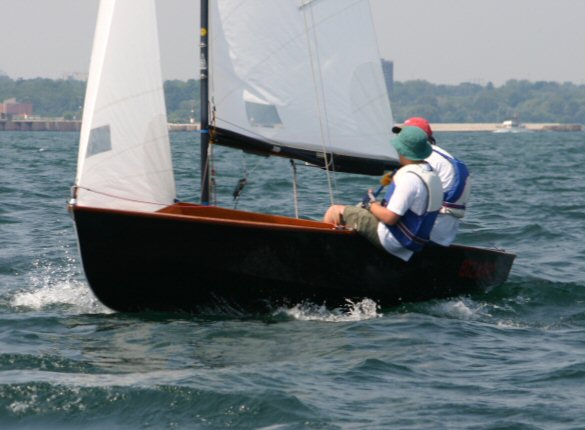 Guy and Daniel in Bizarre on the final beat.
...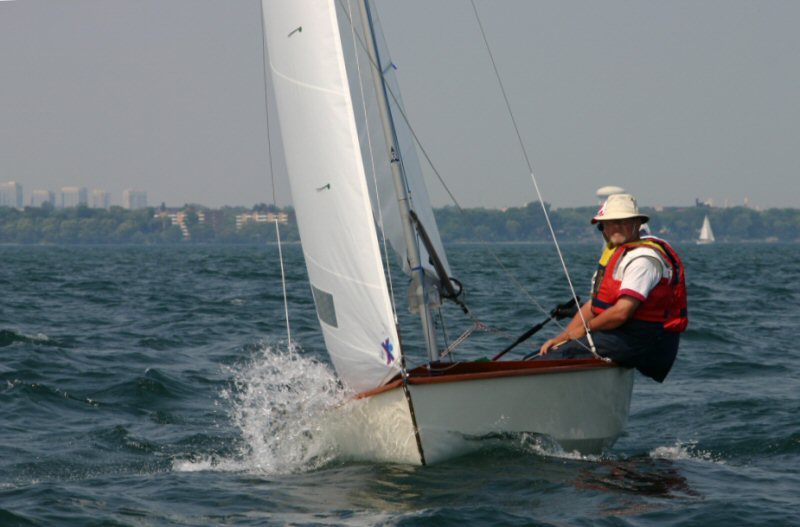 Søren and Jesper moving well.
...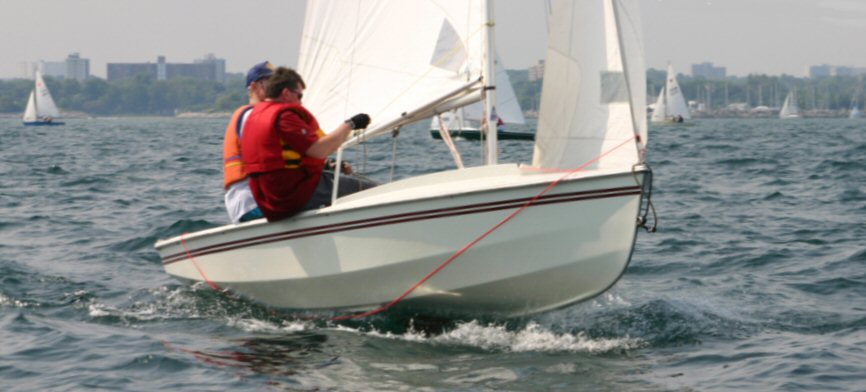 As Steve and John can attest, there was some wave action.
...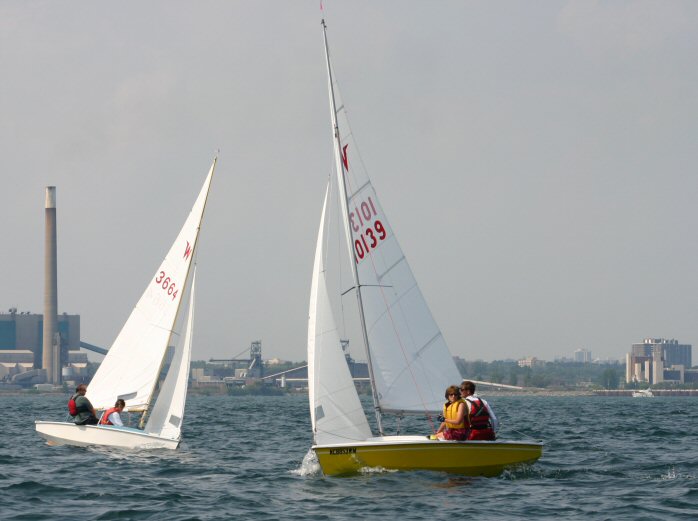 Michele looks longingly towards the finish line as the Chicken crosses
Chris Purtle (not the road as you might have expected!)
...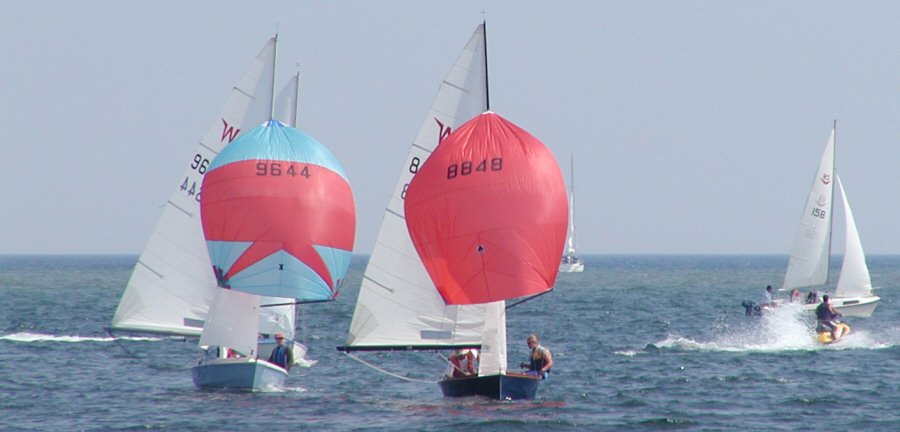 Part of team Waldringfield (Neil Fletcher in 9644, Toby Mace in 8848, and Roger Challis)
returns to MSC after a successful race.
...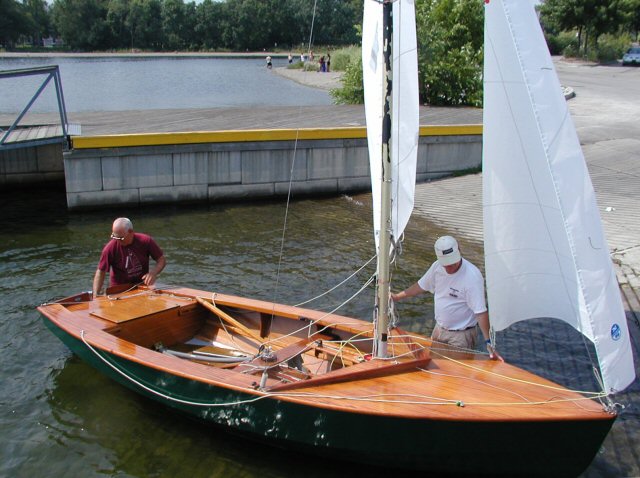 Earlier, Uncle Al (l) had managed to embarrass himself a little: with a motor boat taking up the spot he had hoped for at the end of the dock, Al decided at the last second, that he could go past and then luff up - the breeze being very light. As he passed the motor boat however, a gust hit from dead astern and he scraped his centreboard on the cement of the ramp for a bit before Marc could jump out and save Al's bacon.
...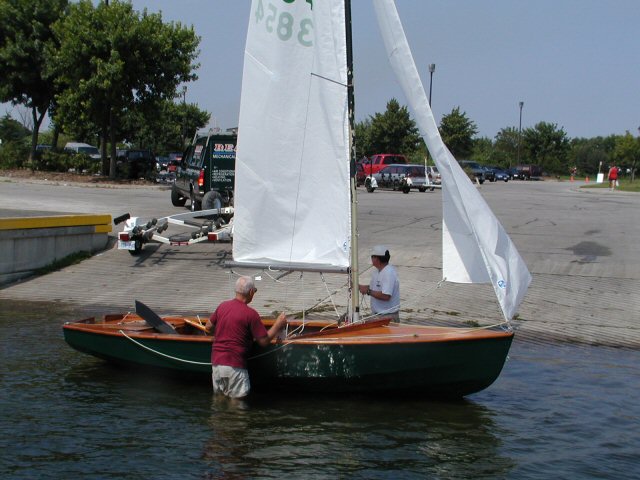 All part of the day's work for Marc who saves Al from himself regularly. On the left, we can see the fisherman preparing to haul out his craft despite the sign (white rectangle, upper right) that declared this ramp closed to all but regatta traffic. Twit!