----- Original Message -----

From: "Richard C Harrington"

Sent: Thursday, June 29, 2006 3:29 PM

Subject: the Chesapeake Cruise




Hi gang (Uncle Al, Hans Gottschling, Tony Krauss & Mary Abel and Richard Watterson),



I'm sorry to be so tardy, but here are a few photos from the cruise that I'm finally getting around to sending. (Al's note: the first eight photos have been incorporated into the appropriate time slots on the other pages.) The last two pictures (below) were taken at the town of ONANCOCK in Virginia.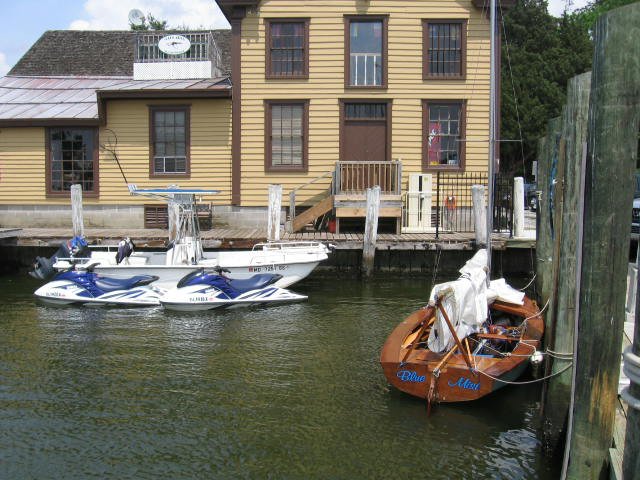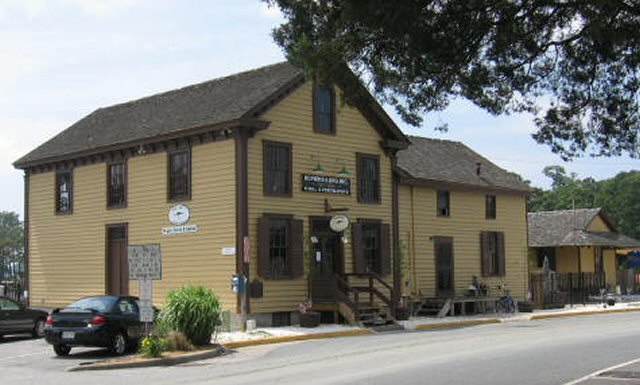 After you folks departed Friday, things got pretty damp and it continued to blow and rain all day Saturday. On Sunday, under a clear blue sky and a very nice northerly wind I got off to an early start and sailed all the way to the mouth of the Onancock River, which is south of Pocomoke Sound and about 22 NM from Crisfield. A guy I met at Somers Cove Marina told me that this was a very pretty town. Indeed it is, but it would be the next day before I'd see it. A mile off the river mouth the wind died and I was forced to row. A large marsh, Parkers Marsh Wildlife Refuge, on the north shore of the river was my refuge that night as a series of horrific thunderstorms passed through. As the black clouds approached, I turned on the radio in time to catch the weather service marine alert warning of wind gusts over 35 knots and heavy lightning. I was ready when the first wind blast hit. However, the force was such that it threw the open boom tent back over the cockpit and on top of me with such violence that in the melee it also grabbed and took off with both of my chart cases. The gusts and lightning were bad and Blue Mist did another of her wildly unsettling dances skittering back and forth across the waves. Anything less than my big 5 kg Bruce anchor might not have been sufficient.





Monday's forecast remained iffy, but even in light winds I managed the 4 1/2 to 5 miles upriver to Onancock by 11:00 AM. This is such a nice pleasant sail and the town so picturesque that next year I plan to add it to the islands cruise.





The weather forecast for the week remained poor and I could see myself spending a lot of time on shore. So when a window of opportunity arrived Tuesday after a second night anchored on the edge of the marsh, I decided to call it a cruise. In 15 to 18 knots of wind that occasionally picked up to 20-plus, still out of the north, I beat all the way back to Crisfield under a reef much of the way. After 4 1/2 hours of that, I was exhausted and Blue Mist had accumulated a good bit of water in her bilge. Thinking of Uncle Al's words, I again tried using the self-bailers but have yet to find the trick of getting mine to work under such conditions. On the other hand, just one session of heaving to and bailing with the diaphragm pump was sufficient to keep the water level below my feet. Wednesday morning the north wind was blowing harder and was at least 25 knots. A 35-foot catamaran that had left the marina earlier, turned around and came back. It was rough outside. Having partially unloaded Blue Mist and sailing under reefed main alone, I was able to negotiate between boat slips and I crossed the harbor to the launch ramp without difficulty. All the while I was under the watchful eye of two big boat skippers, their boats tied securely in their slips, who had nothing else to do but contemplate thoughts of my impending disaster. One asked, "Aren't you going to put in the second reef?!"



Best wishes...........DICK