Dick Harrington Takes the Wayfarers Cruising on Chesapeake Bay:
Crisfield - Smith Island - Tangier Island - Crisfield
Wednesday 1 June: Crisfield to Smith Island - 3
pics by Mary Abel and Uncle Al
...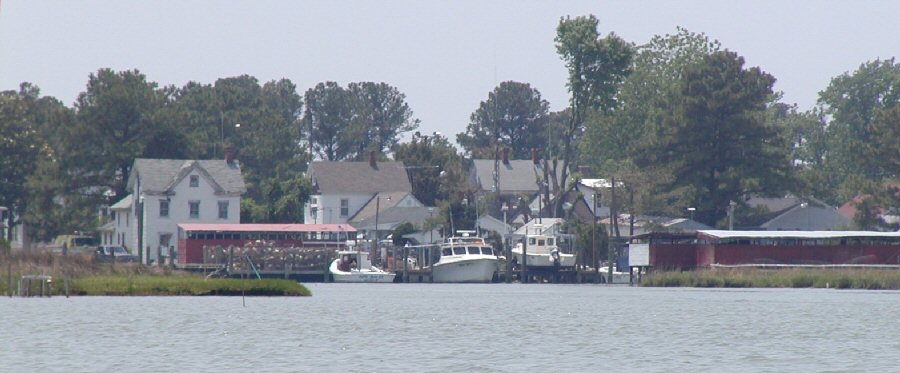 By 1330 hrs, we were cruising into the harbour ...
...


... at Ewell.
...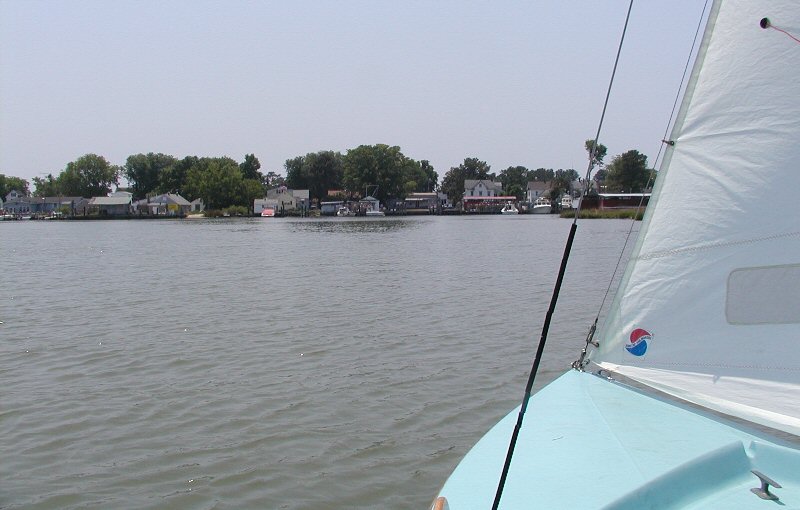 The harbour entrance as seen from W2526 with ...
...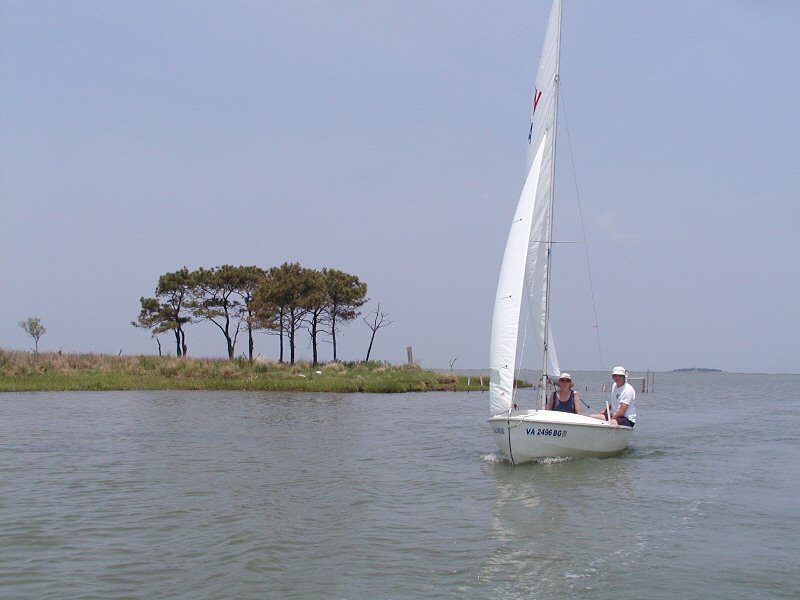 ... Tony and Mary close astern.
...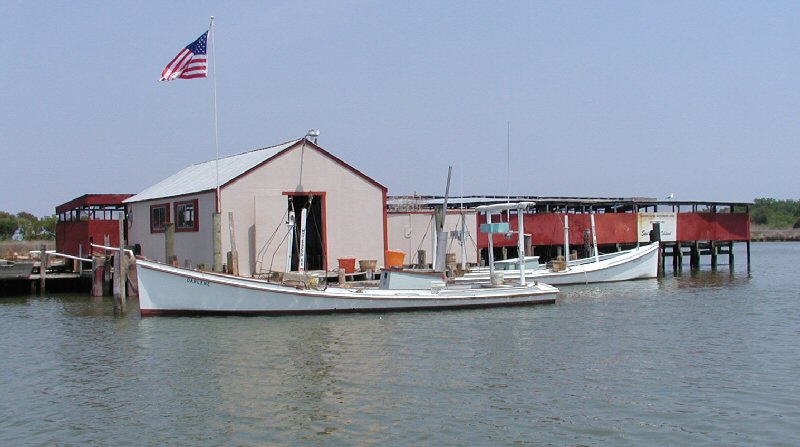 A working harbour!
...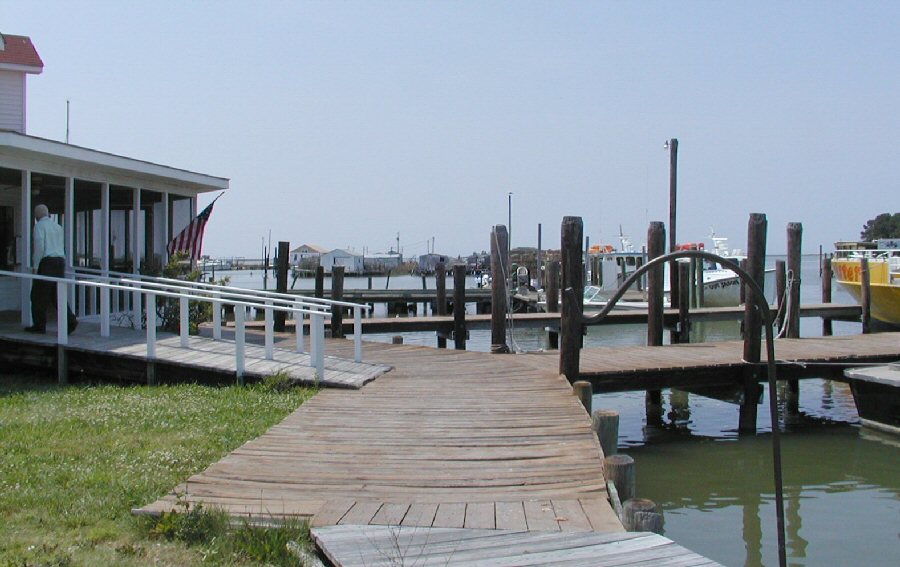 Soon we were all safely moored at the Smith Island Marina and ready for lunch at ...
...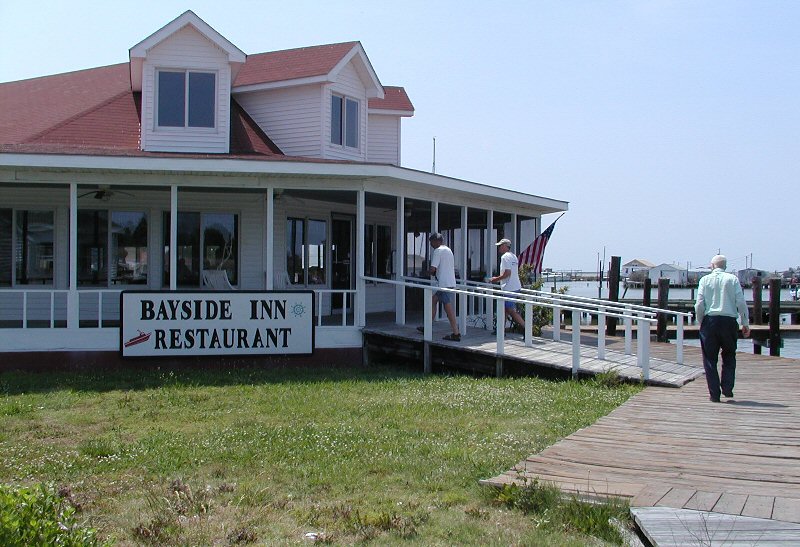 ... the Bayside Inn.
...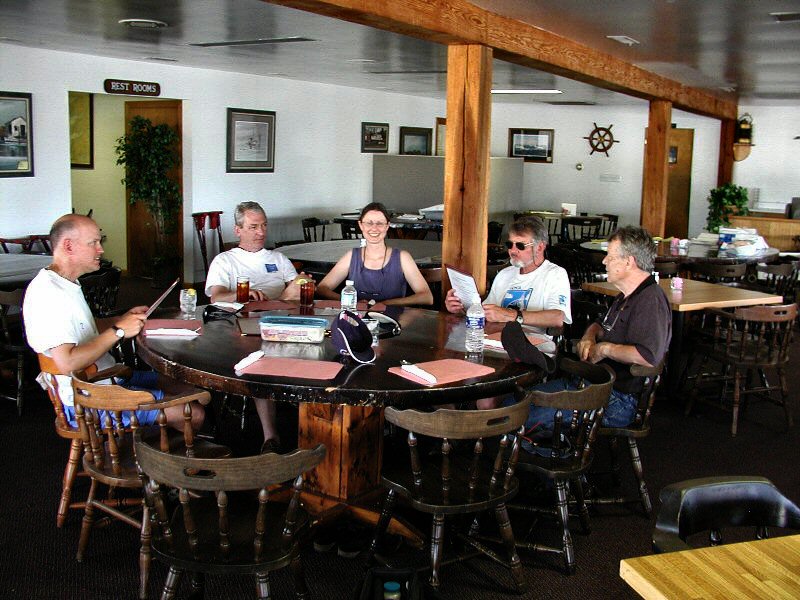 When we walked in at 1430 hrs, we discovered that this would be our lunch and supper since they close at 1600 hrs, once the last of the day's tour boats has come and gone! Our meal was delicious. Outside of the air-conditioned Inn and away from the breeze, it was hot and ...


...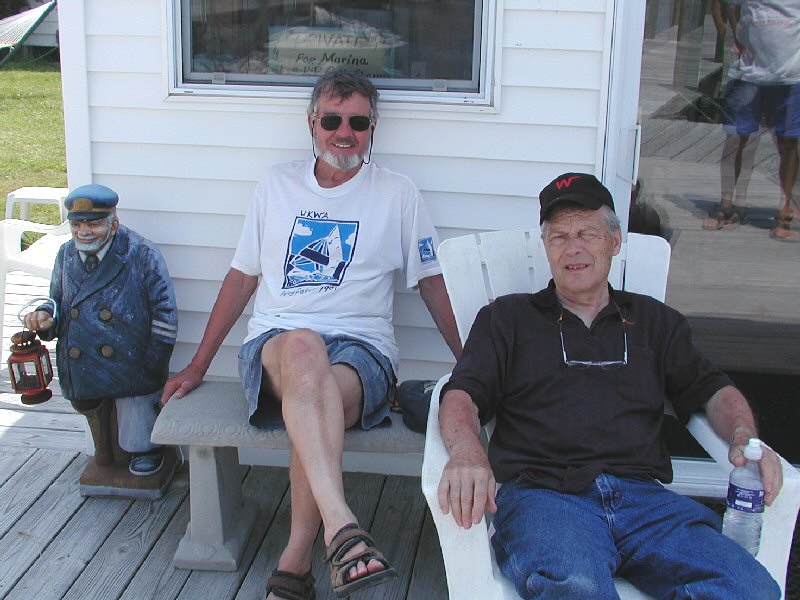 ... shade was at a premium.
...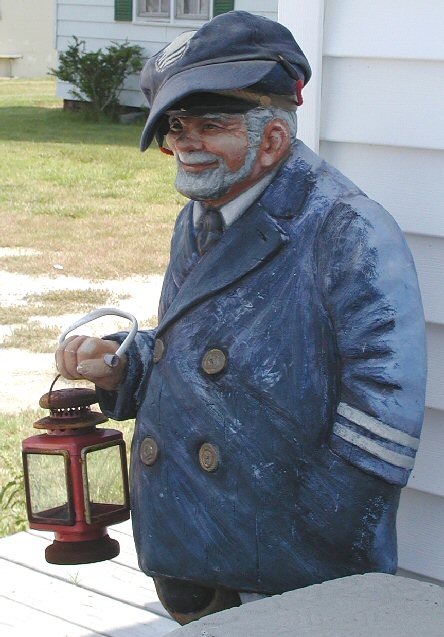 Dick Harrington?
...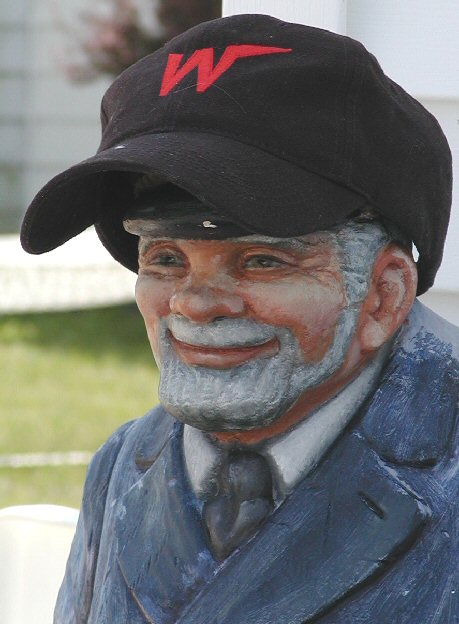 Hans Gottschling?
...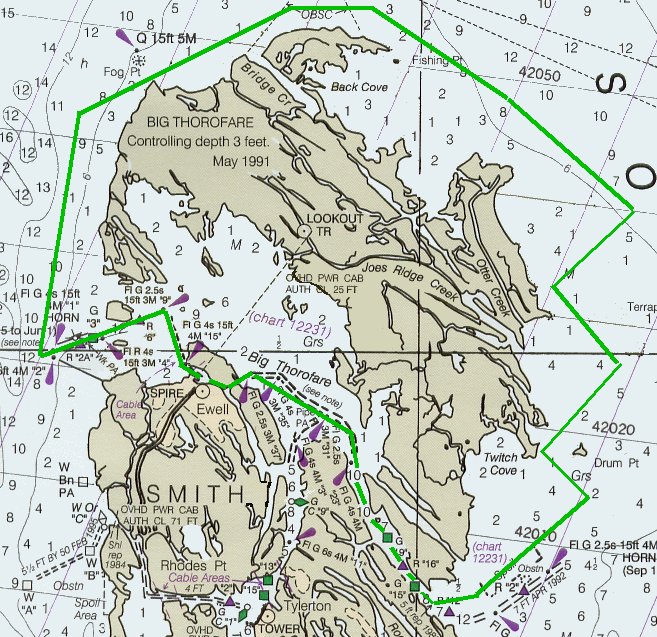 Since it was barely after 1500 hrs, and a nice southerly breeze of 10 to 15 knots was holding, we all decided that another little sail was in order. Hans and Al decided to nip around the north end of Smith Island - a nice thought but a longer trip than we had anticipated. Even in perfect winds, the circumnavigation took us about four hours. We could have camped in a creek in an emergency but are quite glad we didn't have to!


...


Hans and I left the town of Ewell astern as we ...
...


... headed out the well marked channel followed by Tony and Mary who subsequently and wisely turned back.
...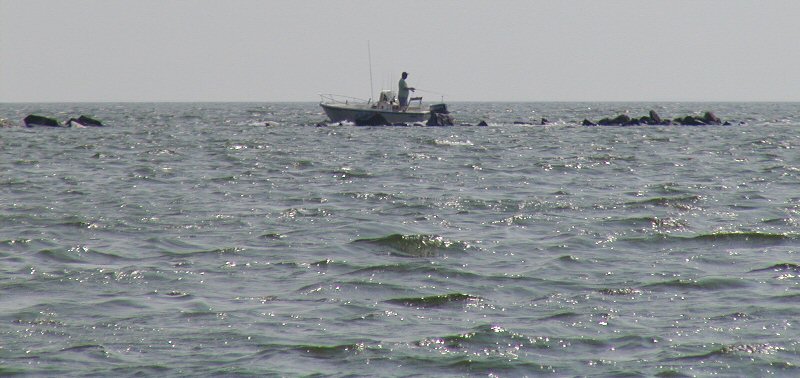 Hans and I soon reached the end of the man-made channel before ...
...


... bearing away to a northerly course with one more look astern at Ewell.
...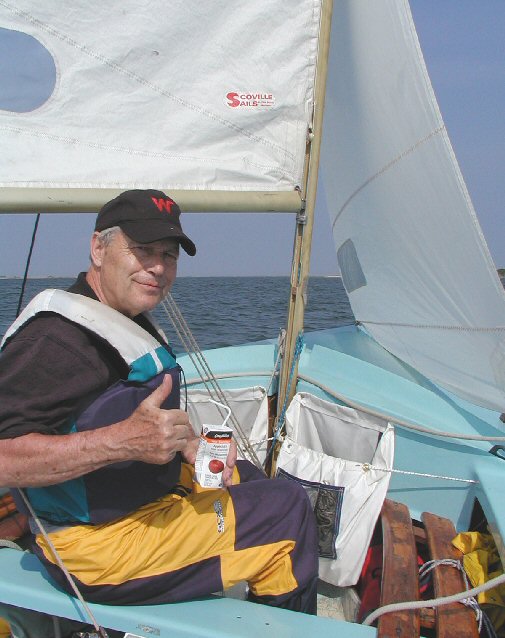 It was a lovely afternoon on which to heave to and have a drink while we waited for the other two boats to join us. When we realized that they weren't coming, we went on alone. It was a fast exhilarating ride to the north end but then the beat back to the entrance to the Big Thorofare began. The whole shore was so featureless and flat that we were afraid we might miss the Thorofare. Everywhere you could see the Thorofare channel markers but always across marshy land. We had picked a tiny island marked Drum Pt. on the chart as our indicator that we were near the Thorofare entrance. "We're looking for a little chickenshit island," I explained to Hans. Half an hour or so into our beat, we thought we had spotted Chickenshit Island but as we came closer, it turned out to be part of a peninsula. Another candidate appeared off our bow shortly thereafter. "This is it," we exulted, "the Real Chickenshit Island!" Alas, another false alarm! By the time we spotted the actual Drum Pt., we had also discovered "the Real True Chickenshit Island", and were truly glad to find ourselves in the Thorofare once more. We were most fortunate that the wind had not died and we had a lovely sail towards the sunset and Ewell. Sadly, I was too tired/nervous about the wind dying to take pictures until we were ...


...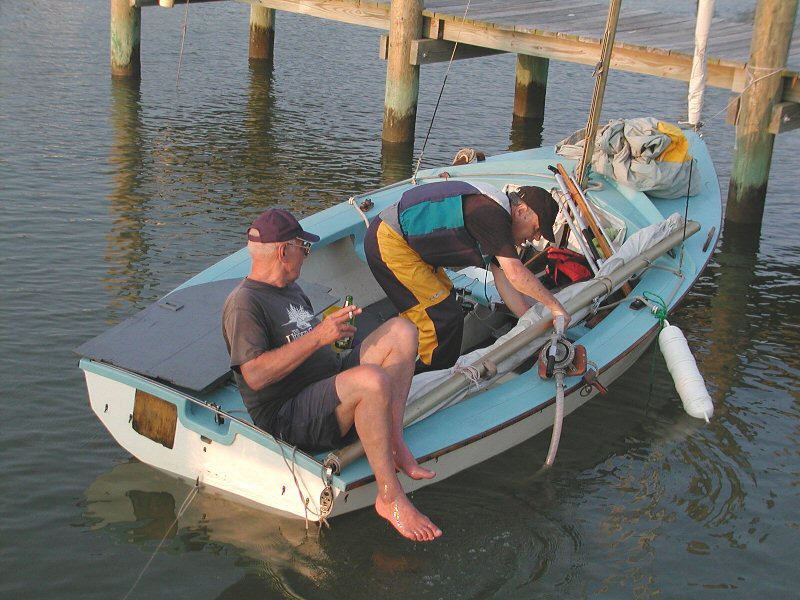 ... safely back at the marina at 1930 hrs. The looooong beat had sent a lot of spray into W2526 which now needed bailing if we were to have a dry "bed" on our floorboards. Our kind-hearted fellow sailors not only provided a lovely refreshingly cold beer, but also gave me a job as ballast (above) that let me relax, smoke and drink while Hans and ...


...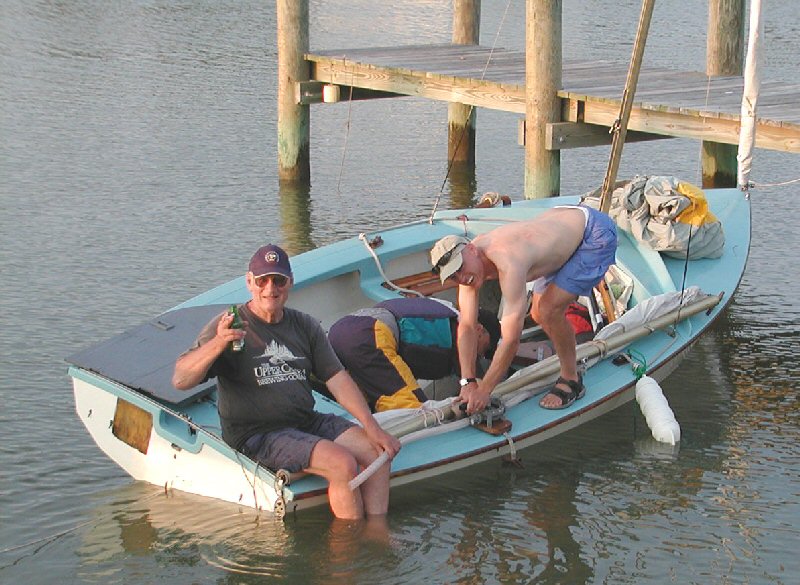 ... Richard did the work with the pump generously loaned by Dick. Even Mary was working. She had the camera duty and captured Al keeping the outflow valve out of the water where it would suck water in. Mary also ...
...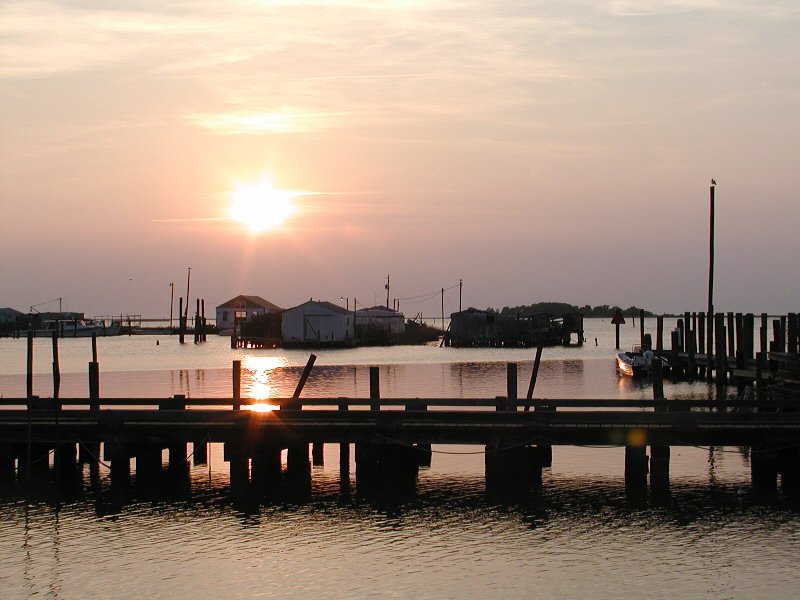 ... took ...
...

... these lovely ...
...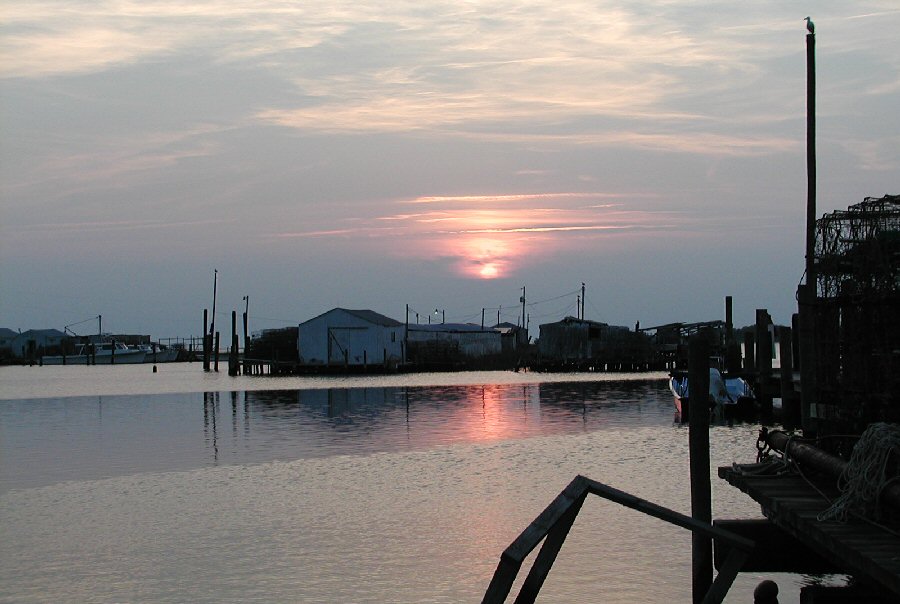 ... sunset photos.
...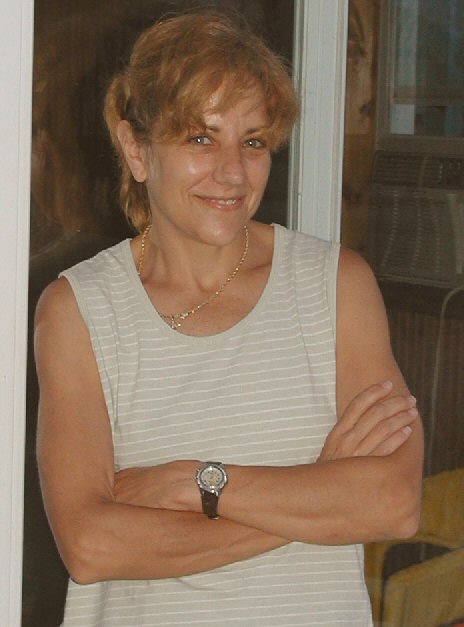 Our hostess, Pauli Zmolek, kindly came by to make sure we had everything we needed. She also runs a B&B out of her home at the marina - see

http://smithisland.us/flyer1.pdf

- something Hans and I may try for next year!! The small marina building had just nicely enough room for a large bathroom in the back and a sitting room where we could also stash ...

...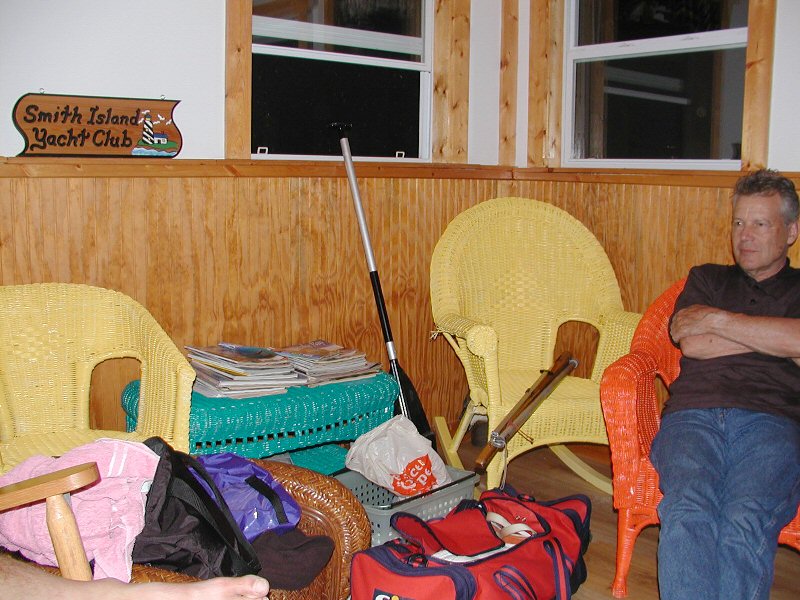 ... gear that we'd prefer not to have cluttering up our sleeping/floor space in the boat. Hans (above) had smiled when I had bought a quart bottle of Doctor Pepper to go with the bottle of rum I had brought. I knew that it was easy to find Dr. Pepper in the States, unlike in Canada, and I wanted to re-visit my earliest drinking days when I used to get my courage up for regatta dances with what I recalled as a lovely mix of rum and Dr. Pepper. Hans said something to the effect that I was going to find out what lousy taste we have when we're young? But no, there was a pleasant surprise: I still liked the taste, even all these years later! We all sat around chatting, telling stories, supplementing our mid-afternoon supper with munchies and ...


...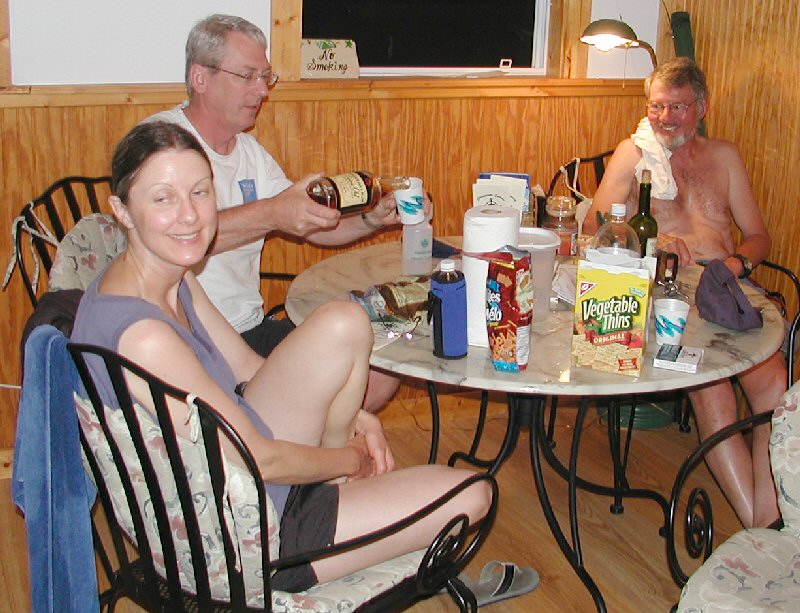 ... generally had a wonderful time. A small irony above is that Mary, who didn't touch the alcohol that night, does not look all that sober in the picture above. I think it must have been after midnight by the time the last of us crawled happily into our boats. A magnificent evening! Next year, we'll have to drag Pauli out to celebrate with us!!