Seldom lost for words--Ken Jensen, Sr:
Dear W-friends, Don and Trudy,
Indeed thank you very much for taking such good care of us at your home. A very nice place and area with such a good and charming neighborhood.


We got home without problems and attended a wonderful wedding with more than 70 guests. The ceremony was performed in the big garden of the family's farmhouse, and the very tasty dinner was served in a huge tent with plenty of air and roominess. Just perfect weather. The day after I returned to Norway.
Just 2 days ago the young married couple joined Ken jr. in his boat, W6141 for a *W-honeymoon-trip* on the Sound between DEN and SWE in lovely weather, but the warm spell is now over... Junior's PC is out of service for the time being, so photos will be later.
Killbear Park was wonderful and the sailing great. The coast is really similar to the one starting by Gothenborg and all around Norway/Northern Scandinavia past North Cape. Such great company we had there, with some fine sailing and good weather. For 7 days on the water about 5 - 7 hours each day I felt having a real 'baboon bottom' due lack of my closed-cell-fender-cushions (see pict. click on *The Telemark - Skagerack Crs. 2003*
www.wayfarerjoller.dk/1348
) that are a real comfort to sit on !
[I've still things to learn!!....Dick]
Dick H. also got a Sub.Web.site there
www.wayfarerjoller.dk/887
with his pictures from last year.
There was a very fine Ted Davis Trophy ceremony at the "Killbear Restaurant" on 2004 Jul 28 (the day before young Dick H.'s birthday !) and hopefully you now know about Tom Graefe, a real nice guy, who got the trophy. Don, hopefully you also got your gear and especially your hat back as we promised, when leaving Killbear Park.


Yes, it was a great experience, and Dick did such a lot of work making it become a true success, and also of course, he is now an Hon.Viking with a *proper LB & SB-indicating* horned helmet of his own ! He'll be ready for Vinland now (ref. "West Viking" by Farley Mowat).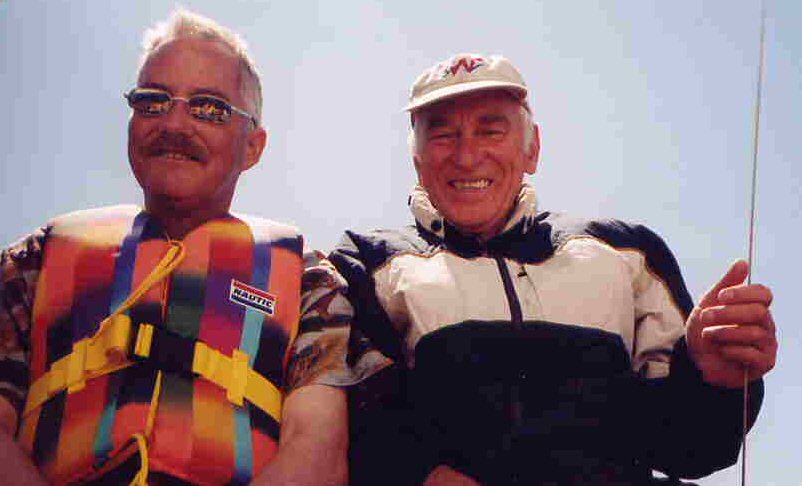 Ken Jr. & Ken Sr.

So good to be with you two - all the best with love. Ken the elder + Co.

...