Subject: Uncle Al responds further to Ken's e-mail above with fresh thoughts on heaving to, etc.
----- Original Message -----
To: KEN/K.H.Jensen
Cc: Richard C Harrington ; wayfarer@home.nl ; richard watterson ; Tom W9668 Graefe
Sent: Tuesday, May 01, 2007 10:29 PM
Hi, Ken:
With all the colours we are using up, I will stay with my favourite ... green but this time my second set of replies will be in bold style.
Best regards,
Uncle Al (W3854)
----- Original Message -----
From: KEN/K.H.Jensen
Cc: Richard C Harrington ; Ton Jaspers ; richard watterson ; Tom W9668 Graefe
Sent: Monday, April 30, 2007 10:58 AM
Hi Al,


Always a pleasure to visitYour WAYFARER Domain and it looks very good indeed with good sensible adjustments.
# 4. The action of 'heaving to', is for me the following: Heading into the wind to stop all forward movement. When full STOP with all sheets fully eased, sails wildly fluttering, bow ~45° off towards down-wind, tiller full down a-lee, tiller-ext. also swung out, so with the lee-heeling of the boat it will remain there at least for some 30-40 seconds, while I move forward to lift the CB( so far I have not tried
in real high wind+rough sea
your recommendation of CB full UP !) as I pass by to quickly furl the foresail. This action is made as in one 'sweeping' movement from the decision is made, and it is what I mean by:
heave to, stabilize position, remove/furl the foresail
- ready for reefing!
The position you describe - for me 90° to the wind, no forward momentum, sails luffing completely and no board down - has no English name that I am aware off, so I have called it the rest and relaxation position - for details, click here. I have found it particularly "life saving" in wild conditions. Since I know you enjoy telling and hearing stories, I will give you the short version of three times when using "board full up" trick has really made life a lot easier for us. I think that many of us are afraid of having the board full up from the rolling motion this permits/promotes on a speedy run, but once the boat is no longer moving forward, such rolling is longer a concern - the point being that rolling from side to side on a run at high speed is suicide because if your bow ever digs in, your boat will do a very fast 90° turn and roll over (to leeward, if you're lucky, or to windward for the dreaded "death roll" and the immediate "greenlander" as the Danes so colourfully call it, because the main is out for a run and offers no resistance to "turtling" as we call it here). No amount of steering will avoid this: at hull speed or more, the W is simply too heavy for its rudder. But with no forward motion, everything is different. And this brings me back to my three stories:

1. Hayling Island, 1992 Worlds, winds F7, 28 of 52 boats capsized, one of which was Frank (Wayfarer Man) and I. A sizeable number of boats did not manage to self-rescue in the considerable wave action, and had to be towed in. When we capsized - a warm day with warm water, lucky us - we righted but almost immediately capsized again when a gust caught the mainsail, pushed us forward and slowly but very surely rolled the boat over despite my best efforts to gently luff up. Then I remembered the board! This time, the first thing I did as I fell into the boat as she righted (sideways to the wind, mast pointing downwind), was to jam the board full up - and then I had time to to untangle our sheets. As long as we heeled to leeward slightly, there was no danger of the boat gathering forward momentum, and I was also able to leave the tiller since the boat was drifting downwind at right angles to it, and the rate of drift was keeping the rudder in the "trying to luff up" position. While Frank bailed and I cleaned up various lines and the floorboards, we noticed another bonus from having the board full up: in that position, the board blocks most of the water that would otherwise come into the boat through the CB box almost as fast as we (Frank, actually) could bail it out. We soon had the water low enough to sail the rest out with the bailers open on reaches. I can't recall if we finished the race - I think we did because I remember us going up the final beat and meeting Mike McNamara who had won the race and was running back towards Chichester Harbour and the bar at Hayling. I remember thinking that even Mike and his crew were looking pretty wet with their hair pasted all over their faces, unlike their usual shipshape selves.

2. Late 1990's, the end of an

Around-Toronto-Island Race

in which I was steering my Irish pal, Tom Wharton's W600. We were sailing on a very broad reach and nearing the finish line off Toronto Sailing & Canoe Club in a wind that had suddenly come up to about 25 knots (12 m/sec?). The wave action was pretty wild as we angled closer to the breakwater which was bouncing the waves back at us, but in a moment of madness, we decided we needed the spinnaker since it was very close between us and the second-place boat. It was a wild ride. Sitting on the aft tank, I couldn't even see the bow what with all the spray flying. Still, eveything was fine for a minute or two - until Tom's (unfibreglassed!) rudder blade snapped off. "Spinnaker down!" I screamed at Tom while I dove to raise the board which had been half down for stability. Tom did a great job collapsing and downing the spi almost instantly. He was a bit excited, however, by the fact that we were only about 200 m. off the wall with the wind angling at about 45° to push us slowly closer to it. In his rush to break out the paddle from its storage bracket, he snapped it off. We then tried sailing with a bit of board and luffing the main when we started pointing too high, but this became somewhat hair-raising and we pulled the board full up once more and downed the main. It would, after all, be a broad reach to the finish line, so that jib (genoa) alone would serve nicely. So we were a pretty funny sight, I'm sure, as we limped across the line in 9th place, with Tom playing the jib and yelling "up!" or "down!" above the whistling of the wind while I hung acros the aft tank on my stomach and steered with what was left of the paddle's blade. One of my best bits of seamanship ever, and largely due to knowing enough to get the board full up right away!

3. A couple of years later, at our Nationals off TS&CC, I was sailing with my son, David (12 or 13, 40 kg.) who is a great crew but did not know how to get the main down (several things, e.g. vang, outhaul have to be released first before the wire will come off its rack). Anyway, it was 10 a.m. and we were about to have Sunday's first race when the RC fired the three guns for abandonment. I looked up, and there, in the NW, was a black squall cloud with the white wind bits in front of it. I was stunned, having never before seen a morning squall. I thought we might make back to the safety of shore, about a km. away, before it hit. Bad decision! I should have taken what time was left to get the sails down!! Instead, we got hit by winds gusting to 50 knots. I immediately had Dave let go the jib and ragged the main but could feel the wind getting under the hull and the boat beginning to slowly capsize, someting that had happened to Julia and me several times before. Luckily, I remembered: "Board up!!!!!" I conquered my hiking instincts (futile, as I knew from past experiences), ducked into the boat and whipped the board full up. Now the boat stabilized at an angle of heel that just left the leeward deck mostly clear of the water, even when I went inboard to lower the jib (which came down with such force that I later - at home on the front lawn - had to dismantle the halyard block arrangement to free the swaging/tellurit from where it had become wedged between the side-pieces of that double block that lets the jib halyard enter the old-style mast, so badly that a hammer and screwdriver would not free it!) and then the main came down pretty easily. Once that was stowed out of the worst of the wind, we could sail under mast alone and stay away from other drifting "wreckage". All the other Wayfarers still out there had capsized, and we did in fact make it to that evening's Canada national news - prompting a laughing phone call from Wayfarer Man in Ottawa.

So, Ken, this is why I love having the "board full up" position as a bit of very useful knowledge that, as far as I know, you don't find in books! What I did however, find in books - the Glénans Sailing Manual to be precise - was

heaving to

, as you can see from the scan below: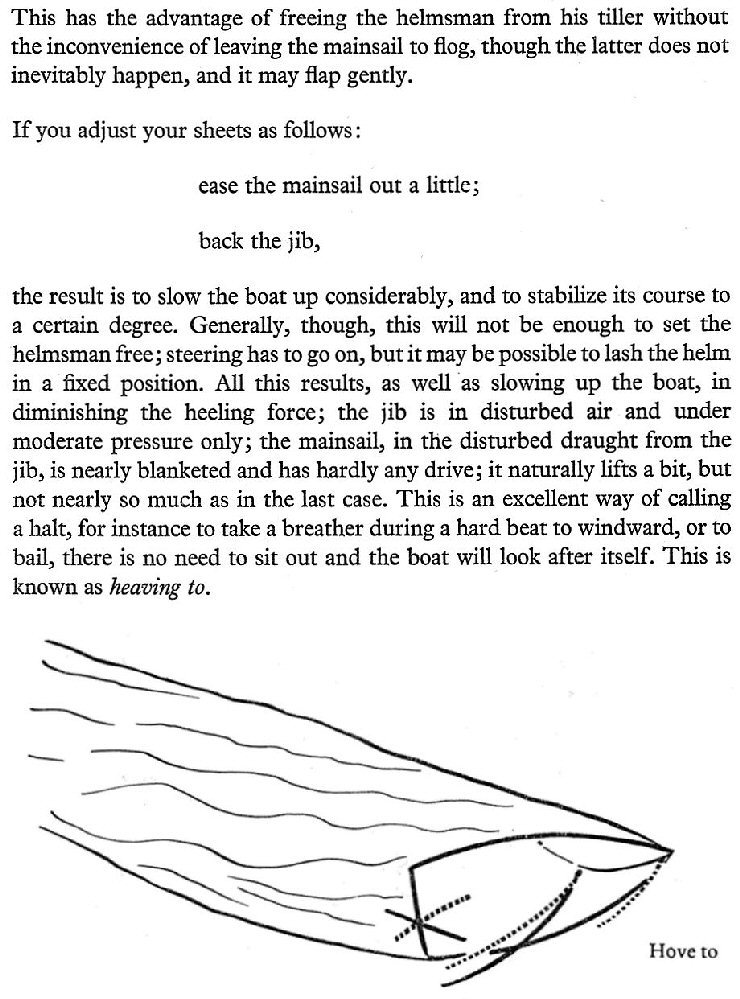 For Wayfarers, I have refined the Glénans suggestion as follows:

1. I always put on a fair bit of vang/kicker because this not only keeps the main from flogging and wearing out the leech (lots of money in those racing sails!) but is also much quieter and soothing to the mind. I then bring the main in far enough (about half way or more) to keep the boat at a fairly steady angle to the wind (too far out and the backed jib will make us bear away before the main finally kicks in and makes us luff up again).

2. As long as I am not afraid of hitting a lee shore, I bring the board full up which gives us a buffer against nasty gusts which we get a lot near cliffs or in the shifty winds of small lakes. Bringing the board full up has the further excellent benefit of making us drift straight downwind (but sideways to it) at some speed and automatically keeps the tiller to leeward. Fixing it in place there with a bungee cord or whatever, is still useful (though not essential) since the wave and gust action tends to slam the rudder and tiller into their extreme positions on a regular basis, something that can't be good for rudder, tiller and their fittings. I often "fix" the worst of this problem by sitting to leeward in the "corner" between the side deck and the aft bulkhead with the tiller behind my back.
Now - talking solo-sailing - I can move back to secure the tiller full a-lee (forced to bring my 'gaining' weight 'down there'!). However starting last year when solo-sailing (and always while fishing) I make my steering-line available, meaning able to steer from any position in the cockpit, and possibly if wanting to reef (or other necessity e.g. beer-'diving' down below floorboards, maybe to forestall the disaster of leaking beer cans!) steer from a sitting position to windward into *hove to* as mentioned above, and
then
cleat the steering line to hold the tiller full alee!
Sounds like a fine system - on a cruising boat! It might get in the way when I'm racing though. In any case, with my system, especially the R&R position, I can ignore the tiller once the forward momentum is gone, and rummage under the floorboards, etc. for minutes on end, or, God forbid!! even longer until I find my beer and stop the leak with my mouth. And the beauty is that once the board is full up and the boat has stopped moving forward, you can go to leeward all you want, just as though you were at the dock with the sails down!
Yes, my friend # 6. ought to be clarified:
# 6.
as the sail has been rolled, hoisted, halliard cleated

and

with the boom now being higher than the ordinary position for the goose-neck(gives more head-room, less chance for the boom to catch the water in heavy gusts) place the boom on the goose-neck,
stretch the luff/leading edge of the mainsail with the Cunningham tackle (which at the same time
may be attached so as to 'de-twist'
the boom - vital for old wooden boom goosenecks), then screw fasten the gooseneck,
this is
if you are one of the lucky ones who still has a sliding one! If you are not that lucky, you´ll have to lean/'hang' heavily on/press/weigh down your boom to stretch the leading edge of the mainsail and to get
the boom
onto
the
goose-neck, and
then evt. attach the Cunningham-tackle to do the de-twist.
The
whole operation
is done in the stable hove-to position, standing to windward by the mast, boom eased out at 45°. with a
fluttering
mainsail, and it works even in a high wind and rough sea way - then max half CB to get/create 'square' (breaker-yielding) drift, thereby creating the 'slick' which reduces on-coming breakers' steepness - depending on kind though!
(Al's note: Trying to teach an old dog new tricks Department: Ken, wouldn't the following order be better for item #6? boom onto gooseneck > tighten main halyard to remove unwanted slack and get cunningham effect > put on enough cunningham to de-twist the boom)
I think this will work even better with the board full up. I should imagine that even if a breaker hit you sideways on, it will be better to have the boat in a position where it will slide sideways more easily with the wave?
Re:
Al's note:
Very good suggestion, Al, but from experience (and accepting the grand total *All up [or down(!)] Beer-wt.* of some of us) I know, if about 60% of this body-weight is applied hanging on the boom in order to stretch the leading edge of the mainsail you'll get a far better stretch than can be achieved by hand-pulling the halyard - but of course a matter of choice! The sliding goose-neck is a great advantage as strechting and de-twisting is done in one process by the 4-part Cunningham tackle.
I know what you mean, Ken! We always hoist and cleat the main first and then pull down (a little) to plug the boom into our now fixed gooseneck (new mast) - though even on the old mast, we tightened the adjustable gooseneck's screw so much that it was to all intents and purposes, fixed. This was done because we found that our 42:1 vang/kicker kept pulling the gooseneck (and boom) below the "black band" unless I used pliers to tighten the gooseneck wing nut as much my strength allowed. I didn't know how many such tightenings the screw would accept before it broke, so in the end we just left the gooseneck fixed and made the boom come to the gooseneck.
This I mailed seperately to Rich. Watterson - (inviting his 'delete'-button) - and naturally forgot something important!
Under a reefed mainsail alone (if no standing furled foresail, move the foresail halliard to the bow fitting as forestay back-up!) for windy conditions (sail flattened, all strings pulled/set hard) in a seaway, move the traveller out (*my way* ref. FINN- and OK-dinghy style) and before coming about, ease off a little to gain speed and then sheet in as you tack into the waves and wind. When the bow is passing the "wind´s eye", as you move yourself to windward, relax and ease the sheet some (low speed = powerful across-ship component!), get settled on the windward side-deck, start sailing: playing the tiller - low speed calls for a definite pull to bear off - get `dancing´ with your boat (play sheet, balance and waves - head up into the oncoming wave, bear away as you cross the ridge and head up again a.s.o. sailing closehauled - moderate forward speed = less spray/sea breaking water!). Tacking as above gives less risk of "going into irons", but if you happen to do just that, then ease the sheet, push the tiller down to lee, let the wind and waves back you/your W.(if rough conditions CB only about 60% down) around, rough tiller-handling, hard moves, pulling and jerking may help to get the wind-angle right, gradually moving the boat forward. The tiller
and
sheet should continously be adjusted/moved in-out, in-out, and the mast
must
point fairly upright towards Zenith - meaning your W.
must
be kept flat on the water - meaning no heeling!
Heeling your W. is only used in very weak winds in order to give a gravity-caused 'curve'/camber in your sails and less friction area below the waterline.
I basically let the boat tell me when she's heeling too much: which she does by giving me more weather helm (tendency to luff into the wind) than I can easily handle: a touch of weather helm is good, but if you have to actively fight the tiller to keep the boat going straight, that is too much, both for your arm and shoulder as well as for the rudder and its fittings!
Regarding getting out of irons, as Ken says, let the main luff completely and push the tiller to one side until the boat backs around to a sideways to the wind position. (If the wind is not too wild, the handy method we learned at junior sailing in the 50's is "push the boom and the tiller out to the same side". This gets you going backwards faster and out of irons sooner. Just let go of the boom

but not the tiller

before things get too uncomfortable - remembering always to "duck your beanies, kiddies!!")
One mistake usually made by beginners getting out of irons is trying to start steering in the "forward mode" while the boat is still going backwards. Moving the tiller out of its corner and trying to bear away onto your new tack before the boat stops moving backwards just starts pointing you head to wind again and back into irons because you are still going backwards and the steering effect is reversed. I suspect that once the boat has backed around into a beam reach position, it might even help to briefly raise the board completely, and then, once everything is all set, you can lower the board (part way or all?) and slowly bring in the sail. Remember also that when going backwards, the back of your boat will turn in the direction the aft edge of your rudder blade is pointing. Which means that if you had a good reason to tack from say starboard to port tack, you can make sure that you end up getting out of irons onto port tack if you hold the tiller to starboard as you go backwards, and vice versa.
Well, gang, this was most certainly a fun way to spend my evening. Talk to you soon,
Uncle Al (W3854)
All the best to all of YOU and happy W-sailing ! Ken