Ton Jaspers brings a new "heavy air" solution: jib-trysail with bolt rope and new furling gear
From: Wayfarer
To: 'KEN/K.H.Jensen'
Cc: 'Dick/Rich. C. Harrington' ; 'Frank W48 Wanderer Dye' ; 'Kjell W4878 Gjære' ; 'Ray Scragg' ; uncle-al3854@cogeco.ca
Sent: Saturday, December 02, 2006 12:25 AM
Thank you for your kind email. As always, it is well appreciated.
With regard to the trysail, ... I think it is a very clever idea.
My new genoa has a full length bolt rope and could be fed into the mast as if it were a
mainsail.
I have never used it as a trysail yet, but I surely will, if conditions require it.
... BTW, the full length boltrope in the genoa is not the only change I had made. My genoa also
has a foam
luff
and a deeper cut bottom to compensate for the furler drum. It is designed to fit a Bartels
reefing-furler. Mr. Bartels designed a Wayfarer
special last winter. The final design will incorporate
my and Dick Harington's experiences with the
device. Then it will be made available by Mr. Bartels
as a standard product. The reefing genoa has been
developed
by Pinnell & Bax (UK) and will
become available from them as a standard cut as well.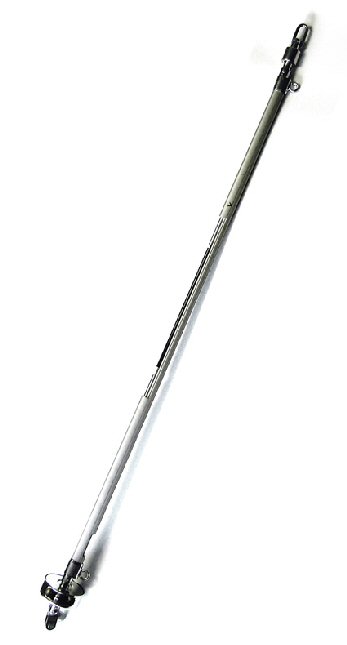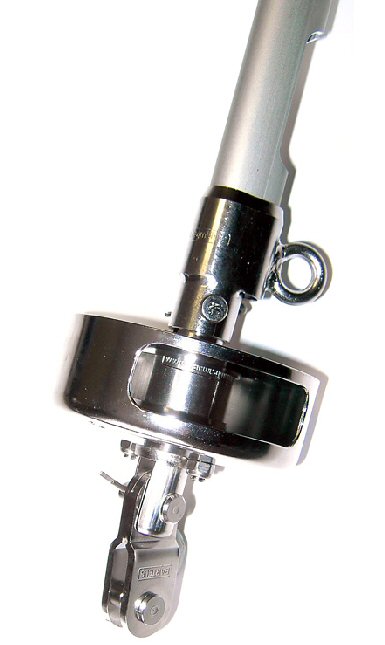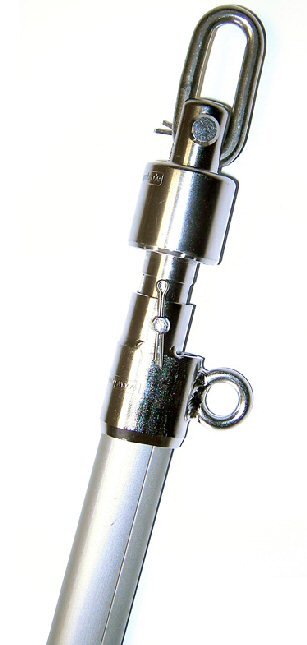 Above you can see a few shots of the newly designed reefing-furler that should become commercially
available any moment now. The design was initiated by me, but full credit goes to Mr. Bartels
of Bartels GMBH, Germany: http://www.bartelsgmbh.de/ . It was rigged by Ian Porter who made
a
slight adjustment to the halyard length, an extension wire for my racing genoa (sailed
traditionally) and a safety
wire
for the furler. The safety wire replaces t
he forestay and runs from
the mast to the top swivel.
Inside
the aluminum profile of the furler, a 4 mm SS wire replaces the
forestay. So far, I am very
pleased
with the reefing-furler and the sail cut by P&B. The only issue
is that the safety wire is a
little too
long. Once I have determined its correct length, it will be
included in the package Bartels
is
going to offer to the Wayfarer community. Every part of the
furler is made from stainless steel
or aluminum, there are no plastic parts. The design strength
of the swivel bearings was 32 kN w
hich is five times more
than the standard forestay. With the
5 mm wire inside the furler, this rig well
exceeds Wayfarer forestay strength standards.
In short:

I never criticized your try sail. In fact it was one of the consideration in selecting the head sail

reefing-furler. It led me to a solution with a full length bolt rope.

I think my trysail may be better than yours due to the full-length bolt rope. I surely will not

hesitate to use it

when the going gets tough. Having this option, in combination with a much

higher first reef, made me

decide not to have a second reef installed in my mainsail.

I had my sails made from heavy rip-stop cloth that won't tear in a blast.

I always sail with a foam buoyancy cushion in the top of the sail. I used to have a inflatable one but

an inflatable cushion could spring a leak. Hence foam is more reliable IMHO

I can reef the headsail very quickly and the mainsail has slab reefing in such a way that it ca

n

be used quickly while sailing

I used to have a slightly upward line of reefing points. The reason given was that a higher boom

is

safer.


I think I am quite used to the boom height as it is, and there is no good reason to raise the

boom. A

16:1 kicker does not have enough range to allow a higher boom position. Once you have had

to

add

a shackle to make the kicker fit in a good breeze on the North Sea, you will agree. B

eing

able

to re-attach the kicker quickly is far more important then the apparent advantage of a

slightly

raised boom.
Med venlig Hilsen,


Ton Jaspers W10445
----- Original Message -----
Sent: Saturday, December 02, 2006 5:02 AM
Hi Ton,
Thank you very much indeed ! I am very pleased by your response and solid W utilization and guidance. We know the road to understanding is explanation and I was in need hereof since I couldn't understand why my Dutch W-friend Ton would (as I was told a few times) be skeptical of the W-trysail !
So, I am very pleased that you took the time to write and to include the very interesting new information re. safety and efficiency as I like your ideas/approach to handling the W. in rough conditons. This also confirms that new things can be learned by a very old man like me - thank you very much !
My best wishes and kind Wayfarerzeiler-regards to you and yours in NEDWA.



Ken