A Wayfarer Rally in Friesland
by
Dick and Margie Harrington


...



Like many Wayfarer cruising folks Margie and I are always fascinated by the thought of exploring some new far off place. So when the Dutch Wayfarer Association announced that they would be hosting a short cruising rally as a prelude to the European Wayfarer Championships in September our interest was piqued. The activities would be taking place in Friesland, probably the most beautiful province of Holland. "Don't miss this opportunity to sail on some of the most lovely lakes and canals of Holland", the promo said. Accompanying the words was a photo of a quaint village waterfront, the foreground dominated by a fleet of classic Dutch sailing barges. It was an image that ignited our imagination. Going to Holland would be expensive and the situation with international travel continued to be unsettling, so at first Margie was hesitant. However, after a few back and forth e-mails with our Dutch Wayfarer friend, Ton Jaspers, we were convinced and ready to make the leap to The Netherlands.

There was a special feature to this rally which was different from any previous rally we'd attended that was intriguing. We would be sailing Wayfarers during the day, but spending the rest of the time on a small cruise ship, a converted Dutch barge named

In Dubio

. With this arrangement we would be visiting and staying at different places each day, yet would be living in comfort and style.

In Dubio

was our mother ship where we would eat, party and sleep. What an attractive and unique idea!

Without the enthusiastic help of our European Wayfarer friends we could hardly undertake such a grand adventure. This has been true for all of the overseas rallies we have attended--the first being in Ireland in 1997, followed by Denmark, England, Northern Ireland and the 2003 Danish rally in Sweden. In the beginning it never occurred to us how many new Wayfarer friends we would make, or how important they would become to us over the years. Staying with us on the

In Dubio

would be quite a few old friends, but also a number of new people we were anxious to meet. Getting to know the Dutch and sailing in Friesland was going to be a new and exciting experience.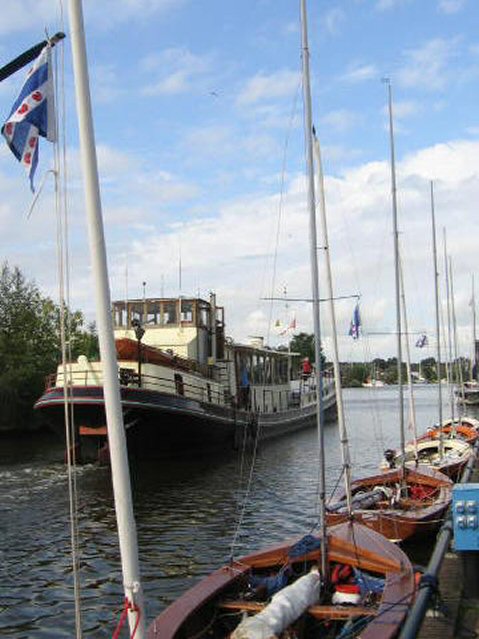 In Dubio

in the city of Sneek




...
The flight across and our arrival at Amsterdam's Schiphol airport was smooth and stress free. Margie, a nervous flyer, commented on how the big Airbus A330 never once made a bump during the flight. Somewhere outside the terminal of one of Europe's largest airports was a car with a Wayfarer being towed behind it, circling and waiting to pick us up. "Find the 'meeting place', it is marked by a yellow striped pole and I'll meet you just outside," Ton had written. Outside there were three two-lane avenues of one-way traffic. While we stood at the curb pondering which of the pedestrian islands to choose, there it was, a Wayfarer, all the way to the far side and stopped where it should not be. It was hurry up and get over there, dragging baggage across four lanes of traffic, and quickly load it into the car's trunk. Initial greetings had been brief and the chance to refresh an old friendship rushed. Immediately we became immersed in Amsterdam's crush of traffic, which unfortunately is every bit as crazy as Boston or Chicago. Wow, we thought, we are in Holland at last!

The chance to visit Amsterdam would come later. We were on our way to Heeg in the northern province of Friesland. It was midday Friday and the rally wouldn't kick off until Sunday. Friesland is where everything would happen and Heeg was the starting point. Heeg is a small town. In Holland, a tiny country, many cities and towns are small and compact. It is a country that hosts a fascinating array of early European cities. There is nothing in the United States comparable. Villages with main streets barely wide enough for two cars to pass and even narrower side streets that are almost always one-way are lined with residences and businesses in rows of multistory brick buildings. Houses are but a few feet from the roadway and doorsteps often lead right to the curb's edge. Front gardens are a rarity and gazing through a neighbor's living room window is far too easy. Privacy is certainly a premium! Yet these towns are marvelously picturesque, scrupulously clean, and retain the character of their beautiful ancient architecture. As Americans we were used to seeing things 'big', but quickly adjusted our perspective to the small scale and enjoyed the unique architecture and cozy nature of these historical towns. Heeg, our first exposure to the "real Holland" as Ton would say, was a great place to start.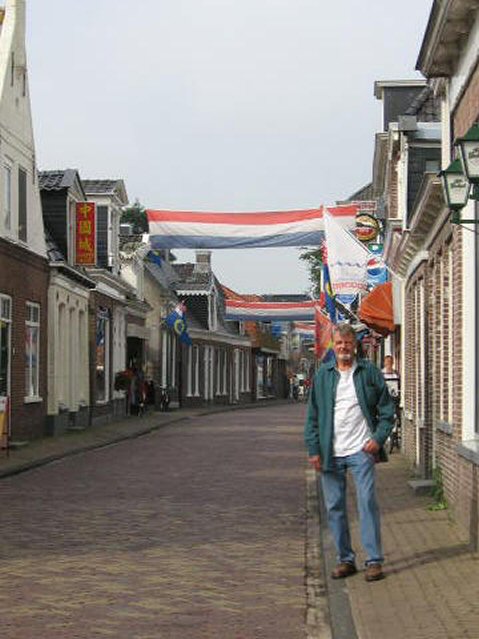 Main street in Heeg
...
Ton dropped us at our hotel,

De Watersport

. The hotel's name alone is telling. We had arrived in a vacation land where on-the-water sports, mainly sailing, were king. The petite combined restaurant-hotel-B&B stands at a corner of the main street where a small swinging bridge spans a canal and antique Dutch sailing barges lay alongside the quay.

De Watersport

boasts a delightful veranda next to the canal that treats patrons to the entertainment of watching small sailing craft passing beneath the bridge. The bridge only opened for larger vessels, so masts would be lowered, outboard motors throttled back and heads ducked low. The fit was always tight and you could never be sure if the vessel would make it under. But it was a well practiced process and fascinating to watch. That was our introduction to Friesland and we were thrilled.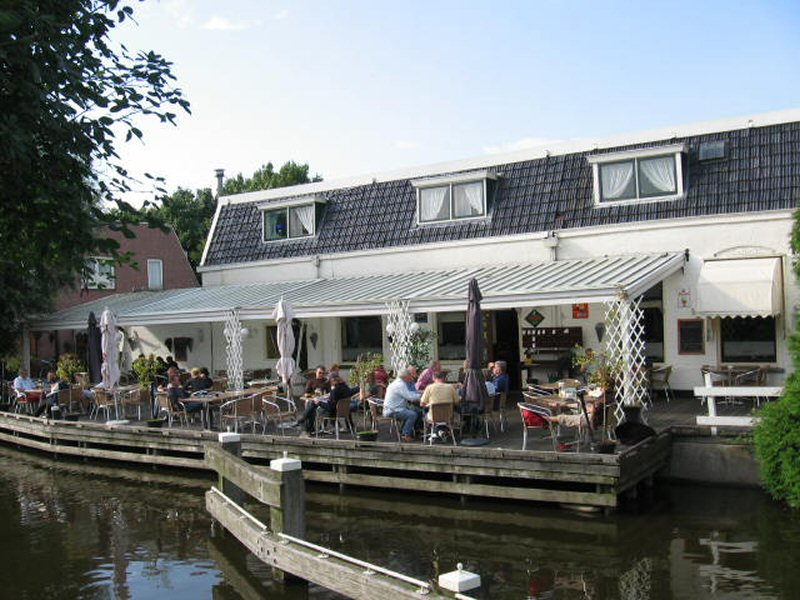 Hotel De Watersport


...
Saturday night it rained hard and the wind howled outside our windows at

De Watersport

. Neither of us could fall asleep thinking about the prospect of going out in gale conditions the next day. Throughout the night bells of a nearby church chimed each passing hour. We covered our ears. Somehow, though, we managed some rest. Having donned fleece jackets and warm pants beneath our foul weather gear we arrived through blowing rain at Heegerwal, the harbor. The cold fall-like day was a sharp contrast to the hot dry weather we had left in Ohio.

Ton, the Dutch Wayfarer Association Class Secretary, as well as Racing Secretary, was deeply involved in planning and organizing the European Championships that were to follow. Consequently, with many last minute issues to handle, he would not be coming along on
In Dubio
. Lous de Bruyne and Francine van der Vaart, assisted by Lous' husband Hans and regional expert Jan Katgerman, would be in charge of the rally. We would be sailing Ton Jasper's Wayfarer,

Swiebertje

.

Swiebertje

, named after a well known fictitious Dutch character that lived the life of a wayfarer, is a brand new Porter Brothers Plus S racing hull. Ton had it impeccably outfitted for both racing and cruising. It was an exceptionally generous gesture to loan us his gorgeous new boat, but I would have been more comfortable with Ton's old Wayfarer that had accumulated numerous battle scars over the years.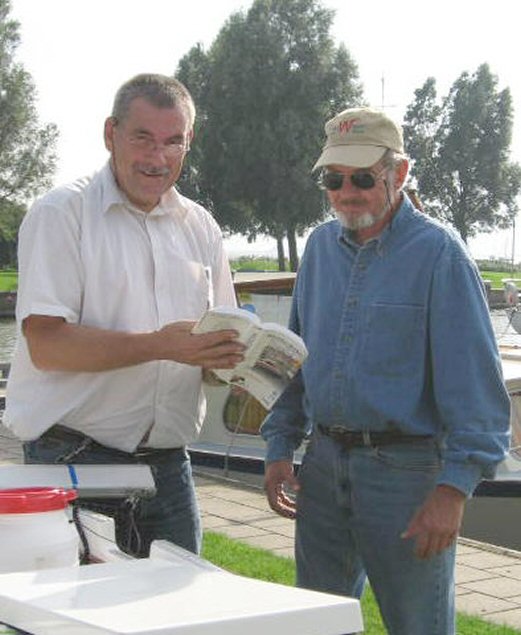 At Heegerwal, Ton walks Dick through the ropes.
...
Sunday's plan had been to do a "get-your-bearings" sort of sail.

In Dubio

would be arriving sometime during the afternoon. Outside the protected harbor Heegermeer, Lake Heeg, was a mass of froth and whitecaps. As a result the sailing plans were put on hold but preparations moved forward. With things going slowly we were afforded the chance to get acquainted with our fellow Dutch sailors. Urging us along was the need to find someone with a car to get our luggage from the hotel. We had no need to worry for it didn't take long for Susan and Joke to come to our rescue. After an hour or so the rain eased up, but the wind continued to blow. Then a new wrinkle evolved.



In Dubio

, already running late, had encountered an engine problem. Lous, Francine and Hans were doing an excellent job of keeping everyone informed and dealing with a poor start to things. There is nothing to be worried about they assured us. For a brief period they toyed with the thought of loading the boats and sailing to the stranded

In Dubio

. This, however, was greeted by some grumbles from the skippers and lots of rolling of eyes by more than one of the wives. After further consideration that possibility was put to bed and replaced by a much more attractive idea. It was decided the group would make the short drive to the town of Sloten.

Dating back to the 16th century, Sloten is an immaculately preserved miniature town that is remarkably picturesque and of considerable historical importance. We had an enjoyable visit, followed by socializing over a few beers at an outdoor café on the narrow brick road alongside the canal. By now we had been informed by Lous that

In Dubio

had indeed fixed her problem. Though arriving somewhat later than planned, the now "mystical vessel" would be waiting for us at Heegerwal after all. Upon our return Hannah,

In Dubio

's owner and operator, had prepared a delicious Dutch soup, which was soon followed by an excellent dinner.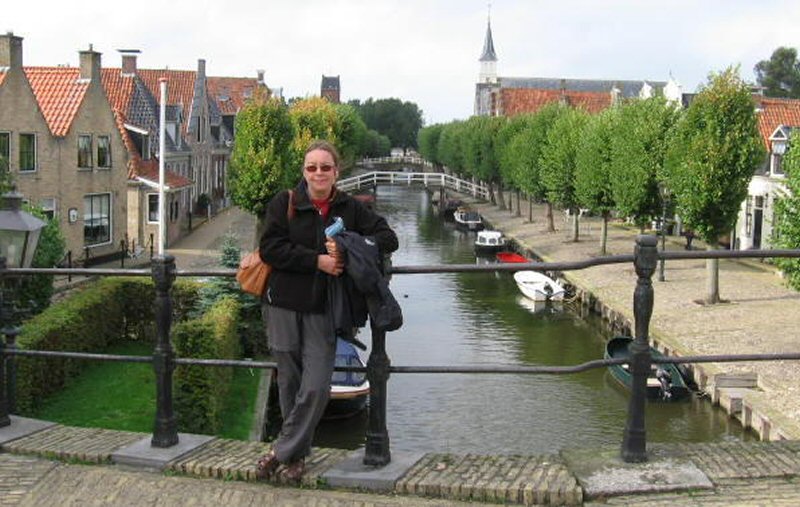 Sloten with Margie in the foreground
...
In spite of the day's challenges, we had enjoyed ourselves immensely and were happy. That evening, with the arrival of social hour, the saloon became filled with the singing of songs from the Wayfarer song book. Such would be the joyous gathering each evening. Songs were led by the

Danish Wayfarer Stompers

, Poul Ammentorp on guitar and Elof Andersen on clarinet, accompanied by Sue Parry on guitar with Allan Parry enthusiastically officiating with supporting body and hand motions where appropriate. The two of us were having a fantastic time reuniting with old friends and making new ones.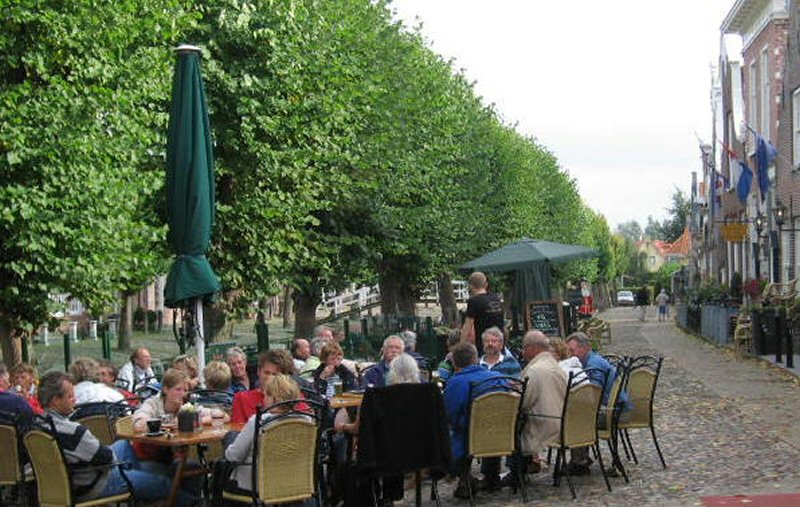 The Wayfarer group enjoying Sloten
...
By Monday morning the wind had subsided some but was still strong. The Heegermeer continued to roll with whitecaps, the sky remained mostly filled with thick heavy clouds and the air was chilly. Nevertheless, conditions were considerably better than the day before. Dressed warmly and in our foul weather gear we launched the boats. There were ten Wayfarers tied off at various spots along the harbor walls, mainsails reefed and waiting for the signal to depart.
Outside the harbor
Swiebertje
's sails suddenly filled with a bang and she was instantly planing, taking spray over the bow. But Ton's boat was stable and sailed very comfortably. I was glad that he had specified a larger than normal reef in the main, the grommets running above the first batten instead of below, as it was perfect for the conditions. We were excited to be at last on the water. After crossing a short stretch of open Heegermeer we regrouped in the shelter of a small bay. The wind was strong enough that one could easily make a mistake and get into trouble. Our leaders, Lous and Francine, were wisely being cautious. From the beginning they established that there would be a lead boat, as well as a trailing boat, to be sure of keeping the group together and under watch. It would not be long before this emphasis on keeping everyone together proved its worth.
Each evening following dinner, the cruise leaders, consulting with Hannah, spent quite a long time plotting the sailing plan for the next day. Had I been able to understand Dutch, I would have been greatly tempted to eavesdrop. But instead, like everyone else, I was forced to be patient and wait until the skippers' meeting the next morning before finding out in which direction we'd be sailing. Still, even after being told, some of us had little more than a foggy idea of how we were to reach our destination. We were dependent upon the leaders to show us the way.
A glance at the chart of this part of Friesland reveals an amazing picture. The province is laced with a phenomenal complex of canals and lakes that resembles a confusing web of waterways. It would seem that if not careful, one could head off in almost any direction and become absolutely lost. Successful navigation calls for local knowledge combined with careful attention and concentration. There hadn't been time to study the chart, so with all its Dutch names and unfamiliar symbols it looked daunting. Then there were the bridges that had to be taken into account. At the conclusion of each skippers' meeting there would be the bridge "discussion". We will have four, five, six, etc., bridges today, we would be told. Except for paying the toll, the smaller bridges weren't so tricky. But the larger main highway ones presented a different story. These posed a serious obstacle that required strategic planning. Such bridges opened only at specific intervals. You had to be on station, organized and ready to get through in a hurry with no fumbling around. Motoring and towing were called for in many instances. Lastly, there was the bridge protocol--the light signals that needed to be understood and obeyed. Red of course signified wait. Red and green meant that "I see you, please stand by", while green meant hit the gas now before I close again. Were we disturbed by any of this? Heck, no! This was a wonderful learning experience for both of us and part of the reason we came to Holland to sail.

With such a good following wind the leaders had planned a moderately ambitious sail for Monday. However, they couldn't be expected to anticipate a capsize. With a southwesterly wind at 20 knots or better we were anticipating rejoining
In Dubio
around 17:00 hours just south of the city of Grou. By my determination the distance measured between 17 to 18 nautical miles. The route took us through six canals and four lakes. Included were at least six bridges--both small and large.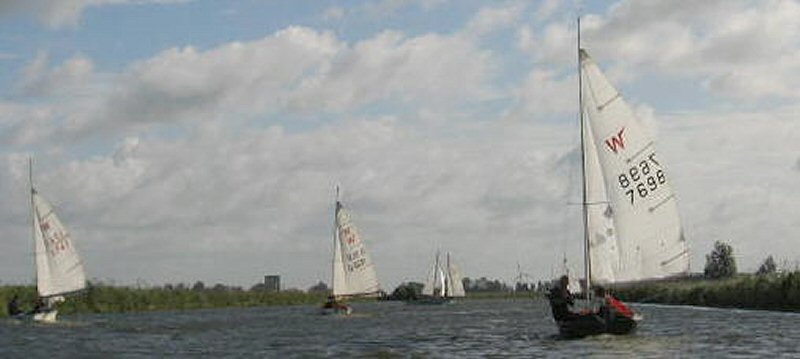 It was blowing 20 knots or better
...
An hour or so into the trip one of the boats at the end of the pack capsized. At the time the group was divided into three knots. Margie and I were in the middle and weren't aware of the situation. Nevertheless, effective communications were conducted between the leaders over cell phones. So when our group pulled into one of the small boat landings, a wonderful and prevalent feature along the canals, we assumed it was just for another break. The expected short break became lengthy, but when word finally arrived that there were no serious consequences resulting from the capsize everyone was relieved.

After that it was decided everyone should reduce sail to genoa only. Though this slowed our progress and added to a later than planned arrival, it made for safer sailing. Occasionally, following a turn in the canal, some difficulty was encountered when the wind came more onto the bow. Margie and I were impressed by how well the more practiced skippers were able to handle being 'on-the-wind' under foresail alone, while others, such as ourselves, struggled. Following one embarrassing incident where

Swiebertje

refused to come about and smacked into the side of a canal, we reverted back to the main for a while. Later we just resorted to cranking up the outboard when things got too frustrating. Not being able to point high made for intervals when there was a good deal of short tacking and boat dodging. This was all taken good naturedly.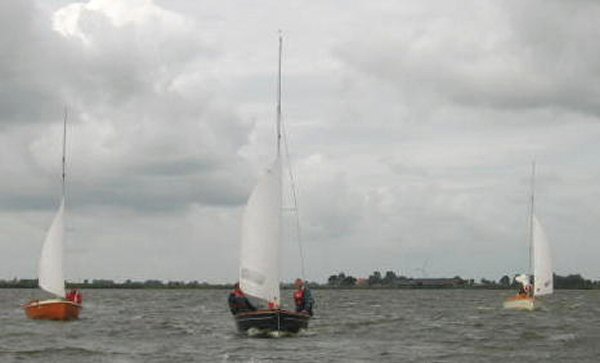 Genoa only and still moving
...
We enjoyed four marvelous days exploring many fascinating nooks and crannies of a handful of Friesland's beautiful lakes and canals--a sampling of what awaits discovery by an adventurous sailor. On several days a fresh breeze filled our sails with vigor, like it did on Monday. However, there were also times when it was less breezy. One day when the wind was light we found ourselves gently drifting between the banks of a tiny canal. The Wayfarers were bunched together on a narrow waterway that seemed to aimlessly meander through peaceful meadows, where the only visible inhabitants were cows and sheep munching on grass. Inching through tight spaces, competing for room with our fellow sailors, took a watchful eye to avoid losing your wind, having an encounter or tangling with an overhanging tree. It was a time of lots of laughter. Following are a few of our most lasting impressions we'd like to share with you—memories of the rally in Holland that we shall always cherish.

While the lakes at times could be choppy and test our sailing skill, sailing the canals was easy and relaxing. Traveling the canals through scenic rural farmlands instilled within us the true sense of closeness to nature that seems to be a trademark of Holland. The views are unobstructed by any commercial or residential development, wildlife abounds and picturesque windmills dot the beautiful Dutch countryside. The countless conveniently located small boat landings were perfect picnic lunch stops that provided many photo opportunities. We enjoyed these pleasant breaks as they gave us a chance to get to know everyone better.

Being past the 'high season' we were surprised by the amount of boating activity encountered. It was exciting to see so many traditional Dutch sailing barges and motor yachts on the water. In addition, there were a lot of smaller sailing craft knocking about. The Dutch

Falcon

class, a gaff-headed, flat bottom, centerboard cutter rig which appears to be around 18 feet long, was prominent throughout the area. The courtesy shown toward us on the canals by larger yachts was always exemplary. We were impressed by the Dutch government's stringent requirements limiting high speed craft to restricted areas on the lakes and can't recall seeing a single jet ski the whole time.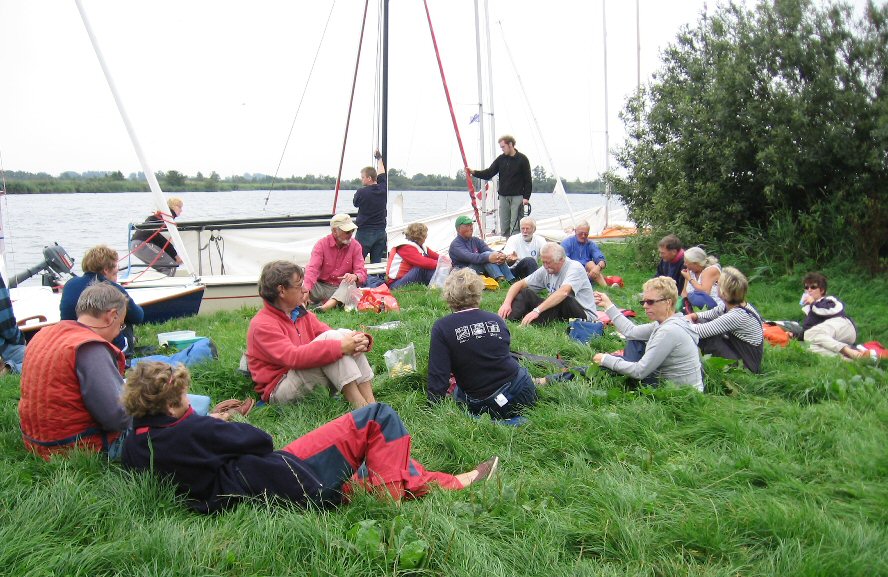 One of the many lunch breaks
...
There are certain scenes that will be forever burned into our memories. Foremost is the gathering and waiting at the bridges. Entering the narrow bridge opening, the Wayfarers began to bunch up and jockey for room while the crew tried to grab the swinging wooden shoe lowered by the bridge tender to collect the fee of one-ten Euros. Another occasion found us sailing through an aqueduct. Looking down we saw automobiles driving underneath the canal. It was an odd feeling. One of our favorites, however, was a peaceful evening relaxing on the deck of

In Dubio

and seeing ten Wayfarers, five to a side, contently moored to the mother ship.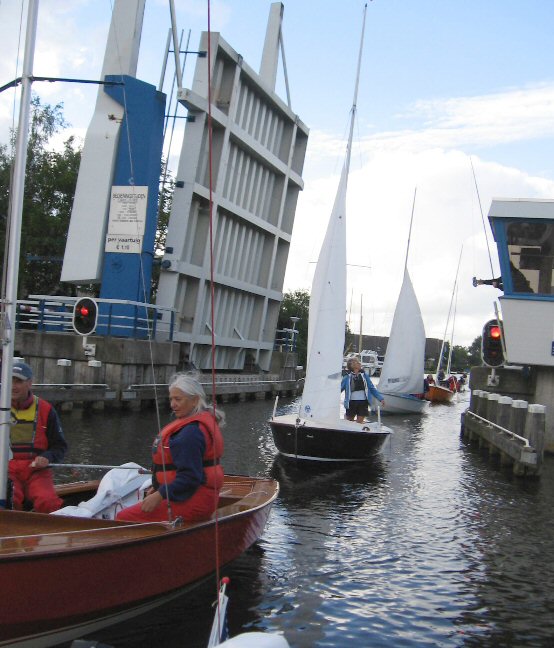 A typical bridge scene
...
The excitement of exploring a picturesque town or village always tops our list of memorable events. Arriving at a town by Wayfarer always feels like a grand adventure. Having experienced Friesland it is difficult to imagine any place in the world having more to offer in this regard. One day we sailed to Grou, landing at the town dock. Immediately we were immersed in the center of this quaint town and its shopping district. It was delightful to explore the town and capture interesting photos. During the return trip to Heeg we met up with

In Dubio

in the city of Sneek for the night.

In Dubio

was moored alongside the canal's quay among a number of permanent resident houseboats right in the center of the city.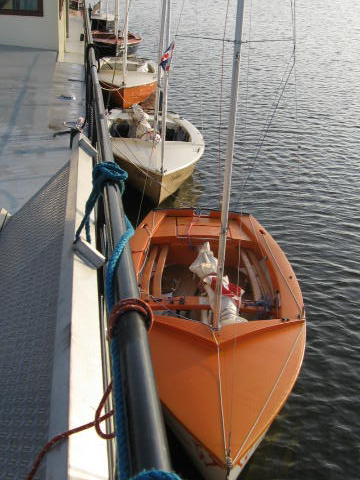 Wayfarers snuggle alongside

In Dubio


...



Motoring through the center of Sneek we passed under several bridges, then next to the city's famous ancient stone arch. Margie was thrilled to be able to snap a fantastic photo

(below)

of the parade of Wayfarers framed beneath this magnificent arch. Sneek has a reputation as a popular meeting place for sailors during the summer months. There is also much to explore in this city, including its outstanding and well known maritime museum. The many restaurants, with their outdoor patios lining the narrow canal in the town center, were great social gathering places for our group to enjoy lunch and a beer or two. Following the rally Margie and I would return to Sneek, staying at a B&B for several days. This would become one of our favorite cities in Holland.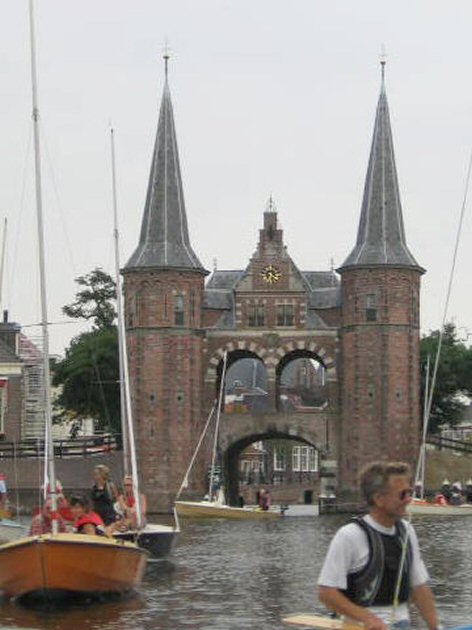 Sneek's famous city gate
...
Lous and Francine, with the help of Hans and Jan, did an outstanding job of planning and running the rally. We are grateful for their hard work and forethought. Sailing Friesland's lakes and canals, as well as seeing some of its cities, was a wonderful adventure. It expanded our horizons and gave us much enjoyment. We have gotten to know our Dutch Wayfarer friends much better than before and look forward to sharing our experiences with others. Lastly, we want to express our gratitude to Ton Jaspers for all his help and for so generously and bravely loaning us his beautiful
Swiebertje
.