Uncle Al's 2017-2020 Racing Rules in Pics
Rules are quoted, then illustrated and explained as seems necessary.



Part 2


The rules of Part 2 apply between boats that are sailing in or near the racing area and intend to race, are racing, or have been racing. However, a boat not racing shall not be penalized for breaking one of these rules, except rule 14 when the incident resulted in injury or serious damage, or rule 24.1.


When a boat sailing under these rules meets a vessel that is not, she shall comply with the

International Regulations for Preventing Collisions at Sea (IRPCAS)

or government right-of-way rules. If the sailing instructions so state, the rules of Part 2 are replaced by the right-of-way rules of the

IRPCAS

or by government right-of-way rules

.

...



A boat has right of way when another boat is required to keep clear of her. However, some rules in Sections B, C and D limit the actions of a right-of-way boat.


for instant access without scrolling, click on the Rules listed below
10 On Opposite Tacks
11 On the Same Tack, Overlapped
12 On the Same Tack, Not Overlapped
13 While Tacking
...

10 On Opposite Tacks
When boats are on opposite tacks, a port-tack boat shall keep clear of a starboard-tack boat.
This is the classic port-starboard situation: Upwind, Peter Rahn (W286) is on port tack since Shadow's windward side is her port side. Shadow is approaching Free Range Chickin' (Richard Johnson, yellow hull) who is on starboard tack (her windward side being her starboard side). Peter will have to keep clear of Richard.


...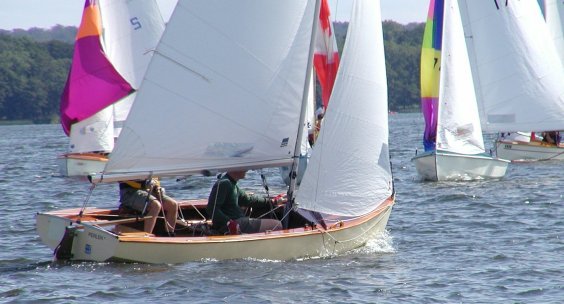 Harder to figure out is this situation where Jacob Knudsen (beige hull) and Jørgen Vekslund (white hull on right) are not only on widely different points of sail but also on opposite tacks. Jacob is on port tack and will have to keep clear of Jørgen. No "close-hauled over running free" like they used to say when Uncle Al started racing in the 1950's.


...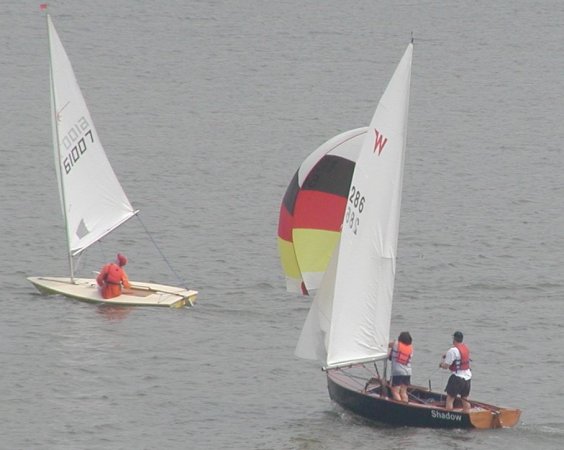 No "overtaking boat, keep clear" here, either!! Why not? Because rule

12

only applies to boats that are

on the same tack

!! Here Peter (W286) is on starboard so that Brad Biskaborn (Laser 61007) who is on port, will have to make sure that he

keeps clear

. Of course, a quick gybe by Brad would make Peter an overtaking boat who

does

have to keep clear.

...

11 On the Same Tack, Overlapped
When boats are on the same tack and overlapped, a windward boat shall keep clear of a leeward boat.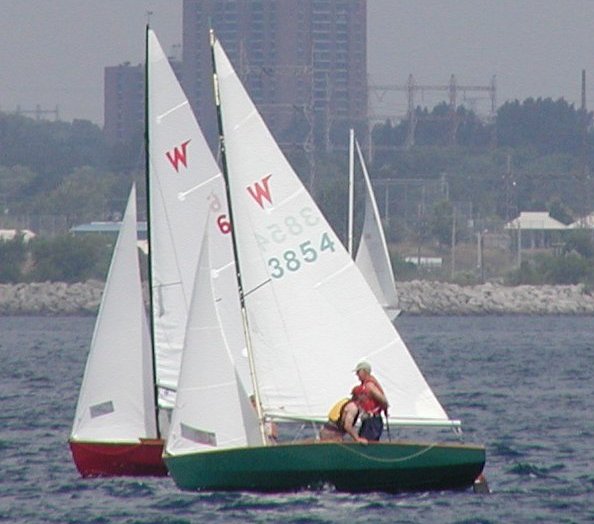 The classic situation: Uncle Al (3854) is to windward and must keep clear of Heider Funck (W6).
...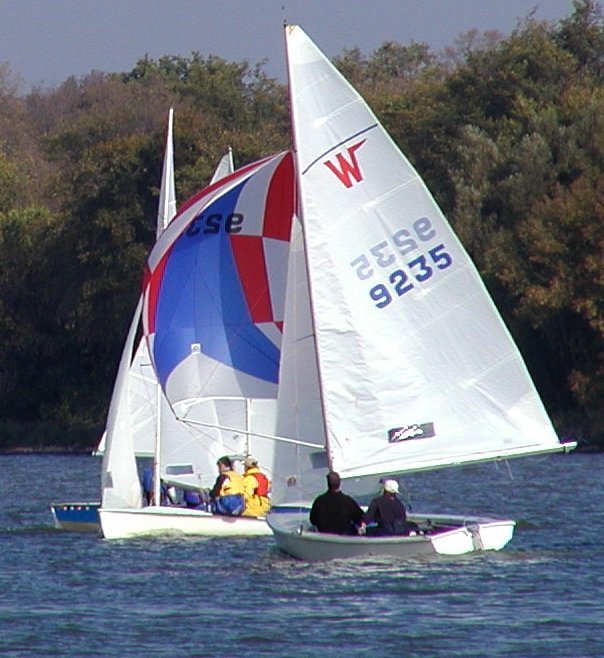 Less obvious is this situation where Brian Jeffs (W9235) is on the same tack as the white-hulled 420 off his bow. Since Brian is off the 420's windward side, he - as the windward boat - must keep clear of the 420. If I am on a collision course with a boat on the same tack as I am, I use the "close-hauled over running free" adage to remind me that the running boat will always be to windward and will have to keep clear. Of course, if Brian (9235) were to gybe, the boats would no longer be on the same tack and Brian would have the right of way under Rule

10

. But then, if Brian did

that

, the blue-hulled Snipe behind the 420 would be leeward and Brian would have to keep clear of

her

.

...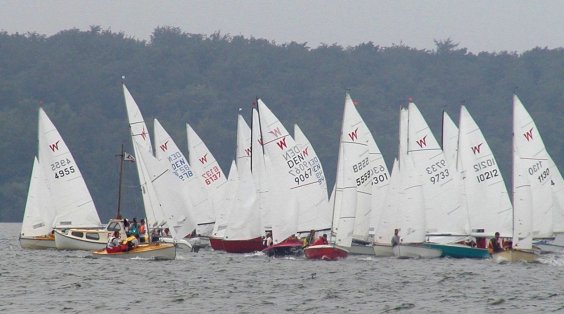 Except for the occasional sailor with a death wish, every big fleet start like this one in the Wayfarer DM (Nationals) in Farum, Denmark, is a mass of starboard boats in windward-leeward situations since Rule

18

(mark- room) does not apply at a starting mark.

...

12 On the Same Tack, Not Overlapped
When boats are on the same tack and not overlapped, a boat clear astern shall keep clear of a boat clear ahead.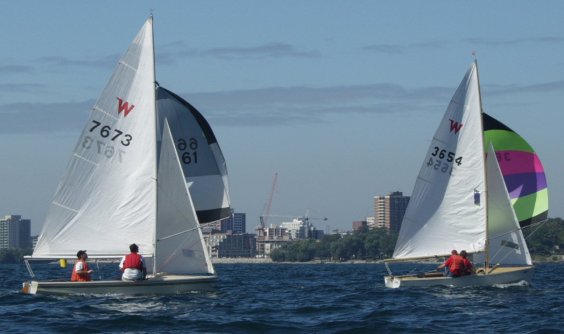 The Taylor brothers, Mark and Paul, (W7673) are - surprise! surprise! - not permitted to "rear end" John Cawthorne in W3654 who is on the same tack and clear ahead.


...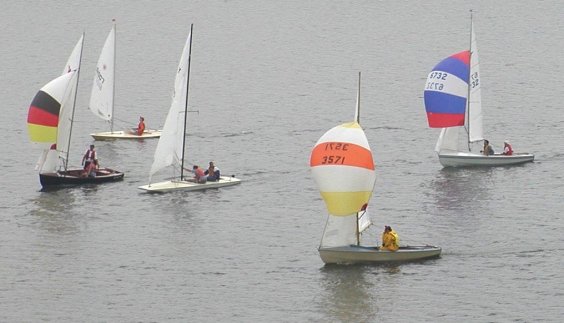 The four boats on the left are all overlapped but Len (W6732) is clear astern and must keep clear as he closes in while bringing a puff from astern.


...

After a boat passes head to wind, she shall keep clear of other boats until she is on a close-hauled course. During that time rules 10, 11 and 12 do not apply. If two boats are subject to this rule at the same time, the one on the other's port side or the one astern shall keep clear.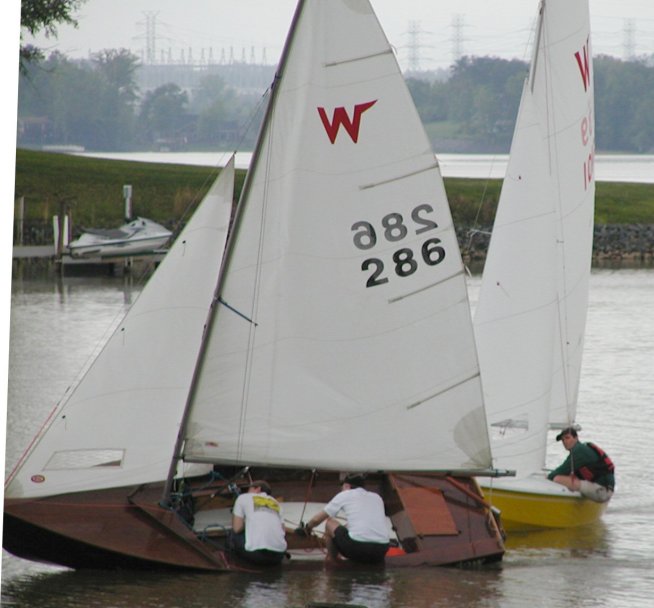 Peter (W286) is just past head to wind but not yet on a close-hauled course. He is therefore in the process of tacking and must keep clear of Richard (yellow hull) until he (Peter) completes his 90º turn.


...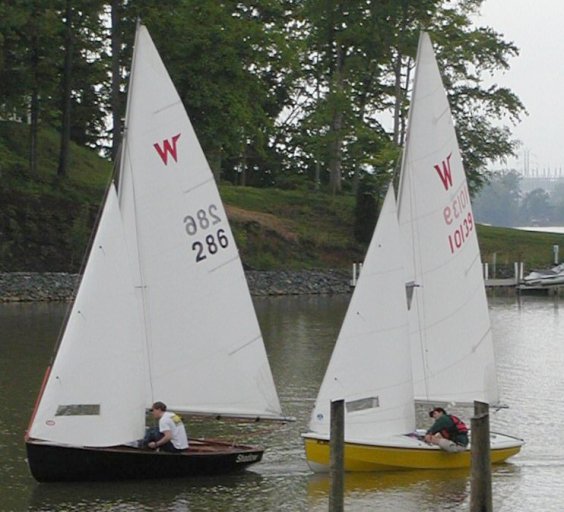 Here Peter's tack is complete and Rules 10, 11 and 12 begin to apply to both boats once more.
..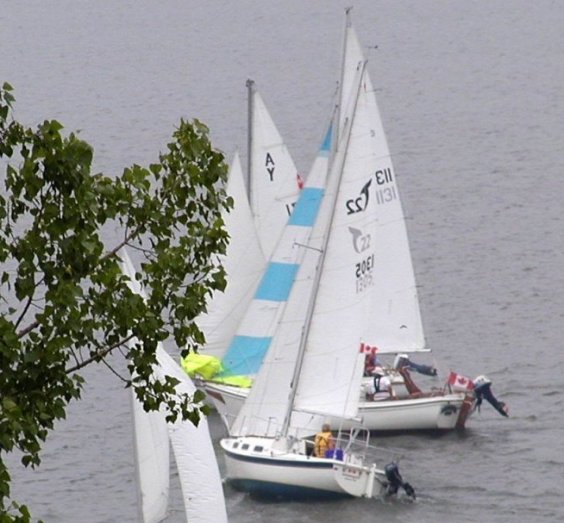 I have used a mirror image of the original photo here to create a more realistic situation in which the middle boat might have just put his helm down to initiate a tack. It is crucial to understand that even when a leeward boat has yelled "TACK" to his crew and put the tiller hard over, he remains leeward boat with rights over windward (the Tanzer 22 closest to the camera) under Rule

11

until he passes head to wind - and windward must keep clear accordingly.

...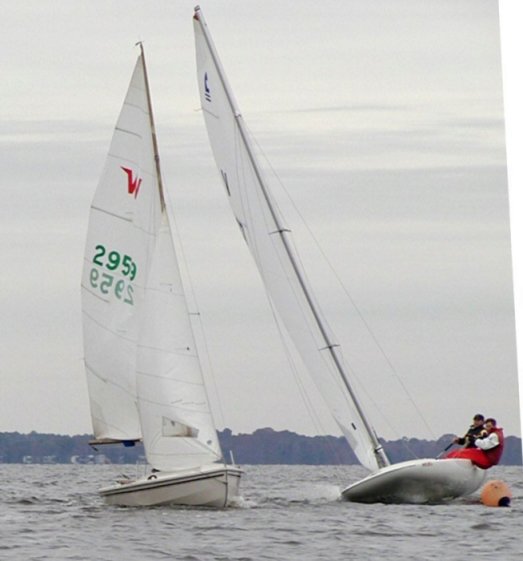 Likewise, Butch Minson in W2959 has not yet reached the head to wind position and has therefore not officially begun to tack even though his tiller is already hard over. Until Butch does begin to tack, the C Scow must keep clear under Rule

11

.

...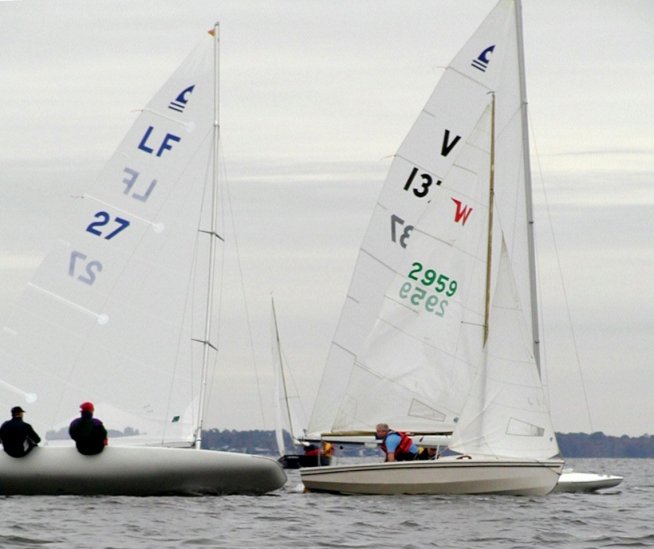 A couple of seconds later, Butch is in the middle of a slow tack. This situation could have been a real mess as all three boats are just finishing (see mark in previous photo). If LF27 weren't barrelling in on starboard, Butch (2959) would not have rights to tack into V137's way - in fact, he probably had no real right to tack here: Given the presence of the starboard boat, Butch was presumably entitled to call for room to tack for the obstruction (LF27) under Rule
19
but would have had to do so well earlier than this and then would have had to miss the finish line by tacking. What a potential mess!!! In the end, Butch was pretty safe to do what he did, anticipating that V137 would tack right around the mark to take a photo finish ahead of LF27. As you can see above, V137's tack came just barely in time for Butch - those C Scows are
big
,
heavy
boats!!
...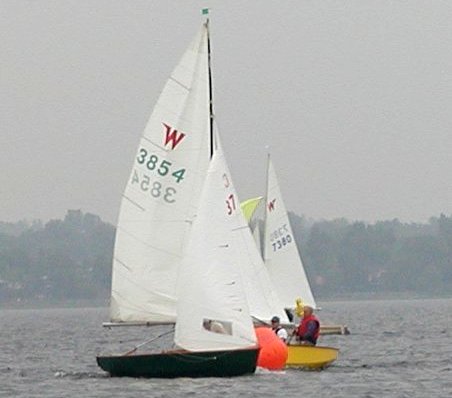 Above, Uncle Al (3854) has just luffed up to cross the finish line faster. Even rounding a mark, rule 13


applies. If this were not the finish, and Al were preparing for another downwind leg, he might have to luff beside the mark until Bill Fyfe (yellow hull) was sailing past 3854's transom. Only then would he be safe to actually tack without risk of fouling Bill.


...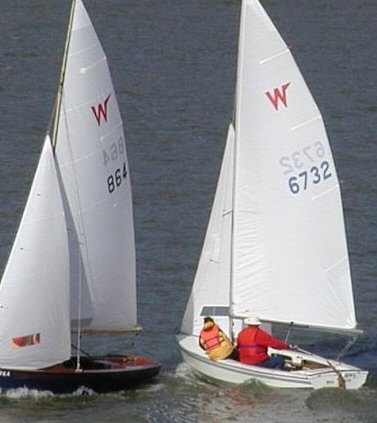 The second sentence of rule 13 (which deals with two boats tacking at the same time) rarely applies and in my experience usually arises from the situation above. Pretend W2960 is not in this picture and that Nick (W864) is not quite laying the finish line on starboard tack. Nick (W864) now wants to tack to port - which will also effectively pin Len (W6732) on port tack until Nick is ready to let him tack for the line. Len has the same idea: if he tacks right now, he can pin Nick on starboard until both have overlaid the line, and Len is ready to make a dash for it. If both boats then tacked at the same time, Nick would have to keep clear since he would be on Len's port side.

I did this once in a stiff hiking breeze at the 1980 Wayfarer Worlds with spectacular results: Having borne away to a planing reach, I floored SHADES across the other boat's transom with an inch or two to spare, shoved the tiller over and screamed "Tacking to starboard!!" but the other boat (in Nick's position) was now also tacking (as I had expected). What I had not expected however, was that he just kept turning and tried to bear away behind me. He came to a crunching stop inside my forward buoyancy compartment. Would I do it again, 36 years older and wiser? Absolutely!!! It's a great tactical move and one worth adding to your arsenal!!


...