Hughes Nughes #9 - complete with pics from Marc Bennett and Uncle Al
----- Original Message -----
From: Adrienne Faherty
To: ...; Uncle Al ; ...
Sent: Wednesday, February 05, 2003 6:28 PM
Subject: Hughes Nughes 9

Hughes Nughes 9

Well here I am in lovely Cocoa, Florida. It's near Cocoa Beach, about 10 miles from Cape Canaveral - where Columbia was due to land last Sunday. I would have seen it overhead and heard the sonic boom but of course ...
..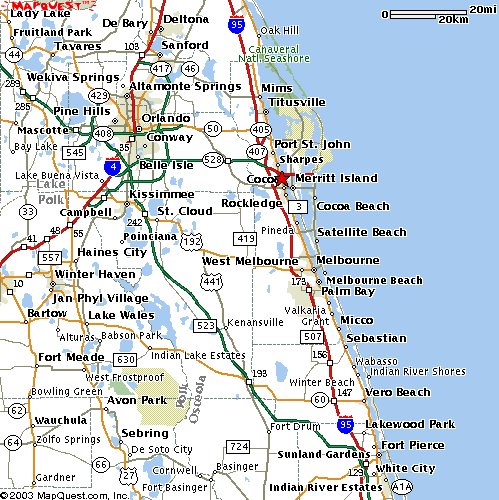 We all timed it nicely: Lee being at Cocoa when Marc and Al arrived
for the Midwinters, only an hour's drive away in Tavares (upper left) .
..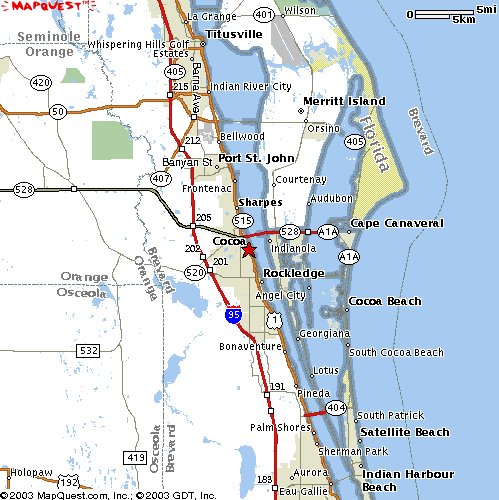 ..

I am fine today after a lovely day with Al and his crew Marc Bennett. Al is the author of the Canadian Wayfarer Association newsletter website (search for Whiffle and you'll get right to it.) Al and Marc are in Florida from Ontario with Al's boat for a Wayfarer meet at Lake Eustis just north of here. They decided to take a day off to visit me and take pics of Wanderer. They arrived at noon on Tuesday and we took some pics and had a beer for lunch on the boat, and then Al and I sailed around while Marc on shore took pics with the digital camera of theirs. He also took some with my camera and the digital pics I saw of theirs look great. You'll see them on the Whiffle site I guess when Al gets back to Canada next week (Al's note: for two pages of these pics, click here).

After that, they checked into their motel and then came back to meet me and we went to dinner in a pub called - Murdocks! It was great, too - nice band and good food. Unusually, I had seafood - well, a catfish sandwich actually and it was great, though the grits that accompanied it were like umm... bland hash browns or maybe sago? The beer was good and we went to a little jazz club afterwards for a bit and then I boarded the boat (tied up at the Cocoa Town free dock) and puttered out into the anchorage, set up my boom tent and slept soundly till about 4.30 am when the wind changed and Wanderer rolled and I started to feel queasy. By dawn though I was OK-ish and after coming ashore, I found Al and Marc waiting to take me to breakfast. We got to Denny's and the food smelled great so I had bacon and eggs and toast and felt much better. Then they took me to a supermarket. and before they headed off to sight see, they dropped me at the dentist.

Al and Marc decided to stay an extra day today but we'll meet again this evening to go for a meal (and I might even sneak a shower and shave at their flash motel at Cocoa Beach. My track record of paying for the food I eat in the company of all my new friends (Brian and Doris, Geoff and Sandy, Phil and Bernard, Al and Marc, etc) is as poor as it is when I try and pay for meals with Stan and Madeleine. That is to say I ain't done it yet. But tonight I shall ambush Al and pay the tab by the use of a plan too cunning to describe here. If it works, I shall use it in future on Stan.

For myself, I went to the dentist today to get a filling replaced that had fallen out . However, it turns out there was more to it than that - it needed a root canal. Sadly, while travelling, the month I would need to spend in one place to get a root canal repair to that tooth just isn't available so I elected to have it taken out and I guess I'll fix it with a bridge when I get home. Much the same thing happened when I broke my arm riding across America years ago - I didn't have the option of staying in one place while they pinned and rodded and wired it all up, so I got a short term fix and kept riding.

Anyway, now I have to see if insurance will pay for this tooth. Luckily it didn't cost much and hasn't hurt even the tiniest bit. But I can't drink fizzy drinks for a few days - and that includes BEER!

The weather is cool and breezy so I don't mind staying here for a day longer and tomorrow I'll pop back to the dentist to get a complete checkup done as well.

Tomorrow I'll also try a few modifications to the rigging that Al has suggested. He knows more about this than I do, so I shall give his ideas a whirl. And that's all for now folks.

Toodle oo

Lee