Subject: Hughes Nughes #10
----- Original Message -----
From: Adrienne Faherty
To: ...; Uncle Al ; ...
Sent: Friday, February 07, 2003 7:22 PM
Subject: Hughes Nughes 10

Hughes Nughes 10

Hello everybody,

I took some lovely pics of Wanderer today, in all her glory and without other boats cluttering up the frame. She looks so good. Geoff Orr was really tremendous while I was in Fort Lauderdale both times. He kept helping me find things and gave me the free use of his garage and of course his dock. I really wouldn't have been able to do it unless I'd had those facilities (very expensive to tie up to a dock, very slow to do it without tools and very inconvenient to have to live on the boat while varnishing and painting things like the floors you sleep on each night and the seats you sit on).

Yesterday I finished my dentistry and of course Al Schonborn and Marc Bennett left to go to Lake Eustis to crush the opposition in the winter Wayfarer meet. (Al's note: sailing in Wanderer as a warm-up brought us luck - for results of the Midwinters, click here) We had a great time and yesterday after they left, I swapped the thick shorter mainsheet that I had on the boat for the new longer thinner sheet. I tried it out by sailing 12 miles north to the NASA causeway where I anchored overnight. It worked great. The rope ran more freely so the sail goes out faster when released during a gust and because it's longer I can put the mainsail right out to the side which makes it easier and safer to sail with a following wind. Less chance - as Al pointed out - of an accidental gybe.

This morning I slept in till 7.00 am on my lovely smooth anchorage, all alone. That meant I could have a sponge bath and then set about some boat maintenance. I washed and cleaned all the uperworks above the floorboards, repaired a wee chafed spot in the jib (it rubbed on the dock when I tied up poorly) and then I re-rigged the mainsheet to be centre sheeted.

Formerly it ran from the cleat, vertically up to the boom and then along the boom aft to a block and then down to another block attached to the transom. That meant that occasionally it would foul the engine when I was sailing with the sail out wode (ie. a following wind). I haven't had a following wind except for three days over the last 6 weeks, so it hasn't been a problem. But now I'm getting more lovely southerlies, so I took Al's advice and changed it.

Now it runs from the a block just next to the cleat (which is still just aft of the centreboard box) then up to the block hung on the boom and then down to the block next to the cleat and up and down again and finally back to the cleat. It's still a four to one pull but eliminates all the rope leading aft and hanging down over the transom.
..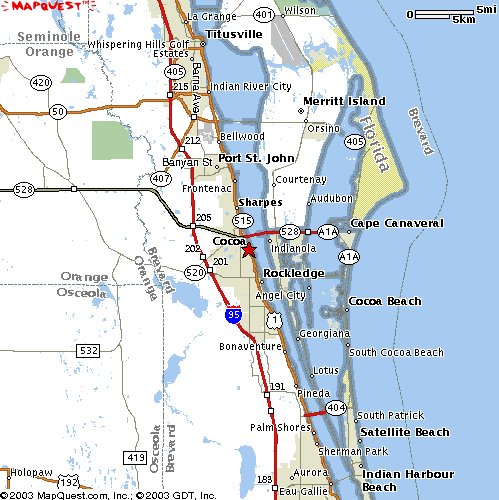 ..
Nothing to foul the engine or tangle on my lifejacket when I tack or gybe! Sailed with it today to here (Titusville, about 8 miles north of last night and 20 miles north of Cocoa - opposite Cape Canaveral where I can see the shuttle launch pads). It felt great and as Al said - no change to the efficiency of the boat. So thank you, Al, for that advice and especially for buying me the rope to do it with.

I mentioned last time that I planned to ambush Al and pay the bill for dinner. Well - gross incompetence on my part - I forgot and just barely escaped with paying my own share so I'm just as indebted to Al and Marc as I am to Brian, Geoff, Phil etc.

I'm sailing very slowly just lately - 10 - 15 miles a day as it's quite a bit cooler just 100 miles north of here in Jacksonville. Here, it's still 60-80ºF by day but up there, near the Georgia border, it's only 40-65º F, so I'm in no hurry. Because of that, I've got time to go ashore and do emailing like this.

Toodle-oo

Lee