Subject: Hughes Nughes 11: Lee Hughes reaches St. Augustine, Florida
----- Original Message -----
From: Adrienne Faherty
To: ...; Uncle Al ; ...; Frank Dye
Sent: Thursday, February 20, 2003 7:09 PM
Subject: Hughes Nughes 11

Hughes Nughes 11

Hello folks,

Right now I'm in St Augustine (founded in the 1500's by the Spanish and therefore the oldest European city in North America) and having a lovely time while waiting for the cold weather in Georgia to moderate.

I'm able to sail much faster now with less effort than before so my potential mileage now has increased to 30-40 miles per day in reasonable winds. I used to sail from 7.30 am to 5.30 pm but now I can whack out the miles in just 6 or 7 hours usually. That's ample speed so I can afford to linger for a while here but I shall leave on Sunday after a week.
..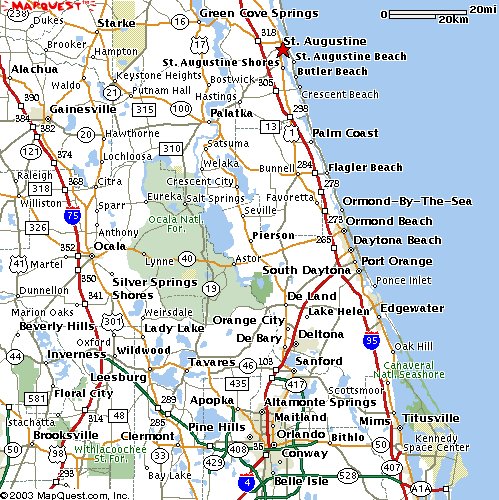 ..
Tomorrow and Saturday is the annual Menendez festival commemorating the founding of the city in 1565 ish so I'll stay for that.

I replaced the boom tent this week with a snazzy sand coloured one with a red strip. I retained the system of velcro's and have added more plastic hooks on the hem rope to button it up tight in storms. Thunderstorms and possible tornadoes due on Saturday so I shall dock that day with the tent up and see how it holds up while I watch the parade - probably in the rain, from a bar.

I've met a lovely bunch of people here - Aaron from Maine who has given me his guides to the waterway north of here, Bryan from Maine who is a hoot, and last night a Kiwi and his American wife (Howard and Sheera) who have just bought a boat and are off to cruise the world for a year or two with their kids. But their boat is 55 feet long, so last night we all went over to it and had ribs and pasta and beer. Funnily enough, no one has accepted my offers to dine on my boat yet but I'm still optimistic.

I saw the pix of Wanderer and me that Uncle Al posted on the Whiffle and they look great. Lately I've started getting lots of compliments from people who say that it's a very pretty boat. Very soon Adrienne will post me a NZ flag to go on my jackstaff (donated by Geoff Orr), so at last I'll be able to fly a flag. I've never been much on flag flying, but it seems wrong not to show a national flag when everyone else does.

Well the absence of disaster and tragedy means that this is a bit of a boring newsletter. So if the lack of excitement persists, I shall start inserting clips from the forthcoming book (I hope it's forthcoming, anyway) of this adventure. The working title is The Biggest Boat I could Afford, subtitled Dinghy-ing It From Key West, Florida to Eastport, Maine. I've already decided on the opening paragraph:

It was all the redhead's fault. If she hadn't said: "Well are you going to do it or not?" fully expecting me to say "not" then I never would have done it. I mean, sailing 2000 odd miles in a dinghy just isn't natural, but the way she asked her question made it sound like a dare, and that's one thing she shouldn't have done ....

OK, time's up on this library PC so

Toodle oo

Lee

... and a bit more "Kiwi correspondence"
----- Original Message -----
From: Al Schonborn
To: Lee Hughes
Cc: Adrienne Faherty
Sent: Sunday, February 16, 2003 7:16 PM
Subject: misc. stuff


Hi, Lee (and Adrienne):

Got back to Canada yesterday morning with a heater-less car - boring details will no doubt follow on my new Midwinters web site which thus far has only the results posted at http://www.angelfire.com/on4/mid2003/. Anyway, we did indeed have a very good Midwinters, winning all 6 races in nice winds of 8 - 15 knots but distinctly cool weather which you, Lee, no doubt shared. Sunday was totally rained out, and Marc and I thought of you and hoped you weren't getting too wet! Today (yesterday by now actually) I am the proud owner of a new white 2003 VW Golf and a 50% larger mortgage. Just in time, since the heater-less wonder wasn't too comfy in -15C - especially right after Florida! And you may yet get to see this new marvel since I have more or less decided (to be confirmed by Julia) to sail a regatta April 26-27 near Charlotte, N.C. and I figure you may well be in that area about then???

Have read and thoroughly enjoyed the latest installments of the Hughes Nughes plus the three pics that Adrienne sent - lovely shot of the heron (is that what it is??) - I'll work it and the two rudder pics plus some of our efforts into the Weekly Whiffle by Monday. I think I'll re-open the Feb. 3 Weekly Whiffle to keep the reports more or less in their correct dates.

I'm really glad you've found the new mainsheet arrangement useful. Looking forward to seeing your other pics also. Still with pics, I will start to try sending the pics from my camera to Adrienne in batches of 6 in a few minutes. The ones I sent to North Carolina seemed to get through all right until their mailbox reached its quota after the third set - so I'll for three, let Adrienne empty them out, and then send more until all 58 are accounted for.

I think that's all for now. Best wishes for good sailing, etc.

Uncle Al (W3854)

PS: Hope your beer fast is now over????

PPS: Am really enjoying your book which I'm reading in small bits and which - during the trip - I used to remind myself that if you could do that ride, a little car trouble should be distinctly survivable.

----- Original Message -----
From: Adrienne Faherty
To: Al Schonborn
Sent: Sunday, February 16, 2003 4:23 AM
Subject: Re: misc. stuff

Hi Al

Thanks for the pics, in my good secretarial/support crew role, I have saved to hard drive and to a CD Disk. The weather there looks so good! I lived in Florida years ago for a winter and loved it. New Zealand is in the full flush of summer now and we're loving it.

Today was the second race in the Americas Cup and Alinghi (Swiss) bet us by a just a smidgin! 3 metres or so. New Zealand is in mourning and a government inquiry starts tomorrow. Yesterday the first race was a disaster as Team New Zealand broke a boom within the first half hour. When I looked at the first pics I thought you must be joshing me as all I could see was the boom in front of Lee! Bad Taste, but then I remembered that the pics were taken a week ago and that you're Canadian, so would probably cheer for NZ! We're competitive buggers over here!

I'll look forward to your next update

Adrienne

... and one more bit!
----- Original Message -----
From: lhughes@ihug.co.nz
To: uncle-al@cogeco.ca
Sent: Saturday, February 22, 2003 10:16 AM
Subject: Whiffle pix

Hi Al,

Well, I just had a look at the pix you posted of our sailing day and they are great. You made a good story out of thin material and as one who has done that too, I compliment you on your attention to detail and your creativity. The people I've met have all started looking at the Whiffle site and they agree you're doing a bang up job of reporting. I'm still in St Augustine but will leave tomorrow - weather permitting (storms due today). Must go and batten the hatches now.

Toodle pip

Lee

----- Original Message -----
From: Al Schonborn
To: lhughes@ihug.co.nz
Sent: Sunday, February 23, 2003 11:14 AM

Hi, Lee:

What a nice compliment, and from a pro. too! Thanks - thought of you yesterday as I did the Midwinters web site pages relating to the days we spent with you. Today, I hope to get the first day's racing done - 6 pages!!

Don't you like St. Augustine??? Marc and I spent a day there in 2001 on our way to the Midwinters and really loved it! (see photo below)
..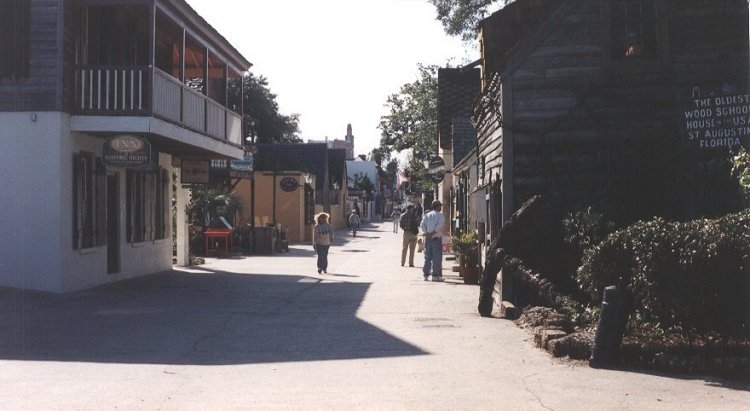 ..
Good spot in which to get stuck, I'd say. Hope your storm today is not too bad - ours has brought a foot of snow, strong winds and -10C!

Wishing you fair winds and good sailing,

Uncle Al (W3854)