the 2008 International Wayfarer Rally *

Hermit Island, Maine
Getting There Was Half The Fun - 3
by Ton & Connie Jaspers
...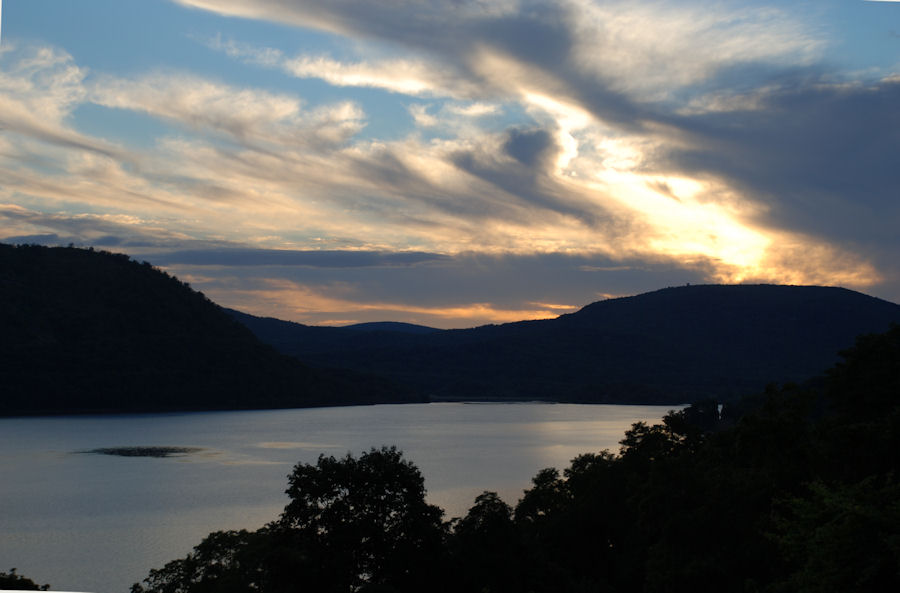 Two days of a big city are more than enough; time to recharge our batteries. How about this for a change? The view from our room at the
Peekskill Motor Inn
. By far the best accommodation we had on our trip. And right below our room a very nice restaurant. We couldn't resist the trout with a view.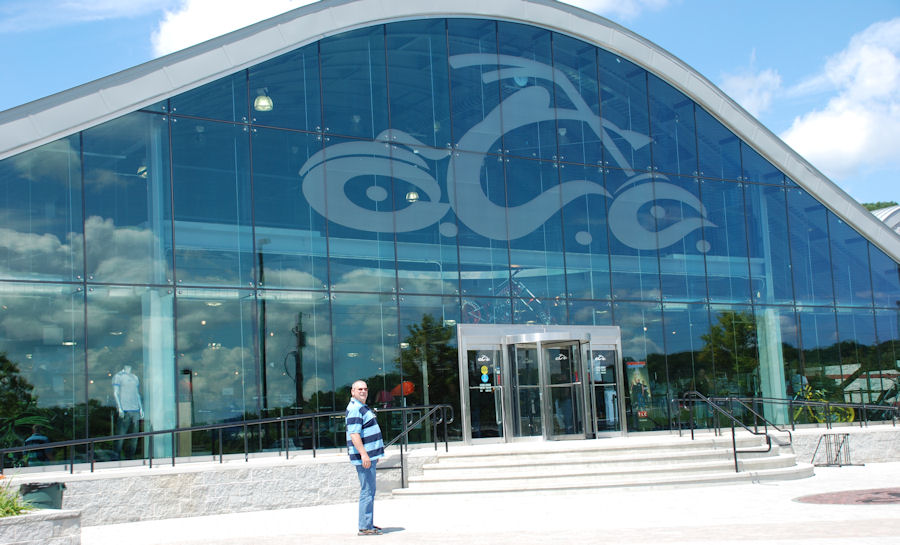 Need to get a cap and T-shirt, promised Wouter....


...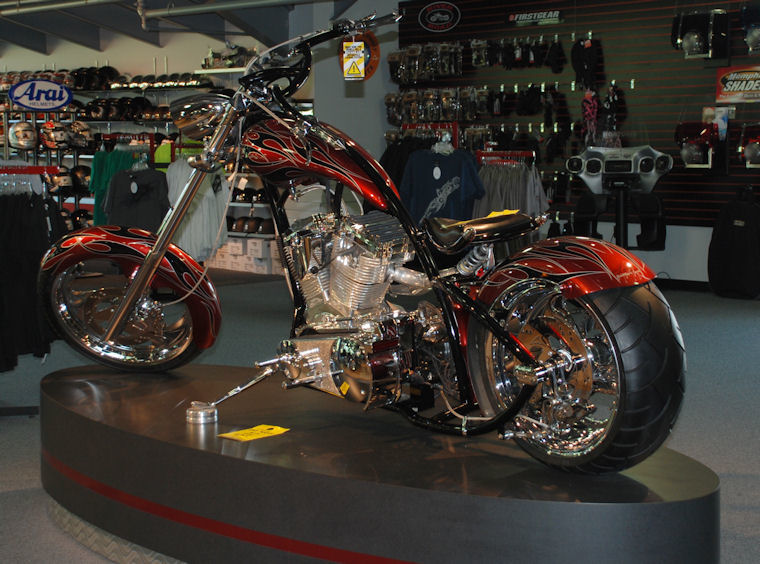 The modern replacement of a Cowboy's horse? And so typically American!


...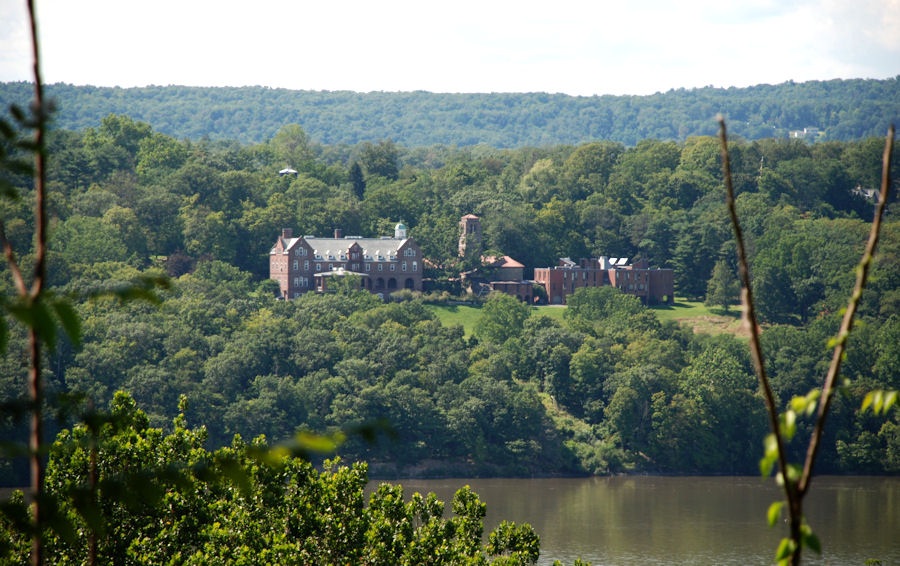 The Hudson Valley: Rich and...


...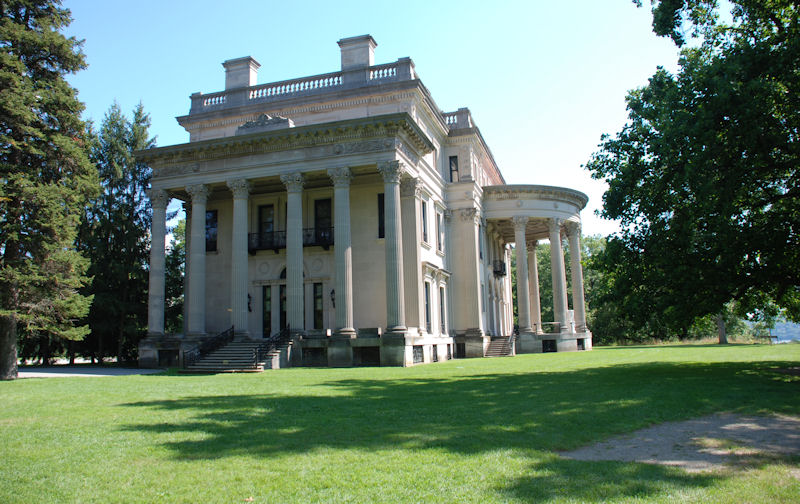 ... richer!


...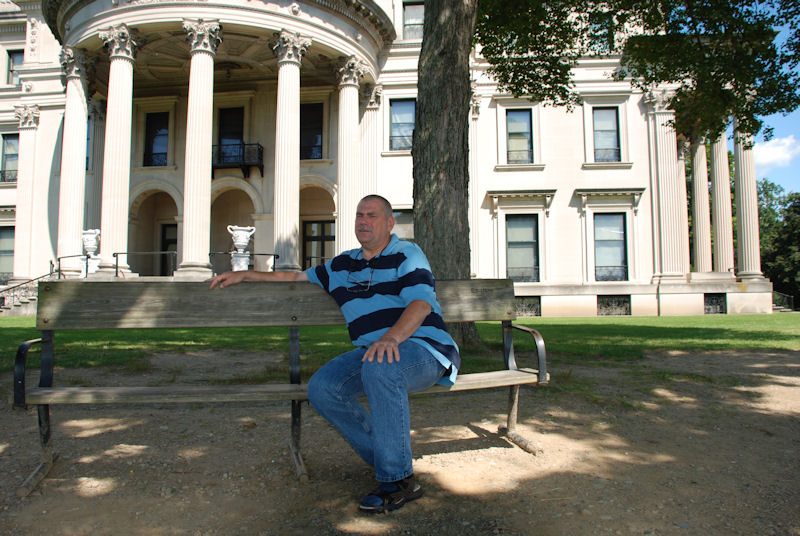 Meet Ton Vanderbilt.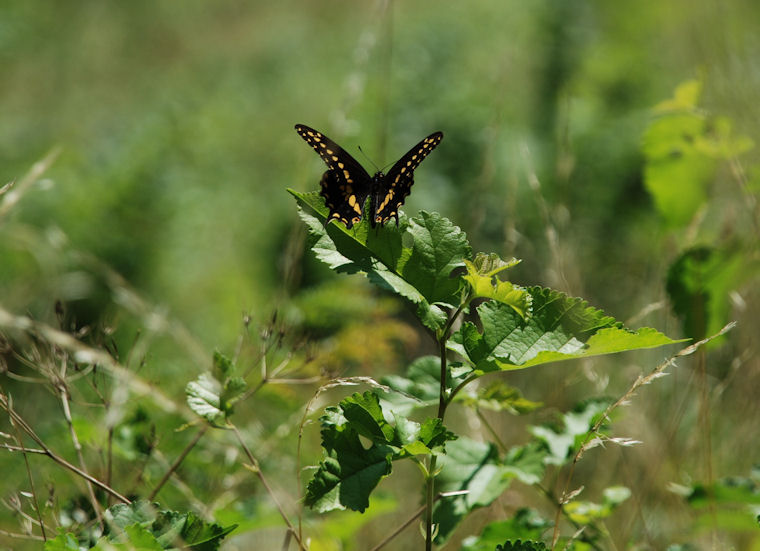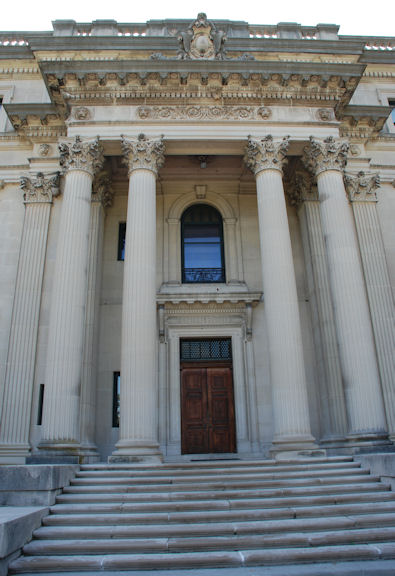 The main entrance: Designed for one purpose only - to impress visitors.


...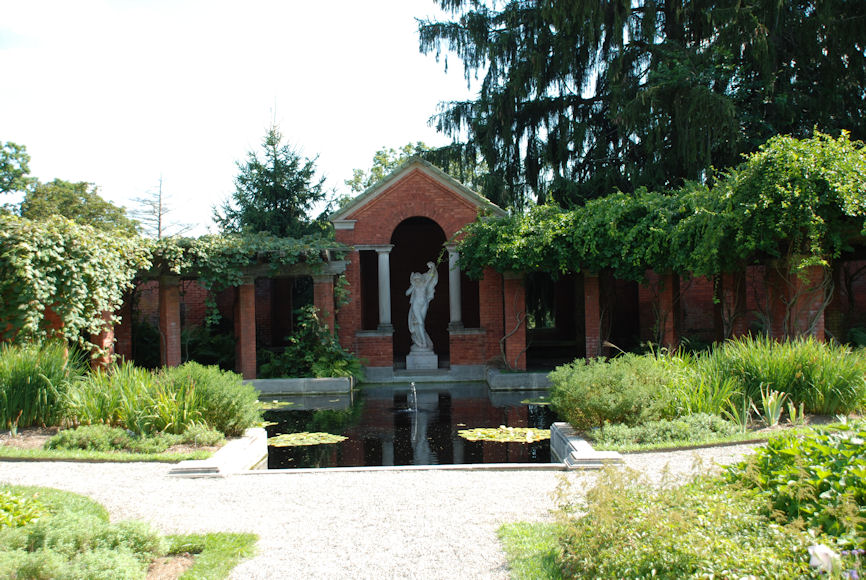 No A/C needed, one of the Tea houses.


...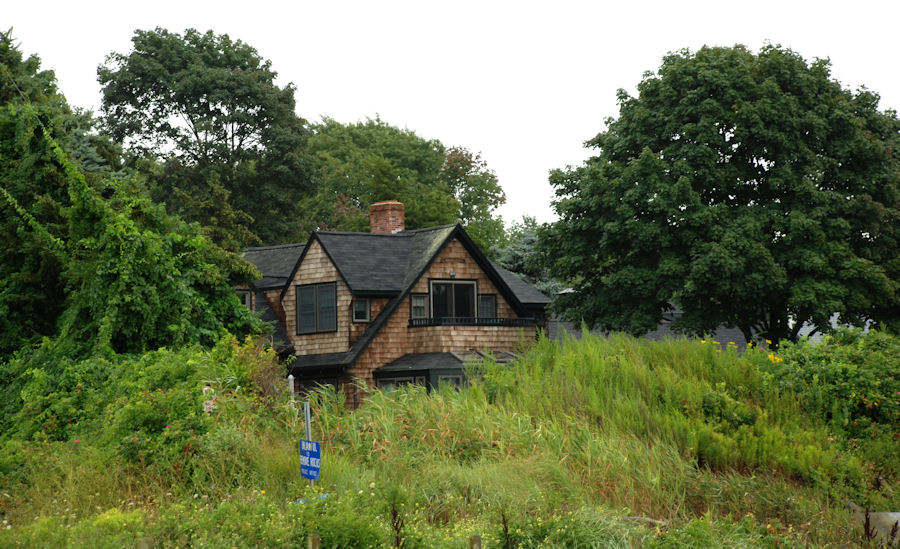 Back in New England.


...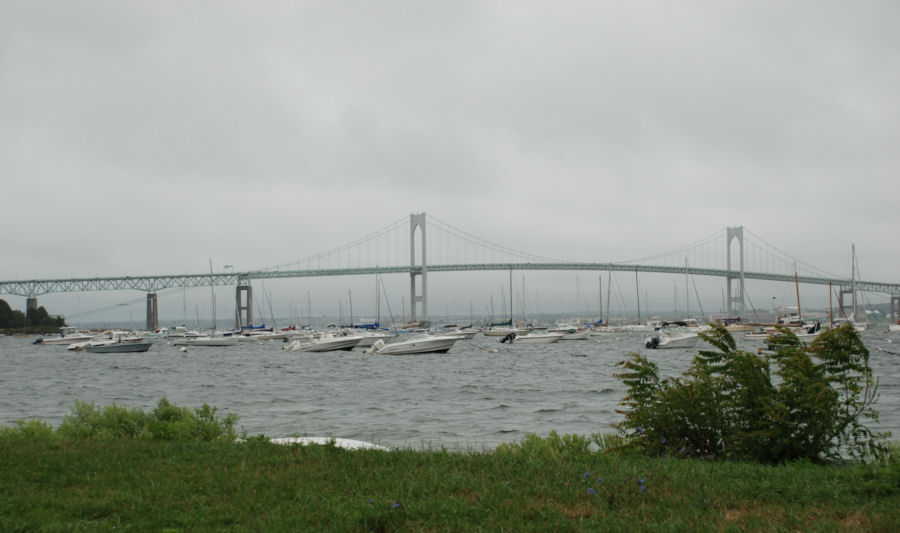 Finally there it is, the second-best place in the world for sailing - or so I am told: Narragansett Bay.
- click here for full-sized image


...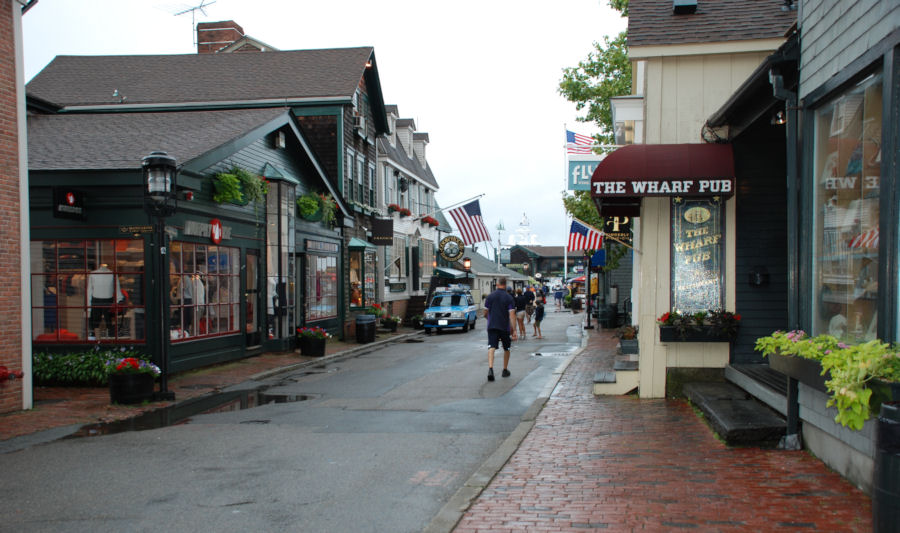 Finally some European dimensions. Compare this shopping street to the one shown by Dick in his Heeg Report (second picture).
We felt right at home. And look, an Irish Pub with great beers on tap.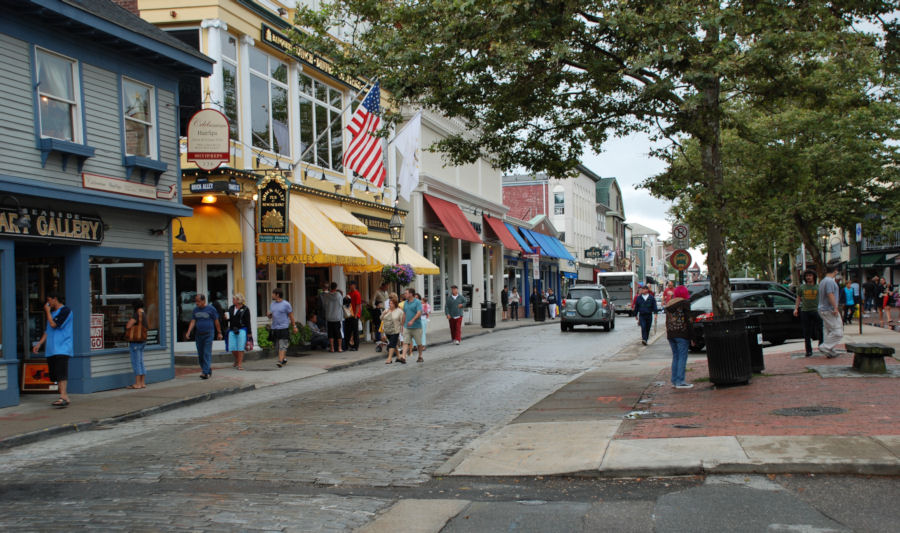 Did I mention this is Newport, Rhode Island? Anyway, we loved shopping here.


...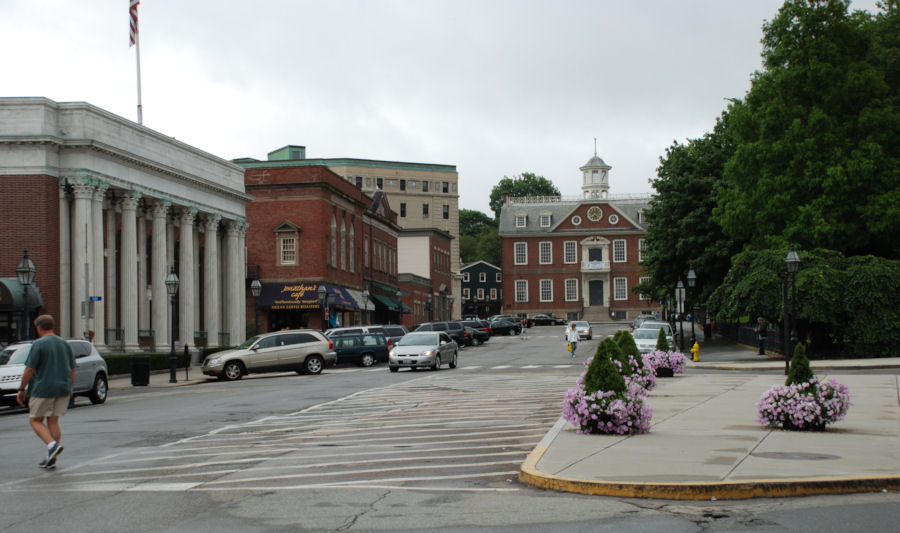 The whole town is like an open air museum, or like a movie set, as you Yanks might call it.


...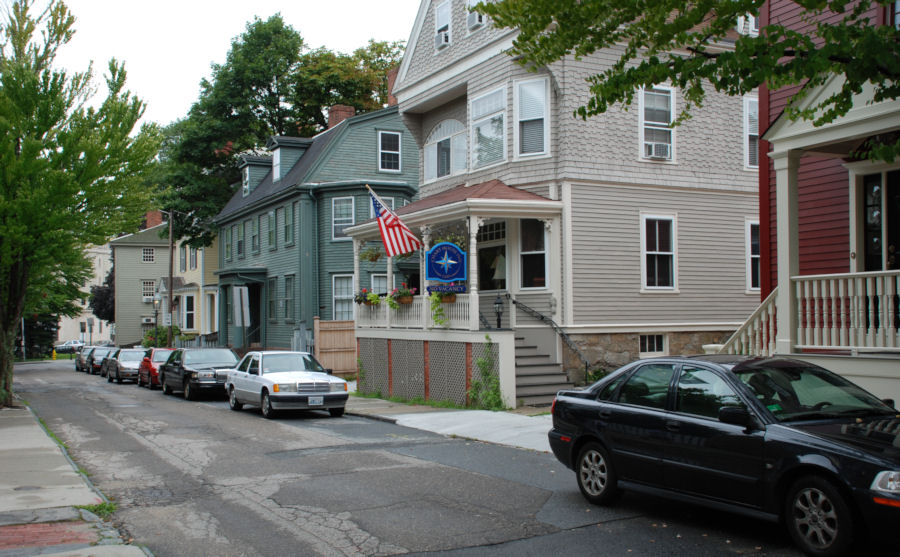 What a lovely town!


...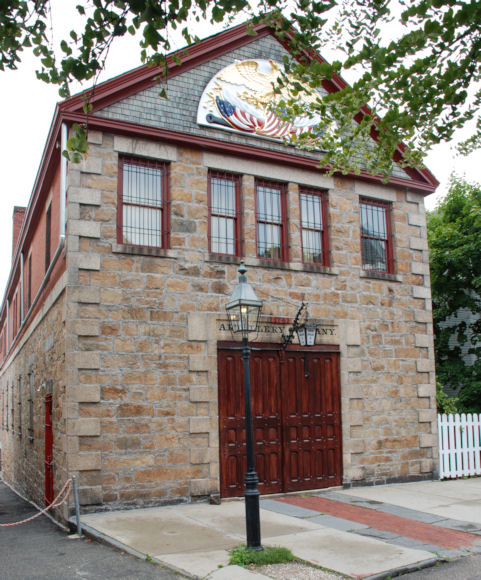 Most of the buildings are National heritage, like this old fire station.


...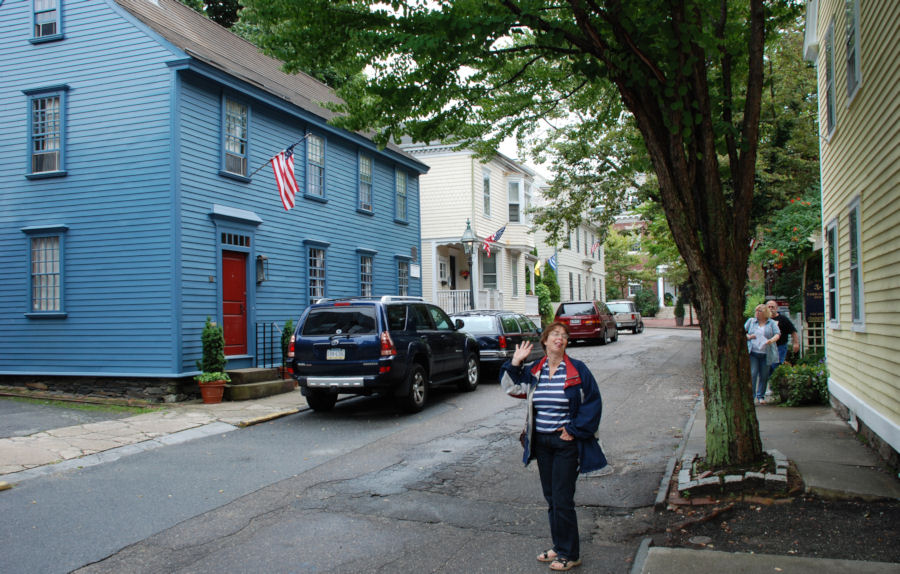 Look yet another Toyota. I think that out of every three cars we saw on the roads, two of them were non-American made. We got the impression that Toyota was the most popular brand in the USA. No wonder, given the current gasoline prices! If I consider the larger distances an average American family travels each day, their weekly fuel bill must be at least as high as ours even if they are still paying only half of European prices for their fuel.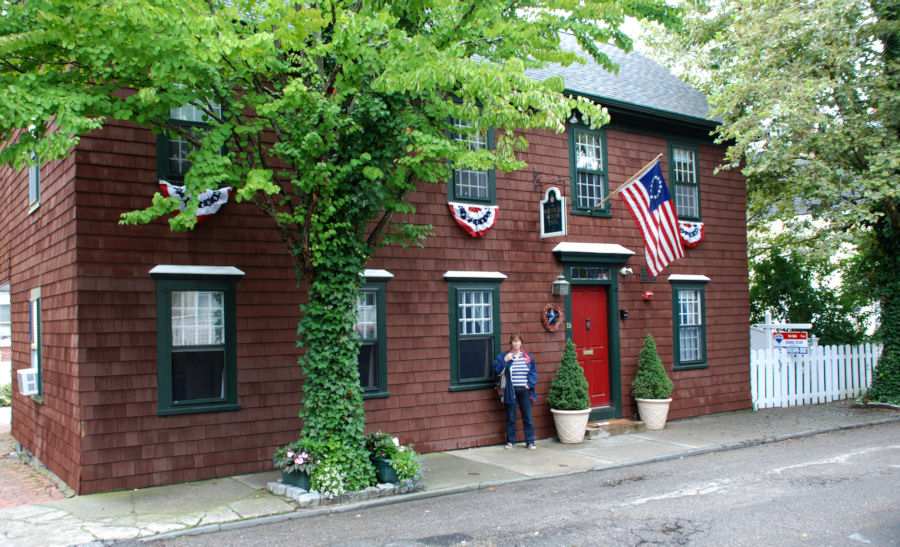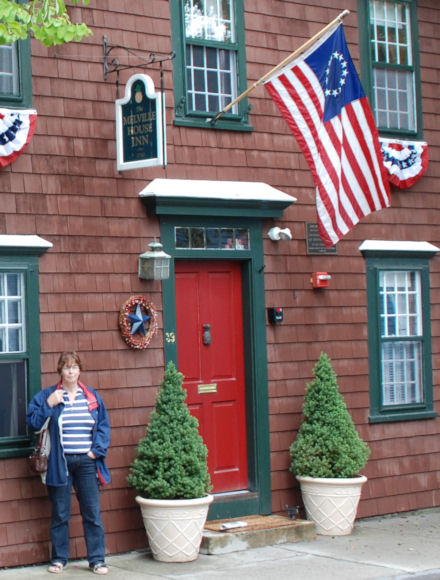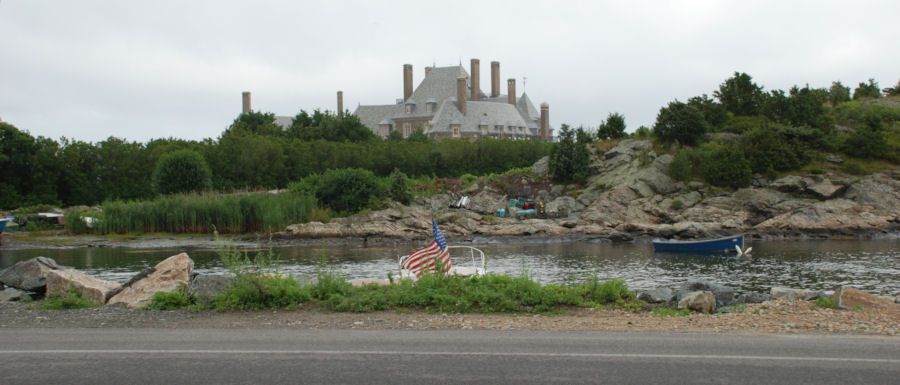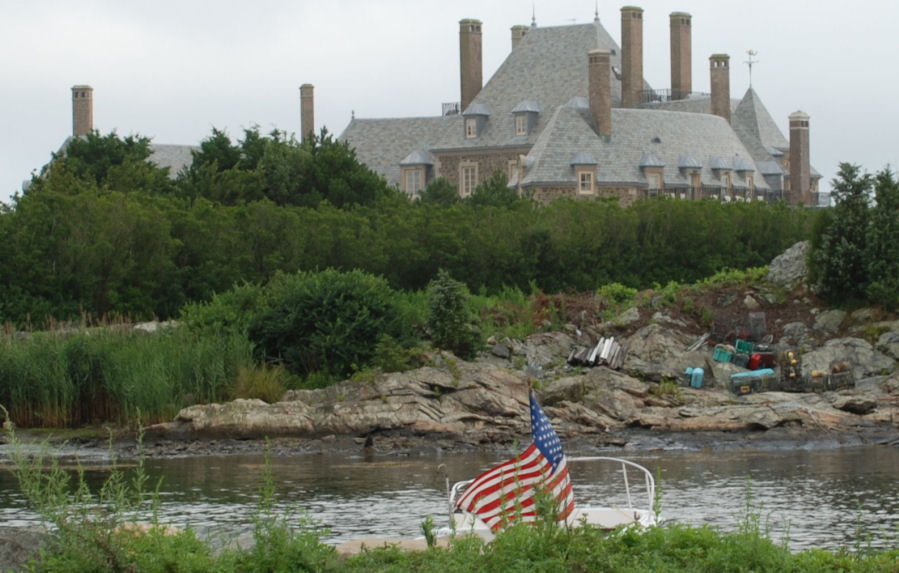 Just an average house south of Newport, next to a cove. Or is it a castle?


...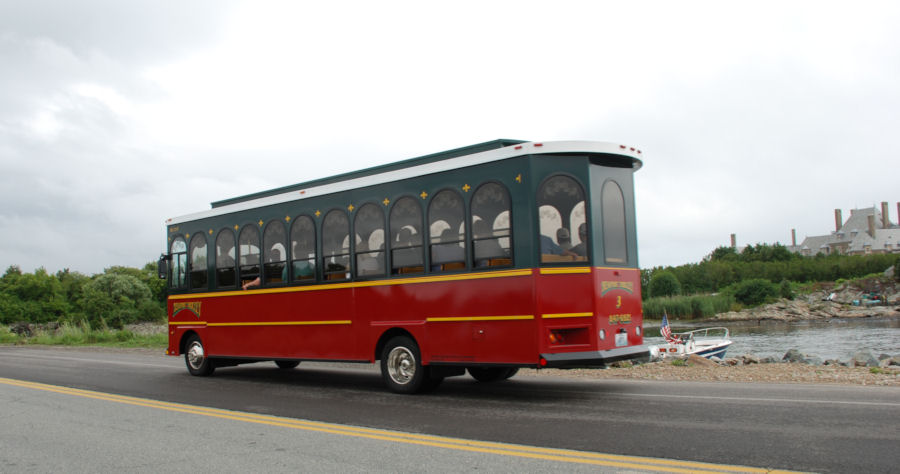 These funny buses seem to be the main tourist attraction all along the New England coast.


...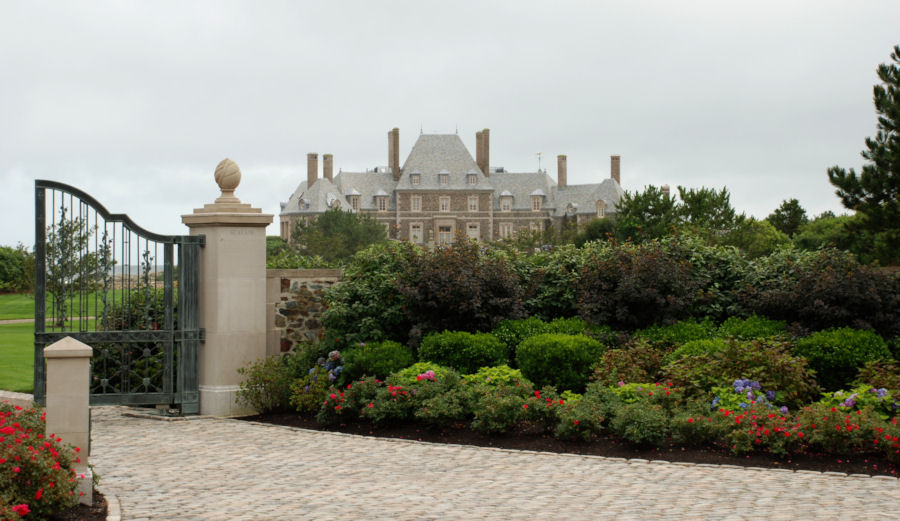 Hmm, like camping, it needs a bit of improvising of course, but I think I could "rough it" here for a while.


...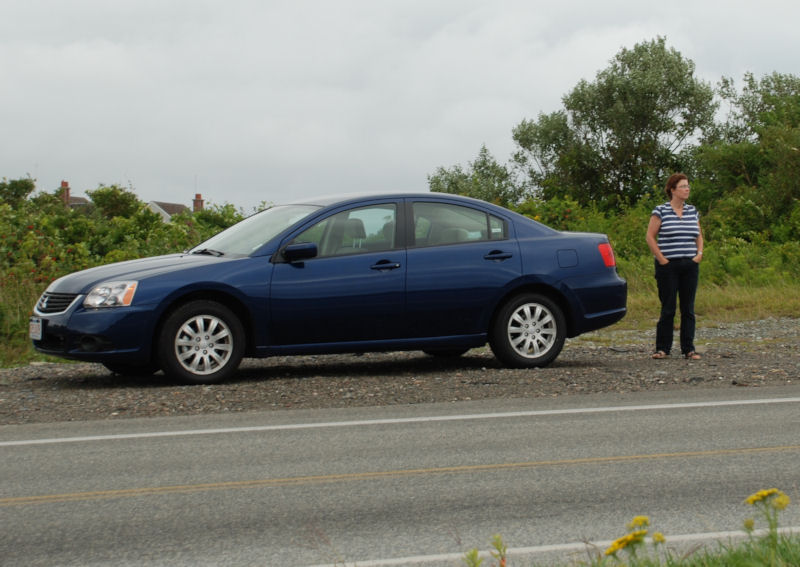 Some 45 miles per gallon, not bad for an Americanese car. But then my driver
(r)
didn't have a "sporty" style of driving. And Lucy (the sat-nav lady) did warn us always just in time for any speed limit changes coming up. This sat-nav was the best 150 bucks I spent during the entire journey. The sheriffs, seemingly hiding behind each and every speed limit sign, didn't make a penny from us. Sorry guys, you'd better open an Irish pub if you want to get rich from our money.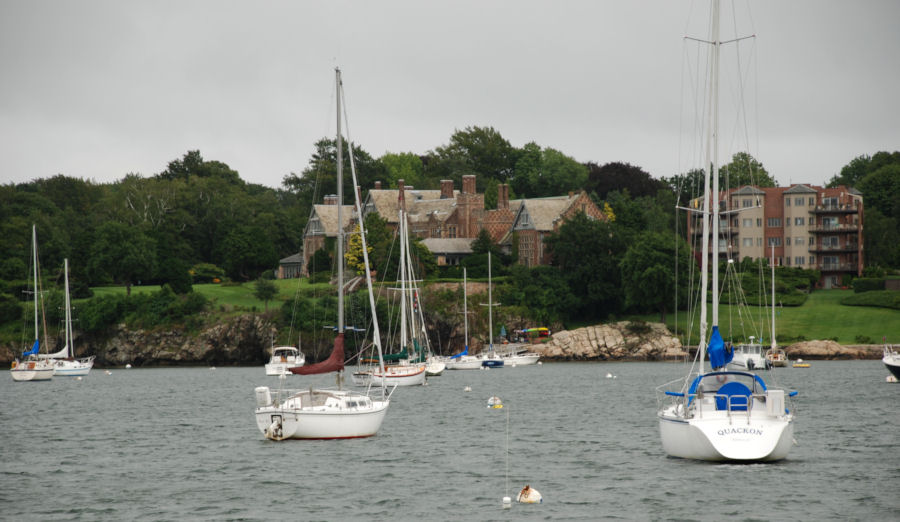 And there it is: the New York Yacht Club. OK, been there, seen it, check it off.

Next!


- click here for full-sized image


...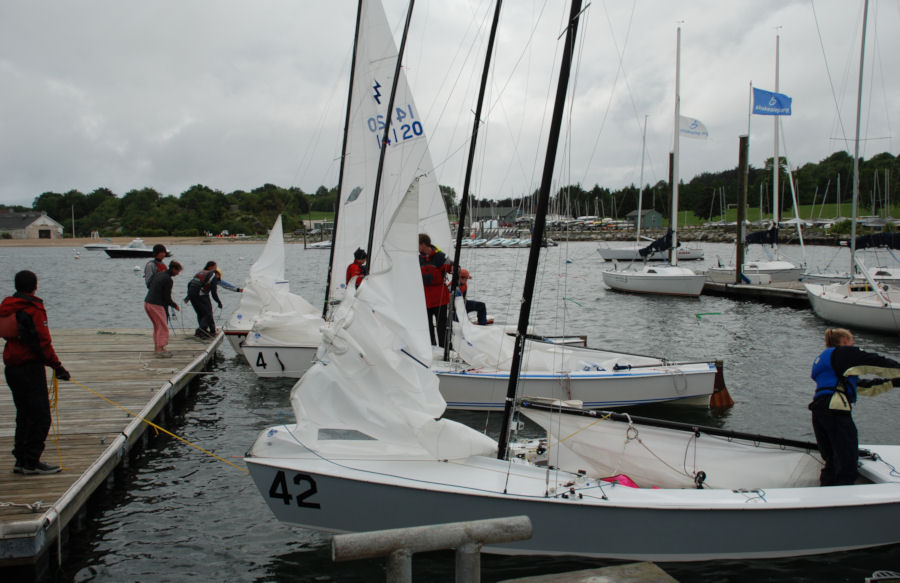 When we crossed the Narragansett Bay bridge we saw a race in the distance. It turned out to be the US Nationals of the Lightning Class. Here they are hoisting their boats out at the dinghy village near Fort Adams.


...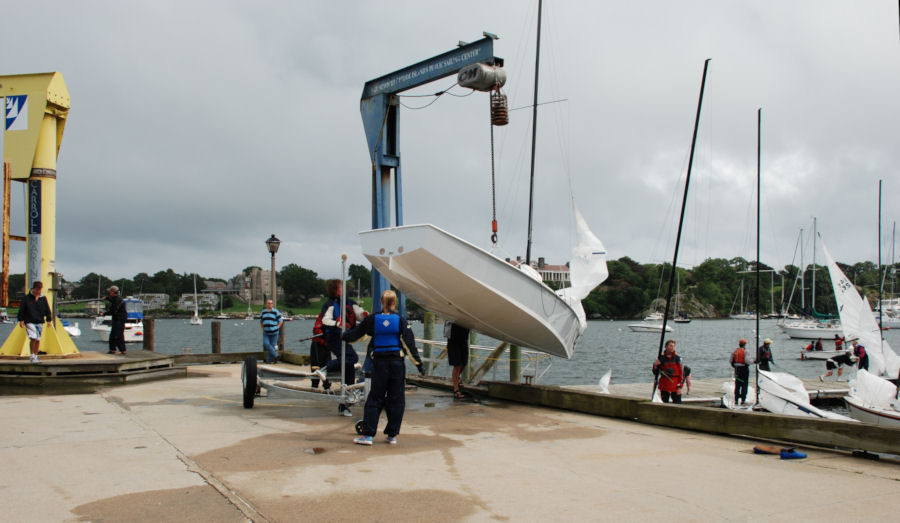 No wonder these boats plane like a bat out of hell. Look at that flat hull bottom! I had a nice talk with a Lightning sailor that drove a car with with Missouri plates that spelled "Zeilen" Dutch for Sailing (as in sailboat sailing). It also had a "B" on it with a black-yellow-red background, the Belgian flag. It turned out that the owner was indeed Belgian but has been living in St. Louis for years. Anyway, we had a nice conversation about their boats and sailing. The Lightning looks like a fine boat sailed by bunch of pleasant sailors. There is one problem though, they don't cruise like we do.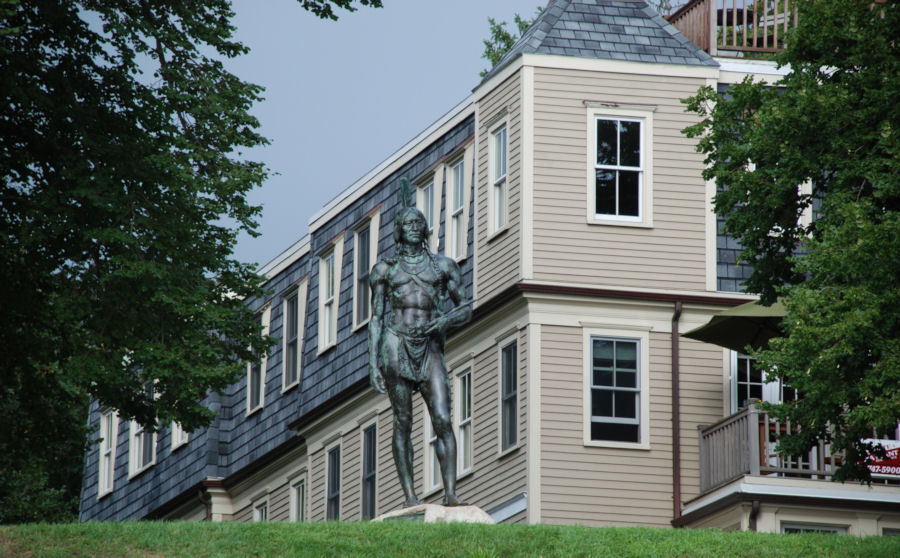 I always wondered what the other end of the story is after having visited Leyden several times. The historic places in Leyden have explanatory plaques on them telling the tale of the Pilgrims during their Leyden period. So we decided to pay Plymouth a visit. Here is the statue of Masasoit.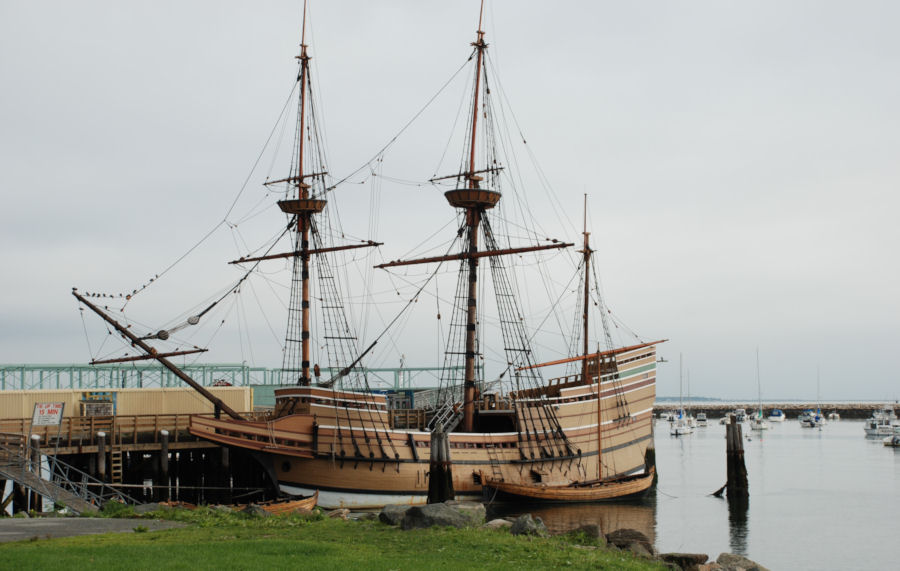 And the

Mayflower

replica. BTW, this one sailed across the ocean just like the original

Mayflower

.


...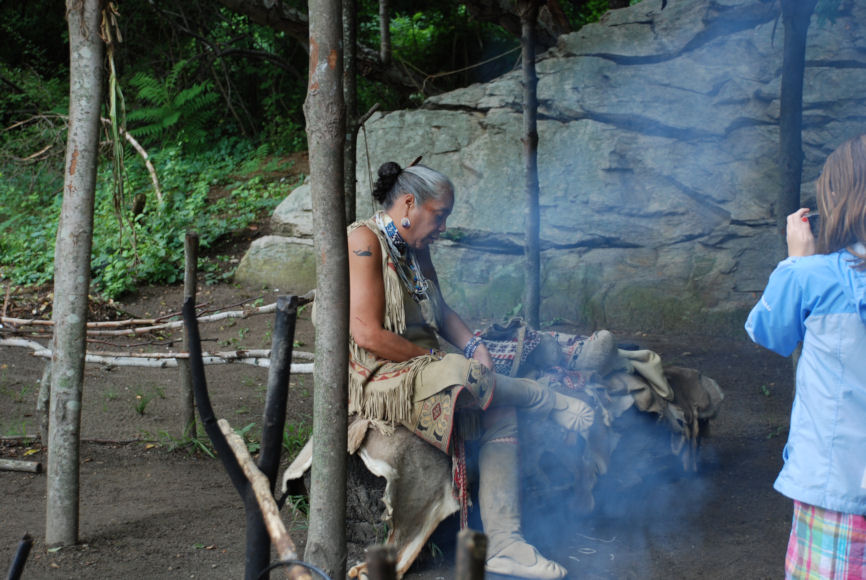 And we met some Native Americans. We visited the open air museum "Plymouth Plantation" where these people rebuilt a historic indian village and explained their way of life. It made a lot of sense. Actually, their huts turned out to be better suited to the climate than the houses of the settlers. Later I saw the lady in the picture as a narrator in
The Mayflower
, a series that runs on the History Channel HD.
...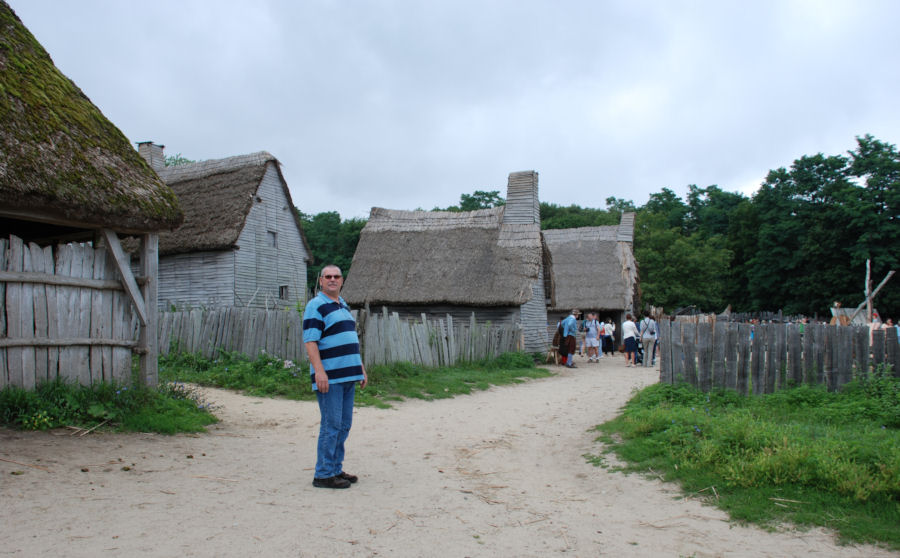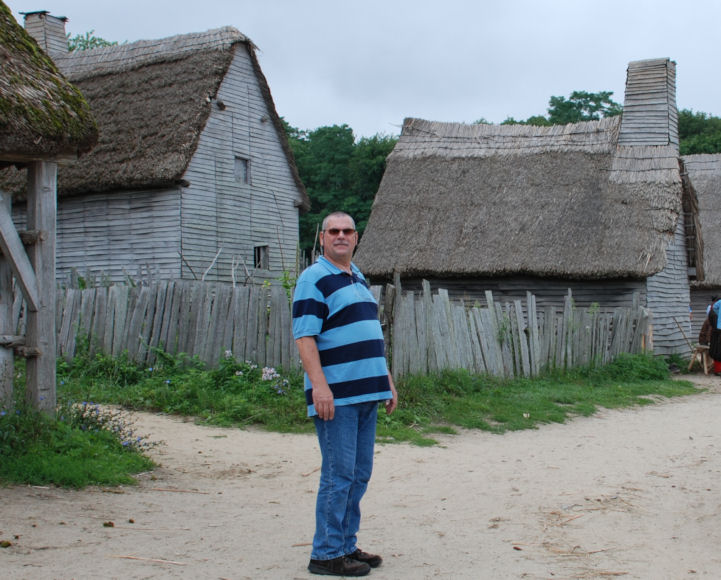 And here is the Pilgrims' village, "the Plantation" as they called it. This time not inhabited by real native Americans but by actors that played their Pilgrim part. It was nice entertainment and they tried hard to keep it all historically correct, as was shown by their reaction on my question why there were so many nails in their fences. I helped a friend with restoring an old 16th-century farm house. In all of the house, only two nails were used. In those days, nails were hand made by a blacksmith and were an expensive commodity. Specially in the poor soil (sand) farms in this neck of the woods. Apparently the Pilgrims were rich people and brought tons of steel rods that allowed them to smith nails and other things.

...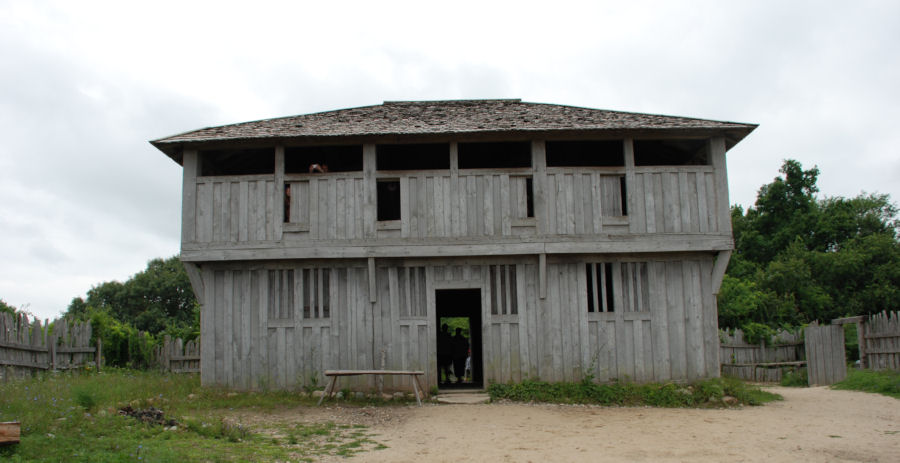 Now here is an American novelty! The ground floor of this fort is a church and
on the first floor there is a big gun (cannon?) that can be moved to each of the gun ports.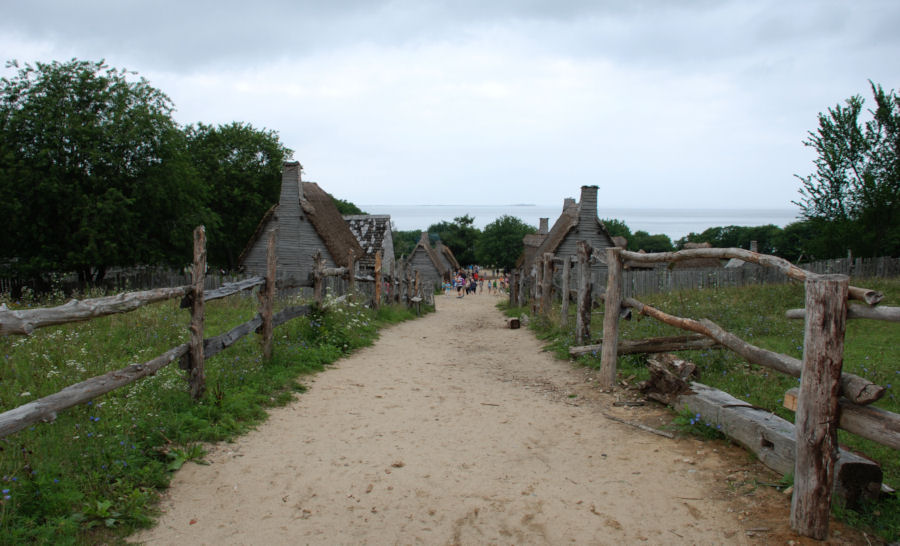 Main street
- click here for full-sized image


...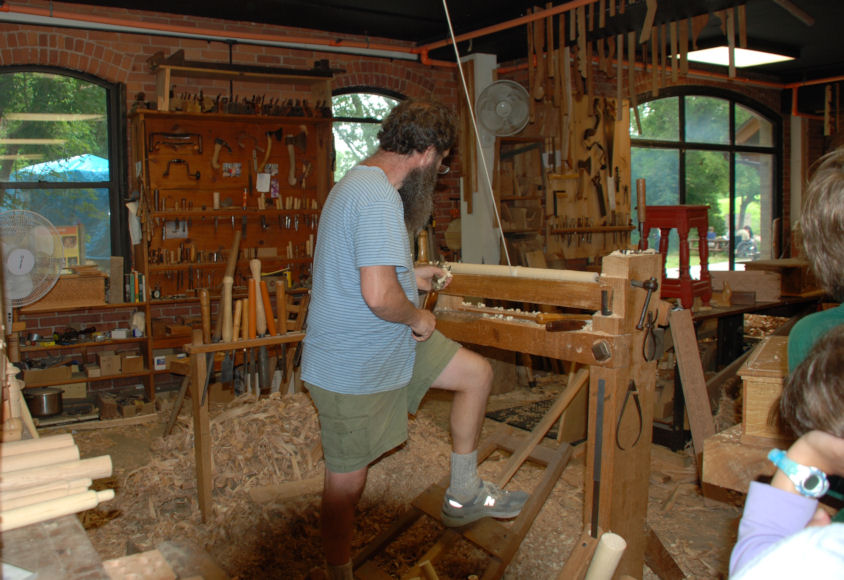 This is the workshop of Plymouth Plantation where they do hands on archeology. Don't you just love this wood workshop?! Look at all the tools. I wish I had those chisels! Next to the carpenter operating the string driven bench was a lady stitching cotton sails. We got into a conversation with her and it turned out she learned most of the craft at the "Batavia Werf"
http://www.bataviawerf.nl/
- a Dutch hands-on archeological initiative that is worth visiting the next time we host an International Rally. She told us that the "Batavia werf" is her supplier of hemp she uses for the traditional sails. It has become imposible to get hemp in the US as a result of drug laws. I could ease her mind. Hemp is still grown in Holland, we can even get it in an Amsterdam "coffee shop". Isn't it weird that thanks to Dutch canabis legislation the Americans can fix their beloved Mayflower.
...