the 2008 International Wayfarer Rally *

Hermit Island, Maine
Getting There Was Half The Fun - 4
by Ton & Connie Jaspers
...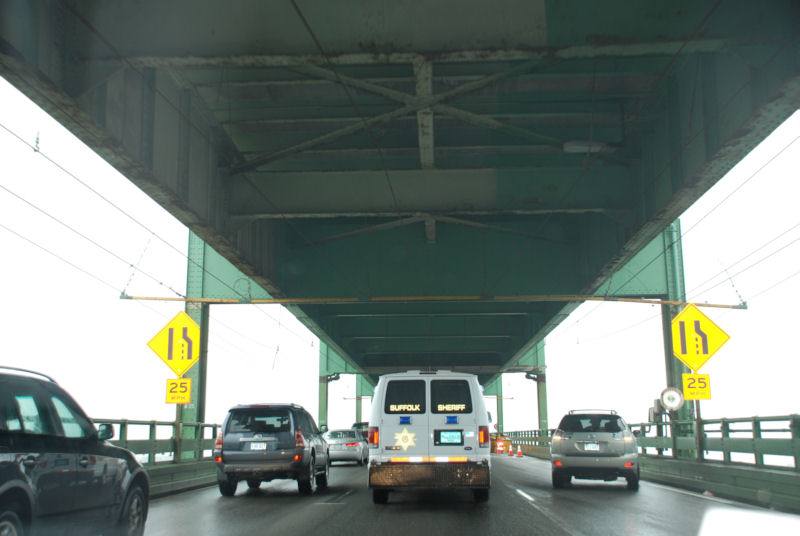 Time to go north to meet our Wayfarer friends. Here we are on Tobin Bridge (Boston) in the worst thunderstorm of all the ones we had to endure. The bright side: it can only get better. The radio said Tobin Bridge was temporarily closed due to heavy winds. Little did we know that the sheriff in the car in front of us was on his way to close the northern end of the bridge. We managed to slip through just in time.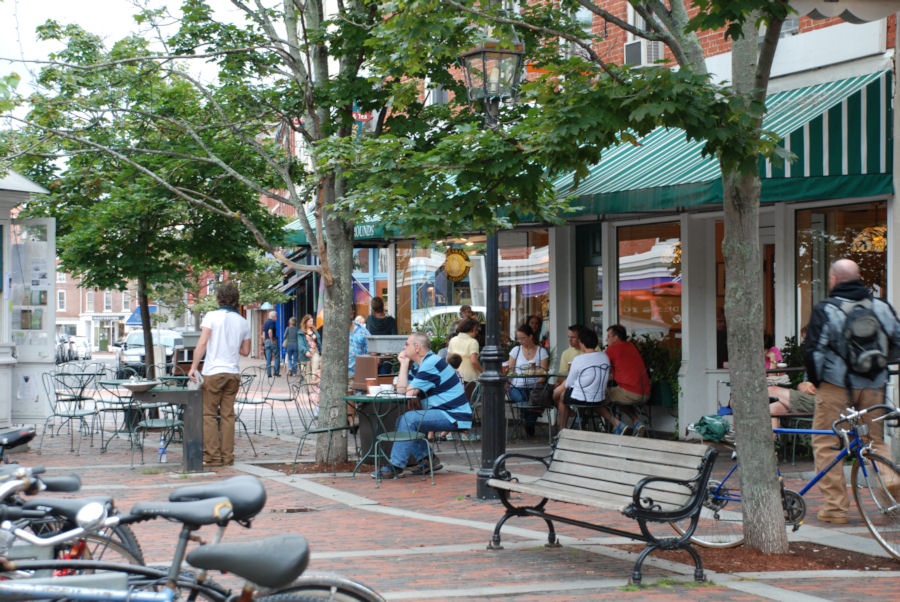 "Live free or die" is New Hampshire's motto. Sounds like red neck country? Not at all; just look at this lovely town centre of Portsmouth, New Hampshire with its almost European (Parisian style) coffee shop called
Breaking New Grounds
. And look at the unique terrace on the sidewalk, a pretty uncommon sight in the USA. Between two rain showers, we had a nice breakfast under a tree that would have given some nice shade had the sun been out. The bikes added to the French feeling. I never saw this many people biking in any other US place. A local newspaper completed the almost French feeling we got.
Perhaps I should mention that we were still living on European time. We got up between four and five in the morning and visited most attractions well before the first locals arrived and the place became crowded. Here, we had started from Plymouth, Massachusetts and made it through Boston well before rush hour. At night, we started looking for a hotel around six and turned in at ten-ish. If you are not after the night life, this is a very pleasant schedule on which to visit the historic places and museums.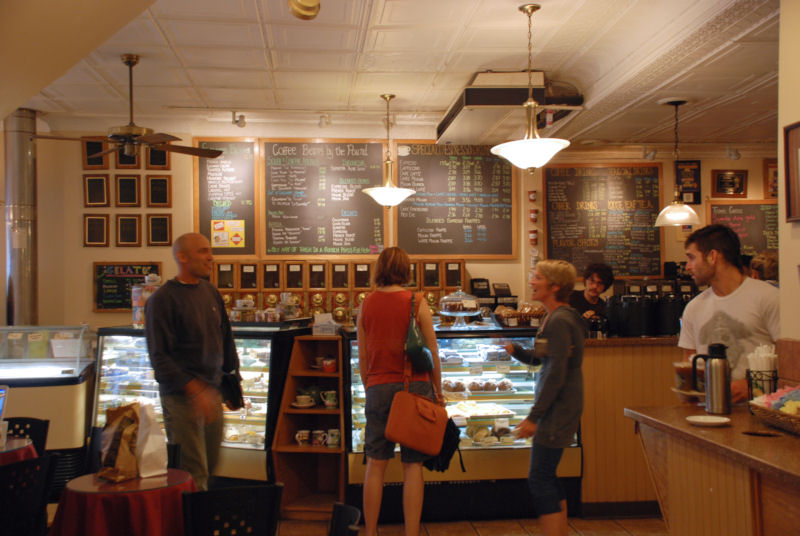 Au sinc at
Breaking New Grounds
(Ton's note: In Paris (France) they call the bar "le sinc" and if you have a beer standing at the bar it's called "au sinc". It's also cheaper because you are not charged a service fee. BTW, I was looking for an alternative name for this sort of establishment since the term "coffee shop" has a different meaning when spoken by a Dutchman ... ;-)
Al: "coffee shop" is the only expression that I am aware of, although I regularly talk around this by saying "I'm going for a coffee." Will I be sorry I asked if I enquire what Dutchmen mean when they say "coffee shop"?
Ton: In Amsterdam "coffee shops" are the most popular destination for "smoking" young British and US tourists. It seems you can also get a decent cup of coffee there. The most popular product sold is
cannabis satifa hollandica
. The "menu" has some fifty flavours.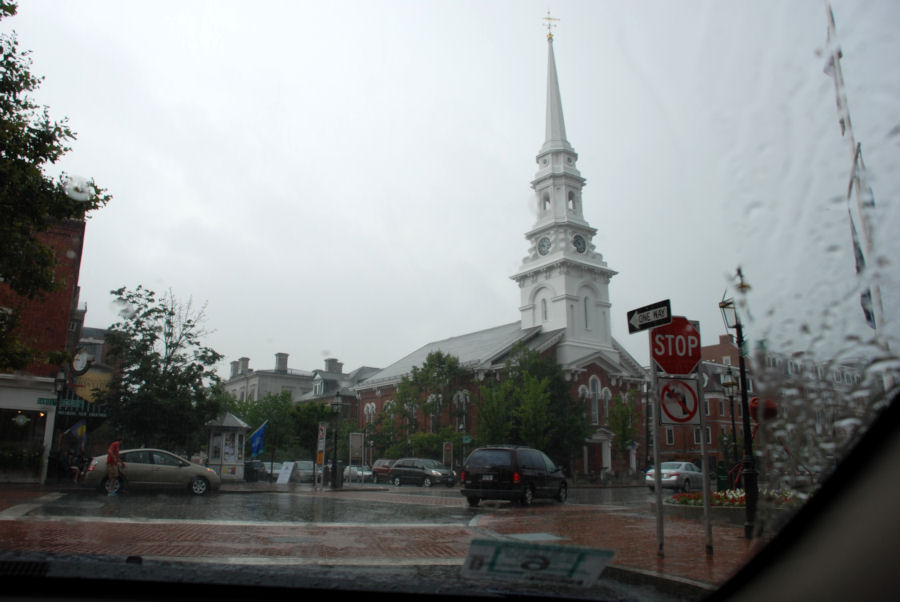 If it hadn't been for the rain, we would have spent some more time in Portsmouth, Maine.
The attractive town centre, its market place and the little bric-a-brac shops sure looked inviting.




...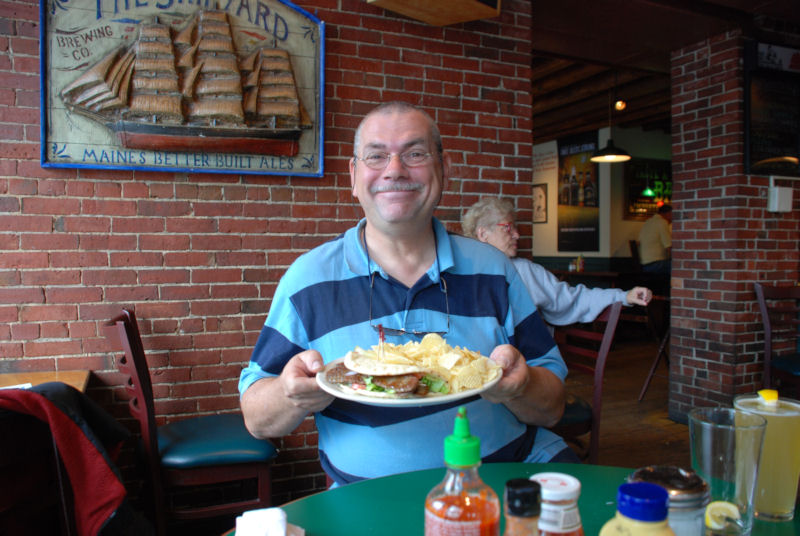 For Wouter: Look I got crisps (potato chips) for

dinner

! Only in America!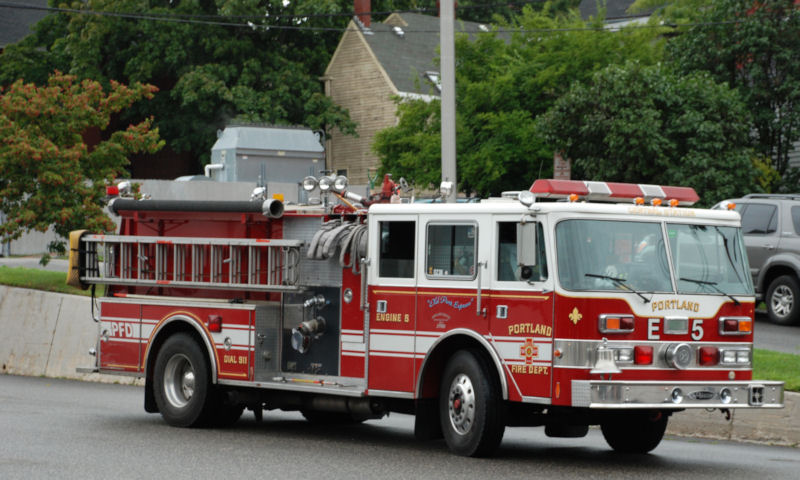 Not just a good, reliable, purpose-built machine but also a piece of art.
...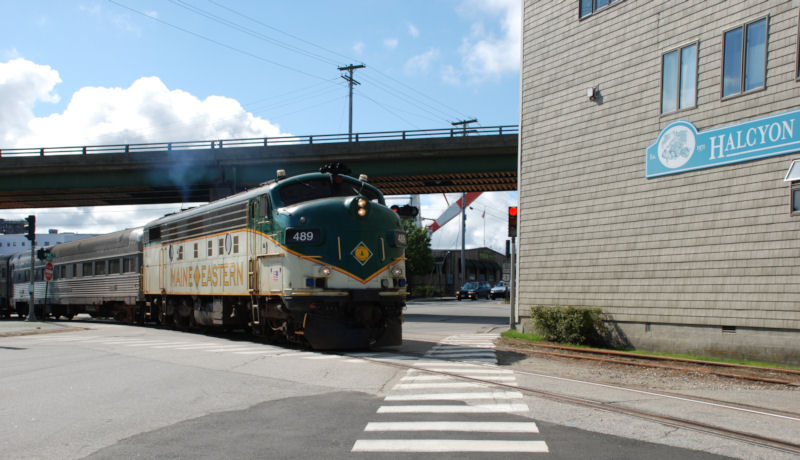 Another American icon. This is not a museum. We encountered this beautiful specimen in its natural habitat.


...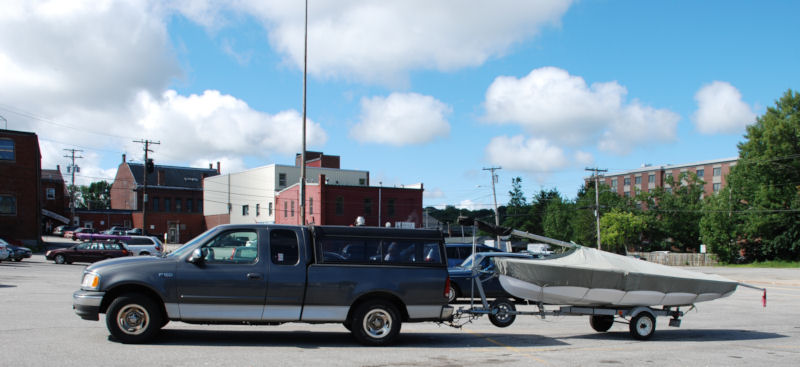 Shopping time - again? Look at what is parked there next to our car, a Wayfarer!
That is why we traveled half-way around the world, to see yet another Wayfarer. I wonder whose it is?


...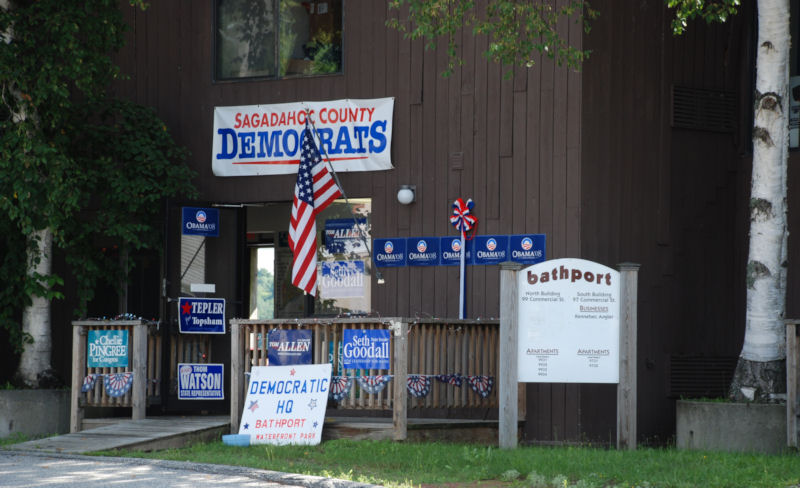 Almost forgot, it's election time. Local folklore: choosing a new president.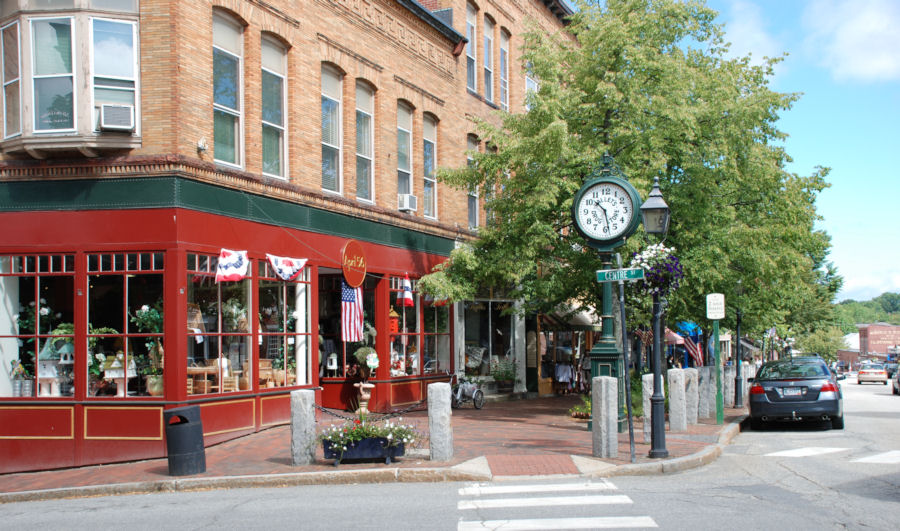 Main Street, Bath, where we were greeted in true Oxfordshire English by Anne, Jill, Ray and Ralph.
A funny feeling, meeting old friends in a strange place where you've never been before, half-way around the world from home.
...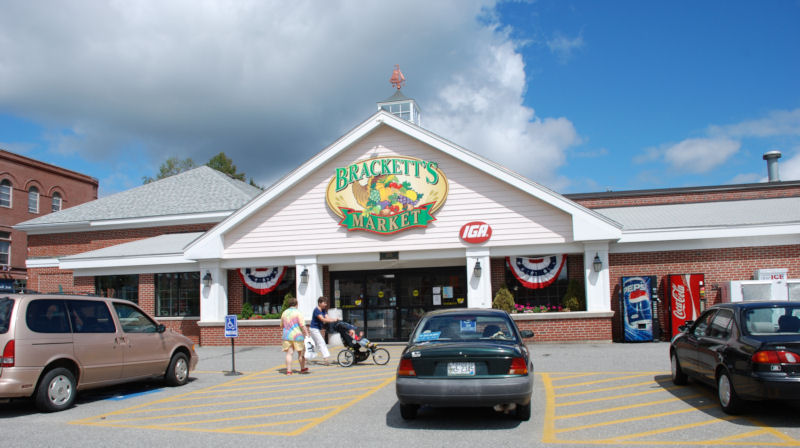 This is the small (even by European standards) supermarket in Bath where we got our survival packages: wine, beer, cheese and crisps (potato chips in NA English). After a coffee/tea at the nice coffee corner (we had been advised not to arrive at the campground before noon) we went straight to Dick Harrington who had already prepared our camp sites but that story is told
here
.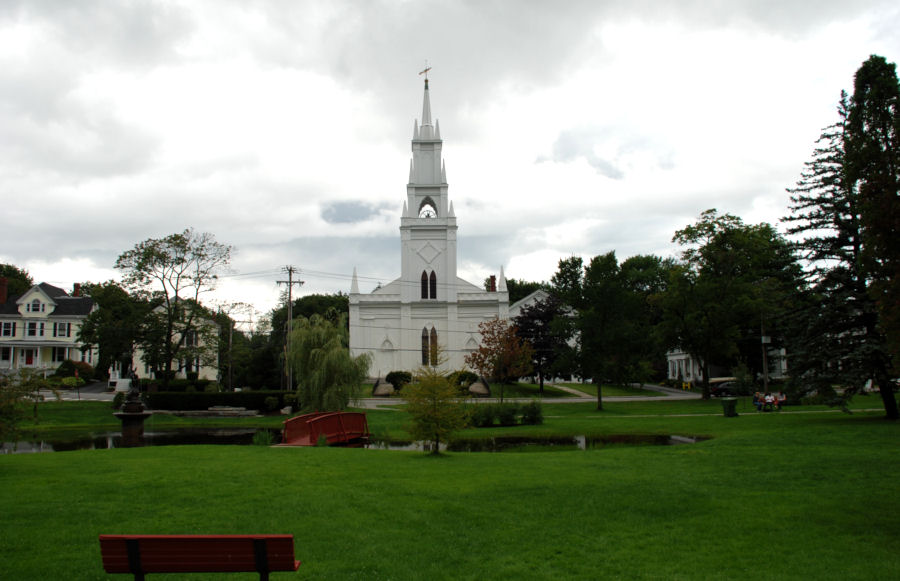 I am done. Here are some more Bath pictures. Happy New Year,

Ton

.


...