the Chesapeake Bay Wayfarer Cruise 2007
Crisfield - Smith Is. - Tangier Is. - Watts Is. - Crisfield
Tuesday 29 May - 1
photos mostly by Alan Asselstine and Uncle Al


...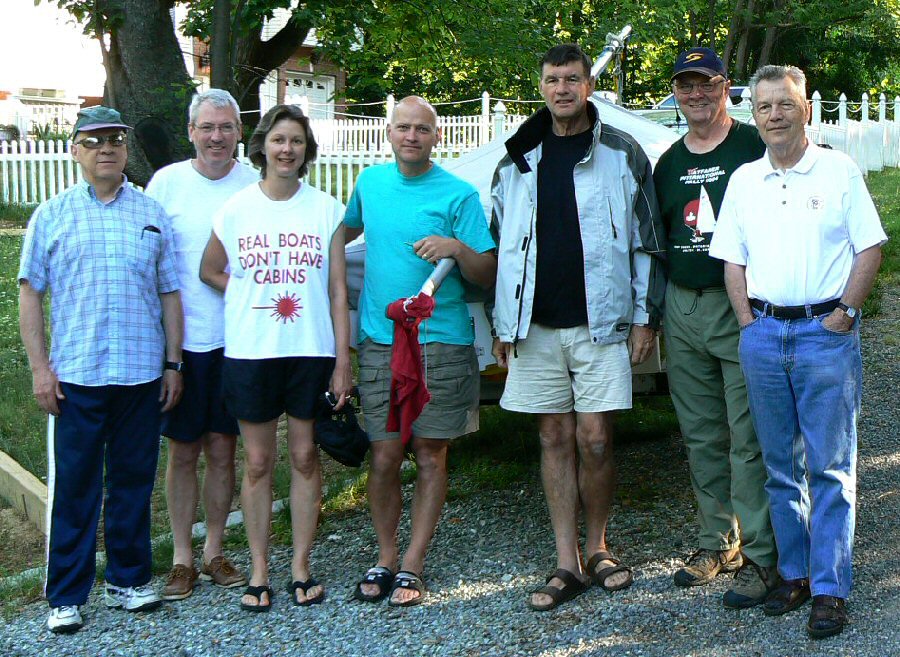 By 0800 Tuesday morning we were ready to roll, first to breakfast at our preferred local greasy spoon,
and then on south for three hours or so to Crisfield where Dick was expecting us by noon-ish.


(l to r)

Roger, Tony, Mary, Richard, Alan, André, Hans


...



One more group shot as Al traded places with Alan, before the ...


...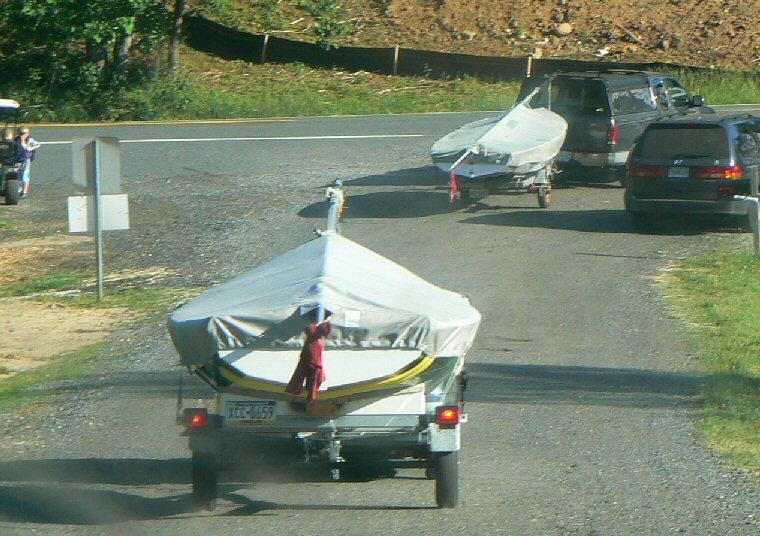 ... convoy took off to breakfast at ...


...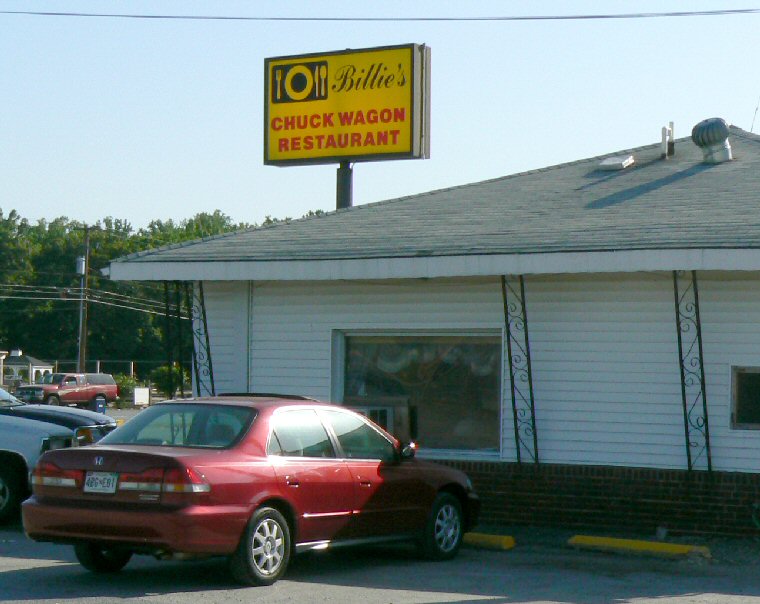 ...

Billie's

which not only boasts a nice unhealthy but tasty breakfast but also ...


...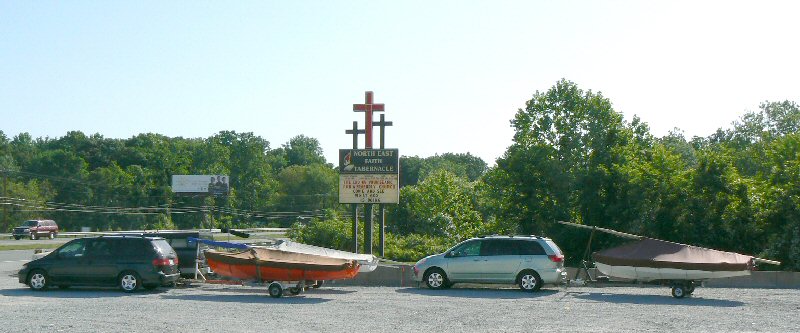 ... ample room to park our flotilla.


...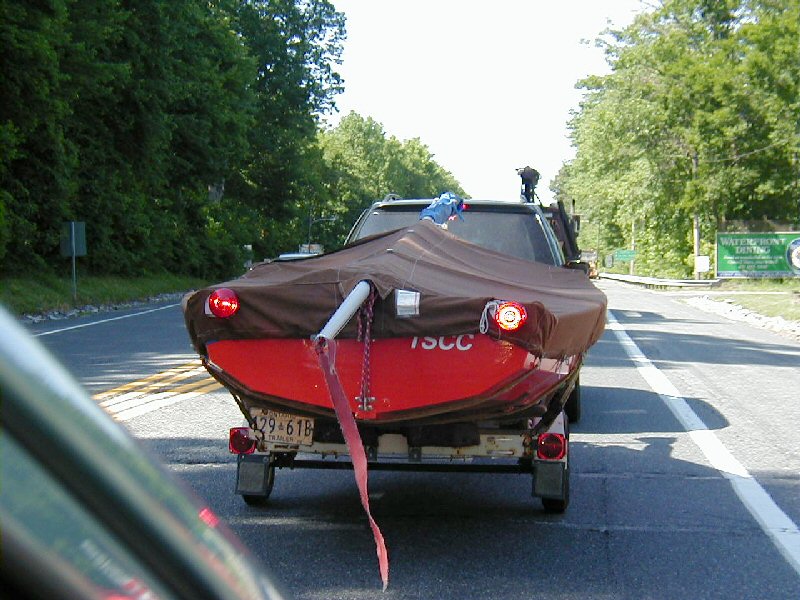 We had barely hit the highway when we met our only delay as construction
was being done on the bridge over the Chesapeake-Delaware Canal.


...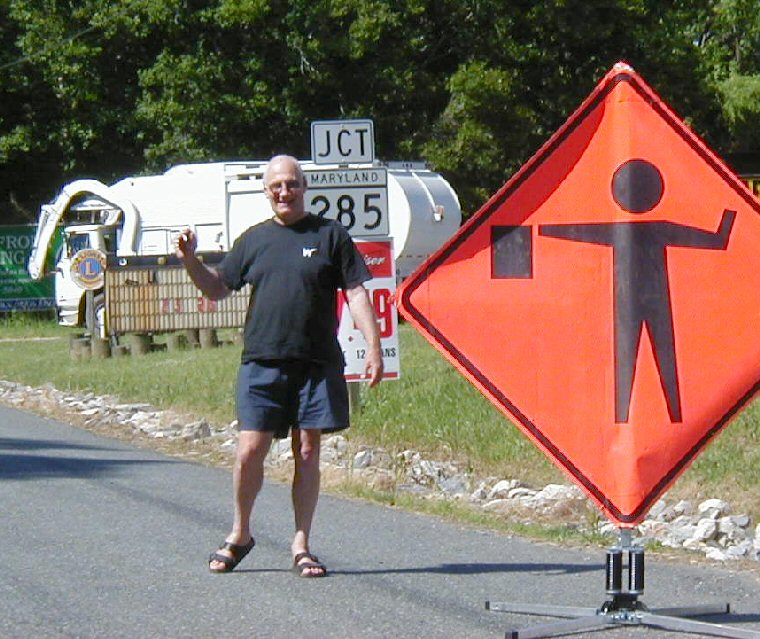 In an attempt to get traffic moving, Al stepped out and lit up. But even that did not work. Still, we only had to wait about 15 minutes, and made it to Crisfield before 1300 hrs.


...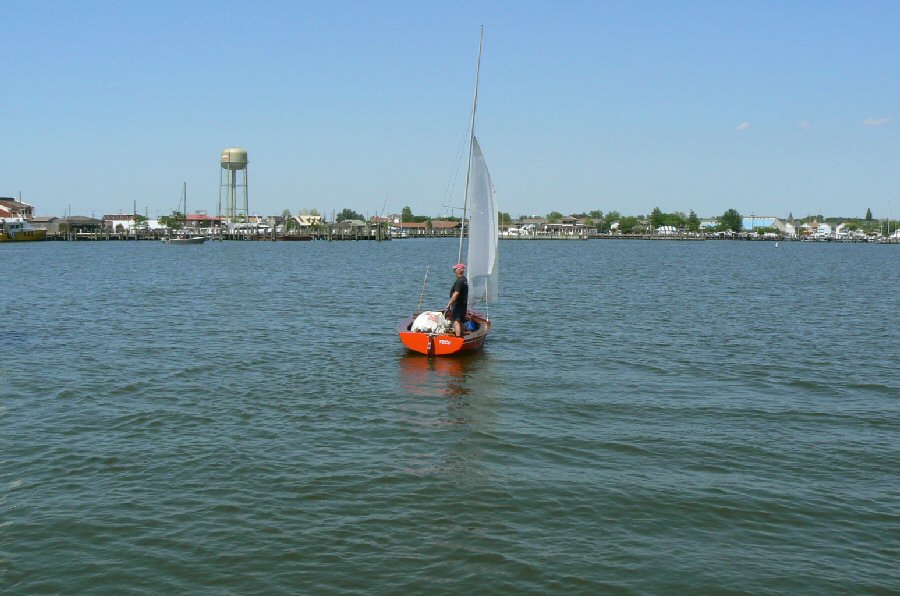 The launch ramp being across Somers Cove from the marina, each two-person team split up: one sailing the boat across the cove, the other ferrying car and trailer to the
Somers Cove Marina
parking lot. With wind dead astern, Uncle Al
(above)
chose to sail Hans' beloved
Nutshell
over under jib alone. - click
here
to see full-size pic
...
Al had almost reached the other side when word came across the water that André and Roger needed our help.


...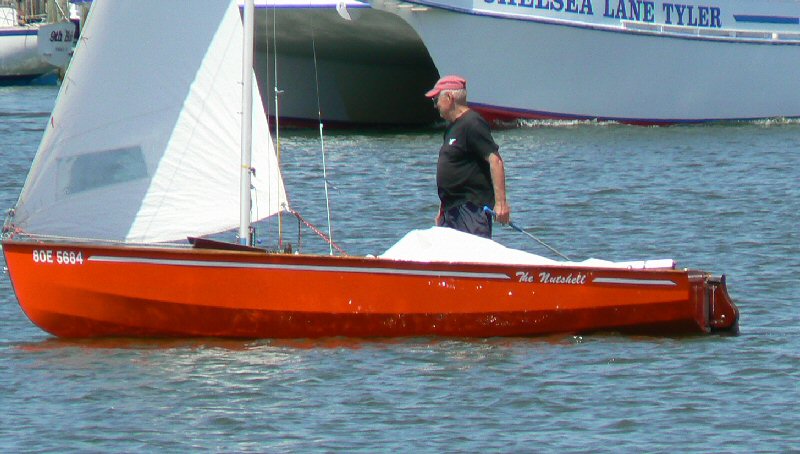 So, Dick, Tony and Al all turned back immediately, Al
(above)
using this opportunity to see if he could sail upwind under jib alone
.
Provided he kept his speed up, the board fully down, and the jib not cranked in too hard, Al found
The Nutshell
well up to the challenge of beating under jib alone, something worth knowing for who knows what emergencies.
...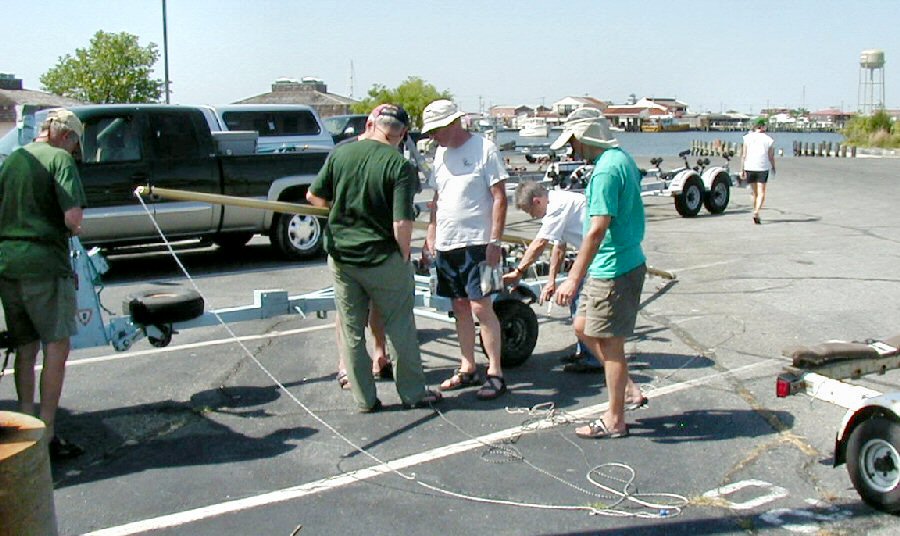 Upon getting back to the launch area, we learned that Team Girard had evidently not seen the launch ramps here, and been under the mistaken impression that they needed to drive back down the road to the Coastguard launch area next door. Early in this little jaunt, their mast met overhead wires which ripped off their forestay and wire jib halyard and brought the mast crashing down. "I specialize in communications wires," was André's reaction, I believe. Fortunately the mast was bent but not kinked and could thus be straightened and re-used, and Roger and André did not have to cancel their cruise as they had at first been sure would be the case. I believe the guys supported the mast on a couple of our trailers with the worst of the bend in a gap of about ten feet between the supports. Then repeated judicious bounces of body weight at the point of maximum bend slowly reduce the bend, is the way I saw George Blanchard do this. By the time I got there, the mast had been rendered functional once more, though a picture just past half-way down the
Watts Island page
shows W3098 at anchor with a mast that still could use more bend reduction.
...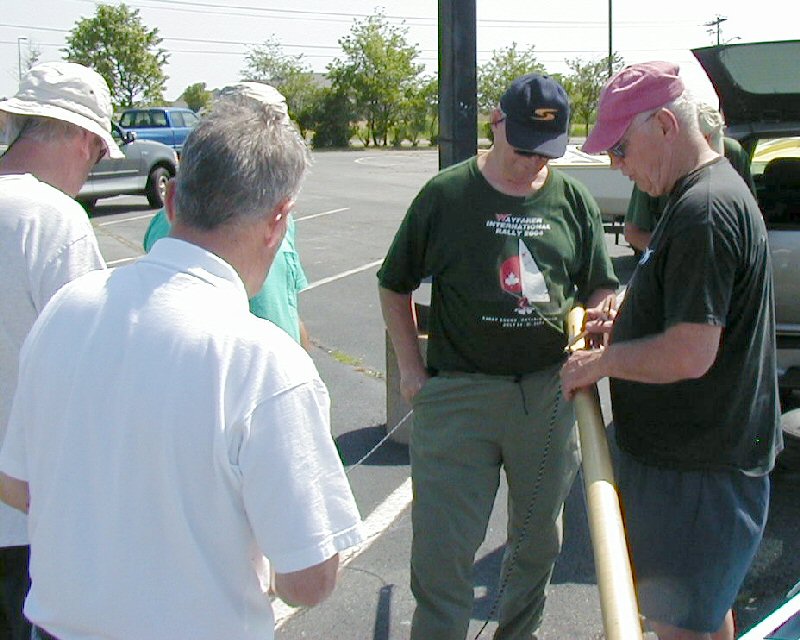 We soon had rope replacements installed for ...


...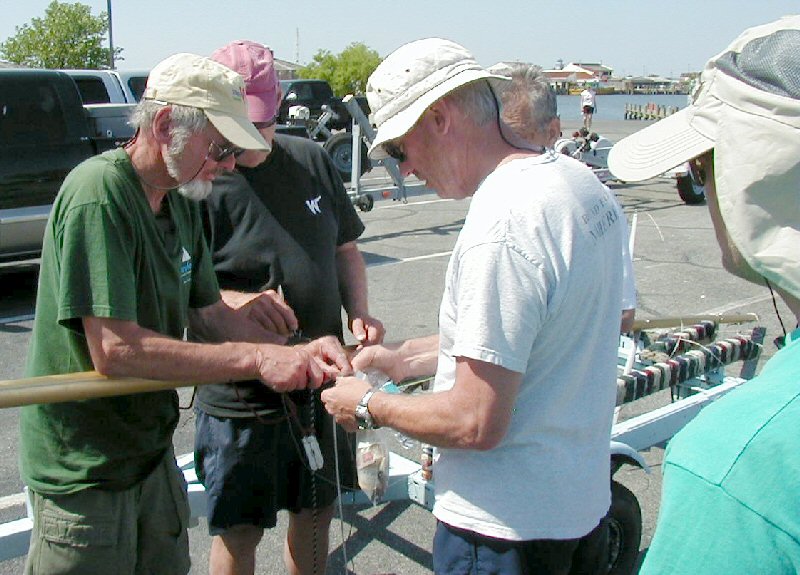 ... both the forestay and the ...


...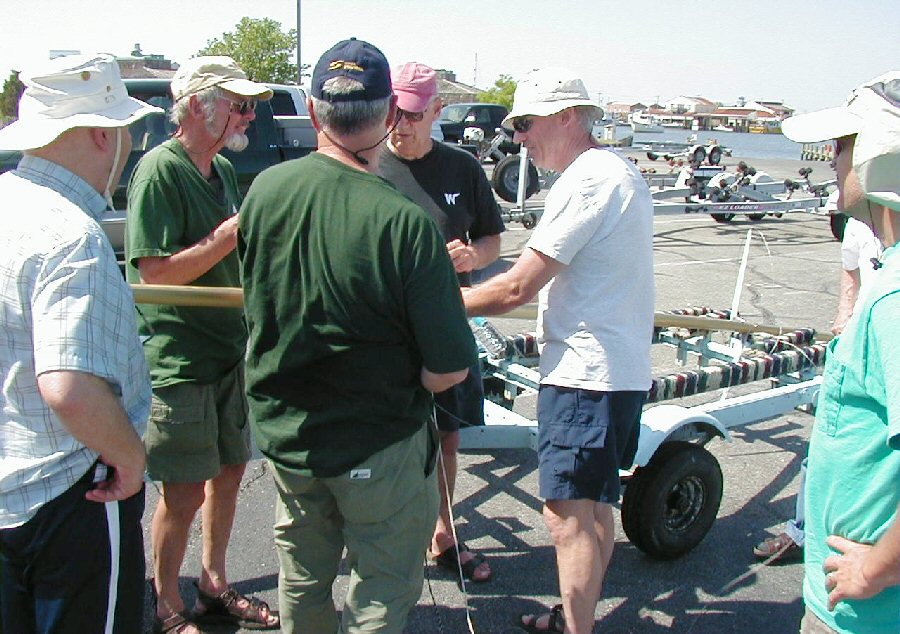 ... jib halyard, and made attempt #2 to ...


...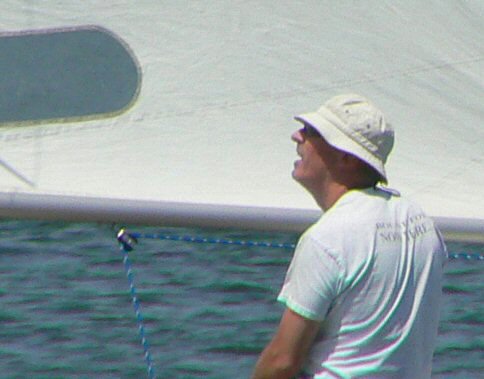 ... get underway. Tony and ...


...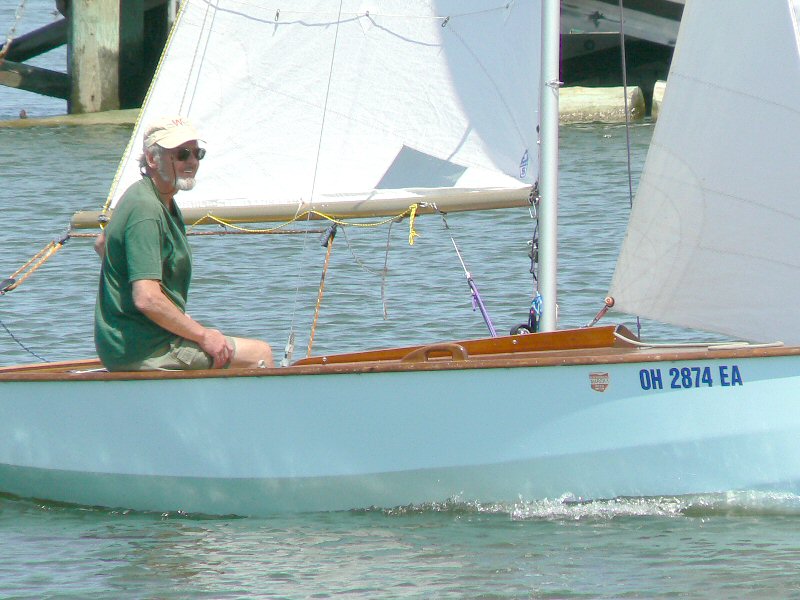 ... Dick Harrington

(above)

zipped across Somers Cove once more without incident under ...


...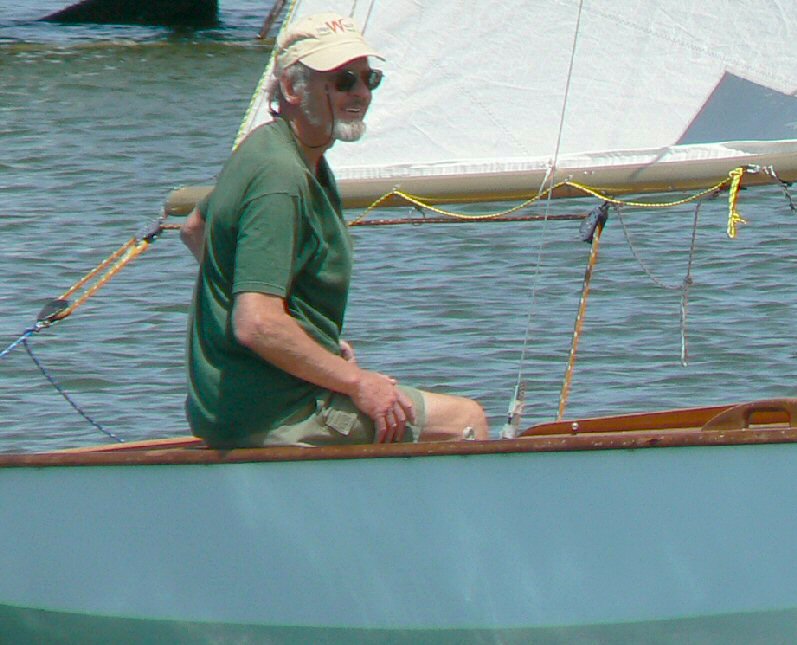 ... full sail. Al followed more sedately under jib alone.