the 2008 International Wayfarer Rally *

Hermit Island, Maine
Thursday 14 August - 7
...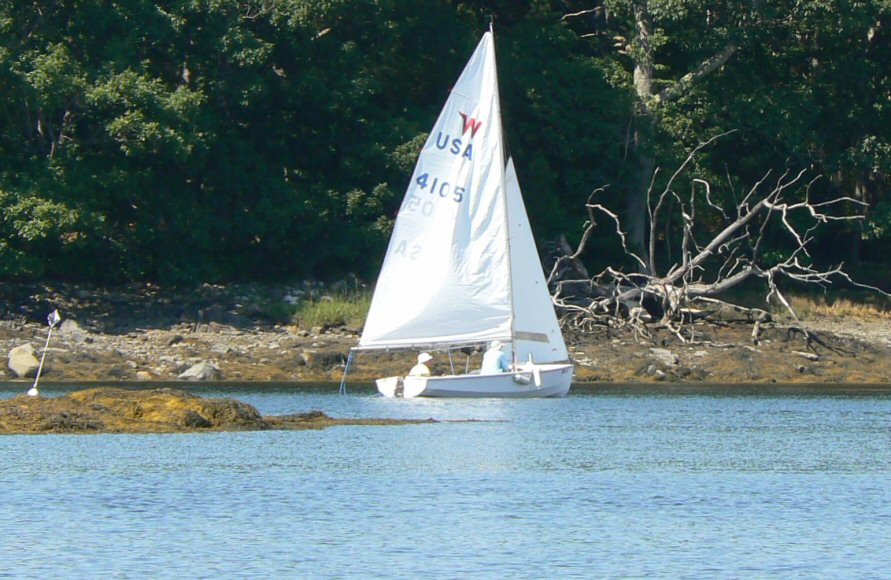 With dock space at a premium, Tony and Mary have made some room and are waiting out here.


...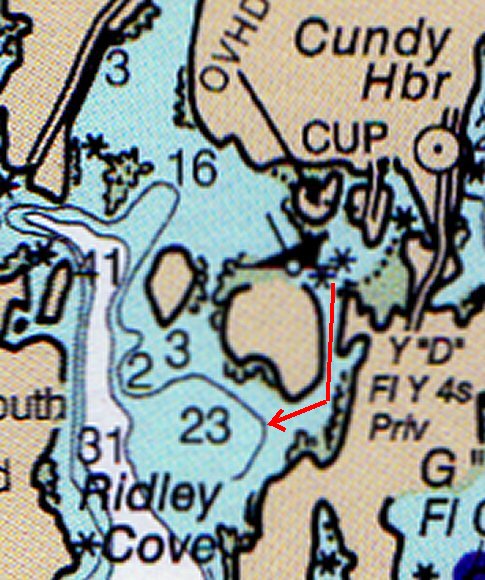 SHADES

short-cut #2: Hopeless as it looked from our vantage point at the marina, the chart seemed to indicate a viable passage,
and Ton and I decided it had to be tried!! Of course, this "short-cut" would be a beat, but that is why we had brought half a paddle.


...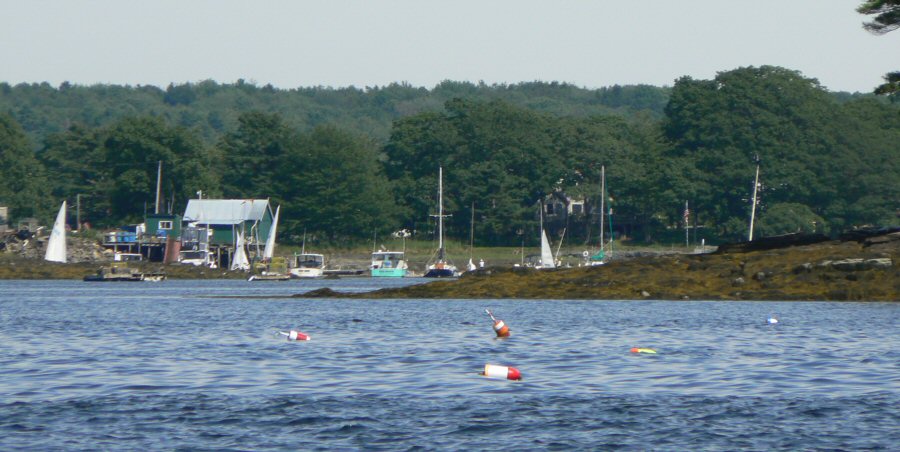 A last glance astern at our "diner", and we were off into the unknown, leaving ...


...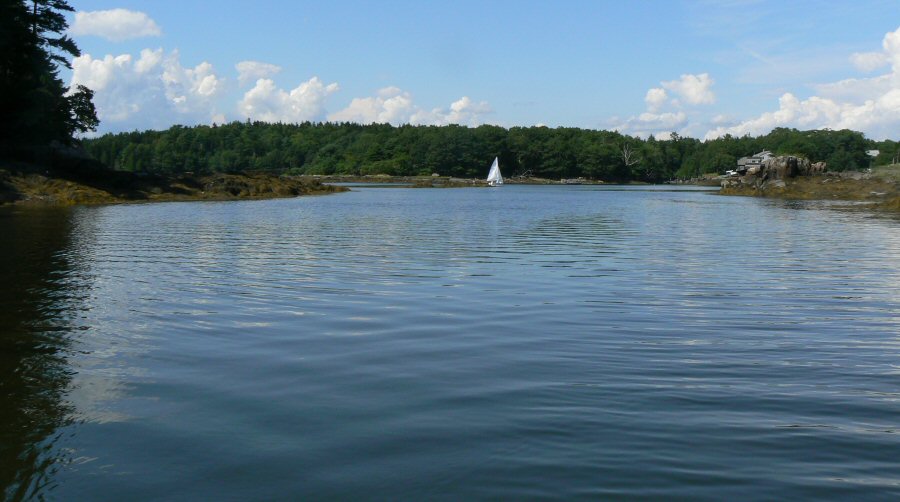 ... Tony and Mary behind. So far, so good!!
- for full-size pic, click here


...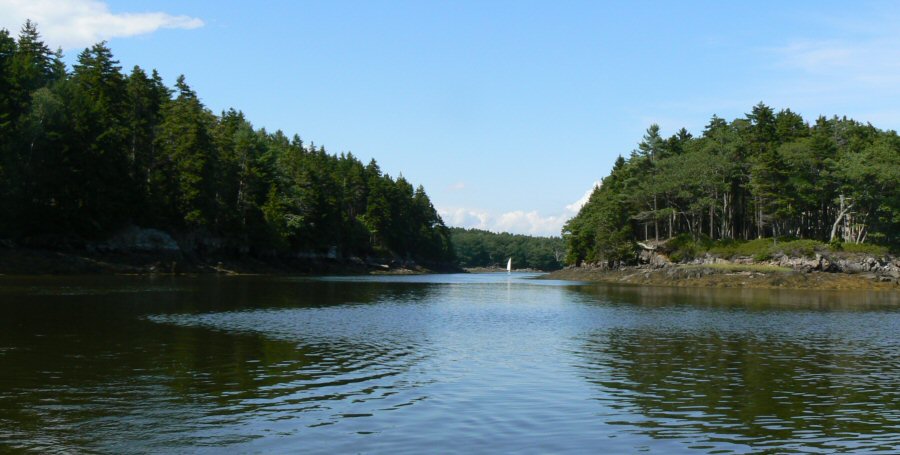 There we are. We've made it through with only a stroke or two of the paddle.
Gary, Ralph and Stephanie

(above)

followed us in, but I don't recall whether they went all the way through.
- for full-size pic, click here


...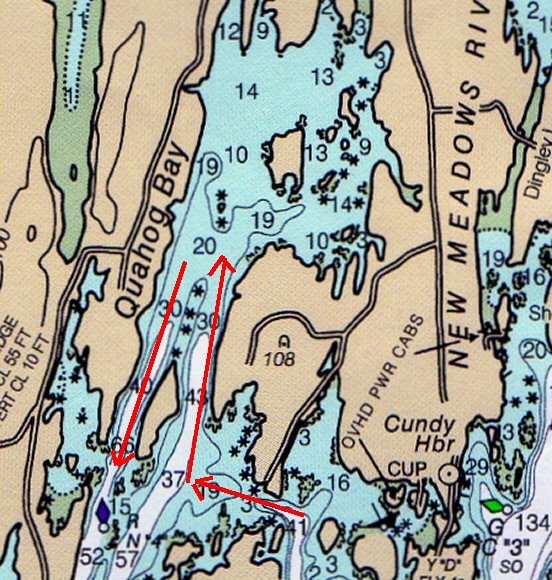 The group's stated plan had been to explore a bit of Quahog Bay. So that, after going around Big Hen Island and George Island, Ton and I headed west and then north in a lovely little breeze of about 5 to 8 knots. Last we saw of the rest of the gang, they were still milling around near the marina. We went about as far as the island in the middle of the bay, but when no other Wayfarers showed up behind us, we turned back, beating up the western passage where the wind was funnelling nicely between the huge "mainland" of Sebascodegan Island and Pole Island.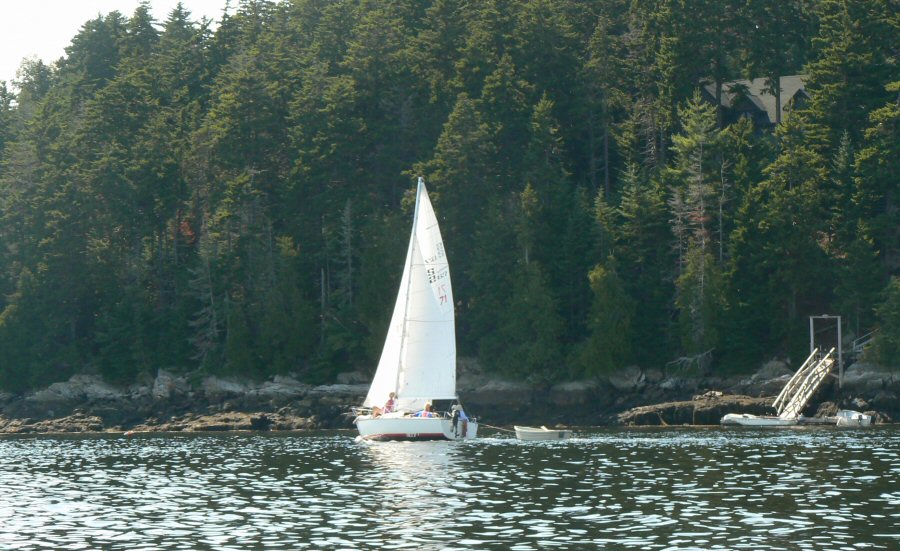 We had one other sailboat for company.


...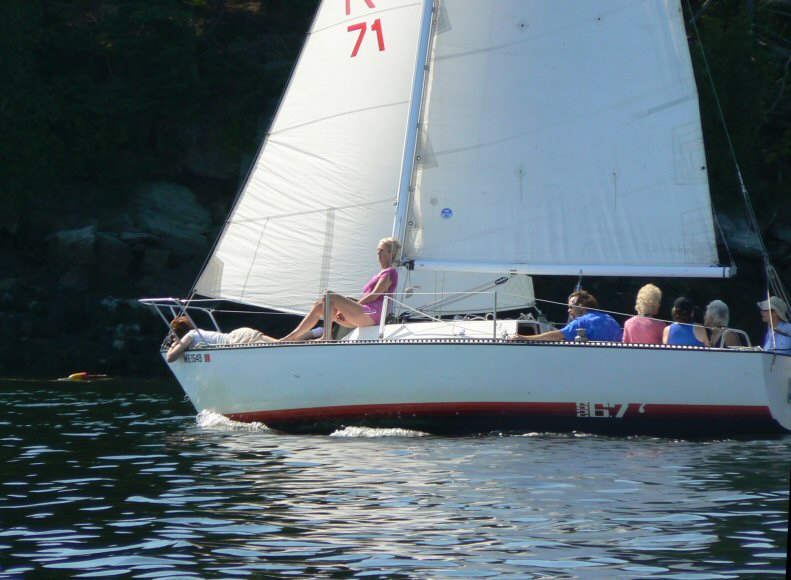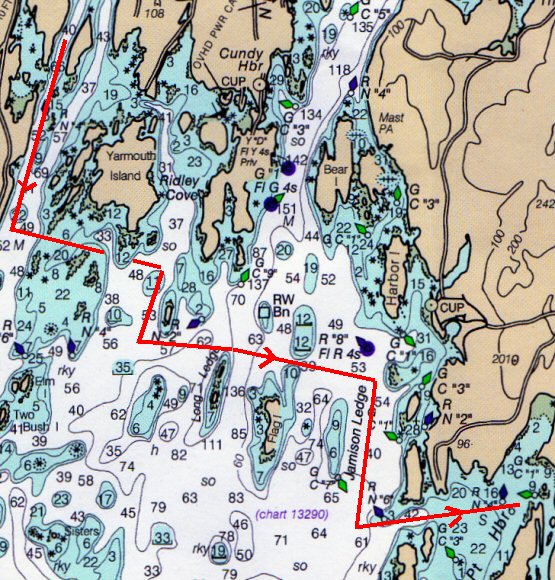 By the time Ton and I emerged from behind Yarmouth Island, Casco Bay was empty of identifiable sails, although I do remember seeing a few distant white specks that were probably Wayfarers way upwind of us in the Bay. Most of all though, I recall that after the hot weather inland earlier, this wind off the ocean and out of the fog, was damp. And despite the bright sunshine, it was downright cool. The wind was a lovely 8 to 10 knots nonetheless, and Ton and I were not about to complain!!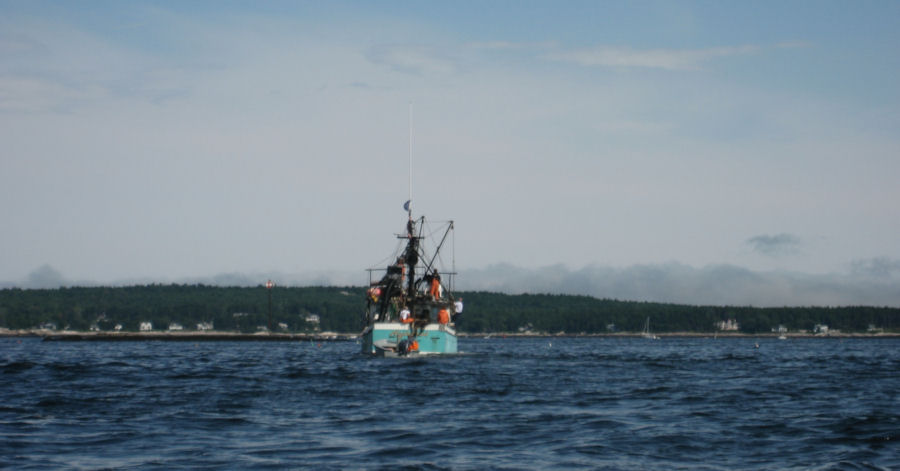 All across the eastern horizon, we could see that the fog that was still where we had left it this morning.
- for full-size pic, click here


...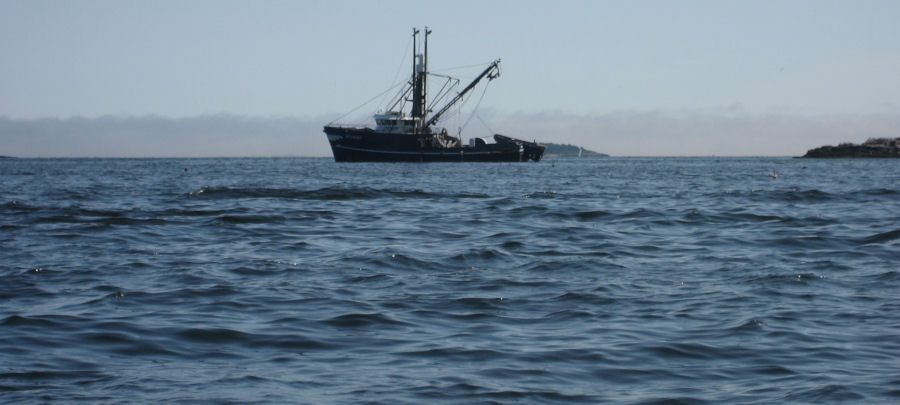 for full-size pic, click here


...

The two Wood Islands take shape off our bow.


...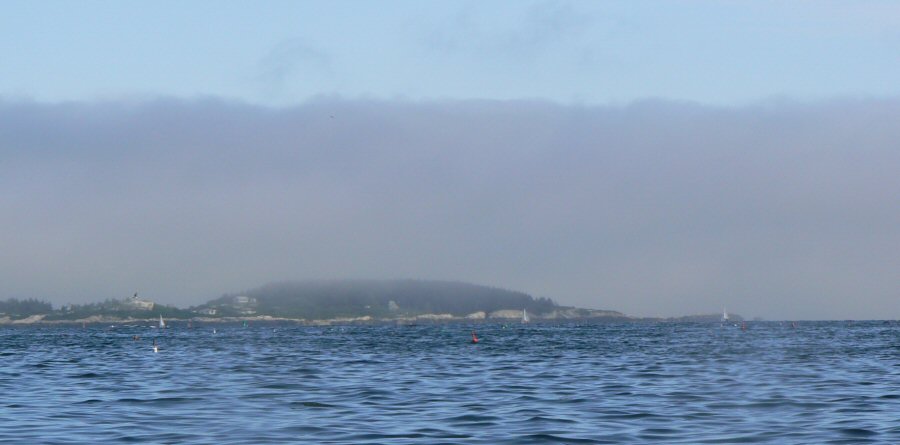 Nebulous contact re-established with Wayfarer sails
- for full-size pic, click here


...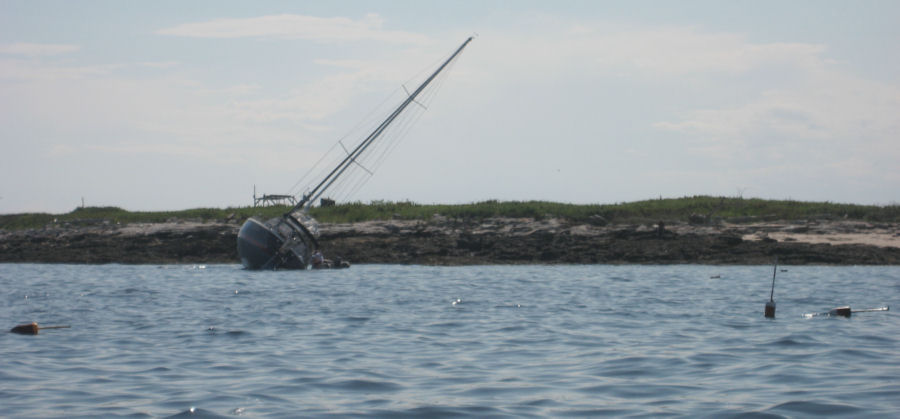 Off the north end of Flag Island? The

Solje

crew got these shots of yet another reason why I can do without a keelboat.


...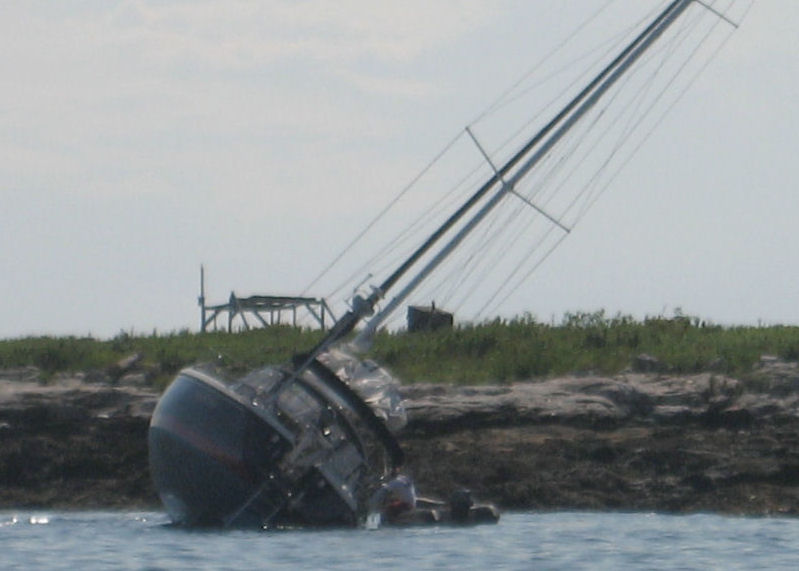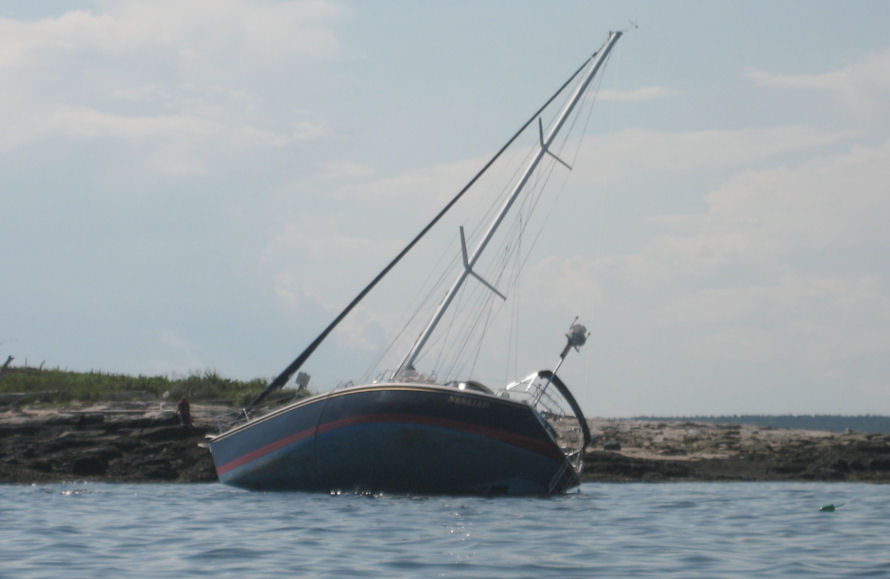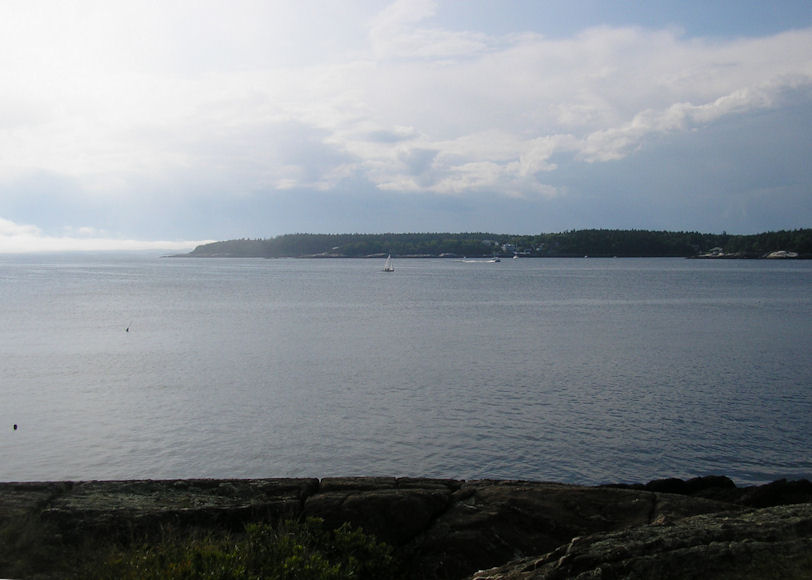 At the north end of Hermit, Conny, the lonely wife, takes a few more pictures while she waits for her captain, Ton, to return.
- for full-size pic, click here


...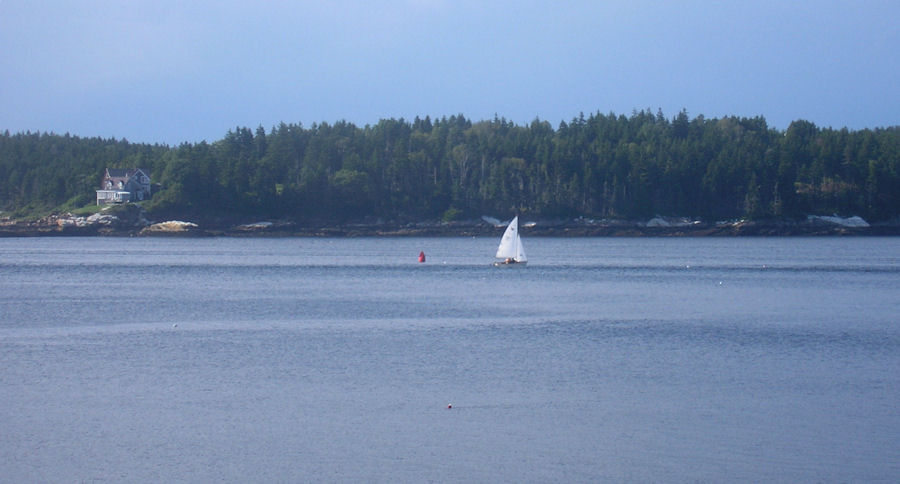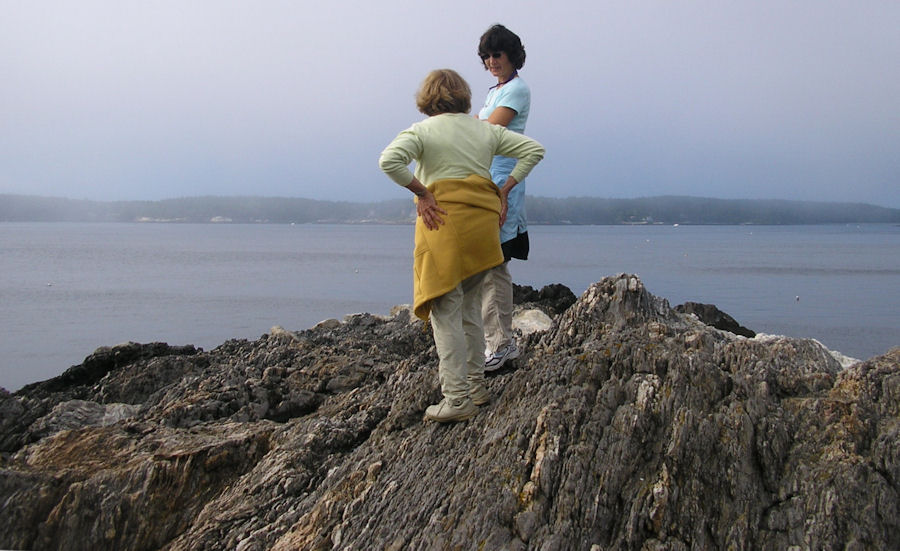 Monique and Nel

(r)

are keeping Conny company.


...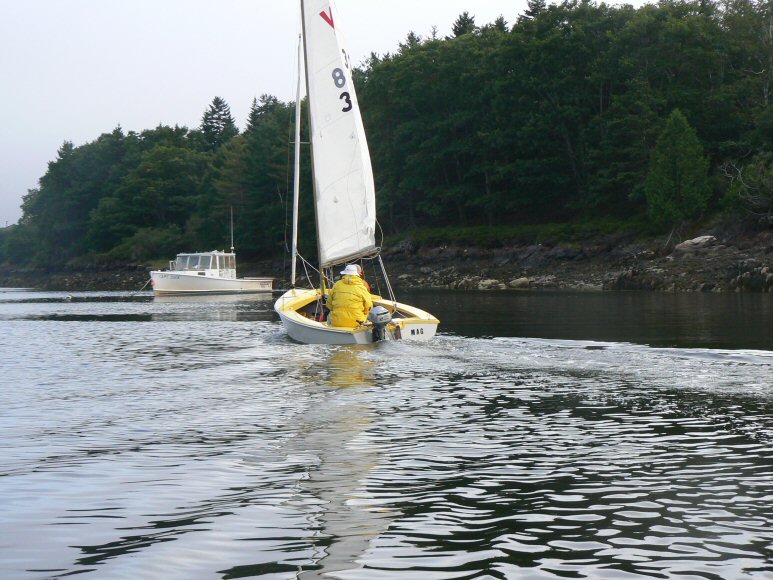 As we sailed back into Cape Small Harbor, we had regained contact with some of ...


...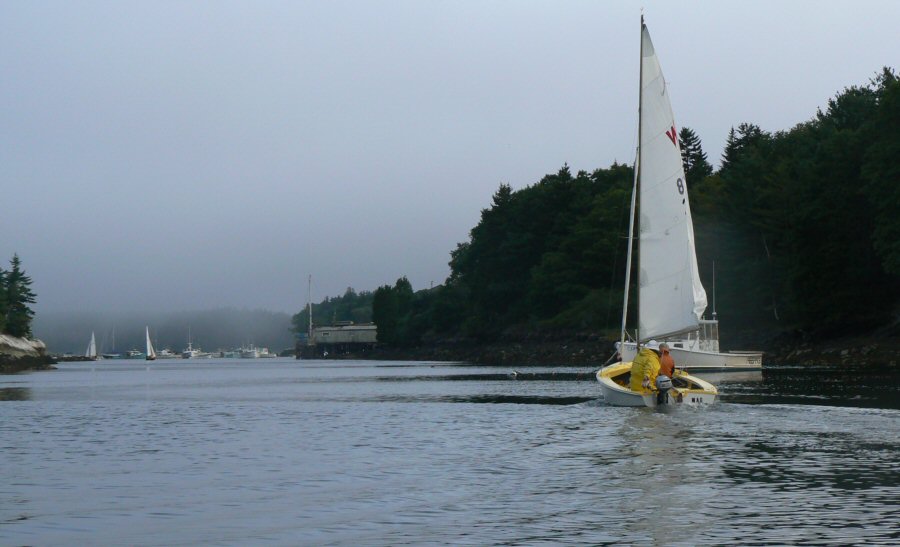 ... our group, at least one of whom was taking the easy way in.


...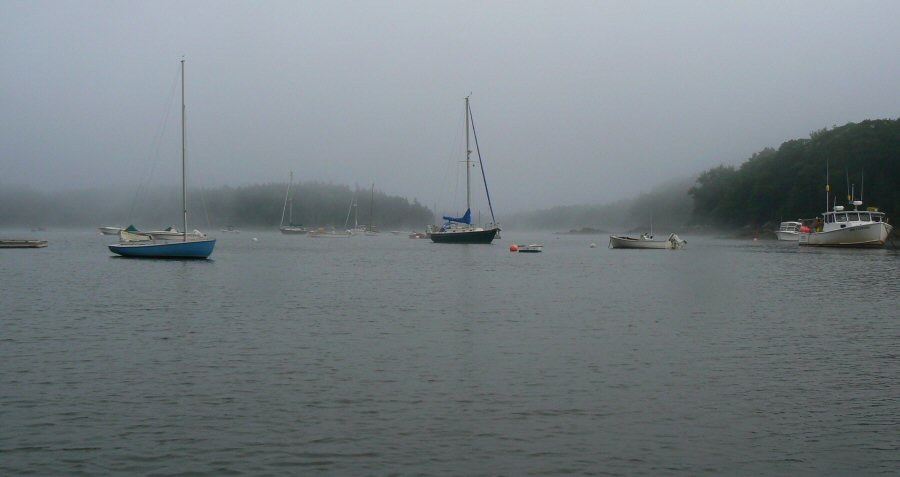 Looks like the fog is making inroads into The Branch up ahead.


...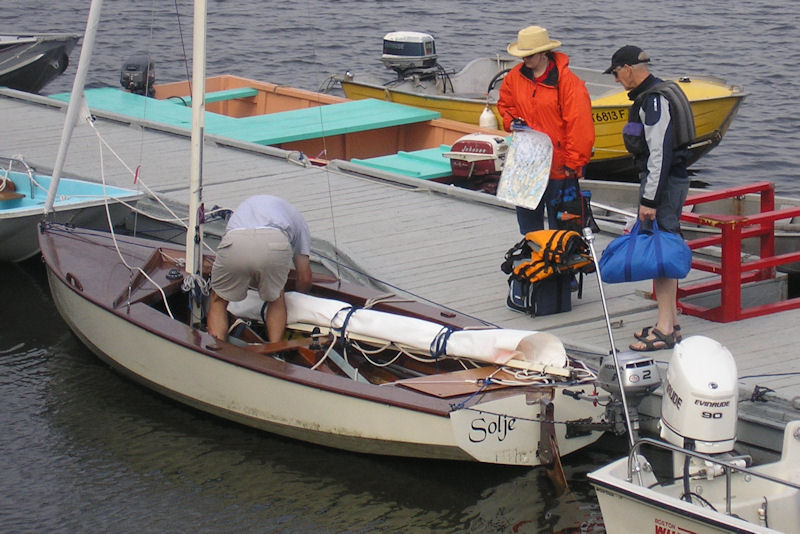 Solje

gets tucked in for the night:

(l to r)

Gary, Stephanie, Ralph


...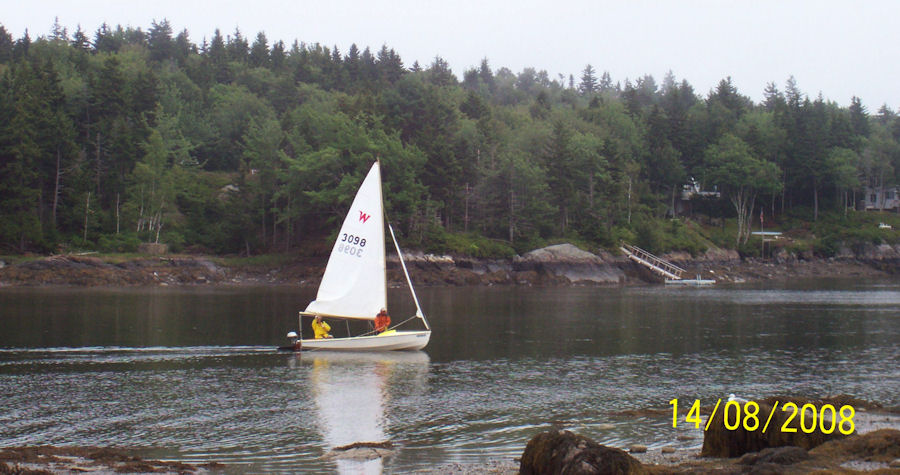 André and Gilles motor up The Branch towards their mooring where ...


...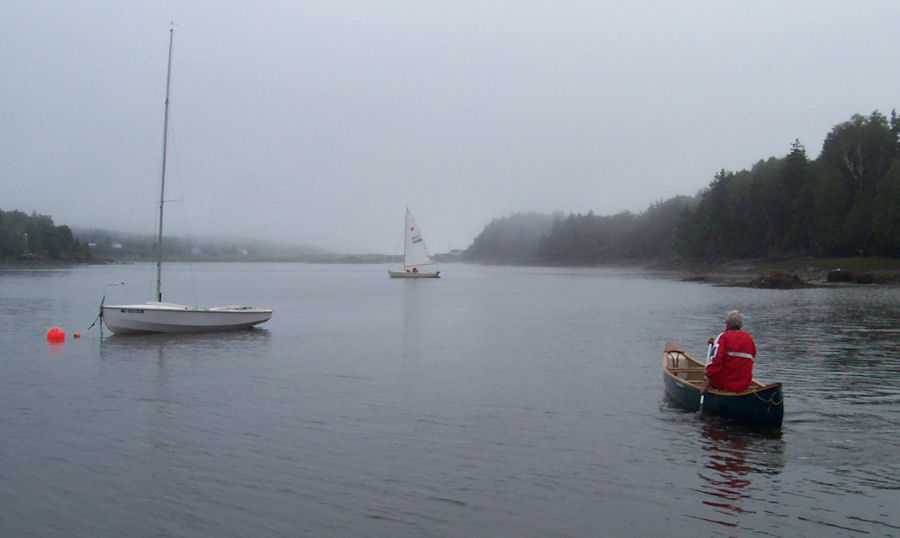 ... Tony will pick them up.


...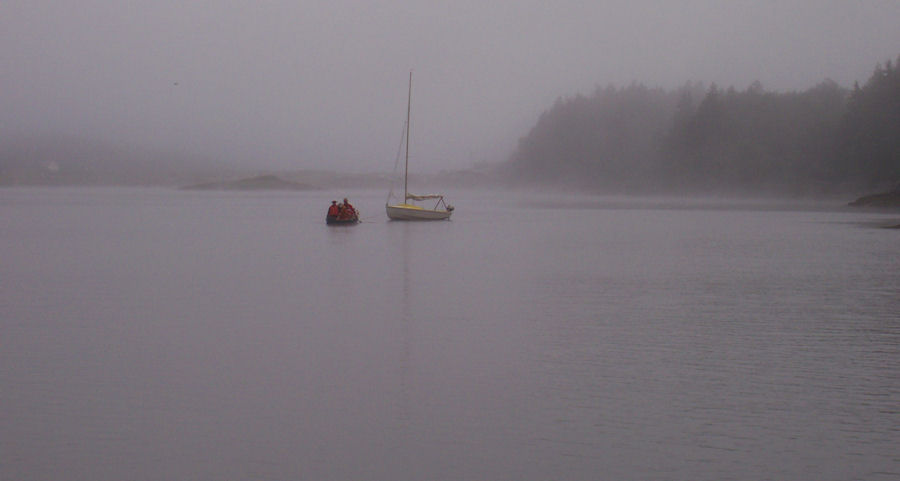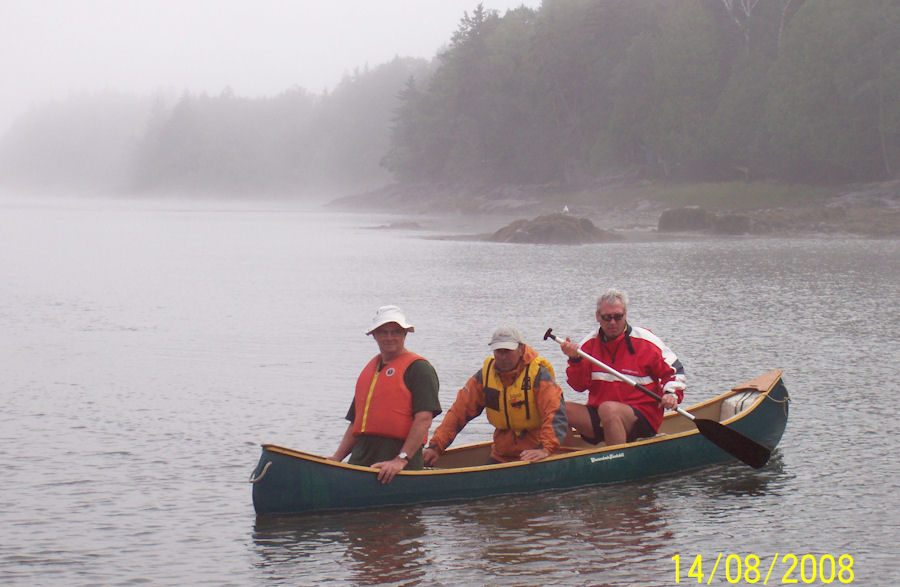 An uneventful trip


...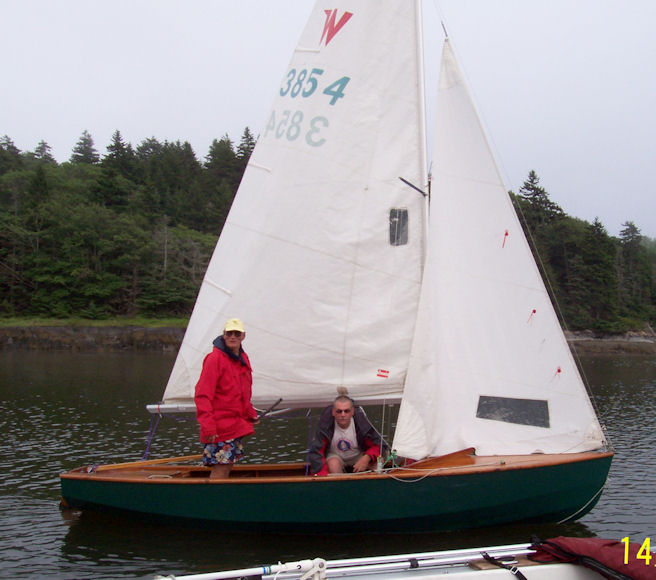 Getting back on the late side, Ton and Al find that there is no room for them at the dock,
and eventually Al will end up having to moor out.


...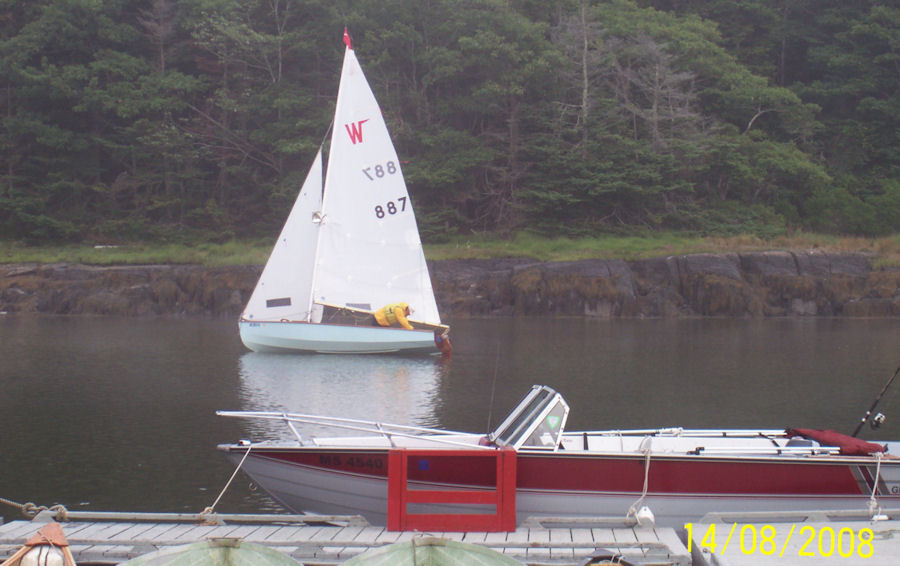 A while earlier: Dick came in to his mooring and Gary took a canoe to pick him up. And the adventure began ...


...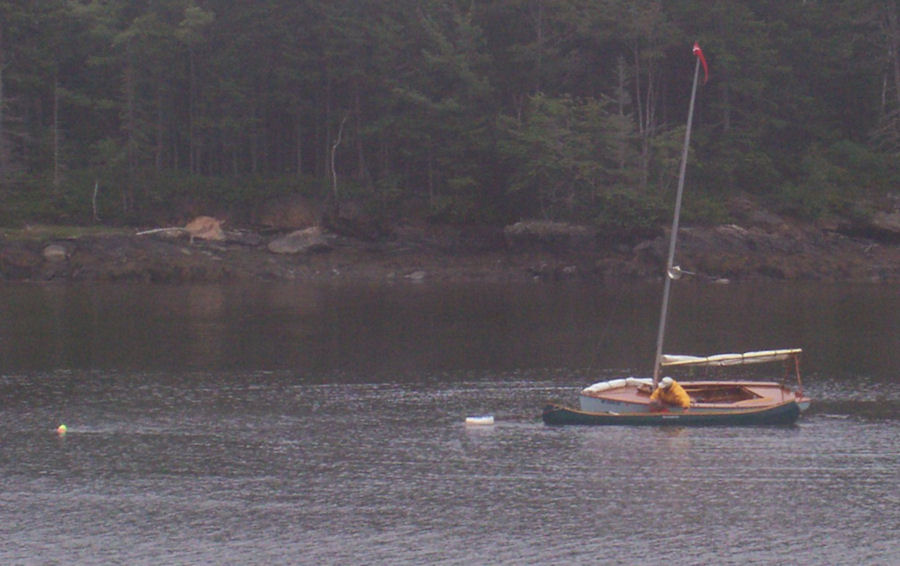 Gary, a non-swimmer, fell out of the canoe during the attempted pick-up. Having forgotten his PFD (but remembered his camera!), Gary had to be rescued by a quick-thinking Dick. Even the pictures were eventually recovered from Gary's camera card. The camera was toast, however. A lesson for Gary that could have been far more expensive. But, as they say, all's well that ends well.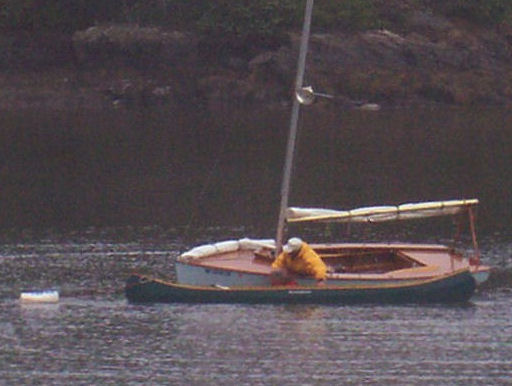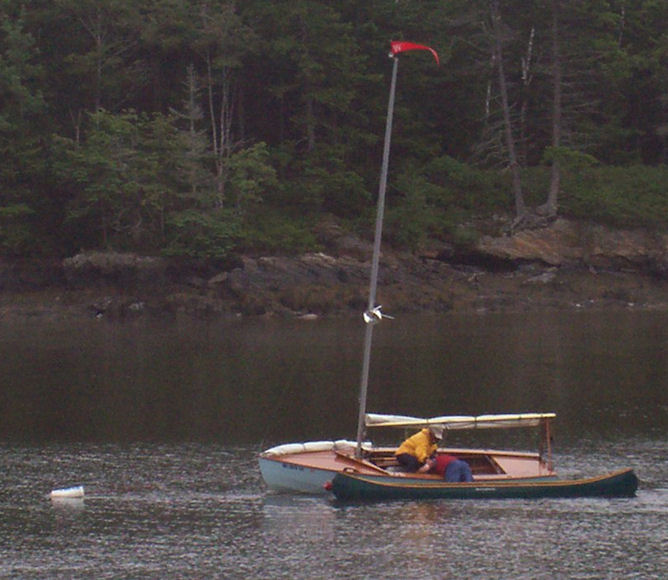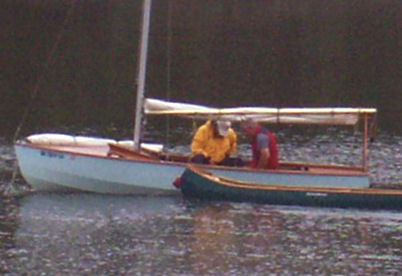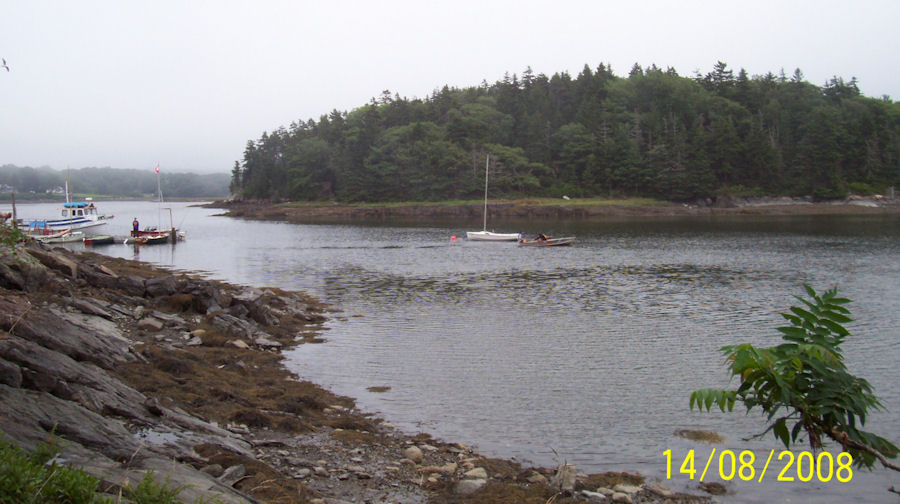 Andrew Haill rows out to the rescue, while Al

(l)

docks illegally until someone has the nerve to complain.


...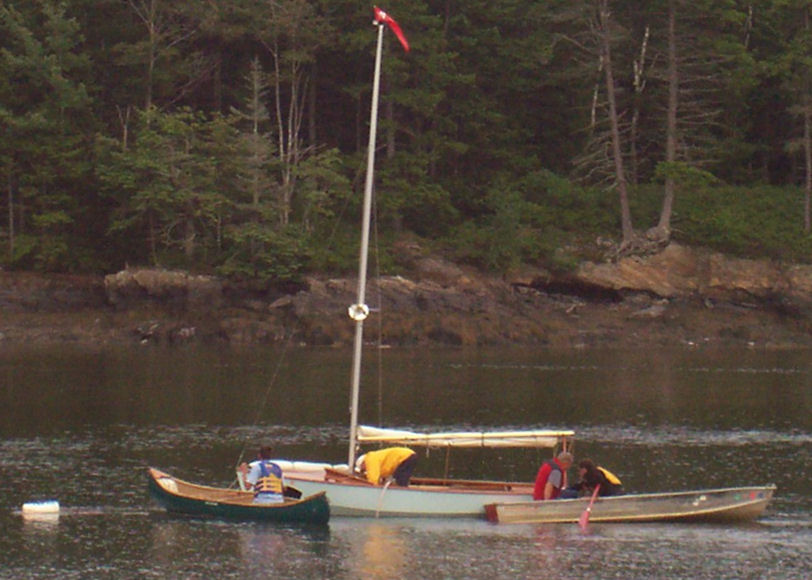 Andrew gives Gary a more stable lift back to shore, while ...


...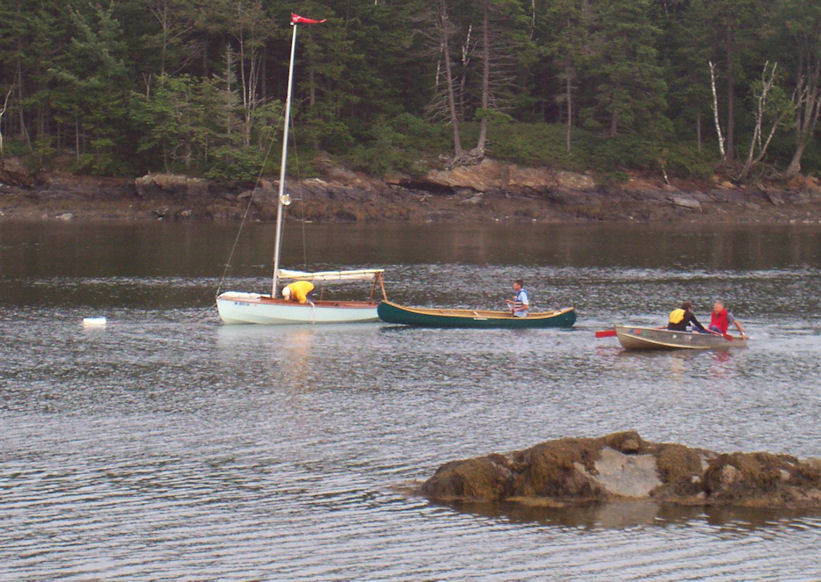 ... Tom Erickson waits to paddle Dick back to the docks.


...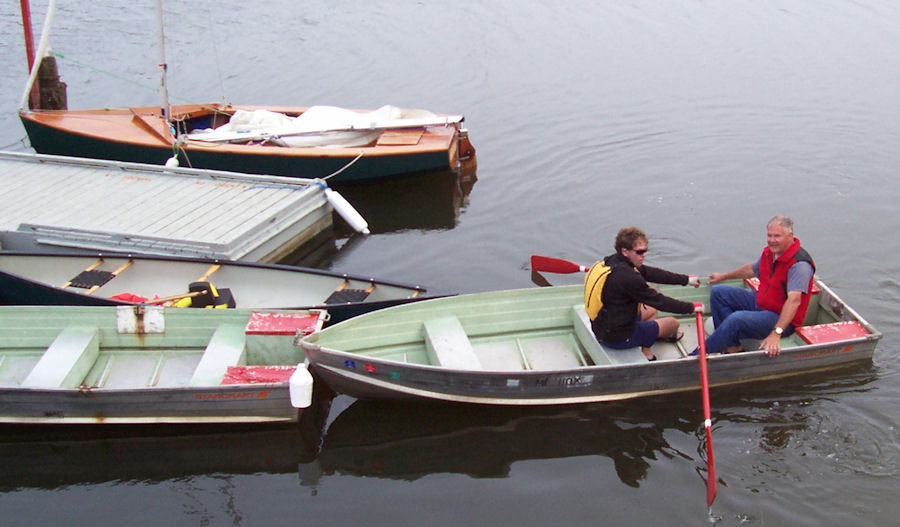 A wet but happy and relieved Gary returns to shore and tells ...


...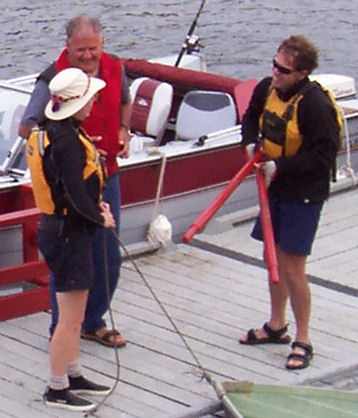 ... Lori and Andrew the whole terrible tale.

Not too much later: By the time I had showered, the fact that I had not bothered to have lunch after my 0730 hrs. breakfast at
Percy's
, was beginning to seriously register on my stomach. Gary, Stephanie, Mary, Tony and I were scheduled to try to locate the absolutely marvellous pizza place in Bath where Chuck and Ginny Jordan had taken Julia and me in 2005. I had failed to name it in my 2005 report, so we had to explore a bit before we finally found it. For future reference, it is
Midcoast Pizza and More
located at 737 Washington Street in Bath. All of us highly recommend it, and next time I hope not to be so hungry that I fail to take pictures.
...