From Killarney to Killbear – A Wayfarer mirror image of a 1979 Mirror Dinghy Cruise
updated 30 August 2020 at 2115 hrs
...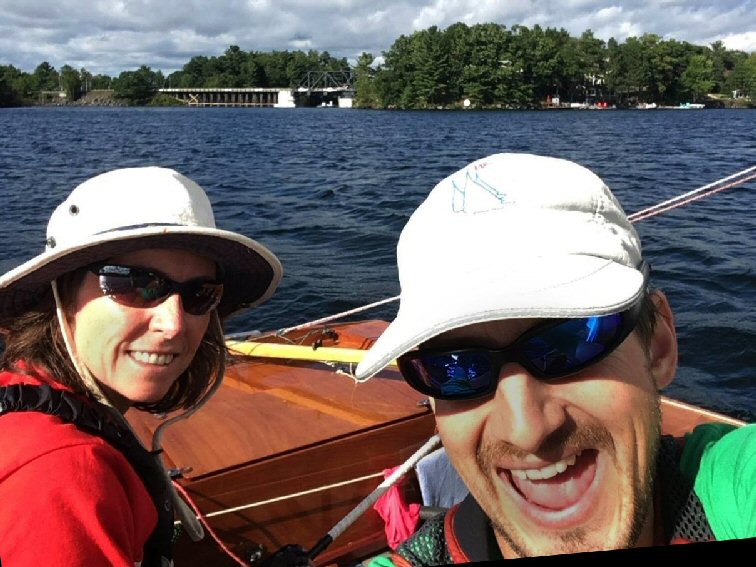 In a beautifully written and presented cruise log, Steph Romaniuk and Sue Pilling (above)
re-trace her father's 1979 Mirror Dinghy route in reverse, sailing Chich Wayfarer 397
which father, Graham, in no small way brought back to lovely life.



Sue's Dad and three other solo sailors braved this trip up the small craft channel in 1979 (see

page 8

). They pulled their 11- foot Mirror dinghies up on rocks and camped on shore. From August 4th to 11th, Sue Pilling and I (Steph Romaniuk) took our 16-foot Wayfarer sailboat which is harder to pull up on rocks, so we anchored off and tented or slept aboard in our boom tent with stern line tied to shore to pull us close in to wading depth. We kept a sharp eye on the weather (VHF, Windfinder App, Environment Canada Weather App). We had a Nomad 7+ USB solar charger with us as well to keep battery life up. For navigation we used paper strip charts (2202, 2203 and 2204) and had back-up Navionics App on the iPad (this is where we took the screen shots like the one below). It is like a chart plotter - tells you were you are and where you are heading, and you can Zoom in really close and get lots of details of rocks, shoals, etc. It is amazing how accurately people before us charted these waters. Because the Wayfarer can get its centreboard and rudder up quickly, we can get into some really shallow, quiet spots that others cannot get into.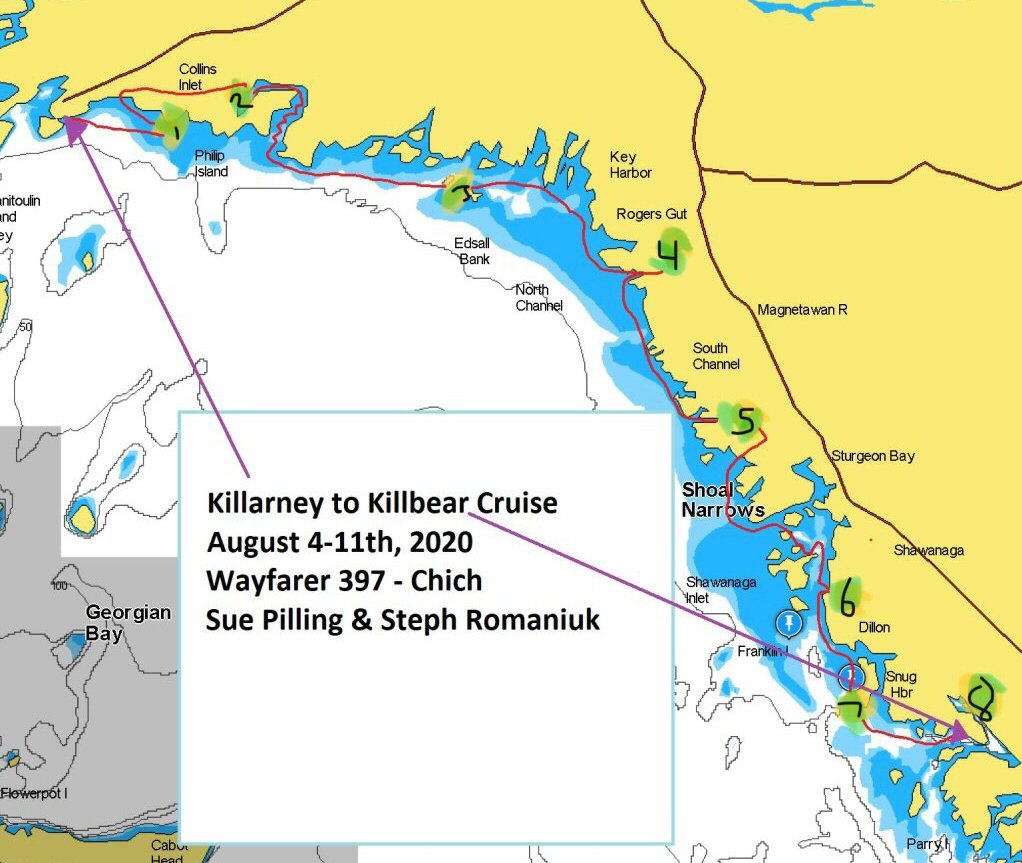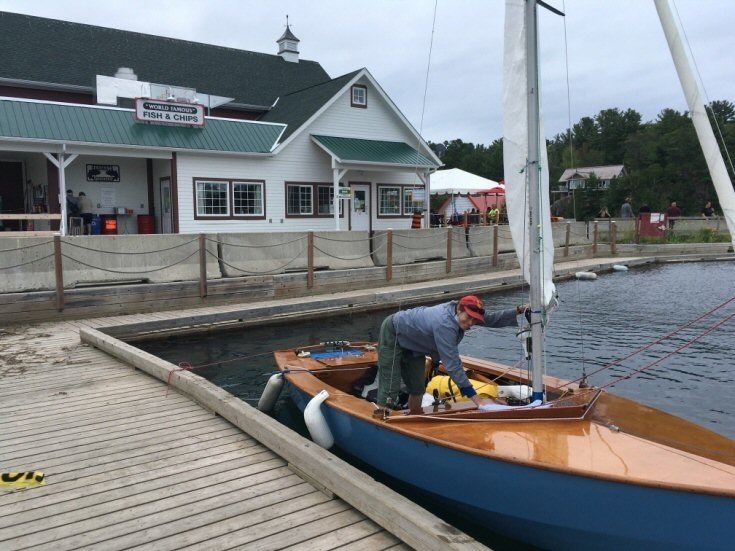 In Killarney we had a good feed of Fish and Chips and it was later than we had planned before setting off Tuesday at 5pm in cloudy conditions with a northerly wind about 5-10 knots.

We passed this cutter-rig sailboat on our way out of Killarney and ran into him later in Bayfield Inlet and Shawanaga Bay!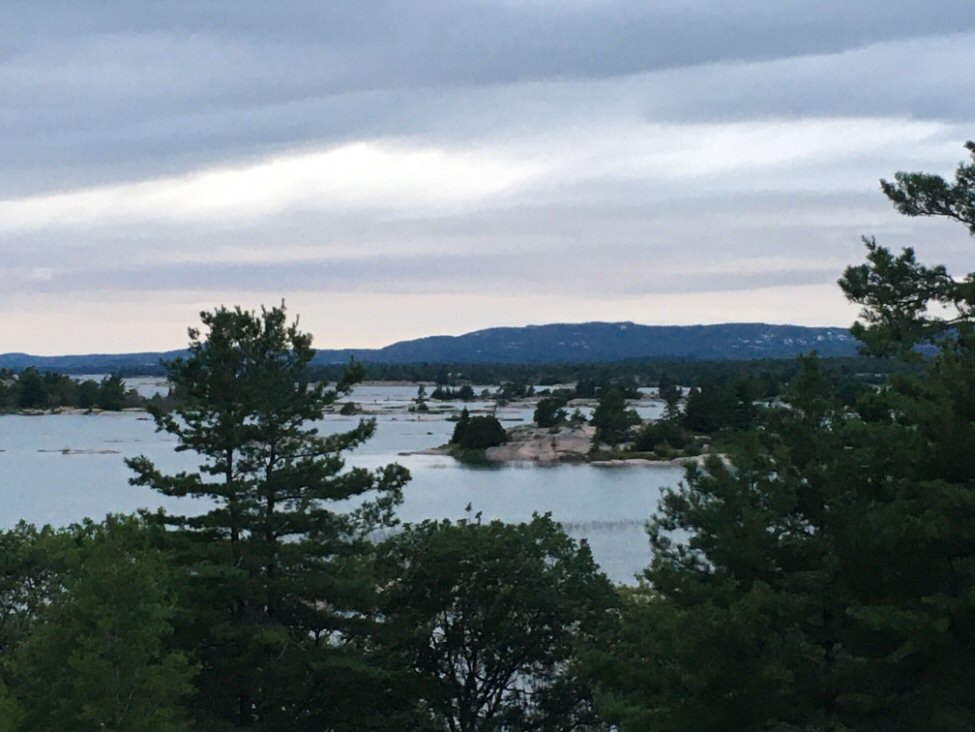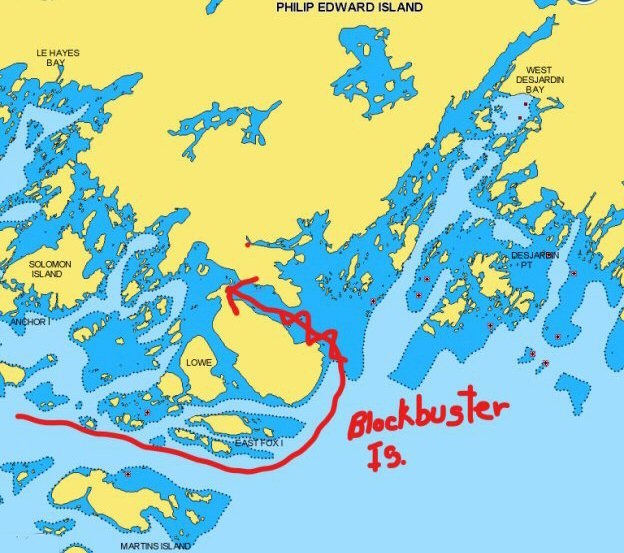 That first night we decided to head out to Blockbuster Island among the Fox Islands south of Phillip Edward Island (PEI). There was a strong-wind warning for the next day so this was our only chance to see these beautiful and exposed outer islands. We got the anchor positioned first try! It allowed us to paddle our stern to shore and have just enough rode to meet a flat rock. We tented (below) so we could make an early getaway to backtrack upwind for a bit and tuck in behind the shelter of PEI into Collins Inlet, just as the wind piped up. We'll need to come back here someday.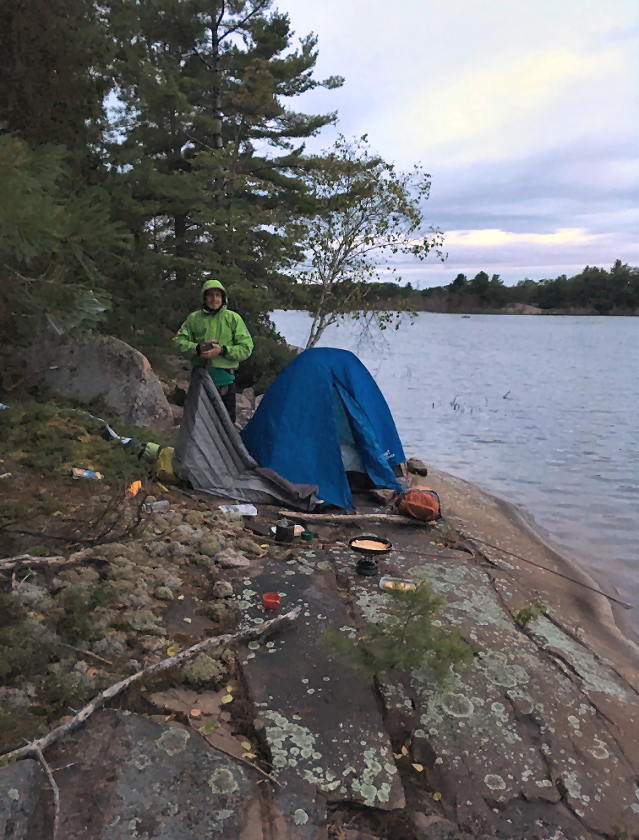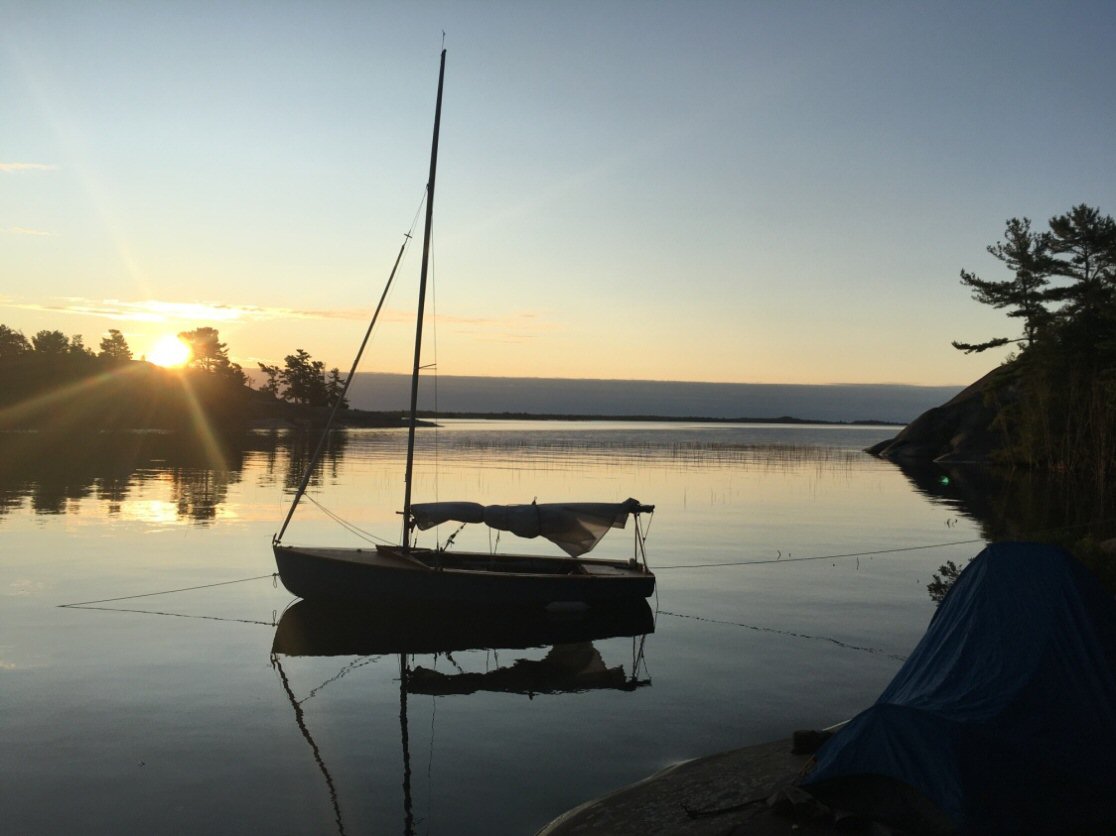 The early start Wednesday rewarded us with a stunning sunrise.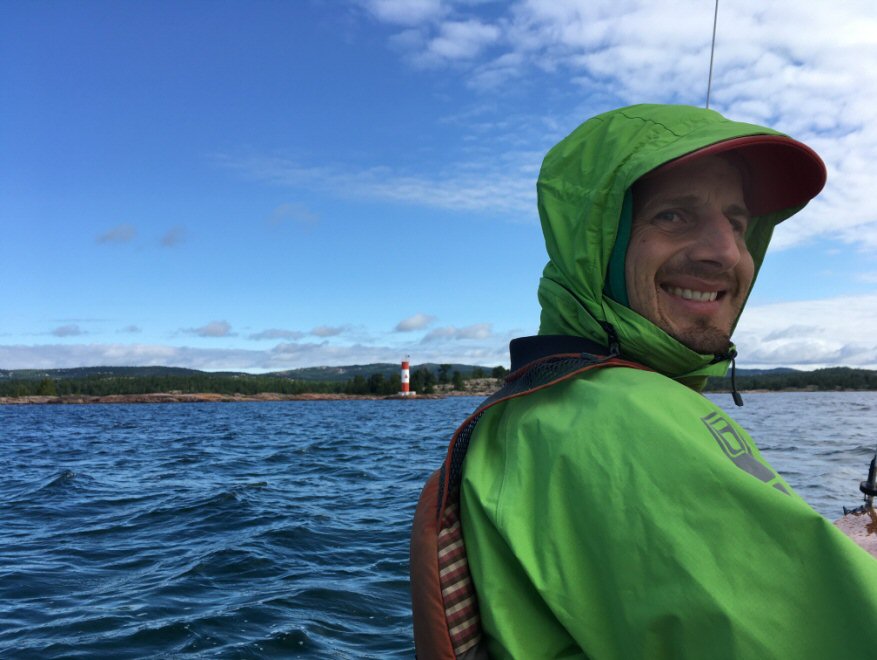 That is a smile on Steph's face as we reached Flat Rock Lighthouse that marks the entrance to Collins Inlet. Now we could run with the strong wind at our back through most of this inlet with ease – a bit gusty for the spinnaker. The Mirrors somehow managed to sail the other direction upwind tacking through this narrow channel – must've taken them a long time!! We ran through eight miles of channel, past petroglyphs at mile 52 and tacked upwind into gusty Mill Lake with reefed sails. Our anchored boat was blowing towards shore, so we again slept in our tent to decrease the windage of the boom tent and increase our faith in the anchor. A good thing, too, as Chich was only half a foot from touching the rocks in the morning.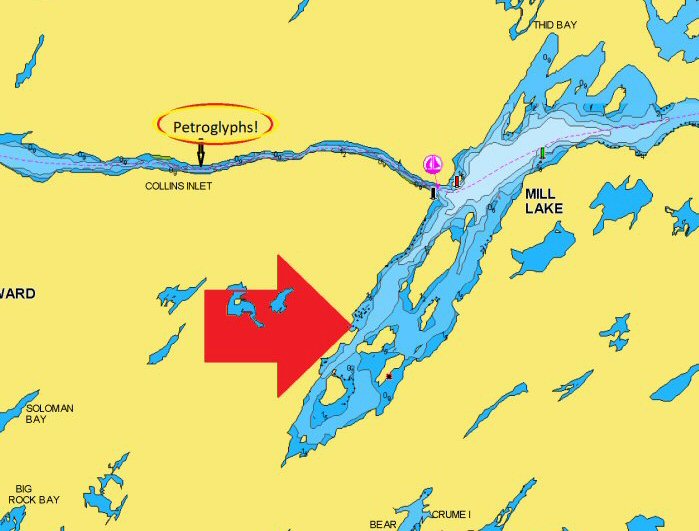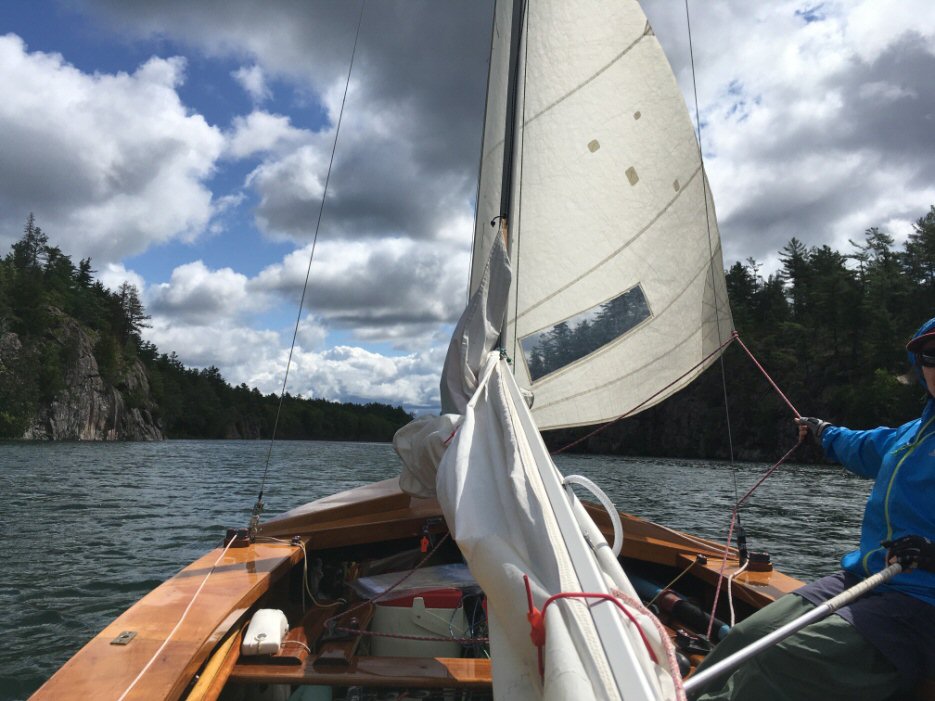 Running down the Inlet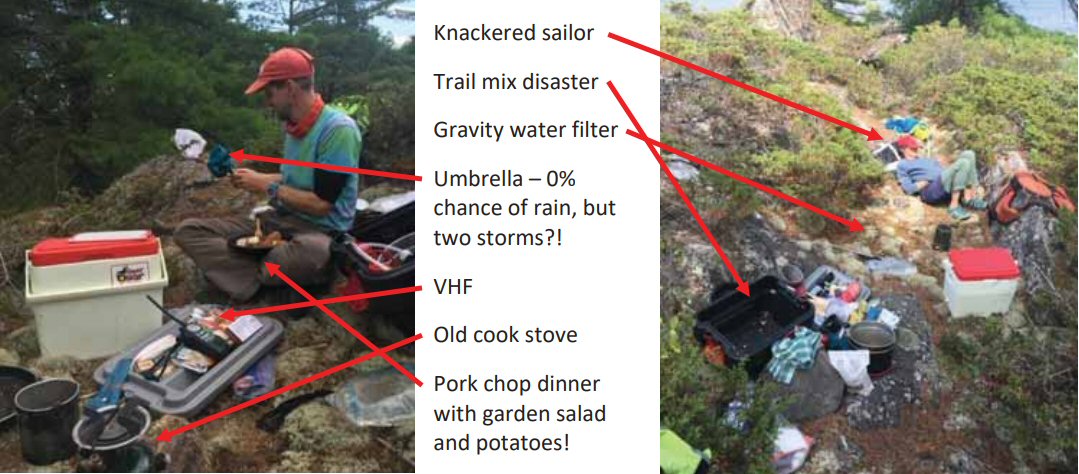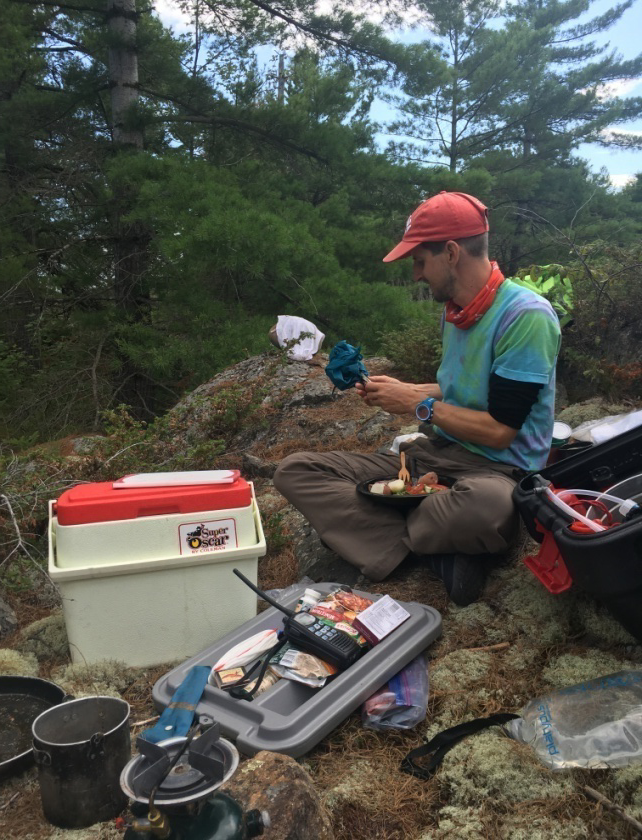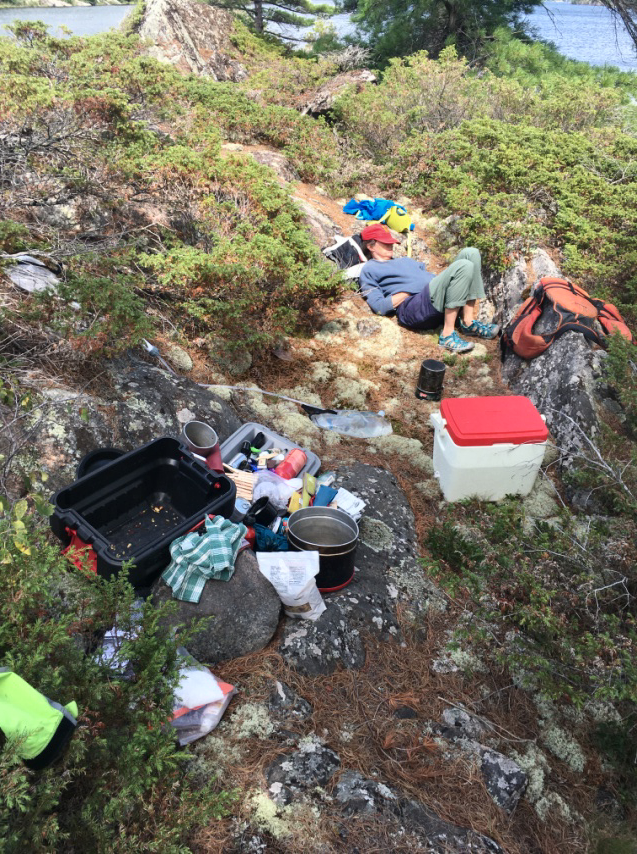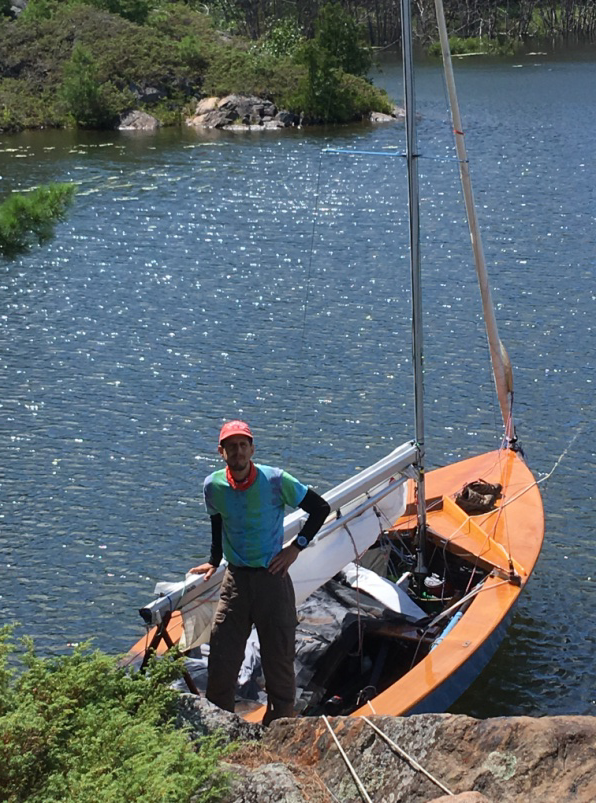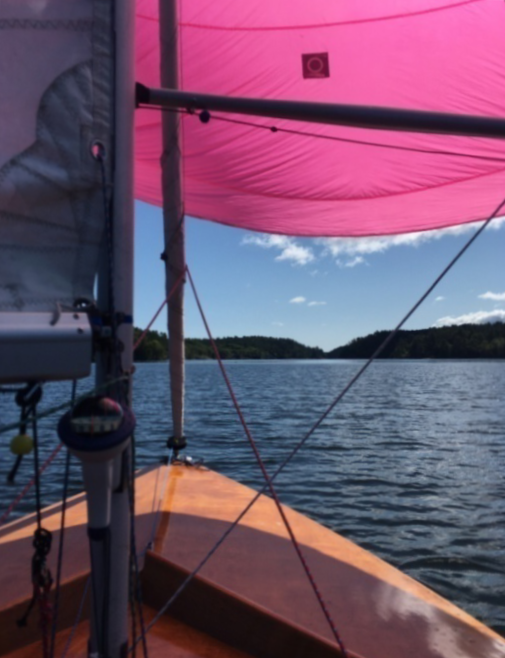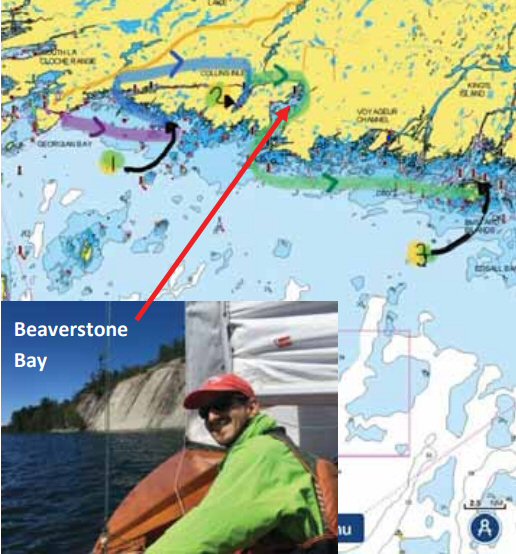 Thursday morning (day 3) we headed out with spinnaker and finished off the last 3 of 11 miles of Collins Inlet – a couple marinas on the chart looked quiet. There are still old pilings at Collins Inlet (the town). We wanted to make the Bustard Islands so we didn't dawdle – it was the last day for a good westerly so we wanted to take advantage of the wind. The last mile of the inlet was trying – burgee spinning and motor boats passing before we navigated out the shallows into Beaverstone Bay. It took about 2 hours to tack out of the bay. We then headed outside the Chickens, framed by Rooster Rock and Hen Island :) and practiced our dead reckoning, setting our watch for when to look out for the former - our speed estimate was off as we almost hit it – eek!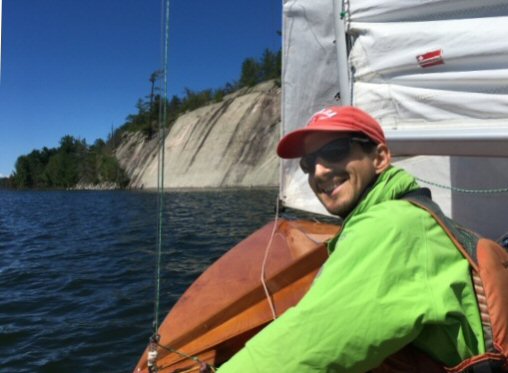 You could see the Killarney La Cloche mountains on the horizon behind us (above) as we bore away for the Bustard Islands, past Point Grondine and some French River outlets. We sighted down the Gun Barrel Channel about 4:30pm. As we looked for a spot to spend the night, we shot through a 'short-cut', a narrow channel to the east of Strawberry Island. A cruiser said to us, "Were you the sailboat we passed this morning in Collins Inlet?" I think they were impressed with our 23-mile day. We tucked into a small lagoon and set up camp.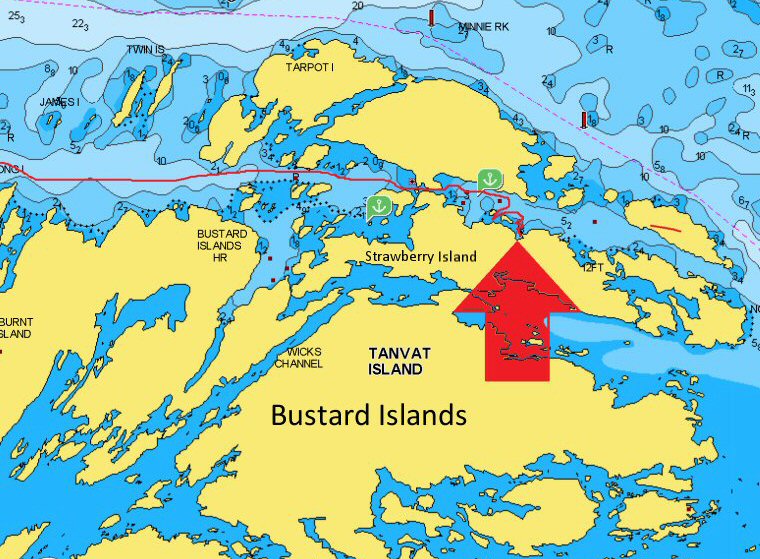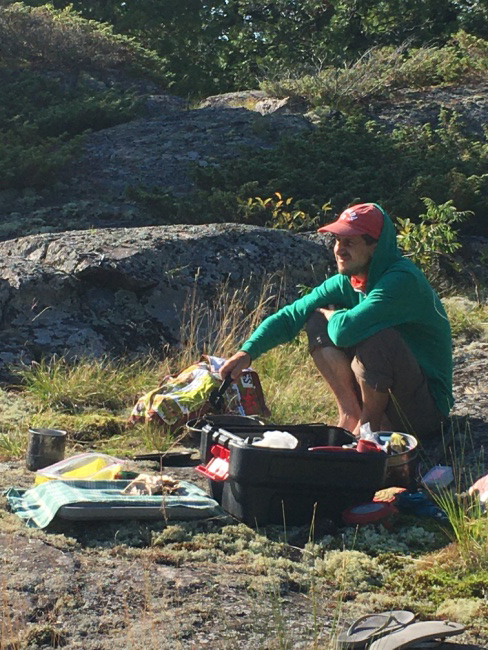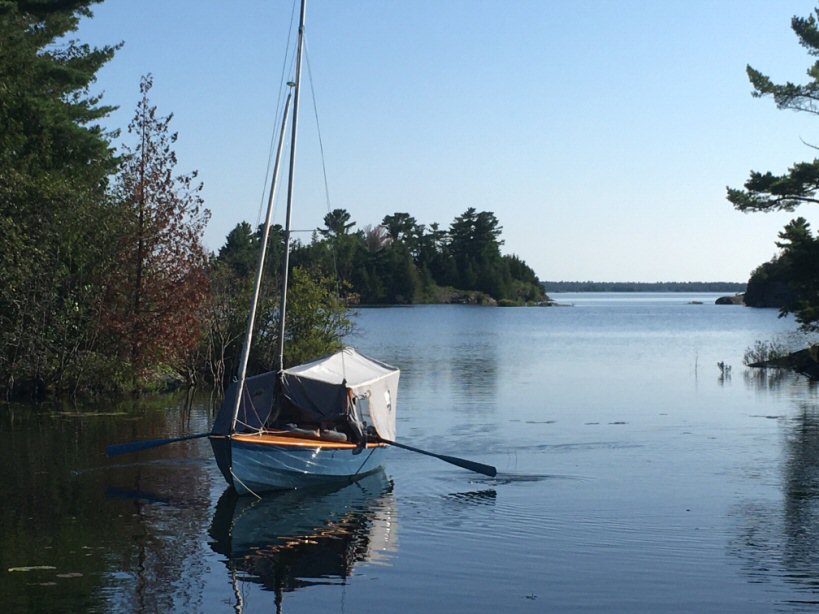 In case one wished to shift location, we discovered that the oar locks line up with the boom tent windows. Sue did a test row around the anchorage.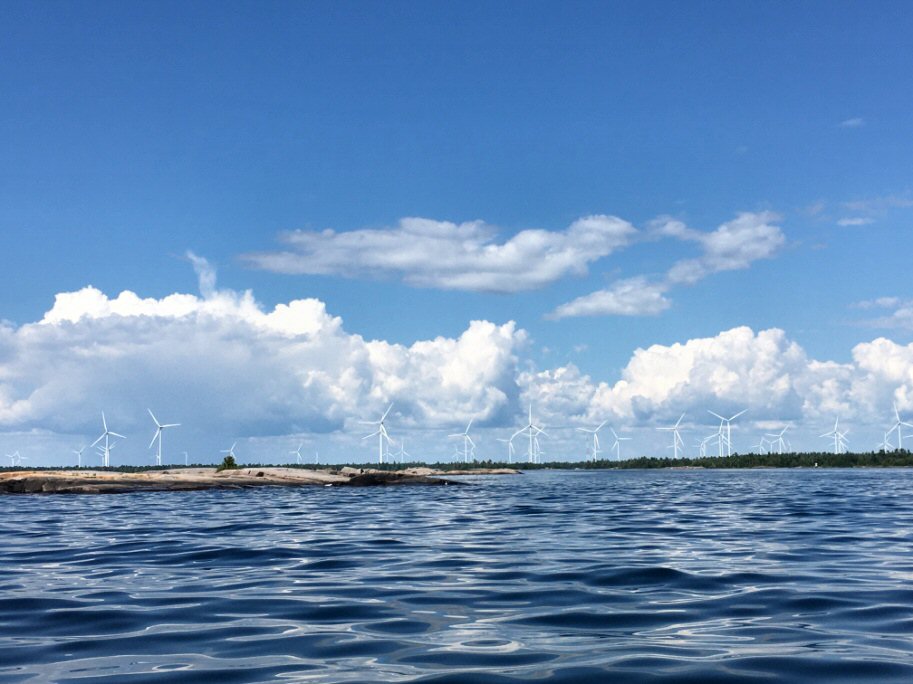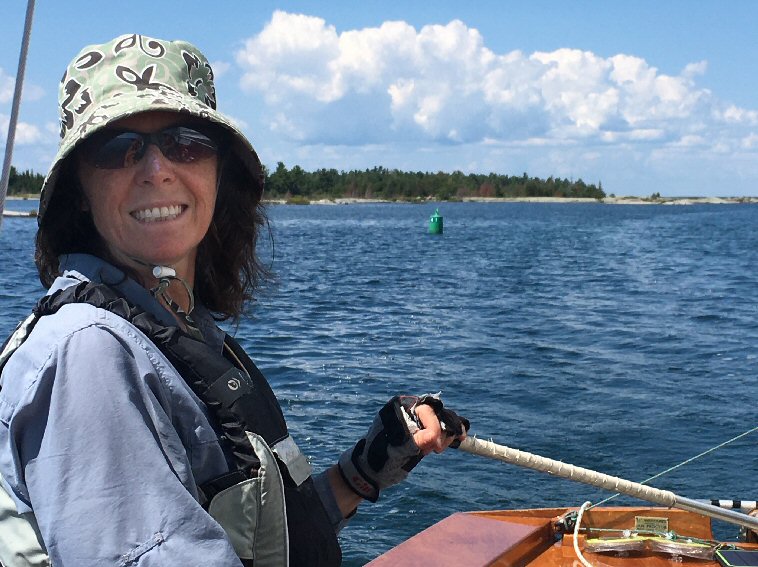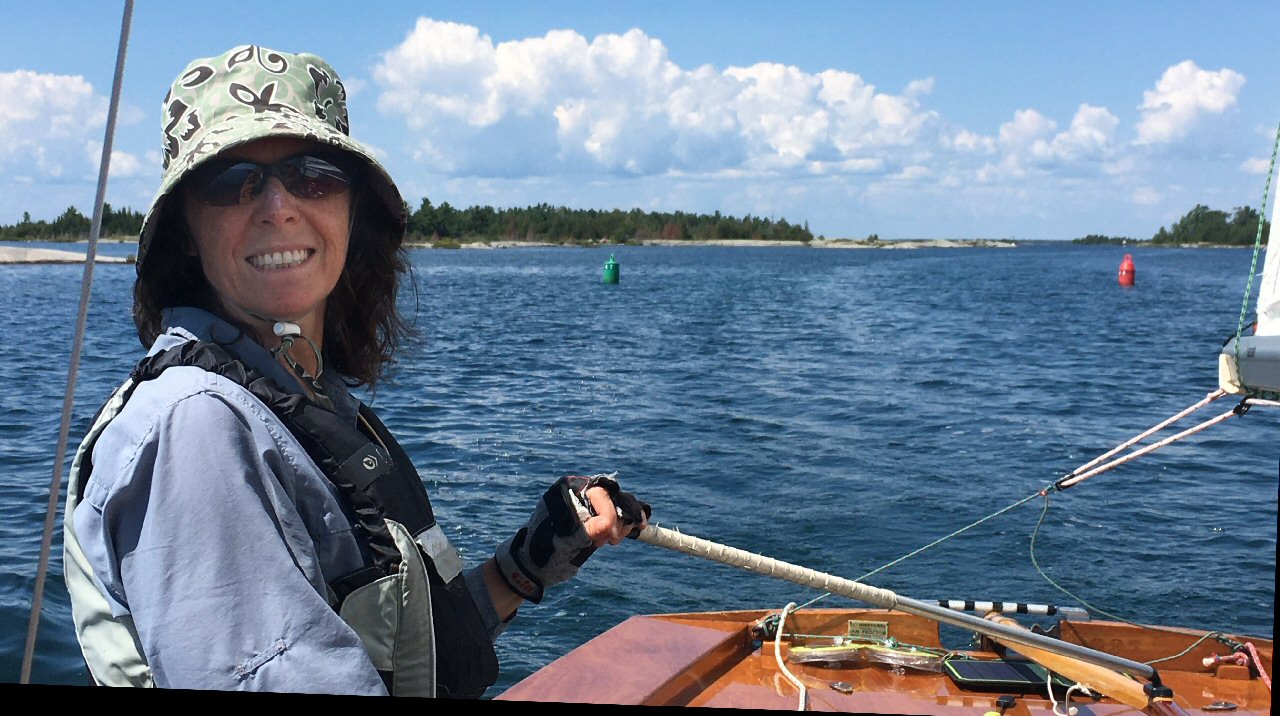 Friday morning (day 4), we reached out towards Key River in the top right-hand corner of Georgian Bay and passed the burned mainland from the Parry Sound 33 fire last summer and marvelled at the Henvey Inlet wind farm project (above). You'd think that being on a long tack like that would give an opportunity to stop navigating and read or work on the cruise log, but we almost ended up going south of Dead Island into shoals. We headed north in the light southerly just in time and reunited with the small craft channel. This long day brought us all the way into Byng Inlet.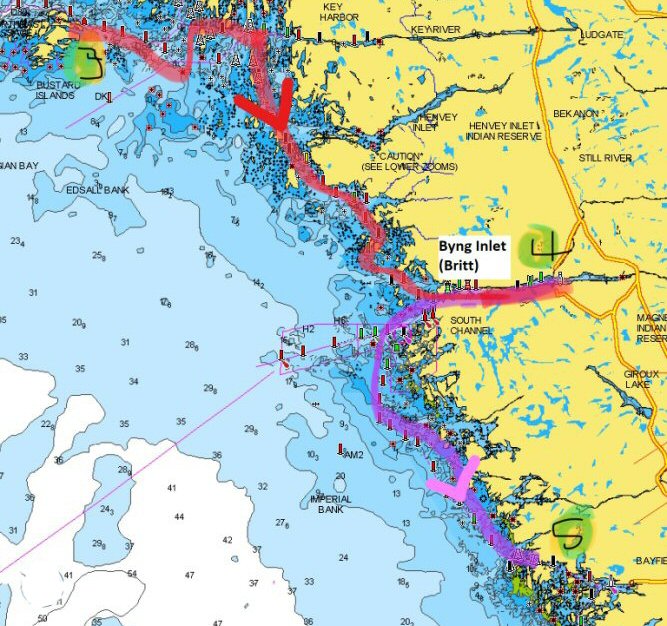 We were running up the inlet to overnight at the public dock when, all of a sudden, a voice called from a dock, "Get over here – it's about time you showed up!"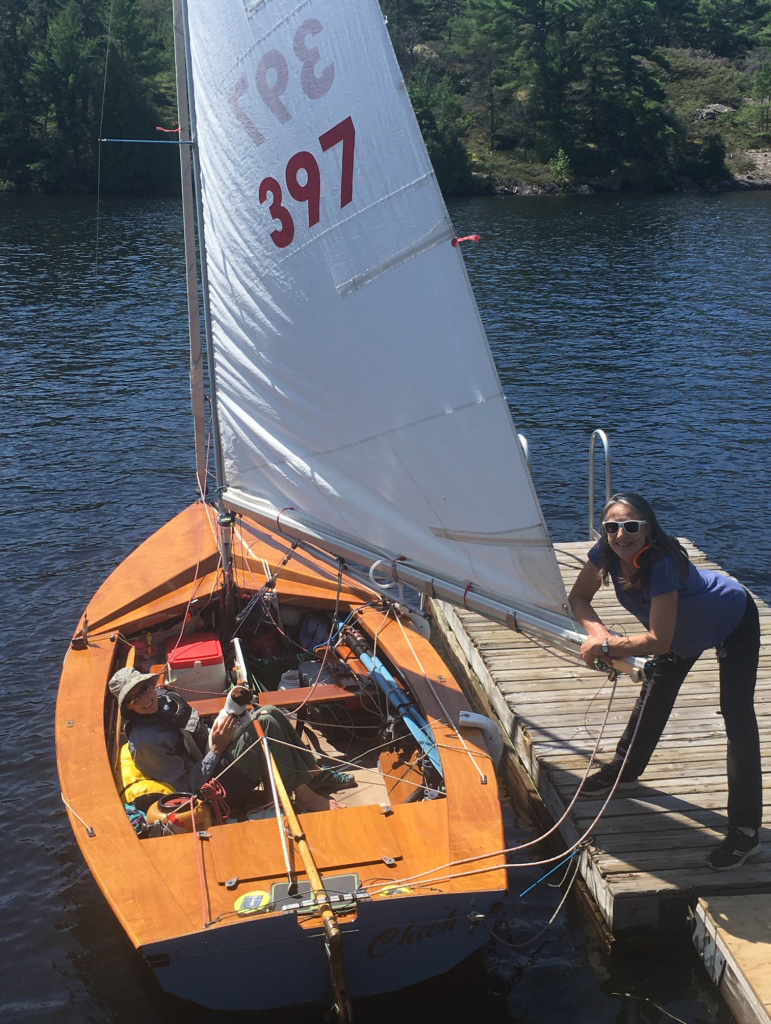 It was our friend, Karen
(above)
! We had a standing invite but had not known where she lived. In a great visit with Karen, we shared a beer and
got spoiled with a bed, private quarters, pizza, pie and and her delightful dog, Reggie
(above)
. (Al's note: the dog reminds me of
a truly fine joke
.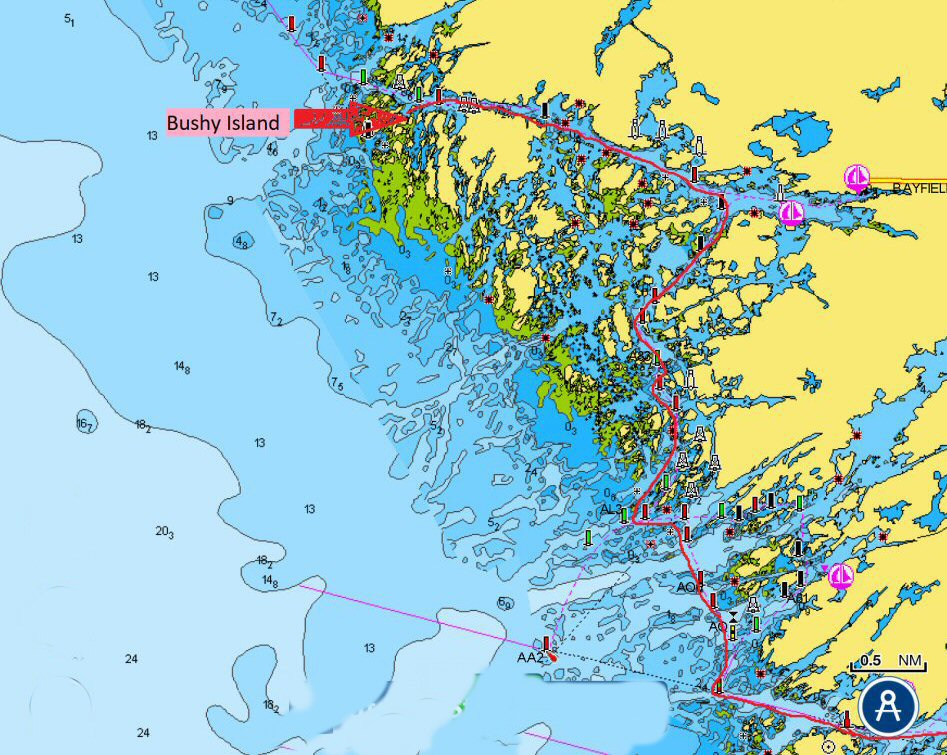 Britt was supposed to be the end point of our cruise. But Sue was even more eager to sail all the way to Parry Sound's Killbear Park, just like her father had done in 1979, now that these last two big sailing days had put that goal well within reach. After borrowing a second anchor (which works better than a basket of rocks), we set off for Bayfield Inlet at noon Saturday (day 5). After tacking out of Byng Inlet, we headed south on a close reach in a light southwesterly most of the day, but some tight channels were dead upwind work. We survived Roger's Gut but went out around Cunningham's Channel and danced around some shoals. As we entered Bayfield Inlet, we tucked into Bushy Island's lee for the night. We had fun exploring the rocks and found an abandoned hunt camp.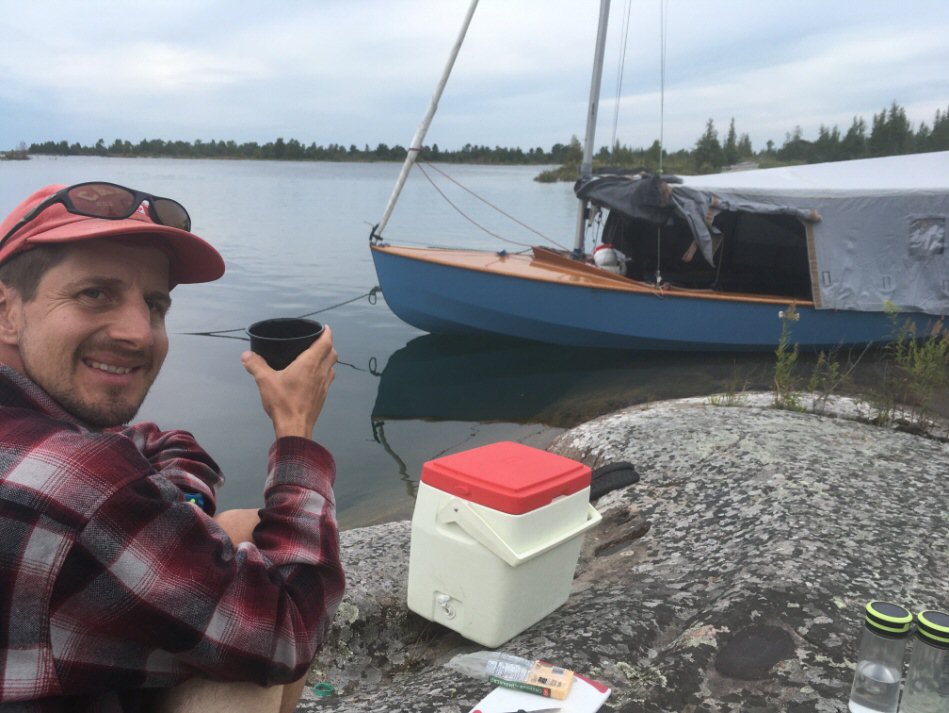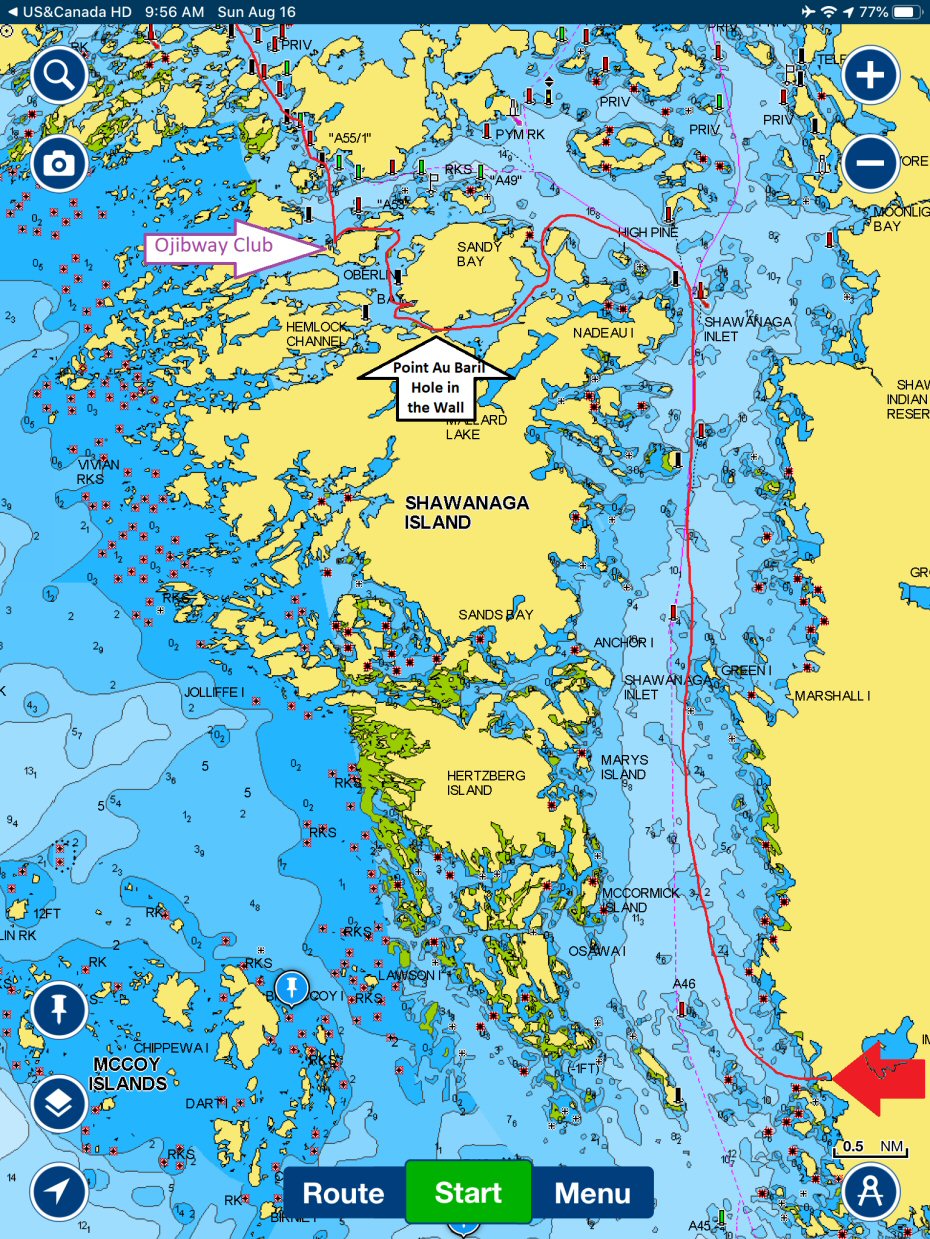 Sunday (day 5): The small craft channel leads into and then out of Bayfield Inlet where we saw the shoals that had protected us from the breaking waves and lulled us to sleep the previous night. A little unnerving tacking up through the narrow channel with churning shoals on all sides. Waves had built up as a south-westerly strengthened overnight. As we passed Point Au Baril (the point with its lighthouse - the town is Point Au Baril Station), we noticed a barrel up on a post (below) and laughed at the pun, but failed to read the sign that went with it and now we're curious what it says. The lighthouse and a tower behind it set up the range for the approach. We lunched at the Ojibway Club, a massive 114-year-old hotel!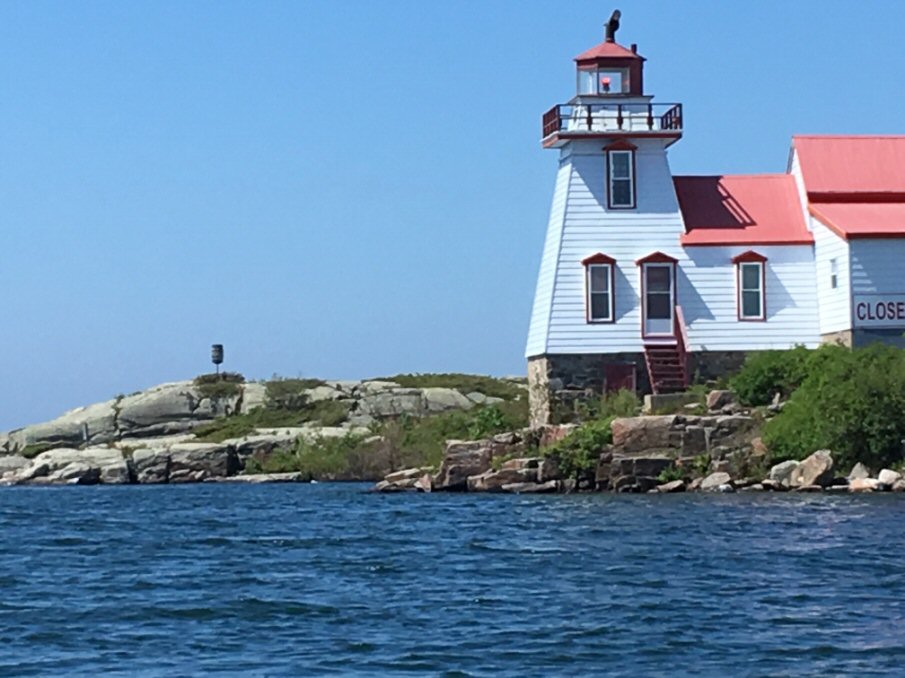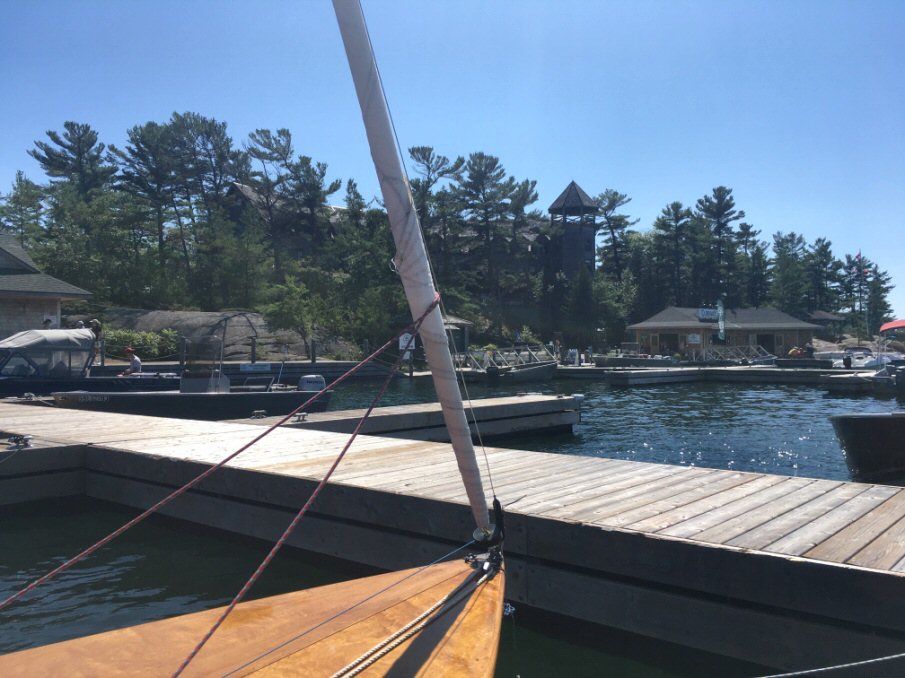 The posh Ojibway Club boasts tennis courts, restaurant, store, gift shop, gas dock, and more!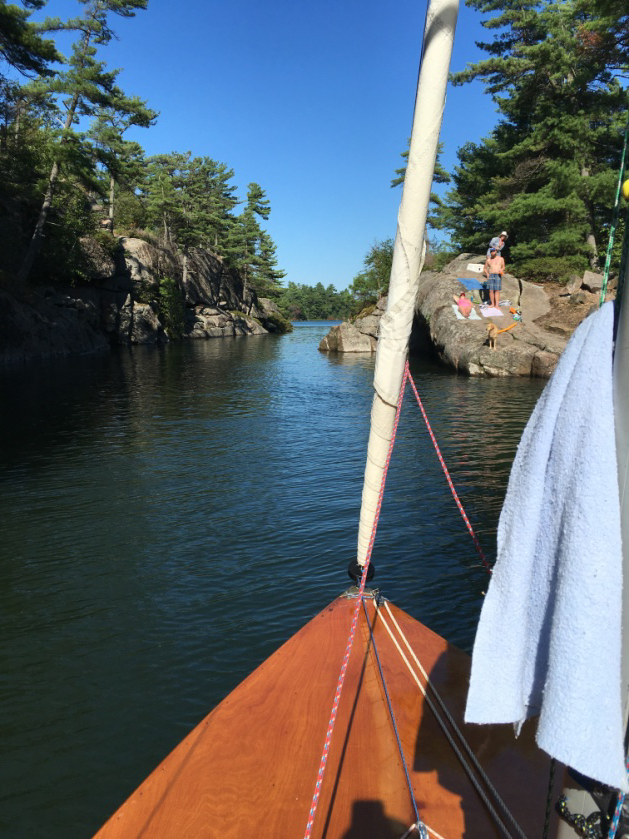 We decided to risk the doldrums south of Ojibway Island
so that we could go through the Point Au Baril version of the Hole in the Wall.
A kid jumped off the 40-foot cliff just as we passed and the friendly dog on the cliff in the photo nearly jumped into our boat!

The wind continued to decline so we were unsure if we'd make Franklin Island that night. It was funny seeing the ETA on Navionics skyrocket to after midnight in a lull.
We made use of our iHunter Crown Land App and found a spot on the mainland coast in a small bay Sunday night (arrow below).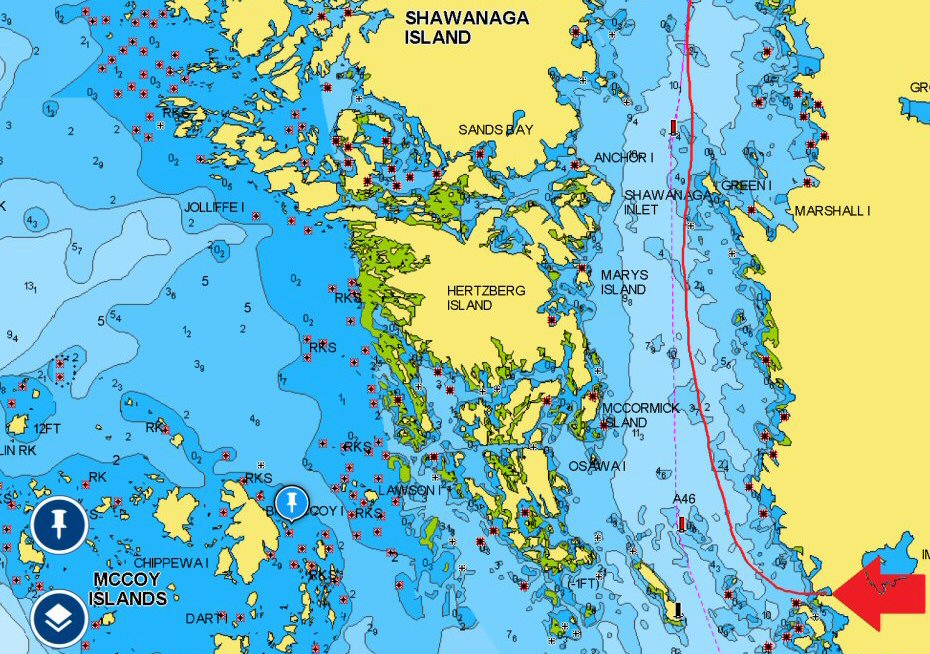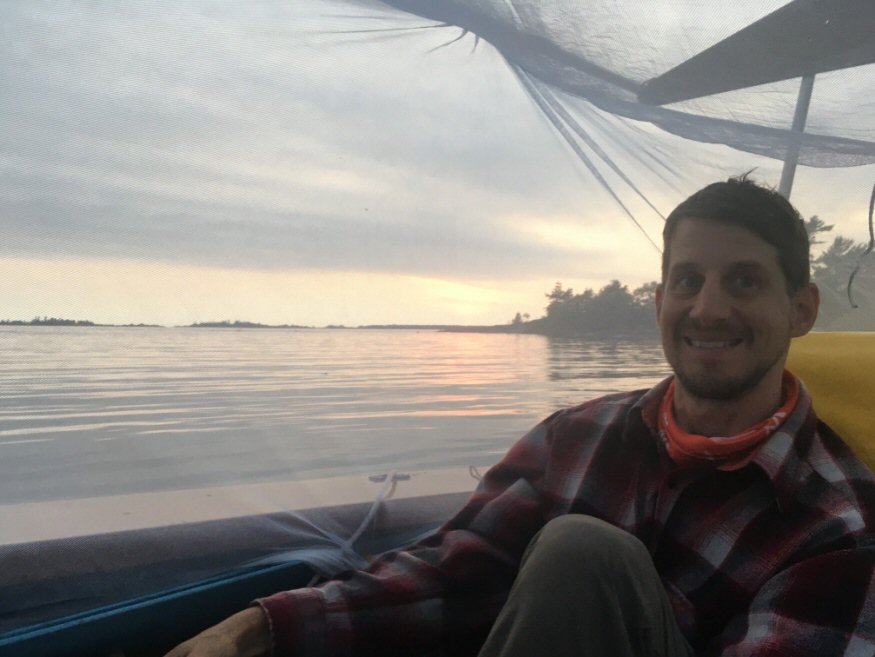 Will this be a mistake? You can see the look of doubt on Steph's face as dusk looms. The idea was to sleep out with just a bug net
under the stars to see the Perseid meteor shower - big mistake! Mosquitoes had us for dinner from dusk to past 11pm.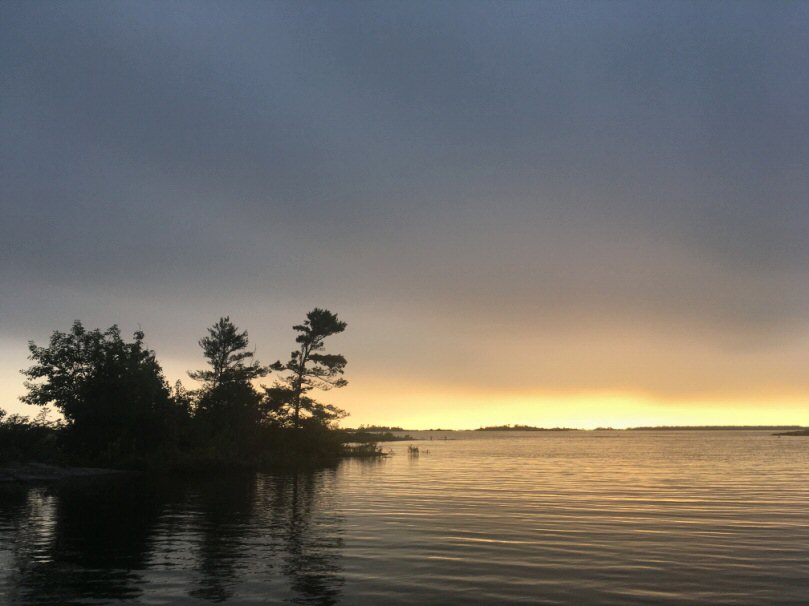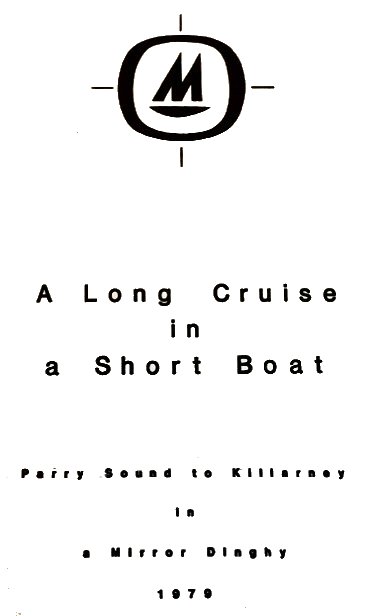 Our experiences with mozzies and Shawanaga Bay were eerily similar to those from the 1979 Mirror cruise from Parry Sound to Killarney. Below is a part of
their log that was published in
GAM Magazine
back in the day. We also have the
full log
for those with a thirst for more reading about that 1979 cruise.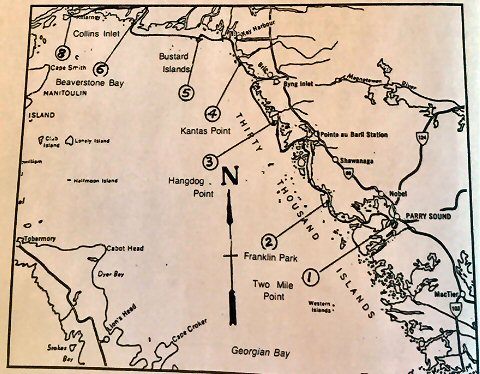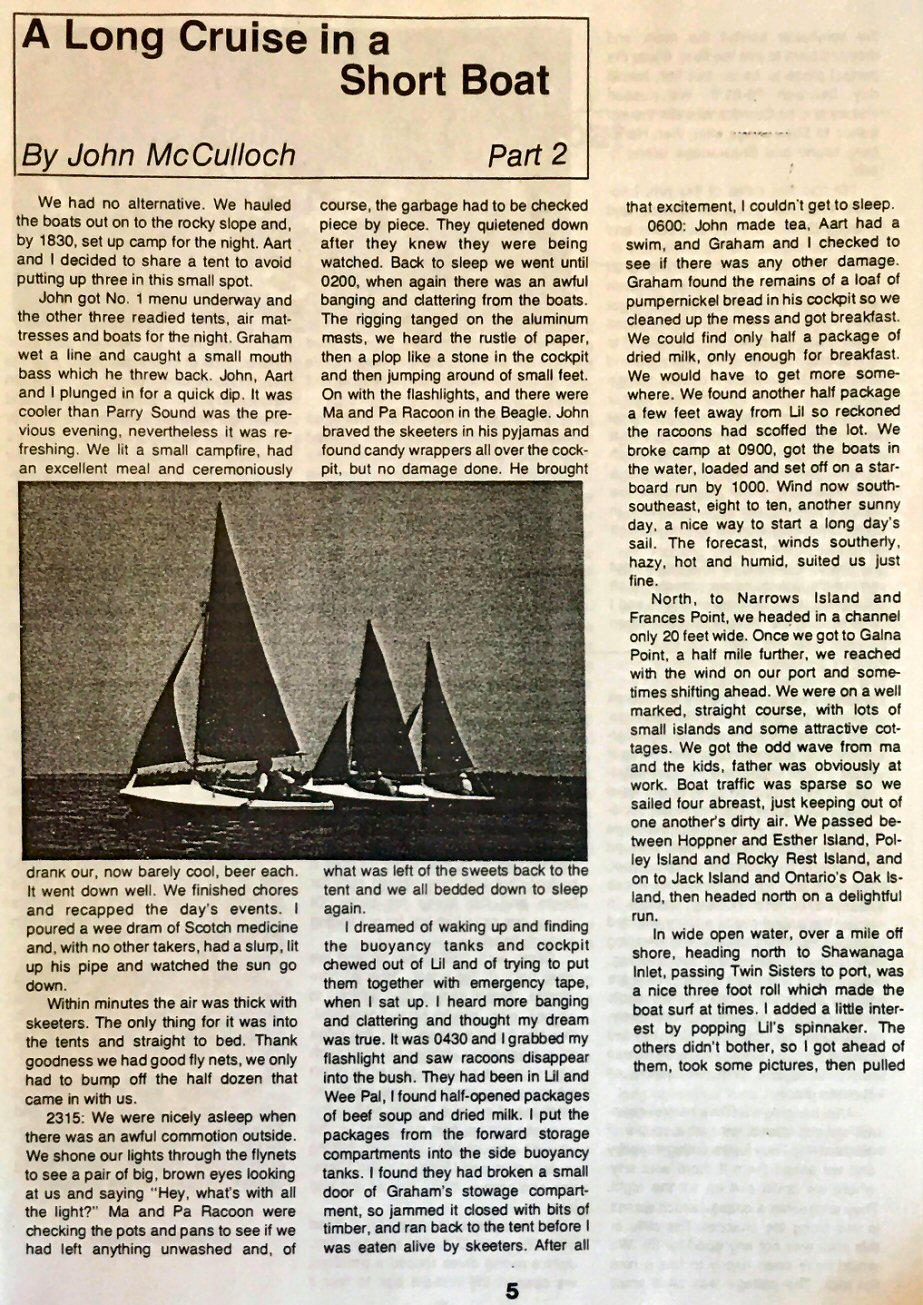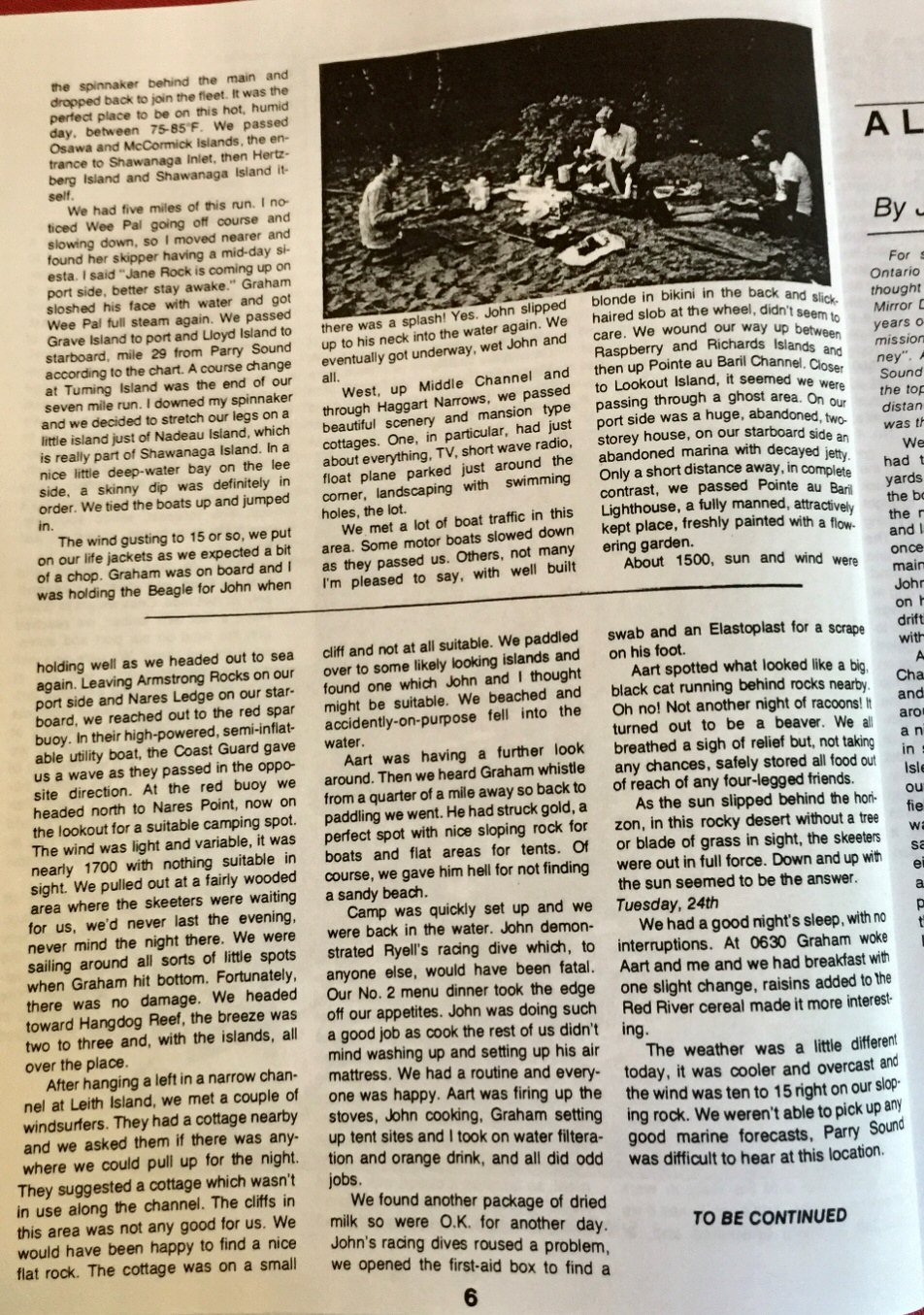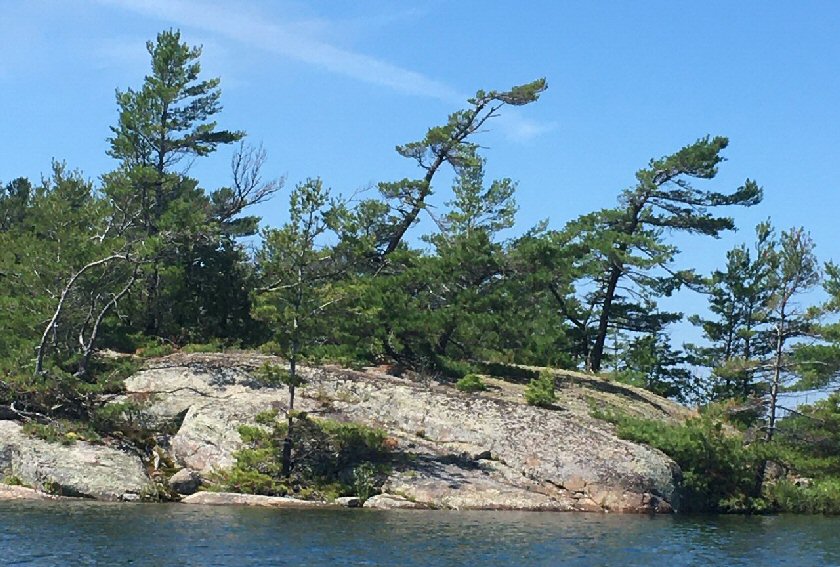 Suffice it to say, we needed to take it easy the next day (Monday, day 6), so we sailed only seven more miles to the planned destination on Franklin Island
(above)
.
We entered the large bay behind Windsor rock, over a shoal (don't ask), and into a nice little spot off the large bay
(below)
.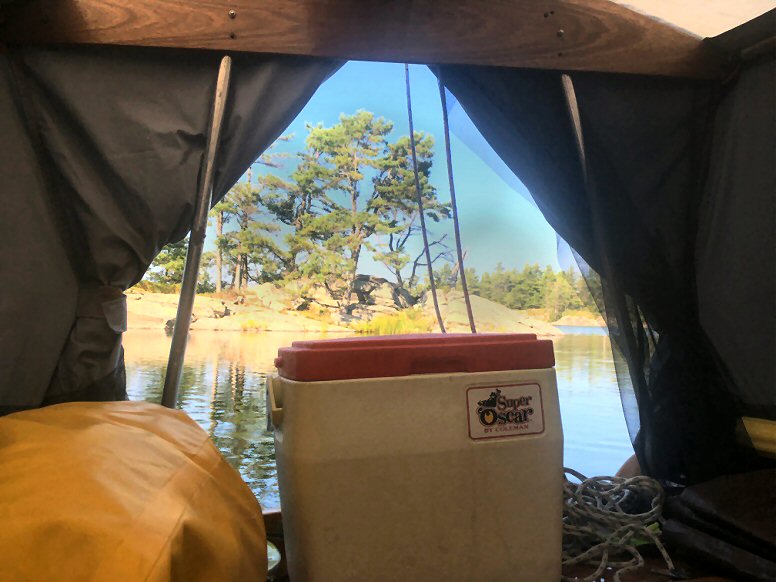 The day and a half of sewing a bug screen into our boom tent was well worth it on this cruise to keep us bite free as long as we set it up at the right time. It also managed to keep that insane downpour of 3" in three hours out that night – it wouldn't stop the three lightning bolts that landed bone-shakingly close though. We could see the clouds approaching (below) as we ate the only freeze-dried meal of the trip – we brought five! Lol.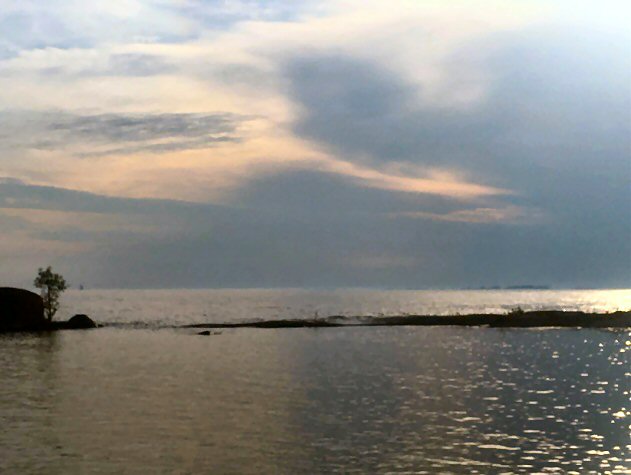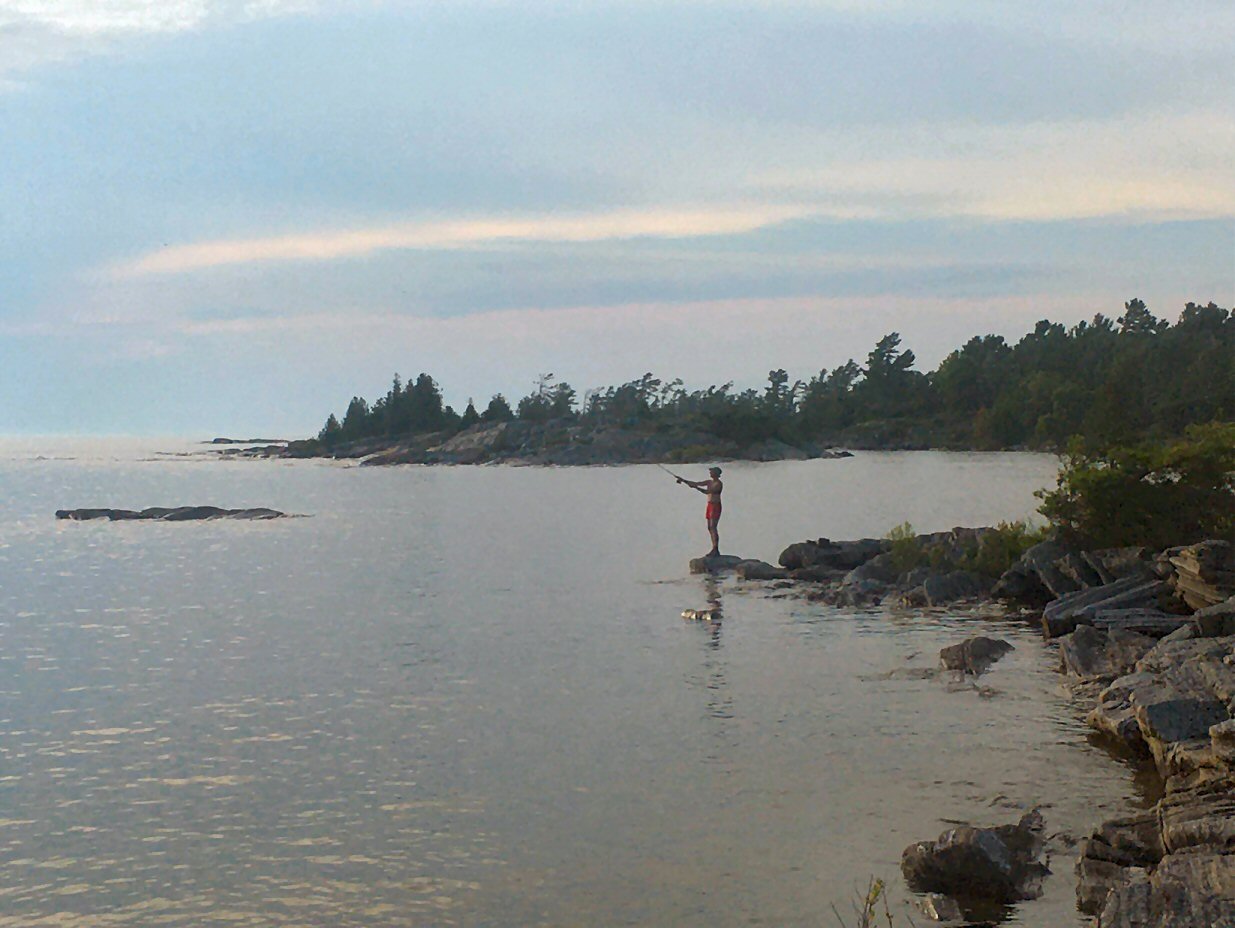 Early arrival at Franklin Island allowed for the vacation we had envisioned: we relaxed, did some reading
and we even got the fishing gear out – Sue caught a 6" bass on first cast... we released it.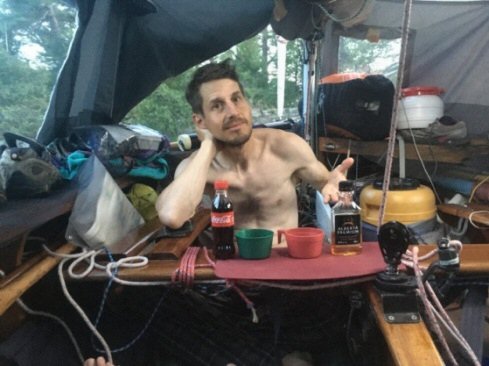 Care for a drink from our bar?
It was pretty darn cool that only one rock outcrop was separating us from the open bay looking west.
We even dug out the snorkeling gear on Tuesday morning (day 7) to swim around our little island.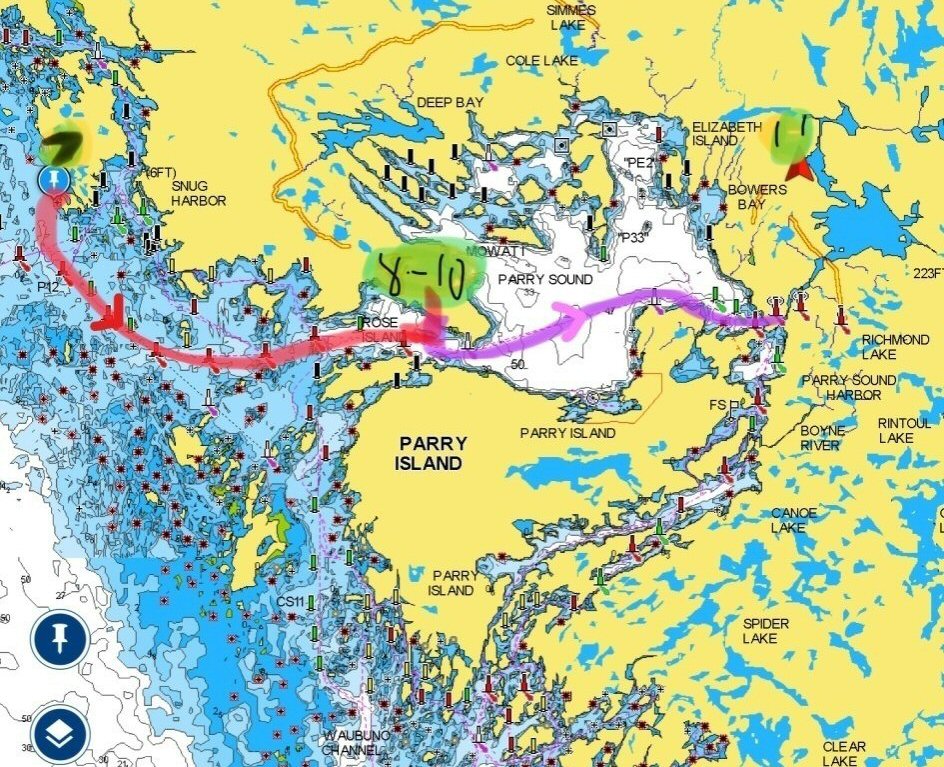 After snorkelling, we packed up and headed out of our sheltered anchorage into strong north-westerlies – this was a little hairy tacking through a small opening with shoals everywhere. Why oh why did we try to sail a Wayfarer upwind jib only with the rudder kicked up? We luckily avoided shoals as we bailed 180⁰, but made it out with only a reefed main. Our next channel was dead downwind in a good 15-knot blow, surfing the waves to Killbear Provincial Park – a bit too exciting! We felt more comfortable with the inflatable head of the mainsail to keep us from turtling if we'd capsized. The Aero Luffspar jib furling and reef also gave us the ability to lessen our sail area. Thanks, Ralph Roberts!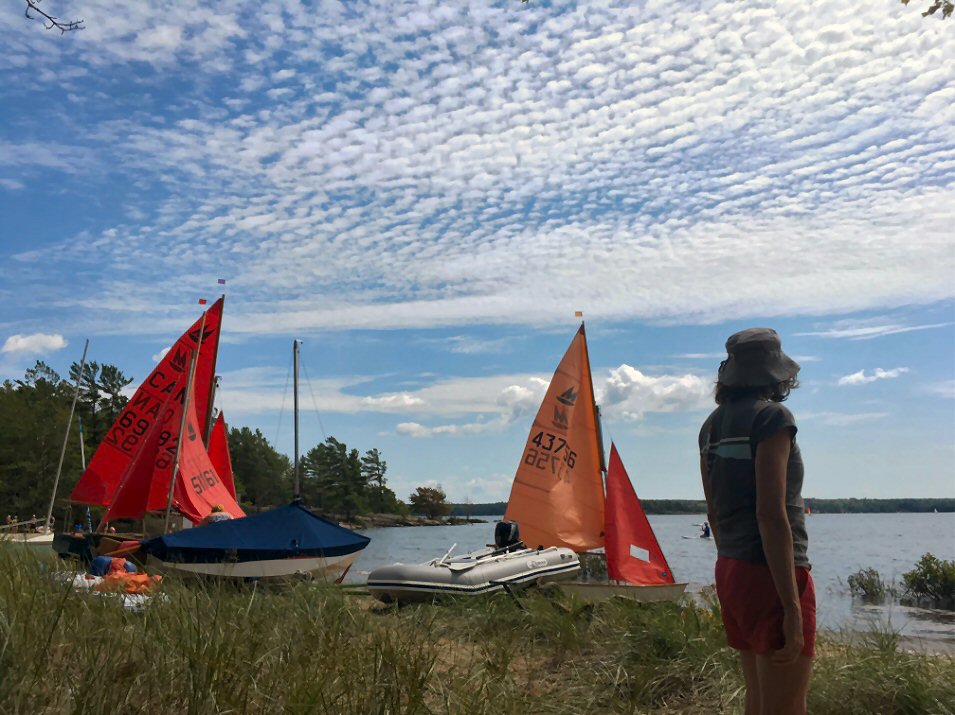 One week to the hour after leaving Killarney, we arrived at Killbear's Harold Point where our inspiration had begun and our voyage now ended.
We spent the next 3 days hanging out with the Mirror crowd that Sue grew up with. They still gather annually.
There were once 35 Mirrors lined up on this beach – now sadly only four …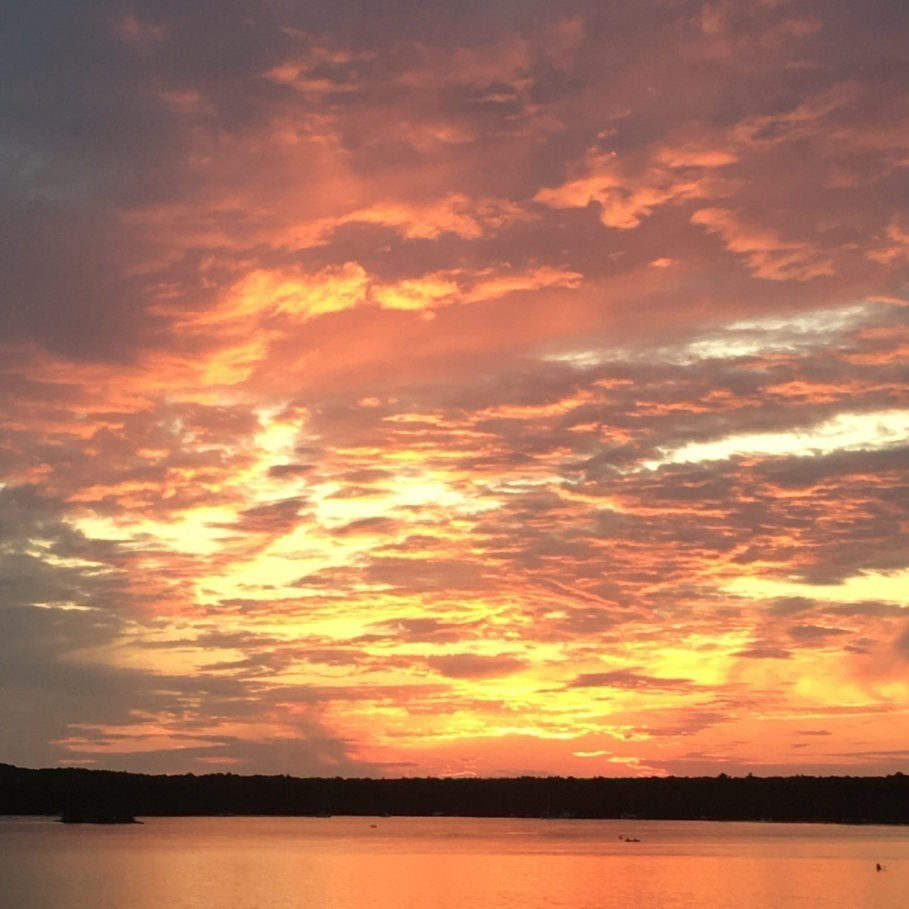 We took in one last Diving Rocks sunset before Sue made the solo sail/row back to Parry Sound the next day.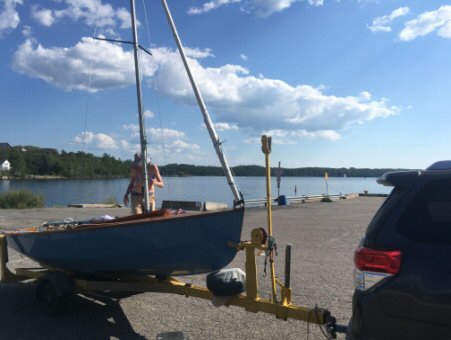 Steph had retrieved the truck and trailer from Killarney with a ride from his mother and step-father, who had been house-sitting.
Sue had a long sail in light air and upwind – and she finally got to use those oars we carted all the way down the bay from Killarney.

THE END

... or maybe we should try it in the Mirror?