I am not afraid of danger, I have knocked on danger's door and run away.
the Goon Show.
This story is dedicated to my wife, Marijane, who has spent hours editing my many rewrites.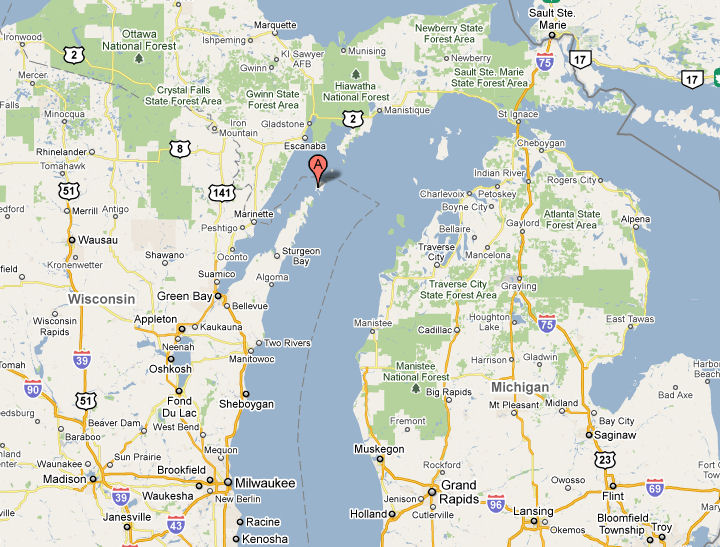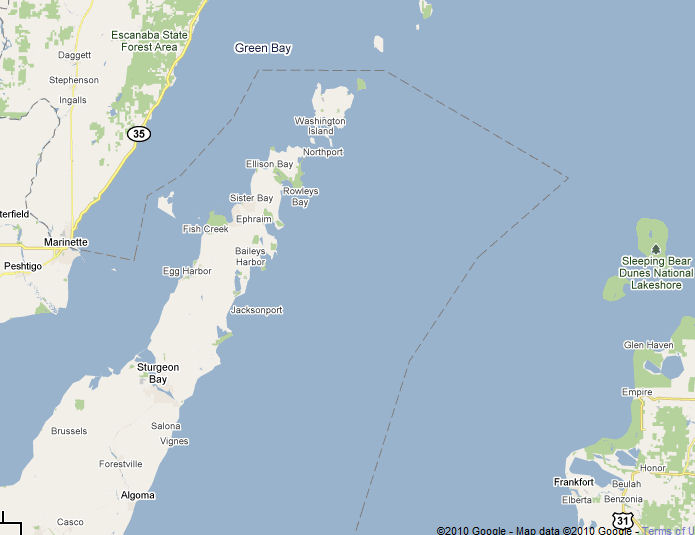 Wisconsin has a thumb that sticks out into Lake Michigan; it's called the Door Peninsula. Then there's Washington Island, and lastly Rock Island. The gap between the mainland and Washington Island is called "Porte des Morts" or the Doors of Death. French legends say a war party of hundreds of Indians lost their lives in this channel due to a sudden storm crashing them onto Plum Island which lies in the center of the passage. Four of us - Ian Coxhead (W7923), his daughter, Aiki, my son, Rob and I (W3445) - planned to sail out from the peninsula, bypassing Death's Door, around the NW side of Washington Island, then sail south-easterly to Rock Island State Park. This was the shortest and safest route possible. The passage would still be around 15 nautical miles (NM).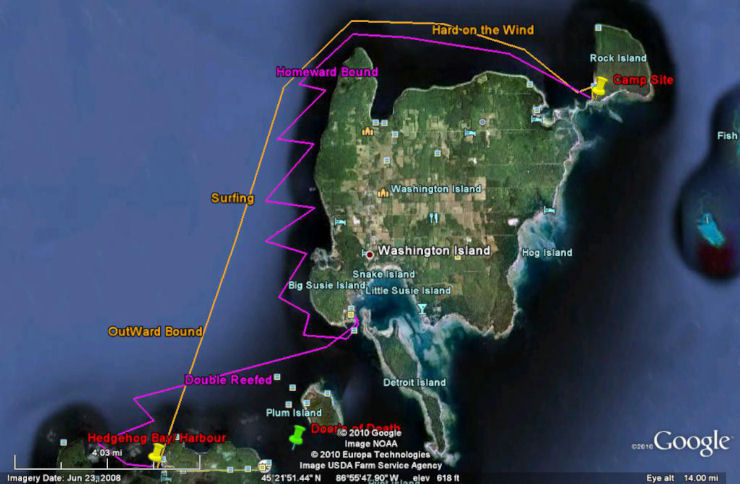 Approximate track of our journey. (Not taken from GPS unit.)

- click

here

for larger image
Friday afternoon, Ian and Aiki loaded up
Bindlestiff
(American slang misusing German, meaning a hobo or wayfarer) and took off. Later, Rob and I took W3445 and left Madison, WI. The four of us arrived after dark at Peninsula State Park just minutes apart despite leaving at different times, and traveling separately. But the advantage went to Ian and Aiki who had stopped for a real meal on the way up. Ian had reserved a site which we found, and then set up camp in the dark. I asked Rob if he knew where we had been 20 years ago to the day. I reminded him that we were camping at Sleeping Bear Dunes, on the other side of Lake Michigan telling stories about "The Stupids". The main reason I could remember this is that the 27th of August is my birthday. Everyone then responded by wishing me a happy birthday. There was a little time to see the full moon shining on the Nicolet Bay and the anchored boats, and then it was off to bed for everyone.
On Saturday we tried to find a place to launch at the Washington Island Car Ferry dock, but there was none. Back on Wisconsin Highway 42 we went to a boat ramp just north of Harbor House Inn, and south of the People Ferry to Washington Island. Here we were allowed to launch and leave our car and trailer for the weekend. The little harbor's tightness and wind direction required either rowing or really good sailing to get out into Hedgehog Harbor (which is more a large bay than a harbor).

Ian and Aiki went out under sail and then sailed about waiting for Rob and me. We had opted to row out and then put up sails which actually took more time. Both boats had a comfort reef in (about 7.5% of sail area), as the weather forecast was promising 15 mph winds gusting to 20, and 2- to 3-foot waves. As we sailed north along the very hazy shore of the Door Peninsula, houses gave way to high limestone cliffs and a narrow white rock shore. We were moving along smartly thru one-foot waves.

Where the Door Peninsula rounds off to the southeast, the full force of the wind coming up Lake Michigan pushed through Death's Door. At the same time we were becoming more exposed to the waves running up Green Bay. Things were looking brighter as the haze was burning off and we were blessed with blue skies and a bright sun. Soon there were waves coming together from Death's Door and Green Bay. This made for some lumpy but not uncomfortable waves. Around this time I got clumsy, caught a wave or the wind wrong, and put the lee rail down to the water. Fortunately we did not have to pay for my misstep with a capsize or swamp and the boat righted itself.

Washington Island soon blocked the wind off Lake Michigan allowing only the wind and waves coming straight up Green Bay. Our broad reach turned into a run and the waves rolled along at 4 to 5 feet, a foot or two over the predictions. When the waves synched just right, Ian and Aiki surfed away at 9 knots. Then the waves would slow
Bindlestiff
, and we would surf back up to them. This yo-yo surfing lasted along most of the the NW side of Washington Island. You can see in the attached picture that the waves could hide one boat's hull from the view of the other sailors.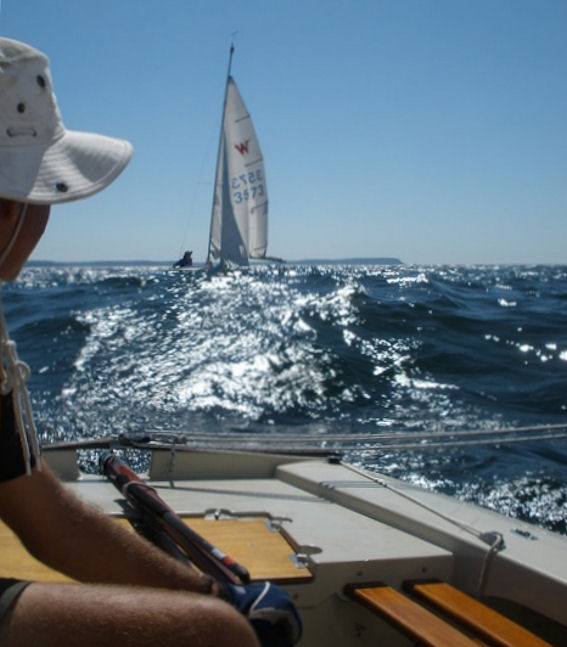 Aiki takes a photo of us behind a wave.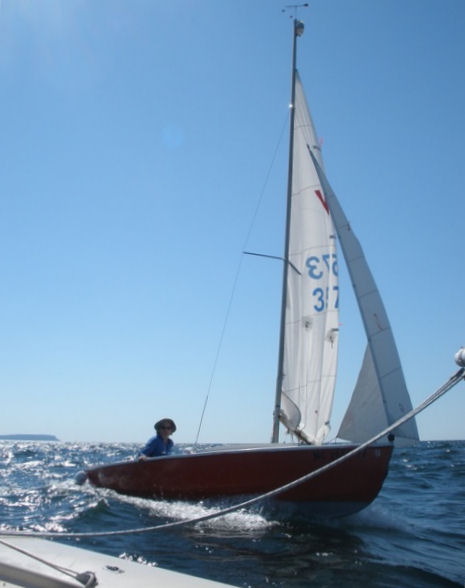 Surfing off a wave.
These are the only two photos taken when the wind and waves
were at full strength. Note my baggy mainsail. Naughty sailor boy!
As we closed with the corner of Washington Island, it blocked the wind and we slowed down. Around the corner, the wind seemed to be dying and we were just barely moving along.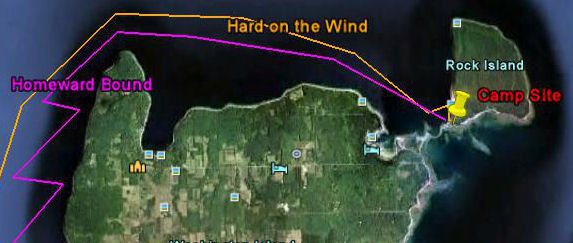 Ian suggested we sail into the beach and along the coast. The sailing was slow, so I headed away from shore and more directly towards Rock Island. Soon afterwards, the winds picked up quickly and were definitely above 15 mph, and weather records showed 20 mph plus winds. We were now pointing high for Rock Island and luffing to keep the boats flat. As the wind repeatedly filled and emptied his sails, it caused too much stress at the battens and they tore the sail, which required sail tape to repair later. Ian said, "I have learned that there is nothing quite like looking downwind at the horizon across a heeling boat with rips in the sail to tell you that you need two sets of reefing points before taking on the Great Lakes." Both our sails were older and softer which may have contributed to the bagging problem. It helps to use the cunningham and outhaul tension to flatten and smooth the sails, without overtightening them. Smooth sails would have made for a more comfortable sail upwind. I could have tacked to lead us back towards Washington Island, and a wind shadow, but was reluctant to do so. We thereby avoided lower wind speeds and easier sailing. (For more information on sail shape, click
here
)
By keeping a tight tack, we made the harbor on Rock Island. Coming around into the harbor put the wind to our backs. Our speed increased but our docking skills did not. The sailors anchored there helped us out, but they were not impressed by our lack of skill. Part of my problem was that I had raised the centerboard so the boat did not round up the way I wanted it to.

Rock Island is a state park with no cars or roads. It does have a magnificent boathouse in which you can tie up and spend the night for free. The park only charges for the outside slips and campsites! The sunlight is bent by the water into the interior of the boathouse making it glow. That included the water and the ceiling! It's hard to believe this was built not by some rich dude but by the Civilian Conservation Corps, a Roosevelt-era program! The upscale feel is everywhere, a paved main path out to the sites, free carts to haul your stuff, and each site isolated from the others. Unfortunately, we did not have the time to walk the park which is worth at least a day of exploring.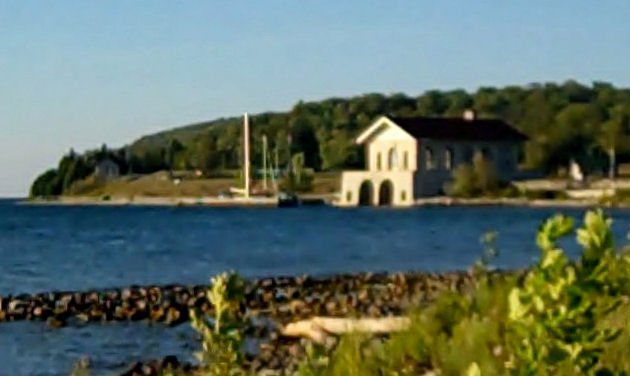 Rock Island Harbor and Boat House. (It's not fuzzy, it's the painterly effect!)
Ian had a camp site reserved, as this is a popular place. We checked in and walked down to the shore to check things out. Back at the harbor Ian and Aiki got a tow to the site. Rob and I started just a little later and were well underway by the time the Avon dinghy came back, so we declined a tow.
Bindlestiff
was in the little slip that campers had made by moving some limestone rocks. We had to do a little more rock gardening to improve the slip, and
Bindlestiff
was set for the night. (I can actually pick out the rock slip on Google Earth!)
On a previous solo cruise, I had hauled the Wayfarer up on land using some pulleys and a rope anchored on shore to pull the boat out of the water. So I opted to do this again. The shore was covered with flat limestone. However the accumulation of them was only sort of flat. So we had to move some stones and get out all four fenders for the job at hand. But this time my large anchor would not set or grab the flat rocks, so I tried sitting on it to hold it in place. My pulley system definitely needs a good anchor point, which I was not. I mostly sat there on the anchor and watched Ian, Aiki, and Rob pushing W3445 onto shore. That night our cove was protected from the winds and waves by the island so we could have anchored out. But that might not always be the case.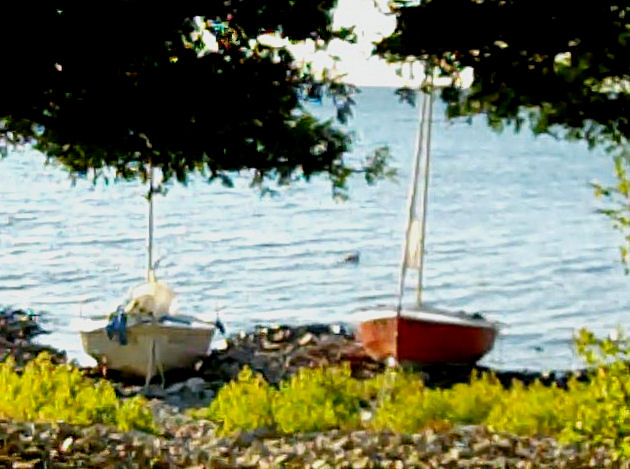 Bindlestiff
and W3445 safe for the night.
We had made good time, so there was lots of the bright sunshine left for us to unload and pitch tents. Ian had brought fresh fixings for Thai curry. Having lived in Thailand, he knew what he was doing. He used real coconut milk for the base. This curry did not include hot peppers, making it very mild and tasty. On the other hand, the fake chicken (soybean based) I made had a whole packet of red curry paste added. Almost more paste than chicken. It was at the other end of things, being unreasonably hot.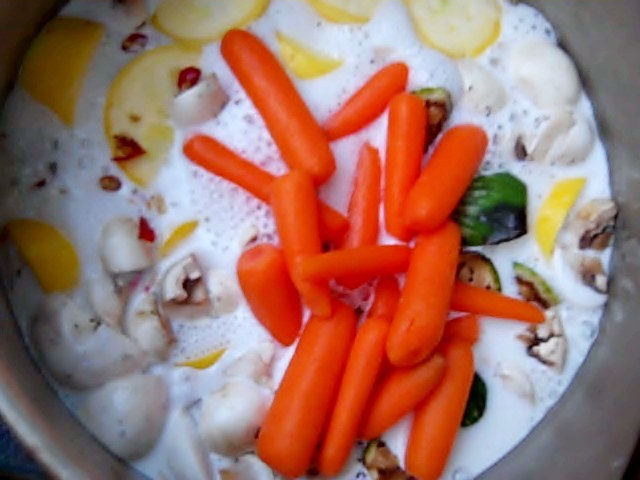 The coconut milk is slowing boiling and cooking the veggies, including Thai eggplant!
Our campsite was fairly flat. While the rocks were all flat limestone, they were just as hard as other rocks. You did not want one sitting higher then the rest, or you would feel it all night long. The fir trees gave the site a very close and private feel. Past winds had bent the trees a few feet off the ground making for some nice seats.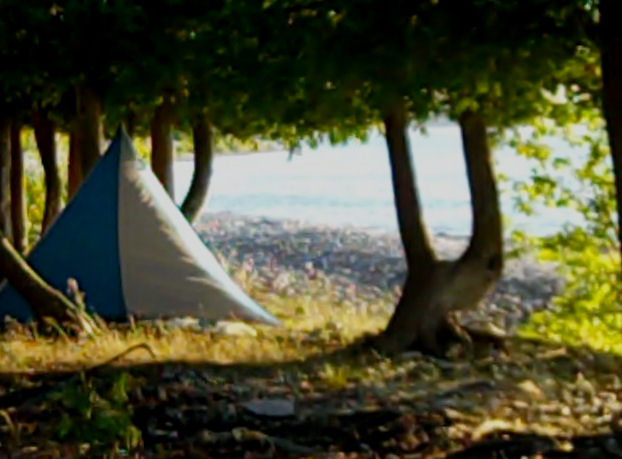 My old pyramid tent that's gotten around.
After camp was set for the night, Ian looked at his mainsail. It was badly torn around the inside end of the battens. He thought about trying to sew up the ripped cloth, and there was a whole lot of sewing to do. He had a small sewing kit, but neither of us had sewn up sails before. After thinking and looking at it a while, Ian put spinnaker tape on all the ripped area. The next day he left the battens out and fortunately, the tape held things together. I have since learned a little about repairs and need to do some practice sewing on my old sails so I am better prepared for emergencies. I would recommend reading
The Sailmaker's Apprentice
by Emiliano Marino. Next time I will bring the spinnaker tape, heavier sail repair tape, and a proper sailor's palm, thread and needle. The rest of the evening passed with pleasant talk and short walks to the south beach for the view of Lake Michigan.
Sunday morning we had breakfast, cleaned up camp and loaded the Wayfarers. The VHF predicted southerly winds from 15 to 20 mph. We all decided that we should start right away. The wind gave us a nice steady ride on a broad reach. Washington Island kept the waves down, and it was a blissful sunny sail. Just absolute perfection. As we turned the corner around Washington Island, the wind slowly picked up to 20 mph or more.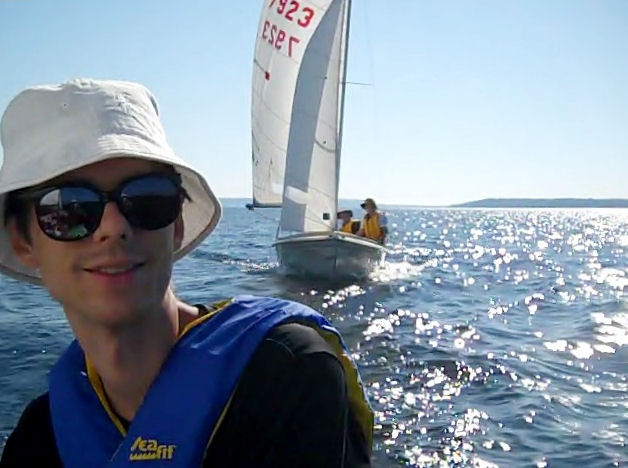 Rob helming during our perfect conditions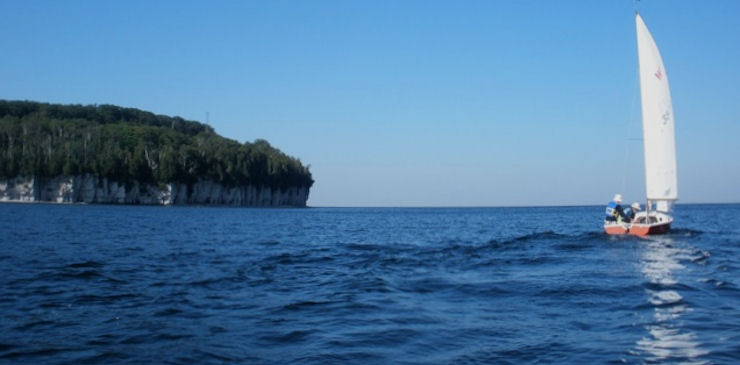 Rounding the NE corner of Washington Island, before things picked up.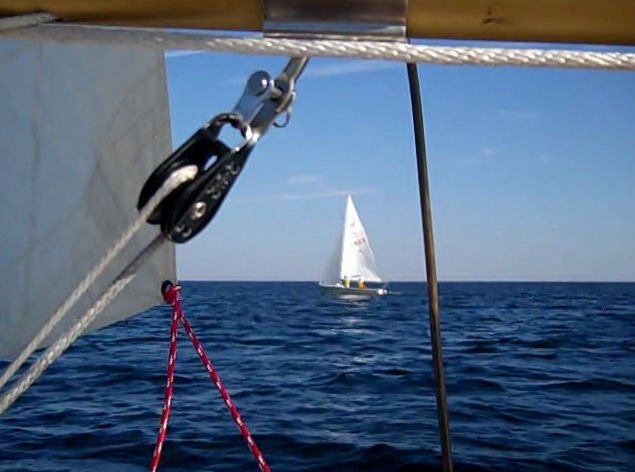 Bindlestiff
as the wind is just starting to pick up.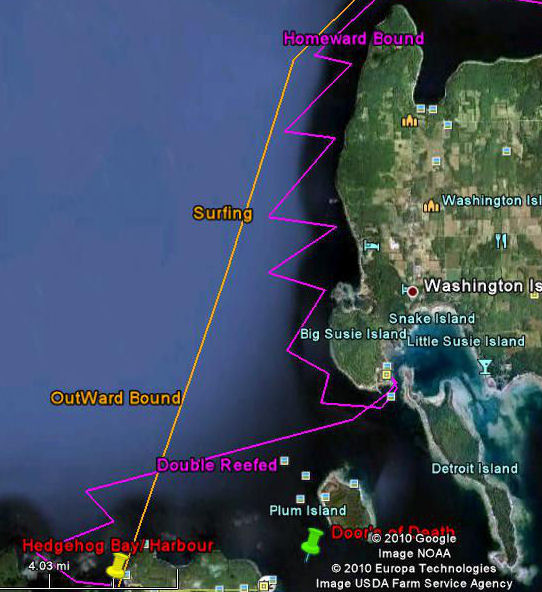 As we sailed down the northwest coast of Washington Island, the wind continued to come steadily up Green Bay. We could sail a long closehauled port tack which felt like it would take us right to the outside edge of Hedgehog Harbor. That is if we just had the guts to hold our line and take on the waves. And before starting, we had agreed not to get out into the wind and waves too far. When the waves started to build, we would look back to see how Ian and Aiki were doing. We would see Aiki pointing to land, so we would tack back in. The starboard tack would take us almost directly towards the land, and out we would go again. Until that is, Aiki pointed to land. After we landed, we teased her about this. Turns out she had not been pointing anywhere! We were just reading into her having a good time what we expected to see. Once the journey was over I checked the GPS tracks and did a rough estimate of where we would have been without tacking. We would have been at least 7 NM from the nearest land. Not a good place to be with 20 mph winds plus gusts and waves at their full strength. I am glad for Aiki's pointing hand, even if she was just goofing around.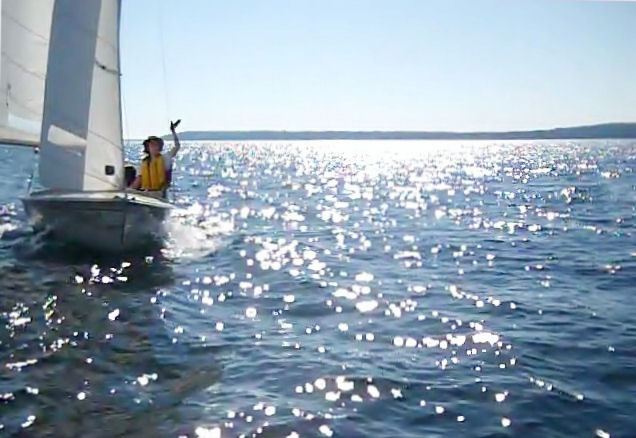 Aiki waving for the camera.
Rob had worn a nylon wind breaker which seemed enough for a warm and sunny day. As he was up front tending jib, most of the waves were his to catch. I noticed he was sitting more inboard than when we started. He agreed to wear my waterproof jacket and then things got better. He was sitting out more and talking about friends and work. Even though it did not seem to him that he needed it, the difference after he put the jacket on was amazing. He was still wet underneath, but warmer.

As we reached the southern part of Washington Island, the wind started increasing. We ran toward shore for calmer air, to communicate, and take in our first reef. Our contingency bail-out point was to be Detroit Harbor on the southern tip of Washington Island. I was impressed by Ian giving his daughter the right to determine when it was time to pull out. Often we sailors want so much for our family to be part of and enjoy our passion that we don't listen to them. That just ends up putting them off sailing, and leaves us solo. So Aiki decided we were to head for Detroit Harbor where she and Ian would end the sailing part of their trip.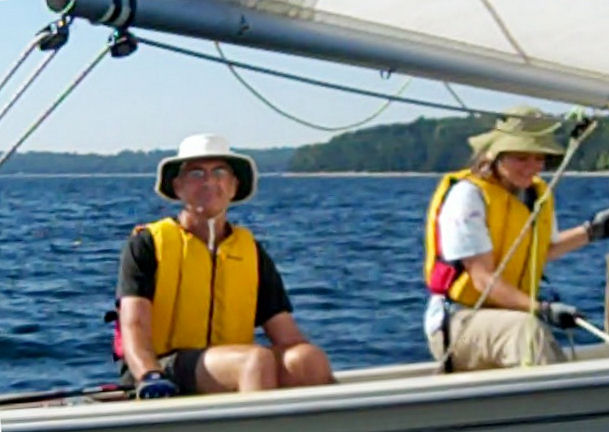 Ian and Aiki on
Bindlestiff.
Sailing toward the harbor, we knocked on Death's Door, and ran away. The center of Porte des Morts has two islands, and submerged rocks. The land masses make for unreliable wind and little leeway, especially if something should go wrong. It has claimed its fair share of sailing ships. A place I want to sail some time when the wind and waves are a lot lower. Making Detroit Harbor was challenging enough, but fairly straight forward. We both made a nice smooth entrance and tied up. Aiki prepared sandwiches for everyone. She had tofu turkey with avocado just to make the vegans' hearts happy.
Just sitting on the dock in that wonderful sunshine was a delight. But we needed to find out when the ferry would leave for Hedgehog where Ian's car and trailer were parked. After checking at the fishing store we made our way to the ticket office. This required several stops to talk to people along the way. The Ferry Office only sold round trip tickets, and did not take credit cards. Fortunately we had a checkbook among us so Ian and Aiki could get the their tickets. When I ride there is always money hidden on the bike so I cannot forget. Now I need to add emergency money to the permanent boat stores.
Back in the boat, Rob and I paddled upwind to the exit end of the marina. We tied off to an old wooden dock, and put in the second reef which reduced the sail area by 30%. I made sure it was set tight and smooth. The VHF weather reported continuing 20 mph plus winds, and the Small Boat Advisory, which we had experienced for several hours already. Tied up kitty corner to us was the Coast Guard's Avon with two 50 hp outboards on the back. If we got into trouble, this was the boat that would be coming to rescue us. So it just did not seem auspicious as we cast off from the same piling as the Coast Guard was tied up to. Often I need to look at reality and check my nerves. The officers were in town checking paperwork, so we did not receive any free advice.

We sailed down the narrow channel to leave Detroit Harbor. On the way out the ferry came in so we tacked out of the channel to give her room. From the ferry Ian and Aiki waved goodbye to us, and we waved back. We continued to tack back and forth making headway upwind. Then we had to luff right up into the wind to allow the other ferry right of way to leave the harbor. From that ferry Ian and Aiki waved goodbye to us, and we waved back. It made me nervous sitting head to wind with the ferry so close, but it worked out very smoothly.

As soon as we felt safe, we left the channel and cut across the shallow water, and left Death's Door behind us for good. With two reefs in the sail, we were depowered enough not to be smashing into waves. The sailing was a little slower but a whole lot drier and controlled. With what I know now, we should have had at least some jib up, even if it could not be perfectly reefed. We were sailing as close to the wind as possible and were still a bit wide of Hedgehog Harbor. An alternative would have been to tack to the SW up the wind and wave shadow behind Plum Island, and then make a little more open tack to Hedgehog. This was not an obvious choice at the time. However, the mainland's effect on the wind was unkown. It could have put the wind more behind us, or the shore could have turned the wind right onto our nose.

Before we sailed past the corner of Hedgehog Harbor, Ian and Aiki were coming back on the car ferry with an empty trailer for their boat. They could see us off in the distance, and were surprised at how small we looked. Several people wondered why they were so excited to see a sailboat, so they had to explain.

When Ian and Aiki decided to end their voyage at Detroit Harbor, they had made the right decision. Our crossing would have been uncomfortable at best without the second reef. In fact, I think it would have put us on the edge of safety, or to quote the title of Frank Dye's book on sailing his Wayfarer in America
The Edge of Fear
.
After we sailed into Hedgehog, we needed to make several tacks to stay in the wind shadow of Door Peninsula. The haze had come back, so it was hard to distinguish points on the land. It took us about as long to tack up to the dock as it had to cross over from Detroit Harbor. Our return trip was just under 30 NM of sailing.

Returning our Wayfarer to the trailer was fairly painless. After securing everything we were on our way. Ian and Aiki retrieved their boat from Washington Island and were just a half hour behind us. If they had not missed the outgoing car ferry from Washington Island by just minutes, they would have been ahead of us.

I learned that 20 mph winds at Green Bay were much more challenging then the 15 mph plus winds I had experienced at Killbear. The wind and waves had longer runs in which to build up. Waves this large were a new experience for all of us, and turned out to be a lot of fun downwind. Going upwind, the bigger waves created a lot of spray. While I was sailing solo at Killbear, I was either running or on a broad reach when the wind was strongest. That makes a huge difference on how edgy things can get. The challenge of extra wind and waves on Green Bay was not offset by having crew on board. This made the return from Rock Island longer then expected, taking up most of the day. That is a long time for anyone who has not sailed much before.

Many thanks go out to Ian and Aiki for all the good food, and making all the reservations. They were also a good companion boat making the trip safer and I would sail with them any time they are available. I also had a very special weekend with my son, Rob, which I would like to repeat someday.
a few final words from Ian:
Aiki and I had a great time and we have Rob-squared to thank for their experience and comradeship. I have learned that there is nothing quite like looking downwind at the horizon across a heeling boat with rips in the sail to tell you that you need 2 sets of reefing points before taking on the Great Lakes. Looking forward to the next trip!
Ian
Reference:
http://www.amazon.com/Sailmakers-Apprentice-Emiliano-Marino/dp/0071376429
http://dnr.wi.gov/org/land/parks/
See Peninsula State Park & Rock Island State Park
http://ocsdata.ncd.noaa.gov/BookletChart/GreatLakesBookletCharts.htm
Chart 14909 Upper Green Bay

(All USA Great Lakes Charts Available)

Look before you print, lots of pages to charts.

It is possible to print just the pages you want, by picking page numbers.
http://www.doorcounty.com/
OR
http://www.godoorcounty.com/