Sent: Wednesday, December 19, 2012 4:53 PM
Subject: Wayfarer article permission?
Uncle Al,
Good to hear from you. Absolutely, you're welcome to add it to the collection. If you'll send me a reminder after Christmas I'll track down the files and send you a PDF.
Thanks as always for the support.
Best,
Josh
Joshua Colvin
Small Craft Advisor
PO Box 1343
Port Townsend, WA 98368
PH 800-979-1930
PH 360-379-1930
For me, it all began with this:
From: C Eckert
To: Al Schonborn
Cc: Nick Parker ; Michael MacLennan ; rmharrington@sbcglobal.net
Sent: Saturday, November 26, 2011 1:45 PM
Subject: West Coast Wayfaring 2010
Hi Al,
Here's a little video edit from a trip we did in the Gulf Islands in 2010. It was one hand on the tiller, the other on the camera -- so it's not rock-solid stuff, but Wayfarers will probably enjoy it. Be sure to turn up the sound.
http://vimeo.com/32696571
This past summer we sailed from Nanaimo north to the Desolation Sound area and back -- just over 200 Nm. It was a fantastic cruise -- I've got a short article about that trip coming out soon in
Small Craft Advisor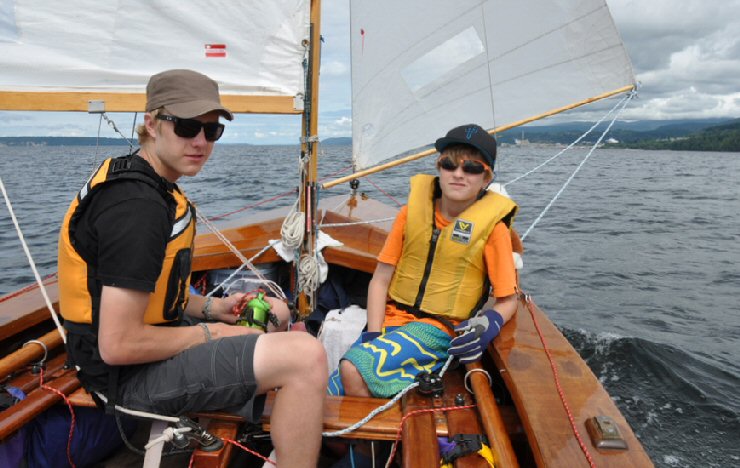 Here's a photo from the sail north from Powell River with Savary Island in the distance off the port bow.

all the best,
Cameron & crew
.



From:
Mark C. Nye

Sent:
Wednesday, August 08, 2012 7:27 AM

To:
Richard Watterson

Subject:
Wayfarer Article
Hey Richard,

I hope that all is well. I saw this in the latest edition of Small Craft Advisor and thought that you might enjoy it. Life is good here. Lots of kayaking.
Take Care,
Mark
Mark C Nye
CDR USN(Ret)
Sent:
Tuesday, August 14, 2012 12:40 PM
Uncle Al;
I received this from Mark Nye who sailed with me one year at mid winters. It is an excellent article from small craft adviser. Maybe you can forward to the group.
Richard W


From: Cameron Eckert
Cc: richard watterson
Sent: Thursday, August 16, 2012 1:10 AM
Hi Al & Richard,
Thanks for the positive feedback on the article. I just got back from this summer's Wayfarer cruise; this time from Nanaimo south through the Gulf Islands and San Juan Islands -- about 220NM over the course of nearly 3 weeks. It was fantastic.
I don't mind if you share the article but I think you'll need permission to post it from Joshua Colvin of Small Craft Advisor. His email is
smallcraftadvisor@earthlink.net
.
I am heading up to the far north tomorrow and will be out of email contact for the next week or so.
all the best,
Cameron