the Chesapeake Bay Wayfarer Cruise 2008
Tuesday 27 May
: Crisfield
photos by Gary & Jeremy Hirsch, Uncle Al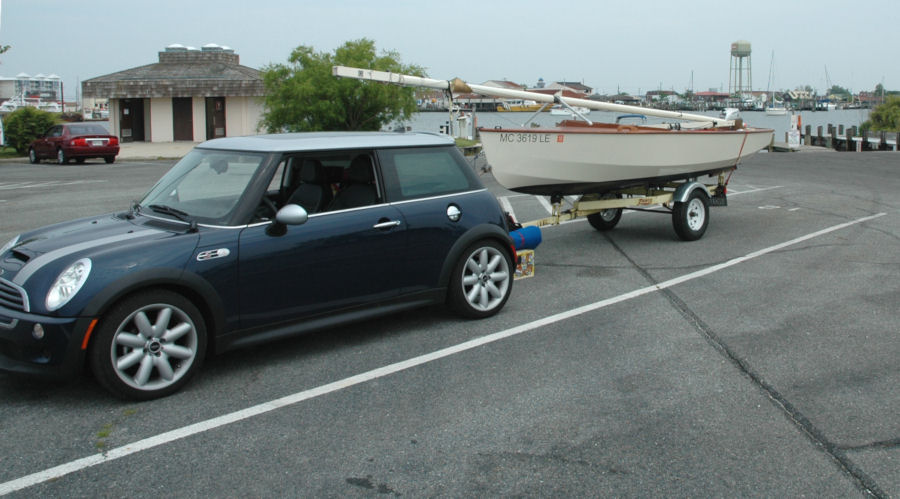 Tuesday, early afternoon: We begin to assemble at the sumptuous launch ramps at Crisfield's Somers Cove.
The Hirsch rig has already arrived, and ...


...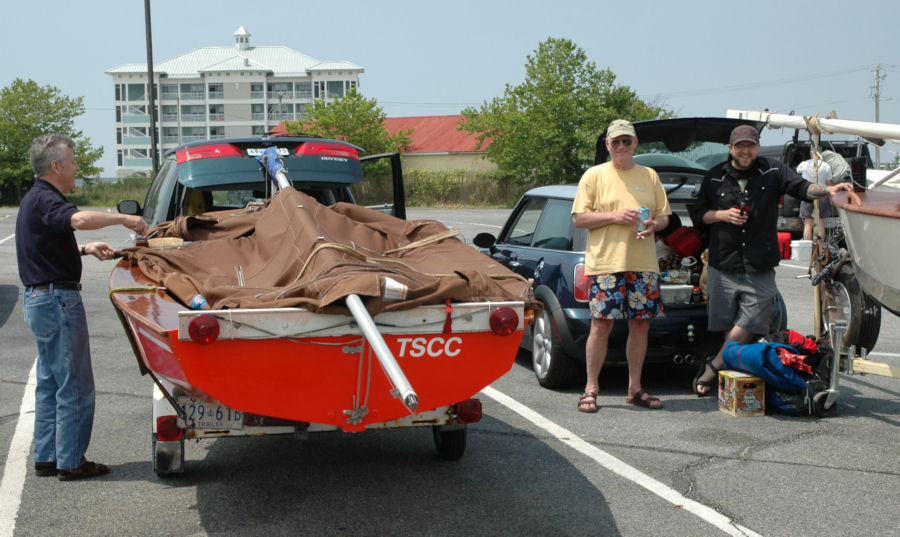 ... Hans and I are soon introduced to Gary's son, Jeremy

(r)

, who will be sailing with his dad.


...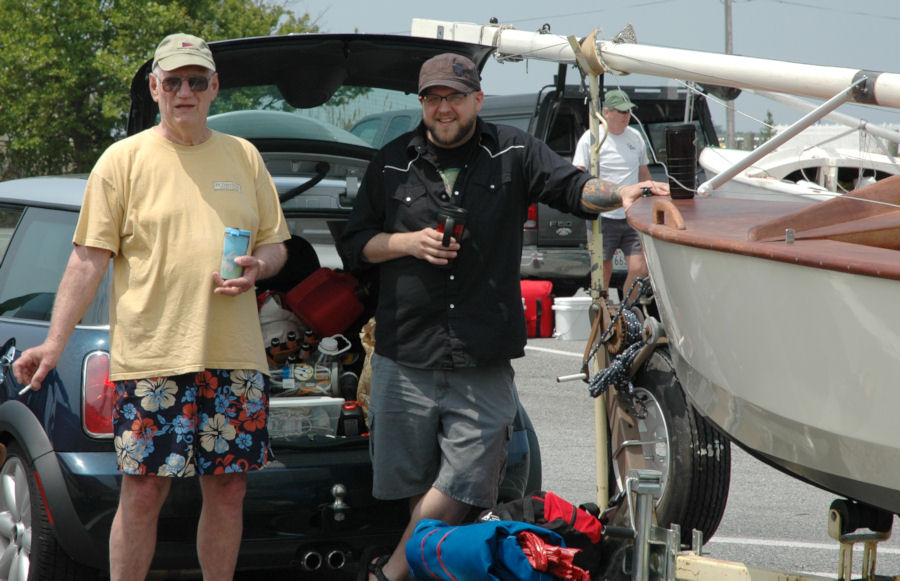 As Al and Jeremy take a break, an eagle eye can spot the fact that Gary's W1321 has yet to have her stained deck varnished. As Gary explained, it was either varnish or the cruise due to time constraints, and we were all pleased that Gary had made the right choice!


...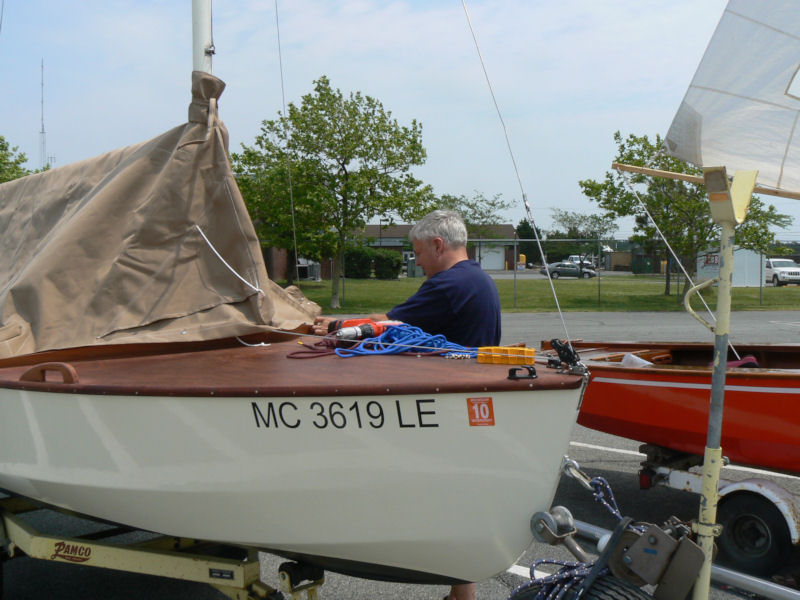 Now that he has
Solje
's mast raised, Gary can properly test the fit of the custom-made
Hans Gottschling boom tent
that will be the Hirsch home for the next few days. In the background, you can see just a corner of the Wayfarer trysail (and a boom made for it by Hans) that Al is eager to try out on this trip.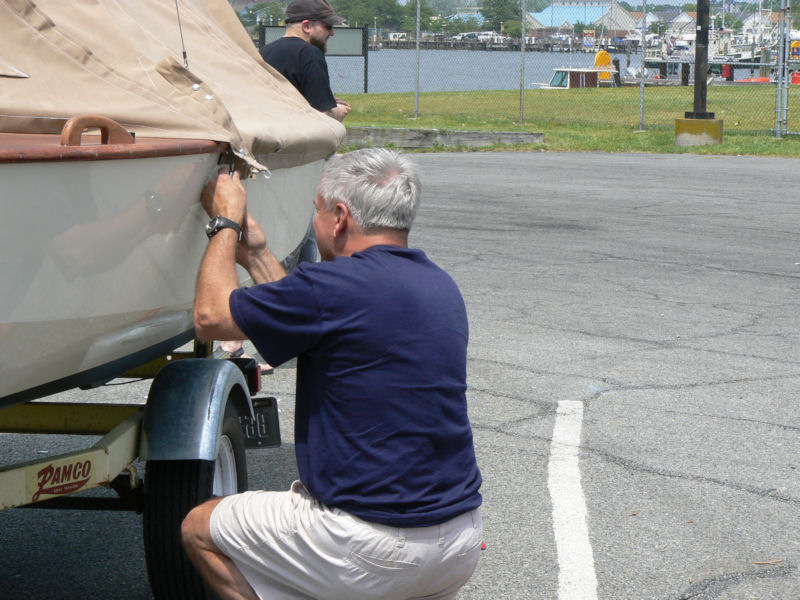 Gary is relieved to find that everything seems to be as it should be.
And in any case, he has the maker himself to consult should any problems arise.


...



Somers Cove: a view from the launch ramps towards the Somers Cove Marina where we will again be spending Tuesday night.
- click here for full-size pic


...

...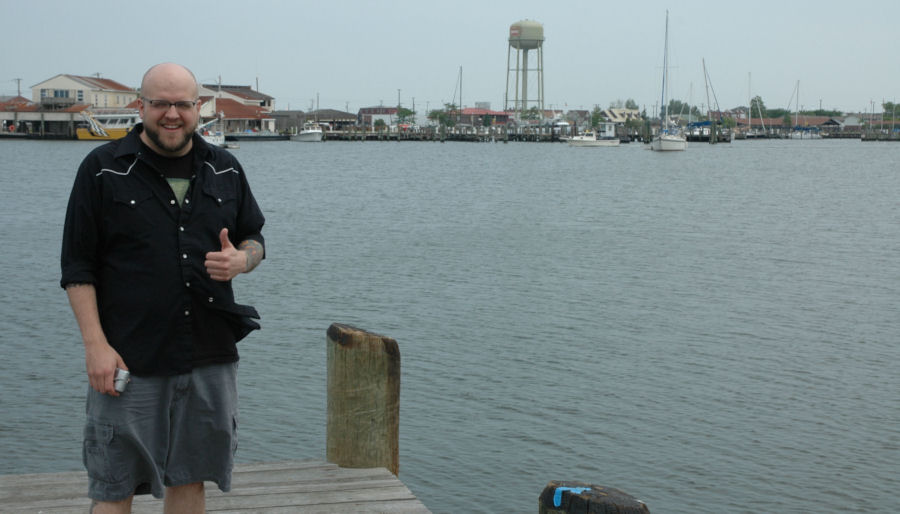 Ah, good news for Uncle Al: Jeremy already has his camera out and on duty.


...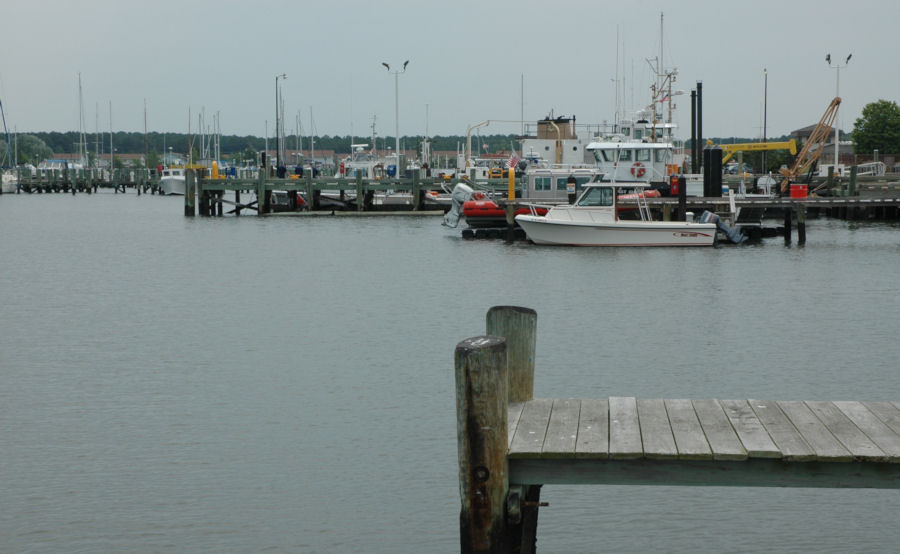 Right beside the ramps is a very efficient-looking Coast Guard station.


...

Looking towards the Marina - a panoramic view


- click

here

for full-size pic




...

...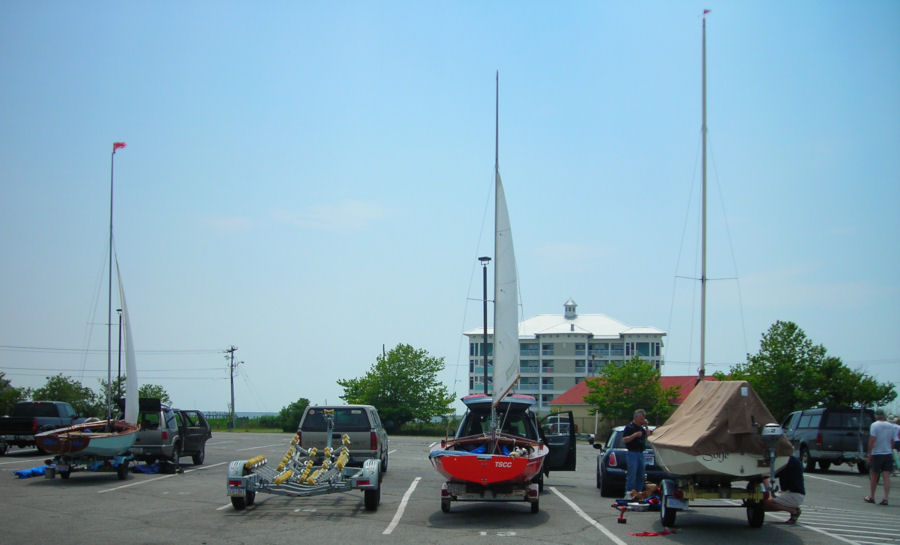 On the left, you can see that Dick Harrington and

Blue Mist

have arrived, so that our four-boat fleet is
all present and accounted for, with only Tony's and Mary's

Trouble

missing from the above shot.


...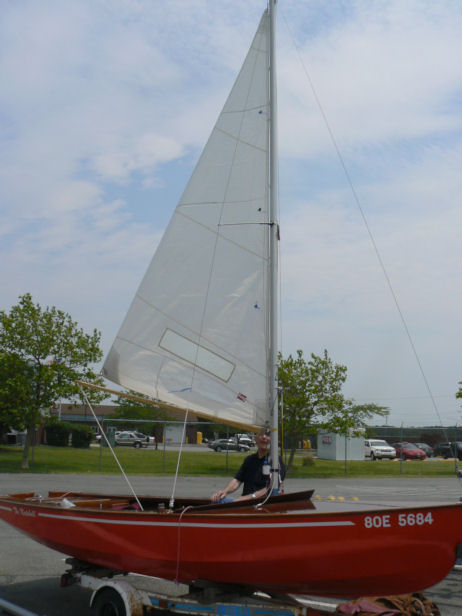 The first land trial of our trysail and its boom works to ...


...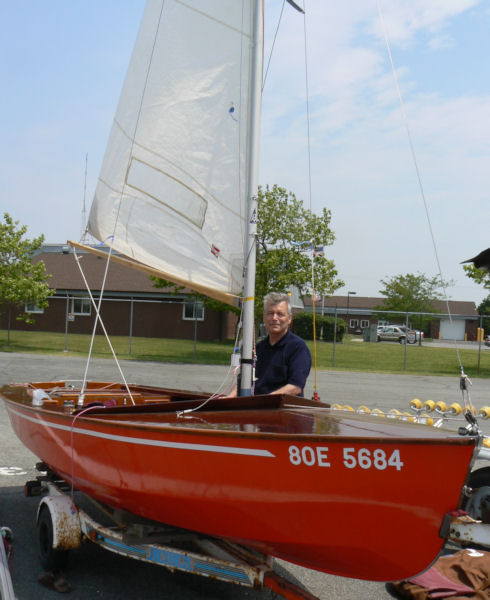 ... Hans' satisfaction. Now it's just a matter of launching before ...


...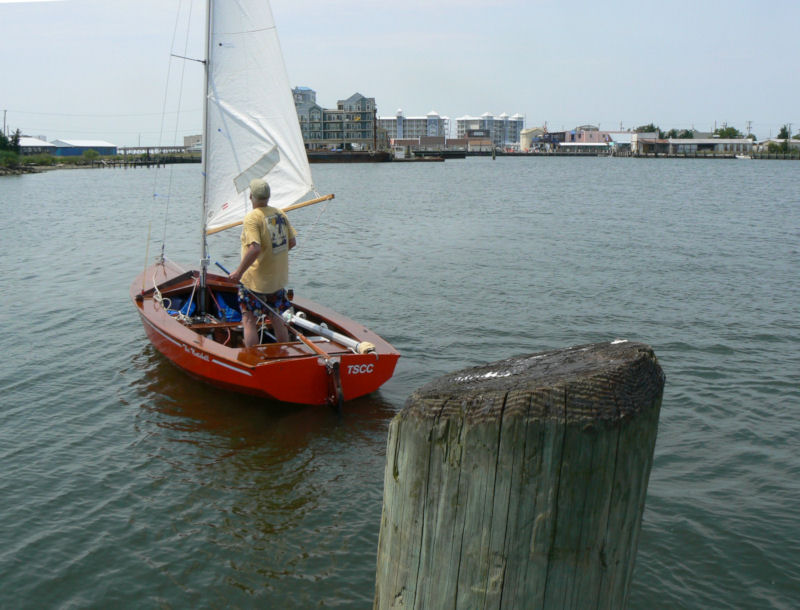 ... Al gets to do the sea trials: a solo sail across the cove to the Marina while Hans checks us into our Cove-side motel
and then drives van and trailer to be parked in the Marina's lot for the week.


...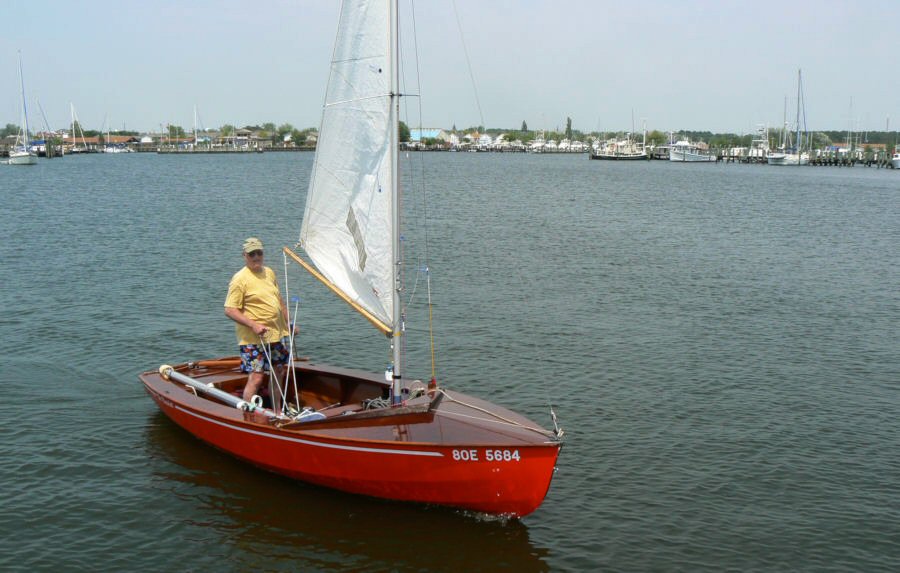 But first, as clearly instructed by Al, Hans will document the maiden voyage of the trysail.
- click here for full-size pic


...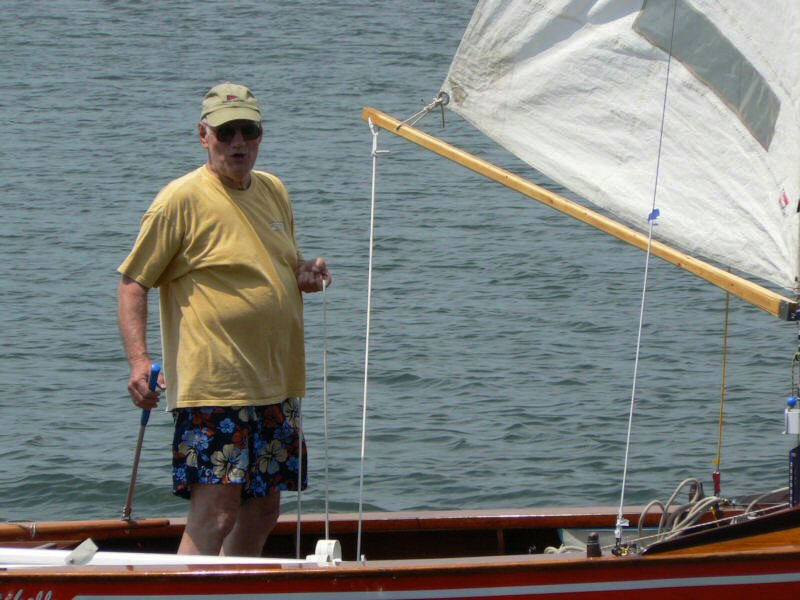 "Don't forget to use the zoom, too, Hans!"


...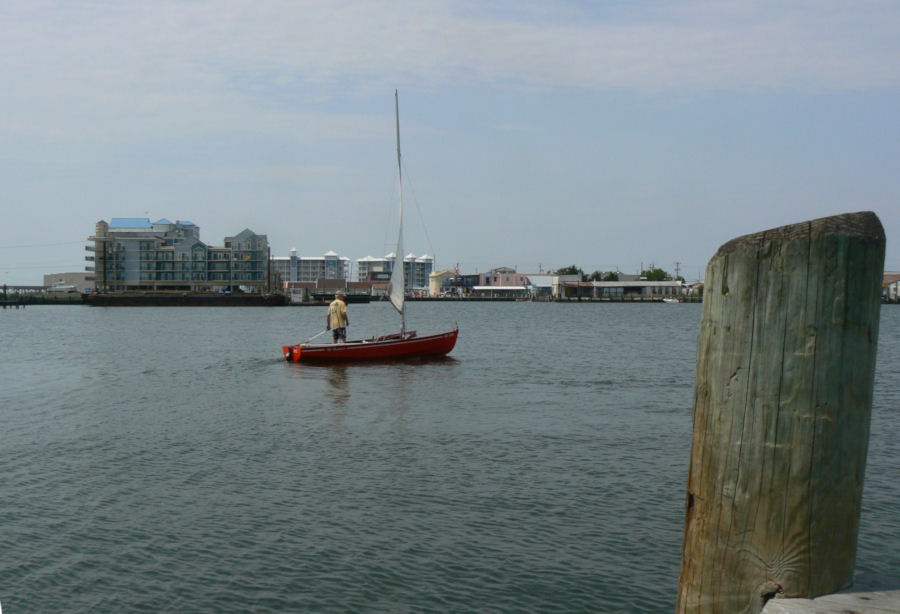 One more little loop in the ramps area to ...


...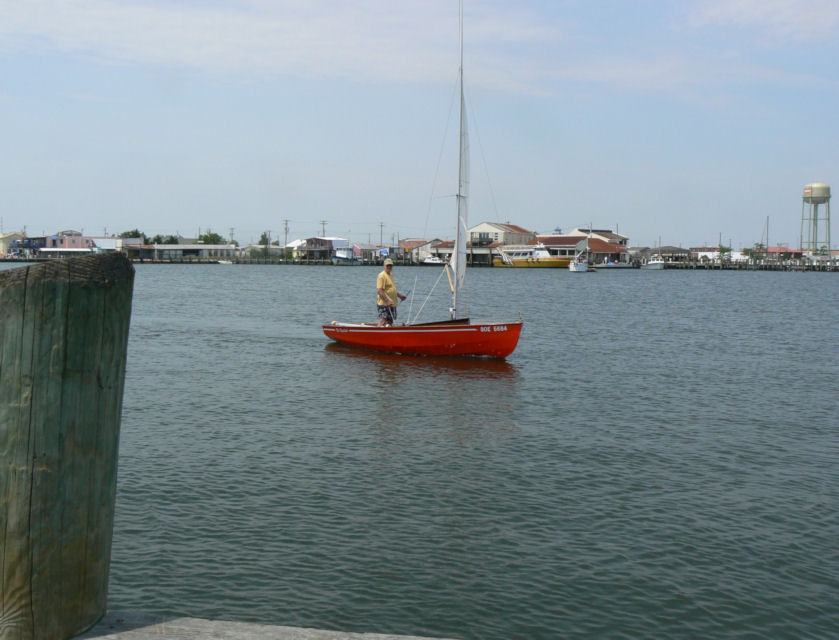 ... let Hans get the various points of sail, and then Al is cleared to ...
- click here for full-size pic


...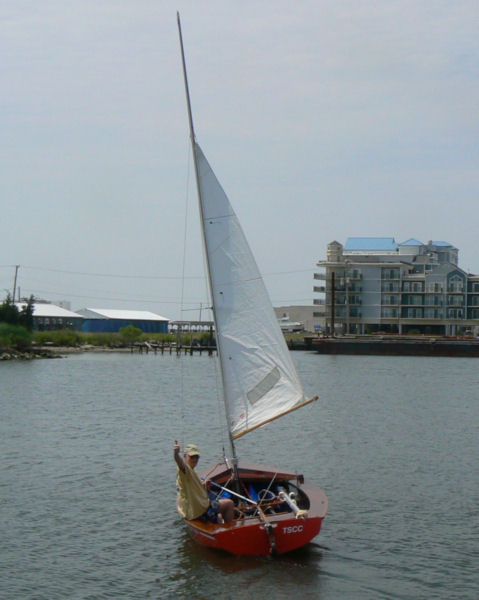 ... sail away solo and hit the Marina - so to speak.


...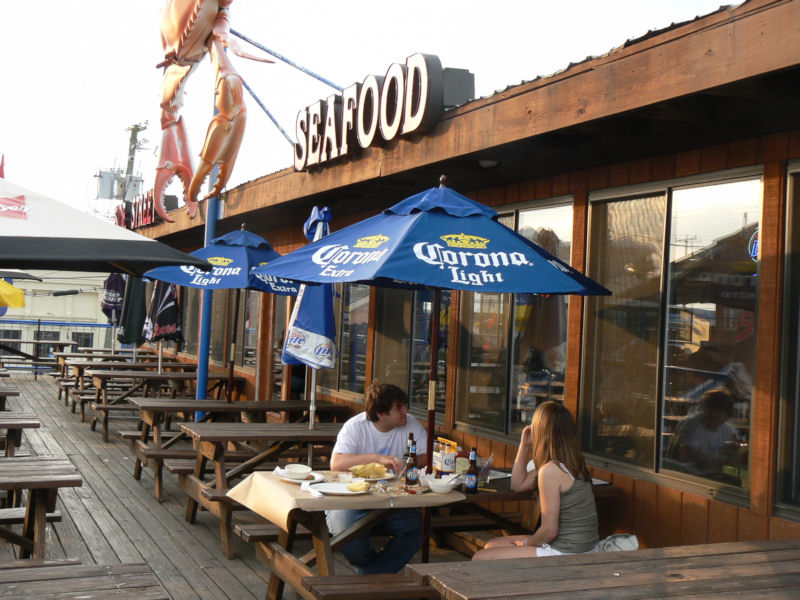 Once we had safely moored and checked in at the Marina, it was time for our traditional seafood supper at
Crabs R Us/Side Street Seafood. It was turning a bit cool and breezy out on the deck, so ...


...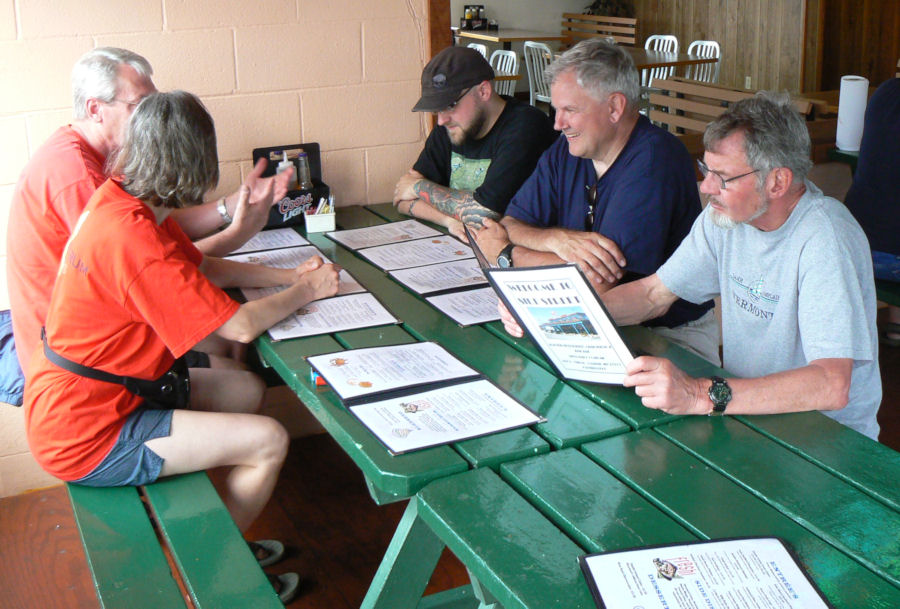 ... we dined indoors.


...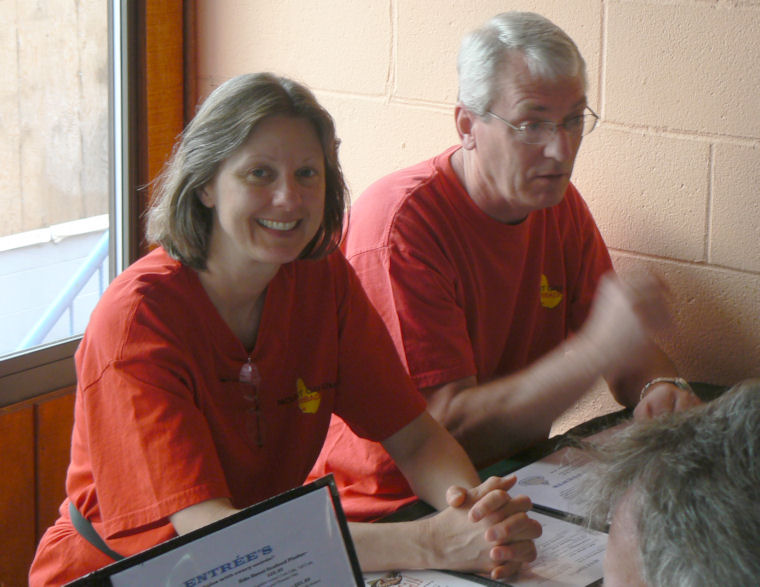 Mary, Tony ...
...
... Jeremy, Gary ...


...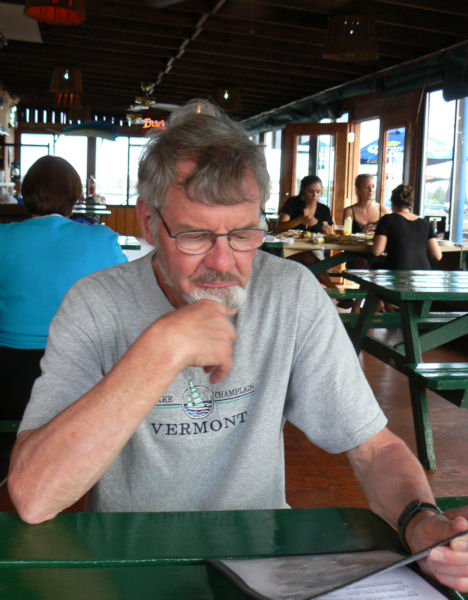 ... and Dick seriously plan their dinner passage..


...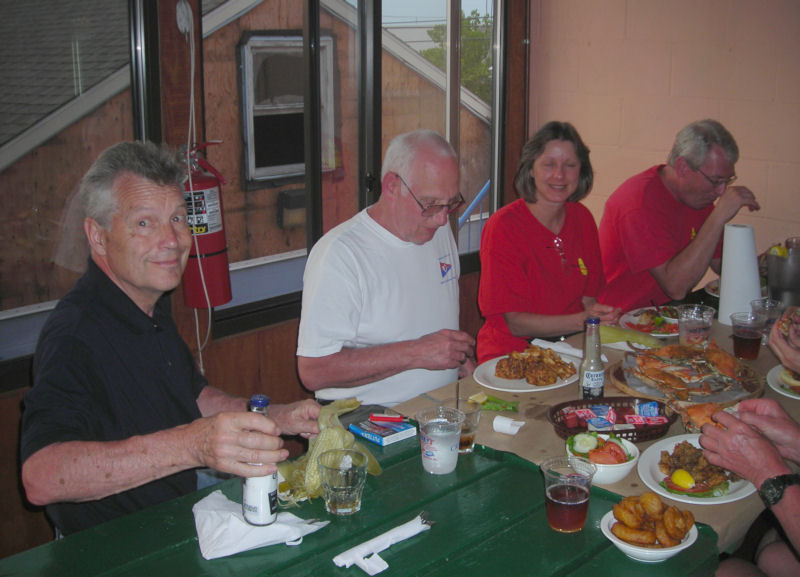 (l to r) Hans, Al, Mary, Tony

...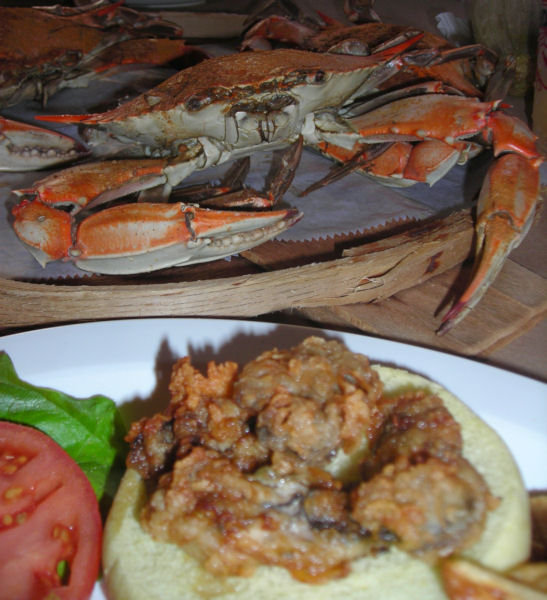 As always, the crabs unfortunately enjoyed the experience less than we did.


...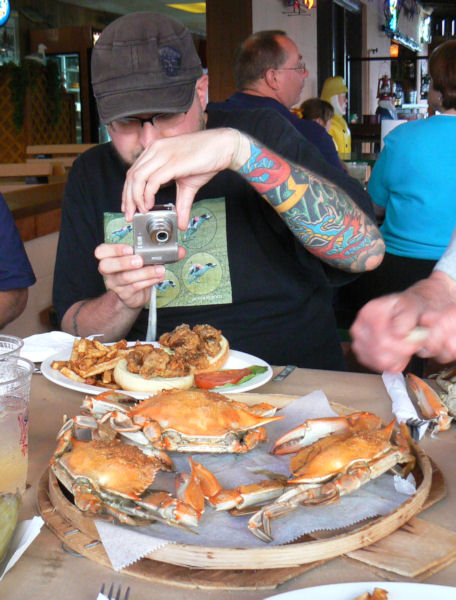 Turns out that Jeremy likes to do ...


...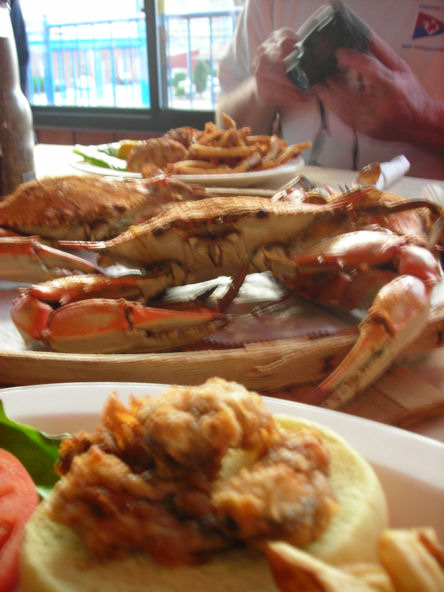 ... food portraits!


...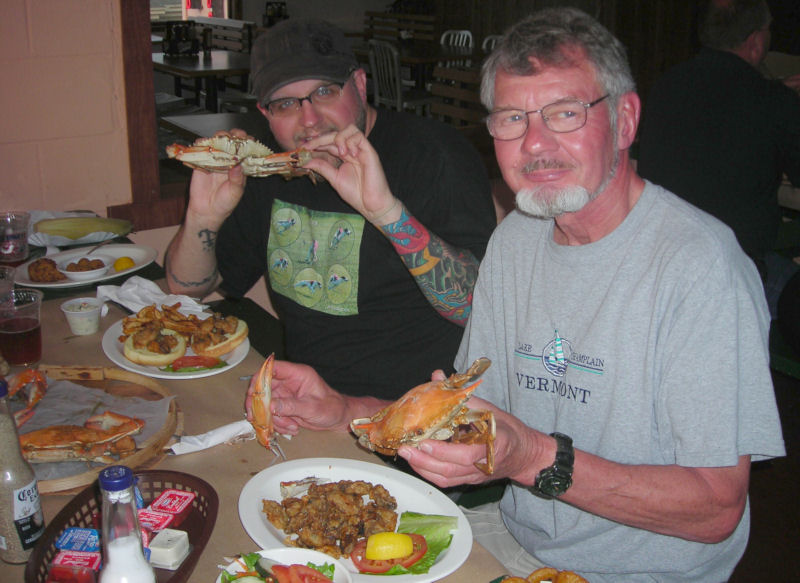 Jeremy Hirsch

(l)

and Dick Harrington prepare to dig in.


...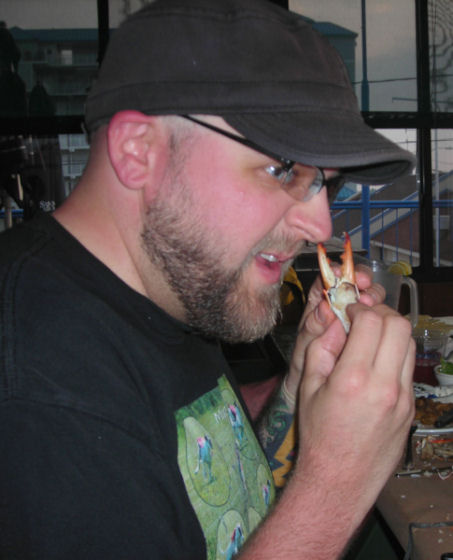 Come on, Jeremy!! That's not what I meant when I said "dig in"!!!!


...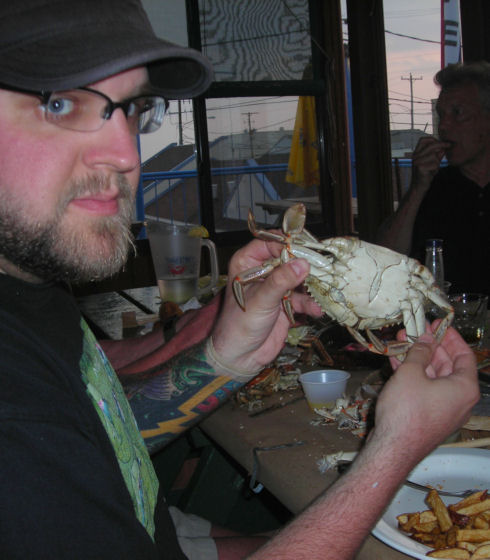 Do we have a wannabe pathologist here?


...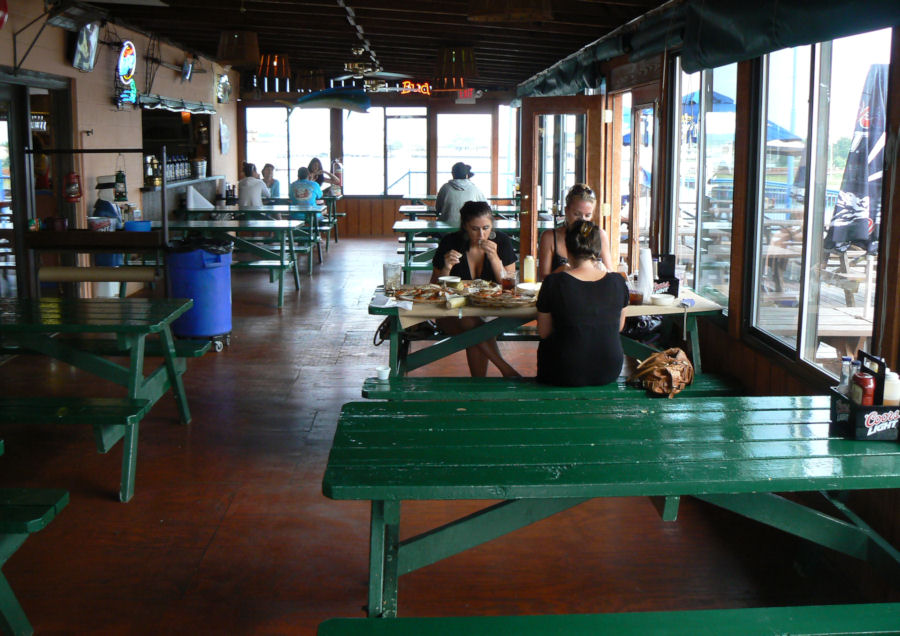 Of course, when cruising, you need to be constantly aware of every nuance of your surroundings.
Disaster could strike at any moment if you miss even the slightest ...


...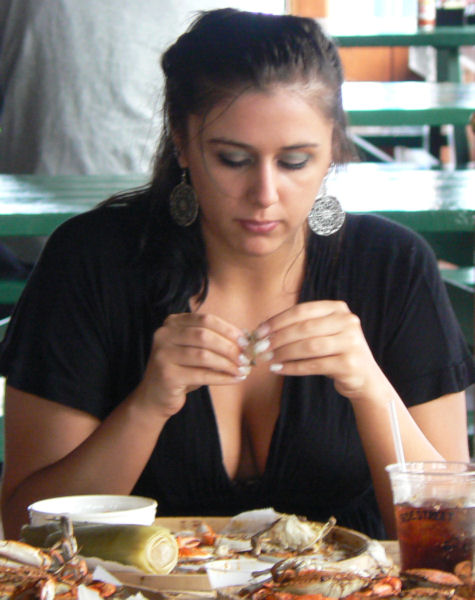 ... detail. Fortunately, Uncle Al spotted this navigational hazard just in time!!!


...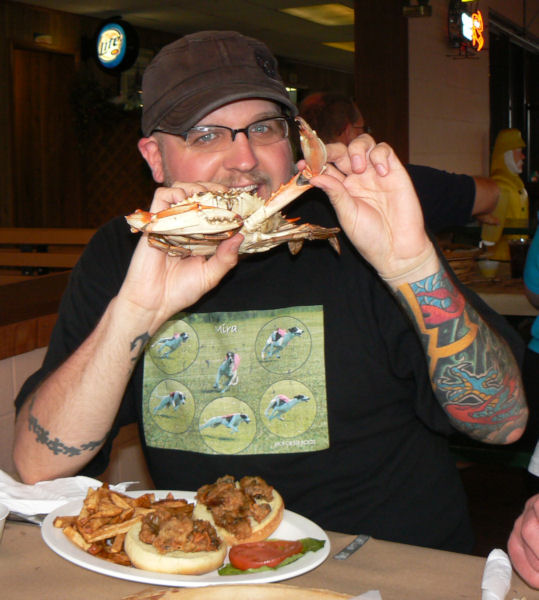 Jeremy waves to the camera.


...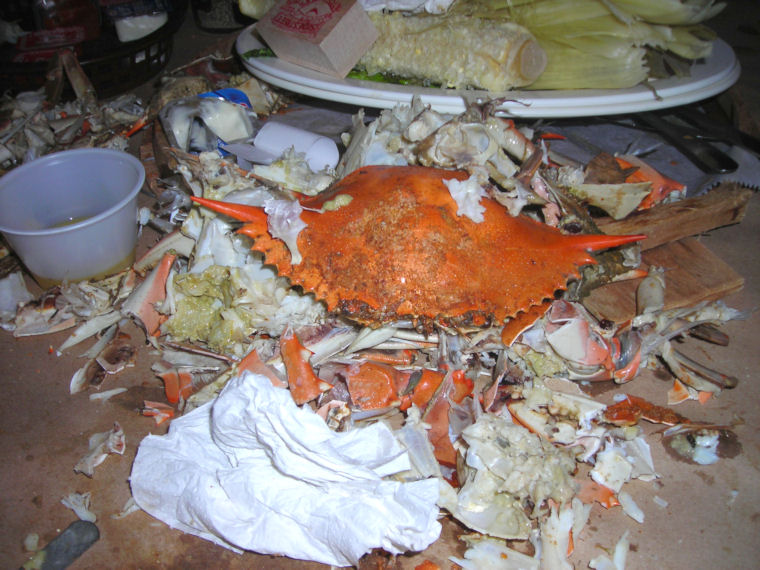 Crab carnage


...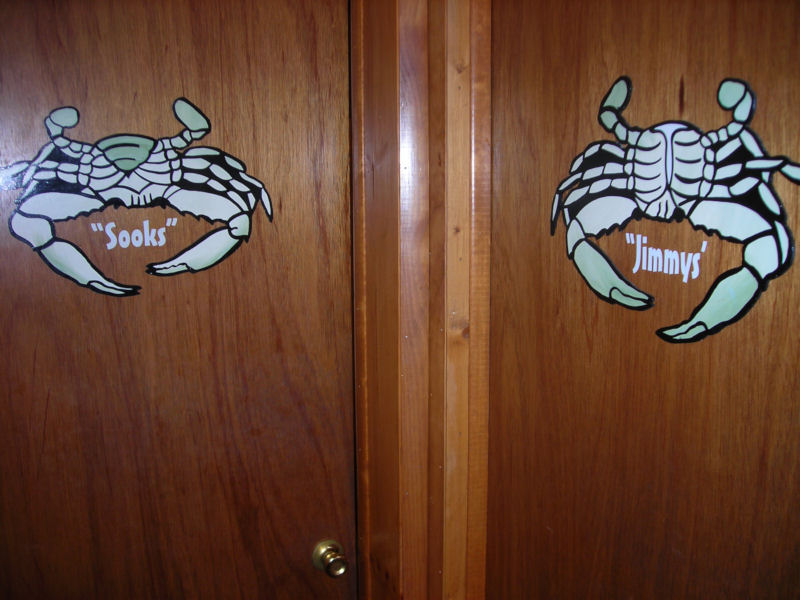 Sooks

are female crabs, and ... well, you get the idea, I'm sure.


...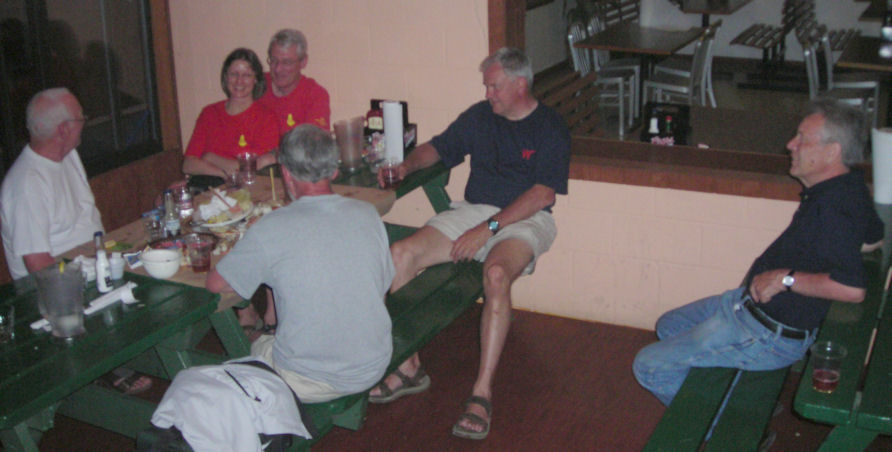 Our well satisfied group is ready for an early night. The forecast is for a breezy - possibly rainy - day tomorrow, the best news being that a north wind is expected, which should give us a virtual run all the way to our intended destination: Tangier Island.


...
View from the

Crabs R Us

deck: A working boat heads out of the Cove via the same passage that we ...


...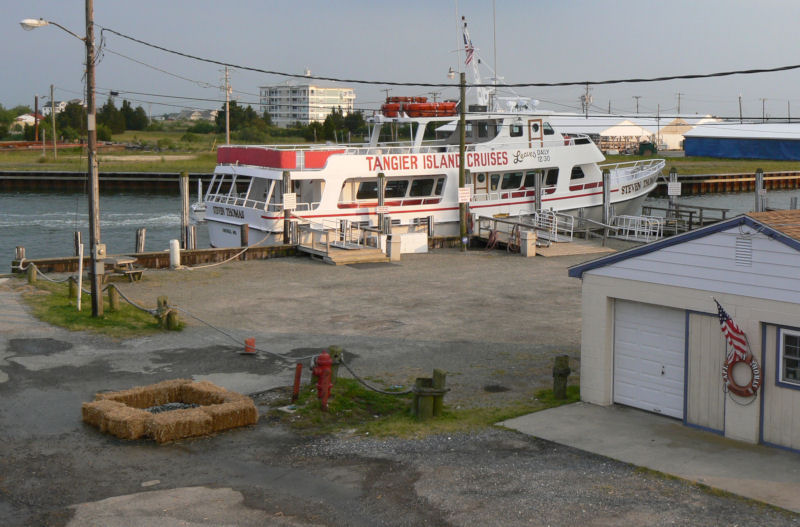 ... hope to take tomorrow.


...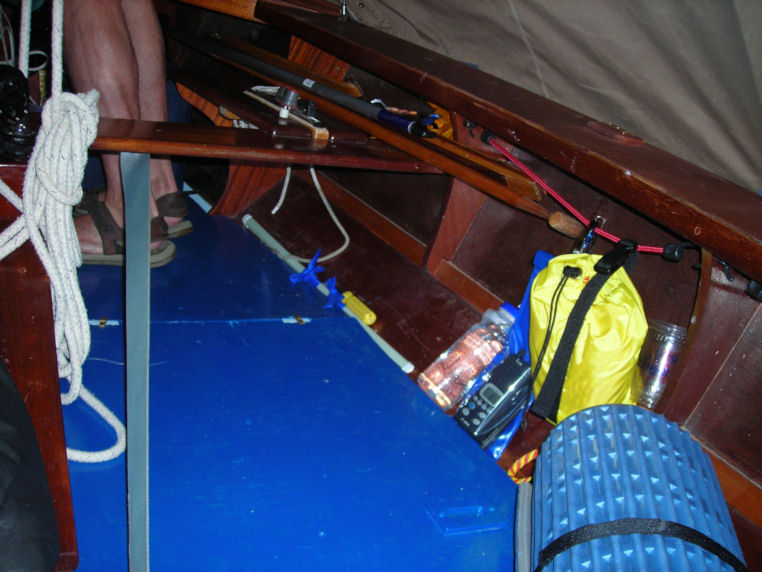 A quick peek at the Hirsch bedroom, and then it's lights out!