the Chesapeake Bay Wayfarer Cruise 2007
Crisfield - Smith Is. - Tangier Is. - Watts Is. - Crisfield
Thursday 31 May - 1
photos mostly by Alan Asselstine and Uncle Al


...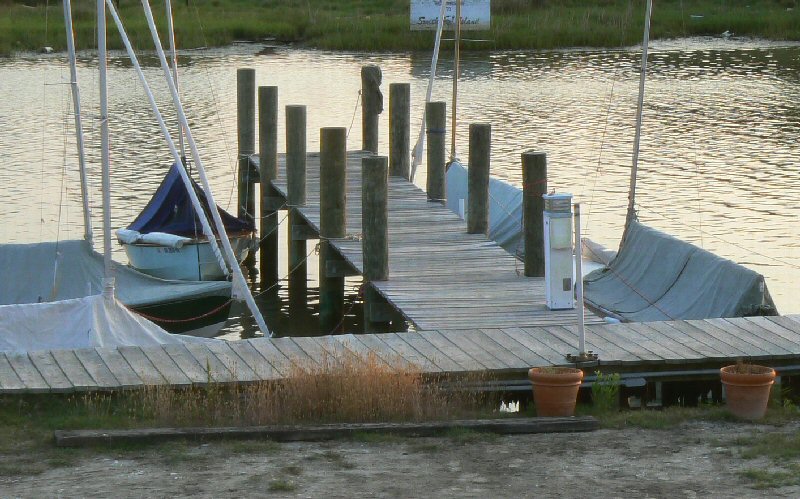 Sunday morning 0530 hrs: The view from the B&B's upstairs bathroom window.


...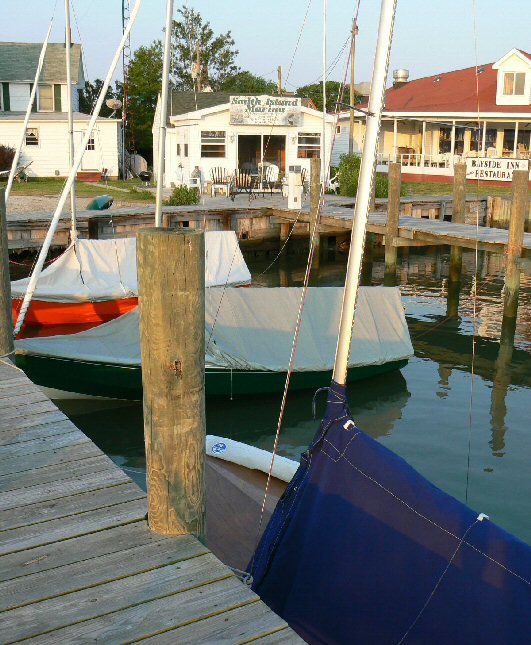 0630: still no signs of life as the sun clears the trees to the east.


...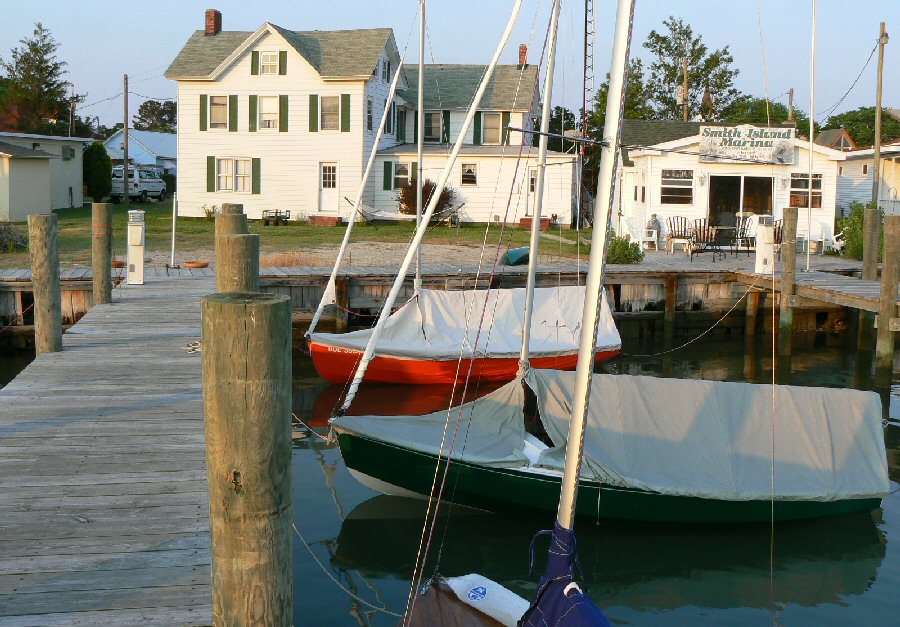 Another lovely day with perfect winds is forecast, and we can expect a beat to Tangier.


...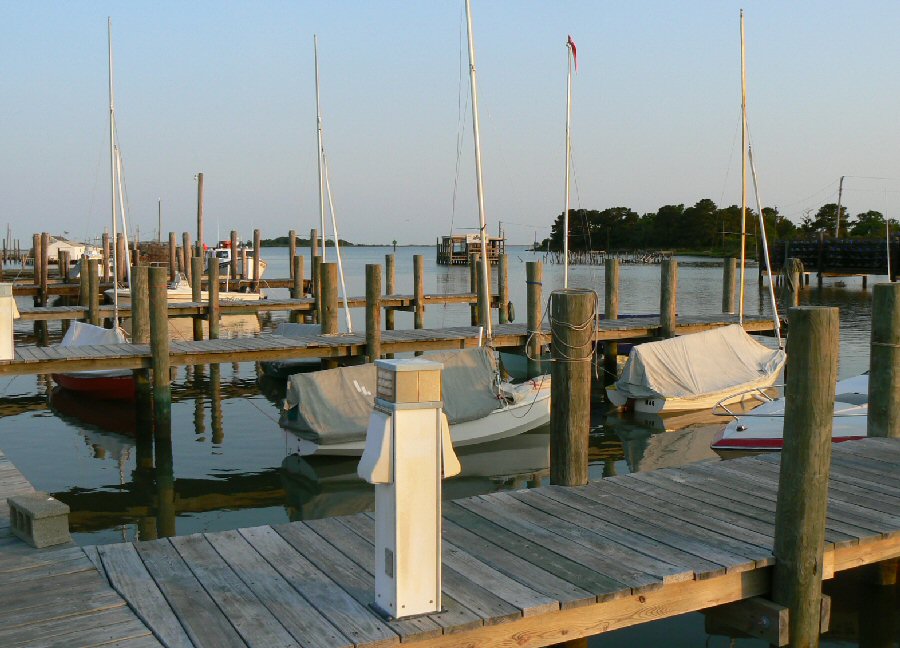 View towards the western end of the Big Thorofare as ...


...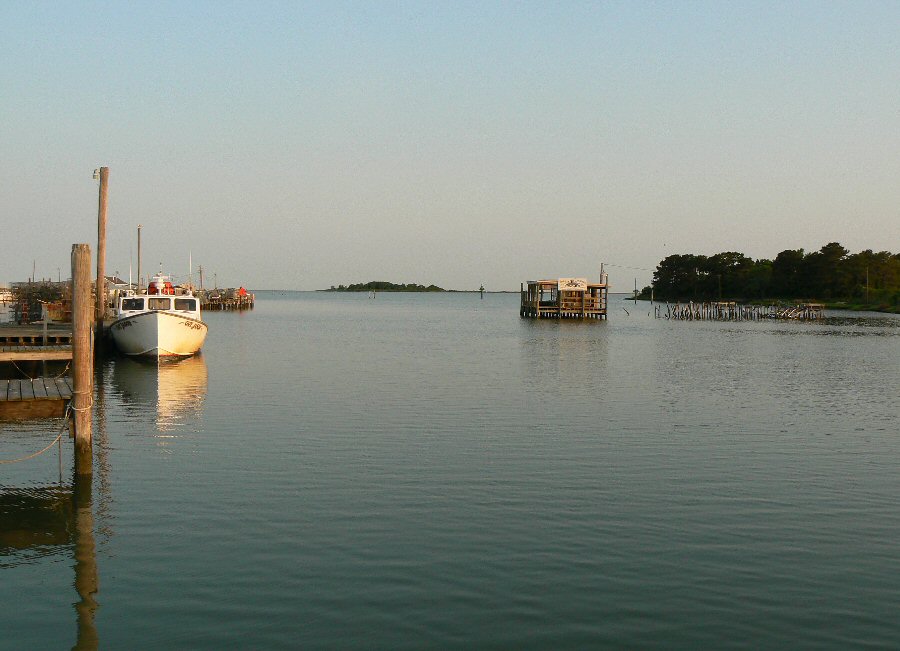 ... the sun rises. - click here to see full-size pic


...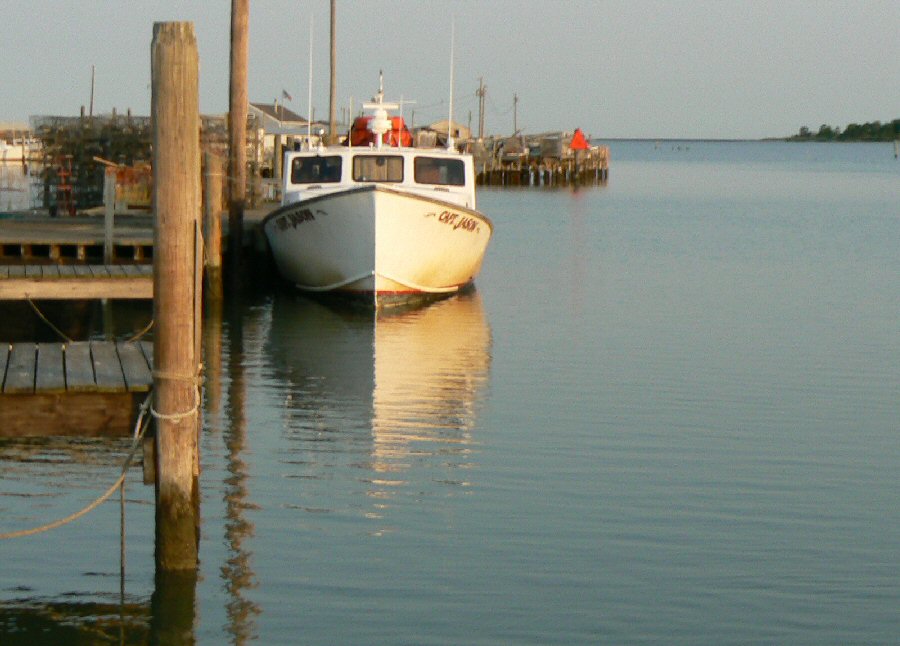 Judging by the water marks on the pilings, the rising tide has about a foot and a half to go before being high - so to speak.


...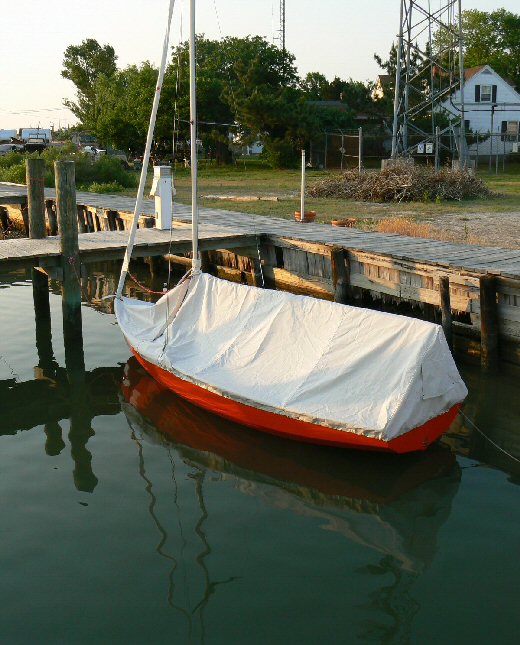 W938 is but an empty

Shell

.


...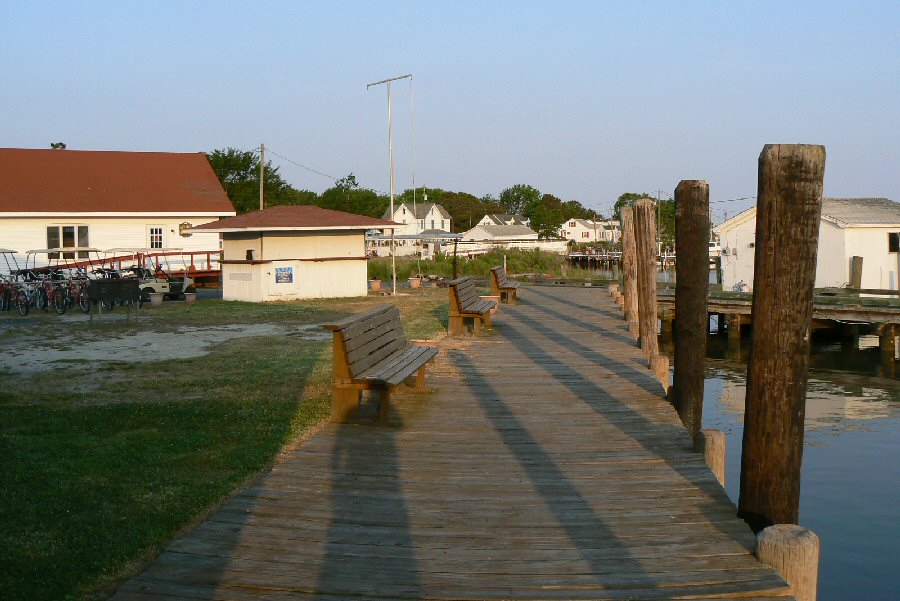 After a marvellous night's sleep in an exquisitely comfortable bed and an early morning shower,
Uncle Al took little stroll to explore and get a few more pictures of ...


...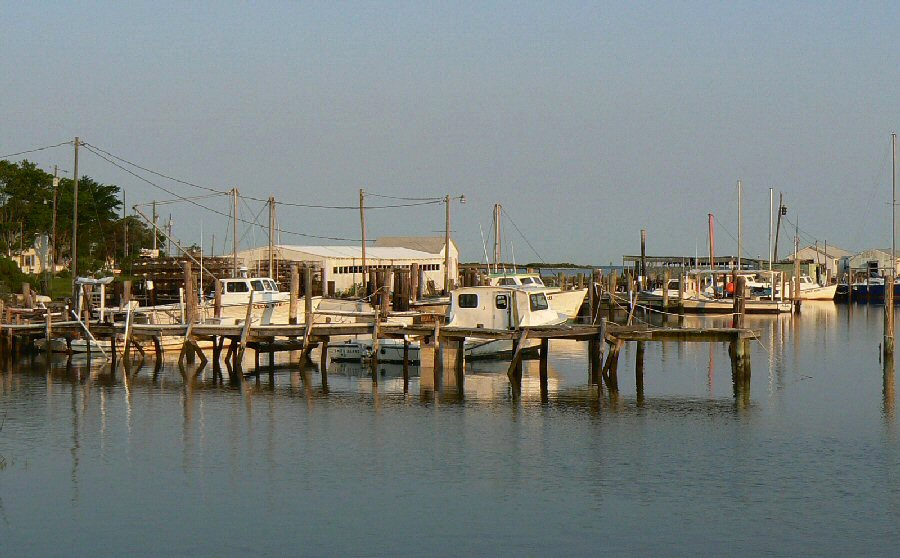 ... this ...
...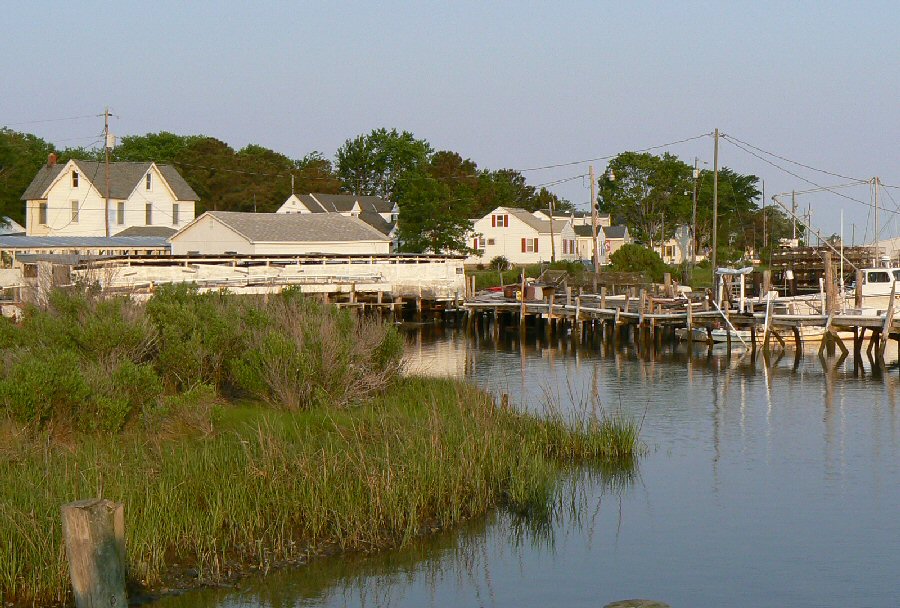 ... picturesque ...


...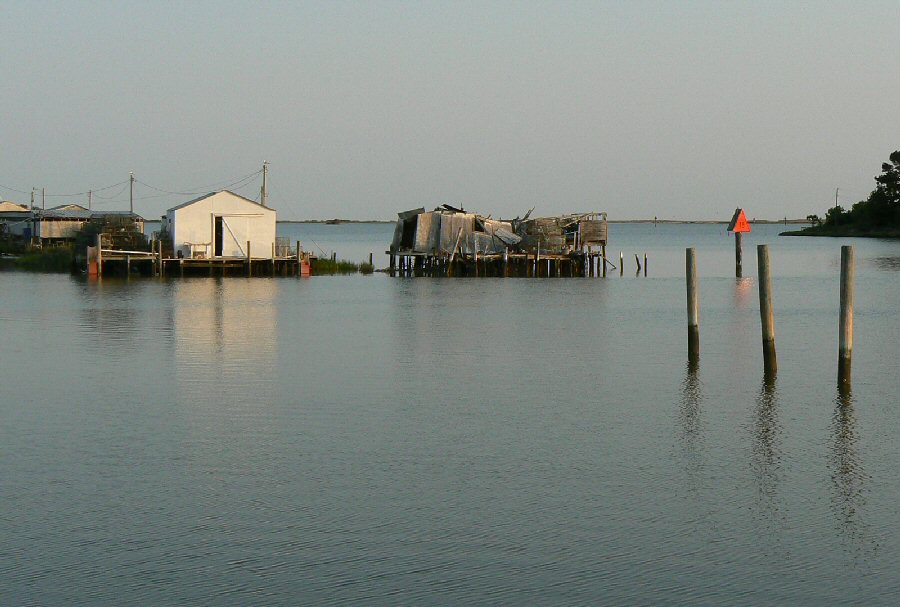 ... harbour in ...


...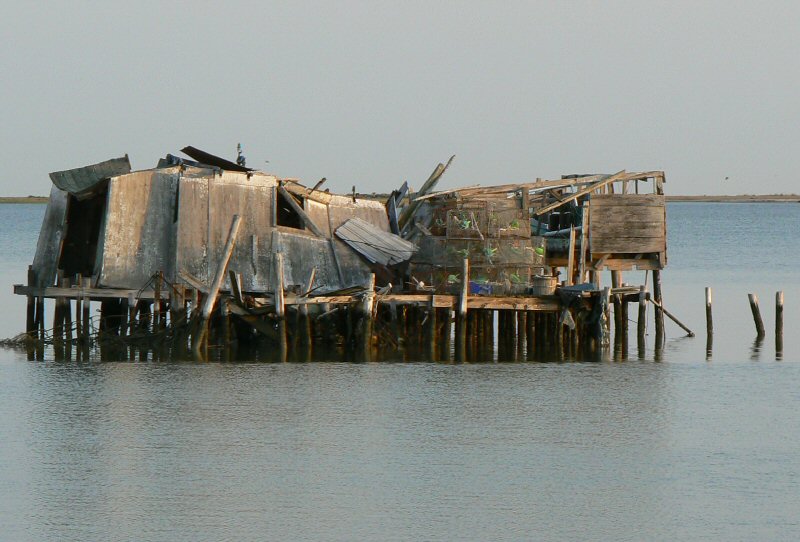 ... the soft morning glow.


...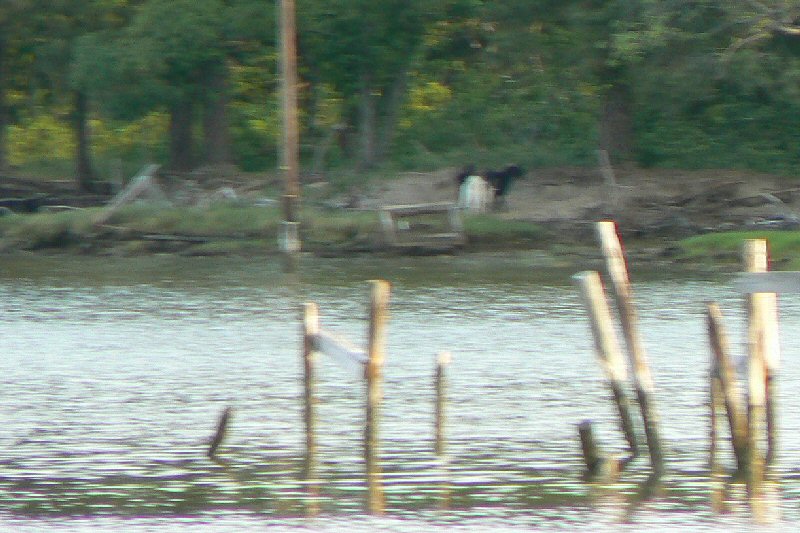 Some of the goats across the harbour got quite vocal during the early morning hours, as Tony pointed out upon rising.


...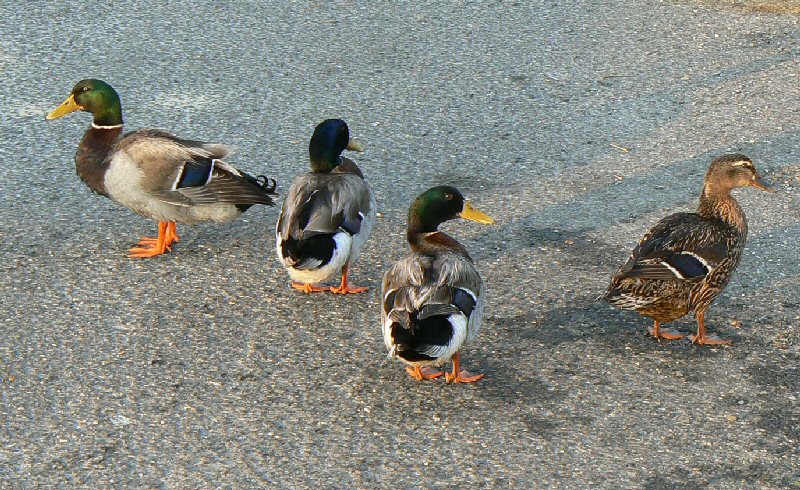 These mallards acted like house pets, hanging around the B&B, waiting for treats.


...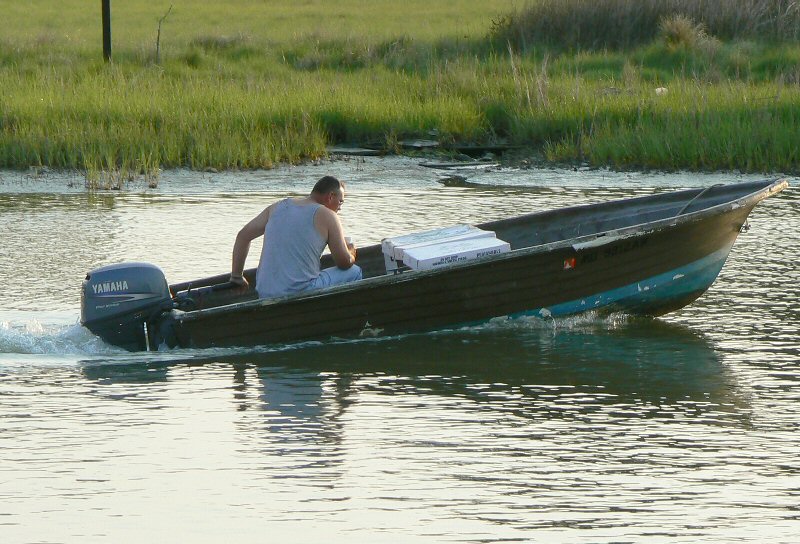 Someone's off to work as Hans and I head into the house where Mike, our host, is rustling up breakfast.


...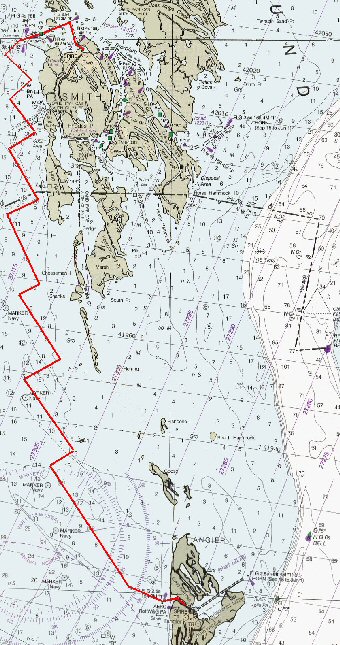 No doubt about this day's destination: we would be heading south to Tangier, a beat of about 12 n.m. as the crow flies. So, after eating, I phoned Susan at the
Chesapeake House
on Tangier, only to discover that on this, of all days, they were fully booked. I should have called the night before, I guess. But Susan, like the priest in the Pat and Mike joke, gave me a "couple of good leads". Seconds later, I was speaking with the very welcoming sounding Kathy at Tangier's
Bay View Inn
who happily booked us a room with two beds and a spare floor mattress for that night. I explained that our ETA was up to the vagaries of the winds, but Kathy was prepared for that. "Just tell Capt. Parks at the Marina to call me when you arrive," she suggested, "and we'll come down to pick you up." Wow! Limousine service in a golf cart!! The day was looking better every minute!!!!
...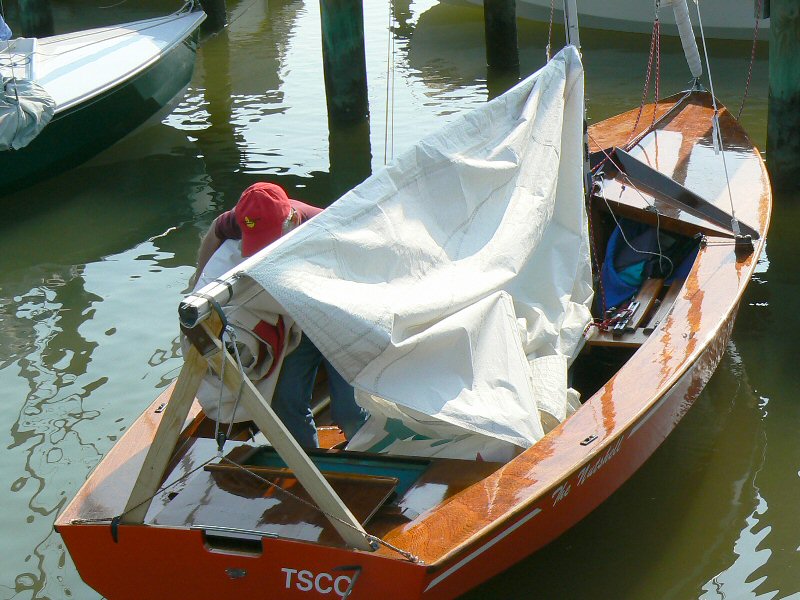 With our pretty standard 1000 hrs departure time approaching, Hans stowed the tent in the aft tank,
and prepared to undo the velcro straps he had installed to secure the boom to the crutch.


...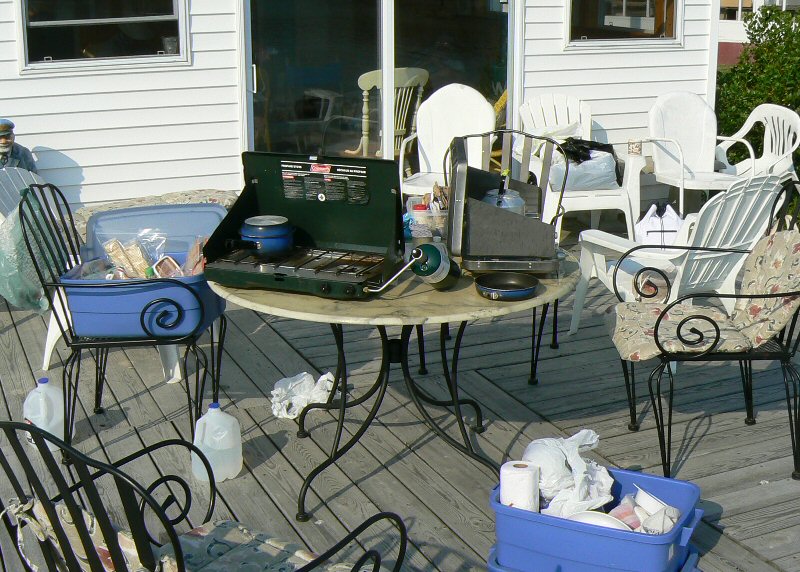 Our "camp" kitchen for the sleep-aboards.


...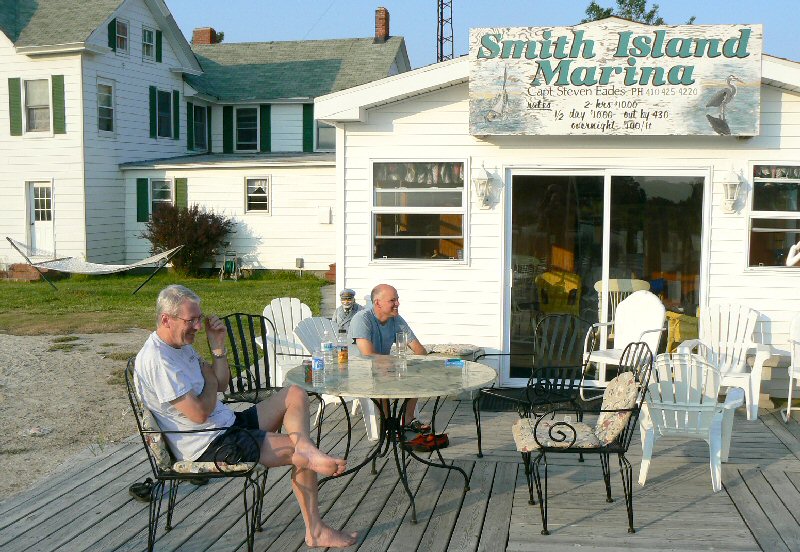 Tony
(l)
, Richard and I seriously missed the company of our decoys, Mary and Hans, whom the various flying pests seem to prefer to the rest of us. Here, we are being badgered by thousands of no-see-ums. What do mean, where are they?! They're all around us - but you can't see 'em, of course!!
...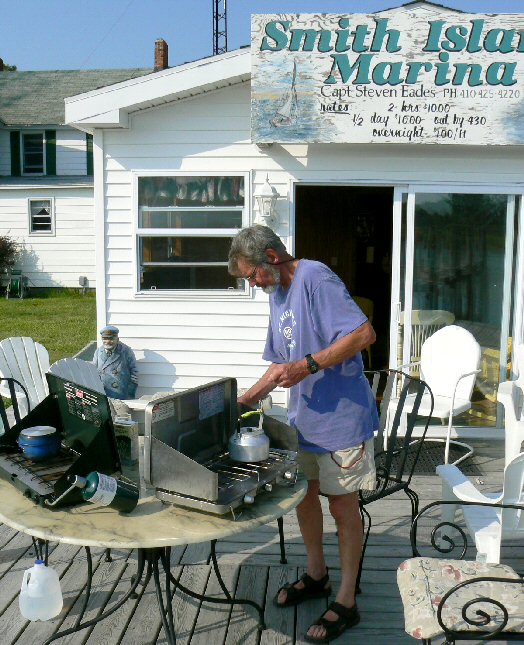 Chef Dick at work.


...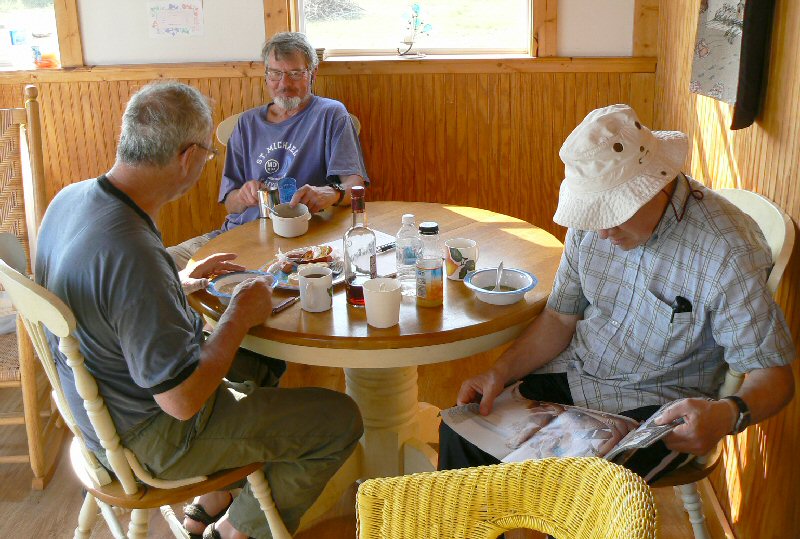 What with the no-see-ums outside, most of us sought shelter in the air-conditioned cabin.
Here,

(l to r)

André, Dick and Roger are having their breakfast.


...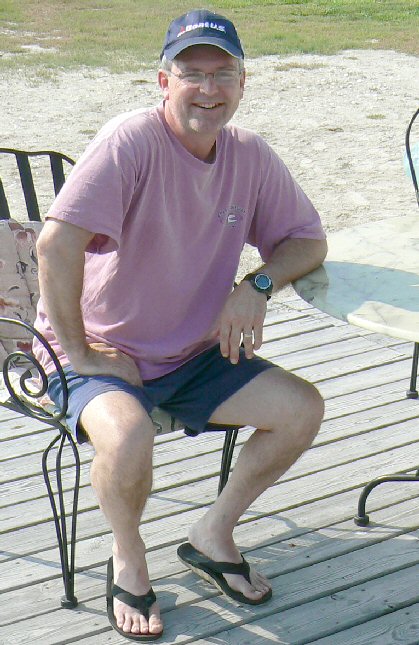 Company had arrived the night before as Mark Lakner and his ...


...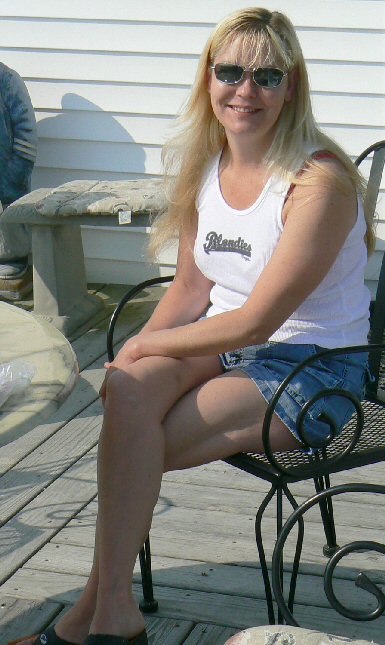 ... lovely wife, Tonya, had motored over from further north on the Western Shore to celebrate their anniversary.


...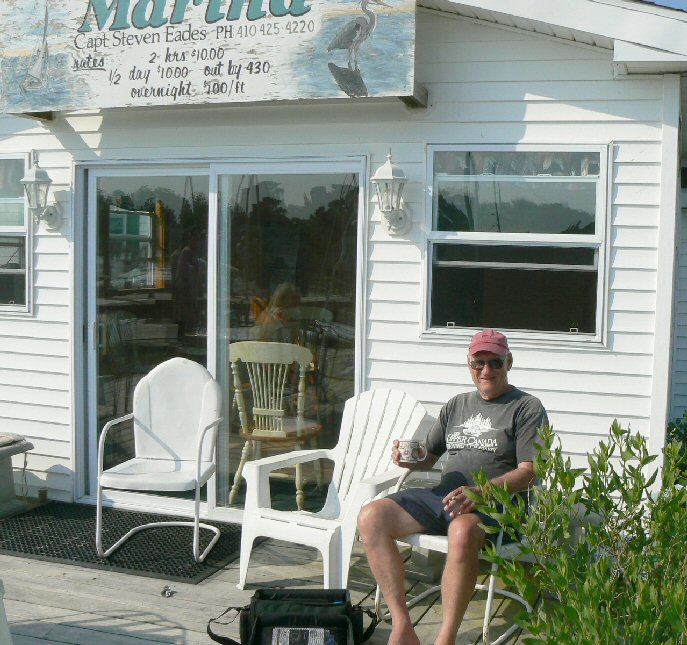 Uncle Al fights the no-see-ums with cigarette smoke (and his fine B&B coffee).


...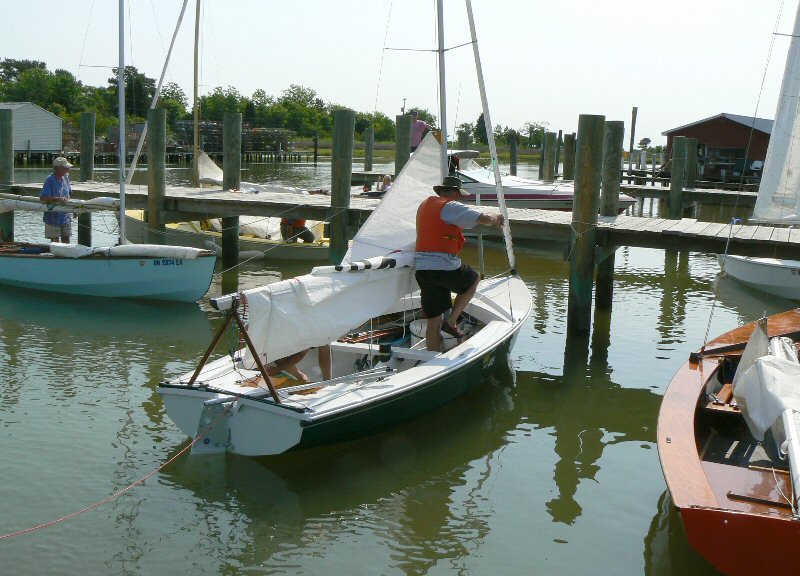 No need for much of a meeting to plan the itinerary today, since the obvious destination was Tangier and ...


...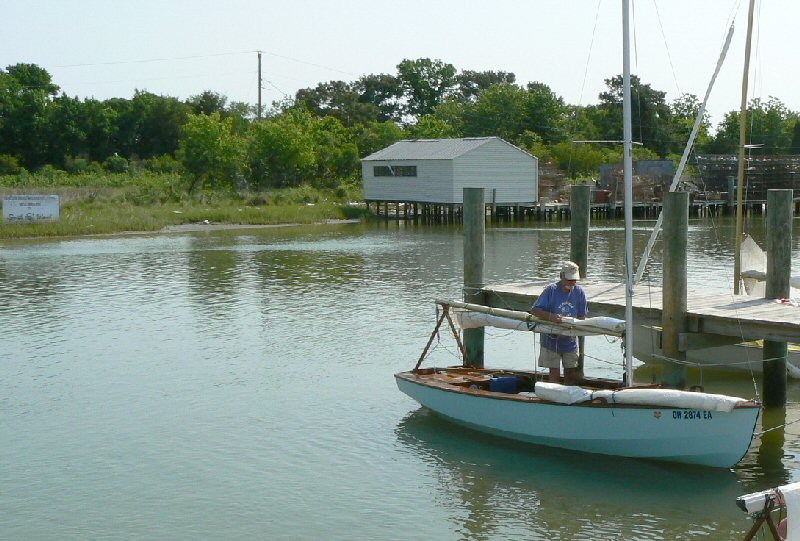 ... the winds were a perfect 10 to 15 knots from the south. With Dick's reminder of the hourly radio check-in fresh in our ears ...


...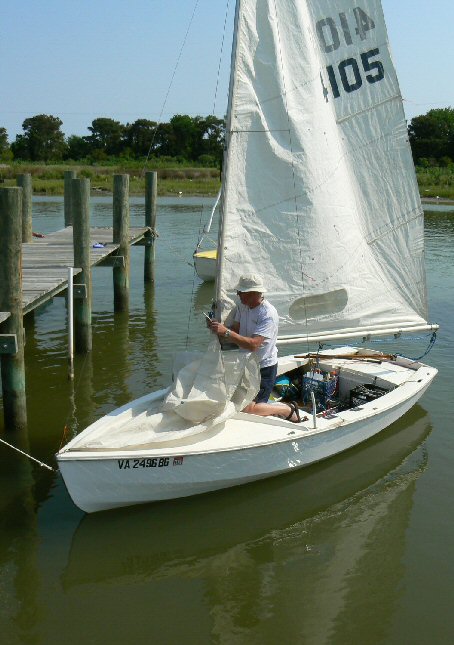 ... we prepared to set sail. Tony raised his main in the nicely sheltered marina while ...


...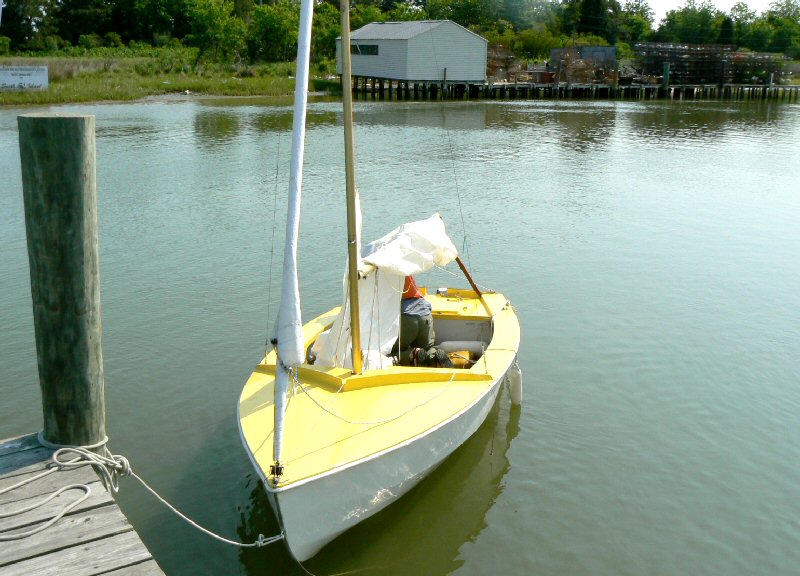 ... Roger and André made a wise pit stop before beginning what was likely to be a sail of at least four hours.