the Chesapeake Bay Wayfarer Cruise 2007
Crisfield - Smith Is. - Tangier Is. - Watts Is. - Crisfield
Thursday 31 May - 2
photos mostly by Alan Asselstine and Uncle Al


...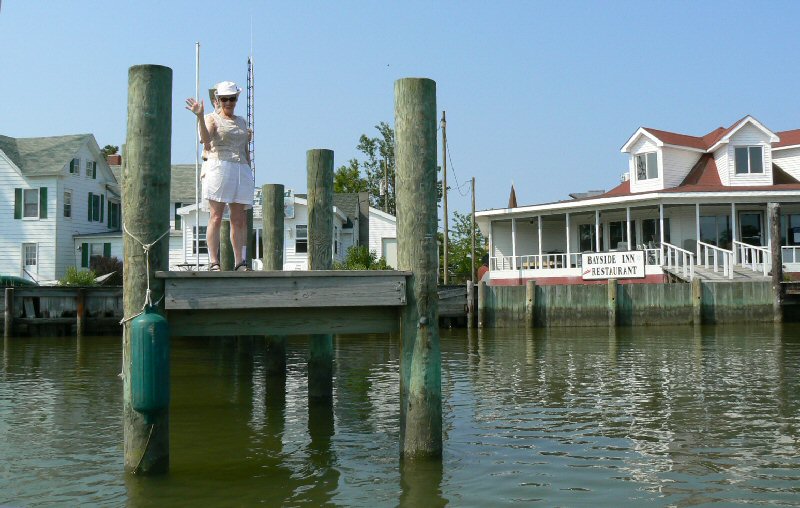 One of the two friendly couples who had shared the B&B with us came down to the dock to see us off.


...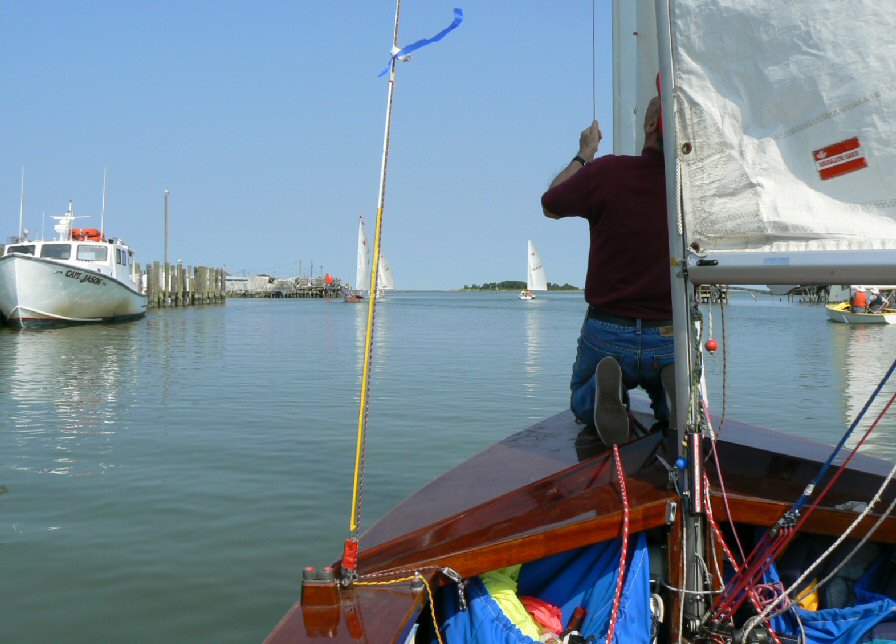 Hans unrolled the jib and we were off towards the ...


...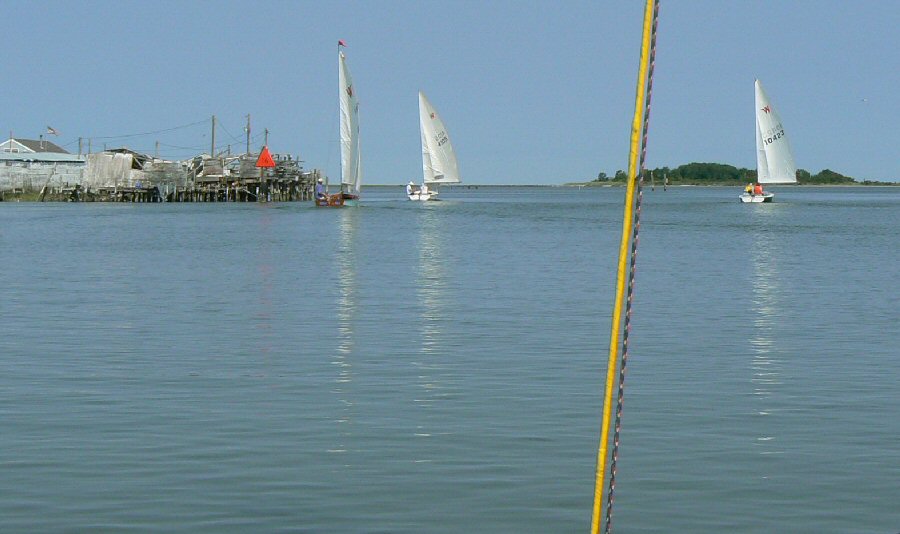 ... western exit from the Big Thorofare. Here ...


...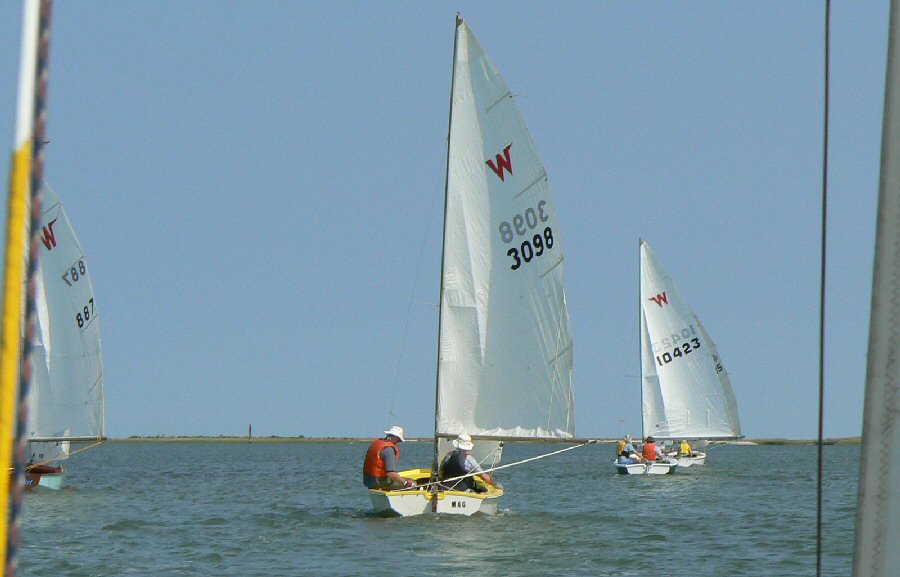 ... we stuck pretty much to the ...


...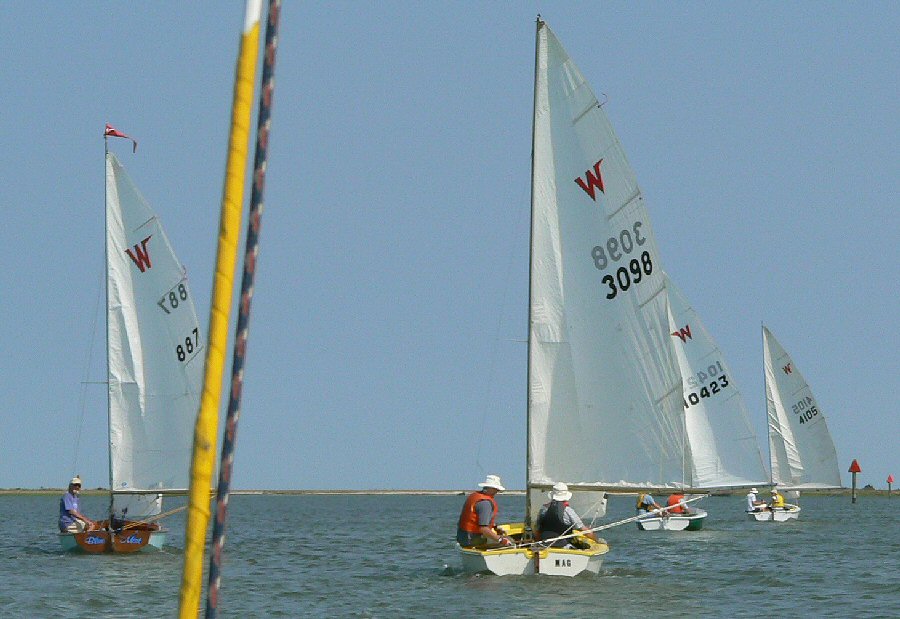 ... marked channel since there is the occasional (man-made?) rock pile elsewhere.


...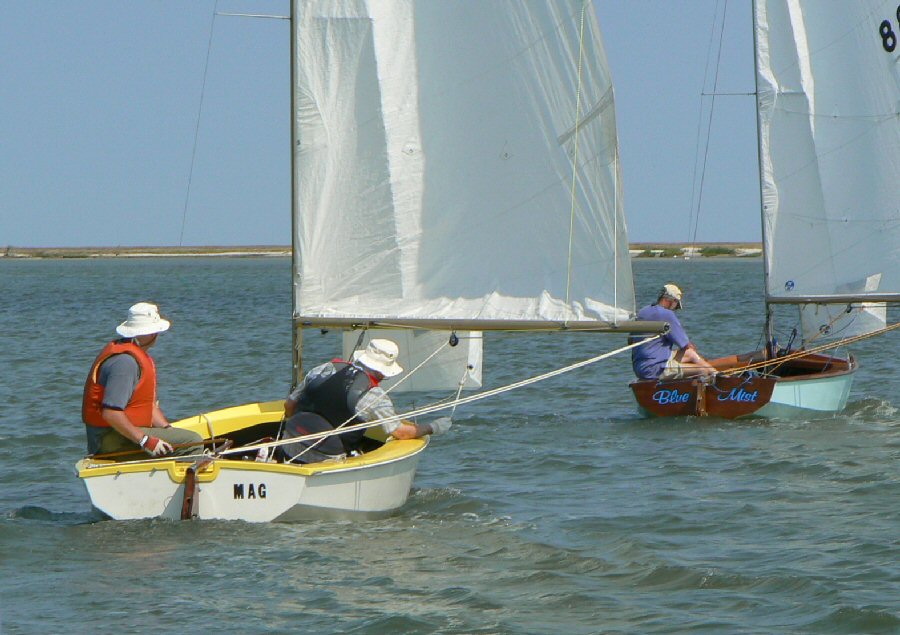 Sailing in "line of battle" formation like this, with us bringing up the rear, we got to take some lovely action shots.
Above, the Girards are following Dick while ...


...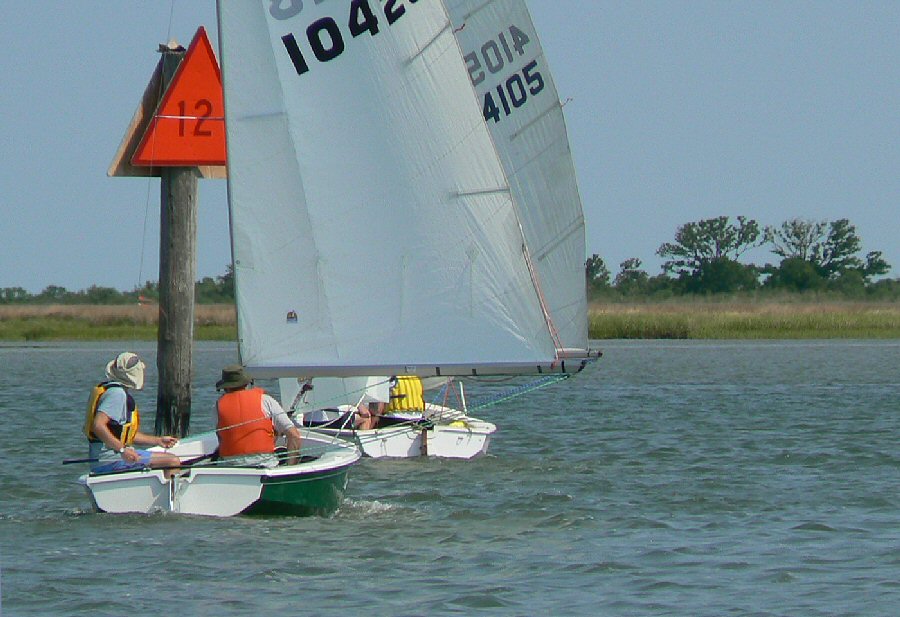 ... Richard (10423) and Tony (4105) get set to ...


...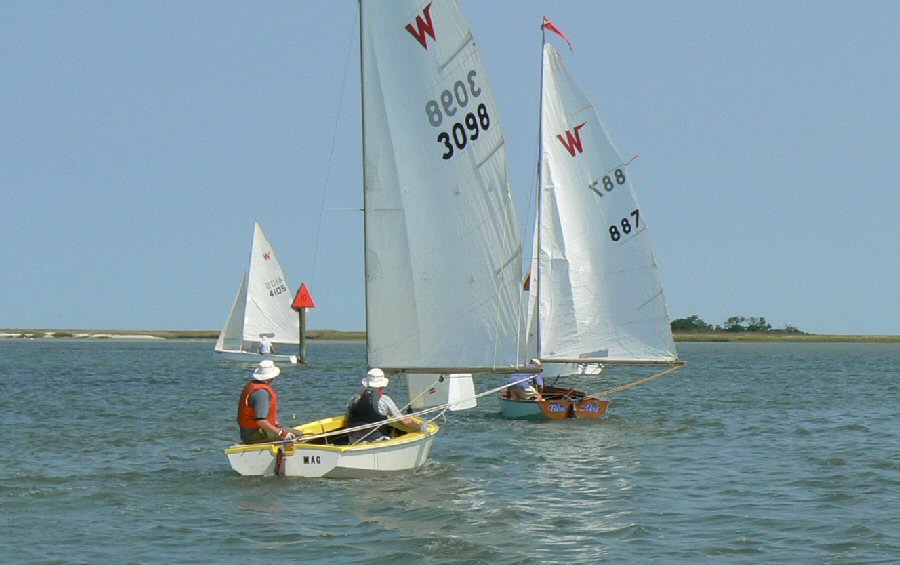 ... follow a right-angle bend in the channel.


...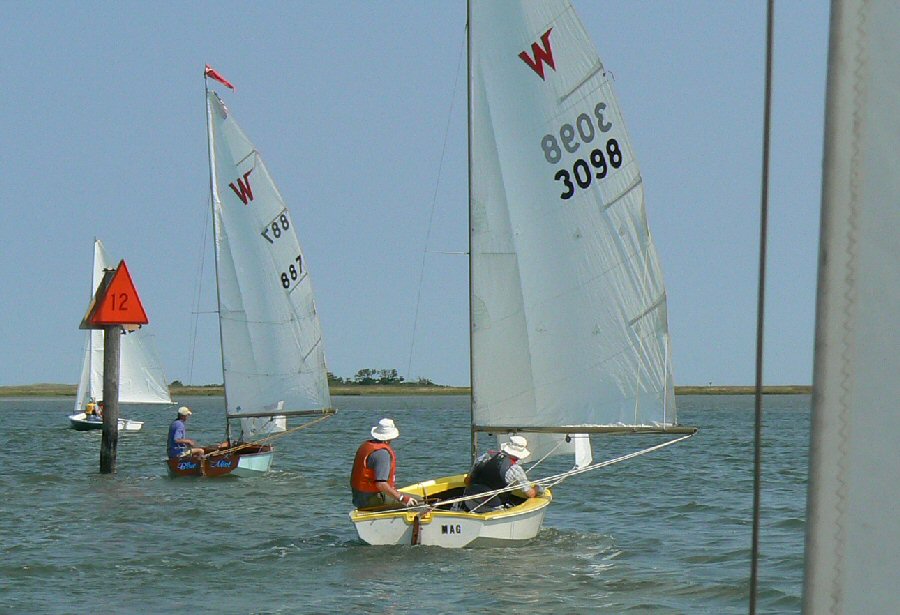 Looking good, Richard

(l)

rounds Channel marker #12, and ...


...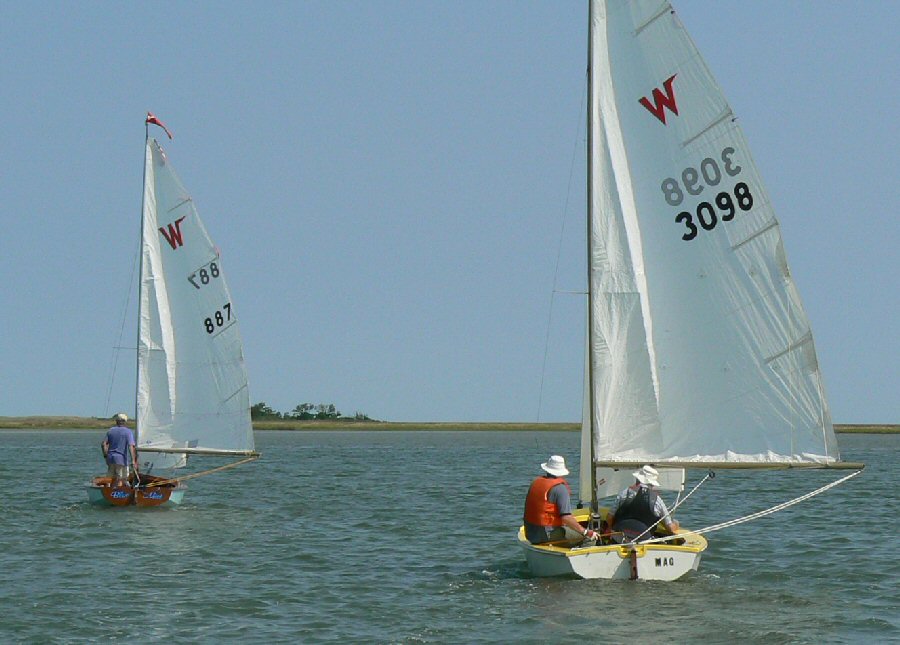 ... Dick (887) and André prepare to follow.


...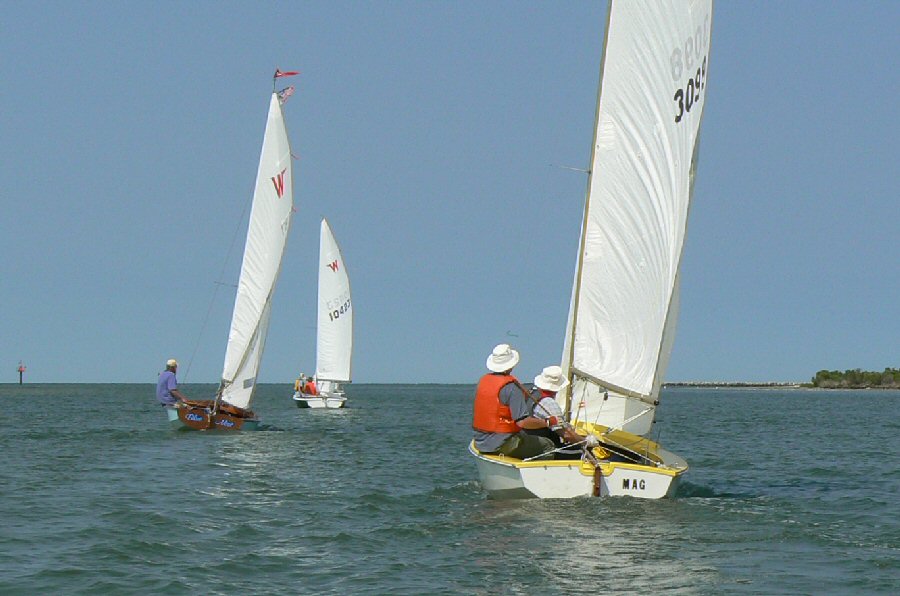 On the ensuing close reach towards the channel mouth, Al got to study ...


...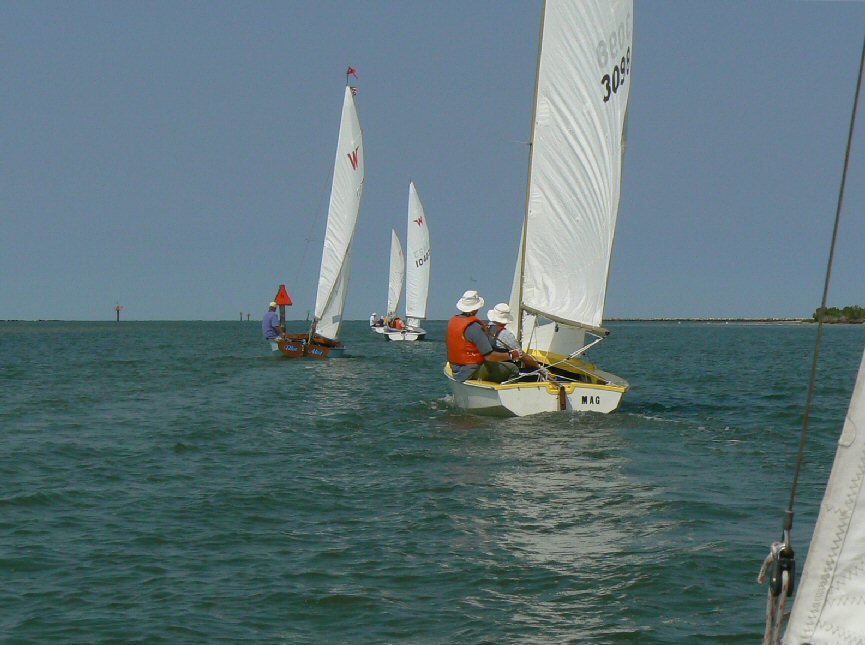 ... an interesting variety of mainsail leech shapes: even at this distance, we can see here that our leading boat Tony has the top of his main twisting off too far, and the fact that the aft end of his boom is angled upwards is the other clue that leads to the inescapable conclusion that Tony needs more downward pull on his main leech which he can achieve by sheeting his main in harder or by adding vang tension, the way Richard (10423) has obviously done. Why is it obvious? Richard's boom is out off the corner of his transom, yet he has perfect leech tension, and the only way you'll get that in this breeze is by adding some boom vang tension. Commodore Dick
(l)
has a very pretty curve in his leech that brings to mind pictures of old-time classic sailboats. Unfortunately, this may look good, but will leave him well short of being able to achieve optimum upwind performance: not only does the loose main leech reduce potential distance made good to windward, but also Dick's main will be fuller and more powerful than it would be if he added quite a bit more vang tension. This would not only tighten the leech but also bend the mast and thus flatten/depower his mainsail. And that's what he'll need, especially sailing solo, once he clears the channel and begins to sail truly closehauled in this breeze which is leaving even those of us sailing two up somewhat overpowered. André, meanwhile, is doing the best he can, considering his "pre-bent" mast. He has reduced his leech twist with lots of vang tension, and falls short of perfect trim only because his already bent mast simply can't "fight" against the vang tension hard enough to truly tension his mainsail leech to perfection.
...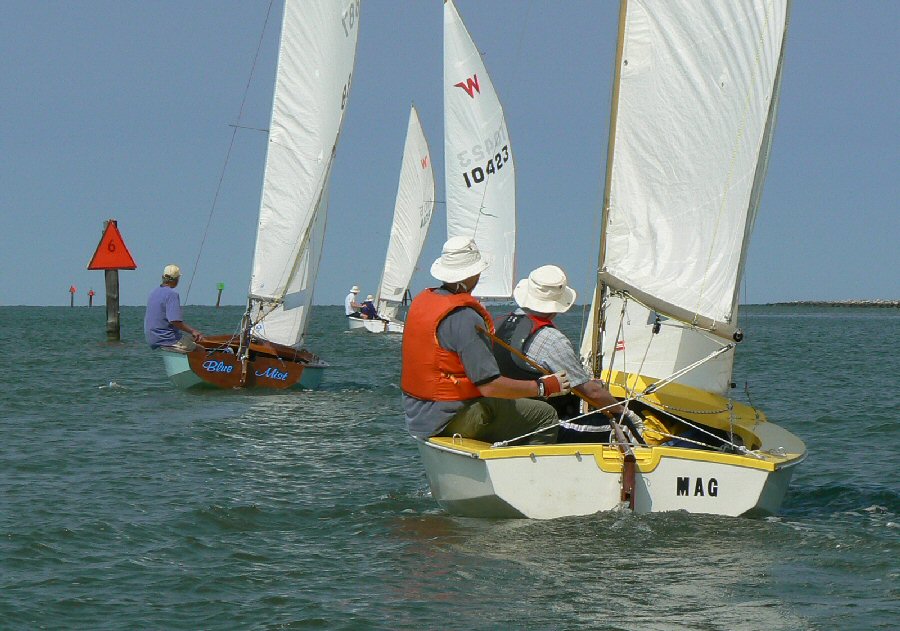 Another view of our assorted mainsail shapes. Hans and I, meanwhile, were easily kept in our position astern of the others
until
we passed the last of the channel markers and hardened up to closehauled. At that point, we cranked on lots of vang, usually eased our main a few inches off the corner of the transom and pinched up enough to sail with a partial luff of both main and jib in order to keep
The Nutshell
from heeling so much that we would begin to feel excessive weather helm. The other adjustment we made was to add some
main cunningham
tension which brought the position of maximum mainsail draft back forward to mid-mainsail after the added vang tension had bent the mast and flattened the forward half of the mainsail. In these conditions, the friction of the wind blowing aft across the main at a good clip will further push the cloth and thus the position of max. draft well aft even in a brand new mainsail, let alone in a worn-out old mainsail like ours that has softened after 13 years of hard use. Since having the max. draft aft near the leech does nothing but increase your tendency to heel, it is well worth making the effort to add some main cunningham when beating in any kind of a breeze. With the above sail settings, Hans and I made significantly better progress to windward than the other four boats, even though we never once hiked out, remaining instead, comfortably perched on the high side while enjoying our Beck's beer. We even had a port beer and a starboard beer, living in the bailer cut-outs of the floorboards when not being pressed into service.
...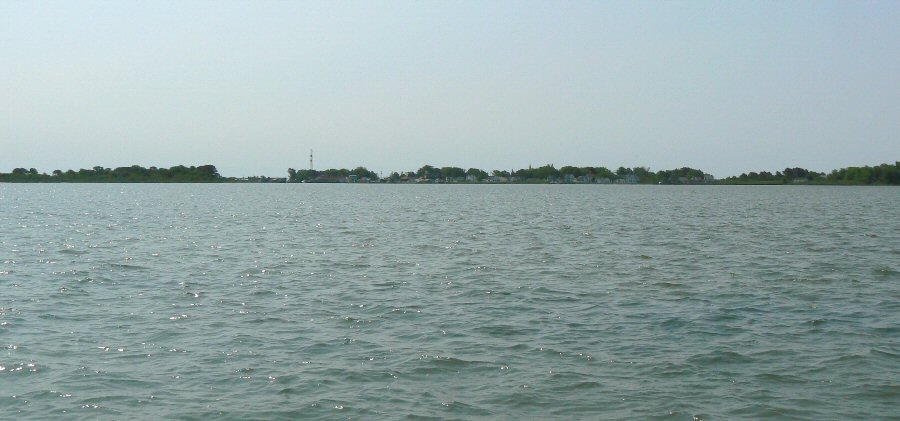 A look astern at ... - click here to see full-size pic


...




... the town of Ewell on Smith Island where we had again enjoyed our stay. - click here to see full-size pic


...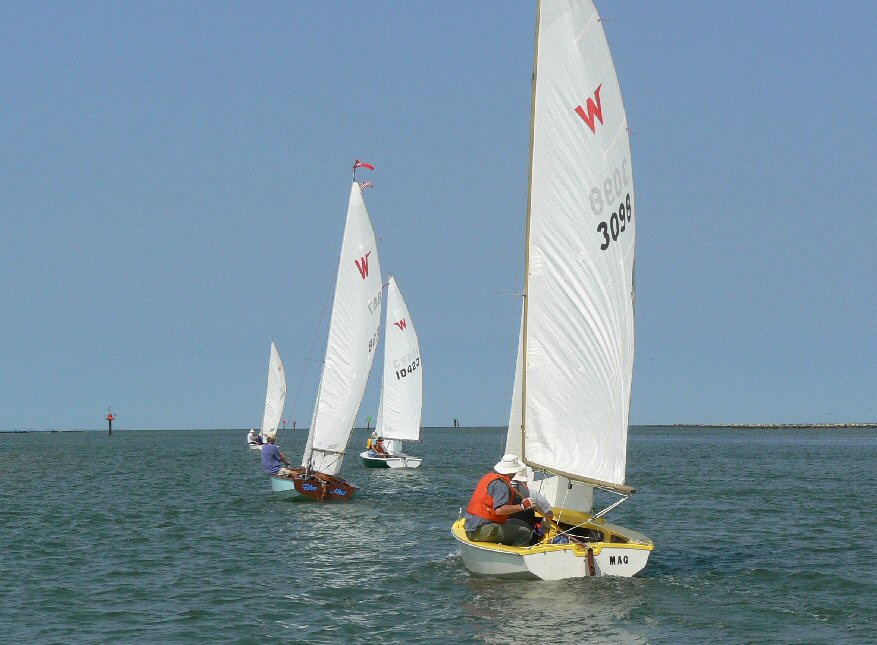 Here we are a couple of more times "in ...


...



... line astern" as they say in my favourite historical novels
(especially the unique Alan Lewrie series by Dewey Lambdin) about naval warfare 200 years ago.


...



André checks his mainsail trim.


...



Dick sails his

Blue Mist

on the edge of a luff to keep her from heeling too much.


...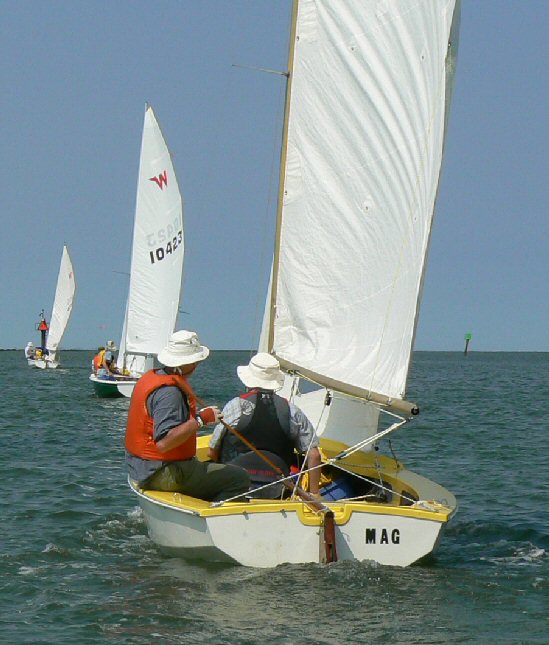 The flotilla continues to leave the channel markers to port.


...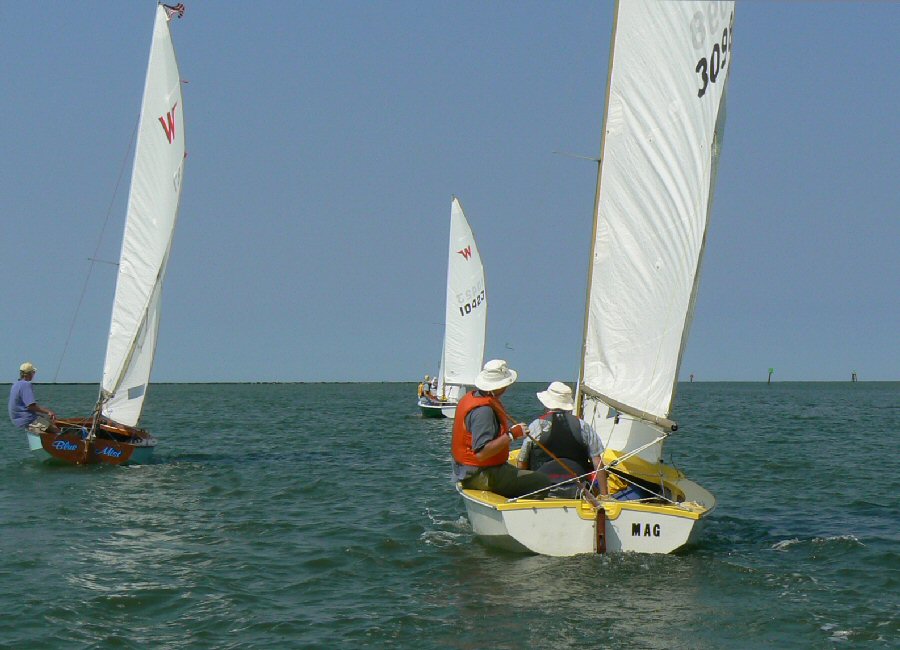 You couldn't ask for a better day for our 12-mile beat to Tangier: sunshine, a lovely breeze and temperatures in the low 80's F.


...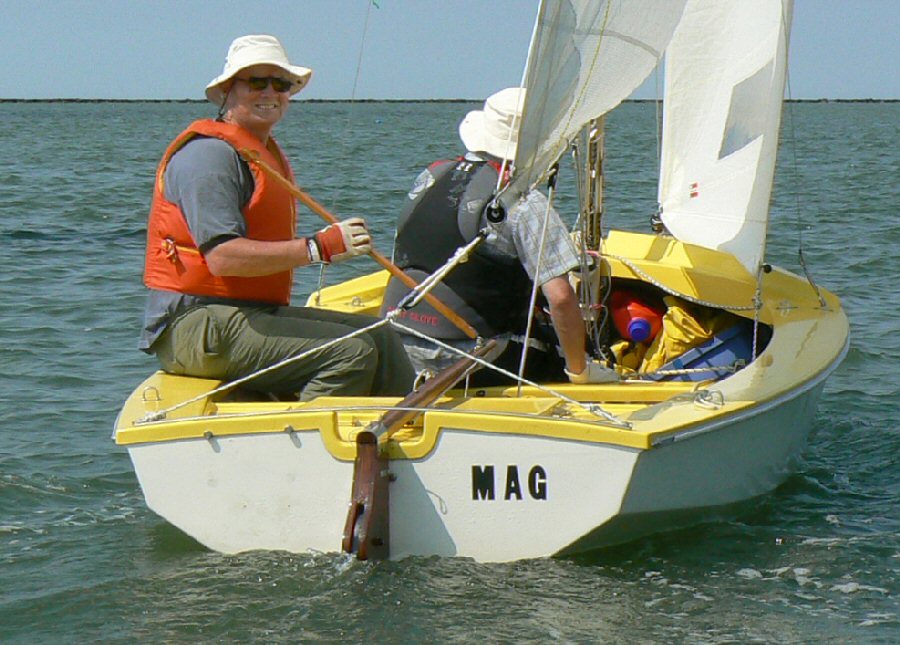 André

(l)

and Roger are ready to rock and roll, as are ...


...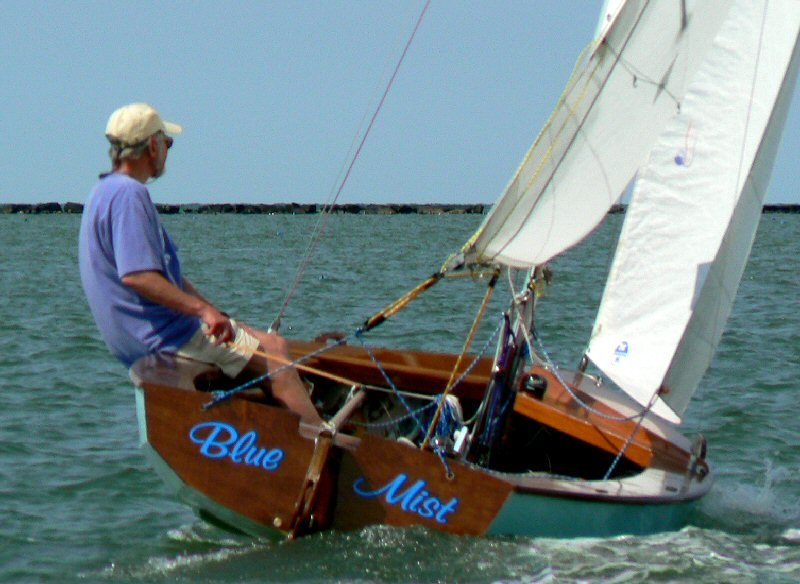 ... Dick Harrington and ...


...



...

Blue Mist

.


...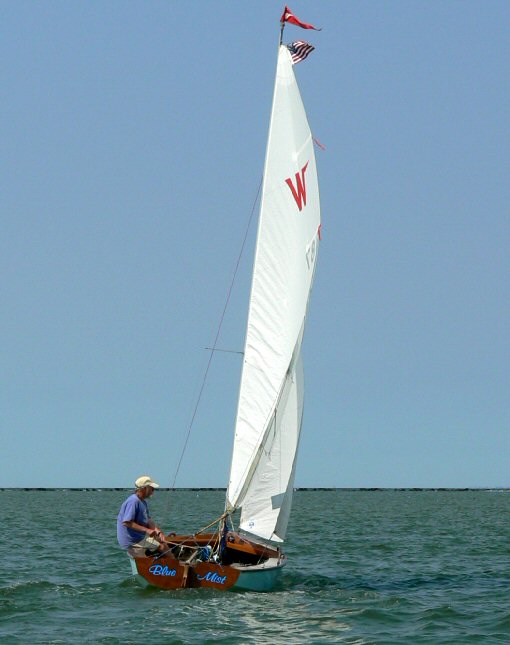 Nothing but glorious ...


...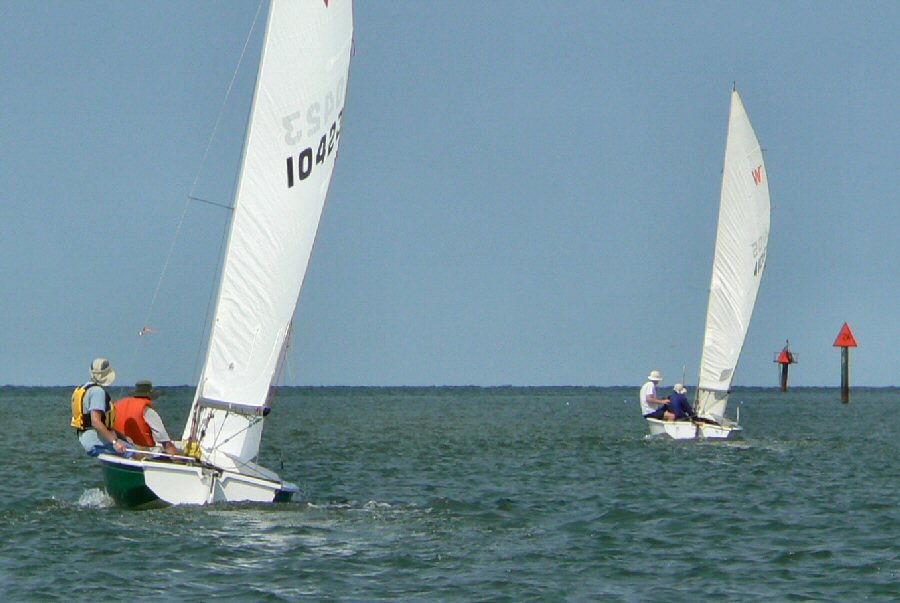 ... Chesapeake Bay waters ahead of us for the next four to five hours.


...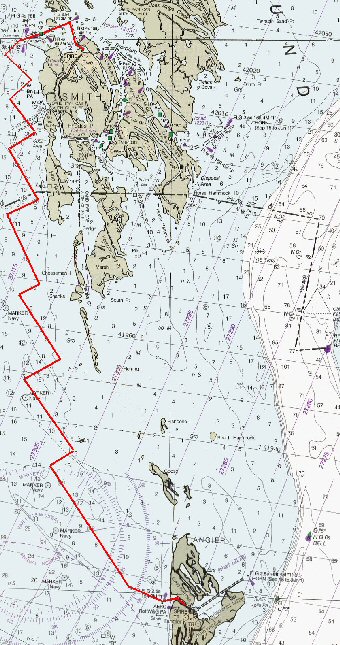 This year, we did not tack nearly as often as this chart image (re-used from the 2006 cruise report) would suggest. Having a GPS aboard most boats, we could hold a long port tack out into the Bay and easily check with the GPS to make sure we were not overstanding Tangier. This in turn reduced the amount of incidental contact between our centreboards and the rather shallow sandy bottom anywhere near the islands. - click here to see full-size image