the Chesapeake Bay Wayfarer Cruise 2007
Crisfield - Smith Is. - Tangier Is. - Watts Is. - Crisfield
Wednesday 30 May - 4
photos mostly by Alan Asselstine and Uncle Al


...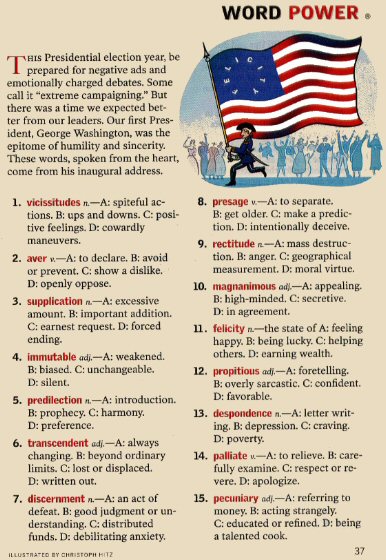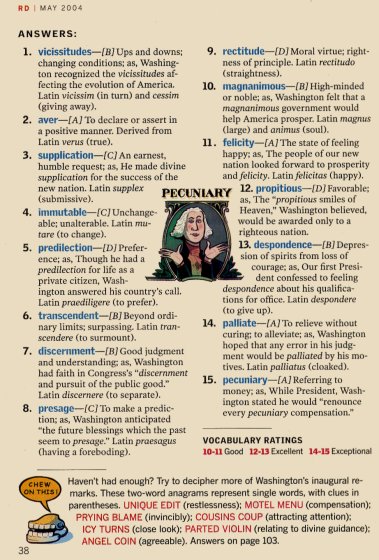 One of the first things Uncle Al discovered this year in the Marina common room
(below)
was a
Reader's Digest
. Soon, he and Tony were doing the
Word Power
test found in each issue. We aced it, of course. But as the beer kept flowing, we decided that we had found a challenge to be met: attempt to use all 15 words from the test on this page. My attempt follows, and the relevant words will be in
red
. This may be dumb but Tony and I are
immutably
convinced of the
rectitude
of such a course of action. He and I have a
transcendent predilection
for vocabulary which we will
magnanimously
share with you. We
aver
that it does indeed "Pay to Increase Your Word Power". And any person of
discernment
would surely agree!
...
It didn't take us long to make ourselves right at home at the
Smith Island Marina
. Our faces, as you can see, reflected our
felicity
. Unfortunately, Pauli and her husband were away in Iowa for Pauli's father's 80th birthday. Still, we refused to let this be a cause for
despondence
. We did after all, have lots of beer to
palliate
against such a mood. In any case, the good news was that they had left Pauli's brother, Mike, in charge, and we had a lot of interesting chats with Mike. But first, Hans and I needed accommodations. Quickly, I went to make my
supplication
to Mike and got us, in return for reasonable
pecuniary
considerations, what turned out to be the last empty room in their
Chesapeake Sunrise
B&B.
(l to r)
Dick, Mary, André, Richard, Hans, Tony, Alan, Roger - click
here
to see full-size pic
...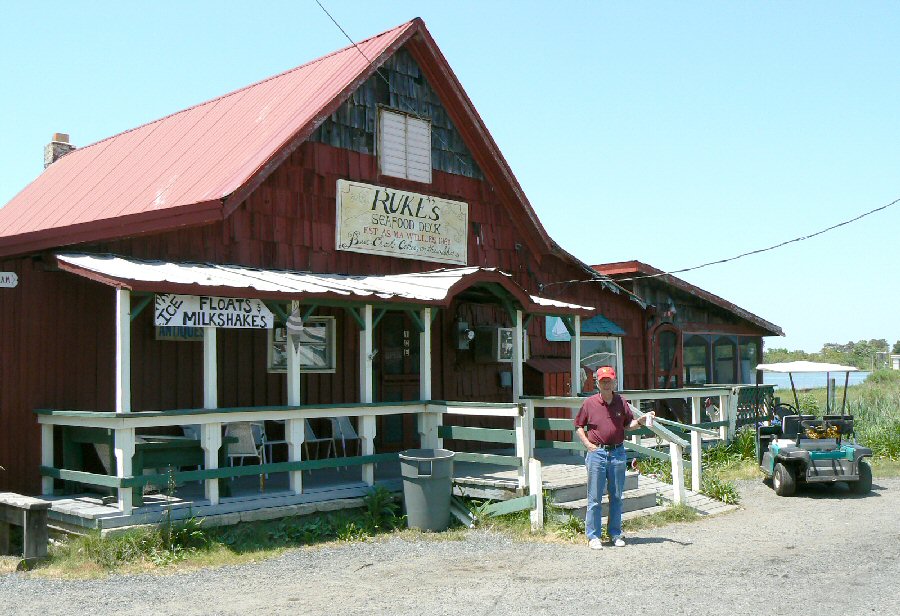 We had rushed to make it to Smith Island before the
Bayview Restaurant
's usual 3 PM closing time. But, the
vicissitudes
of life on Smith being what they are, we were aghast to find that it wasn't open at all this day, there having been no tour boats come to Smith. This was
not
a
propitious
sign, and we sincerely hoped that this development did not
presage
a night on short rations!! But the ever resourceful Dick went foraging and came up with this fine alternative just a couple of hundred yards down the road. Above, you can see Hans luring Uncle Al with a can of beer.
(Al's note: see! the challenge has been met! easy!)
...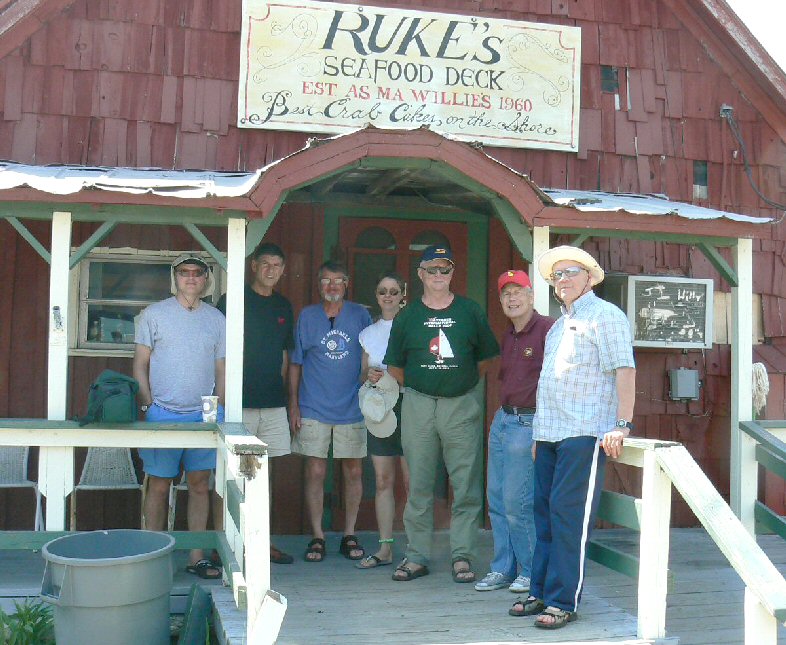 These obligatory group shots were ...


...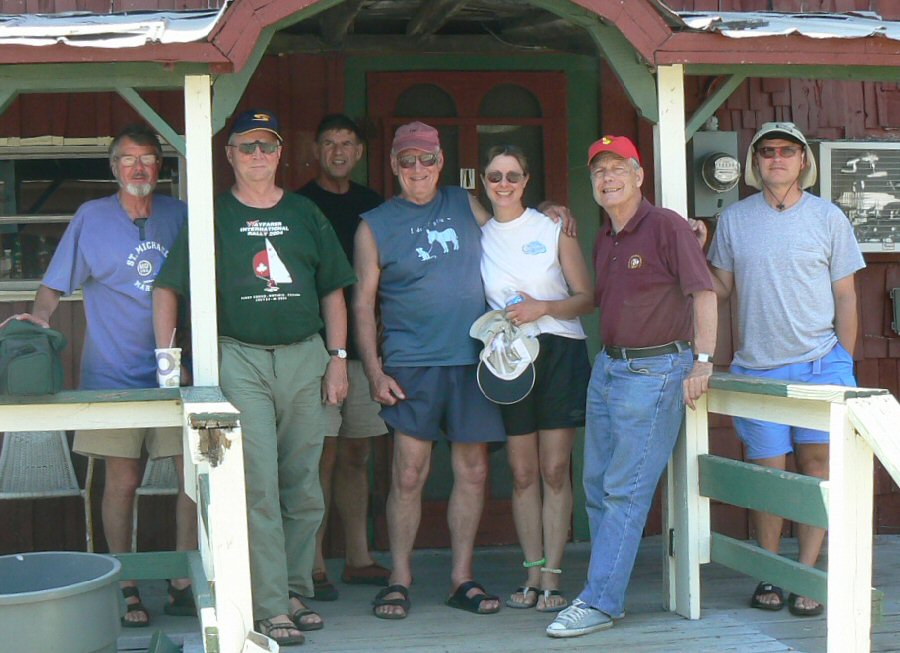 ... actually taken after ...


...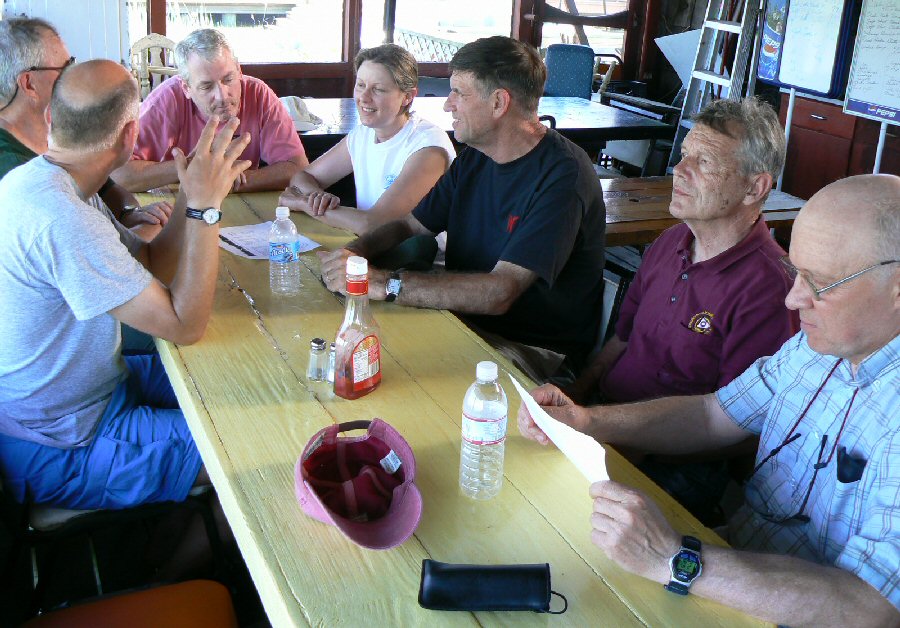 ... we had enjoyed a fine lunch/supper ...


...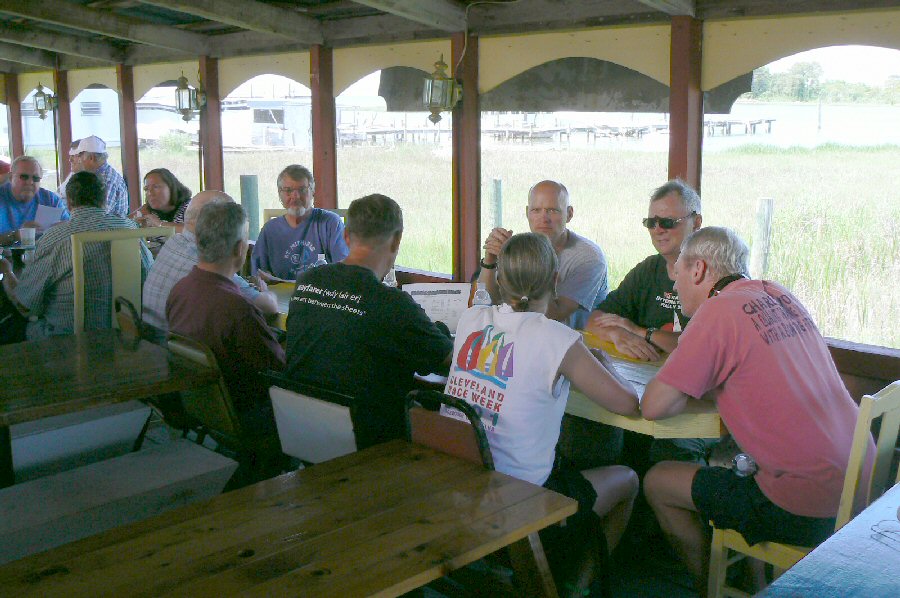 ... inside.


...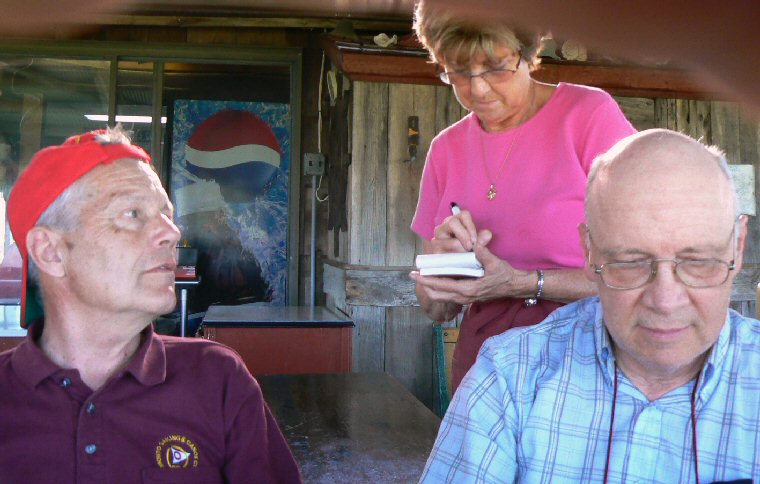 Hans makes sure our server has taken his order correctly. After eating, both Hans and I felt seriously nap-deprived and rushed to check out our room at the B&B. And what a lovely room ...


...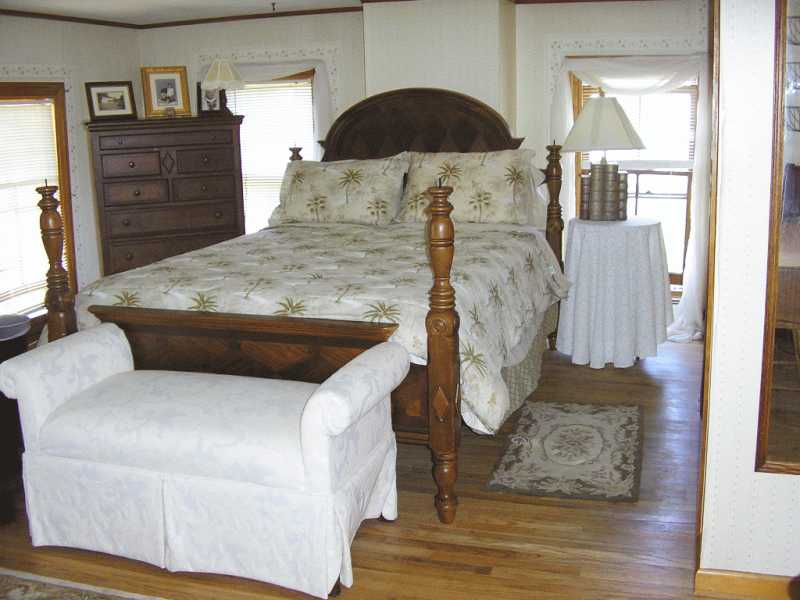 ... it was! There was a single bed as well, which Hans graciously chose, and even a trundle bed for Mary who would be our guest since she tends to feel claustrophobic, wedged under the main thwart of the Wayfarer. Hans's suggestion of upgrading our cruise accommodations from the Wayfarer floor was looking more and more like a stroke of genius!!

...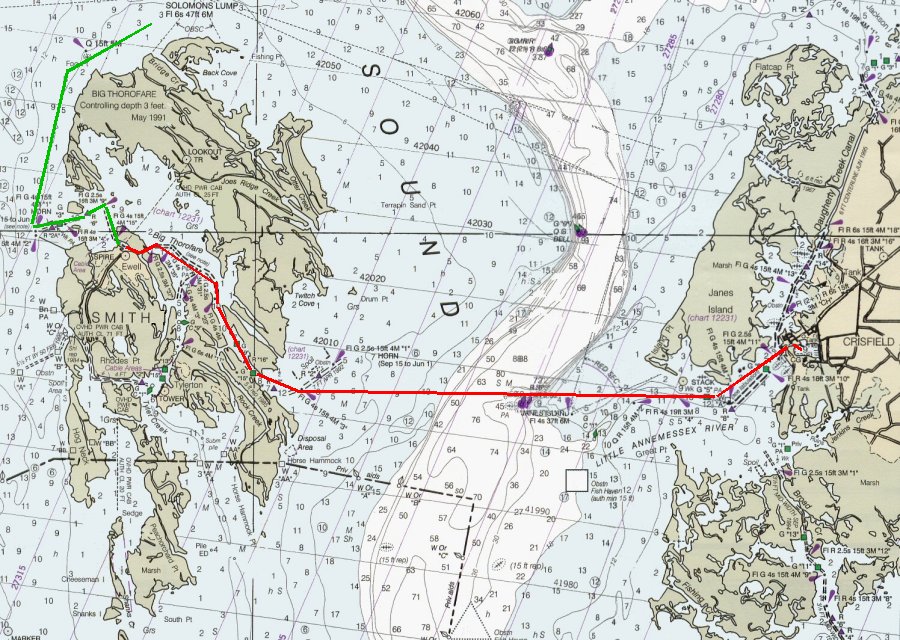 While Hans and I napped the rest of the afternoon away, the rest of the gang enjoyed a pleasant sail to the north end of Smith

(see green lines above)

and back. - click here to see full-size chart image


...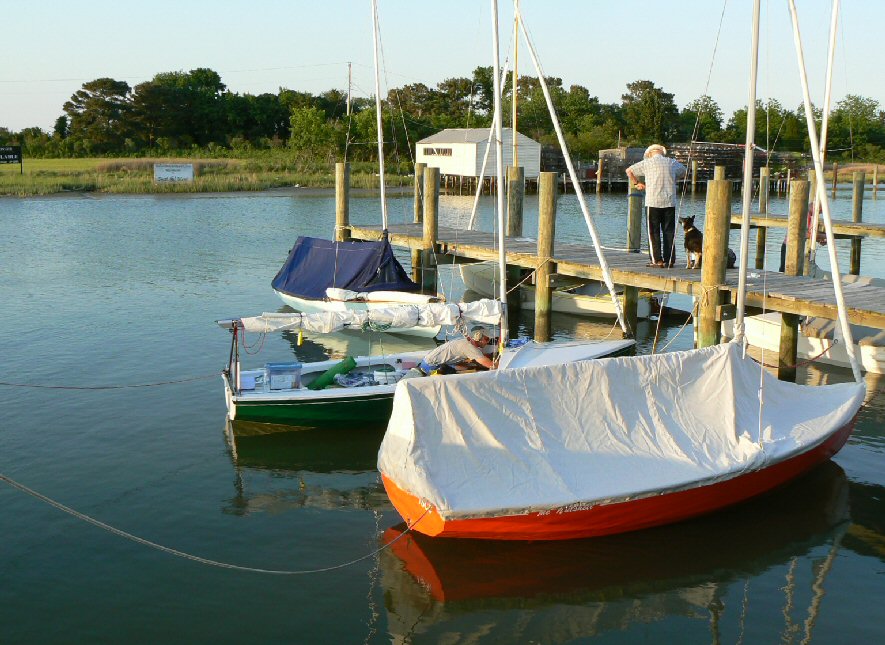 As sunset neared, the boats were prepared for the night.


...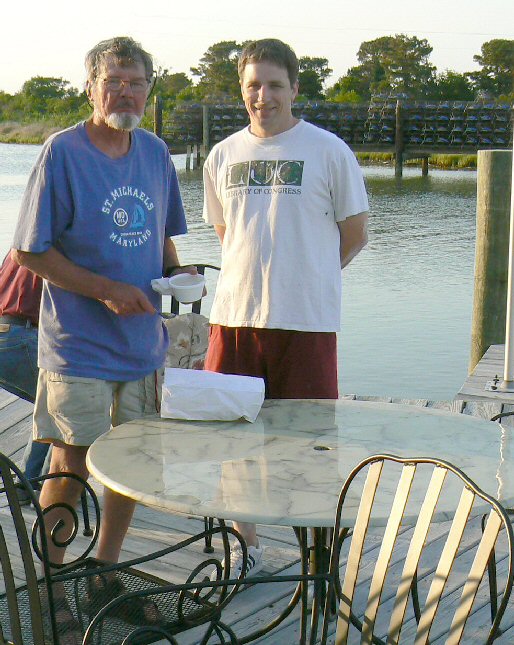 Dick was in charge of getting our docking fees settled with Mike

(r).




...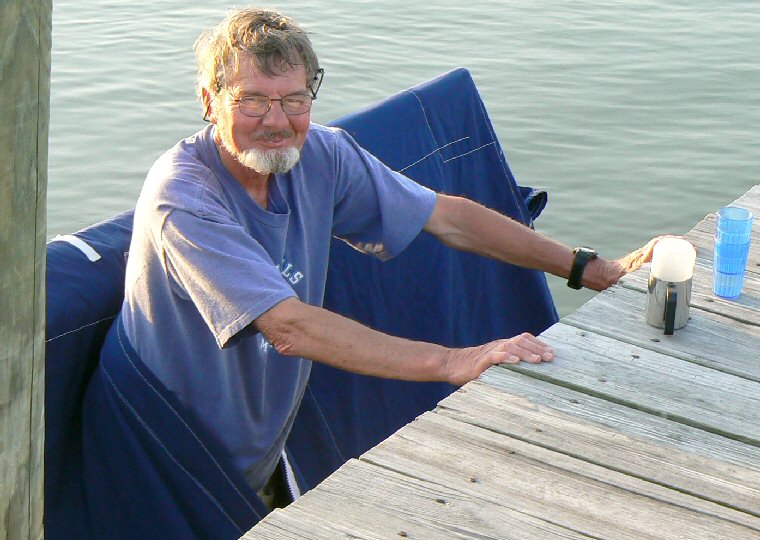 Dick stashed everything in its place before the party moved indoors to the little cabin.


...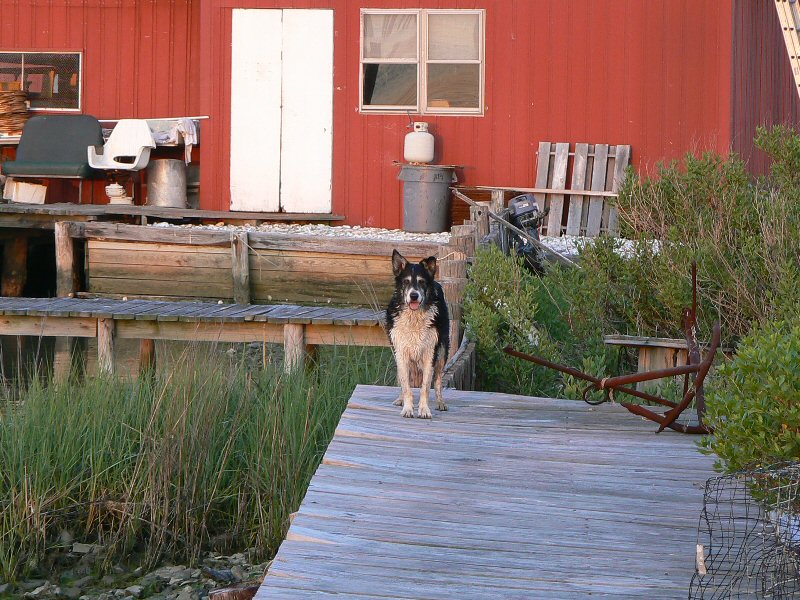 We acquired a canine friend who ...


...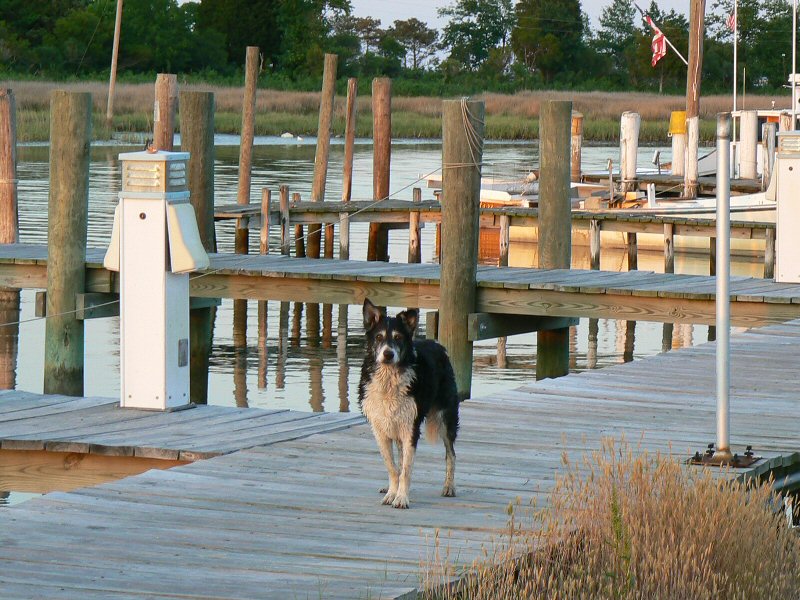 ... was visiting from somewhere in town (Ewell).


...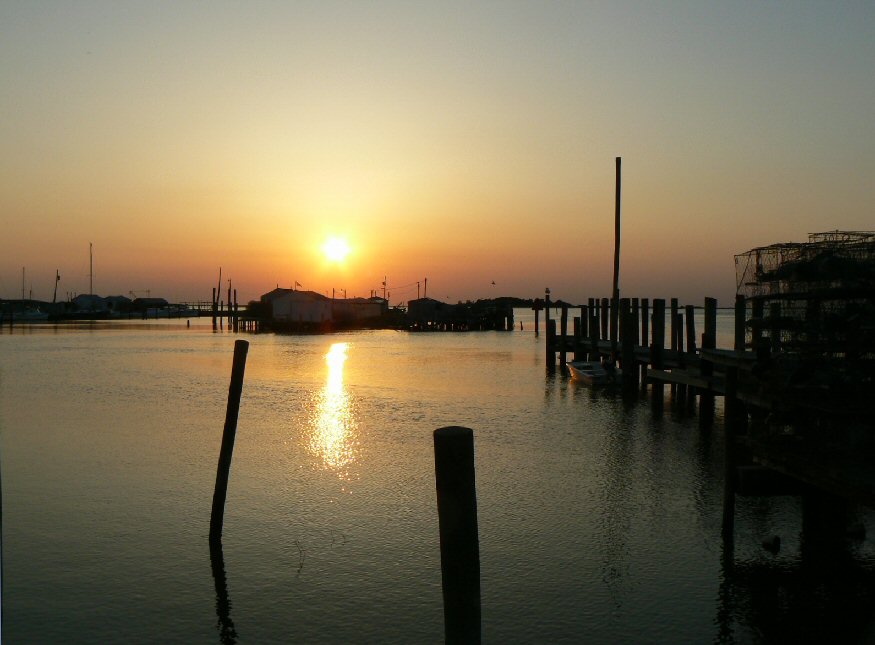 Mary once again took ...


...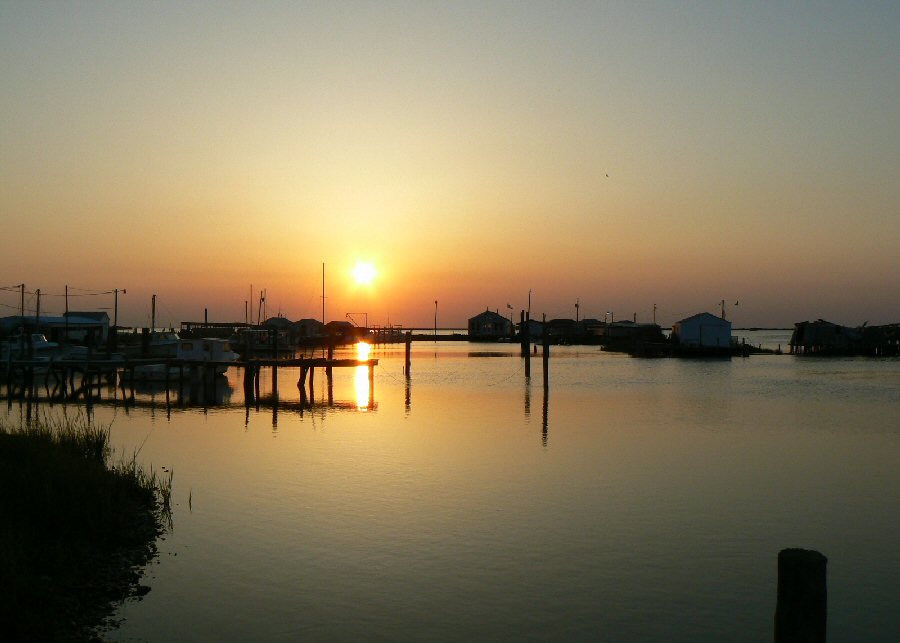 ... lovely sunset photos.


...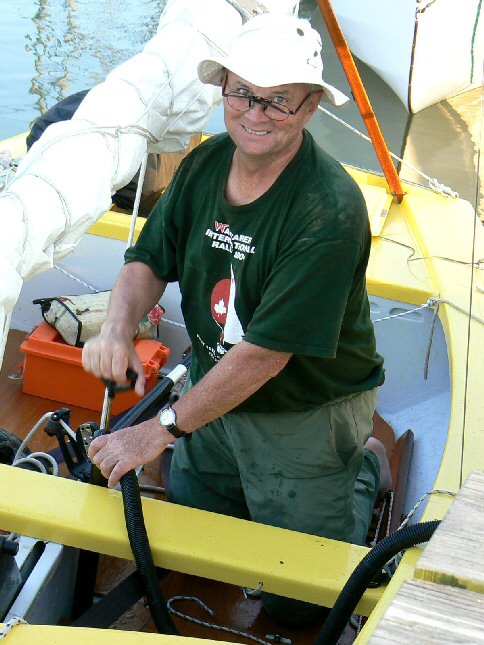 André still looks unconcerned here as he pumps out water that he was assuming had sprayed into his boat during the late afternoon sail. A couple of hours later, our party in the cabin was interrupted by the unwelcome news, that the port bailer on W3098 seemed to have sprung a significant and permanent leak after the lads had unwisely tried to force the bailer closed with a rope wedged through its opening. Al recalled a 1999 cruise north of Manitoulin Island where a similar problem was successfully addressed with duct tape and single malt scotch (the latter being optional)(click
here
and go about 1/3 down the page for
that
fiasco). That duct tape had held for an entire week of sailing, so all we now needed was a place to tip the boat such that the damaged bailer could be made duct-tape-accessible. A quick scout-around by Tony revealed a (relatively) dry patch of saw grass a couple of slips further down, and "Operation Sleep Dry" was quickly ...
...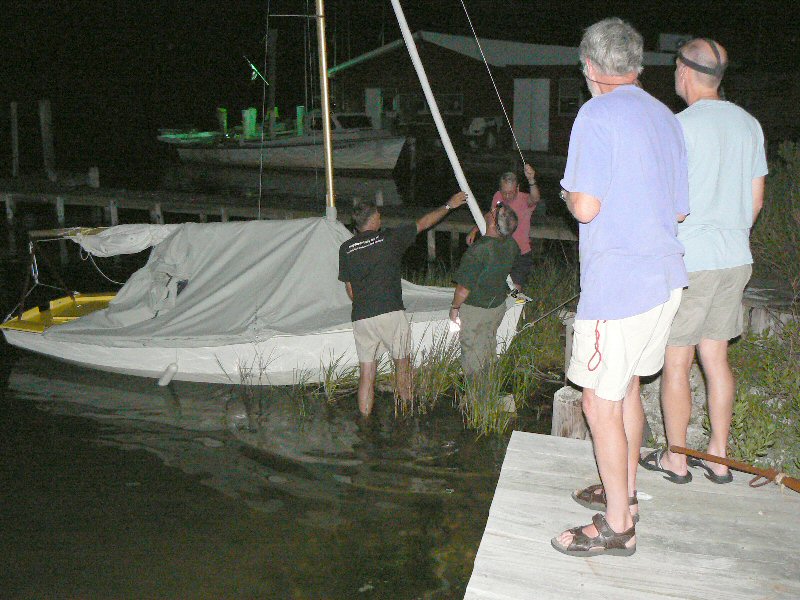 ... underway. Of course, the boom tent and sundry other items needed to be removed first.


...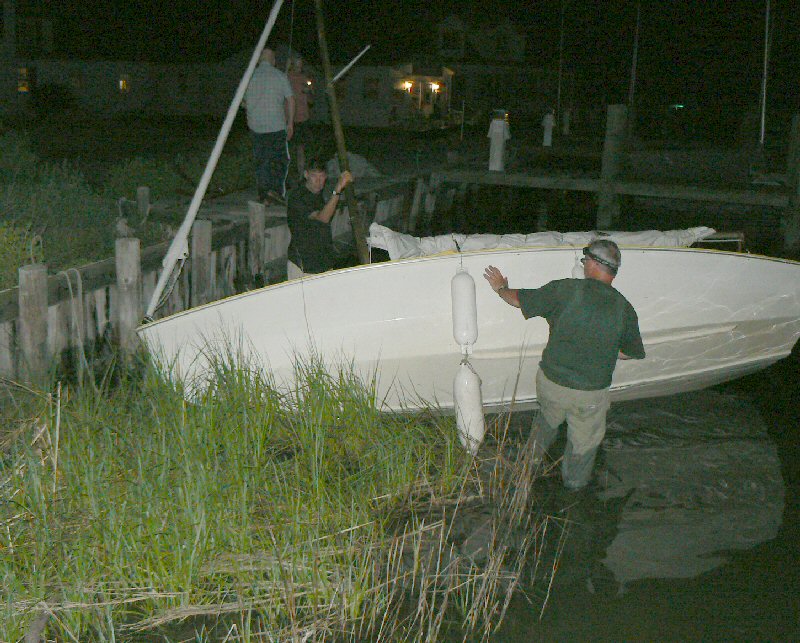 With André working the duct tape on this side, the others faced the delicate task of tipping the boat enough to bring the bailer out of the water but not so much as to let the muddy, slimy water get into the other side.


...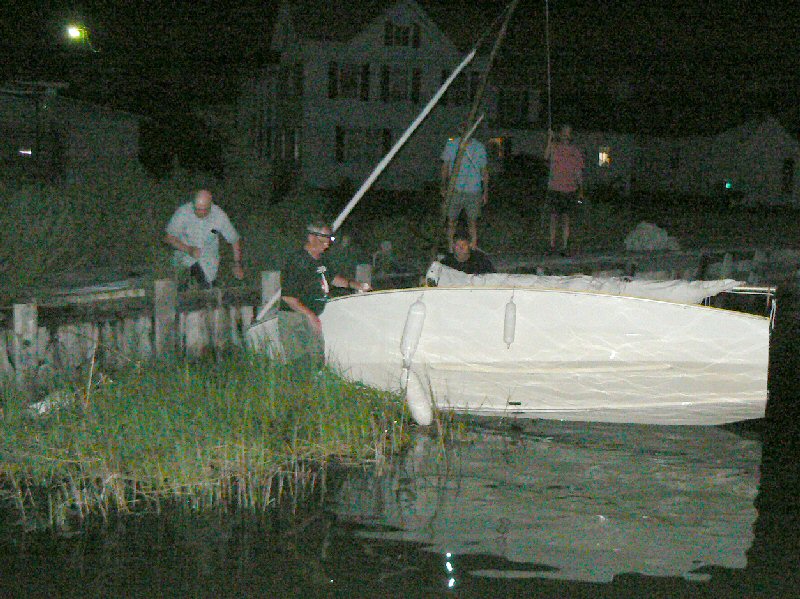 That point of delicate balance having been duly ...


...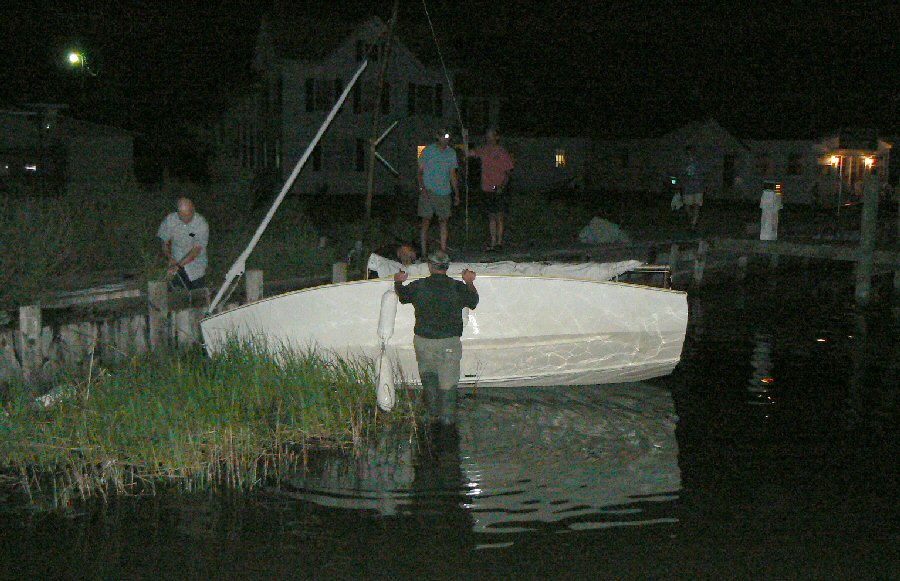 ... reached ...


...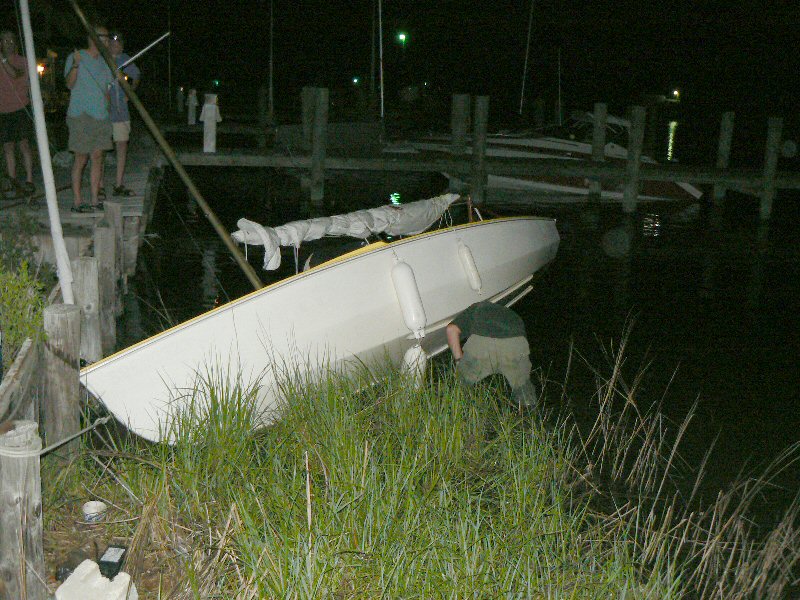 ... Doctor André applied the "surgical dressing".


...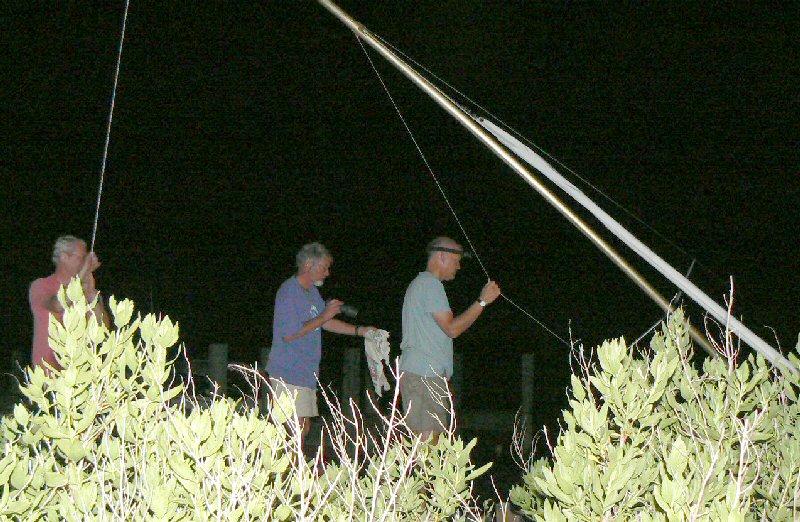 MAG

was then duly and delicately re-righted, re-provisioned and re-tented. Soon, we were happy to hear André announce that the leak had been successfully stopped. After which, we called it a night.