the Chesapeake Bay Wayfarer Cruise 2007
Crisfield - Smith Is. - Tangier Is. - Watts Is. - Crisfield
pre-cruise warm-up - 1
photos mostly by Alan Asselstine and Uncle Al


...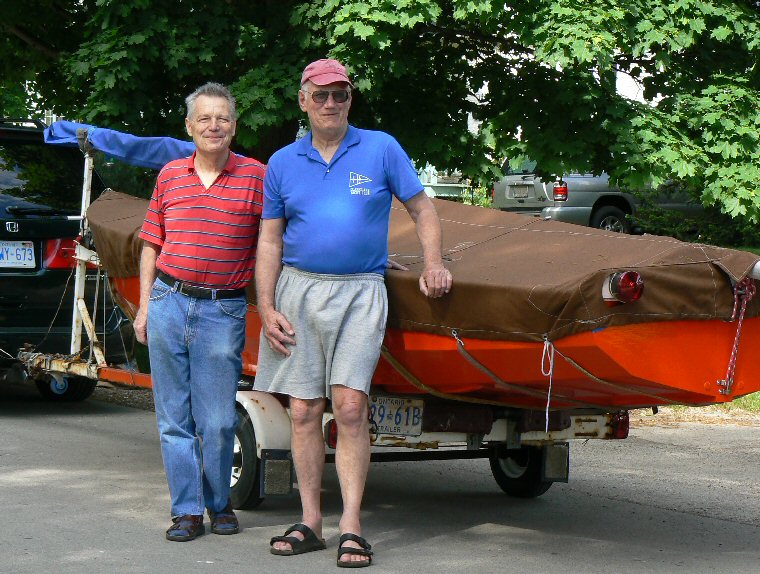 At 0930 hrs on Sat 26 May 2007, Hans Gottschling
(l)
with
The Nutshell
in tow, appeared as promised to pick me up at my Oakville, ON front door, complete with four delicious rolls with German deli ham that would serve as our travelling lunch. We quickly loaded up my contributions into the Hansmobile: sails and anchor, mostly. The latter was immediately stowed in a lovely protective bag that Hans had made to measure. After all, he didn't want an anchor banging and scratching the lovely finish of
The Nutshell
!!!
It was a perfect morning for the first leg of our drive to this year's Chesapeake Bay cruise, a leg to the home of fellow Wayfarer, Richard Watterson where we had been invited to spend Saturday night. As
MapQuest
had assured me, this trip of 623.12 km through Buffalo to Hummelstown, PA via the scenic lesser highways of western NY and central Pennsylvania took about seven and a quarter hours. Even with the occasional smoke break for Uncle Al, we arrived in Hummelstown (near Harrisburg) by about 1700 hrs. To accompany a fine BBQ supper of burgers and sausages served up by Richard's wife, Julia, Uncle Al dug out the wherewithal to do a test flight of the
Dark 'n Stormies
which would be Hans' and my contribution to the cruise's refreshment requirements. The dinner and drinks were a great success and we whiled away the evening talking Wayfarers and checking out Richard's W10423, an Abbott Mk III.
...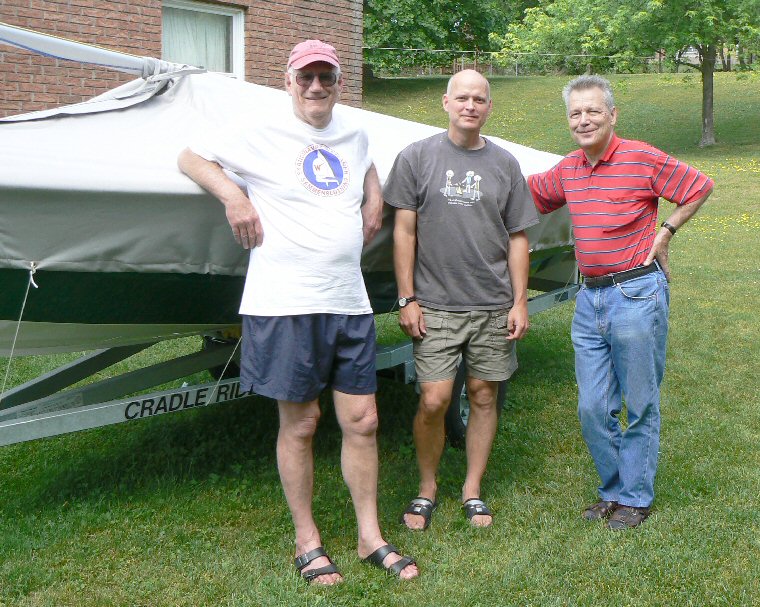 After a most refreshing night's sleep, we were up bright but not so early, since this leg of the trip would only involve a two-hour drive east to the home of Tony Krauss and Mary Abel who live in North East, Maryland's
Elk Neck State Park
right on the extreme northern end of the Chesapeake Bay.
...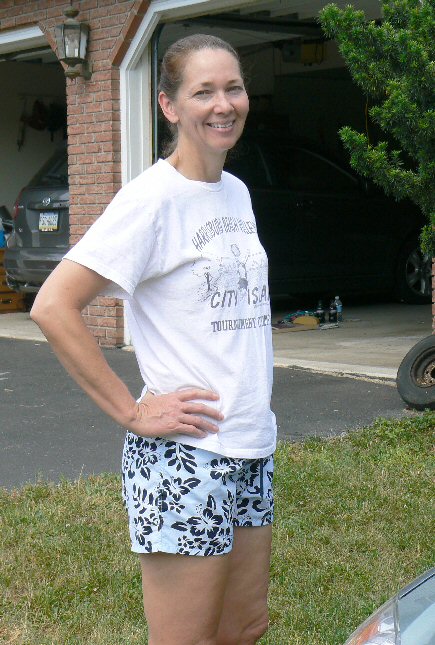 Our hostess, Julia, consented to have her picture taken in front of the Wattersons' two-car garage
which is cleverly deep enough to accommodate the Wayfarer across the back plus two vehicles side by side in winter.


...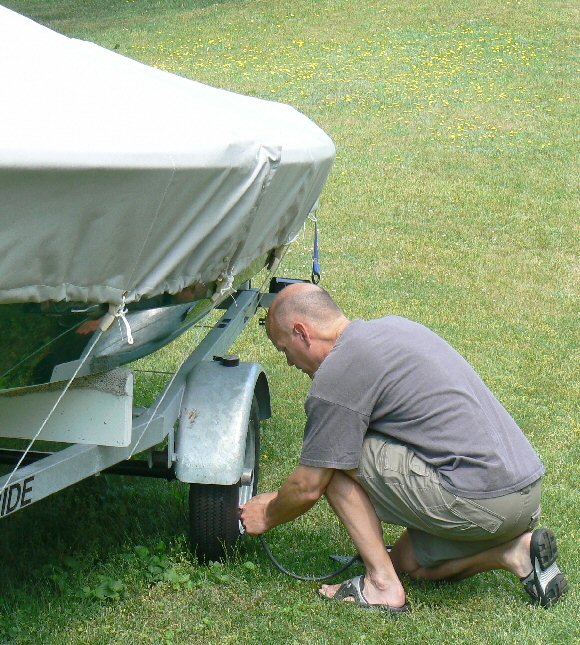 As befits his status as a professional pilot, Richard does the final pre-flight checks and tune-up conscientiously.


...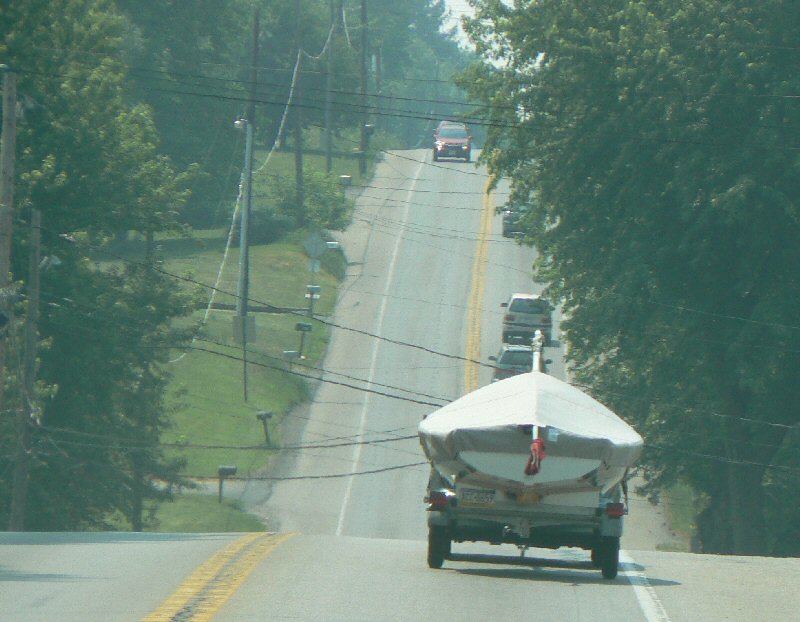 No need for

MapQuest

's directions here, as we had our very own native guide to lead the two-hour way. This gave Al the chance to document how well a Wayfarer tows when covered by a Hans Gottschling boatcover.


...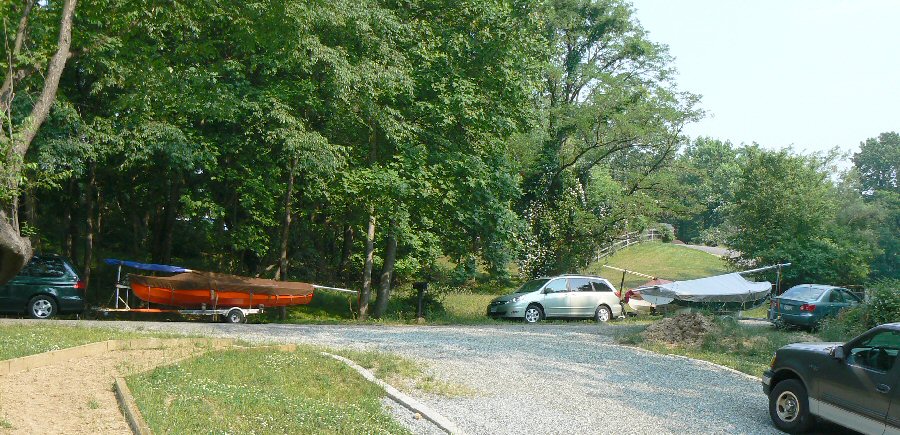 By late afternoon, André Girard and brother, Roger, had arrived after an early-morning departure from Ottawa, ON, bringing with them, Alan Asselstine who would sail with Richard. The Wayfarers parked out in front of ...

...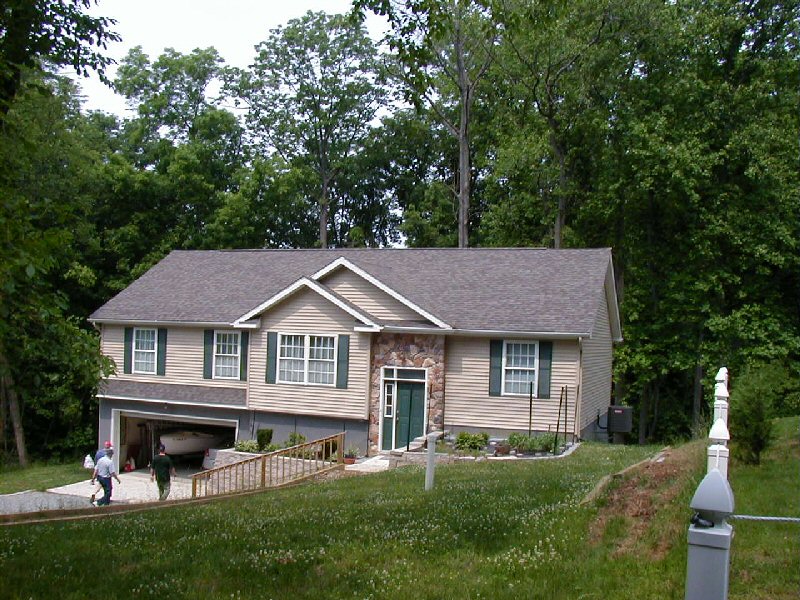 ... Tony's place added that last little missing touch to an already lovely neighbourhood.


...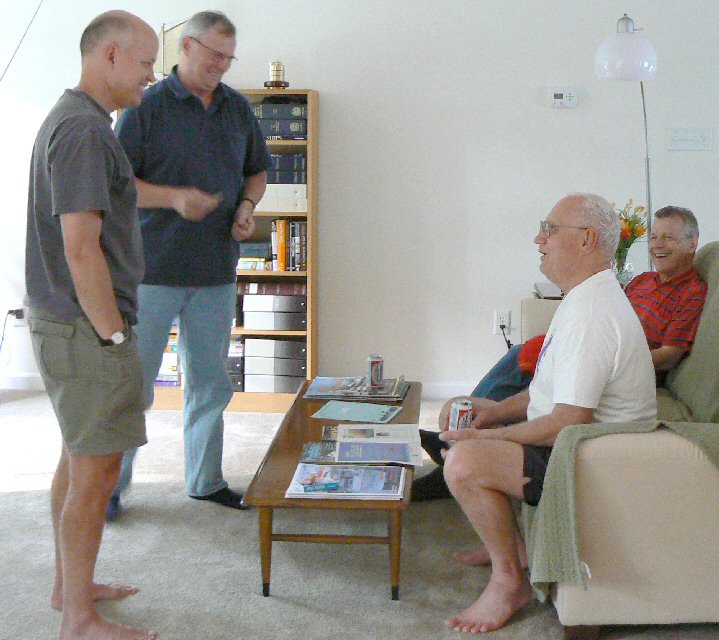 Except for cruise leader, Dick Harrington, who always visits his daughters in Virginia on the Memorial Day weekend, all the cruise participants were now present and accounted for, and sailing talk soon ran rampant.
(l to r) Richard, André, Uncle Al, Hans


...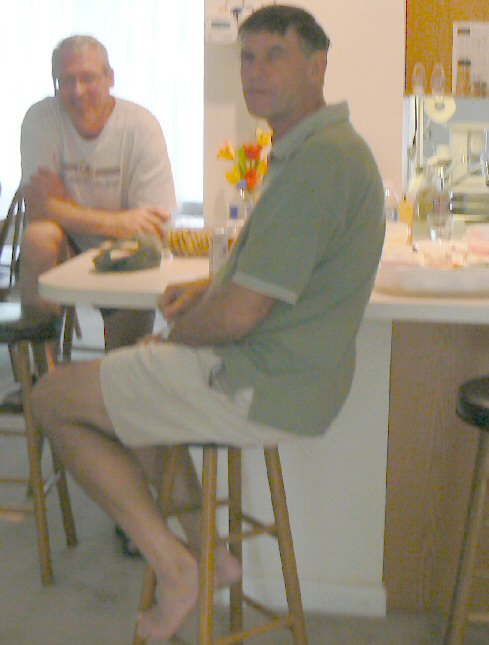 Tony

(l)

and Alan sat closer to the food.


...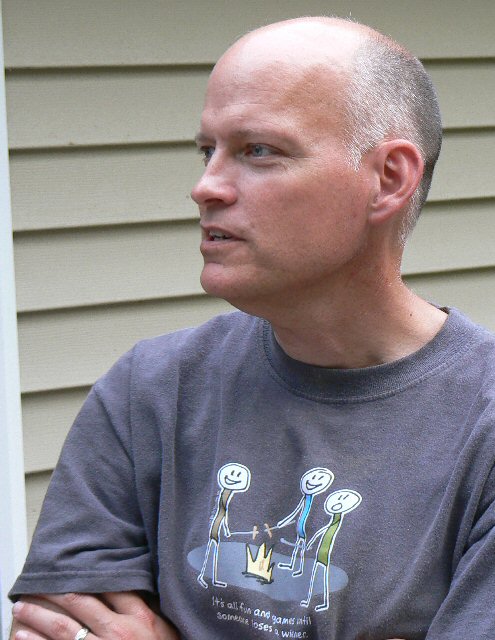 Richard


...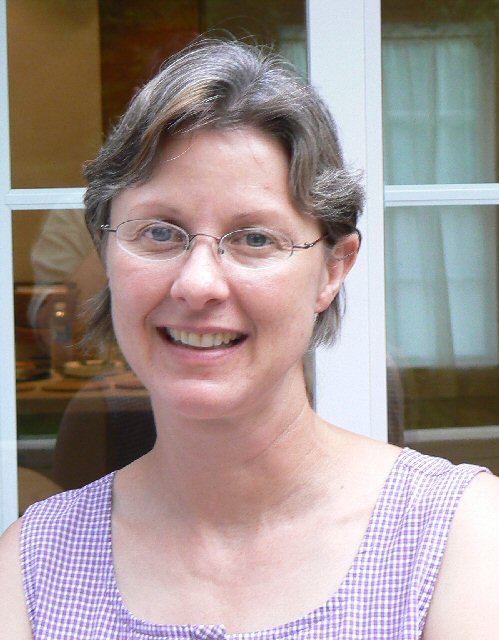 Mary ...


...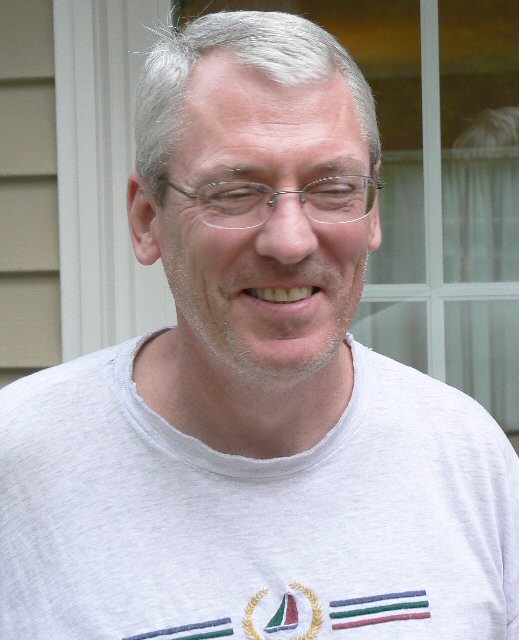 ... and Tony were the only ones actually working, as they took their hosting duties seriously.


...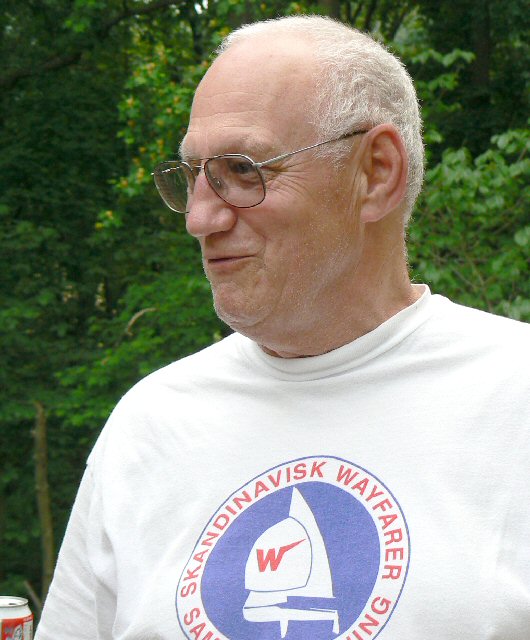 Uncle Al


...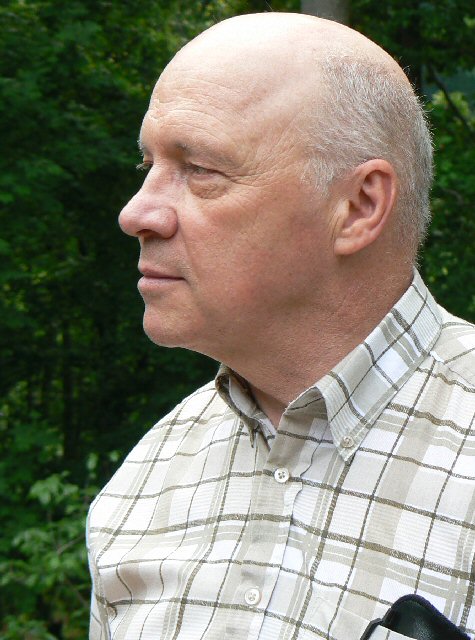 Roger


...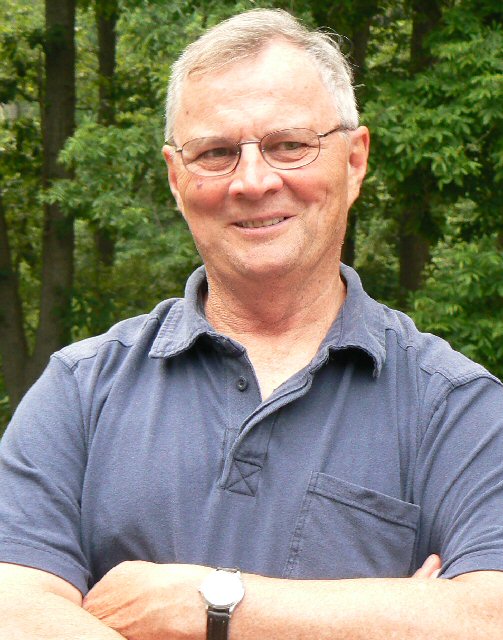 André. (no portrait of Alan who took these lovely shots)


...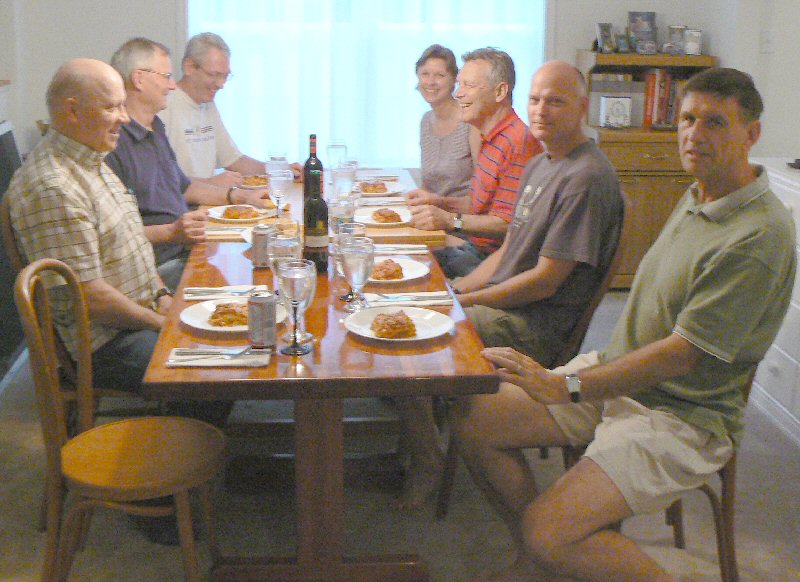 We enjoyed a lovely supper before ...


...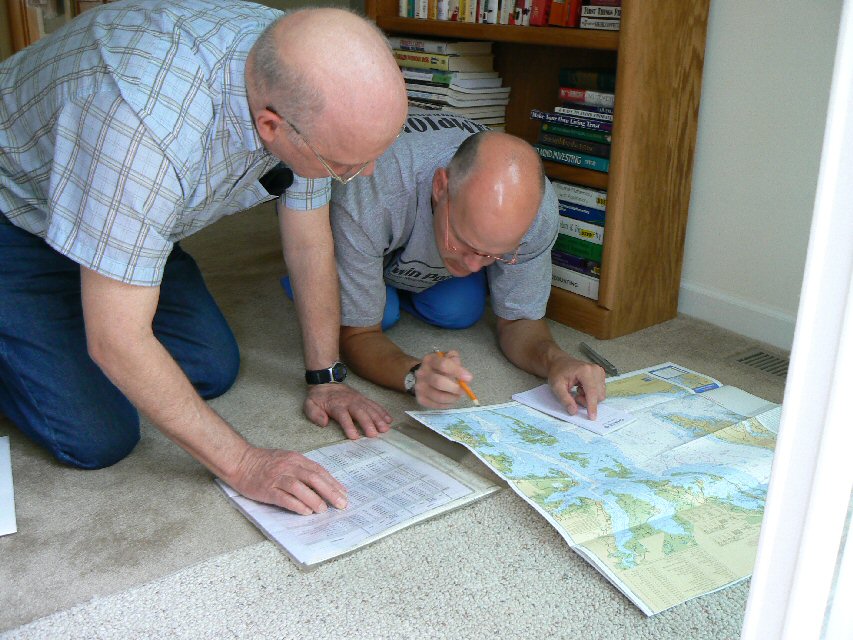 ... getting into some serious cruise planning.


...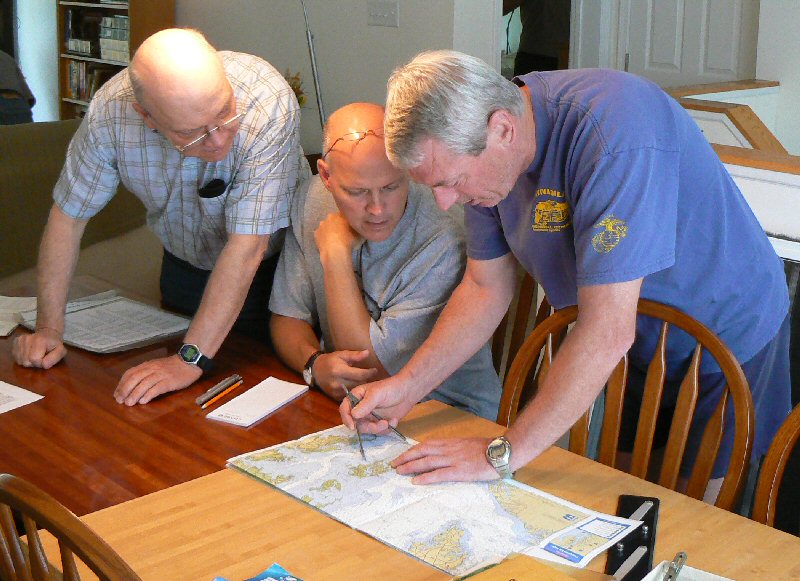 A former member of the Coast Guard, Tony had such niceties as dividers and parallel rulers,
not to mention his bosun's whistle.


...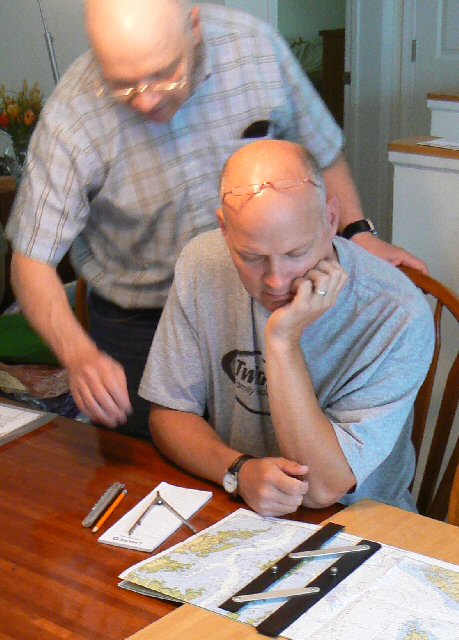 Tony even showed us how to "walk" the parallel rulers across a chart to the compass rose where you could get the correct bearing of a course from A to B. Of course this was mostly for back-up since Roger, Richard and Uncle Al had all brought their Garmin eTrex hand-held GPS units which proved to be perfect navigators.