Subject: weather improves as Lee Hughes reaches North Carolina
----- Original Message -----
From: Adrienne Faherty
To: Sue Hughes ; ...; Frank Dye ; Brian A McCleery ; Jean Burns
Sent: Tuesday, March 25, 2003 3:33 PM
Subject: Hughes Nughes 16

Hughes Nughes 16

Hi folks,

Well, at long last (and it's been over a month, I think) I've got proper fine weather. Since I left Florida, I haven't had two sunny days in a row, it seems.
..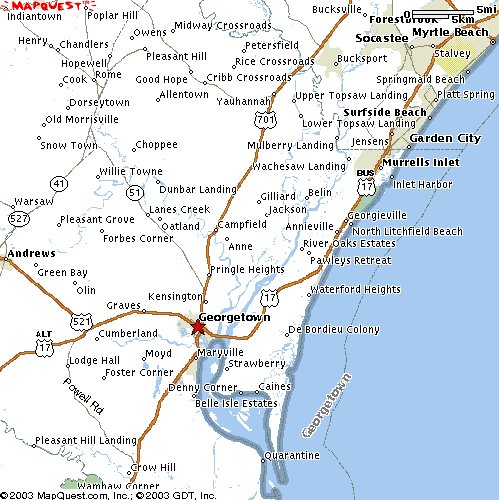 ..
Georgetown was rainy, too, but quite pleasant for all that, since I could tie up to a dinghy dock by day and anchor out a few yards away by night. Three days was OK, but I was glad I could leave there last Friday. By the afternoon, it had cleared and the wind was behind me, so I sailed merrily away.

..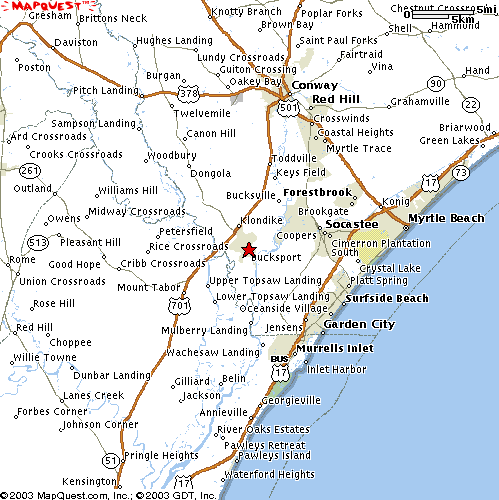 ..

I anchored all by myself in an oxbow on the Waccamaw River, a mile from Bucksport. All the rivers are flooded. So the banks are overrun and you just look across the water straight at pine trees and cypresses. It looks swampy but isn't, and so the bugs are absent. And best of all, this anchorage had the neatest and loudest echo! In any direction my voice came straight back at me. Lovely still, warm, dry night with no insects.
..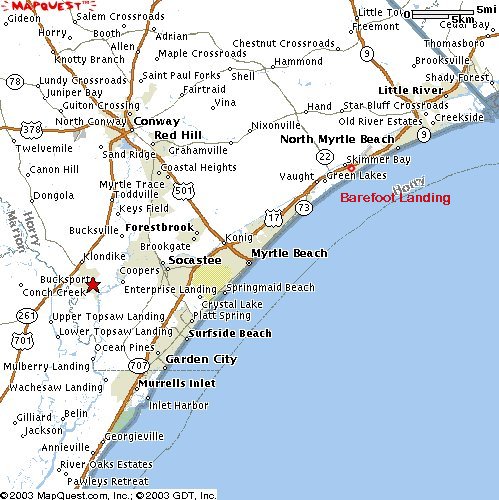 ..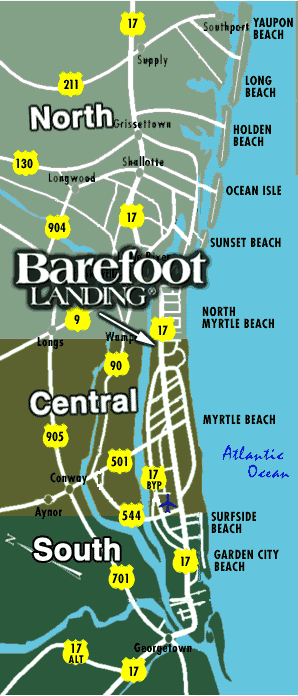 ..
The next day was gorgeous, too, but I finished early that day and tied up at the free dock at Barefoot Landing, S.C. It's an unusual but nice combination of outlet shops, restaurants and attractions that feed the crowds who flock to Myrtle Beach, S.C. which is on the coast a mile or two away.

..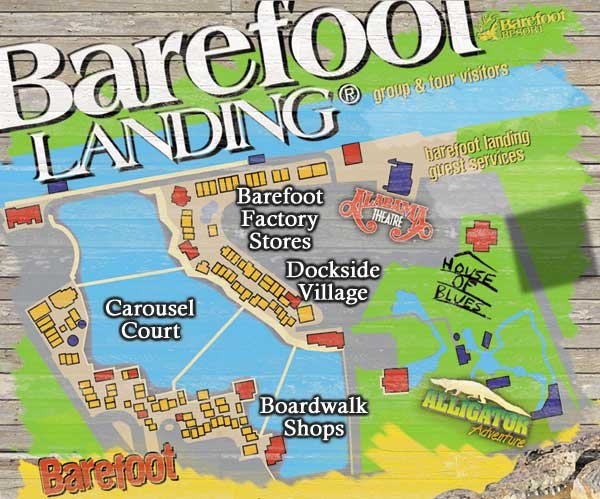 ..

They had three bizarre outlet shops - a 'Peace frog' shop that sells clothes and knick knacks all emblazoned with the same image of a frog on a lily pad making a peace sign. How on earth can a product line like that sustain an outlet shop? But there was more weirdness next door - a John Deere outlet shop that sold John Deere 'collectibles'. Toy tractors, toy harvesters. tee shirts, mugs, etc. Why
oh why would such a shop thrive in S.C. which is hardly the mid-west? But there wuz more. Yep, a Bible Factory shop. No kidding - a 'factory' shop selling bibles. Nuts.

It's sounds horrid, but actually, it's fairly new, clean and friendly and all outdoors (i.e. it's not a mall). They have rocking chairs for old folks to rest in outside all the shops, while the wife or hubby loads up with a year's supply of frogs, tractors and bibles and so the whole thing actually works. Somehow, it
avoids that nasty plastic shopping mall or strip mall feel that you normally get. Though it's perilously close to the hideous gated community I fell into on Key Largo in January, this one had a nice vibe, where that one was pure '1984'.

They've laid it all out alongside the ICW and have a couple of big ponds (say an acre each) stocked with alligators and turtles (kids pay a quarter to get turtle food from the vending machines). Plus they have tigers. Four of them lounge around in a sort of giant (and very robust) shop window for a few hours a day before going back to their safari park home. Two shifts of tigers per day it seems. They look very happy with this arrangement and are so mellow (or maybe tranquilized?) that people can pet them and have their picture taken with them. Well, I stayed overnight and had a proper meal in a pub - very yummy and not very expensive either. (Free docks, you see.)
..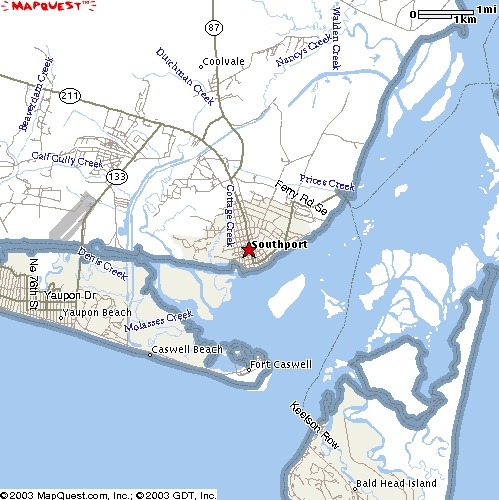 ..
The following day - Sunday - was gray but dry and I motored again into a headwind until it fined up and I anchored in a lovely spot on the Pipeline Canal two miles below Southport. Pipeline Canal doesn't sound too picturesque, but it was. Again it was dry, bug free, warm and calm with no current or wind
or tide or wake to deal with. I crossed into North Carolina that morning. Three states down and ten to go plus DC.
..

..
On Monday I set off in clear skies into a strong headwind all the way up the Cape Fear River towards Wilmington but turned out of the river after 8 miles into Snows Cut. From here, I was able to sail into a lesser headwind for the next 8 miles up to Wrightsville Beach, where I am now. (On big maps look for a spot 20 miles north of Cape Fear.)
..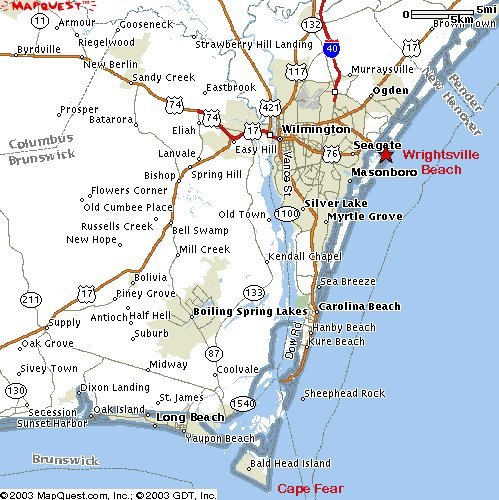 ..
As soon as I left the rivers and made it back into the sea coast (there's barrier islands to the east with popular surf beaches) the water colour changed from dark brown floodwater to clear blue ocean. It's like being back at Key West. It's spring here, too, and some buds are out, and there are pale legs poking out of short pants. So, after that wettish month in Georgia and S.C., this is like starting a new holiday. Woo hoo!

Better yet, the forecast for this p.m. is more mild southerlies followed by three or four days of southerlies with a slim chance of a shower or two on Wednesday. That's the best forecast I've had in three months, so I'll be casting off from here in a few hours and putting the pedal to the metal to make some miles northwards. I might not be in touch again till next week.

Hurroo

Lee


----- Original Message -----
From: Adrienne Faherty
To: Sue Hughes ; ...; Frank Dye ; Brian A McCleery ; Jean Burns
Sent: Sunday, March 30, 2003 4:30 AM
Subject: Hughes Nughes 17

Hughes Hughes 17

Hi folks,

All's well here in Beaufort. Yesterday the weather was OK, and again today, but tomorrow it's supposed to get windy and cold (low of 35ºF) and maybe wet, too, so I'll stay here till Tuesday.

..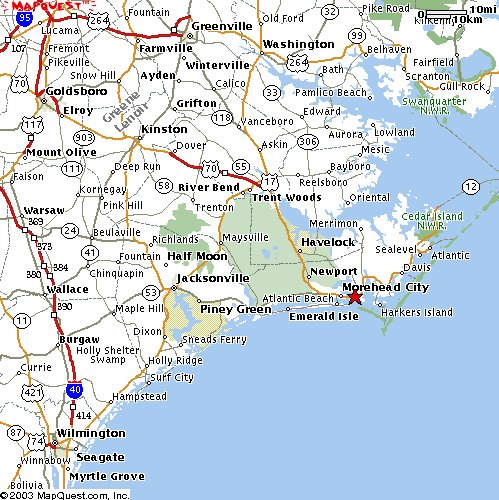 ..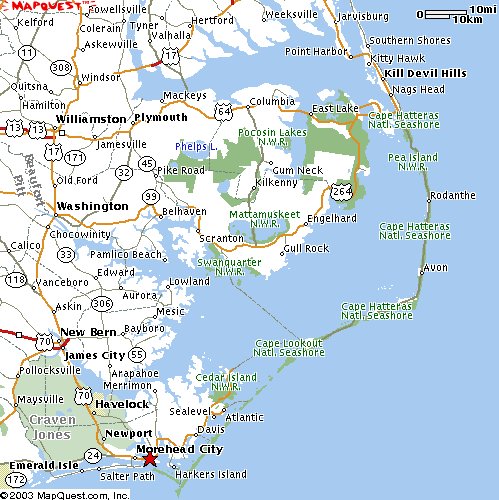 ..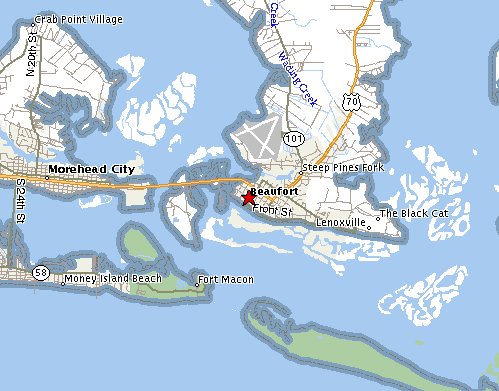 ..

I spent yesterday afternoon scrubbing the hull at a wee sandy spot next to the town dinghy dock. This morning, when it rained briefly but heavily, I was anchored out and busily engaged in cleaning the
bilge. I pulled up the floorboards and scrubbed away all the sandy, oily goop that had accumulated. It seems that even the tiniest bit of oily fuel that leaks from any of my three fuel cans will spread over the whole bilge and glue every grubby particle of sea water to it.

Since I have now decided to keep a six pack of beer in the bilge (where it is water cooled), I wanted the cans to come up clean and not oily so I had to get out the green scouring pad and sponge and
dishwashing liquid. Now it's so clean you could eat off it.

And the outside looks lovely, too. It had gained a brown colour from weeks of being in dirty, brown river floodwater. I plan to take a week in the Chesapeake (in say two or three weeks' time) and pull Wanderer up on the hard, empty her out, and turn her over. Then I'll re-antifoul her, in red this time, to go with the other red trim on her, and I'll apply the red strip I bought for her weeks ago. I'll put another coat on the floorboards and a few more coats of varnish on the seats. The blue antifoul was new in December when I painted her, but some of it got sanded off when I beached her in Georgia one day to avoid having to sail miles back and find better shelter. All that work ought to hold me till I
finish, and she'll still be pretty to look at if I advertise her for sale in July.

OK, it's Saturday night in a new port town and I'm a sailor. So guess where I'll be tonite? Yep that's right, snugged up in my sleeping bag with a cup of cocoa thinking of my gal in NZ.

Toodle oo

Pinocchio