Subject: Lee Hughes marking time waiting for better weather but has completed over half his trip
----- Original Message -----
From: Adrienne Faherty
To: Sue Hughes ; ...; Uncle Al ; ...; Frank Dye ; Brian A McCleery ; ...
Sent: Thursday, April 10, 2003 2:18 AM
Subject: Hughes Nughes 19

Hughes Nughes 19

Well folks, it's been a while since I wrote to you from Beaufort and now here I am in Elizabeth City, North Carolina. But wait - wasn't that me up by Norfolk, Virginia on Monday?

Yep.

So what happened?

Well, I set off from Beaufort last Tuesday in breezy fine weather, intending to go only as far as Oriental on the Neuse River - 21 miles away. I sailed along happily up the Beaufort river, into a cut (canal) and then out onto Adams Creek. At the mouth of Adams Creek the wind came up and the 3 or 4 miles across the Neuse to Oriental was a blast.
..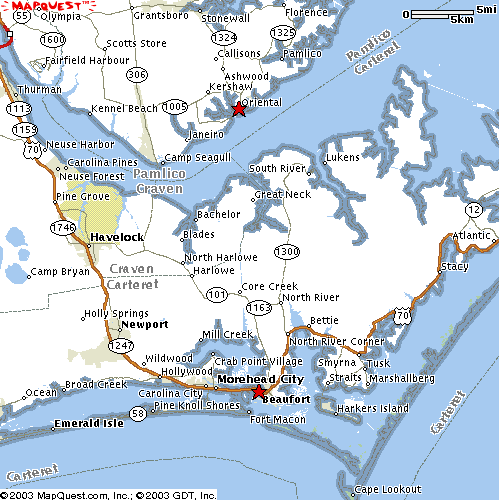 ..
20 -25 knot winds on the port beam and so I made good time, though it was a bit nervy. Sailing into the town dock behind breakwater I was on a run with 15 knots behind me and solid concrete dock in front. There were trawlers to my left, cruisers tied up to the dock on my right and nowhere to go. I couldn't spill any wind, and there was no room to luff up, so at the last second, I saw that the water continued to the left and I turned into it, hoping that I could drift to a stop in the shelter of a big building.

Oh no. The building was connected to the land by a dock, and although I slowed a bit and ran up to the bow to fend off disaster, I still hit the dock with my jib stay hard enough to splinter one of the planks. Yowch. Luckily, no one saw me, so I pretended it never happened, flaked the sail and tied up nearby.

Oriental is a lovely tiny wee town with an interesting feature that I discovered when I went to the coffee shop that fronts the docks. The lady told me they have a website called "towndock.net" that has a webcam pointed right at the docks (see sample pics below) - and which undoubtedly caught my collision.
..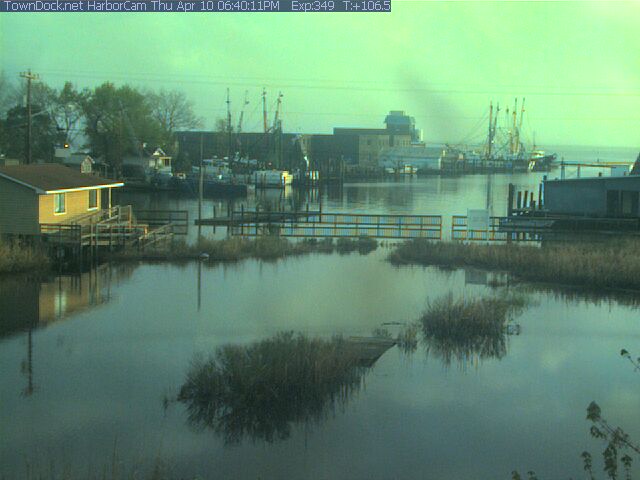 ..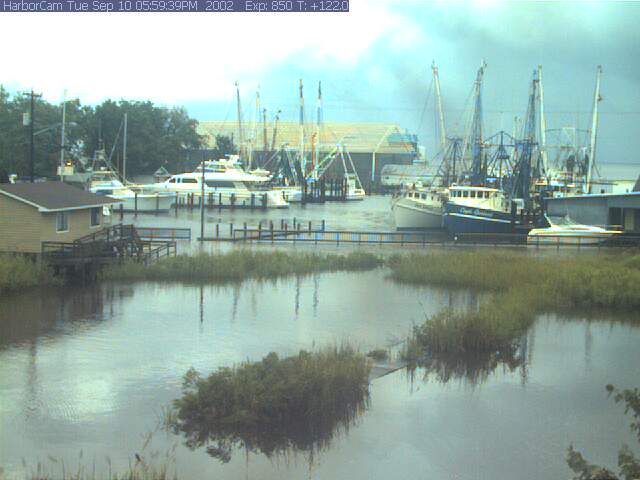 ..
Luckily it doesn't save pix, but the lady there (Susan) got chatting to me and said that her friend, Keith, would be interested in interviewing me for the website's Shipping News section. He showed up soon after and I guess if you go to the site you'll be able to see what he wrote (Al's note: nothing on Lee there at this time: Fri 11 Apr at 0010 hrs). We got on really well and he also invited me to dinner at his house which is 100 yards away from the dock and which has the camera mounted on his porch.

We nattered away for a good long while, and he let me send an email to Adrienne telling her about the website. Then I went and stood at the coffee shop on the other side of the town duck pond (those are the rushes and water you can see in the view) while he twiddled with the camera and we sent a pic of me to her!

Later we had pizza for tea and I supplied some beer from the bilge cooler. Great night except I had to get up at 1.00 am to move the boat further down the dock so she wouldn't ground on the low tide.

Next morning I set off early into winds that were favourable (SW) but expected to rise to 20-25 knots. That's a bit more than comfortable, but luckily they stayed mild and I made a great run from there all the way to Belhaven - I forget how far but I think it was nearly 50 miles! Certainly over 45. Record sail! I was very pleased to get over Pamlico Sound in one piece as that can be a tricky stretch of water with strong afternoon winds and nasty short steep waves. Turned out to be a millpond. Big anticlimax as I'd been dreading these two sounds since Florida.
..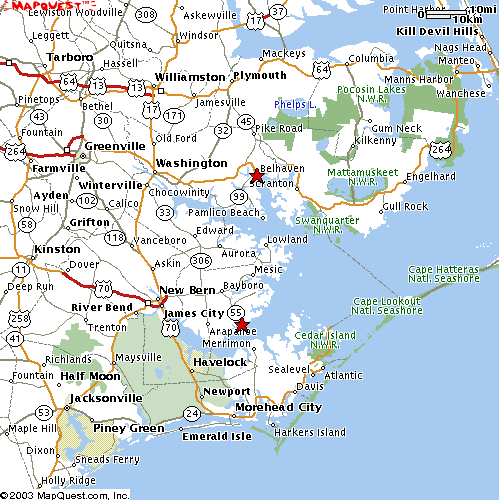 ..
I got in to Belhaven in late afternoon and tied up at the free dinghy dock and went shopping. Got the usual mis-directions from a lady (no one can judge distance on foot here because no one walks anywhere) and the expected 1/2 mile walk to the 'left at the lights" turned into 1 1/2 miles to the right. I got to a Food Lion and bought my groceries and was grumbling to myself about the lady not knowing her left from her right, when a middle-aged lawyer looking fellow pulled up in a convertible and said: "You look like you could do with a lift." I jumped right in, and he took me all the way back to the boat! What a nice guy. And so of course Belhaven jumped up several places on my scale of good towns.

I anchored at the end of a tiny unused canal in a little sort of pond that was totally sheltered from the strong SW winds. Had a great night and set off for the Alligator River below Albemarle Sound the next day.
..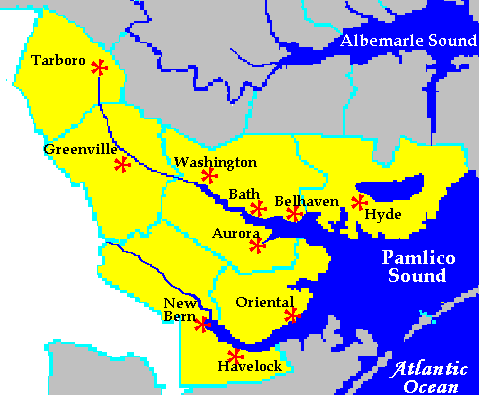 ..
I managed to sail all morning in nice 10 -15 knot SW winds (ideal speed) but in the mid-afternoon it died off, so I motored for an hour, and then it puffed up again. I sailed some more up the long 20-mile canal, and just as I came to the mouth of the river where it widens out, a vicious scary wind came up. Since I was only a mile from my anchoring spot, I flaked the sail and motored into a tiny notch for the night. Then the wind calmed down, and another boat - a big catamaran motored in and anchored a mile away. I had seen so few boats that day that I called him up on the radio and chatted for a bit. That's the first time I've done that, as I try to economise on my batteries.
..
..
I was nervous about the next days' sailing because I had to either go for broke and cross Albemarle Sound in 20 knot winds, or else just sail up to a marina at the start of the sound and then hole up for probably 3 days while some worse weather blew by. 3 days in a tiny marina in the middle of nowhere paying $12 a day to look at pilings and pine trees didn't appeal, but I was resigned to it, as Albemarle Sound is even wider and nastier than Pamlico or the Neuse River.

In the end, I woke at 4.30 am and listened to the forecast. It had changed from 20-25 knot SW winds to just 15-20 knots so I leaped out of bed (well, rolled, actually), packed up and sailed like hell for the sound. As I went under the big bridge at the end of the Alligator River, the wind was still going strong and the seas were making it hard to steer on a run, so I turned and sailed into the marina. I bought some gas and mopped up and by the time that was done I looked at the sea again. It hadn't got any worse. 3 days here or 1/2 a day on the Sound? Hmm.

There are two alternate routes for the ICW that both begin in the middle of Albemarle Sound. Route 1 is NE towards Camden Point and Coinjock. Then, it's a day's sail up the Currituck Sound, up the Chesapeake-Albemarle canal, thru a lock and on to Norfolk, Virginia, which is on the Chesapeake Bay.
..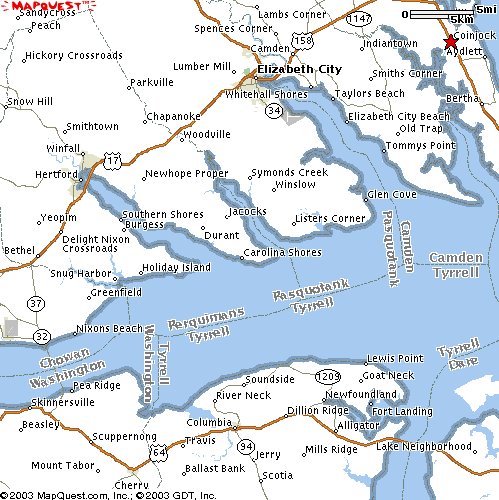 ..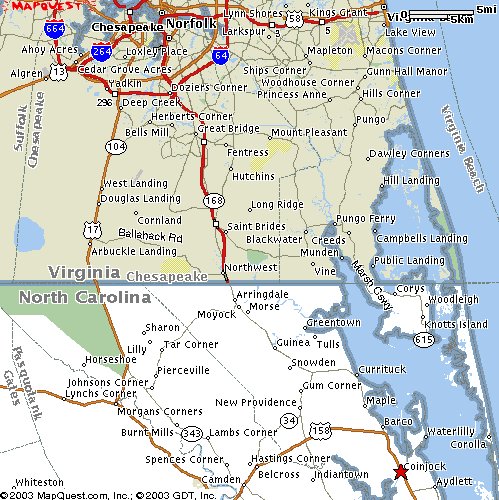 ..
Route 2 is NW up the Albemarle Sound and into the wide Pasquotank River and on to Elizabeth City. Then you go 40 miles up the Dismal Swamp Canal where it rejoins route 1 just 7 miles from Norfolk. The Dismal Swamp Canal route is actually a beautiful, scenic trip despite its oh so appealing name and Route 2 was my preference. But it meant a hard reach up the Albemarle Sound and the Pasquotank river at the time of day when the winds normally kick up.

Route 1 is closer to the coast but you turn off the Albemarle earlier and get some shelter as you sail behind Camden Point and then go up towards Coinjock.

What to do? Marina? Route 2? Route 1?

I sucked it up and set off. I changed my plan from sailing across Albemarle Sound and then beating NW up to Elizabeth City (total distance for the day 54 miles) to a new plan - sailing across the Sound and then going to Coinjock near Currituck Sound - route 1. Total distance only 45 miles and rather more sheltered.

Two thirds of the way across the Sound (say 8 miles out and 4 miles from Camden Point) the wind died down again and I had to motor. There was still a good swell behind me, though. I had a feeling that the wind would come back. So after I got behind Camden Point, I was very wary. I had made it all the way up the river to narrow waters when the wind rose, but by then I was close enough to Coinjock (which is on a canal) so I motored in and tied up at a marina dock. I was so chuffed at cheating the weather and the Sounds that I celebrated by paying for a dock for the first time since Brunswick, Georgia. it cost $20 but it was lovely. Had a shower, did laundry and slept well.

Lots of boats wave as they go past, but one went past and a lady waved and said - come and have a beer - but they tied up at the other marina on the opposite side of the canal, and since I was flat out with laundry, shower, dinner and a phone call to Adrienne, I didn't make it across. But it was a nice thought.

The next day was forecast to be horrible, and I had planned to move to an anchorage nearby. But the day actually looked OK, so I decided to sail up the rest of the canal and cross Currituck Sound (a small but sometimes choppy sound). I did OK until the middle of the sound when the same vicious wind came up. Though I was already double reefed, I found that to sail where I wanted to go, I had to pull the sail in so much that I stalled. Tacking was not an option as the the angles and the winds were all wrong, and I'd have had to beat flat out into a sea that I couldn't even reach across comfortably. So, in a bit of a panic, I dropped the sail completely and as I did this, the boom slipped off the gooseneck and it all fell into the boat. I got such surprise and forgot to hold onto the halyard so that blew out of reach and stayed swinging at a 45-degree angle to the boat. I started the motor and then tried to steer a course that wouldn't swamp me but which would cause the halyard to swing back within reach of my 12-foot boat hook. It must have looked ridiculous - this little boat going in circles with me waving a long pole at apparently bats or eagles or who knows what.

I got it hooked eventually and attached it to the end of the boom and settled down to motor 10 miles into shelter. After a bit the wind eased and I thought about raising the sail but decided it wasn't worth the hassle. I was also a little concerned that eventually the predicted thunderstorms would get me. Thunderstorms here are pretty short-lived but pretty squally too. I actually don't mind them as they pass so quickly that the sea doesn't have time to kick up badly and as long as I'm dressed for it (which I was) then they're just exciting but not too frightening.

Anyway, about 3.00 pm it was my turn. I was in narrow waters again - only about 100 yards wide - when the wind hit. I couldn't believe it. The sea was dead flat - I mean there was no fetch, but even so, if it had frozen you could have skated on it, it was that smooth and flat. The rain was enormous and it pounded the surface flat as well. But what was incredible was that the wind blew so hard, I had to stack out as far as I could to stop the boat from rising and tipping. Remember that I not only had no sails up at all - I didn't even have the boom attached! That wind must have hit 40 or 50 knots for about 5 minutes. I found out later from talking to another boatie in a 45' yacht, that he'd been crossing Albemarle Sound that day and got hit by it too (or one just like it) and he nearly shat.

Anyway, I survived that OK and even enjoyed it, because I was in a shallow part of the river (only 3 feet deep) and very close to Pungo Ferry bridge and marina. I motored in and the storm passed. I tied up to the dock and mopped up. The sun shone a bit and all was well. I got yakking to the marina guy and agreed to stay the night there though I had originally planned to anchor nearby. I was sort of annoyed at myself for agreeing and having to pay $16 but it was too late to back out. (I can't afford to pay for berths very often and so far I've only paid in Brunswick, Bahia Honda, Key West, Coinjock and now Pungo Ferry.)

I went back to the boat and was setting up my boom tent, when along came two fellows - Jeff and Bob, who had been out kayaking. They stopped to look at the boat and chat, and after a while, I offered them a beer from the bilge. It's so rare I can be the one to extend hospitality that I really enjoy doing it. We had a beer each and chatted away and then they mosied off. Soon after, they came back though and invited me out to dinner at a restaurant - their shout.

I thought long and hard - as long as it takes to say a hard word like 'Yes'. I put on my groppiest mocker - jeans and boat shoes and a short sleeved shirt all freshly laundered the day before, and we set off to pick up their wives, Donna and Mary. Then it was off to a flash restaurant where we had a great meal. I had some good Aussie wine, and then the waitress found a bottle of Marlborough Cab Sav and so we had to have that, too. It was all very yummy and a real treat for me. I wanted to pay for the wine at least, but they wouldn't let me. So when we got back to the boat, I dug out a copy of my Horse's Ass book and signed it for Jeff and Bob.

It was a great night, not because of the grub, (though that was most pleasant) but because I had great conversation with all of them. Some times you just hit it off immediately with some people and this was one of those cases. And of course, none of it would have happened if I hadn't strangely agreed to stay at the marina. So it all made sense in the end.

Next morning, I motor-sailed in light winds 17 miles or so up to Great Bridge where there is a lock. It also has a supermarket handy so I planned to shop in the p.m. and stay there the night. I tied up to a marina to buy some gas and as I was paying for it, a lady walked up and handed me a piece of freshly cooked banana-nut bread in a napkin. It was the lady from the boat the day before!

Later on I walked up to the boat (Tootega, a beautiful 50-foot sloop) and thanked her and her partner. We exchanged cards as you do, and since I have none of mine left, I gave her one of Adrienne's, with my name pencilled on the back. She looked at the surname 'Faherty' and smiled. Her name is Maureen Flaherty. I checked to see if she was related to Adrienne's family in Boston because all the Irish spell their names any old way, but she wasn't.

Had a peaceful night tied up at a free dock across the canal, and the next day, I motored in steady rain and flat calm water up towards Norfolk. The forecast for the next week was dismal though - rain every day, cold weather (45-55F) and strong or gale force winds on the bay and the ocean. In view of that, I decided it would be a good idea to go down the Dismal Swamp canal from the north, to Elizabeth City at the south end. That would occupy a few days, and so that's how I come to be back here in North Carolina. I stopped half way down the 40-mile canal (which dates back to 1805) at the Virginia - N.C. border welcome center and then motored on to Elizabeth City yesterday. I'll stay here till Thursday morning at least, and then sail back up to the Chesapeake by Saturday. Maybe the weather will be a little better by then.

And that's all the news for now. I'm over half way now. By the time I get back to Norfolk, I'll have sailed almost 1600 miles. The total distance from Key West to Eastport is 2200 miles, but I'm actually still about 1000 miles from Canada because of my to-and-froing between Lauderdale and Key West and Elizabeth City and Norfolk. Still, it's nice to be on the downhill slide. Now if only the warm weather and the bugs would return!

Cheerio

Lee

PS. Phil De Clue - how goes it? Made some great fried scrapple fritters the other day - you'd a loved 'em. Give you the recipe some time.

PPS. Brian McCleery - whatcha up to?