Idle Days on the Bras d'Or Lakes
Wayfarer Cruise by Jim Fraser W8328
June 8-17, 2002
part 1

I hoped to sail from St Peters to Louisbourg this spring but the weather was unsettled. Also I had not been sailing yet this year. The exposed south coast of Cape Breton Island is no place for the yearly shake-down cruise. It would have been a challenging and worrisome passage. I was tired and even considered staying at home, but numerous projects around home would then have to be faced. Instead I decided on a low-octane cruise on the Bras d'Or Lakes. No set destination, a couple of good books, lots of unhealthy snacks, and an ample supply of beer cooling under the floor of my dinghy would make a good beginning. I'd sail when it was easy and tuck away at anchorage when the weather turned adverse.
...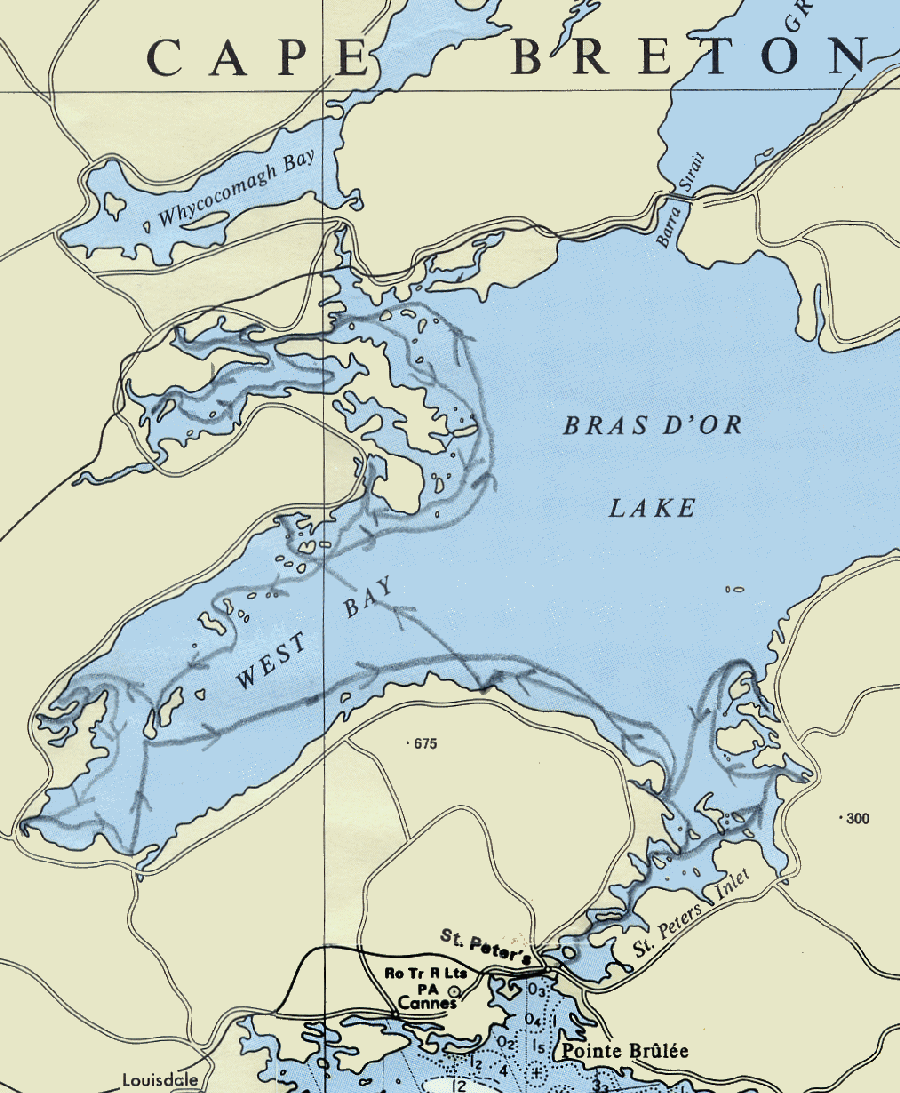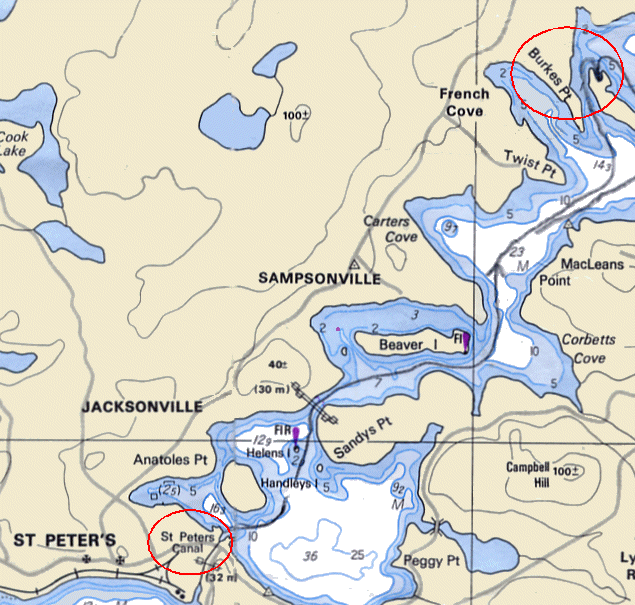 Saturday, June 08. I launched Naomi by the canal in St Peters. Then I left my van and trailer at a friends parents' home on Grand River. After a pleasant lunch at their farmhouse, her parents drove me back to the boat launch. They provisioned me with a welcome supply of freshly made buns and oat-cakes.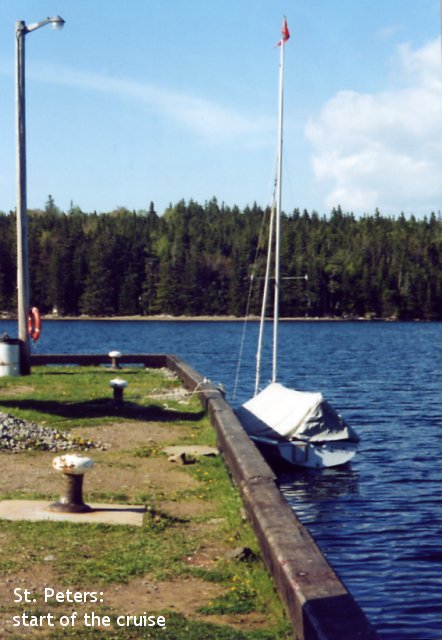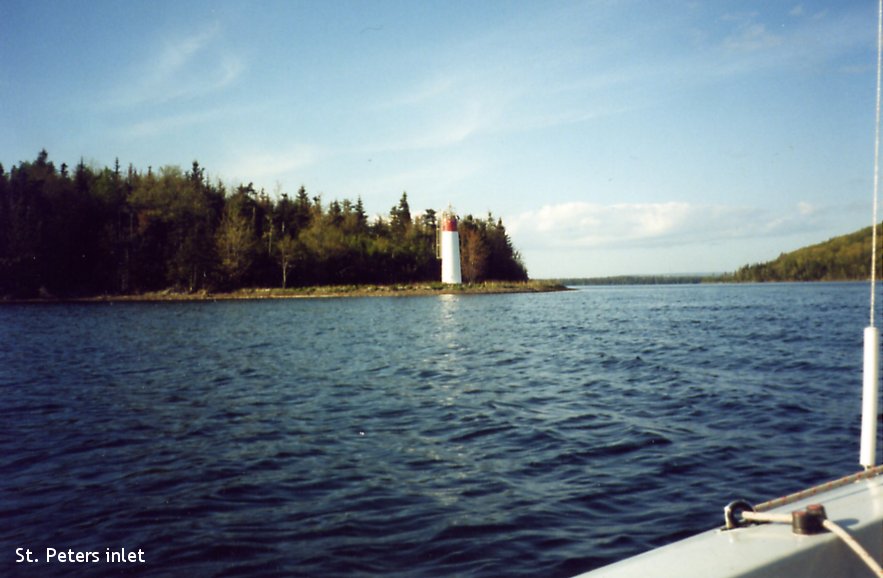 Late in the afternoon, I sailed along St Peters Inlet to a nameless island off Burkes Point. There I nudged Naomi's bow into the sedge-covered shore for the night.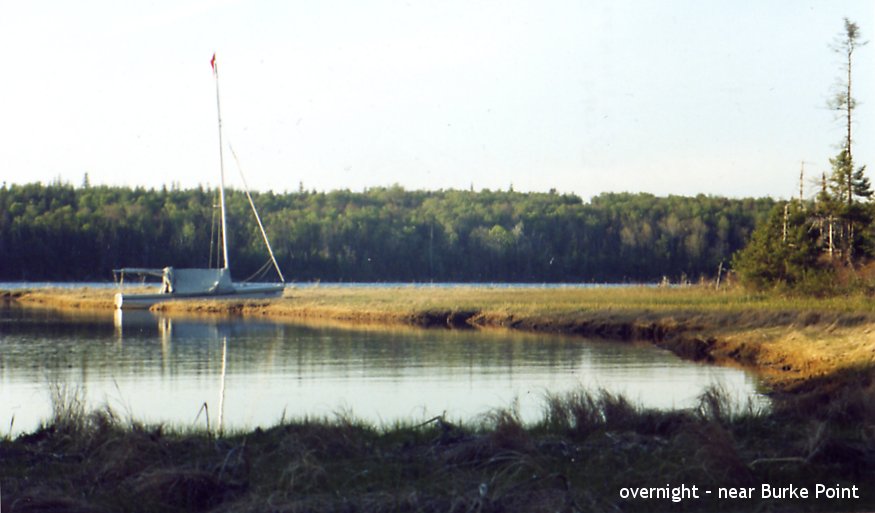 Fog banks on the Atlantic loomed over the nearby hillsides. I was relieved I hadn't attempted a coastal passage.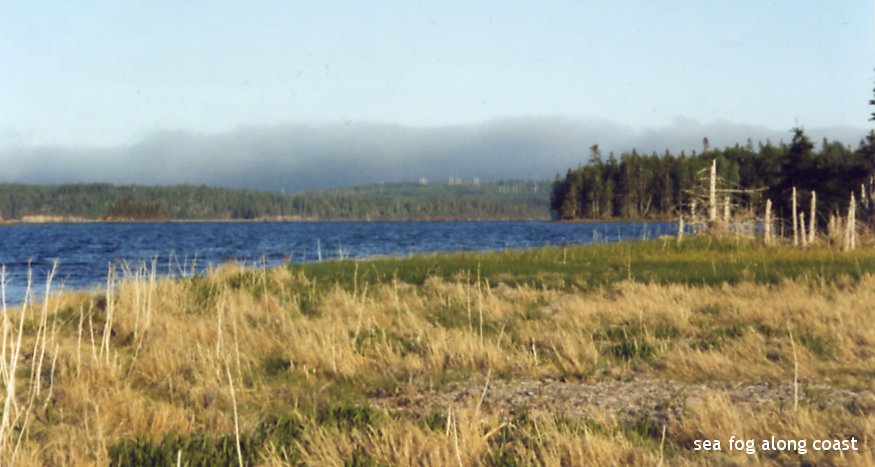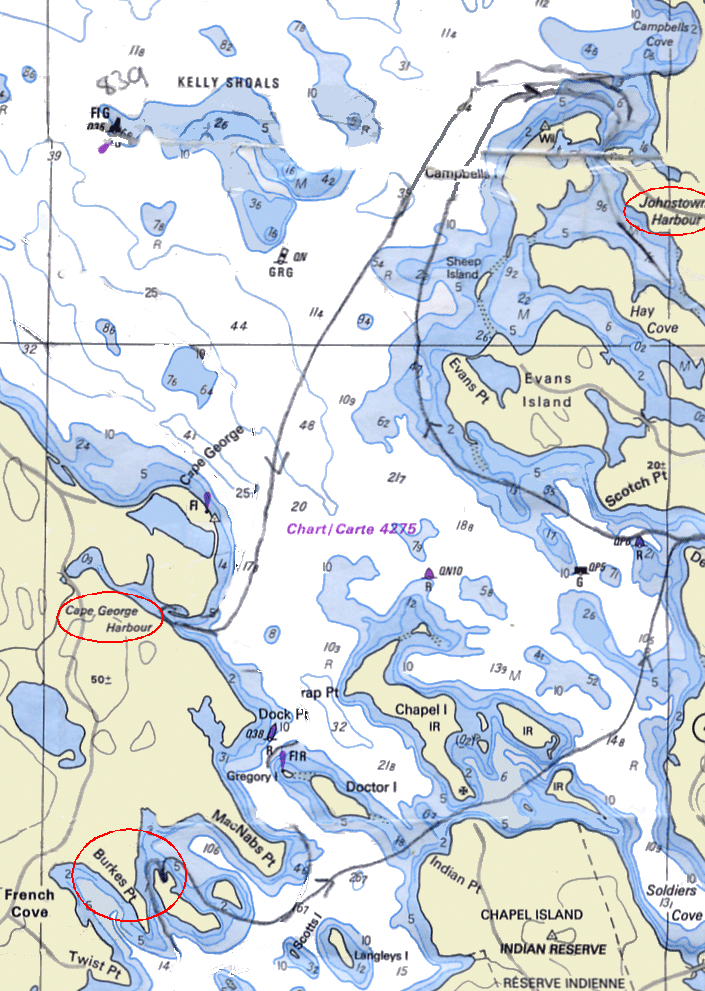 Sunday-Monday, June 09-10. The weather continued to misbehave as usual this spring. In the morning, the wind would rise to 10-15 knots southerly. By evening it would reach 25 knots south-easterly and back to east 30 through north-east by Monday evening. Tuesday morning the wind would begin as a strong north-westerly before dropping to light in the afternoon.

Fortunately there are many sheltered inlets and interesting coves to visit in St Peters Inlet without sailing into the exposed waters of the main Bras d'Or Lake. I pottered amongst the tree-covered islands during the morning looking for secluded anchorages for future cruises. By the time I was ready to sail from Johnstown Harbour, the wind was strong enough that I wanted to reef the main. Then I discovered that I had the main sheet running inside the clew reef lines. With the first reef in and the clew tight, the main sheet could barely move. As I re-rove the main sheet, I thought how much more difficult this procedure would be on the open sea rather than in the lee of an island on calm waters.

My anchorage until Tuesday was behind a sandbar in St. George Harbour. The surrounding tree-covered hills created a sheltered haven from the wind and rain. During this period I dressed in foul-weather clothes and walked along nearby gravel roads and beaches. Returning from my journeys, I would crawl under Naomi's boom-tent for a snooze or to snack and read. My Coleman lantern provided warmth as well as light under the canvas tent. I was content.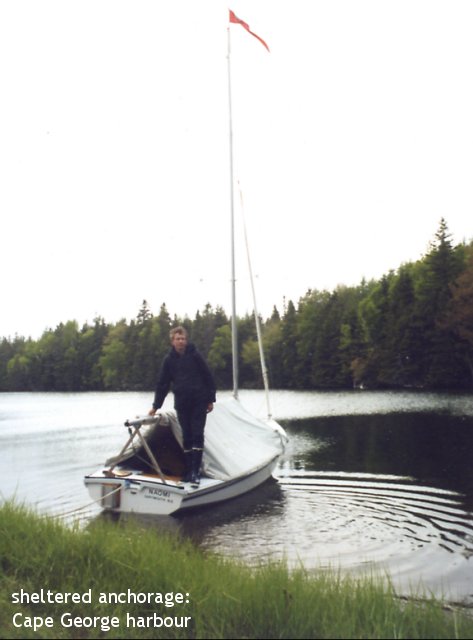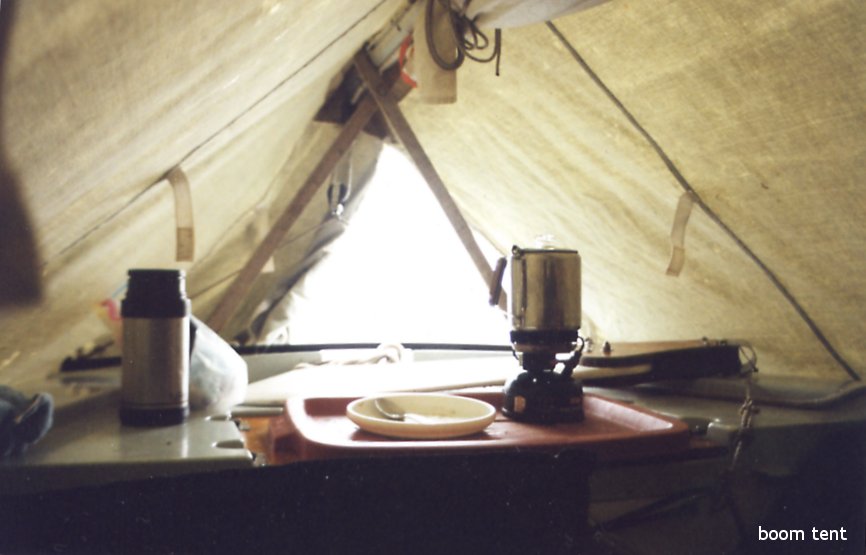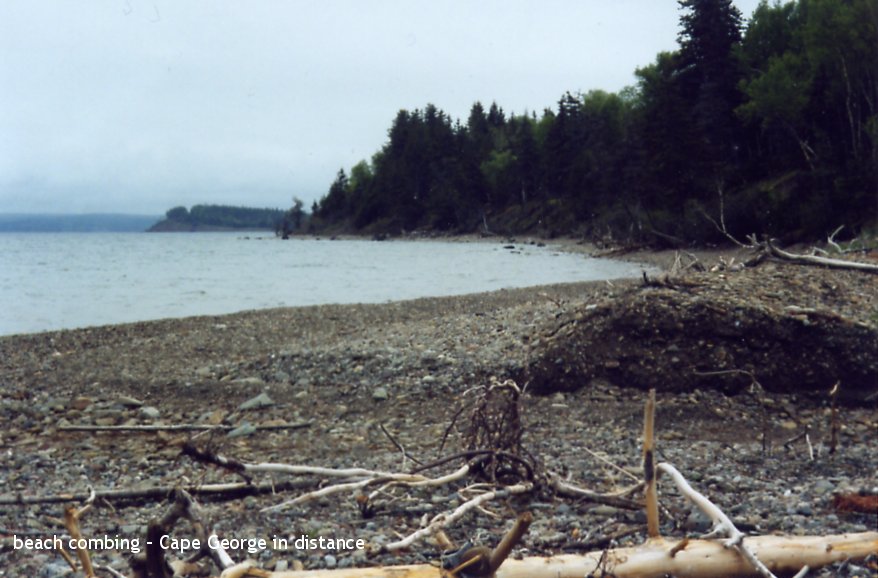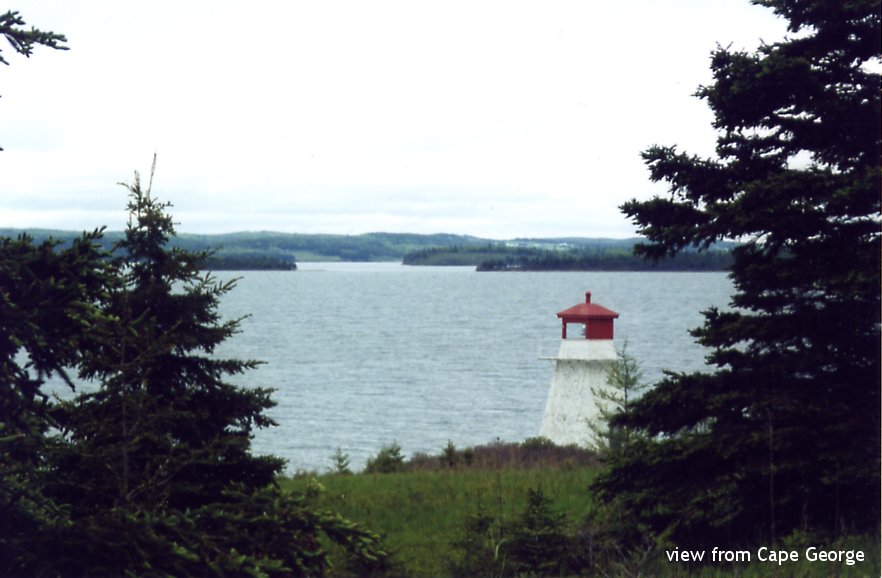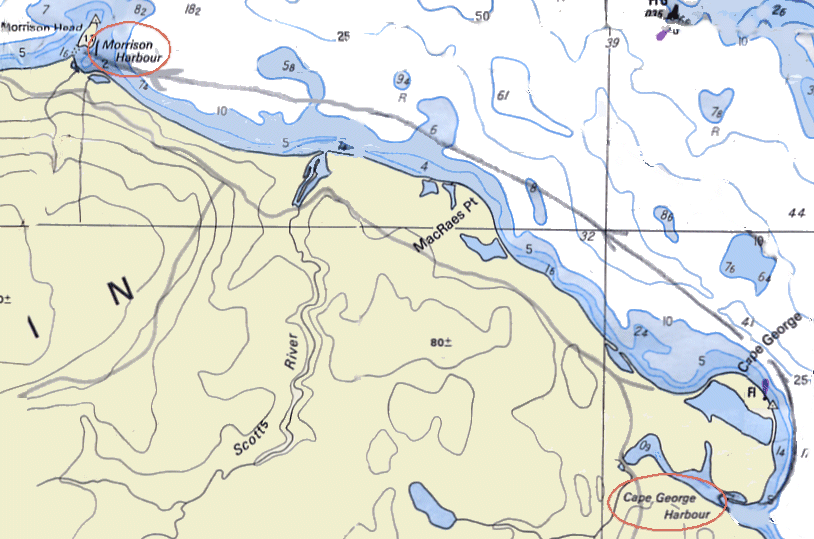 Tuesday, June 11. While roaming along the beach towards MacRaes Point, I noticed the wind strength was declining and the cloud cover lifting. By 1300, I felt it was safe enough to sail onto the open Bras d'Or Lake. Within an hour of leaving Cape George Harbour, I was rowing Naomi! Later a sympathetic breeze appeared though and Naomi ghosted into an anchorage behind the sand bar at Morrison Harbour.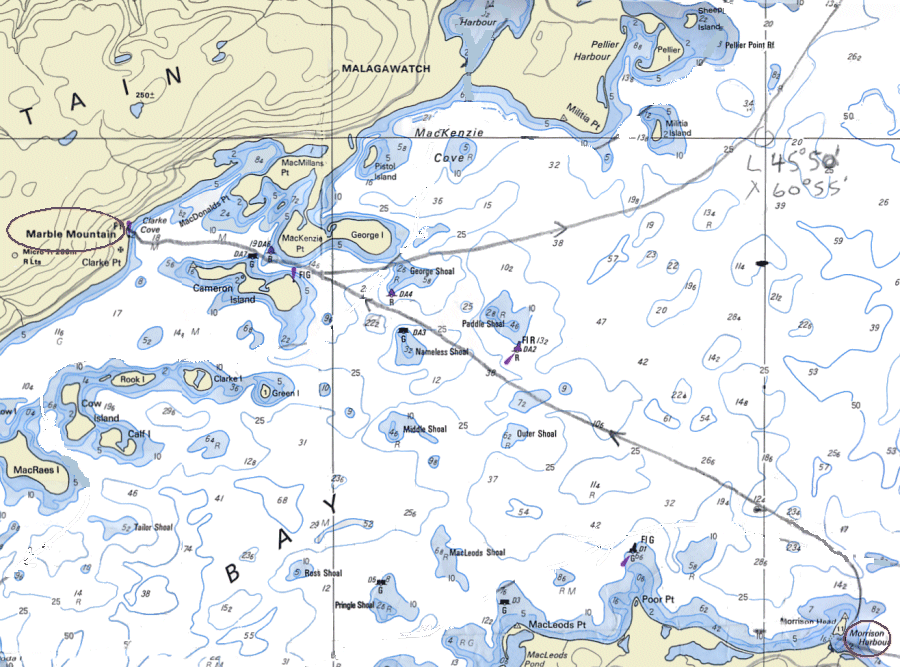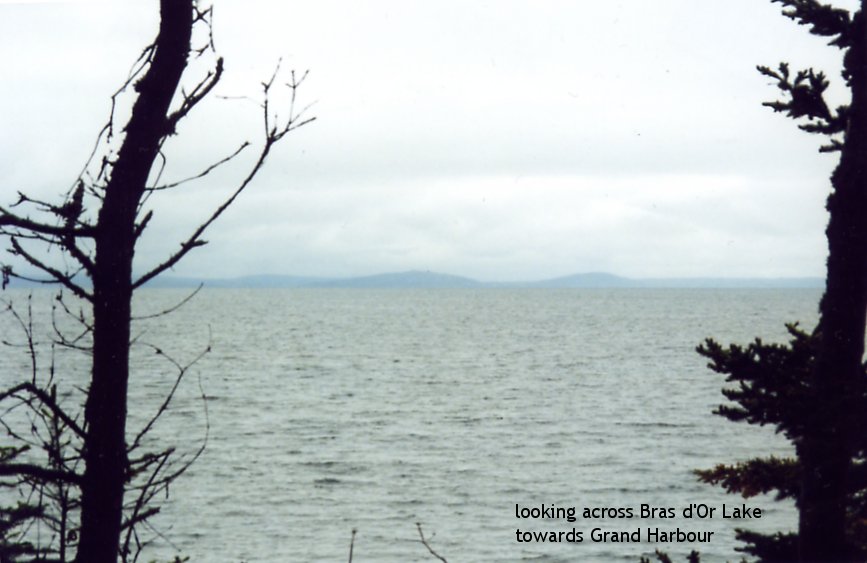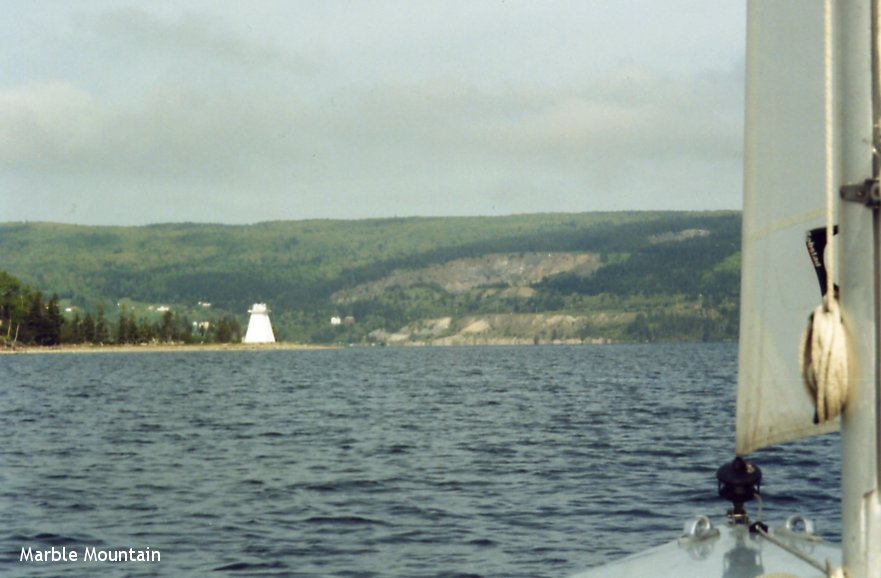 Wednesday, June 12. By 0700, Naomi ambled across West Bay for Marble Mountain. In clear weather, the scar of the open pit marble quarry was an obvious landmark. From 1869 to 1921, Marble Mountain had an extensive marble quarry with a large village and wharf at its base. Hundreds of vessels would load marble and lime here each year. I tied Naomi to the wharf and hiked up the side of the quarry. Here I lay on the grassy slope surveying the bay from 400 feet above sea-level.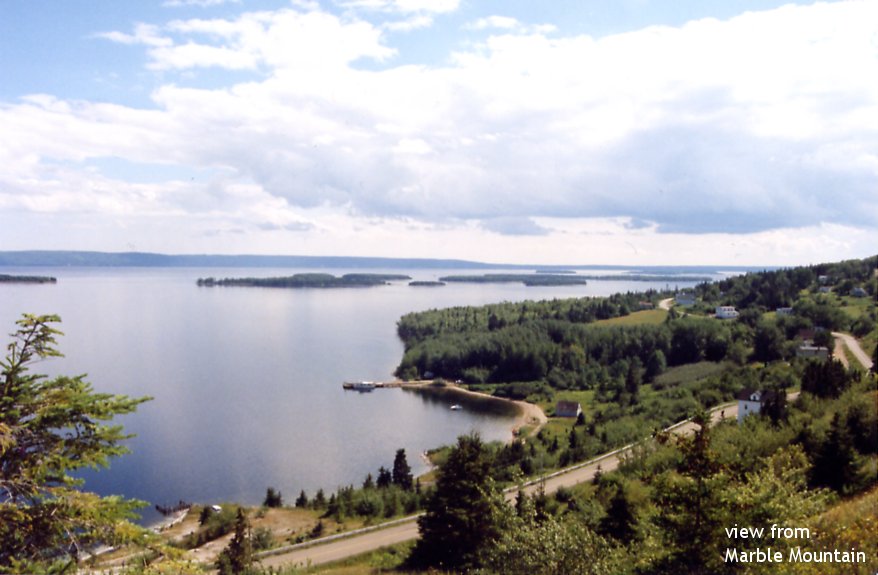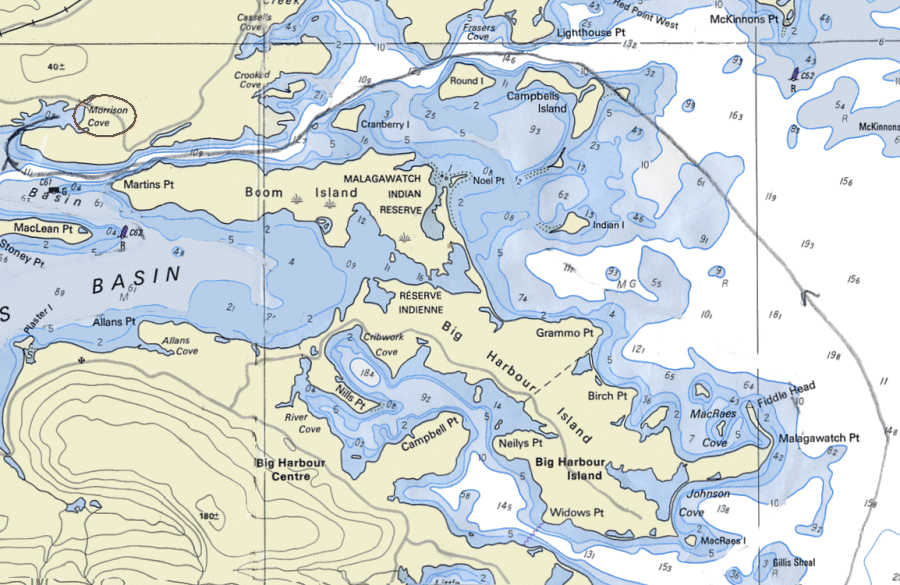 There are many good anchorages and uninhabited islands for the dinghy cruiser in the region of Marble Mountain but when a stiff south-easterly breeze arose I sailed on for North Basin and Denys Basin. It was a wet beat to windward around Militia Island to Malagawatch Point. From Fiddle Head, I wanted to let Naomi run through the shallows behind Indian Point and Campbells Island but the wind and short waves would have carried her forward faster than was safe. In these shallows are many deteriorating and unmarked mussel spatting liners which could impale the dinghy's hull. Instead I sailed the longer and wetter course outside of Campbells Island before entering the sheltered waters of Boom Channel. Bald eagles are common in this area of Cape Breton and I have seen them gliding or roosting on tree limbs on every passage.

This evening I anchored in Morrison Cove. A dense growth of coniferous trees surrounds the basin. Mosquitos were thick and the atmosphere humid as I tied Naomi off to a tree trunk. My enthusiasm was waning at this point. However, the mosquitoes did not follow me when I shifted Naomi to an anchorage off-shore. A wash-up, a shave, and clean clothes followed by a good supper helped me over-come this gloom. With the boom-tent rolled back, I stretched out and relaxed by reading my book and sipping on a Guinness beer.