Two Wayfarers Sail to Denmark
July 1998

Ralph Roberts and Cedric Clarke (W9885 -

Spree Lady

)
with Bob and Clare Harland (W9933 -

Sea Rocket

)




Part 1 of a Log


written and illustrated by Ralph Roberts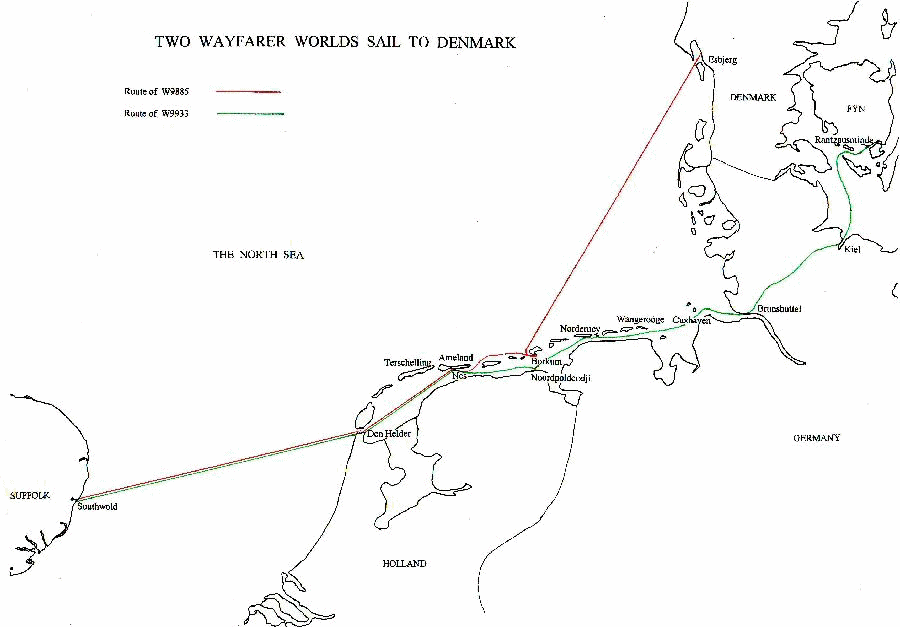 click
here
to see the full-size version of this image
...
Part 1 - Southwold to Den Helder
"How about sailing our Wayfarers across to Denmark to take part in the International Wayfarer Rally at Rantzausminde?" Bob Harland had made this proposal after I had suggested we attend the event in our latest
World
versions of this most seaworthy and versatile of sailing dinghies. Rather than make the crossing by the most direct route, we decided that sailing a series of shorter legs, first to Den Helder, on the north-west tip of the Netherlands, and then via the Friesian Islands to our destination, would offer an easier and more interesting passage. Our original plan was to set out from Southwold in Suffolk on the Saturday morning, allowing us plenty of time to prepare for the trip. However, we had needed to bring forward our departure to as early as possible the previous evening, to enable us to reach Den Helder before a severe gale, forecast for the Sunday evening
...
Friday 10th July
Packing all the gear needed for an open sea crossing into the new interior layout of the Wayfarer World proved more time consuming than I had anticipated, and it was 2230 by the time Cedric and I had finished stowing everything aboard
Spree Lady
. Bob and Clare had completed their packing earlier and had telephoned the local Coastguard station to confirm our final passage plan and request the latest weather forecast. This had given us westerly winds up to Force 5, until a complex low pressure system with gale force winds was expected, late on Sunday. With the excellent prospect of getting to Den Helder before the gale arrived, we made the decision to set sail.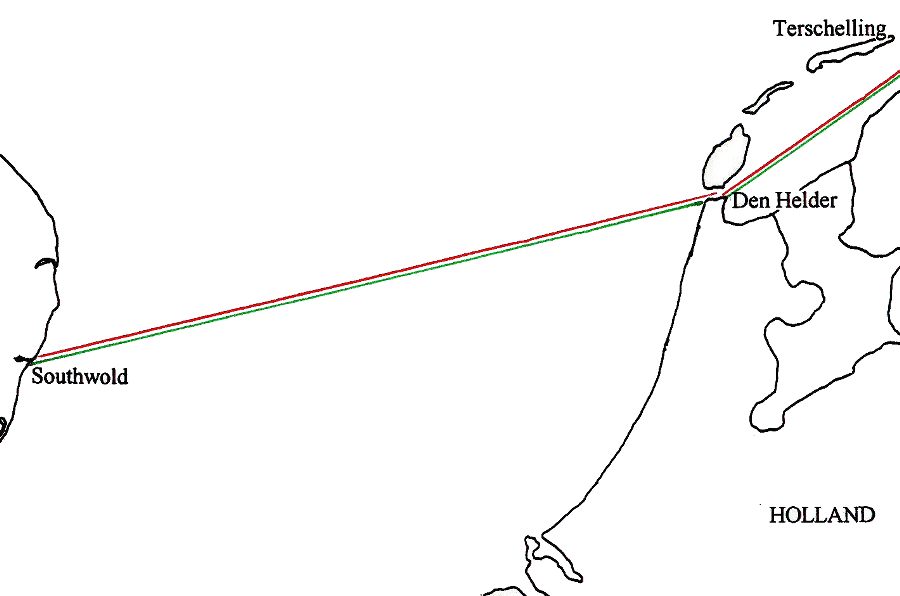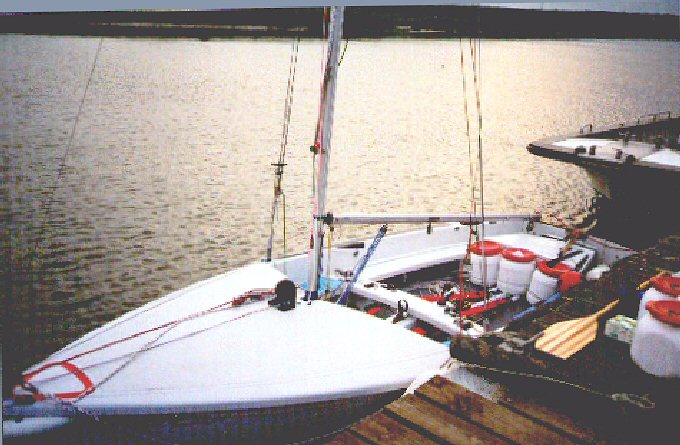 Spree Lady
at Southwold Sailing Club pontoon, being loaded with all the necessary gear for its North Sea voyage.
The white bottles with red tops are water-tight containers, essential on an open boat.
All gear is secured to the boat
with a length of line, so that it cannot become detached from the boat at any time.
We had an easy reach out of the harbour with a F.3 offshore breeze and set a course of 074° to Den Helder. An hour out, and away from the protection of the land, the wind and sea state steadily increased. Bob and Clare, who had taken the lead, took in a first reef for a more comfortable sail during the night, and we immediately followed suit. The wind continued to build and the rolling seas tipped the boat sufficiently to cause an involuntary gybe. Bob pulled in a second reef, which helped us maintain a more even pace, as our boat was more heavily laden with an outboard and fuel. Unbeknownst to Cedric or myself though, this activity had made Bob thoroughly sea sick. It was not until dawn that we noticed how badly Bob had been affected by seasickness, so that he was unable to assist Clare at all on the helm.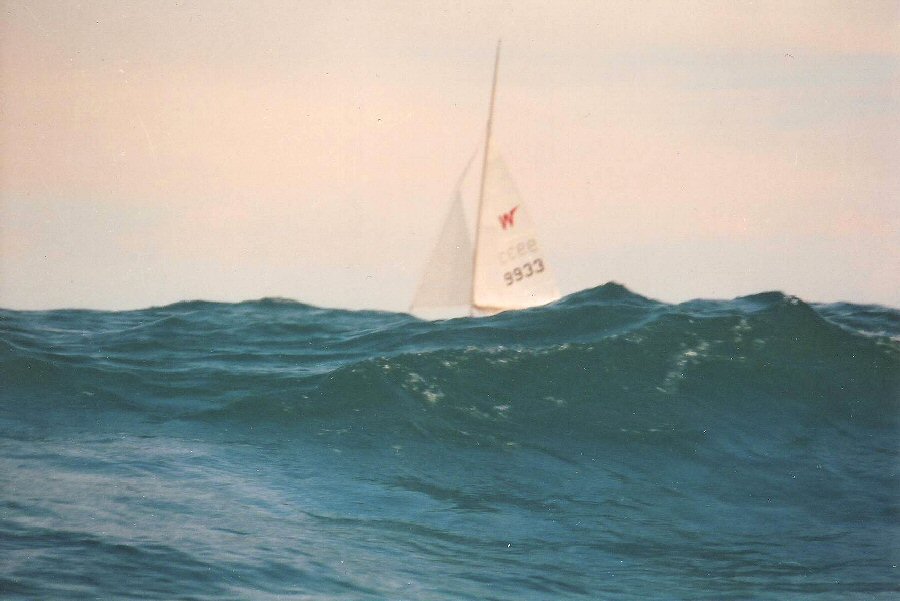 The waves look more ominous than they really were.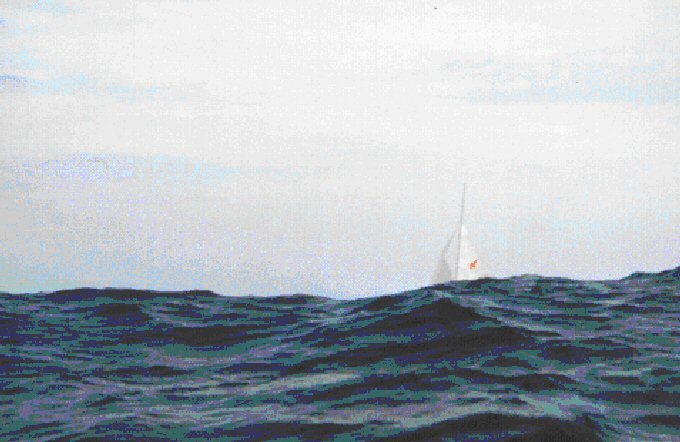 The centreboard needs to be almost fully raised to allow the boat to ride over the wave,
rather than tripping over the board to cause a possible capsize.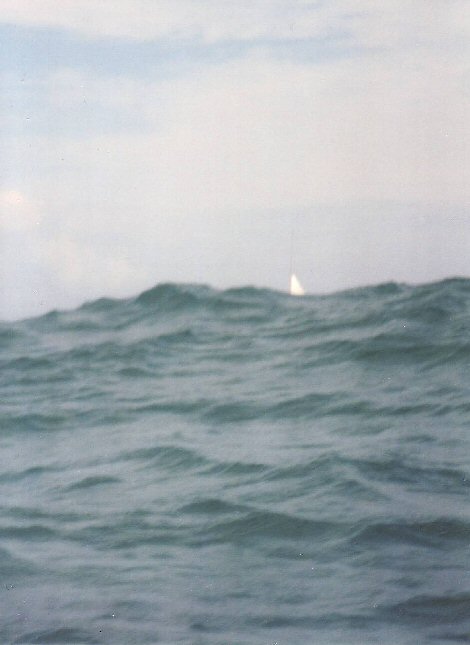 ...
MAINSAIL REEFING SYSTEM
Both boats were equipped with slab reefing systems that could be operated by the crew standing in the centre of the boat by the mast. Reefing could then be carried out whilst continuing to sail.
The crew releases the kicking strap (vang), whilst the helm releases the mainsheet sufficiently to allow the crew to pull taut and cleat the clew reefing line. The helm then adjusts the mainsheet to continue sailing the boat.
The crew releases the main halyard and pulls the sail luff down until the luff reefing cringle
can be secured. (Different systems can be used.)
The kicking strap is re-tightened and the loose sail is tidied (with the shockcord ties secured
to the sail) only as far as can be easily reached.
CLOTHING
Protection against the cold is undoubtedly the most important consideration when exposed to the elements, with little in the way of shelter. A three-layer system was used to provide warmth and comfort. This consisted of Polartec underwear to wick away body perspiration, a thermal mid layer with a Polartec inner material and outer windproof layer, and an offshore jacket and trousers to complete the outfit. Waterproof sailing boots over two pairs of thermal socks kept our feet warm and dry. Gloves were more of a problem, since they always got wet. However, Gill now market waterproof sailing gloves which are ideal.
...
Saturday 11th July
By the early dawn we were surfing along at over 6 knots on a near dead run in very strong winds, and it seemed wise to take the main down to sail on the genoa only. Bob and Clare who were just ahead of us did likewise, and although our speed dropped to 5 knots, the sailing became a lot more comfortable. We sailed throughout the morning in heavy seas. Our new
Wayfarer Worlds
were proving every bit as seaworthy as their predecessors, bucking and rearing over the passing waves like an untamed colt, giving us confidence that they could cope with all but the most extreme conditions.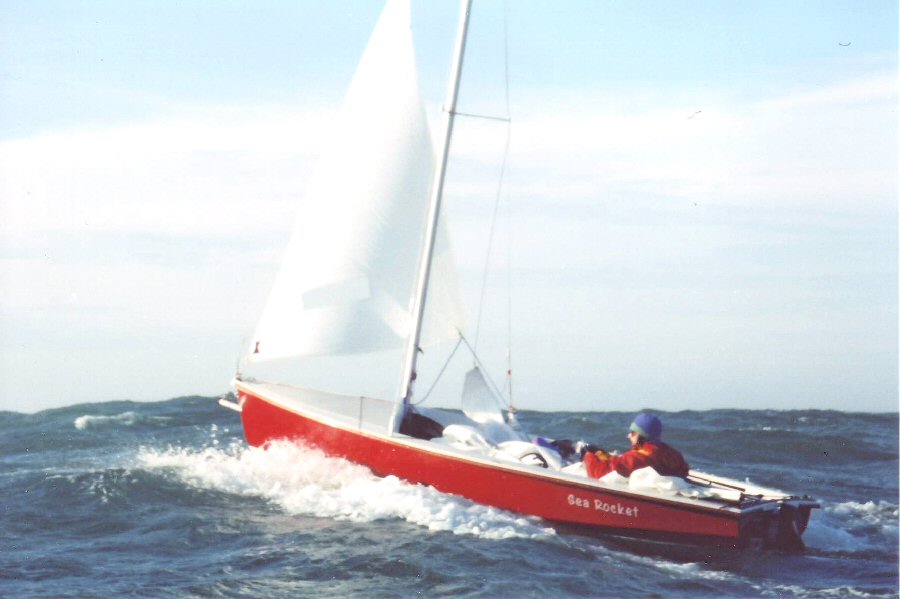 Clare Harland on the helm, with Bob lying comfortably on the floor of the other side of the
boat.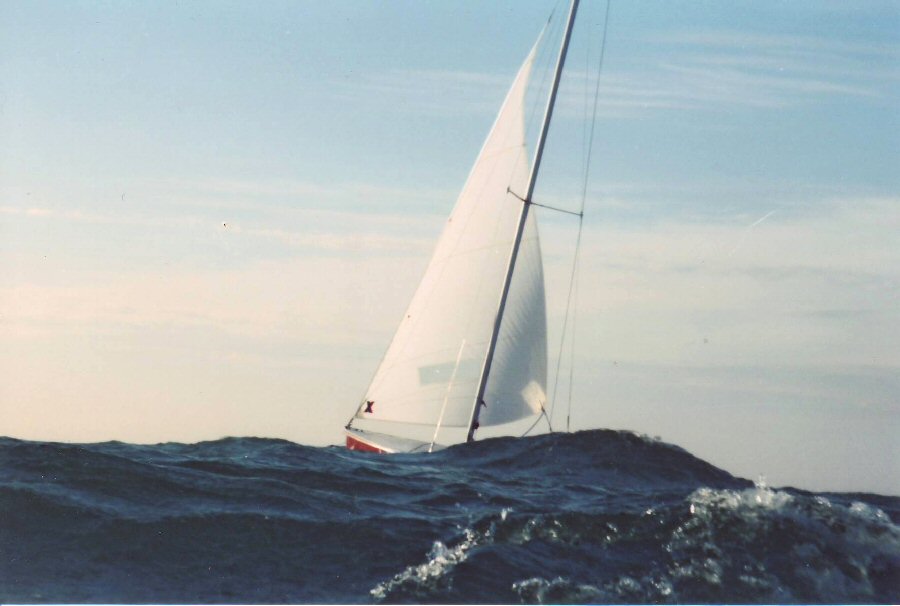 Sailing under genoa only, reduces the chance of capsizing to the absolute minimum,
even when sailing in the most extreme conditions.
When the occasional wave broke showering us with spray as we neared its peak, any water that came aboard disappeared from the self-draining cockpit in a matter of seconds. I regretted not having a waterproof 'throwaway' camera, as I always seemed to miss the best shots of the largest waves breaking. It was inevitably too late by the time I had got my camera out of the waterproof container.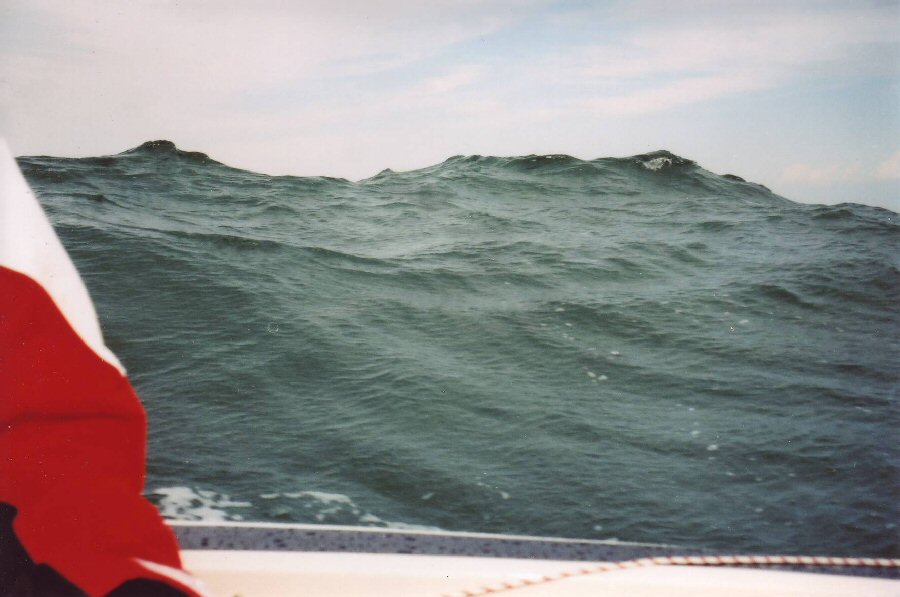 For most of the day we were sailing through big seas,
even when the wind dropped sufficiently for us to put up our reefed mainsails again.
Sailing in these rough conditions demonstrated just how stable and seaworthy the Wayfarer is.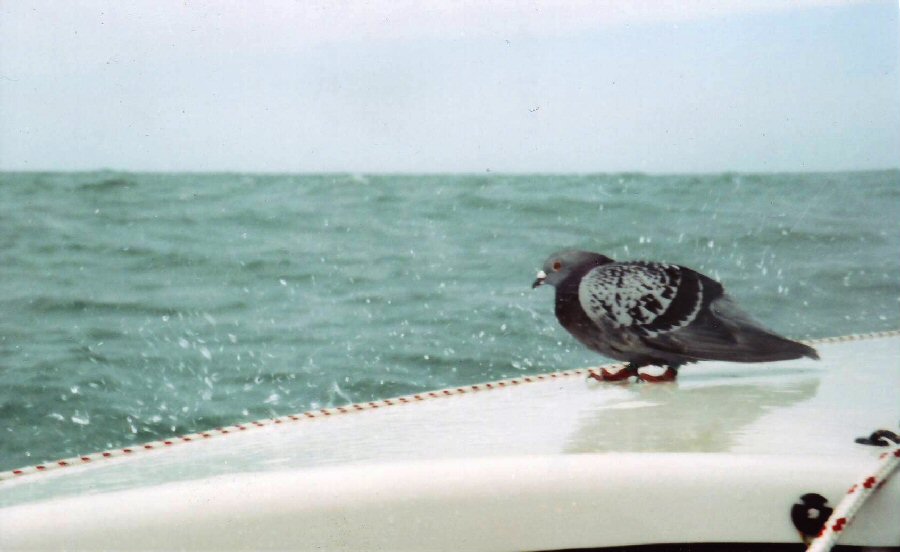 This racing pigeon, clearly identifiable as such from the rings on its feet,
readily accepted being picked up and moved to a less precarious perch.
The sea state was considerably calmer after the storm had abated.

Just as we neared the halfway point of our crossing, we were caught in a rainstorm. Strong winds can be coped with in good spirits, but rain makes sailing particularly unpleasant and somewhat depressing, especially when there is no shelter. We were not the only ones to feel bedraggled, for just as the rain was beginning to ease, a racing pigeon landed on the foredeck. It looked totally exhausted, and allowed me to pick it up and put it under the thwart, a somewhat less precarious position. A couple of hours later, it had recovered sufficiently to object to me clearing up the mess it had made in my new boat, and hopped up onto the mainsheet block to fly off. I wished it well, but was not optimistic about its chances of survival.

During the day the wind eased occasionally, allowing us to raise our reefed mainsails. But a few hours later, it would increase sufficiently to warrant taking them down again. This activity certainly didn't help Bob, whose seasickness was obviously causing him real problems. I was amazed at how Clare had managed to keep going for so long without falling asleep at the helm. She had been continuously on the go, without any form of rest, for over 30 hours, and for much of that time she had been helming in extremely demanding conditions. It is essential for the success of any extended dinghy cruise for both crew to be experienced helms, but to cope on the helm for so long was beyond anything that I could ever have managed.

Around this time Cedric also succumbed to a bout of sea-sickness, but after a few hours of sleep and then resting quietly for a while, he completed his recovery by helming, as this helped him keep his focus on the horizon. I was certainly thankful that he had been able to recover so quickly.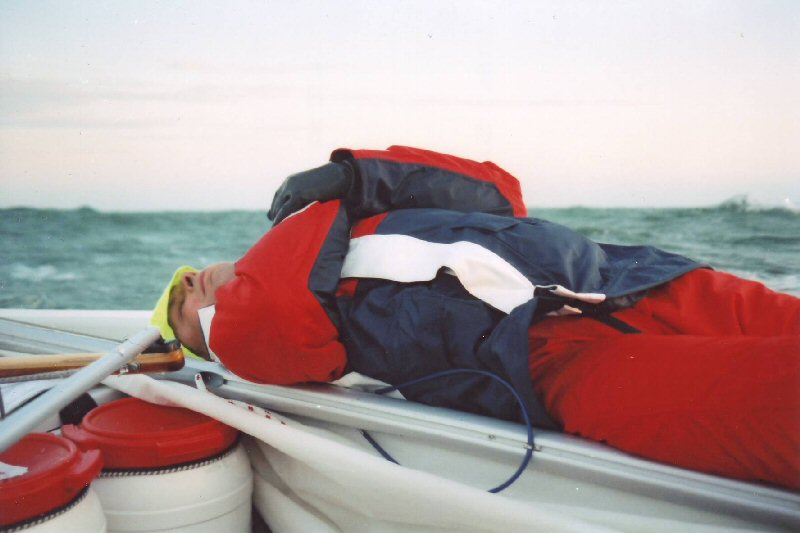 Cedric asleep on the side seats and boom. This is a very exposed position in which to rest,
even when secured by a safety harness.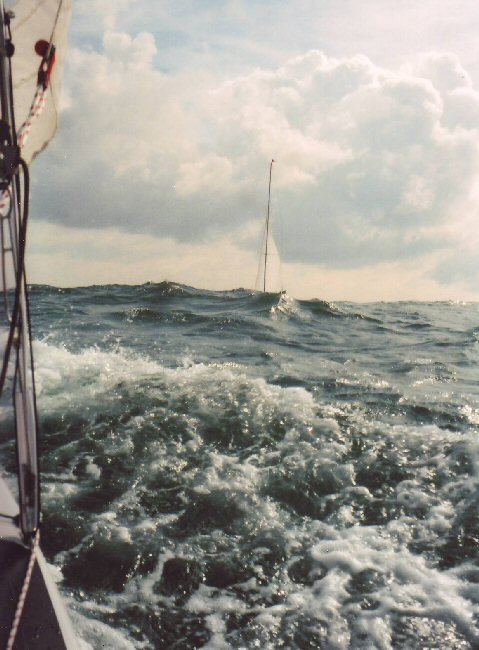 ...
SLEEPING
The
Wayfarer World
design is the more ideal version for long distance cruising, since with the back buoyancy tank/storage locker removed, it is possible to lie full length in the stern of the
boat.
I had not made the best use of this space by choosing to take the removable rear locker, so
there was nowhere we were able to lie down comfortably in the bottom of the boat, which was really
the only safe place to rest in the rough conditions.
Bob and Clare, however, had chosen to use some large

dri-sacs

they had strapped down at
the back for rear storage. Bob was able to lie on these, giving him a far safer and more
comfortable sleeping position.
...
The wind dropped considerably just before we approached the main shipping route off the Dutch coast - just at the very time we needed to make good speed. Even though we put up a full main and genoa for the first time since leaving Southwold, we made only very slow progress. We entered the first (southbound) lane just after 1900. There were a few vessels directly ahead, with another approaching, so I suggested to Clare that I use my outboard to give her a tow (Bob, being a sailing purist in the Frank Dye tradition, refuses to carry one). We motored out of the path of the vessel coming from the north before the wind picked up and we were able to re-hoist the sails. I packed the outboard back into the boat again - a mistake as it turned out, as it would have been far better to have left it on the transom bracket ready for immediate use.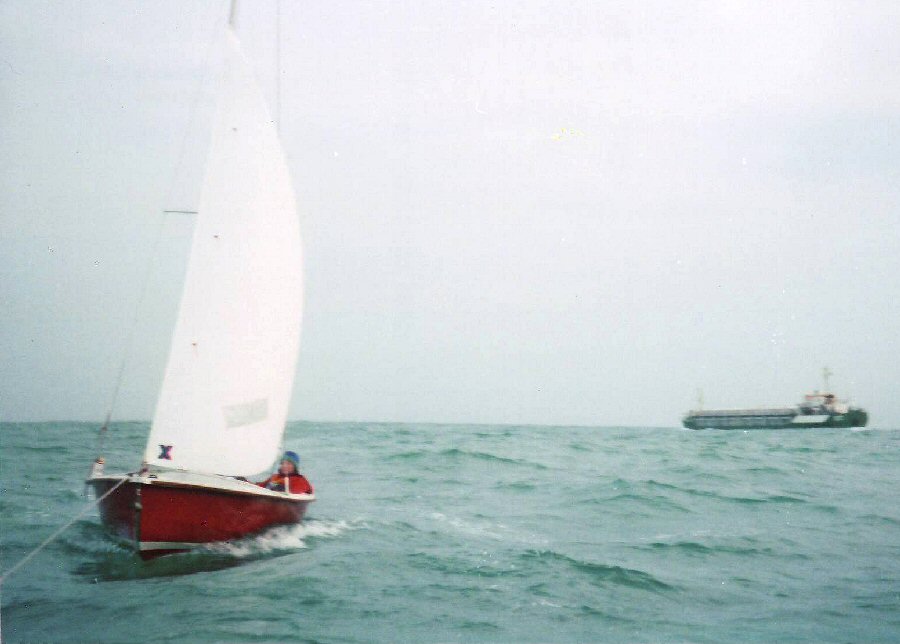 Towing Sea Rocket through the first (southbound) shipping lane.
Initially there was a little wind to assist us, but then it dropped completely and we had to rely on the motor.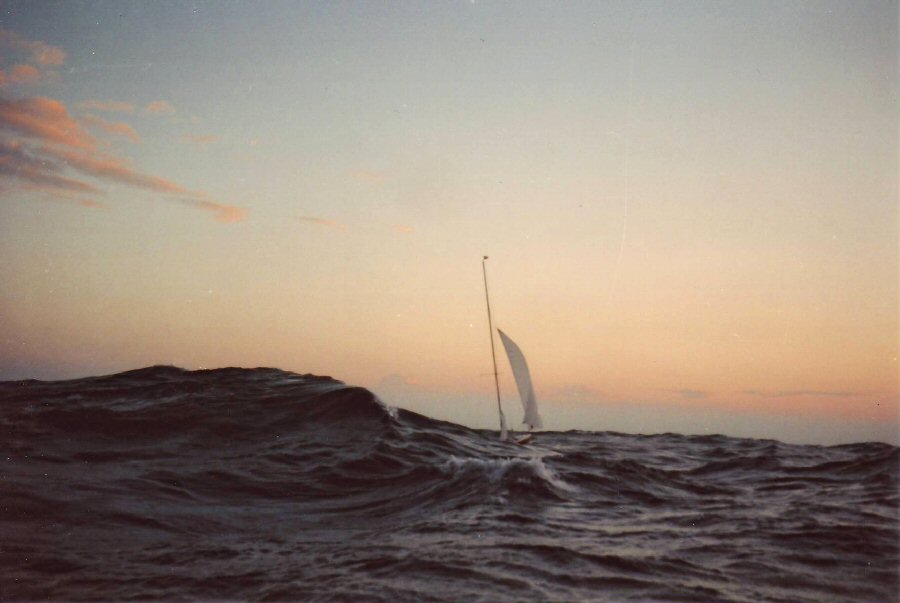 It might well appear as though
Sea Rocket
is about to overwhelmed,
but in fact the wave is in the foreground, whilst Bob and Clare's boat is a little distance away.
Now the wind was blowing steadily, giving us good speed through the second (northbound) shipping lane. This proved to be fortunate, since there were more ships using it, and it was much easier to negotiate a safe passage across under sail than it would have been towing Clare using the motor. With the wind steadily increasing after we had exited the shipping lane, it again became necessary to take down the main, and sail under genoa only.

...
Sunday 12th July
Just after midnight, we were able to pick up the distinctive flashing sequence of the lighthouse at the entrance to Den Helder. In the bleak darkness, without the moonlight of the previous night, it was a most welcome sight on the horizon.
Sea Rocket
's masthead light had ceased to work the previous night, and they disappeared from sight after stopping to hoist their mainsail. We hove to to wait for them, our masthead light still clear and giving our position. By the time they had passed us and we had raised our main,
Sea Rocket
had disappeared into the distance. Bob, having now recovered from his seasickness, had taken over the helm to give Clare a well earned rest, and had been keen to keep going and get his feet onto dry land!
Without their mast head light, it was impossible to see Bob and Clare anywhere ahead. I was disappointed to find we had become separated, particularly as we needed to steer a more southerly course to avoid the shallow water off the Noorderhaaks sandbank, which blocks the direct route into Den Helder. I should have tried to raise Bob on the radio, and it's difficult to understand now why I didn't do so. No doubt tiredness was a major factor in my not appreciating that Bob would automatically switch on his radio in the event of us losing visual contact.

...
VHF RADIOS
Both boats carried hand held VHF radios in waterproof plastic cases, and we had agreed on
a channel for direct communication. I had suggested prior to setting out, that we should try to
conserve the radios' batteries for the week-long trip by normally having the radios switched off.
We agreed that whenever we needed to communicate, we should wave the radio to indicate
to the other boat the need to switch their radio on. It seemed a reasonably practical system in
theory, but it was not sufficiently effective in practice, and most obviously not at night.
WATCHES
Cedric and I did not keep to any particular watch schedule during the trip. C
edric found that helming when awake made him less prone to seasickness. I therefore
concentrated on the navigation and log keeping, checking that all was in good order, taking photos,
providing snacks, and resting whenever possible.
Long periods of sleep were not possible, since lying down was never very comfortable! The
person on the helm would simply wake the other when too tired to carry on. Sailing a small boat long
distances is entirely a team effort.
...
At around 0400, with the dawn beginning to break, we approached the ominous sound of breaking waves on the sandbank. I was reluctant to turn north to go round the top of the island, and decided that it should be possible to get through the area of lumpy sea directly ahead. It looked no worse than conditions I had often experienced off Southwold. What I didn't take into account, and never even imagined, was that the onshore winds would meet an offshore breeze in this area of water, providing us with too little drive to sail through at this point. Without the outboard readily available to get us back to safety, the tide quickly took us into a shallower, and much more treacherous area.

We were soon in amongst some really horrendous breaking waves, which would suddenly roar and thunder around us, crashing down with furious pent-up energy. In my tired and anxious-to-get-ashore state, I had made a monumental error of judgment by deciding to cross the shallow water. It was a decision I now bitterly regretted. Somehow we managed to sail round the worst of the breaking water, which was often down as much to luck as it was trying to chart the areas to avoid, since thundering waves would often suddenly erupt out of nowhere, in places where previously there had been only extremely rough, but non-breaking water.

On reaching an area where there was a stronger offshore breeze, I pulled in the sail and put down just a small amount of plate. Fortunately I knew from my canoeing experience that if we did get caught side-on to a breaking wave, we needed to sit out and dig the gunwale into the crest, allowing the boat to slide down the wave whilst it broke over us; rather than presenting the hull to the wave, which would have immediately capsized us, breaking the mast in the shallow water, and putting us in an extremely dire situation. Just when it appeared we were going to be lucky enough to clear the area without mishap, and escape to the safety of deeper unbroken water immediately ahead of us, a wave suddenly reared up with a tremendous roar to starboard. Fortunately it was only half the size of previous ones, and I just managed to sit out as far as I could before it came crashing over us, dashing the centreplate and rudder against the sea bottom.

It was a heart stopping experience, and a situation I would never want to repeat. We were both totally drenched and the boat had been filled with water, but there had been just sufficient depth for the hull not to be dumped on the hard sand below with the considerable weight of water it now contained, and we suffered no damage. It almost seemed as though the sandbank, having spared us from the worst of the breaking waves, thought I needed a warning not to try the crossing again - a warning that certainly wasn't necessary! Once in deeper water, I was able to put the outboard on the transom bracket, enabling us to motor through the Marsdiep channel towards Den Helder. Our thoughts then turned to Bob and Clare, wondering how they had fared in their approach to Den Helder.

Bob and Clare had in fact been behind us as we approached the shallow water off the sandbank. I had assumed that as
Sea Rocket
had passed us, they would be somewhere in front. I had therefore only continuously scanned the horizon ahead in the steadily increasing visibility of the dawn light. It is obvious now that I should have made a complete visual check of the horizon, as well as tried to make contact on the radio. It is a classic example of just how much tiredness can dull the mind.
Bob, having fully recovered from his seasickness, was undoubtedly in far better state to take a more rational approach to the situation. He took a GPS fix, and after plotting it on the chart, decided on the safer option of sailing round the north end of the sandbank, and through the Molengat channel into the Marsdiep, crossing immediately over to the mainland to avoid being swept past Den Helder by the strong flood tide.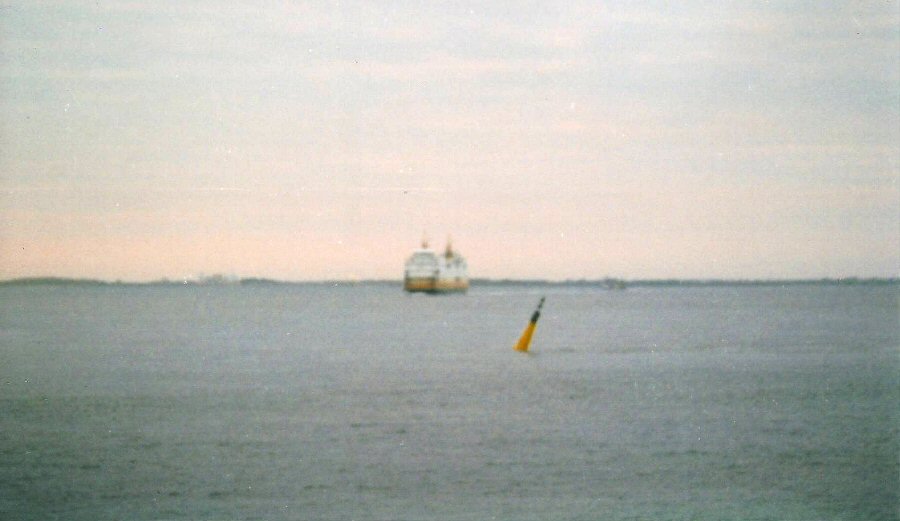 This photo (taken the next evening) shows the strength of the tide through the Marsdiep channel off Den Helder:

The North Cardinal mark is leaving a wake and being pushed over at that angle by the tide,
and the ferry is heading for a point to the
right
of the mark.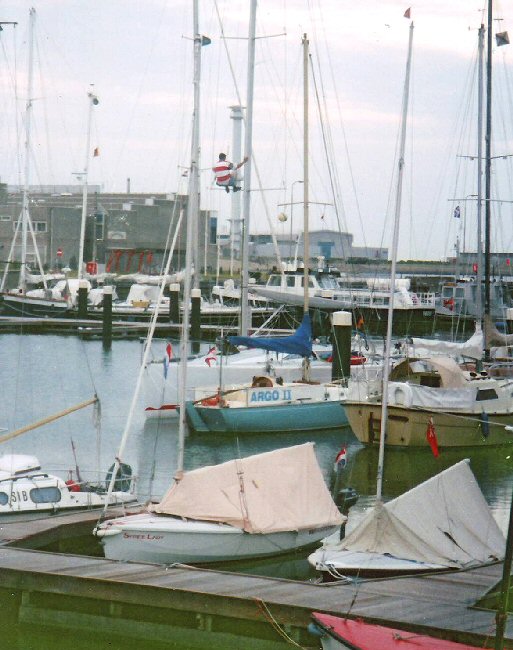 Moored up in Den Helder. Behind us is the German racing yacht Hexe,
with a crew member halfway up the mast checking the rigging (see Part 2).

We used the outboard to motor sail into the marina at Den Helder, finally tying up to a mooring at 0525 on Sunday morning. We were most concerned about Bob and Clare however, and whilst still wondering whether to call the Coastguard on Channel 16, we saw the top of Bob and Clare's sail in the main channel outside the harbour entrance. We ran over to direct them into the marina, happy and relieved that we had both successfully made the crossing. We had completed the 120 NM. open sea trip in just under 31 hours, giving us an average speed of almost 4 knots.

Once we had found a suitable place to tie up for an overnight stop, we telephoned home to report that we had arrived safely. Cedric asked his wife to pass this information on to the local Gt. Yarmouth Coastguard station, whom we had kept informed about our passage plans. The Coastguard received her message of our safe arrival with some relief, since he followed it up in his broad Norfolk accent with this timely advice, "Just you tell 'em to stay right where they are, my dear. There's a gale a'blowing, and it's coming their way - the Yarmouth lifeboat's been out three times already!" We had obviously made the right decision to set off 14 hours earlier than planned, to miss the gales, even though setting off in such a rush had caused a certain lack of coordination in our sailing plans.

...
GEAR CARRIED
We carried virtually all the essential equipment larger yachts would have on board for such
a trip.
For Navigation:

Compass (on foredeck) plus hand bearing type; large scale and more detailed
inshore charts for route in waterproof wallet; hand-held GPS; selected sheets of safe havens and
other useful information from the Almanac; Breton plotter; dividers; chinagraph and soft pencils;
waterproof notebook.
For Safety:

Buoyancy aids - worn at all times, and preferred to lifejackets for greater comfort and
warmth; lifelines; crash hats; all round white mast head light with 12v sealed battery; radar reflector;
hand-held VHF radio; flares; fog horn; torch; survival bag; first aid kit; assortment of spares and tools
(pins, shackles, screws, drill, etc.); anchors (x2), chain and 100m of line; towline; fenders.
For Propulsion:

Mainsail and cut down 3/4 mainsail, both with 1 deep reefing point and sail head
buoyancy bag to prevent an inversion; genoa; jib; spinnaker; Yamaha Malta outboard plus fuel; oars
and rowlocks; Canadian canoe paddle.
For Comfort:

Additional thermal and spare clothing together with sleeping bag in waterproof
dri-sacs

; tent; self-inflating mattress; Trangia cooker (meths stove) and cooking utensils; food and
snacks in waterproof plastic containers; water and soft drinks.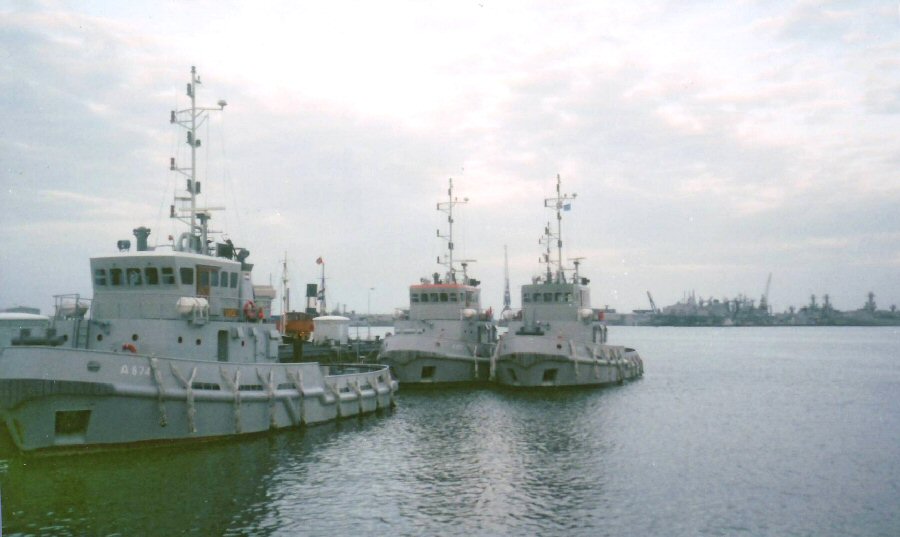 Den Helder is the main base for the Dutch Naval Fleet. The large fleet of all types of ships
appeared to take up a considerable part of the natural, and well sheltered harbour.
LESSONS LEARNED
1. I would avoid leaving in quite such haste on any future trip. Although it was
essential to bring forward our time of departure, it did put considerably greater
pressure on our preparation and packing. Taking time for a final and more thorough
check of everything on the boat would have been time well spent and made for a
more seamanlike departure. In the event, the experience gained from a number of
previous trips meant that there was nothing that either boat needed and didn't have,
and the only gear failure was Bob and Clare's masthead light, and a tear in the luff
of their mainsail, which happened whilst Bob was taking out a reef.
2. We should have given some thought as to how we were going to sail together.
Because we had sailed on a previous North Sea crossing in company, we made
assumptions which proved unwarranted. We ought to have agreed on having a lead
boat responsible for navigation, with the other boat always following close behind;
using the radio to communicate any changeover in the responsibility of being the
lead boat. Both boats ought always to have sailed within sight of each other, and
preferably no more than around 50m apart.
3. It would have been worth taking enough batteries to enable us to leave the radios
switched on during the whole of the crossing, or at the very least, throughout the
hours of darkness.
4. I would never again risk crossing an area of shallow, rough water. Normally,
whenever a Wayfarer grounds, the water is shallow enough to let one step out and push the boat off.
Breaking water however, is just as dangerous to a Wayfarer as it is to any other boat.
Whilst I am not normally a believer in the supernatural, it did seem like someone up
above might well have been keeping a watchful eye on us, since we were extremely
fortunate to come through our passage over the shallow waters off the Den Helder
sandbank unscathed.
5. A lesson learnt from previous North Sea trips was to carry an outboard for
crossing the shipping lanes. On any future trip, I would secure it permanently to the
bracket on the stern of the boat, ready for immediate use whenever needed. It is of
prime importance on any open sea trip to minimise the possibility of a capsize by
reducing sail early to suit the prevailing conditions. The outboard should therefore
be at no greater risk of being submerged in sea water from a capsize by being fixed
on the back of the boat, than it would if it were being carried inside the boat.
...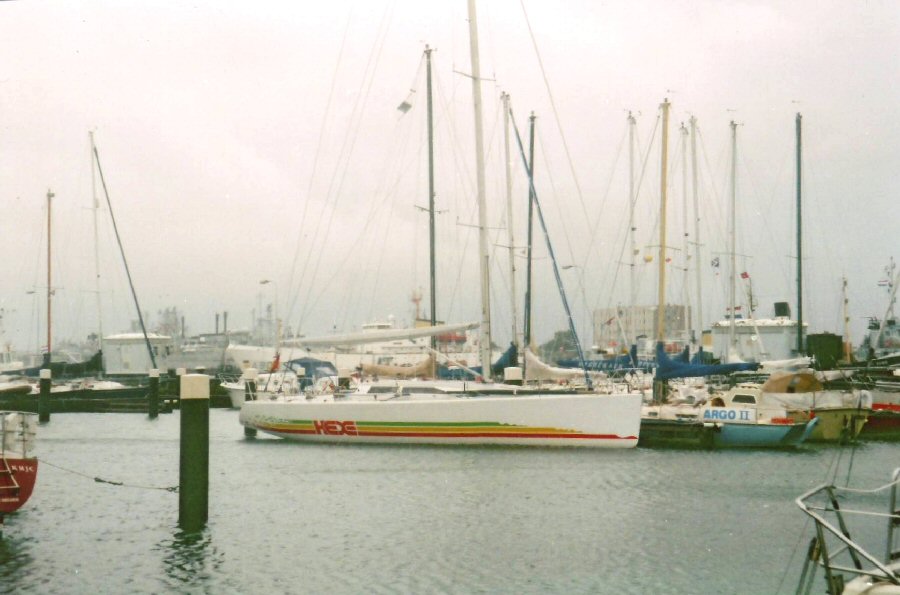 The German yacht
Hexe
, temporarily berthed in Den Helder marina for repairs.

Apart from the sailmaker to fix the sails,
they had called in other specialists:
Divers checked
the prop and rudder, and computer experts tried to fix the rig loading sensor on the mast.
We found ourselves in luck from the misfortune (or rashness) of another yacht
(above)
. A high tech racing yacht on its way to Cowes Week to compete as part of the German team had tried to sail/motor against the full force of the gale during the previous night, and had been towed into Den Helder after putting out a distress call. It looked as though they'd had an even wetter sail than ourselves, with all their bedding and gear hung out on their enormous boom to dry. Various specialists had immediately been called in to make all the necessary repairs, one of which was a local sailmaker, as
Hexe
's enormous mainsail had been badly ripped when the crew had struggled to get it down in the gale force winds. The sailmaker willingly picked up Bob's mainsail at the same time, and brought it back some hours later, spending time explaining what he had done, and giving us general advice about the sails. It was apparent that he was somewhat contemptuous of the yacht skipper's poor seamanship, and had considerably more regard and interest in our adventurous trip.
Seafaring folk seem to fall into two categories when told that you sail a small boat across the open sea. They either respect and admire your seamanship and offer you every assistance, or they think you are just totally mad and reckless with no regard for your own (or others) safety and treat you with disdain. The sailmaker collecting the racing yacht's sails fortunately fell into the first category.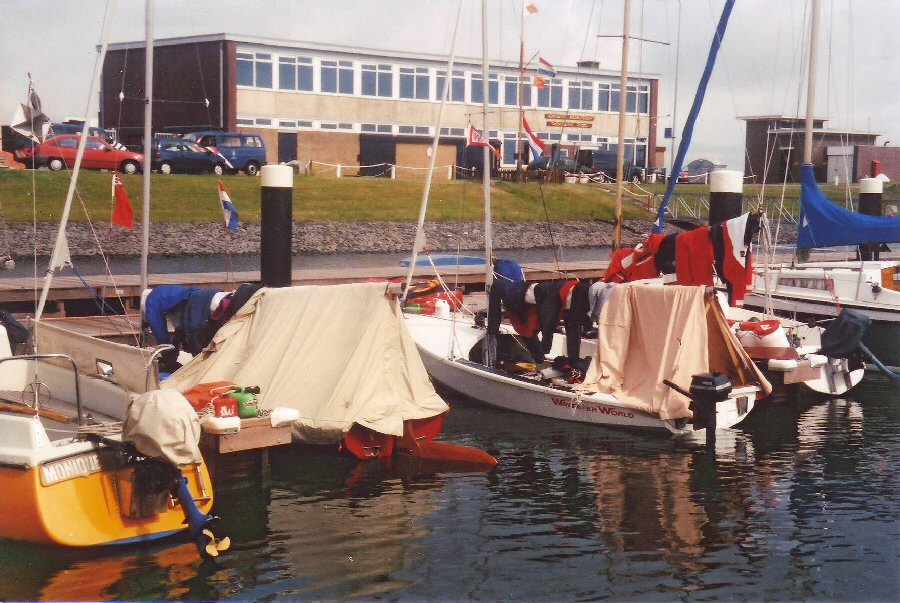 Drying out in Den Helder. Our sailing gear and equipment covered much of the main
walkway, the two finger pontoons, and the yachts moored adjacent to us!
As the day was generally fine and sunny, I spent some time sorting out all our gear, spreading it out along the walkway, finger jetty, and adjacent boats. Other yachtsmen walking by, generally expressed their amazement that so much equipment could be stored in such a small boat. That done, we had a relaxing meal in the marina restaurant, and settled down for another early night. While the gale had blown through the previous night without bothering us too much, the next night was far less pleasant. Not only were there very strong winds, but also thunder and lightning, with rain so heavy that it penetrated the fabric of the tent. The problem was quickly resolved by tearing open a plastic survival bag I'd been carrying about for years without using, and spreading it over our sleeping bags to keep us dry.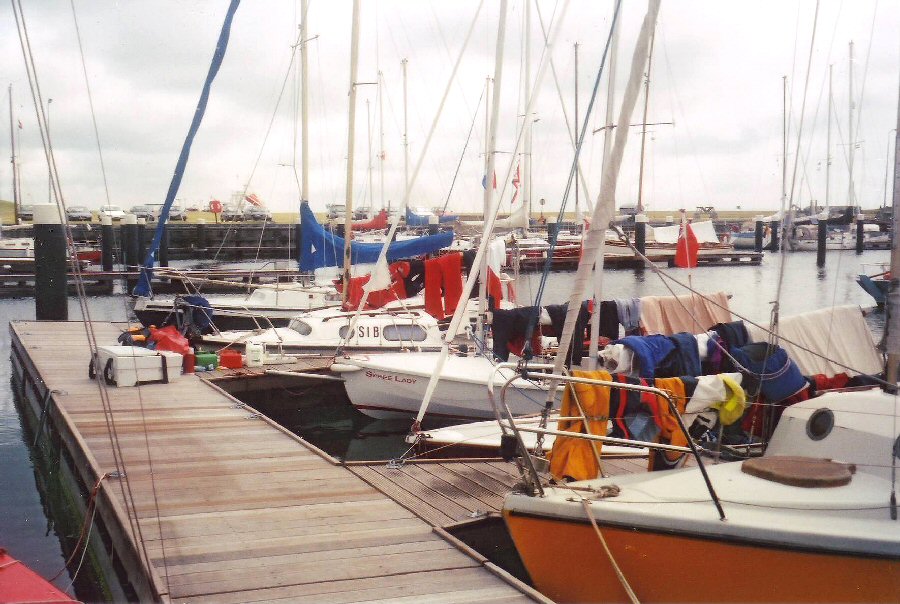 Another view of all our gear taking up any useful space. The back locker rather blocks the walkway - fortunately the only ones who used this part of the pontoon were those who came to see how two small boats could carry so much equipment!
...