Monday, July 10: winds SW 10-15 knots
Coastal cruising in a small open boat is not always a relaxing escape from real world stresses. I had planned to sedately cruise up the Eastern Shore during my week's vacation. However, I hadnít anticipated the sea state I met beyond Halifax Harbour. Sambro Ledges and Chebucto Head sheltered the harbour approaches from a large sea still running two days after tropical storm Barry passed. Beating back to Halifax Harbour against this sea would be difficult, so I reluctantly continued on up the coast.

My Wayfarer class sailing dinghy Naomi was gradually set towards the rock bound coast and outlying shoals off Three Fathom Harbour and Shut-in Island by the rough sea. The fog thickened. Occasional large, dark gray waves overshadowed dirty brown swells-- appearing as a low rocky shore nearby. Ignoring previously plotted courses on my chart, I sailed a 90-minute leg to seaward in order to clear the coast and steep-sided breaking waves over the shallows.

Hove-to, Naomi bobbed like a seagull on the rolling offshore swells. Wedged securely on the floor, I nervously sipped a coffee while trying to estimate my position on the chart. Gradually the fog lifted; I was beyond the sight of land. Fog settled again as I sailed shoreward. Visibility dropped to 100 yards but the changing sea state confirmed my course. Large benign rollers of the deeper sea grew shorter and steeper as they shoaled.

Quietly, Naomi plowed forward as I peered anxiously into the fog. Something would appear soon and I must be ready. Breakers plunging over an outlying shoal, a hostile rocky ledge, or a surf-covered beach might block the way. I hoped to identify my position in these home waters and sail for shelter. Perhaps the fog would be a blanket hanging offshore, leaving a clear coastline. With hindsight--I should have remained well off-shore. Sometimes, I wonder why I sail at all!
..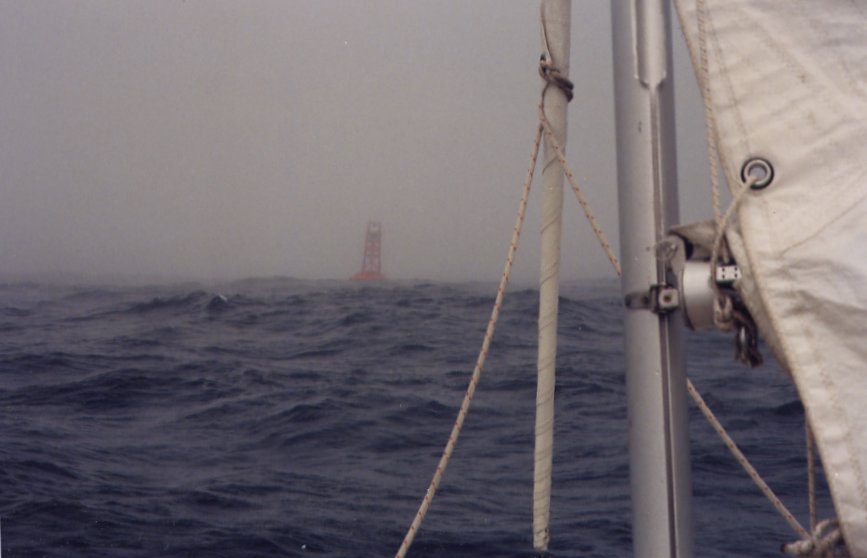 ..
Like a jack-in-the-box, a buoy popped into view on the wave crests, then slid from sight in the wave troughs. This dull red apparition, labelled YT4, was a welcome sight (photo above). Since Devils Island had faded into the fog, more than eight hours before, I had been sailing by dead reckoning. From the chart, I identified the buoy as Old Man light and whistle buoy off Jeddore Harbour. The light-tower on Jeddore Rock and Old Man Rock remained invisible to port, white water to starboard marked Gull Rock and the closer Mehanny Rocks.
..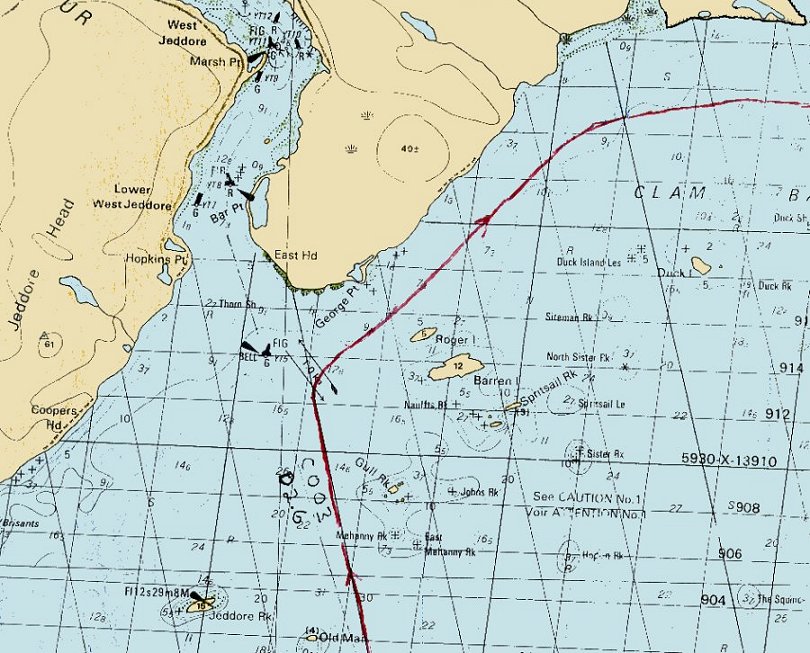 ..
Unable to hold a course into Jeddore Harbour, I relented to the seas and swung around Gull Rock into Clam Bay. Fog persisted, but the seaís force was largely dissipated on the outer rocks and shoals of Clam Bay. Still the only indication of shore was the back of foam streaked breakers with spume blowing off their crests. While I was sailing just outside the surf line, the reliable force 3 wind of the day began to falter. I must anchor or risk drifting ashore. My first attempt failed. While grasping the rode, I felt the anchor skipping along the gravel bottom, losing precious ground towards the surf. Clawing away from the breakers, I lowered the anchor again. This time it held.
..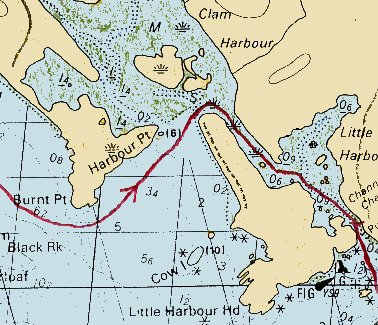 ..
Cruising a dinghy is a series of contrasts. Eventually the fog lifted. With a high spring tide at 1900, I decided to row into Little Harbour through the salt marshes behind Harbour Point. Only a small open boat can navigate through the twisting channels in the marshes. Sometimes I used an oar to pole and sometimes I walked Naomi over mud flats too shallow even to row upon. What a change to earlier in the day! Here the sun shone warmly on placid water and faded green marsh grass. Various wading birds roamed the flats and a horde of insects settled on Naomi for a ride.
..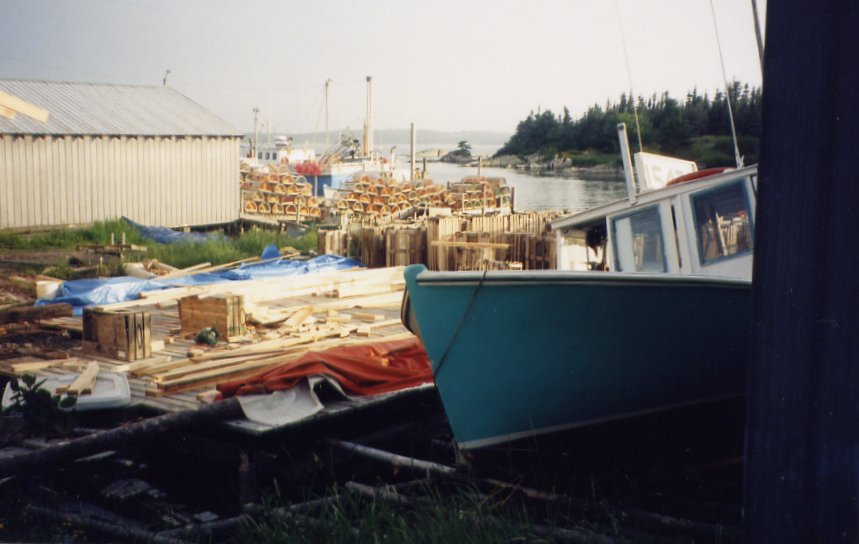 ..
After entering Little Harbour (above) from the marshes; I pulled Naomi onto a slipway. I went for a walk before anchoring Naomi in the cove. Lounging under the boom tent, listening to the coffee pot perk and smelling ham frying reminded me of an inland canoe trip rather than a coastal passage. The ebb tide gurgled along the hull like a fast-moving stream and I saw only marshes, stunted spruce trees, and wooden fish sheds. The ocean seemed far away.