W8328 Naomi Circumnavigates Cape Breton's Isle Madame
Thursday/Friday: Glasgow Harbour back to St. Peters
Thursday, July 22
At 0630 I sailed from the anchorage behind Glasgow Point. Entering Lennox Passage the breeze faded, so I rowed along the tree-covered shore. Even though it was only a half an hour before slack water, I approached the Lennox Passage Bridge with apprehension. Nearing the bridge, I saw fishermen catching mackerel from rowboats by the bridge abutments. There wouldn't be much current flow for small boats to be that close to the bridge. Although the bridge has a section that lifts at a steep angle so sailboats can pass through, I lowered the mast and glided below the bridge deck.
..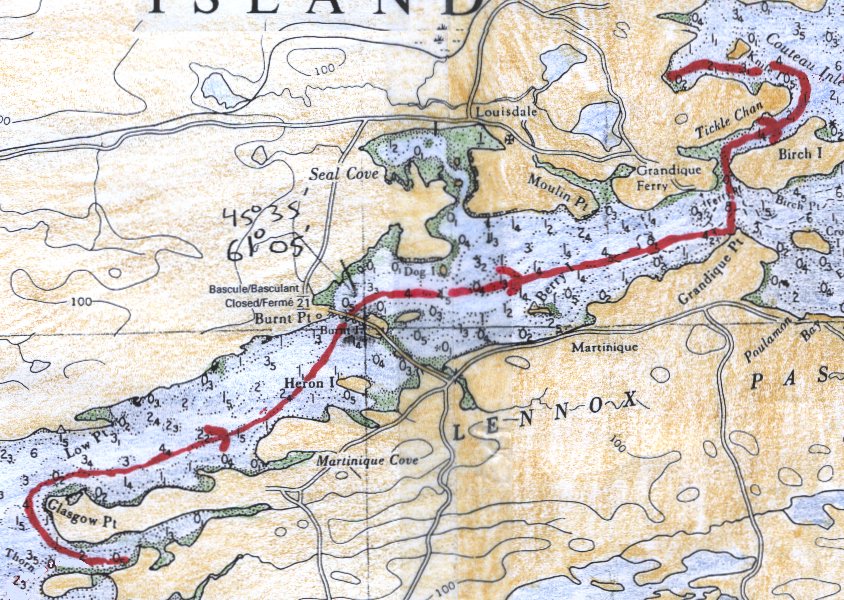 ..
A light southerly breeze appeared which made for an easy sail to Grandique Point on Isle Madame. This is an attractive provincial park set among trees and grassland. Before a bridge was completed in 1916, a ferry crossed from here to Grandique Ferry on the mainland. Approaching the park, I lowered the sails and rowed along the shore looking for a landing site. Here I did a dumb thing that eclipsed many previous and future blunders. Picking a small beach to land at, I rowed in. As we closed the shore, Naomi came to a sudden halt.

I figured she must have tangled her mast or shrouds in the overhanging birch trees. When I looked up, I was dismayed to see the mast hard against a power line that was holding her firm. Quickly I backed off. I sat there pondering why I'd missed seeing the line and poles which were obvious and why sometimes you get electrocuted doing this stunt and sometimes you don't. Picking a site closer to the lighthouse, I brought Naomi ashore.
With the fog lifting and the overcast sky breaking up, this was an opportune time to hang damp gear over picnic tables to dry out. I walked the trails in the park which were surrounded with wild flowers in bloom and an abundance of fragrant wild roses. During the day a cool breeze blew down Lennox Passage. In the afternoon I decided to sail around Birch Island and up Couteau Passage where I would camp overnight in an unnamed cove. The chart indicated dirt roads fairly close to the cove. These joined a secondary road leading to the village of Louisdale. Before anchoring for the night, I planned to put Naomi ashore and walk to Louisdale.

Just before sailing, the wind disappeared, so I rowed across Lennox Passage and entered Tickle Passage. The tide was ebbing down the passage and I felt as if I was rowing through molasses against it. I became soaked with sweat in the stifling and humid atmosphere. The ebbing tide was exposing a foreshore of marsh grass and mud flats. Where Naomi lay the mud bottom was firm. I tied a mooring line from the bow to shore and tried to walk an anchor a distance astern. As I walked the anchor out, the mud and grass bottom became soft. A lively conflict ensued with the sticky mud over who owned my boots. I chucked the anchor from where I floundered, left some slack line, and retreated to shore. Hiding my muddy boots in the woods, I put on my shoes and headed for town.
Eventually my path met the road. Just as I reached the roadside, a car drove by. The driver slammed on his brakes, backed up, and motioned for me to get in. A new variation on the "What's your name?" was played as the driver introduced himself first and then I responded with my name. As we drove towards Louisdale, I asked if there was a public phone in the village. He replied there were two, one in the restaurant, and one in the tavern. He must have been a good judge of character as he said decisively, "I'll drop you off at the tavern."

The Barachois Tavern was a raunchy place with deer and moose heads staring blindly from the walls. Prominently posted was a long list of the names of men not allowed back in. Although it wasn't even 17:30, there was a sizable group of men sitting around. The men were laughing, talking and stomping their feet to the music on the stereo player. Cape Breton music blared from the speakers located close to the phone.

Sitting in the tavern, savouring a few cold beer, I was working up my nerve to call home. Was Gail becoming skeptical of my dinghy cruising? With a serious tone I tried to ignore the background noise and called Gail to let her know I was surviving my coastal sailing trip and was in Louisdale. No, I didn't sail into Louisdale, I came by car, and I agreed the background racket made it seem just as though I was calling from a pub.

Beginning to walk back to the cove, I hesitated for a minute at the intersection in Louisdale to get my bearings. A family of four stopped their car and offered assistance. Although pointing out the correct road to take would have been enough, they insisted on giving me a lift right back down the dirt paths to near the cove. When the tide was high enough, I shoved Naomi off and anchored her in deeper water. During the warm and sticky evening, I listlessly swatted mosquitoes and watched jellyfish sweep by, dangling long trains of red tentacles below themselves. Later the stars put on a brilliant display until obscured by haze. Then I sat on Naomi's side deck using the boat hook like a magic wand, tracing patterns in the phosphorescent sea.
Friday, July 23
I awoke to an overcast and dreary morning. My clothes and sleeping bag were clammy and mosquitoes swarmed around. I eagerly rowed away from this uncomfortable anchorage. At Cascarette Island, I stopped to cook breakfast ashore. The languid morning was interrupted by several shrill terns which hovered and then dove for fish in the shallows. Then I rowed the short distance to Quetique Island which is treeless unlike most islands in Lennox Passage. The island once had a manned lighthouse, but this was replaced with a light tower.
Numerous gulls and cormorants nest on the island; the gulls screamed and circled as I approached. Off Philip Rock, a pod of porpoises swept for mackerel. Here I came across a large gull tangled in a gill net. His beak was wrapped shut and his wings hobbled. I tried to snag the gull with the boat hook and cut the lines, but every time I got close he used his legs to paddle out of reach. I left him to his fate.
..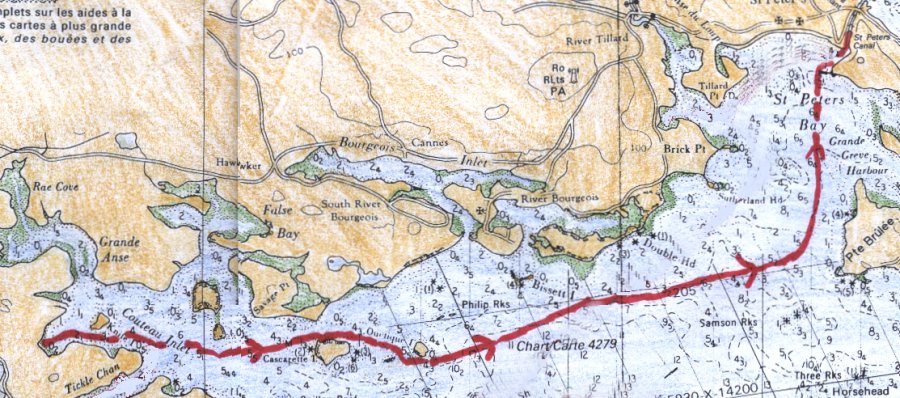 ..
The sky gradually cleared and a cool southerly breeze arrived. Thinking the zephyr would soon die off, I unfurled the jib only to pass the time. The breeze continued to freshen though. I had an unhurried sail up St. Peters Bay right to the locks under the jib alone. While Naomi locked through, I had a pleasant chat with the lock keeper. He recalled Kevin and me sailing Naomi through a few years ago. My cruise was over but I will have fond memories to last a lifetime.