Alan Asselstine (W7346) recalls Tim beautifully:





Tim France

In the 1960's, Tim found his love of sailing while canoeing on the Big Rideau Lake south of Ottawa. With a good wind at his back, he opened an umbrella and sailed down the lake. I do not know how he got back upwind but a life-time passion had begun. Tim sailed Lasers, Albacores and Windsurfers but eventually found the Wayfarer as the sailboat for him. He enjoyed the competition of the race and the exploration and adventure of cruising with his Wayfarer Wind Breaker.

Tim introduced me to sailing in Guelph in the 1970's. He enticed me to take the one-week Learn to Sail program, after which he invited me to day-sail and race with him. On one early day- sail in light winds, Tim jumped off the boat to force me to sail back to pick him up. He found a Laser for me and I became hooked on sailing. Job changes came and I moved to Ottawa and not until the 1990's did Tim and I get back together on a sailboat. This time it was his Wayfarer and a number of four- to six- day cruises on Georgian Bay. We departed from Killbear, Killarney or Tobermory. The first few cruises were with Don Davis, Canada's legendary Wayfare cruiser, and Ken Elliott. I, as the 50-year-old whipper-snapper of the group, heard many a great sailing yarns. We sailed well out into Georgian Bay's blue waters and then deep into small quiet coves where, after a Scotch, we embarked on the evening chores. Tim cooked up dinner and I set up the boom tent and beds. They were great meals with a glass of wine followed by a night sleeping on the boat under the stars.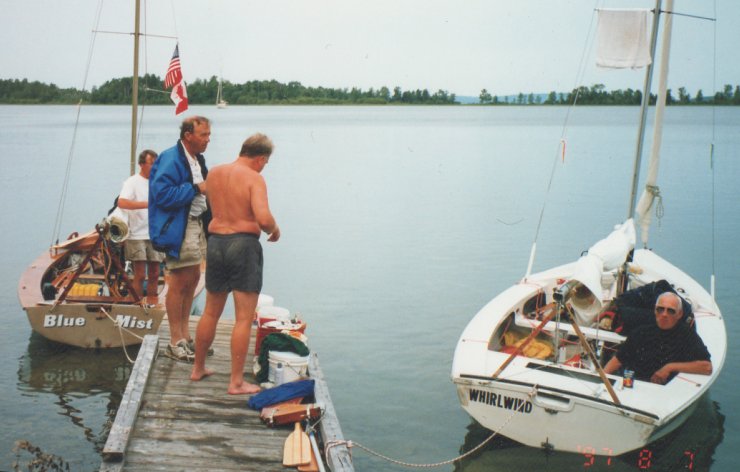 A 1997 cruise stop in the North Channel - (l to r) Dick Harrington, Tim, Doug Gilchrist, Al Schonborn


Our last few cruises were with the Fox brothers, Dick Harrington, Uncle Al and others out of Killarney. Baie Fine, McGregor Bay and the Begamins were among our destinations. Tim would adjust the sails or the board to keep up with or ahead of the fleet. He taught me how to catch a lift near the shore. Our last cruise was the most memorable, a five-day cruise from Killarney to Killbear thanks to our wives who moved the cars. There were to be two boats, Tim and I and the Fox brothers. However, at Kilarney, Frank Dye met us and asked to join our cruise. With a quick yes, we were three boats. Frank, the great story teller, told of his adventures with his Wayfarer. We showed him how to find the deep coves and bays of Georgian Bay for a safe night's rest.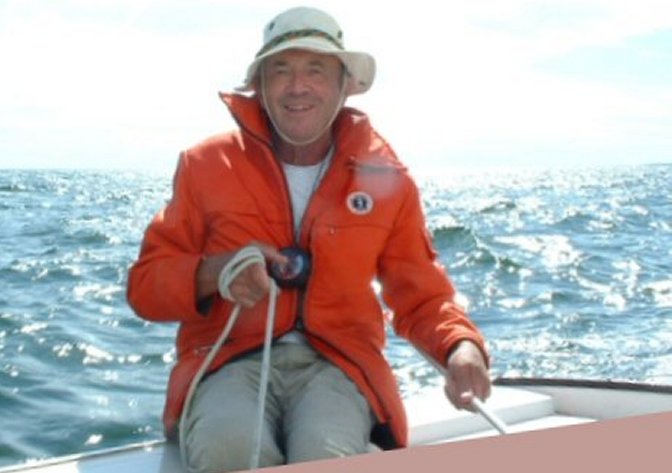 Tim at the helm on the Atlantic Ocean off Hermit Island, Maine in 2005


In the 2000's Tim, with his wife Rosemary, joined me to attend three rallies. As well, we sailed together in the Ontarios in Ottawa. His last rally was in 2006 in the Thousand Islands.

Tim was not just a sailor but also a builder. He enjoyed showing others the pleasure of sailing and he organized sailing schools. He was a driving force in the starting and running of the Guelph Lake Sailing Club. For many years he organized a Laser week at Killbear Park. As cruising director for the Canadian Wayfarer Association, he organized many Wayfarer cruises. He organized the first International Wayfarer rally at Killbear in 1995. In all these endeavours he was ably supported by his wife Rosemary.

Alan Asselstine