Until we meet again, farewell to
Lee Cowperthwait W3854 (Honorary)
........

One of the finest human beings among a vast number it has been my privilege to meet, has departed this world. In my experience, Lee Cowperthwait was a very uplifting example of the goodness and good cheer that people are capable of. I will miss him very dearly but am grateful that just thinking of Lee and his fabulous attitude to life, living and to his fellow man, brighten my life in a most heart-warming way. Many many thanks, Lee.

A pictorial reminiscence of our Rock Hall week-ends follows the obituary below. Love, Uncle Al W3854


Obituary for Mr. Lindley Murray "Lee" Cowperthwait Jr.


Lindley Murray "Lee" Cowperthwait, Jr. of Rock Hall, MD died on Monday, October 12, 2015 at his home. He was 82.
Born on March 13, 1933 in Abington, PA, he was the son of the late Lindley Murray Cowperthwait, Sr. and Ruth Brodie Cowperthwait. Mr. Cowperthwait served as a Captain in the United States Air Force Reserves from 1951 to 1957. He attended William College in Williamstown, MA, and graduated from California State University in 1957 earning a B.A. degree and graduated from University of Pennsylvania Law School in Philadelphia, PA in 1960, L. L. B.

As a young attorney, Mr. Cowperthwait was employed by a large firm in Montgomery County, PA, and later headed his own firm for fifteen years before being invited to join a prestigious firm in Norristown, PA, where he held the position of "Of Counsel" from 1996 to 2003. Mr. Cowperthwait was admitted to the Maryland Bar in June of 2005. From December 2005 to June 2015, he was "Of Counsel" to Tom Yeager. He served as Chief Counsel for the Philadelphia Eagles Football Team, Chief Defense Attorney for Ford Motor Company, President of the Pennsylvania Trial Lawyers Association, and has worked as a Certified Mediator and Construction Arbitrator.

He was a member of the PA Society of Sons of the Revolution, the Sons of the Cincinnati's, the Emergency Management Board and a devout member of St. Paul's Parish in Chestertown, where he was a reader, acolyte and senior warden. He was also a member of the Kent County Bar Association, the PA Bar Association and a past member of the Aviation Club of Blue Bell. Mr. Cowperthwait was a former member of the Rock Hall Yacht Club. He was one of the founders of the Medical-Legal Society of PA. Mr. Cowperthwait always thought of himself as a country lawyer. He enjoyed helping people, cooking, football and gardening. His greatest passion was his love of sailing.

In addition to his wife, Karin Cowperthwait of Rock Hall, he is survived by his five children, six grandchildren, and a sister, Sarah Cowperthwait.
A memorial service will be held on Saturday, October 24, 2015 at 11:00 am at St. Paul's Episcopal Church, 7600 Sandy Bottom Road, Chestertown, MD, 21620.

In lieu of flowers, contributions may be made in his memory to a charity of your choice.


How I lucked into becoming friends with Lee and Karin
In 2004, the late Frank Pedersen's glowing description of what we now call our Rock Hall Week-end - a race down the Chester River from Chestertown to the Rock Hall YC on the Eastern Shore of the Chesapeake Bay, followed by the RHYC's annual One-Design Regatta - lured me to that event.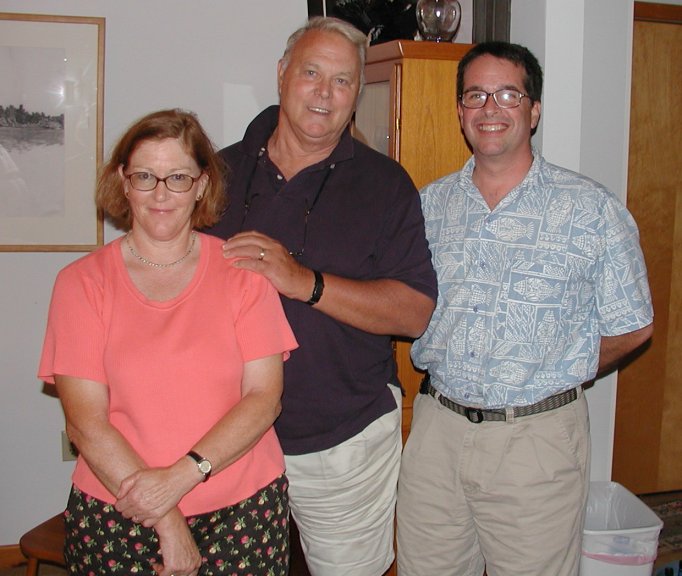 June 2004: Karin, Lee and my pick-up crew for the regatta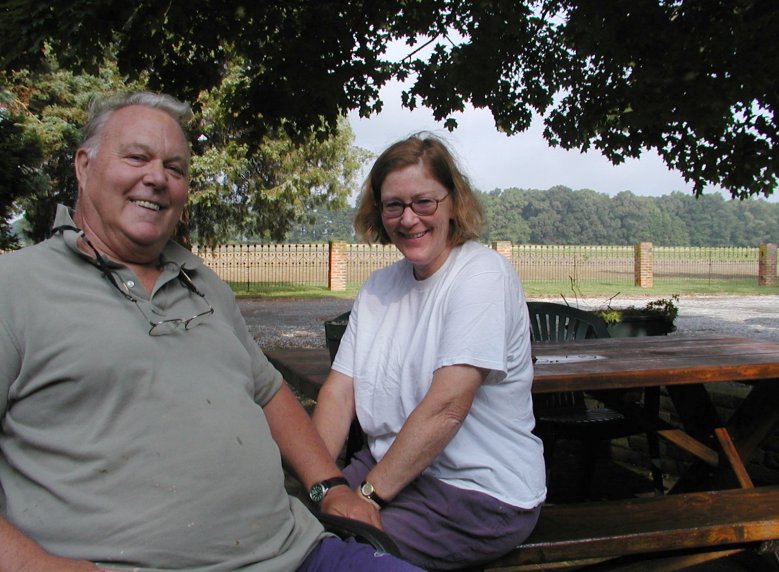 Enjoying a fine June 2004 morning, before chef Lee springs into action.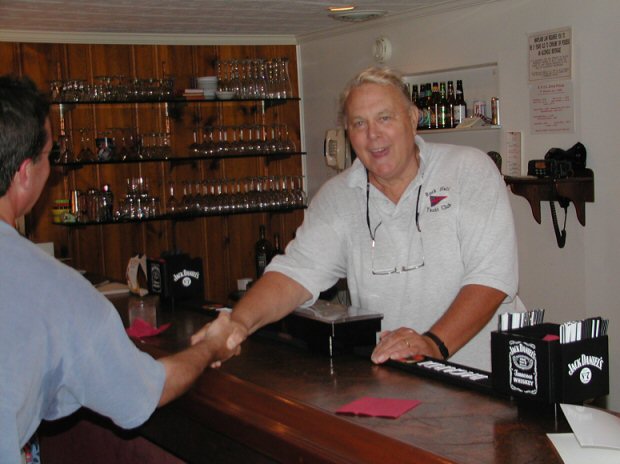 Turned that among Lee's many finely honed skills, bartending at the Rock Hall YC turned out to influence the Wayfarer life as he introduced us to the Dark and Stormy (Gosling's Black Seal Bermuda Rum and ginger beer) that has become a favourite with us Wayfarer sailors.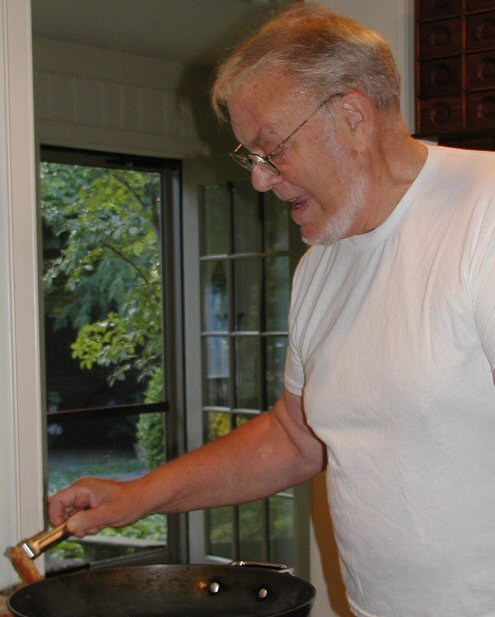 June 2005: Breakfast at The Castle, the Cowperthwaits' lovely home.
...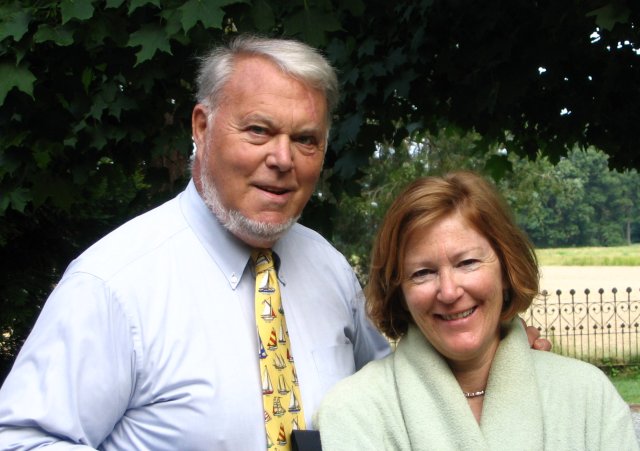 Sunday morning. Lee about to report for "God Squad" duty.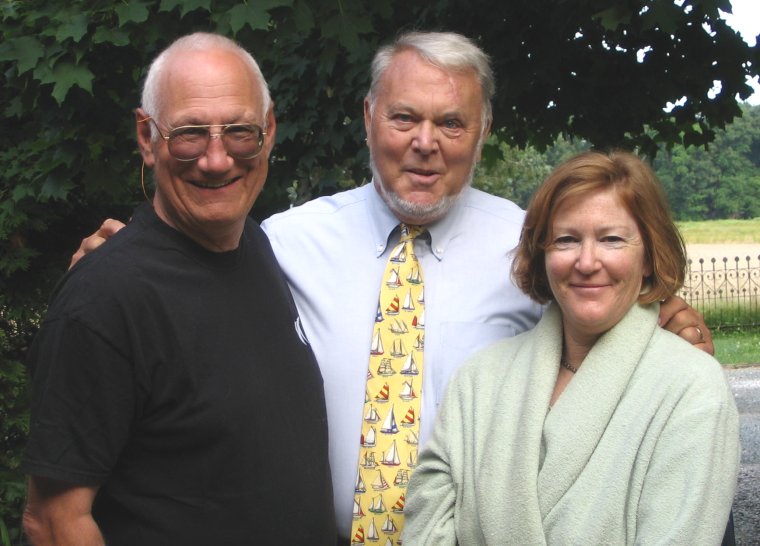 Not so Uncle Al who has races to sail.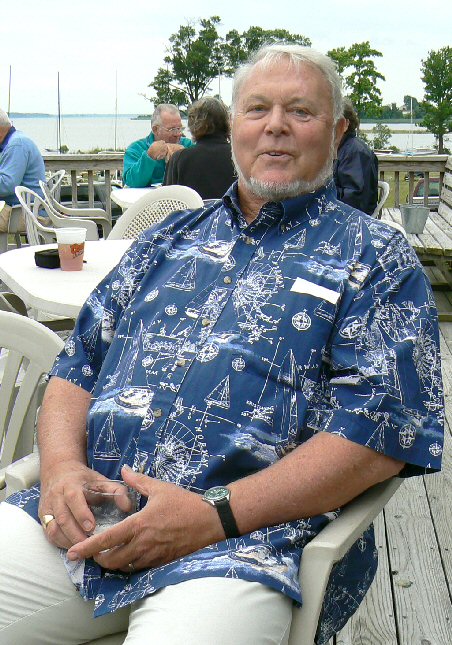 June 2007: on the deck at the Rock Hall YC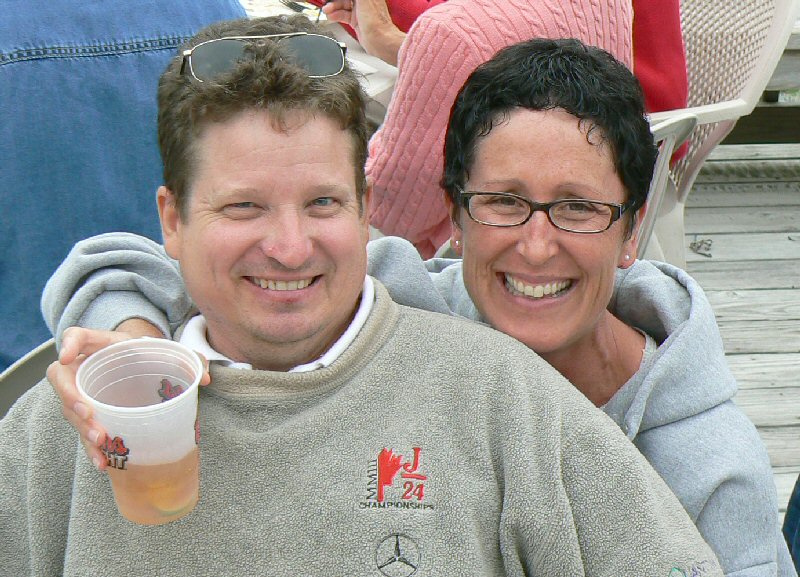 Also billetted at The Castle was Al's super-crew, Marc Bennett, seen here with his soon-to-be wife, Julie.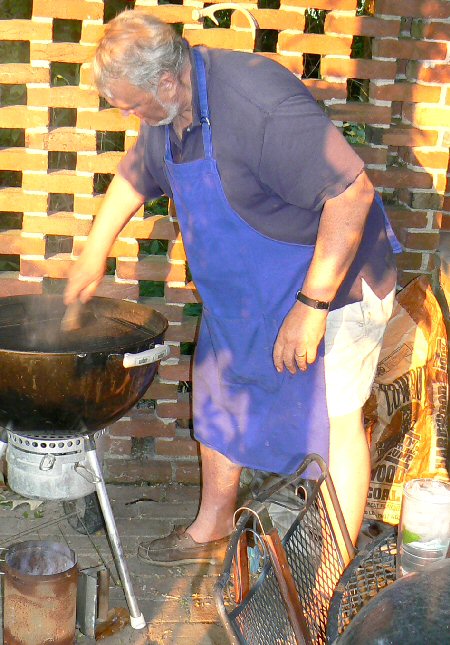 Cooking delicious breakfasts for us was just not enough! In 2007, a new tradition began: Instead of our rushing off to the 10-hour drive home eight after awards at the club, we got to stay an extra night at The Castle, sampling Lee's abilities as a Cordon Bleu chef.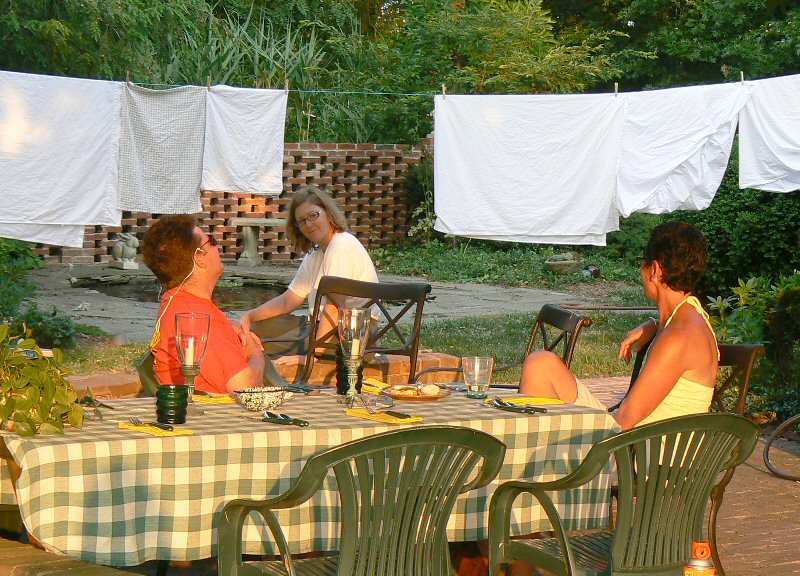 Sunset Marc and Julie with our lovely hostess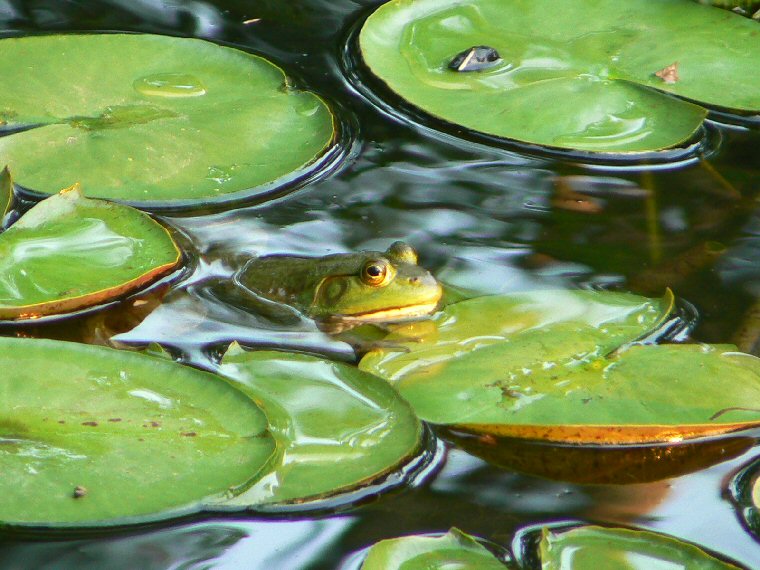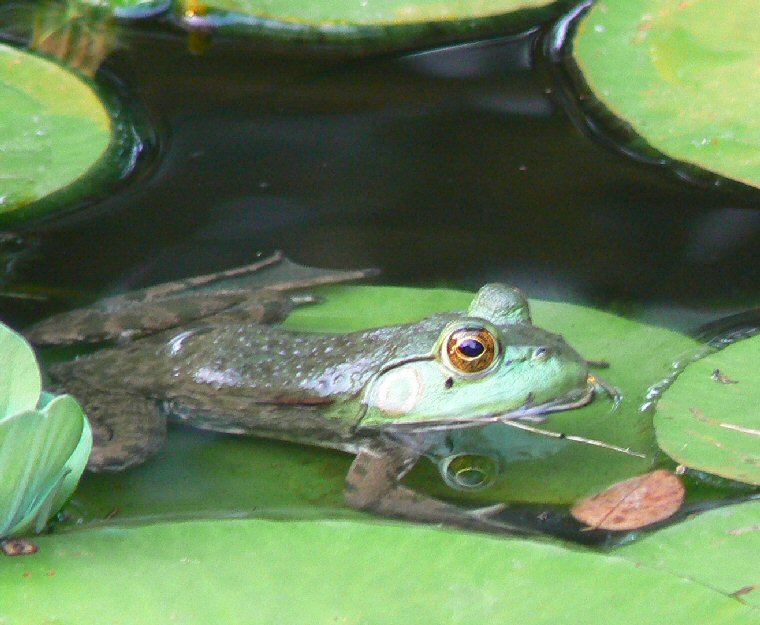 The pond frogs were left to fend for themselves.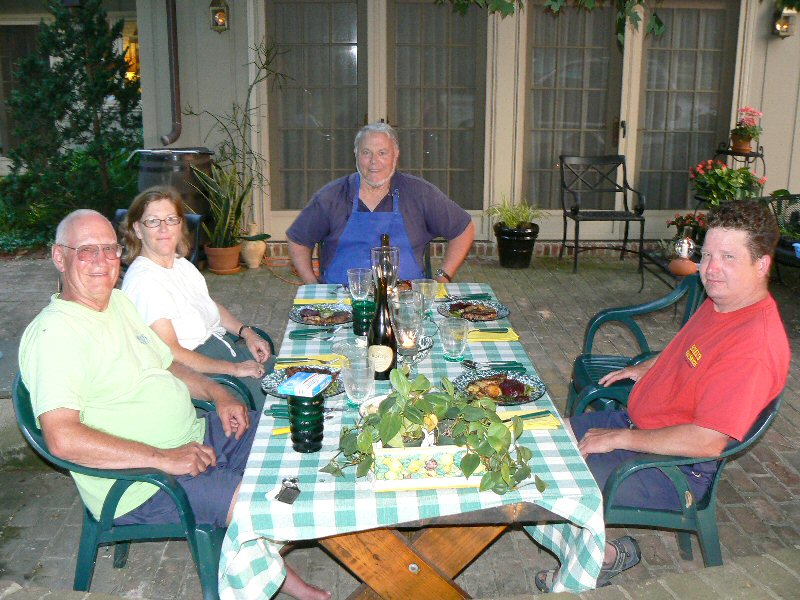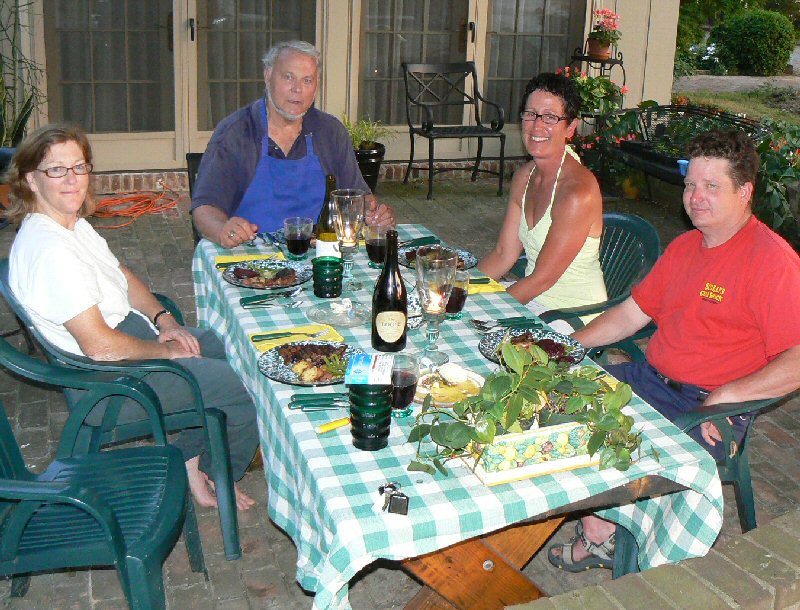 (l to r) Karin, Lee, Julie, Marc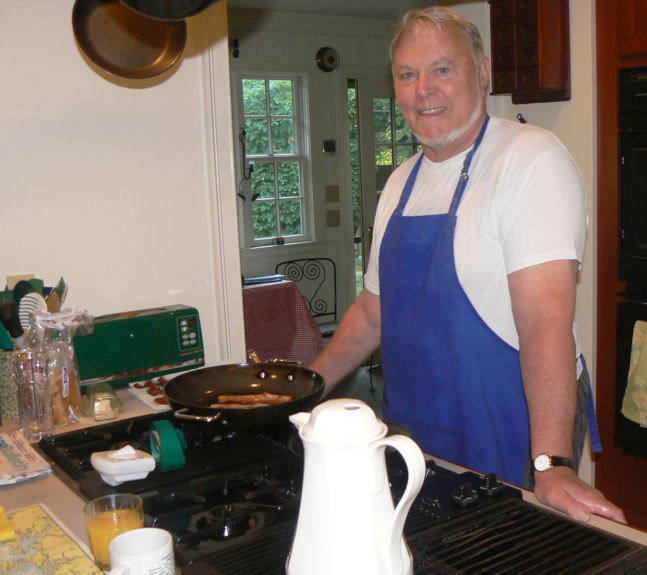 June 2008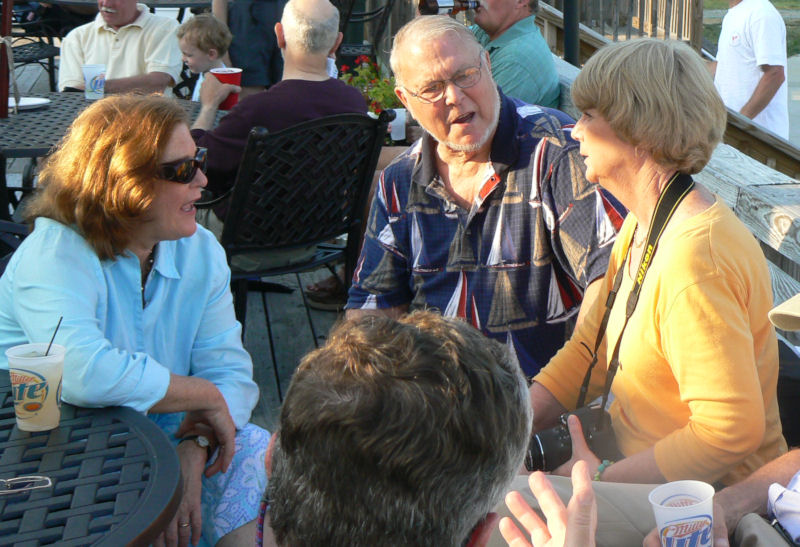 Saturday night at the RHYC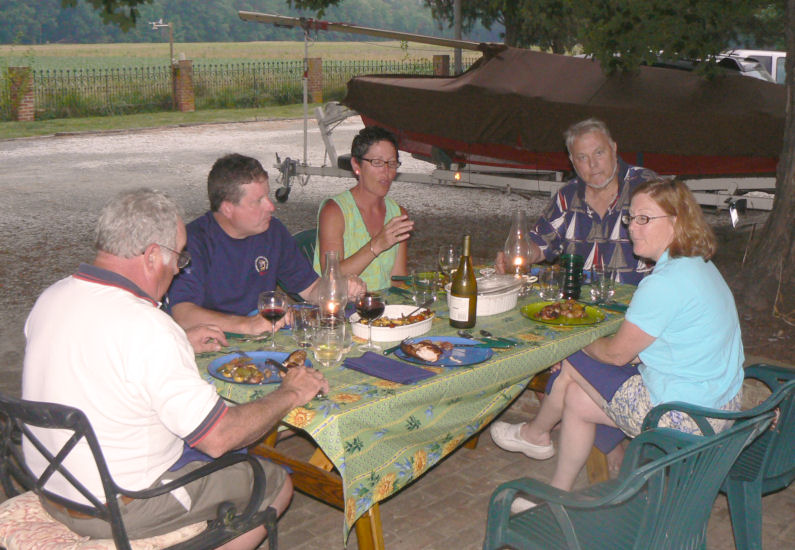 Sunday night. Marc and Julie's Pub Crawl poised for the long drive back to Michigan.
The new guest at left is Julie's dad, Nick.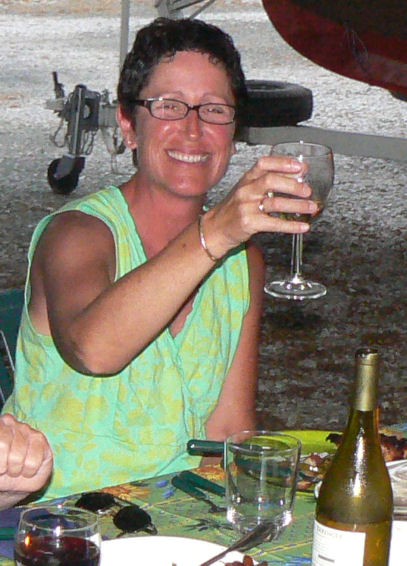 As always, the Rock Hall Weekend was sunny.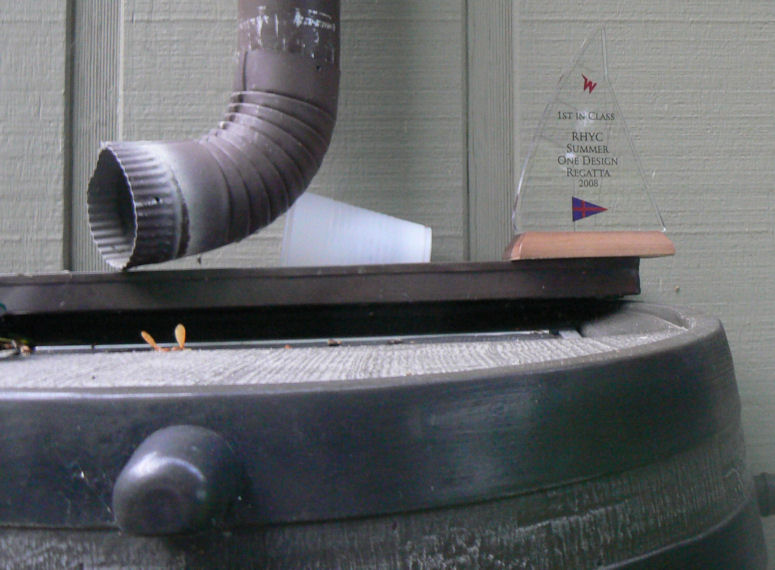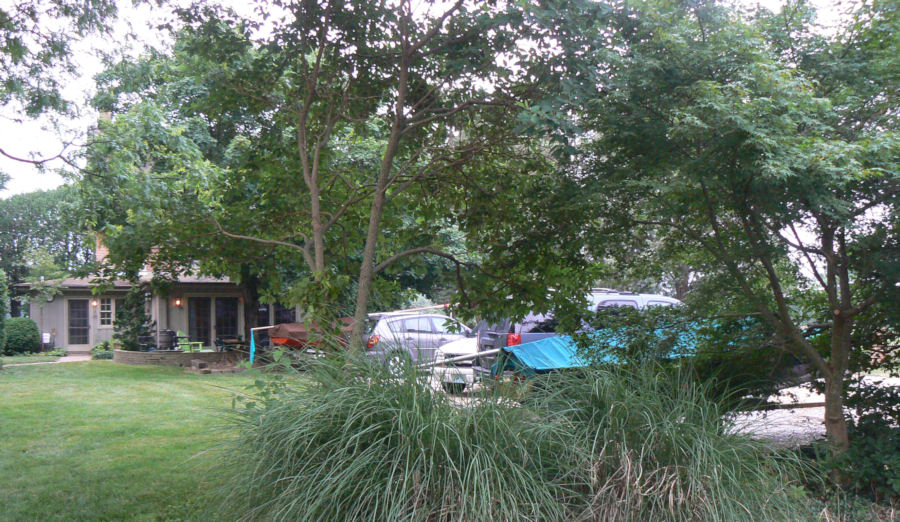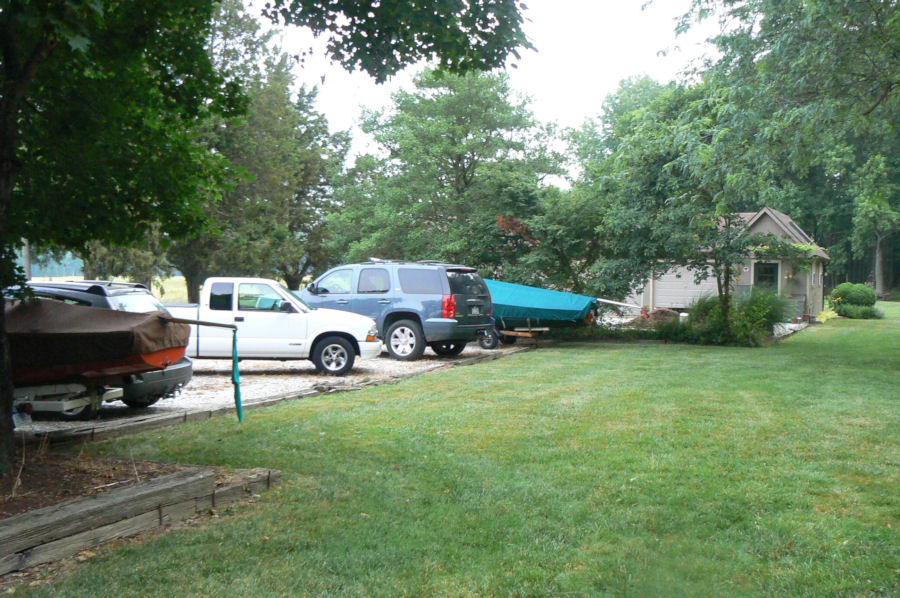 Early Monday morning as we get set to roll out.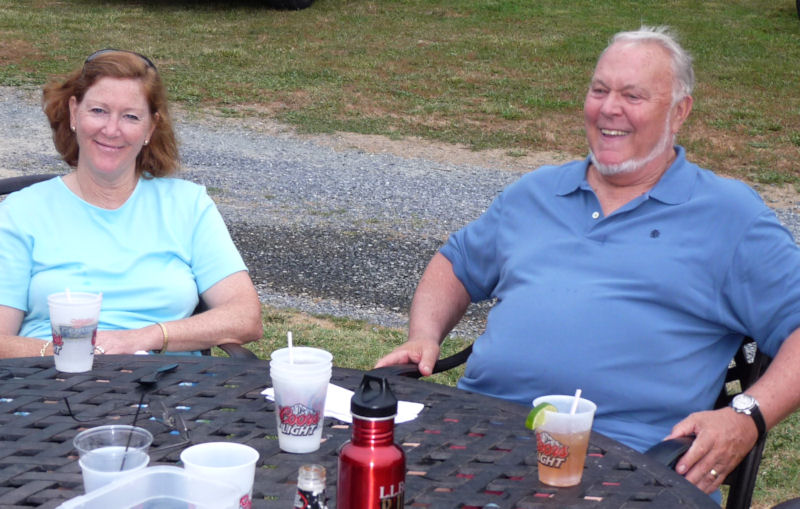 June 2010: Our hosts at The Castle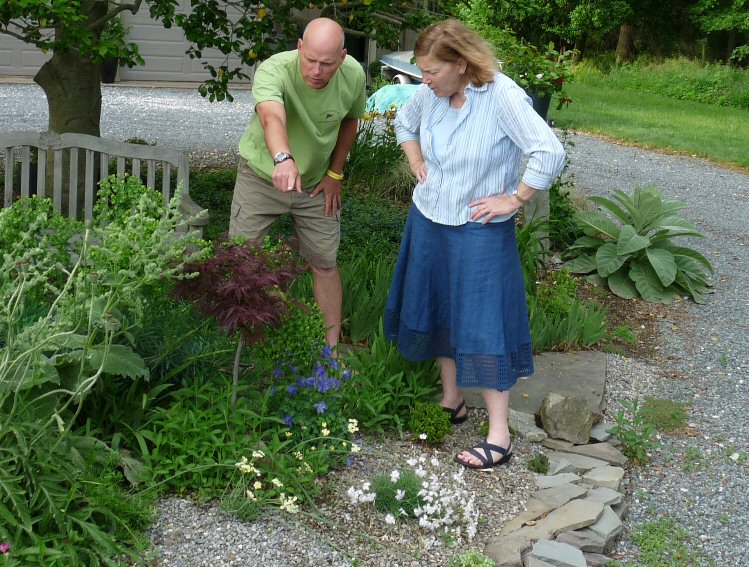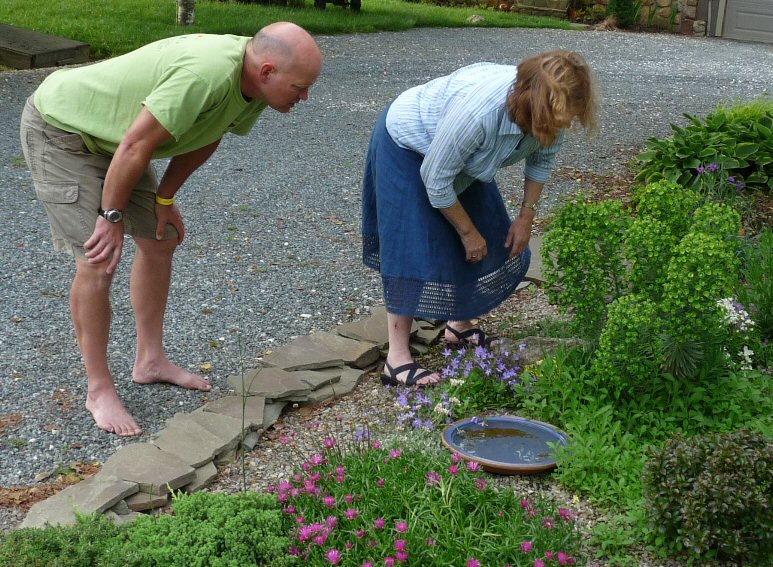 May 2011, the weekend of the Wooden Boat Regatta.
My crew, Richard Watterson talks plant life with Karen, a garden professional.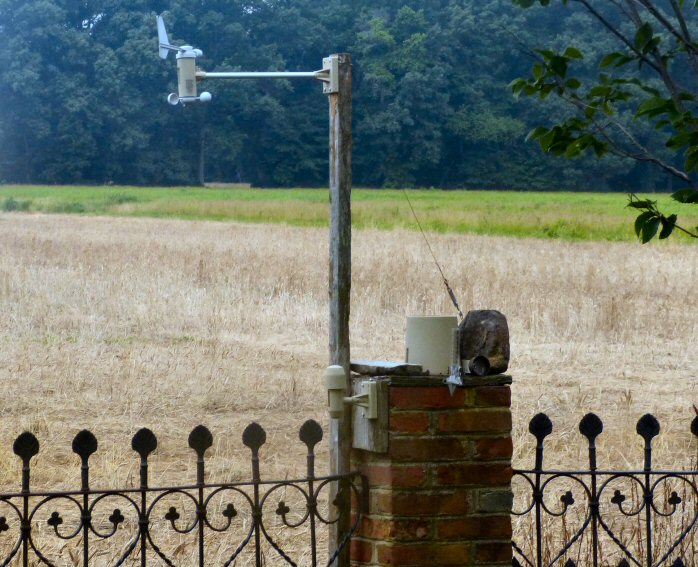 June 2015: Sailor Lee always checked the wind strength and direction during morning coffee when we were there.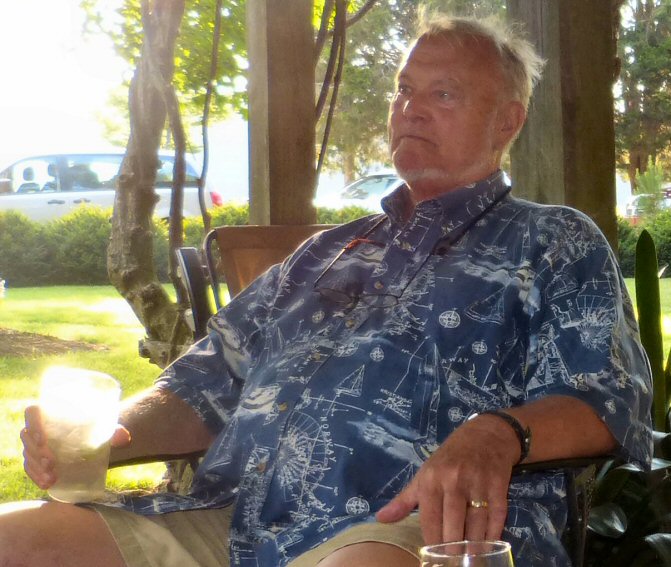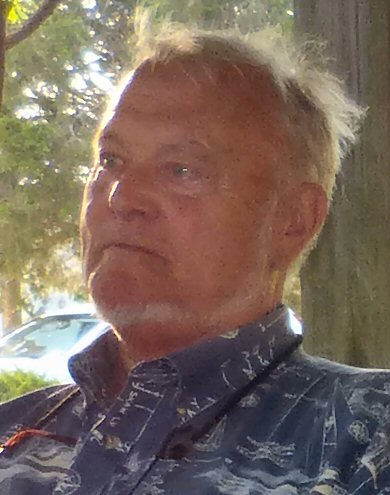 Sunday evening: a peaceful supper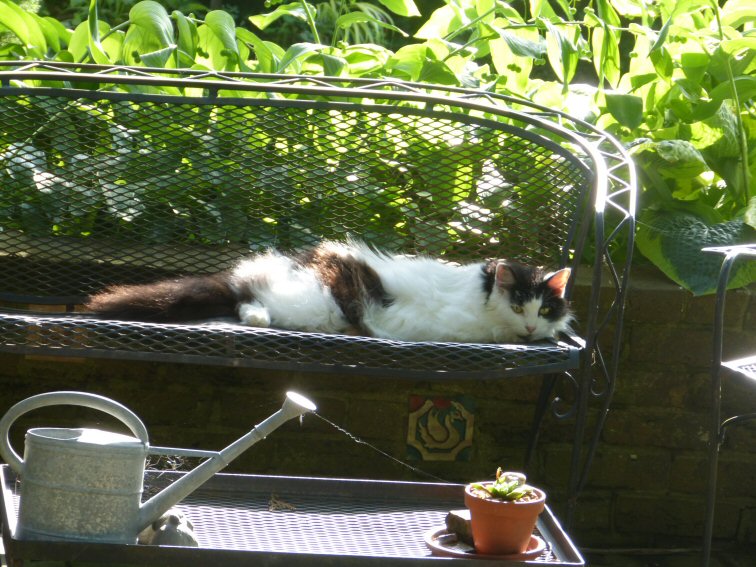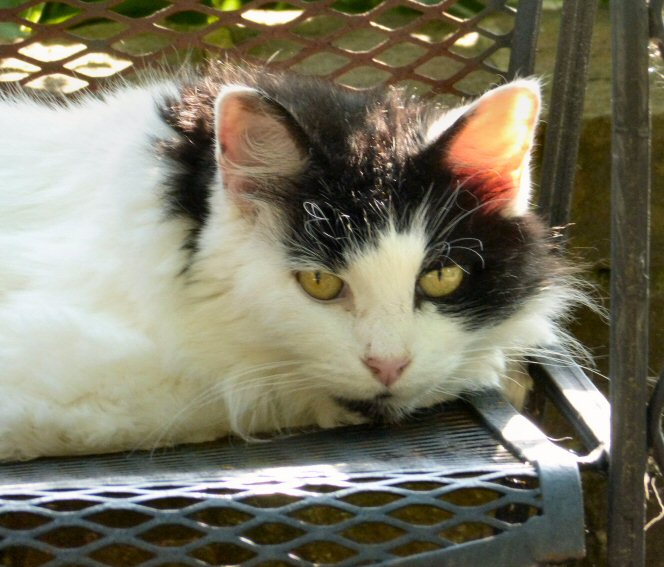 Fare well, Lee! You are never far from our thoughts!!