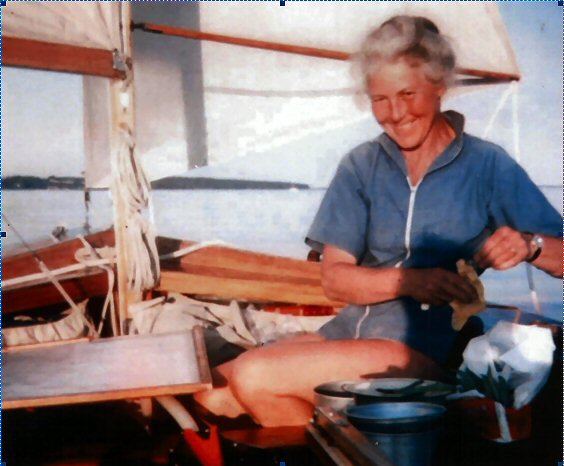 (200512 from the UKWA News) We have received the sad news of the peaceful death last Tuesday morning 5 May of Greta Plowman, a legend of the Wayfarer dinghy world who accidentally took up climbing at the age of 99. We have wonderful memories of Greta at our AGM last year, when she came to personally present the Piers Plowman Trophy, for the best cruising article published in
Wayfarer News
, just a couple of months before her 100th birthday. Greta absolutely delighted us all with some of her Wayfaring memories and adventurous tales.
Greta was six days short of her 101st birthday when she passed away at St. Audrey's Care Home where she lived for the last two years. The Care Home staff who know her well, were with her at the time. They say that one moment she was there and with them, and then the next she was gone, with no sound or distress in any way.
Because of COVID19, her family were not able to be with her- but they had each said our goodbyes already, while it was still possible, and are pretty sure she'd actually done the same.
Judith Plowman writes: It has been so warming to be reminded of aspects of Greta's past that had slipped away, in recent months. It is lovely to hear how much of a significant part, she had in other people's lives.
Greta really did have the death she hardly dared hope for, given that we could not be with her. She died with sunshine streaming in at her windows and transparent green beech leaves unfurling outside. Whilst inside, her dear carers were showing her an early birthday present from her youngest brother. One minute she was watching them arrange it, the next she was not there- not a sound, not a stir. Just her heart, it calmly stopped.
Currently we are arranging her burial at a woodland cemetery, with the allowed 10 family members present. As and when the world re-appears, we will then organise some sort of memorial event, to which you will be invited.

Greta's granddaughter, Fay Kenworthy wrote on our website last year: Back in the 1970's she and my grandfather Piers built and then sailed their wooden Wayfarer Sea Urchin (W1981) along the canals of England, the coast of Britain and as their confidence grew, the Friesian and Baltic coasts.

I grew up hearing stories about being quarantined in Gdynia harbour during the Solidarity strike; of Sea Urchin being stove in by a large cruiser in a tiny Dutch harbour; hitching a ride back to England on a Polish freighter; and of nearly sinking in Jack Sound, off Skomer, when wind against tide created ferocious overfalls! They were contemporaries and friends of the Dyes but mostly favoured a gentler style of cruising!

Greta may have aged since those adventures but this has not dimmed her sense of fun and adventure. In her 99th year she has just tried indoor climbing for the very first time. Sea Urchin, who incidentally is celebrating her 60th birthday this year, is still going strong too and is being sailed by the third and fourth generation of Plowmans. We extend our sympathies at this time to Greta's family and friends for their loss. May you forever rest in peace, Greta.