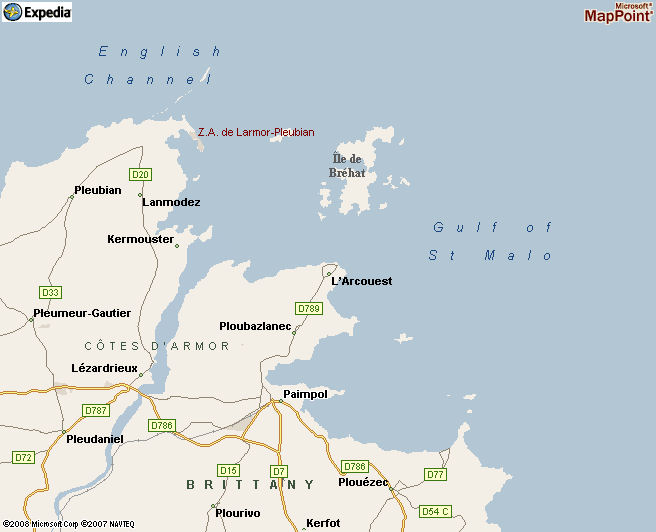 The 2009 International Rally is being organised by Gilles Bruneau, and will take place between 2nd and 9th of August, on the north Brittany coast, near Paimpol, which is around 50 miles (80 km) north-east of St Malo. The accommodation will be a mixture of camping and Gites at Kerloury Farm
(see www.lafermedekerloury.com, for location – click on map on 'Welcome' page). We expect to occupy the whole site, as the place is relatively small. The sailing will be based
on the Trieux river, at a Nautical Sailing School, where we will have use of the changing rooms and facilities, with the boats being being kept on moorings in the river. (The exceptionally high rise and fall of the tide make it difficult to launch and recover the boats each day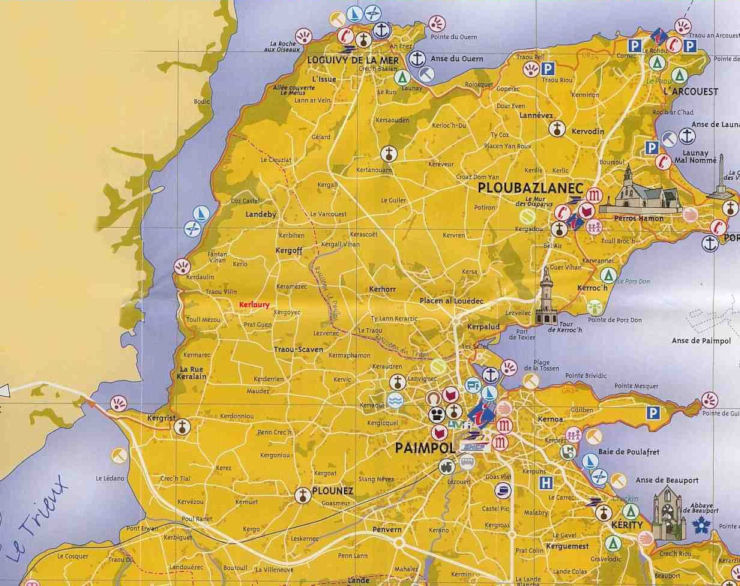 click
here
for full-sized image
There are a number of sailing opportunities from our base; trips up the river to interesting sites, trips out to sea and the islands nearby, and a sail round to the harbour in Paimpol. This trip will be particularly special, because it will coincide with a special festival held in the port every 2 years,

Les Chants de Marins

(
www.paimpol-2007.com)
. François, who runs the Nautical base we will be using, has proposed that the Wayfarer fleet join the more traditional boats who will sail into the harbour on the Friday. It is also possible, if there are sufficient muscians amongst those attending the rally, that Denmark's

Wayfarer Stompers

could participate on stage as part of the event!
Unfortunately, because of both the limited mooring and accommodation facilities there has to be a strict limit on the number of boats attending. This means that there are only 6 places available for each of the UK, Dutch, and Scandinavian Associations. Anyone interested in attending this very special event should apply to: UK - Ralph Roberts (ralph.roberts1(at)btinternet.com), Nederland - Jan Katgerman (Jan(at)rups.nl), Scandinavia - Poul Ammentorp (poul(at)ammentorp.dk). (The @ has been changed to (at) to protect the e-mail addresses from being put on any spam mail list). Early booking is obviously advised – and applications are particuarly welcome from anyone with a musical talent!