the 2008 International Wayfarer Rally *

Hermit Island, Maine
Monday 11 August - 2
...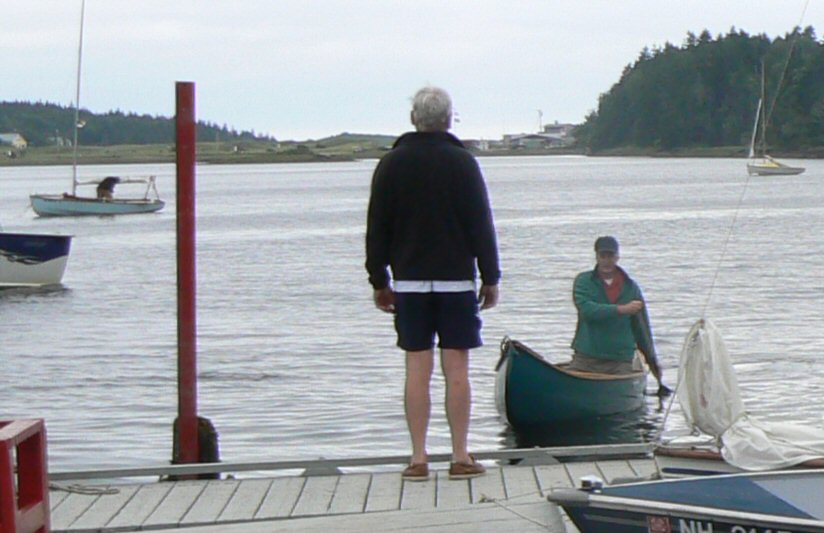 One canoe pro admires another: Tony

(l)

and Bill


...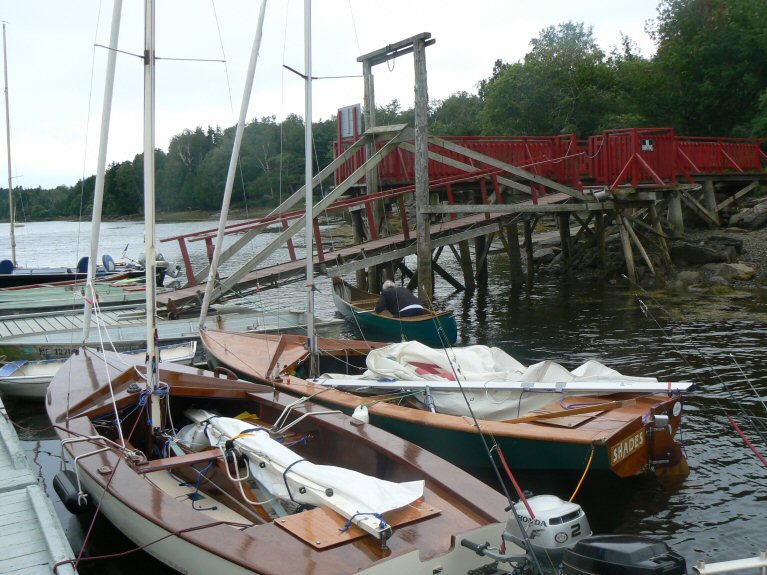 Low bridge for Tony. And we had to make the most of the available mooring space.


...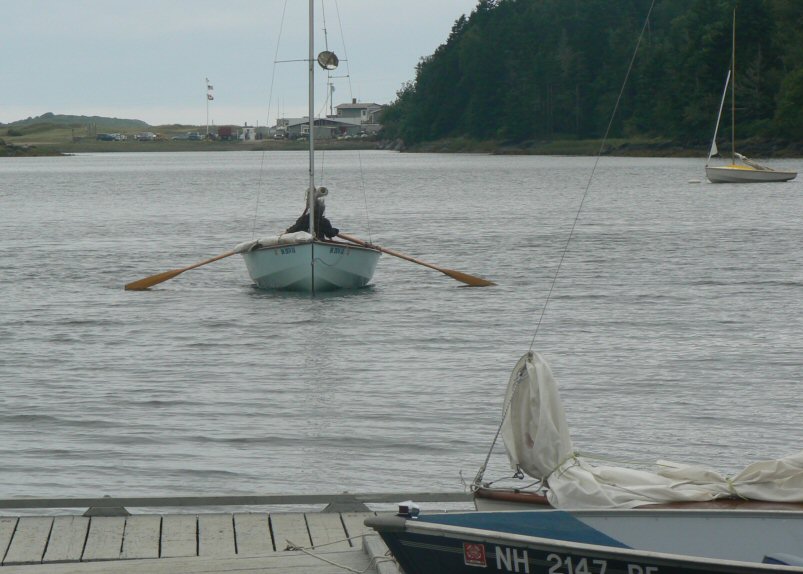 Dick Harrington: oarsman par excellence!


...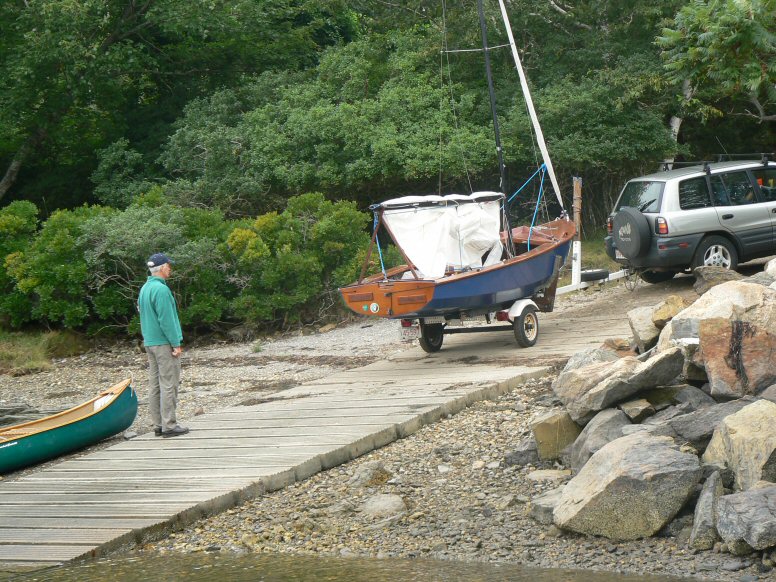 Under the guidance of Bill Harkins ...


...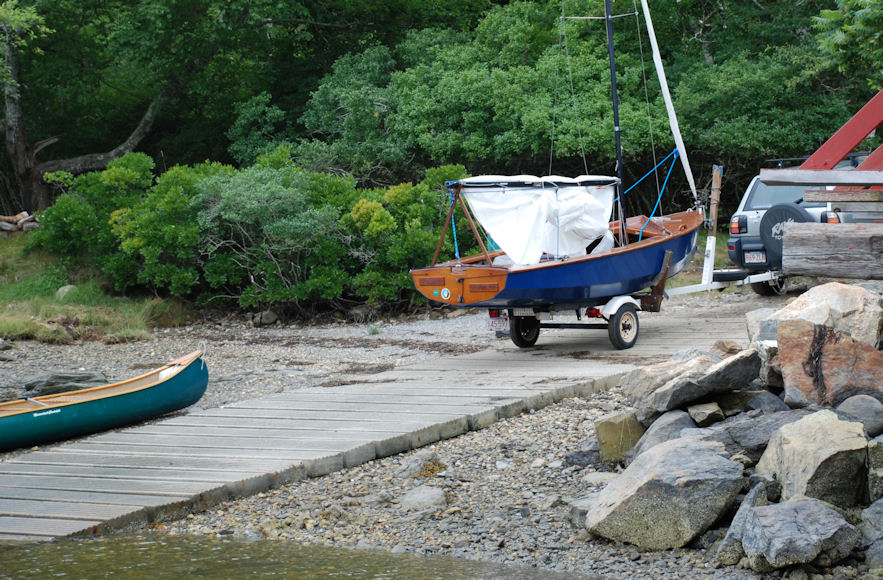 ... Tom Erickson's

Possum

is about to get wet.


...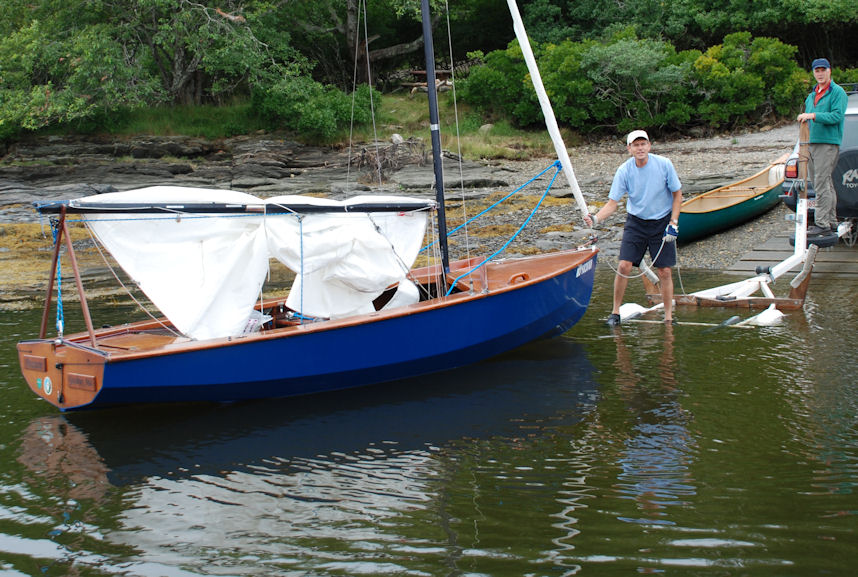 With a cross-wise "cradle" and no tilt-bed function, launching is a bit trickier and quite possibly wetter for Tom.


...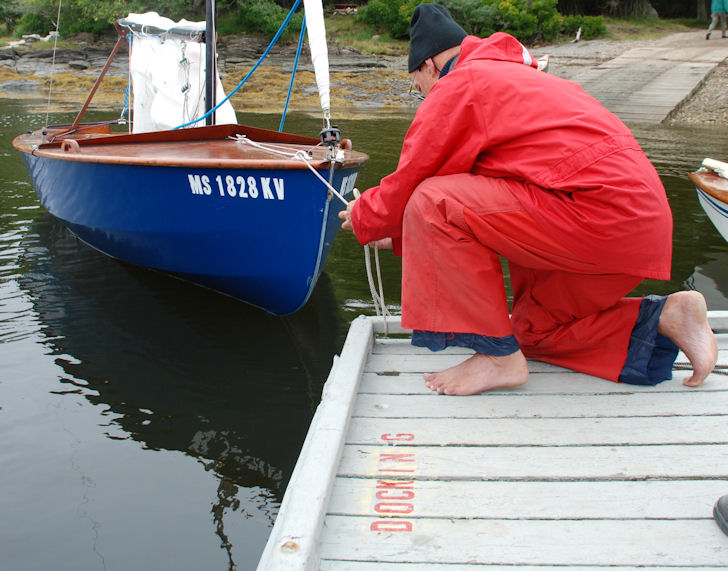 A well aimed push has sent

Possum

across to Uncle Al.


...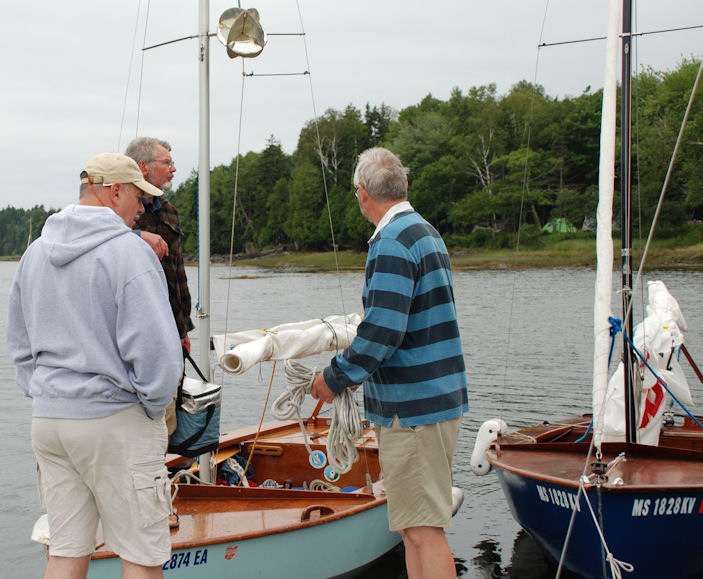 Intrepid mariners all:

(l to r)

Ton, Dick and Ray (Doesn't have quite the same ring as Tom, Dick and Harry, does it??!!)


...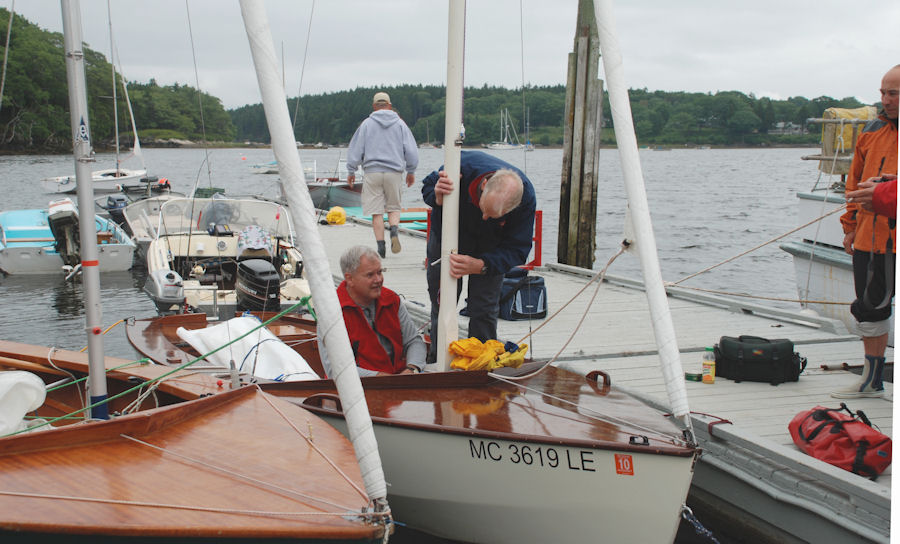 Under the appreciative eye of Gary

(l)

, Ralph continues the

Solje

critique & tweak process.
Also looking on with interest is Gilles Bruneau who is sailing with Al today.


...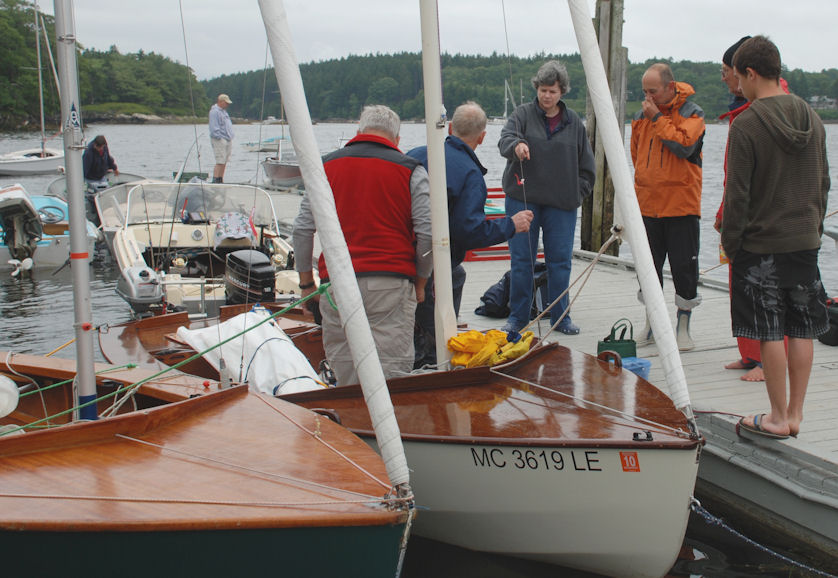 (l to r)

Ton (end of dock). Gary, Ralph, Stephanie, Gilles, Al, William


...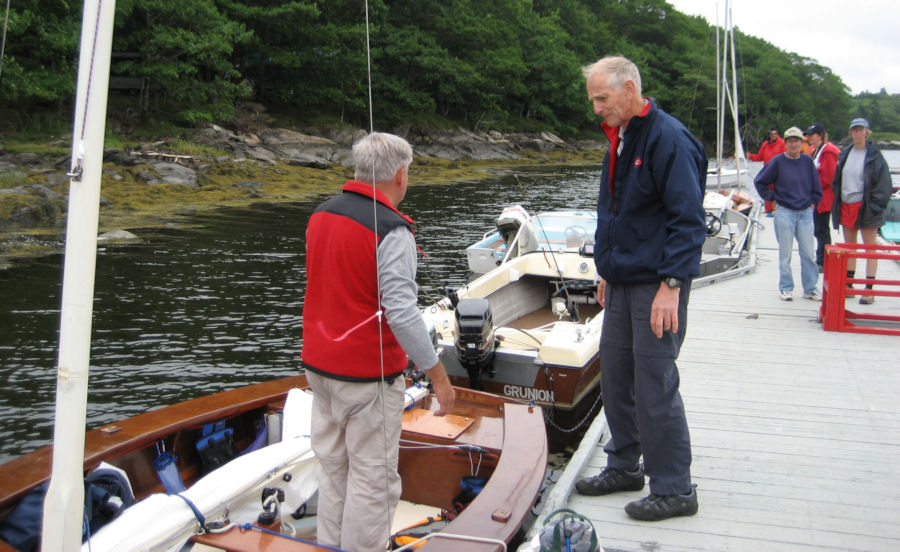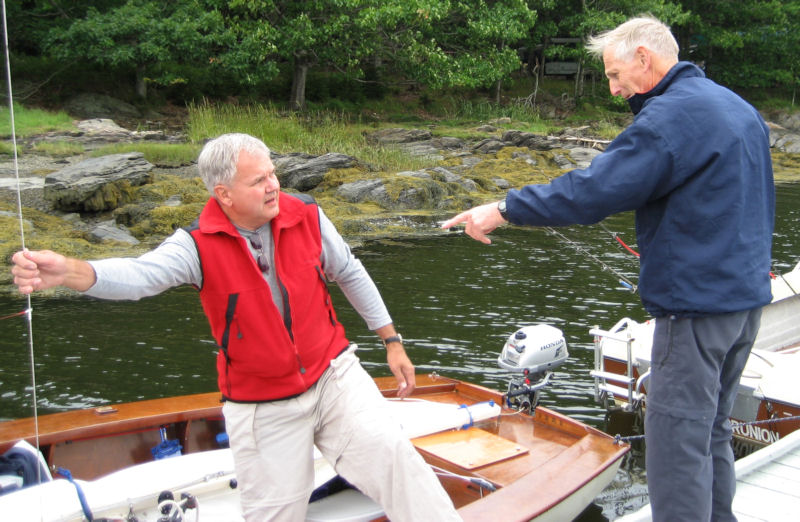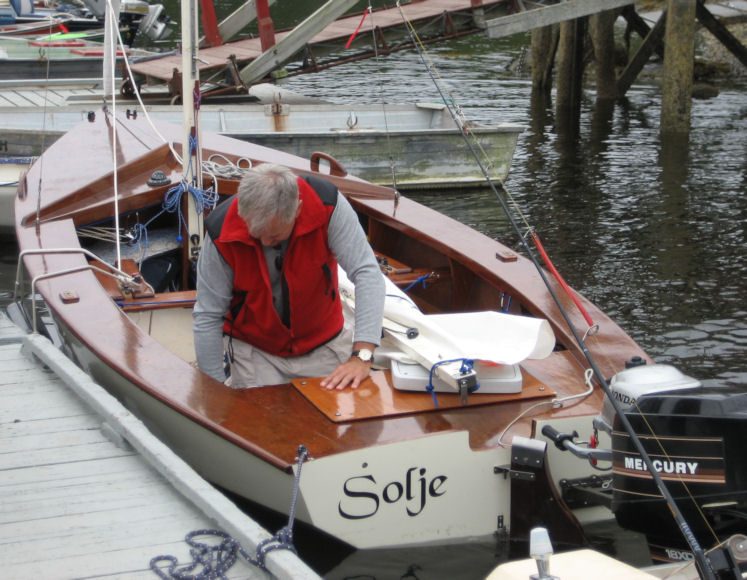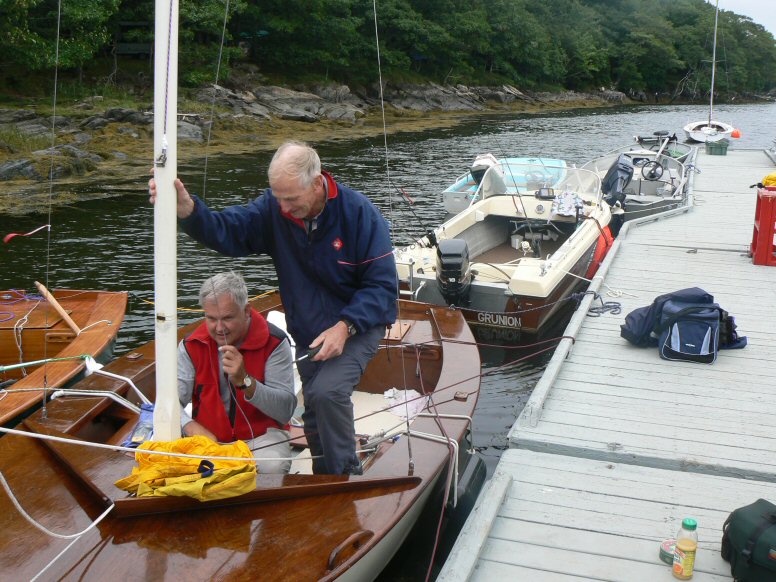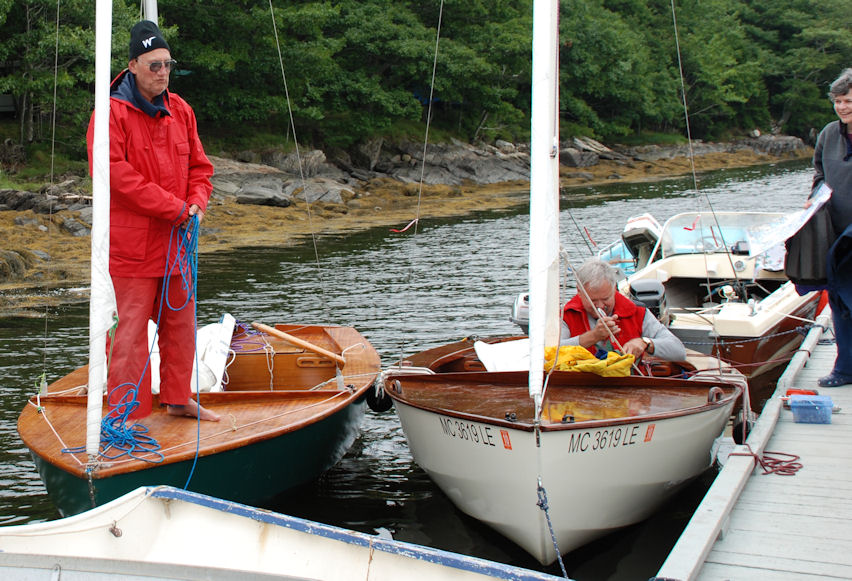 With his toque at a rakish angle, Uncle Al continues to undo multiple mooring lines, so that he can ...


...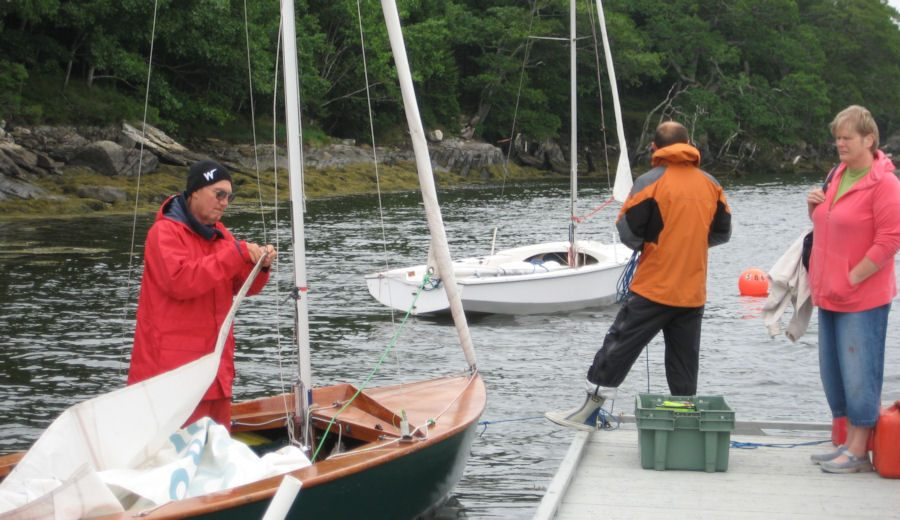 ... move to the end of the dock where he can hang head to wind and raise the main properly.


...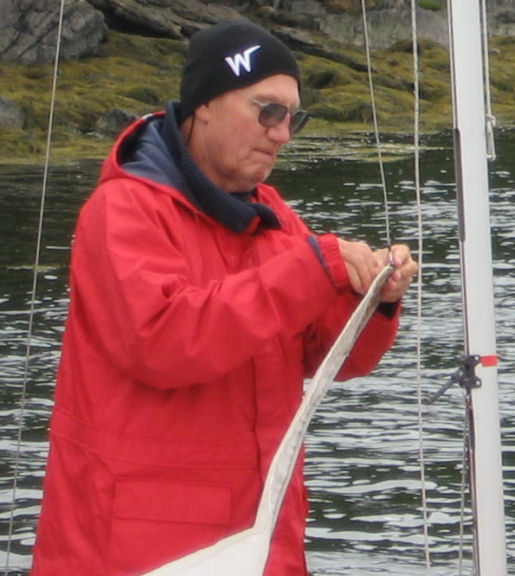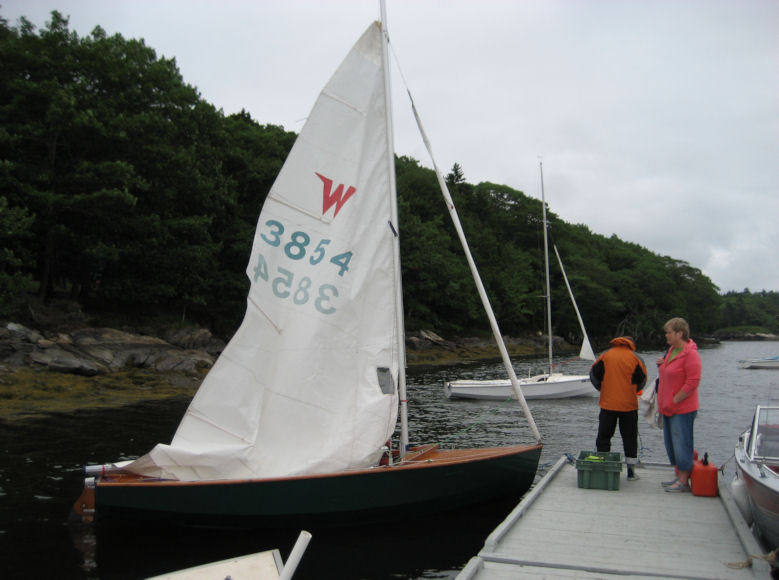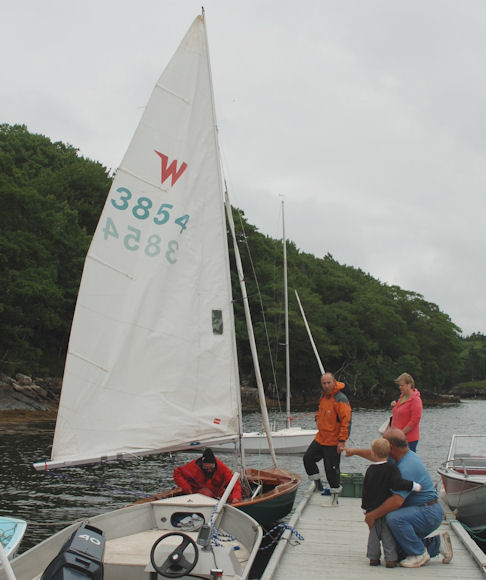 Now that the main is up, Al will add the tiller. The rudder goes on before the main is raised
but the tiller waits because it tends to snag the mainsheet at inopportune moments during the hoist.


...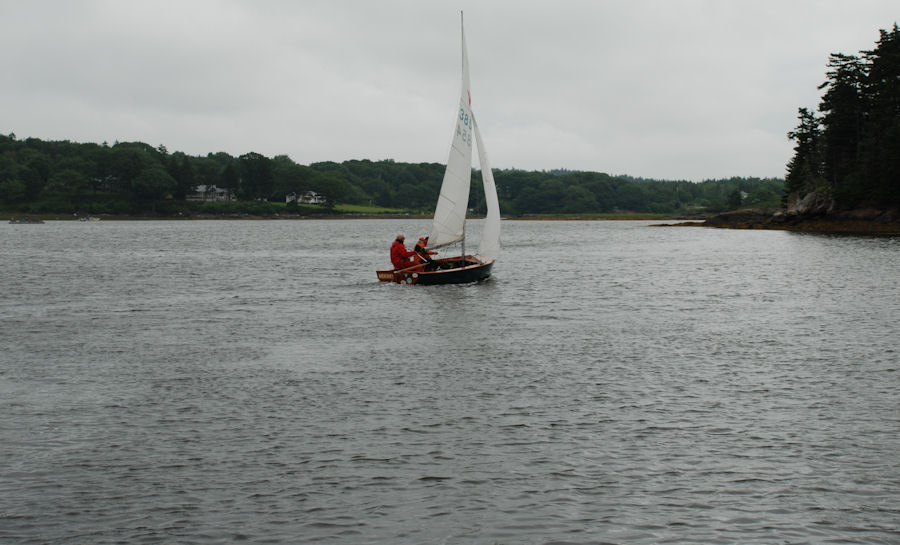 Our depth sounder (centreboard) will sound (hit bottom) any second now.


...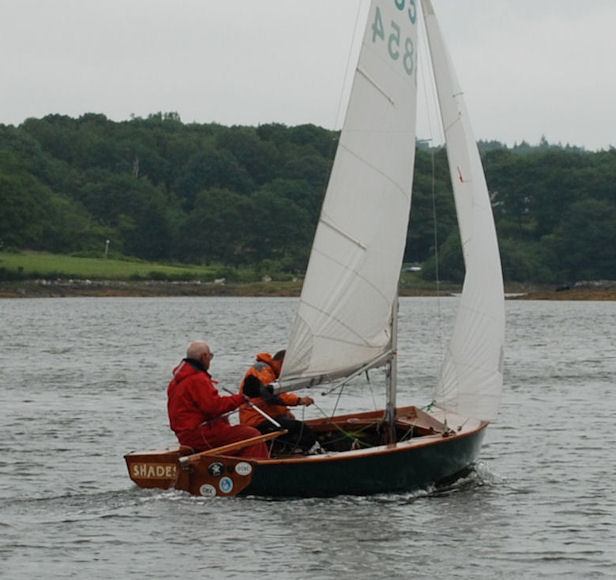 Waiting for this moment, Al and Gilles are ready, and will tack the moment we hit. Any delay will make things tougher than they need to be, not to mention the possibility of embarrassment!! And there
is
a method to this madness: We are not eager to hit bottom but in this narrow channel, we want to get as far to each side as we can to reduce the number of tacks it will take to get out of the harbour. Not the we mind tacking, but you know how it is ...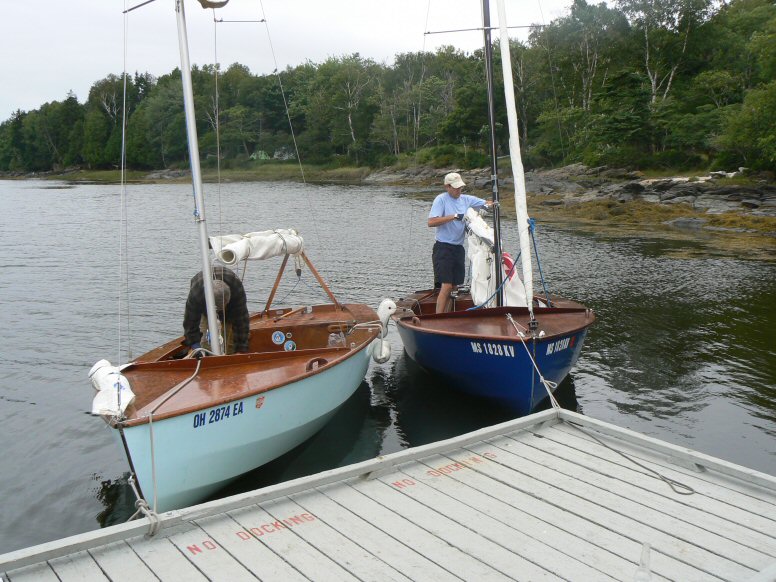 Dick

(l)

and Tom E. prepare their craft.


...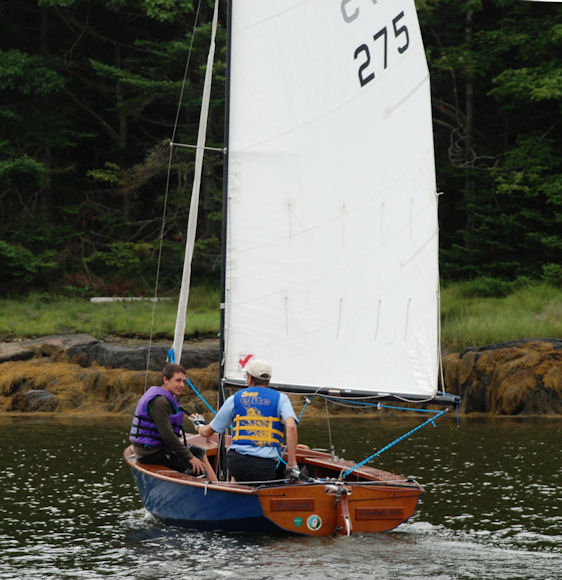 Today, it will be the team of William Bruneau

(l)

and Tom Erickson aboard

Possum

.


...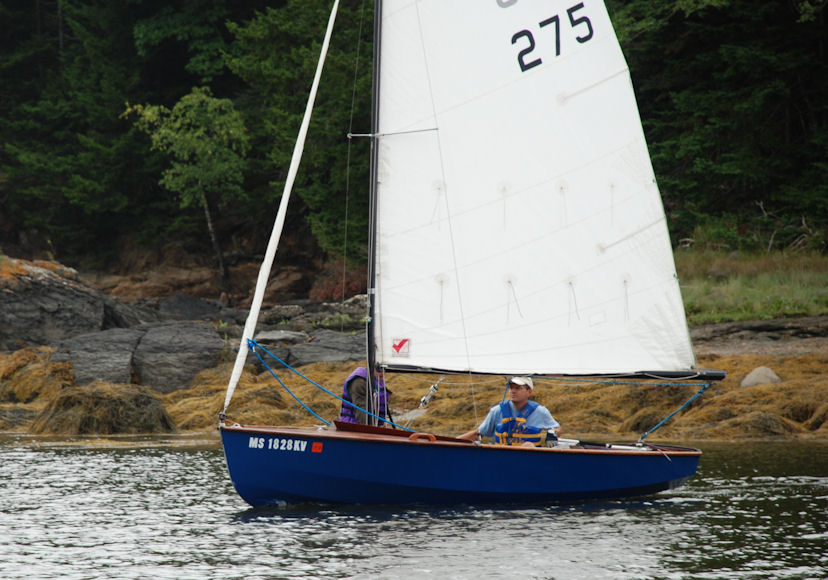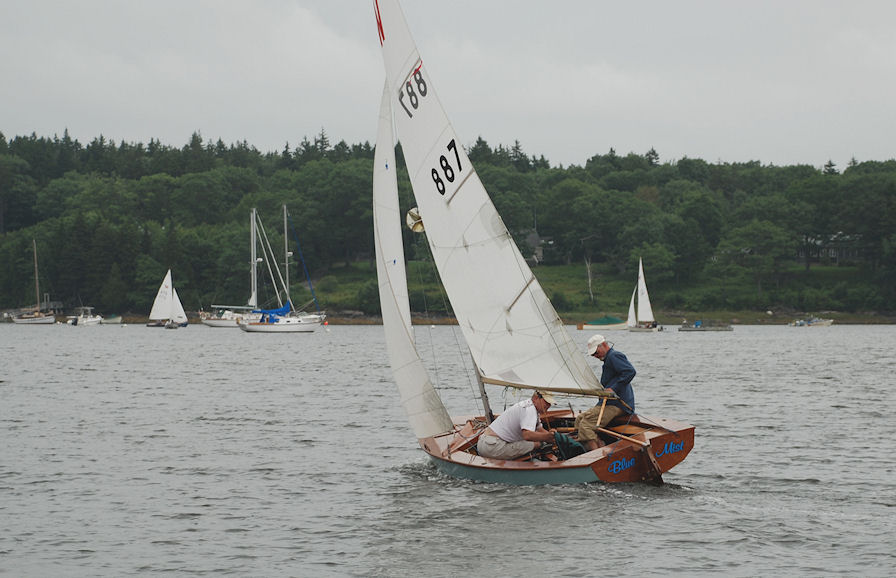 With many of the ladies planning to make the pilgrimage to

L.L. Bean

and other shore destinations on this gray, cool day,
the

Blue Mist

crew has been cut in half, numerically speaking. This way Ton and Dick will have room to swing the proverbial cat!!


...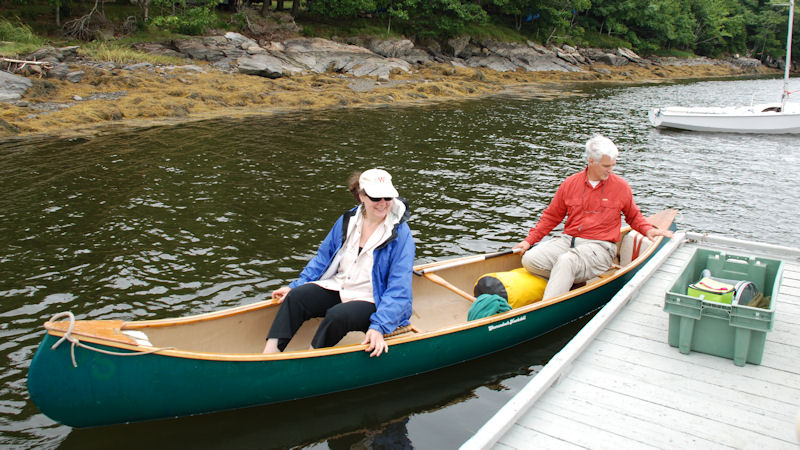 Bill and Margie are about to head out to ...


...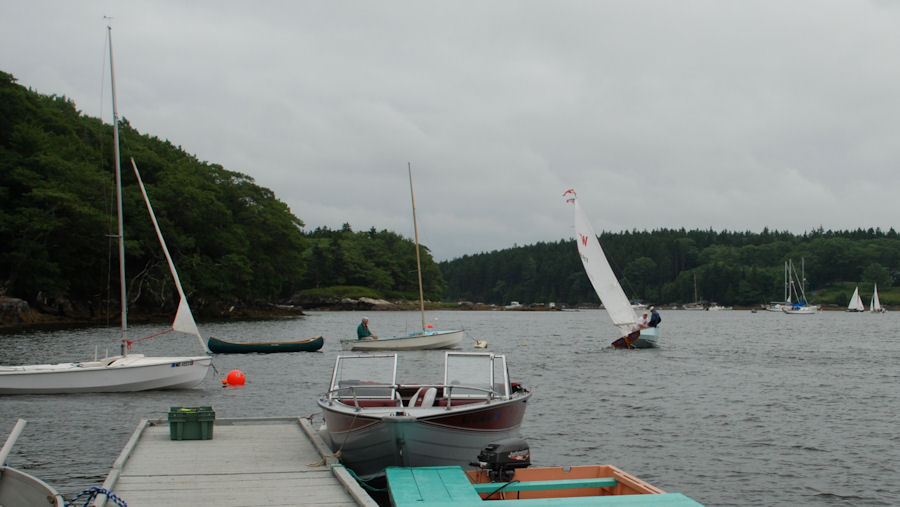 ... their mooring - don't know what has happened to Margie here. Meanwhile, Dick and Ton get a nice starboard lift that
will let them stay in the channel (straight towards the boats moored in the distance).


...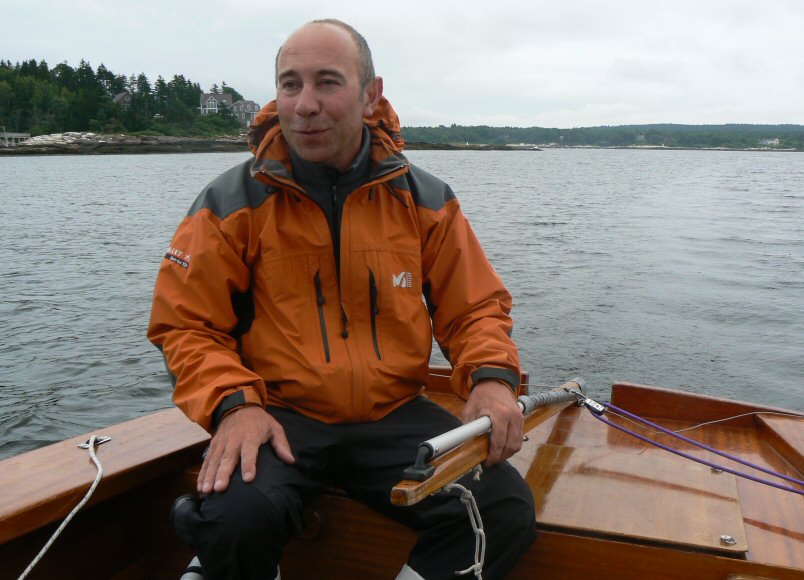 Le capitaine Bruneau: Gilles has the

SHADES

helm as we have left our harbour, and now hang ...


...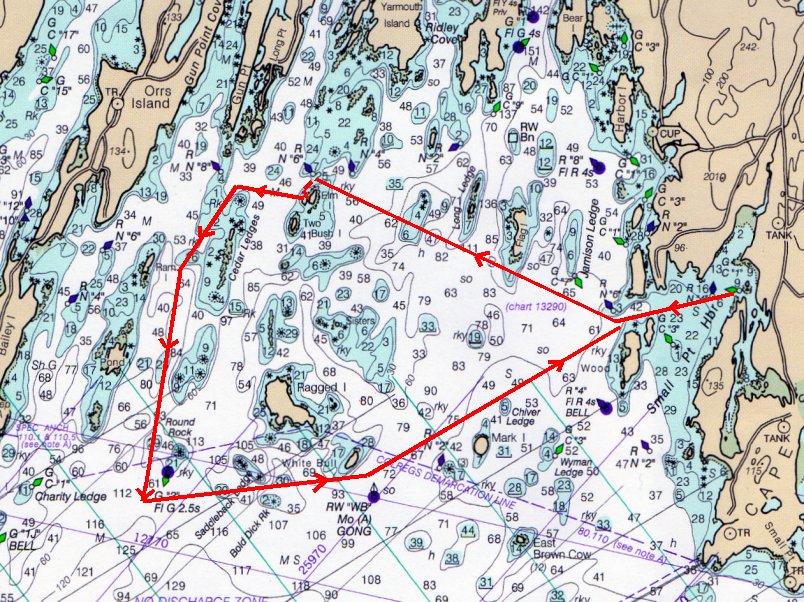 ... around our staging area at the north end of Small Point Harbor and wait for ...
- for full-size image, click here


...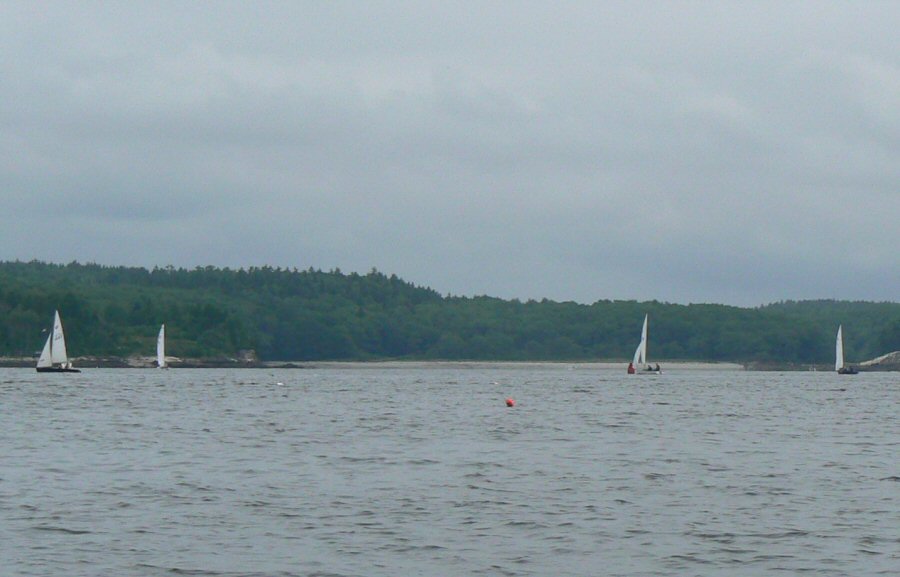 ... any stragglers before heading WNW towards Elm Island with the wind behind us.
- for full-size pic, click here


...

for full-size pic, click here