Twenty-two jewels strung out into Lake Superior, right off the north end of Wisconsin's Bayfield Peninsula. These gems' northern shores tend to be steep cliffs, some of which are cut into wonderful sea caves, and seamounts. Their southern tips are often graced by sandy spits. Both of these shoal out -sometimes a mile or more. The mainland shore is dotted with nine marinas providing access or a safe harbor as needed. The Apostles themselves provide many good anchorages, though none of these are fully protected. A major wind shift can turn a protected anchorage into a dangerous lee shore. So be ready to up anchor even at night. Fortunately this usually means a short move to a new protected shore, either around to the lee of the island, or upwind to the next island. So chart out your options and route before turning in.
For our 2011 West Meets East Wayfarer Rally, we looked to a local tribe, the Red Cliff Band of Chippewas. They own and personally run their Legendary Waters casino, hotel, campground, and marina. Our small boats could be drawn up on shore, or anchor off for free. Proper marina berths are also available. The Red Cliff Band has provided a central location for rallies of small catamarans and pocket cruisers for years. Recently the Red Cliff Tribe has developed a new swimming area limiting beaching and anchoring off. When planning to go, you will be wise to check on what services are currently available.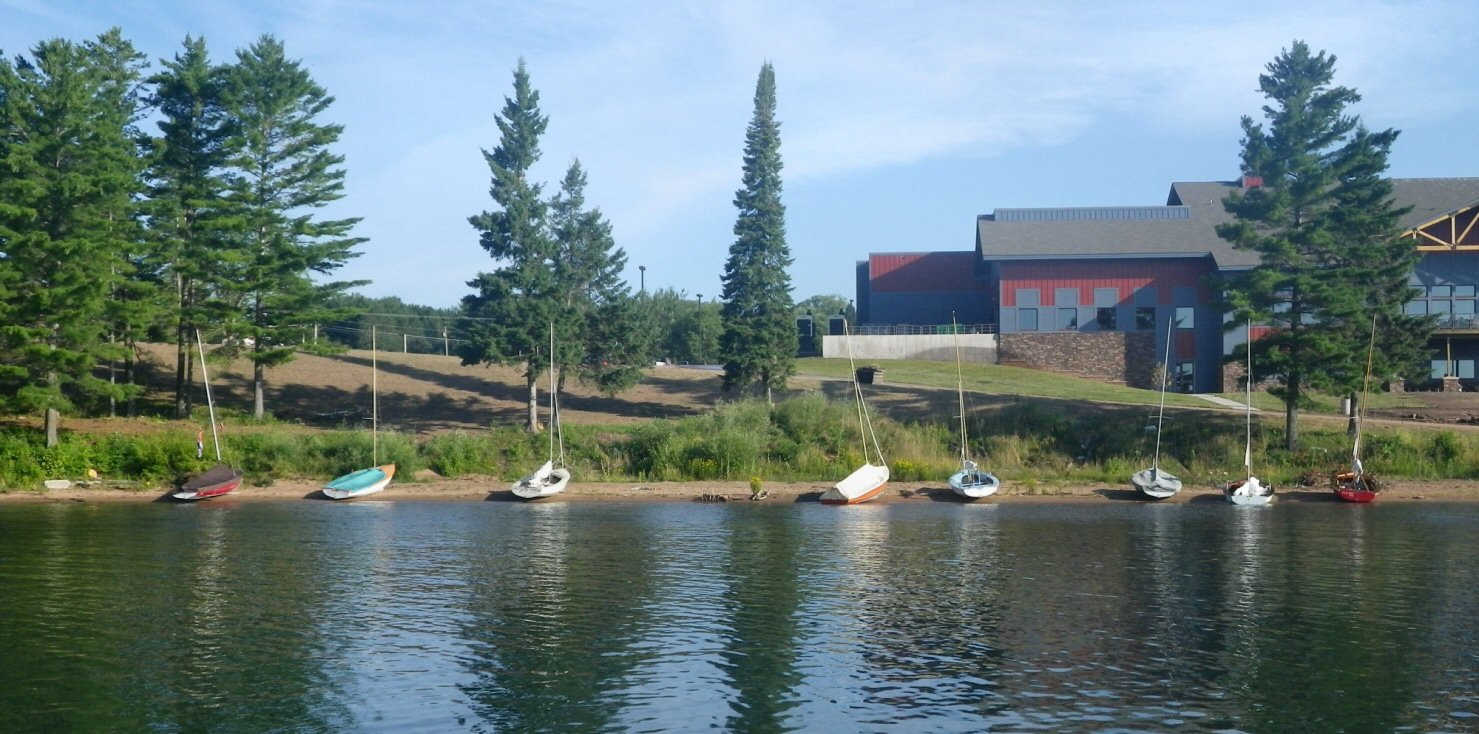 In 2011, I arrived on an overcast and very quiet Friday afternoon at the Red Cliff Campground. Being there alone gave me plenty of time to sort things out and get ready for my crew, John Kolstoe and his son, Alex, who were due the next day. After setting up my boat and camp, I happily went to bed after the day's long drive from East Lansing, Michigan. The next morning I awoke to the sun rising in the west which seemed rather odd, until I checked the compass. John and Alex arrived Saturday morning, and we set off soon afterwards, aiming to sail clockwise around Basswood Island.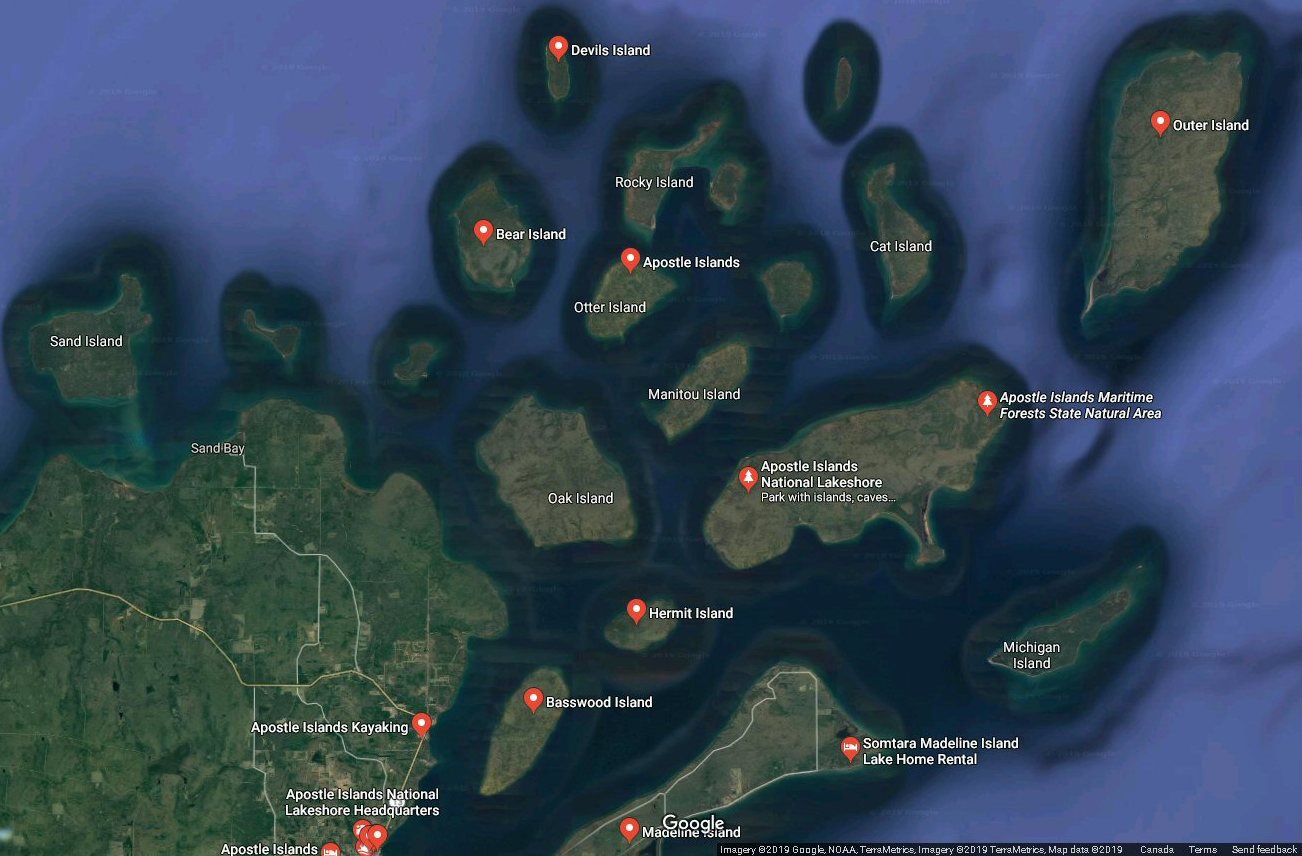 I gave the island good clearance, and thereby kept its north end a secret for us to enjoy the next day. We turned to starboard, down the west shore of Madeline Island, which is the only Apostle not part of the National Lakeshore. The NW breeze held nicely as we checked out the vacation homes from a distance, before rounding up under Basswood to head west towards home. The rest of the Wayfarers came later that Saturday settling in before a supper party and campfire. Sailing in the day, campfires and partying at night became the routine.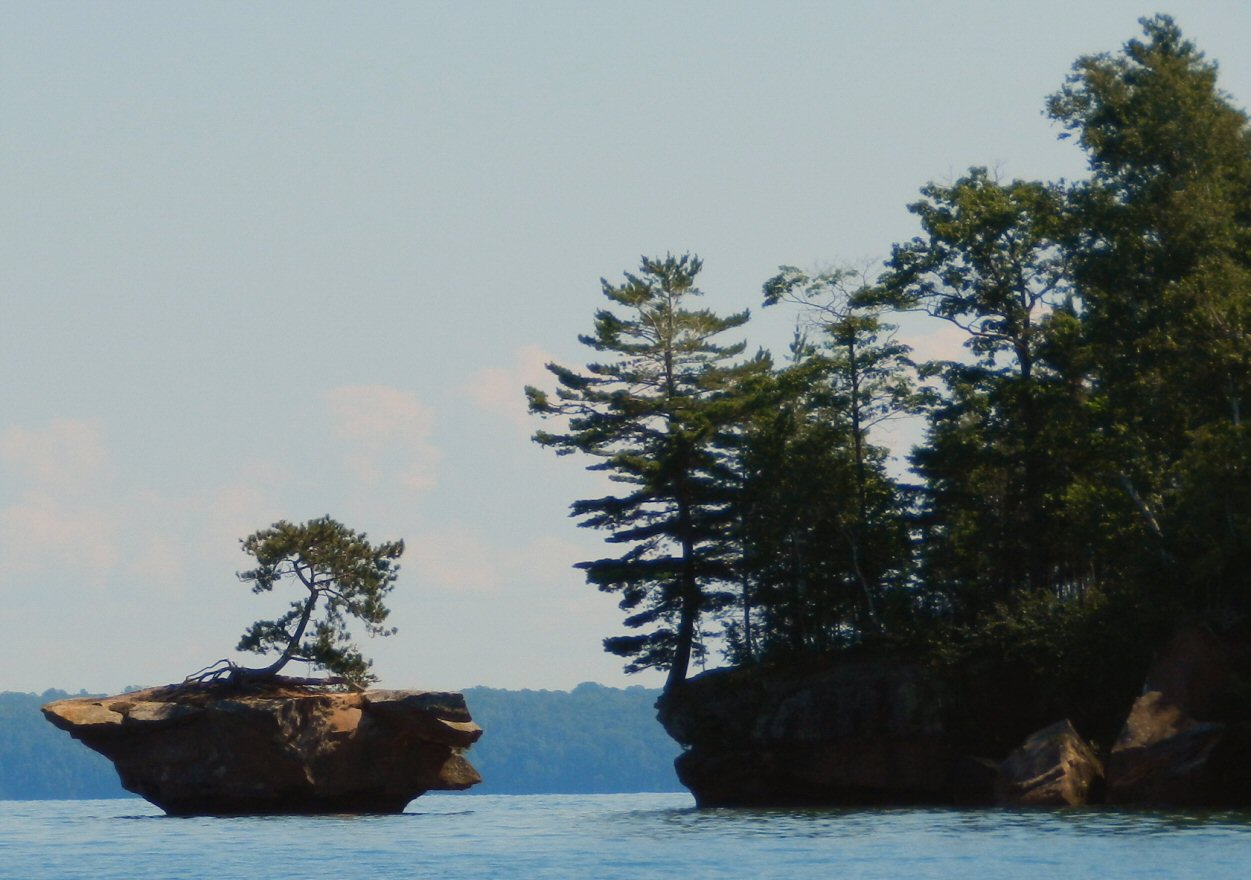 Sunday we sailed from Red Cliff for the north end of Bassswood in perfect sunshine and light NW winds. Rounding Basswood, we skirted its north end, ducking behind Honeymoon Sea Stack (above) that we had missed the first day. A lone pine tree crowns its lovely undercut sides, and you could see large slabs of rock through six feet of crystal clear water.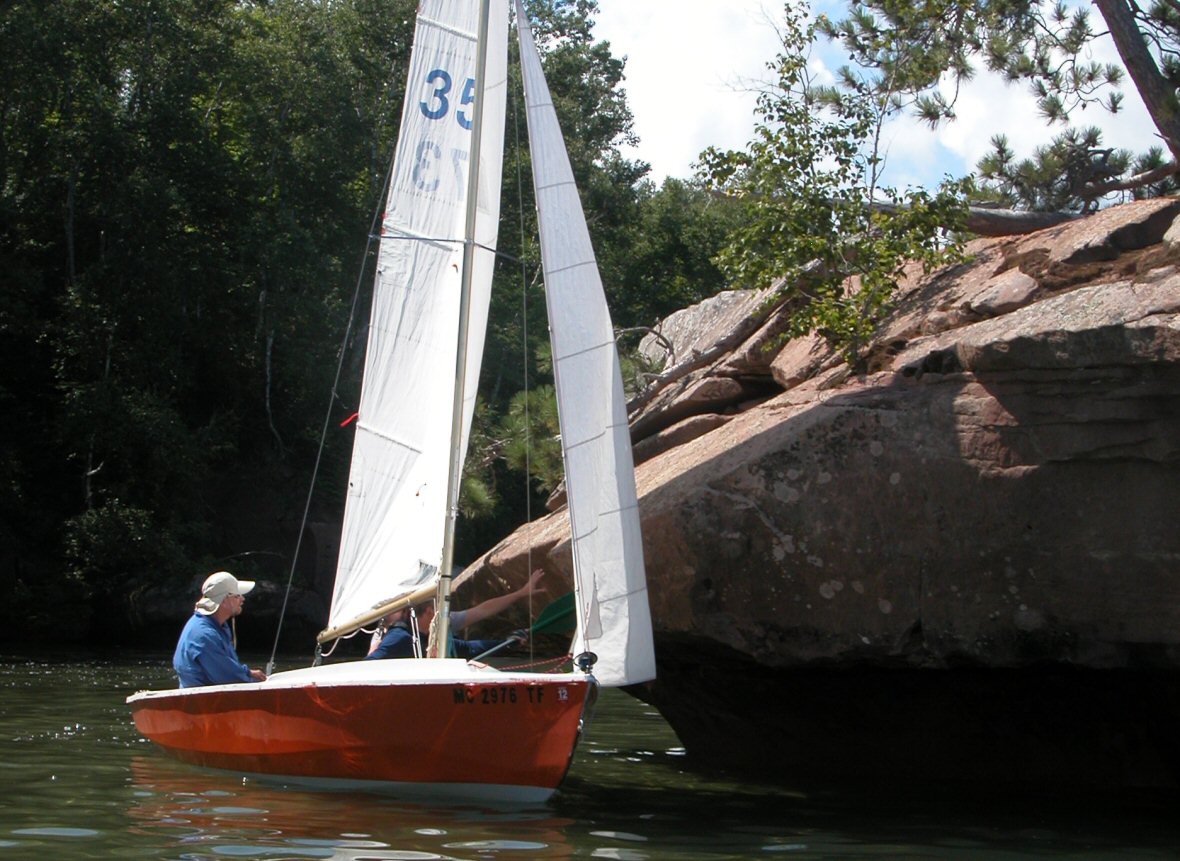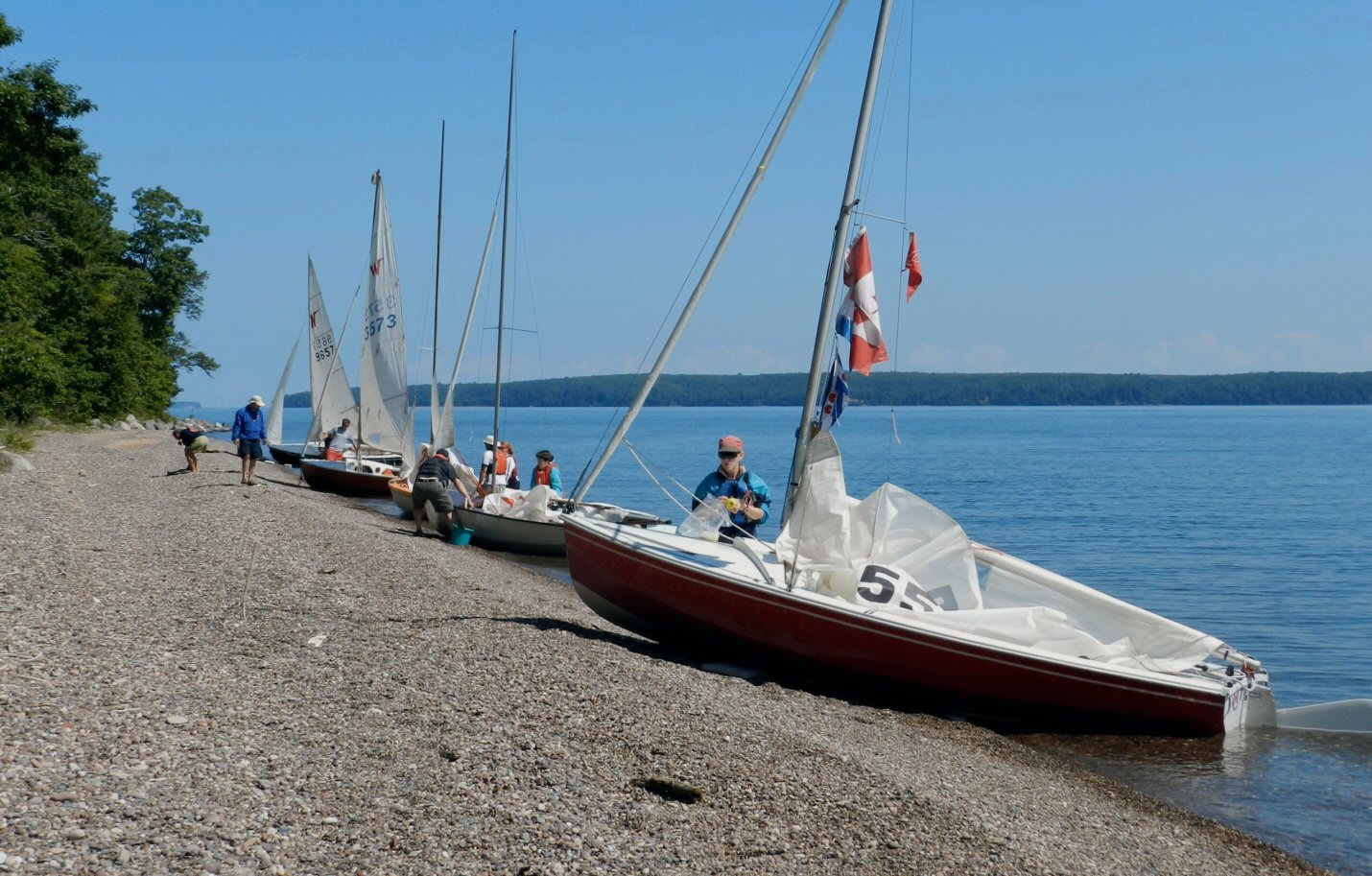 For lunch we pulled up on a small sand and gravel beach on Hermit Island's south end. The small pebbles and sand lodged themselves into a couple centerboard cases creating a nasty challenge to get the centerboard down again. My centerboard gaskets protected me very nicely. The sail back was in diminishing winds. As we were rounding the southern tip of Hermit Island, the wind died leading to mile-long rowing race. Alex being young and strong, tried to row fast and hard, but soon left the task to this slow old man who just kept us moving along at a steady pace toward the front of the parade. Then a soft wind brought the slow boats right back into Red Cliff Harbor. After dinner and a nice group meet and greet, the Kolstoes left me to visit family in Minnesota.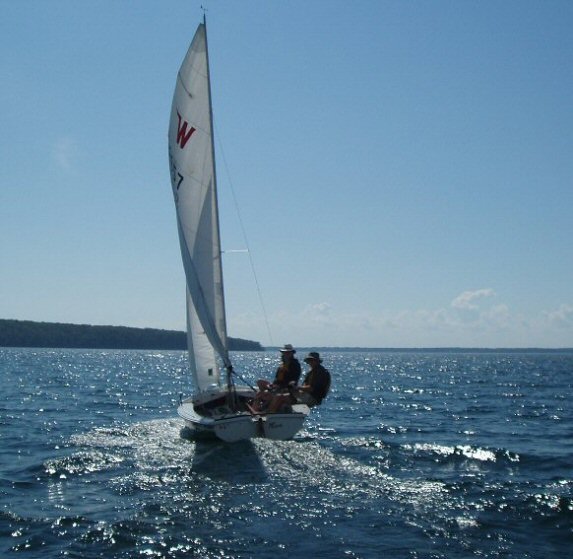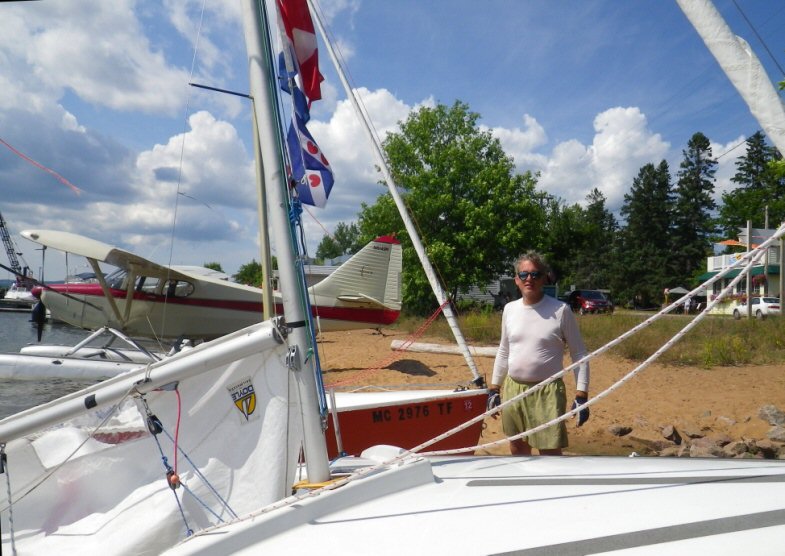 Monday brought my new crew, Andy Ivancic, and decent winds that died as we were making our way SE to Madeline Island (above left). The wind came back, keeping us company as we headed to the small settlement of La Pointe, on Madeline's SW end. For about a mile, we sailed alongside a commercial fisherman returning with the day's catch and a great following of sea gulls. We pulled up on a little beach with lots of interesting cottages, boats, and a seaplane (above right) that proceeded to take off. Up the main street we found food, ice cream, and a museum. Don't miss a drink at the Burned Down Bar (below right), which is not just its name, but a description of this unique establishment! The sailing was just right both ways.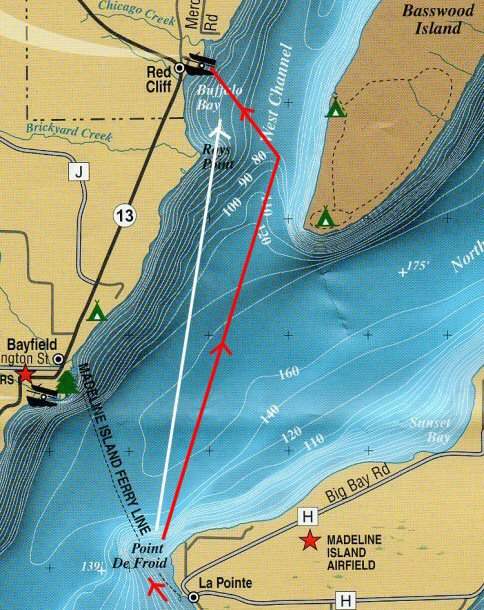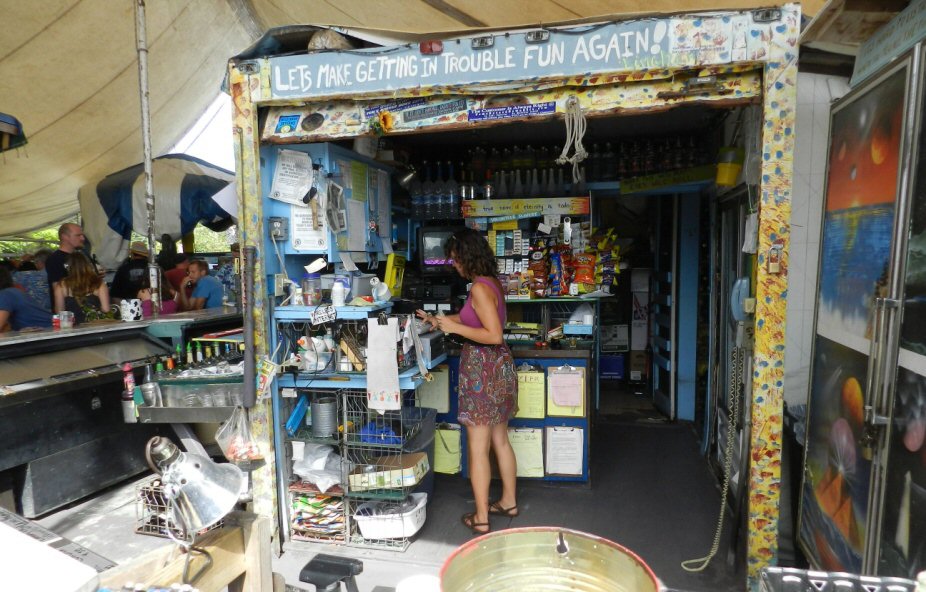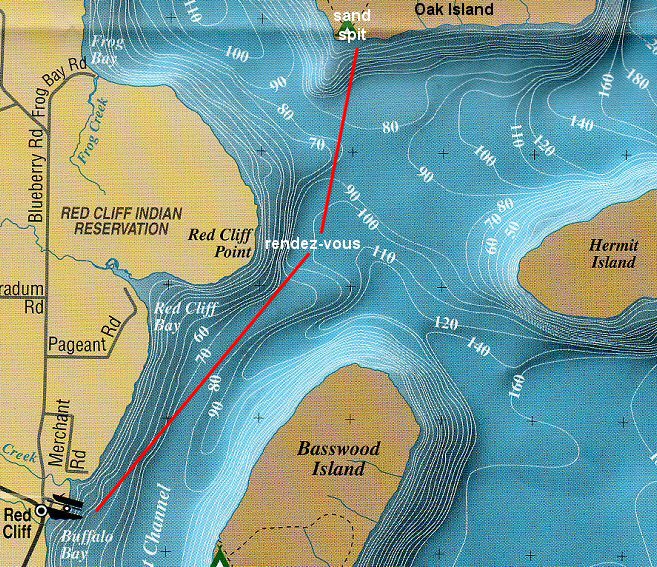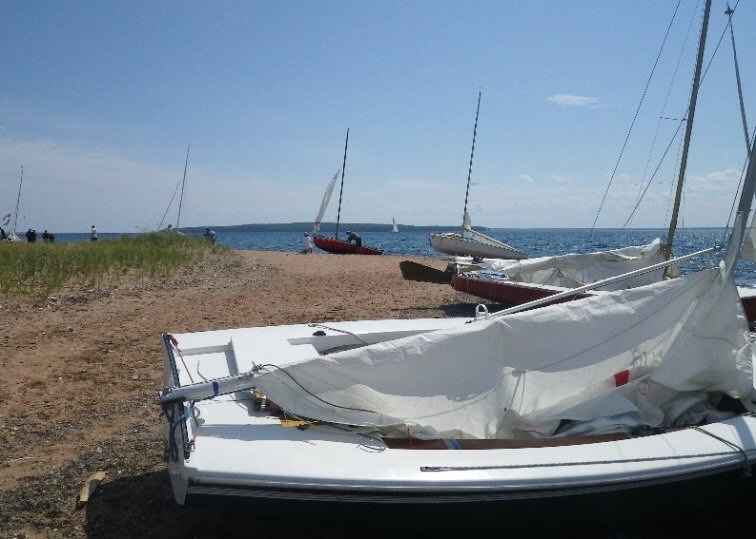 Tuesday we were off to Oak Island with stiff winds to keep things moving. We visited the south end sand spit where another centerboard got stuck with sand. Once again I was glad my boat, Ält Bäd, had a centerboard gasket. They do work. That evening we went to a local member's spacious rented house for a genteel party. It sure beat huddling in our tents in what turned out to be a cool and rainy evening.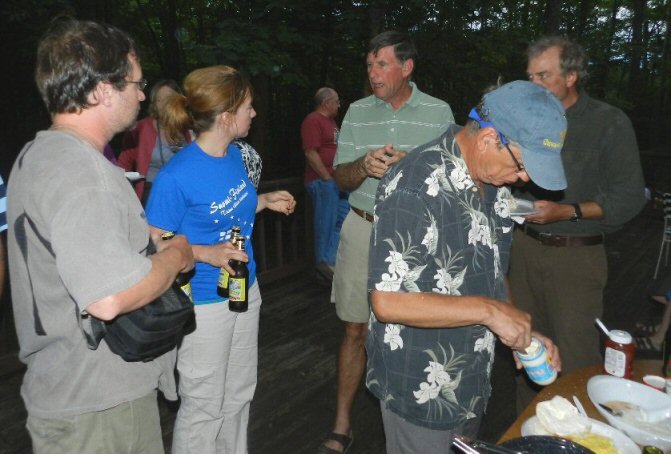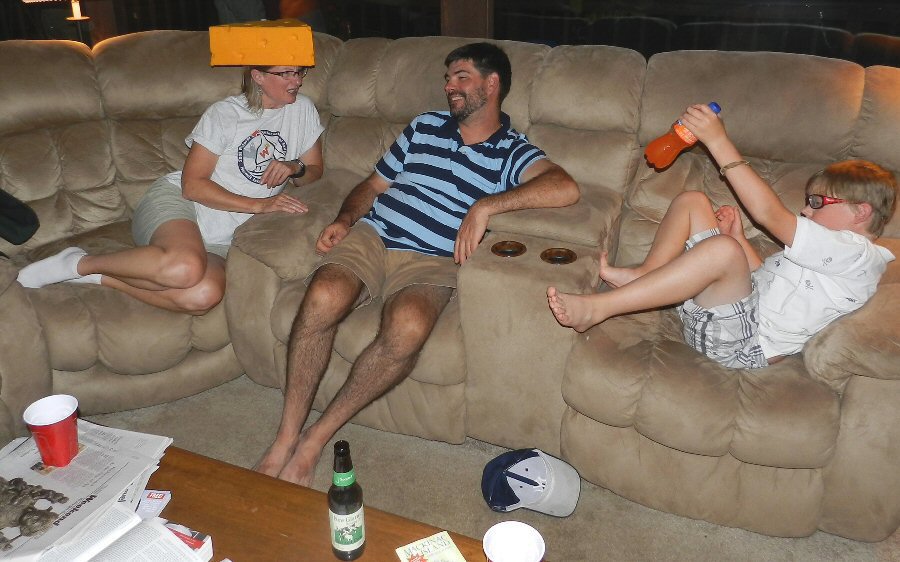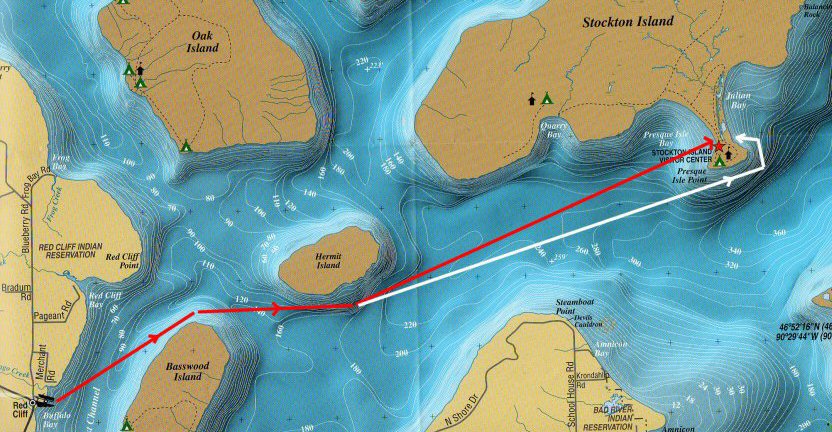 For the next day, Wednesday, half the fleet planned on an overnight trip, and the rest would head to town for some tourism. In the morning we woke to find 12 to 15 knots of SW wind, so everyone started out reefed. The wind picked up to 20 knots and soon four-foot waves were rolling us downwind toward Stockton Island. As the wind increased and our nerves settled, joyous surfing took us over nine knots, about double our hull speed. We even had some sunshine. Ält Bäd was the designated shepherd boat, we took a couple of broad reaches to slow our forward progress and stay to the back of the fleet. This gave us more confidence in handling the waves, when previously anything but straight downwind had looked like it might be too much for us. Andy and I were working well together which added to the fun.
With our increasing confidence, Andy and I started tacking upwind, then sailing any point that seemed fun and kept us near the back of the fleet. This helped as we had gotten too far downwind to be useful if anything were to happen with the last boat, Orange Top. Having installed a makeshift reefing system, Orange Top could not easily gybe, and they were having to tack if they wanted to change tacks. This was a bit slow.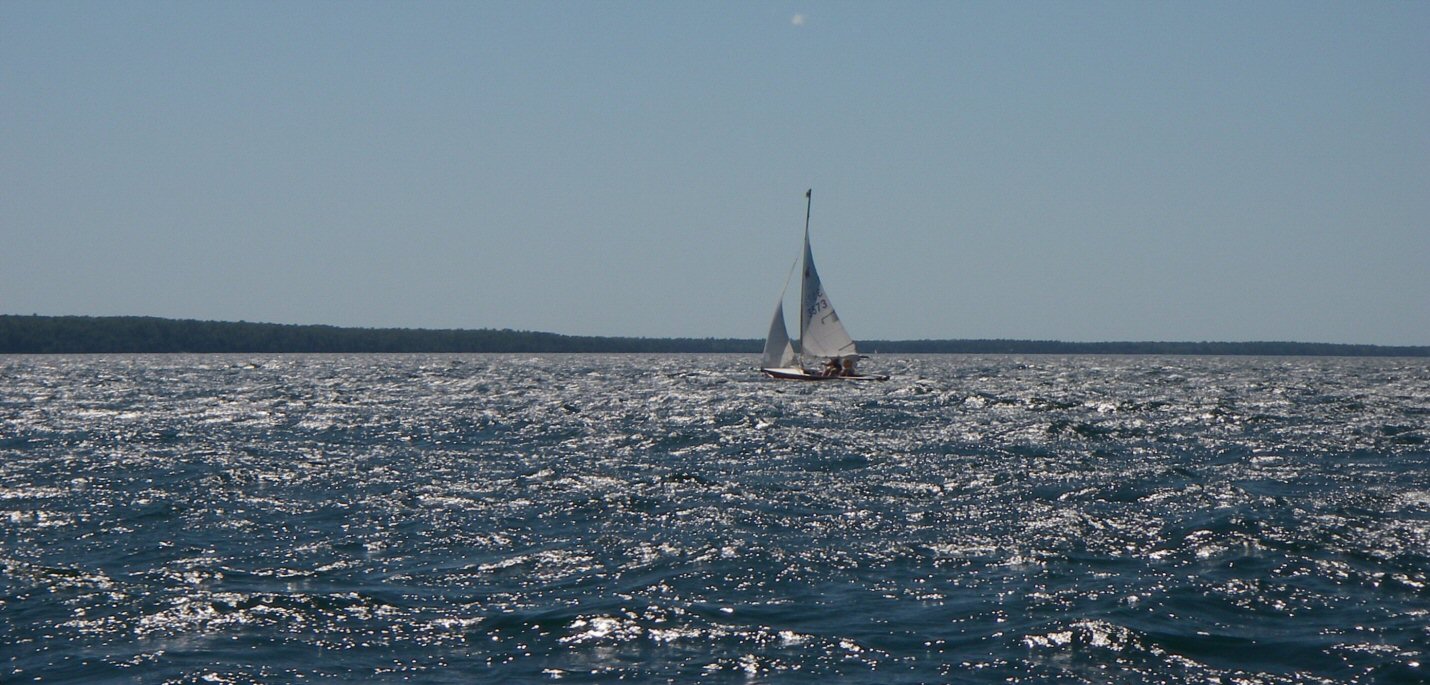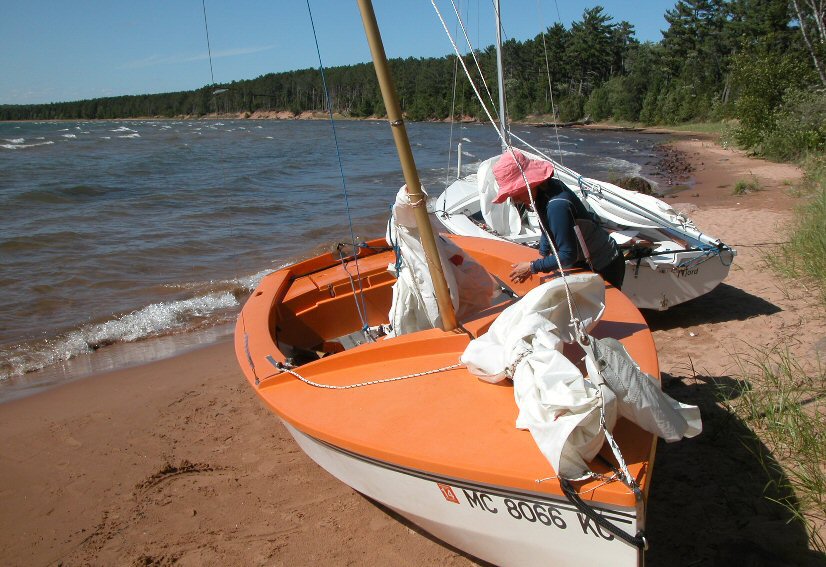 On Stockton, the dock and south shore collected a few of us while the rest rounded Presque Isle Point, an island that a tombolo (sandbar/dune) now connects to Stockton, making it a peninsula. There we went inside the larger cruisers anchored off the mile-long beach, the islands' longest.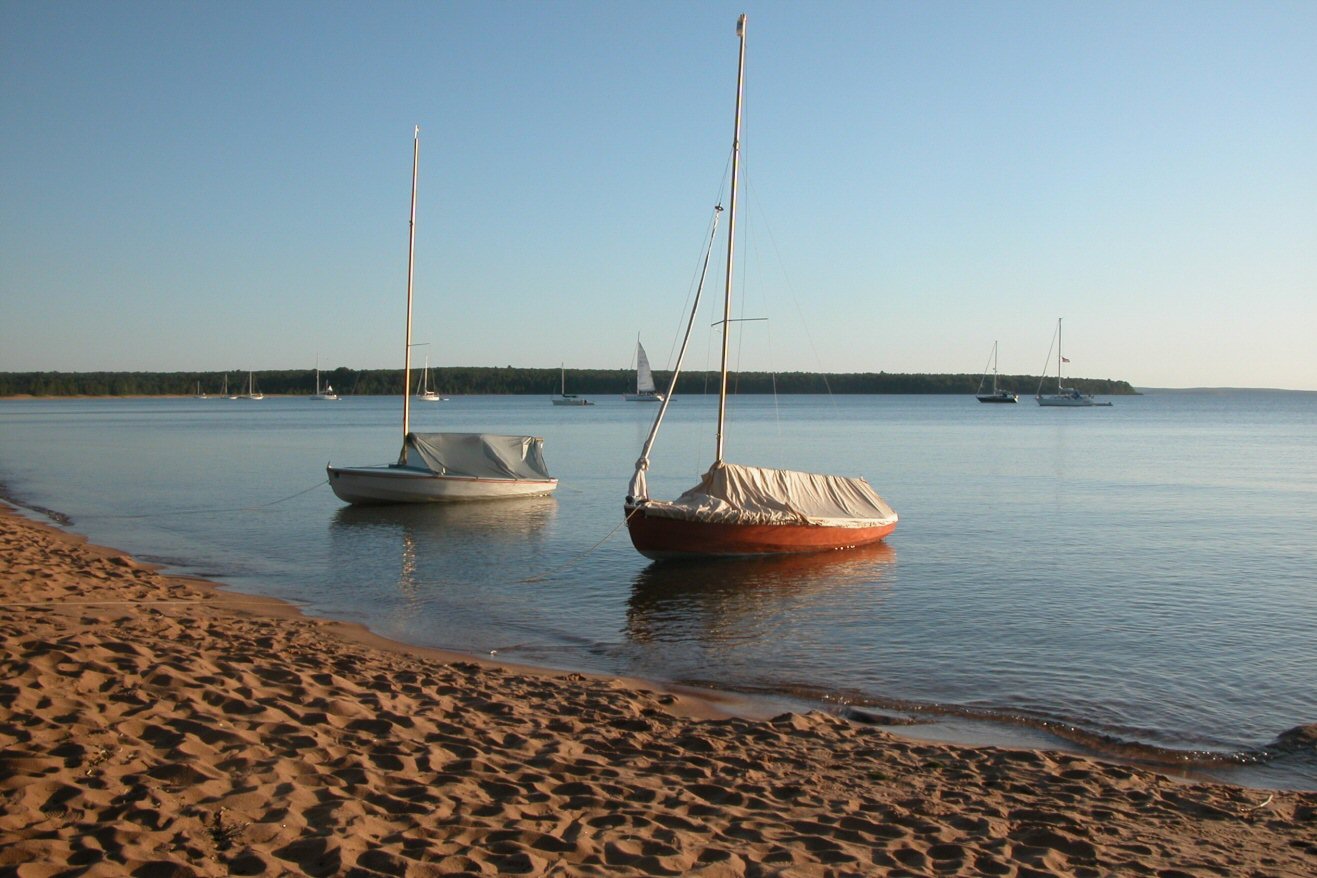 By anchoring out, we avoided booking a camp site, fees and bears. But note that the Lakeshore rules require an anchor light regardless of boat size or distance from shore. Despite the large number of boats there was plenty of room for quiet, meditative walks in nature. Both groups walked across the tombolo to socialize and check out the other half of the fleet.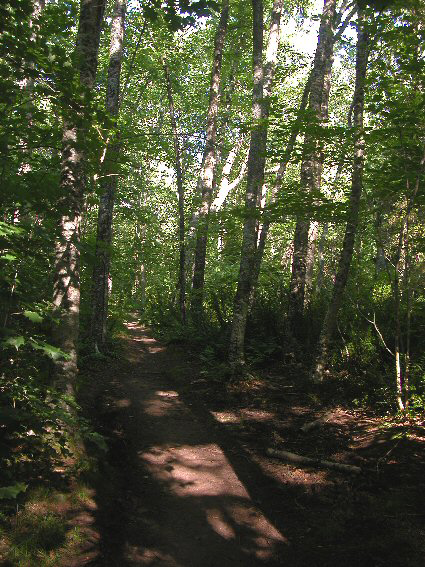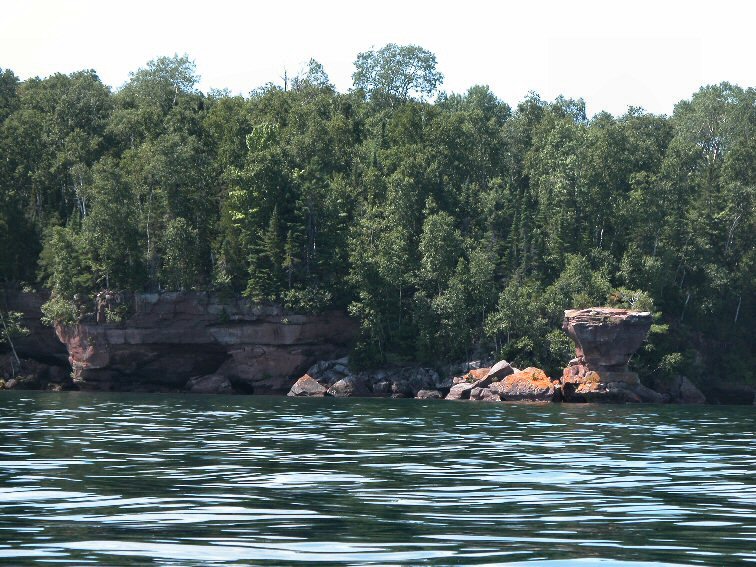 The following day's return trip was a pleasant sightseeing excursion along faceted sandstone cliffs. Think Chicago brownstones; they were all quarried out of the center of these islands. The islands have provided food, shelter, and work to Chippewas, fur traders, loggers, quarrymen, and fisherman. Today you can visit staffed historic fish camps, quarries, and lighthouses. If you apply early enough, you might score a week or a month of being island-bound as a docent/caretaker of a lighthouse. Soon our pleasant trip turned into a slow drift with boats taking largely divergent courses. In the end, the wind filled in enough so we did not have to row miles and miles home.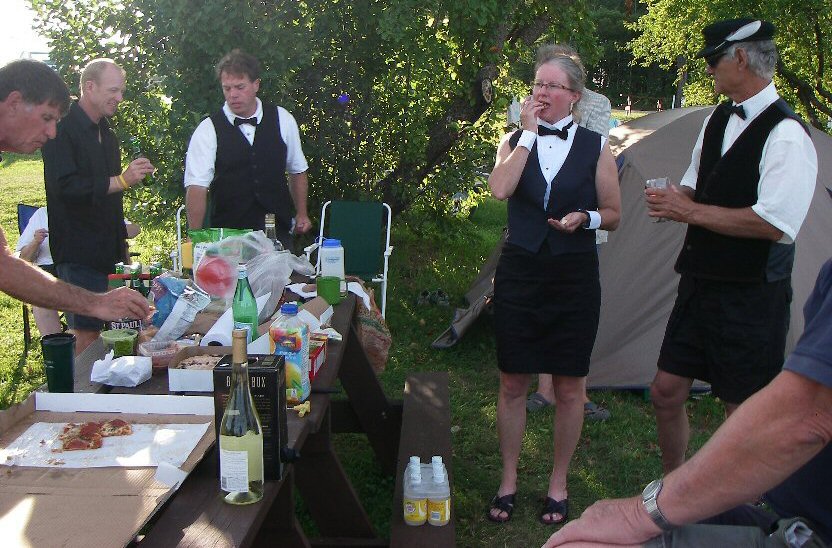 That evening we had our Black Tie Party, a Wayfarer tradition. Our idea of black tie varies and brings out our creative nature as we enjoy this evening of pleasant talk and bonding.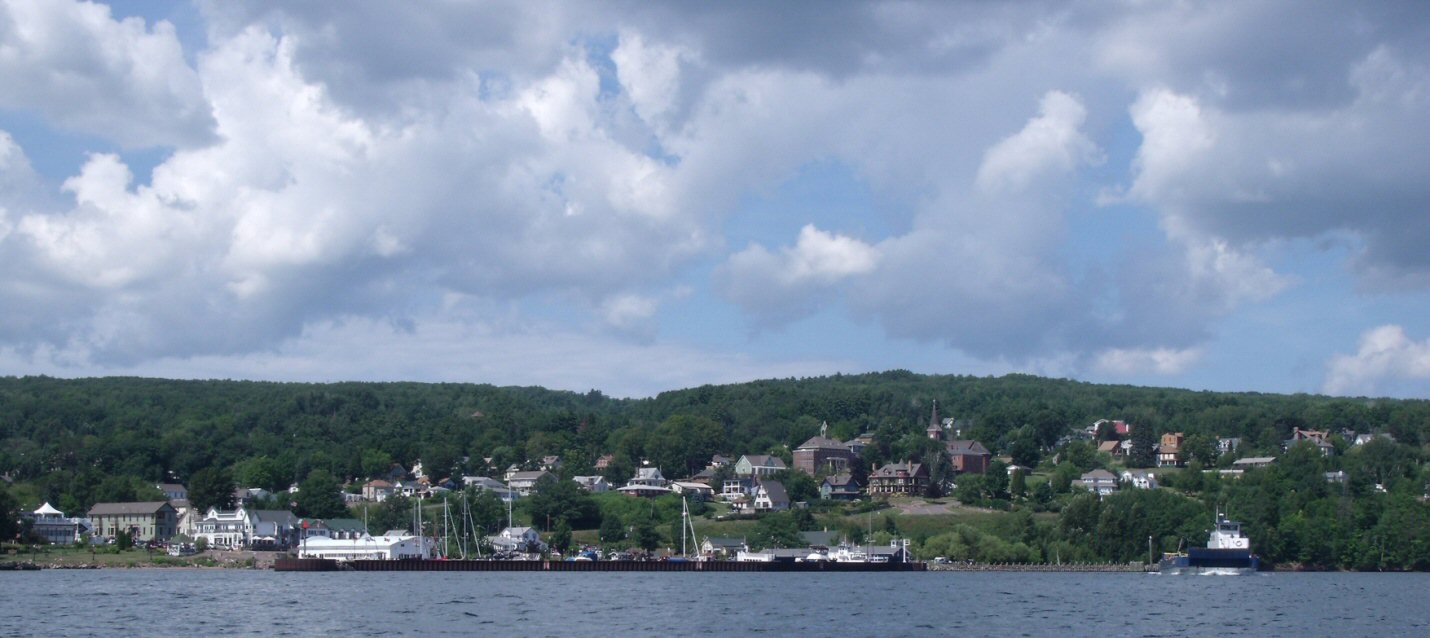 Downtown Bayfield, Wisconsin
Bayfield, the best Midwest Town, anchors the area providing most supplies you'll need from beer to a haul-out. The restaurants run the gamut and you should enjoy them all. A member of our group had access to a nice condo on the waterfront where we could gather and enjoy each other's company. That Friday afternoon we ate fresh whitefish. Wow! There is nothing like it, unless it's fresh wild blueberry pie from The Candy Shoppe. Just call a day ahead to order your pie. I stuck Andy with the bill for that pie. After I found out how much it was, I felt a bit bad.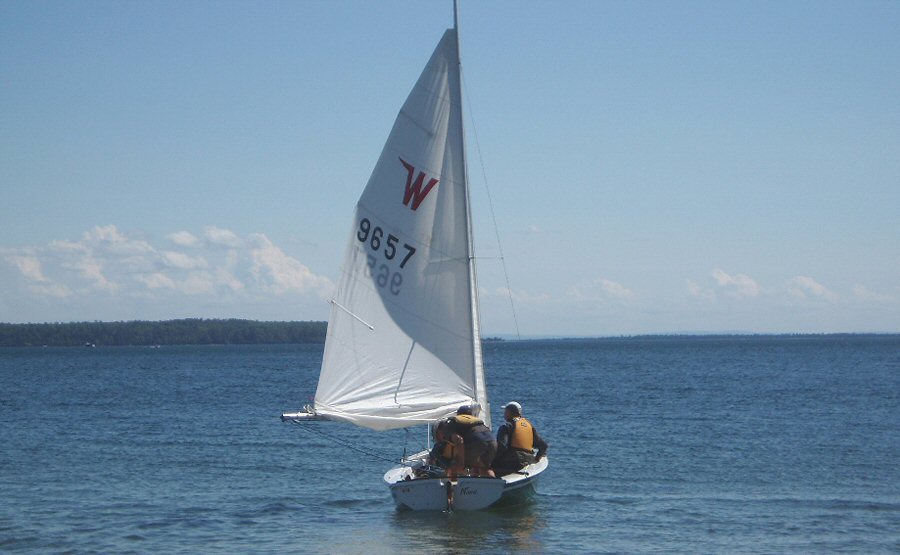 The sail home was delightful. In the evening we emptied our coolers and had our traditional Left Over Supper Party. The end of a perfect day, and a perfect week with fellow Wayfarers. You can find another report on the our week at http://www.wayfarer-canada.org/nostalgia/events/event.nostalgia_M-Z/Rally.reports/2011Apostle/2011Apostles_reportAAb.html