My wife, Fran, and I had the pleasure of cruising on the Chesapeake Bay with Dick Harrington and Jane Korver over several days in the beginning of June 2011. We were aboard our CL16, newly named
Liberty
, and Dick and Jane were aboard Dick's venerable Wayfarer
Blue Mist
.
The plan was to sail out of Oxford, MD and the Choptank River to Tilghman Island then south to the Little Choptank River, Slaughter Creek and Madison Bay, taking in the upper reaches and vast wildlife preserves of Little Choptank River and Fishing Creek on the way before retracing our wakes back to Tilghman Island and Oxford. A stop on James Island on the way back was also contemplated. We had hoped a few more boats would join us in exploring this beautiful and remote area but some were unable to make it and the rest of the fleet opted to return to Tangier Sound. Regardless, we decided to press on with our original plan with just the two boats.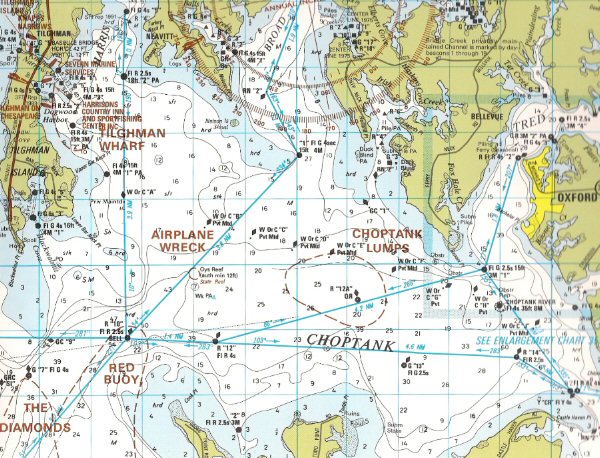 click
here
for larger image
...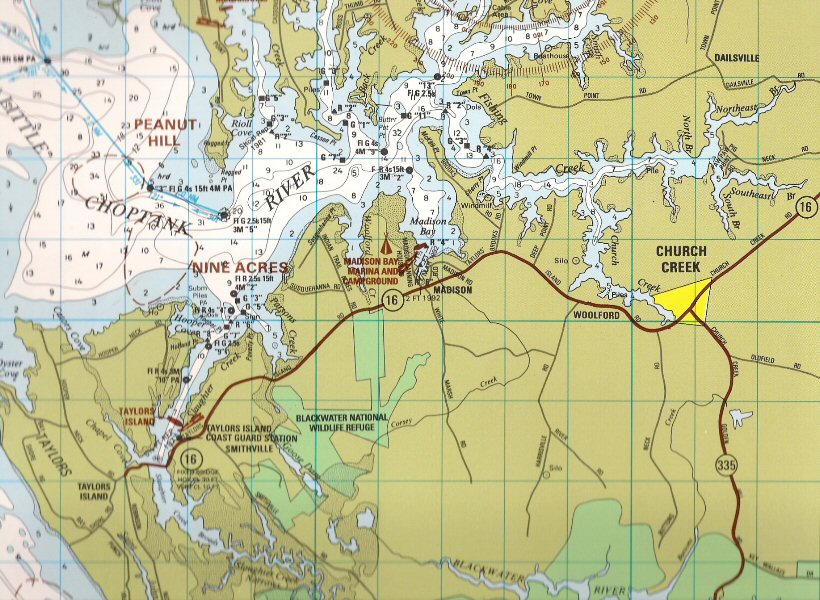 click
here
for larger image
...

The disturbed weather patterns of early spring had us all a bit on edge, but it was with great relief that we learned the long range forecast was not calling for any major weather systems to move in. However, record heat was predicted for the week, a prediction that was to prove true.

Dick Harrington is, of course, a superb sailor and has cruised many miles on the Chesapeake and elsewhere. The rest of us are relative novices to the sport, but we vowed to sail conservatively and safely and not take any unnecessary chances on a body of water this large and with a reputation for sudden, violent storms and choppy seas.

Fran and I left our home in Connecticut Friday afternoon and stayed two nights at a motel near the Bay bridge while we did a bit of last minute shopping and boat preparation as well as seeing a bit of the Annapolis waterfront. We then proceeded down to Oxford on Sunday morning to launch our boat.

The first hurdle was to find a place to park our car and trailer for the week. Oxford is a lovely old Maryland town but the opportunities for parking are limited. Parking at the launch ramp was by permit only and being Sunday obtaining a permit was not possible. I managed to find a couple of public parking areas that we could probably have used but I was a bit uncomfortable with the thought of leaving the car and trailer in an unsecured area for a week. Fortunately, Dick and Jane then arrived and Dick and I drove over to Campbell's Marina where we were going to spend the night and found the owner's son who directed us to the Town Creek Marina just down the road. There we met Tom Campbell, the owner, who agreed to let us park our vehicles and gave us berths on the dock for the night. Much relieved we returned to the task of launching our boats from the town ramp about a mile away. All went fairly well until I realized that I had somehow mixed up the forestay with one of the shrouds and the mast was leaning visibly to port. Did I mention that it was now the middle of the day and the heat index was well above 100°F! Sigh. Down came the mast again with several salty oaths and the shrouds were reset. I hoped that Dick was not regretting his choice of cruising mates already!

We launched our boats without too much drama and sailed up the Tred Avon River to the Town Creek Marina and tied up along one of the docks. A bit more time was spent setting up the boom tents, and lo and behold it was cocktail hour! A very pleasant evening was spent at this quiet little marina and we turned in, tired but excited that our cruise was finally underway.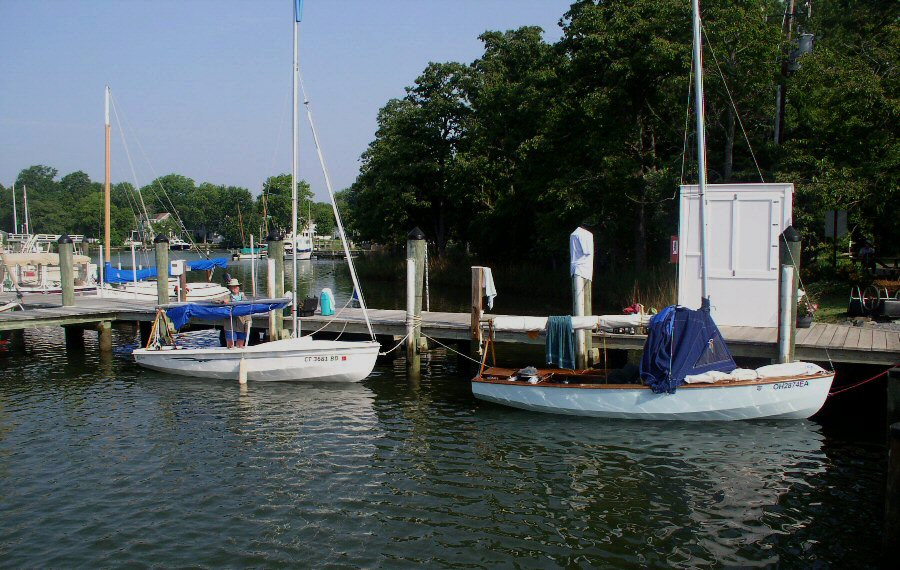 Town Creek Marina - click
here
for larger image
..........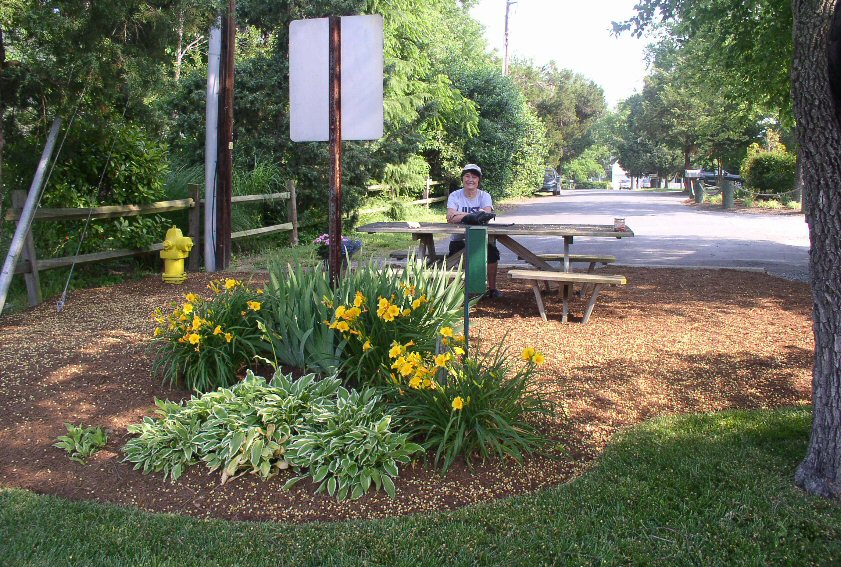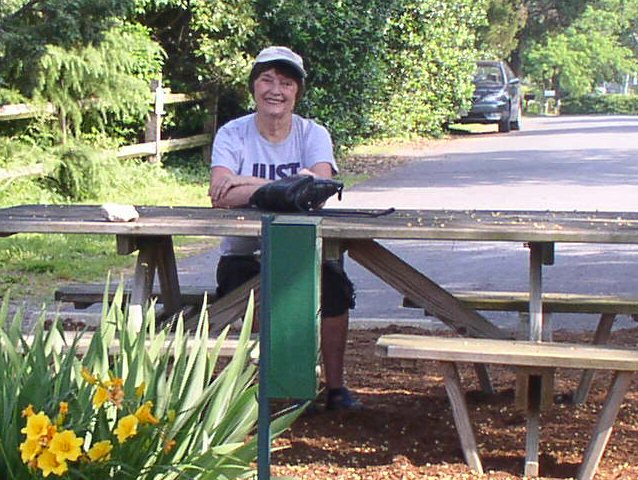 Jane relaxing at Town Creek Marina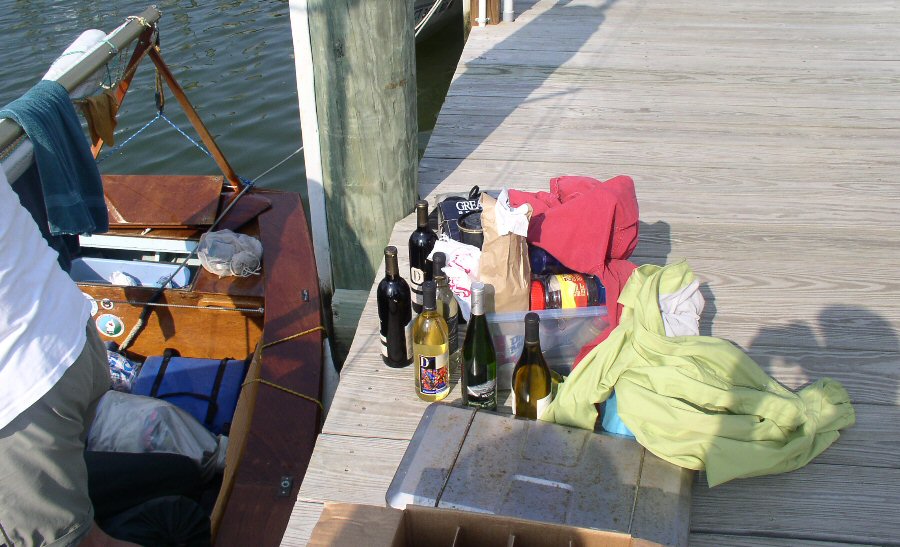 Plenty of ballast!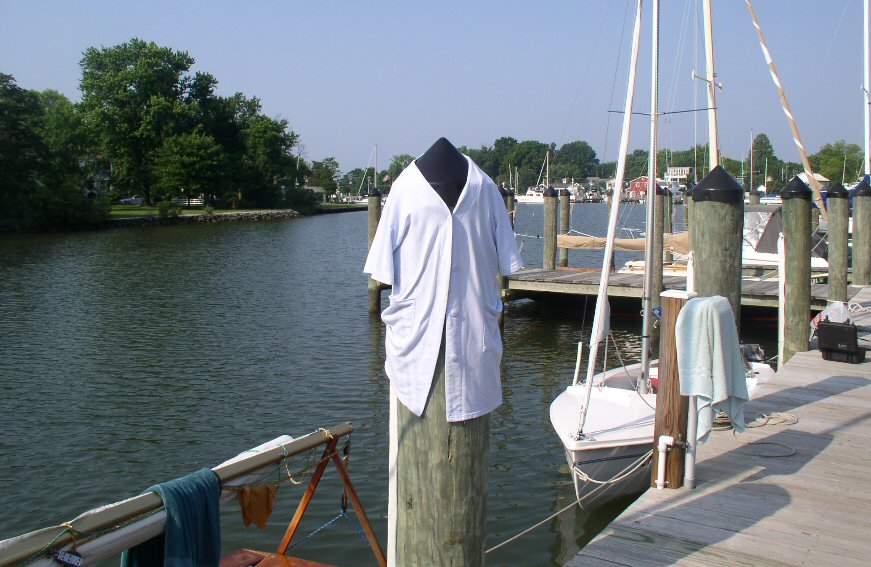 Standing guard! - click
here
for larger image
..........
The next day dawned sultry and hot as we prepared to sail to Tilghman Island. Our departure was delayed a bit when the bow of Blue Mist rode a swell up under the dock and caught on the fresh water line feeding the dock breaking it and sending water gushing like a fire hose. Dick desperately tried to stem the flood while I searched in vain for a main shut off valve. Eventually I was able to contact the owner who told me where to find it and we were able to turn it off. By then, of course, Dick was thoroughly and completely soaked and there was two inches of water in his bilge but we eventually made our way out of the marina and out into the Choptank River. I was soon envious of Dick's soaking as the heat again climbed into triple digits and the wind waned, finally quitting altogether leaving us bobbing in the bay about four miles from our destination.

Time for the iron genny! I fired up our trusty Nissan, congratulating myself on having tuned it up prior to leaving. We rounded up Dick and Jane and continued on to Tilghman Island with Blue Mist in tow. We motored into Knapp Narrows, followed a cruiser under the bridge and found our next stop, the Tilghman Island Marina, and headed for the dock.

As we approached and drew near I reached back to stop the motor only to find to my horror that the kill switch had somehow dislodged and dropped down into the motor cowling leaving only a hole. I screamed at Fran to cast off Blue Mist and proceeded to careen around the pilings and (very expensive) boats in the marina like a crazed pinball while trying to shut off the motor. Eventually and with great relief I was able to shut it down without causing too much destruction and we paddled meekly over to the dock and its grinning owner. Again I wondered if Dick was regretting his choice of cruising mates.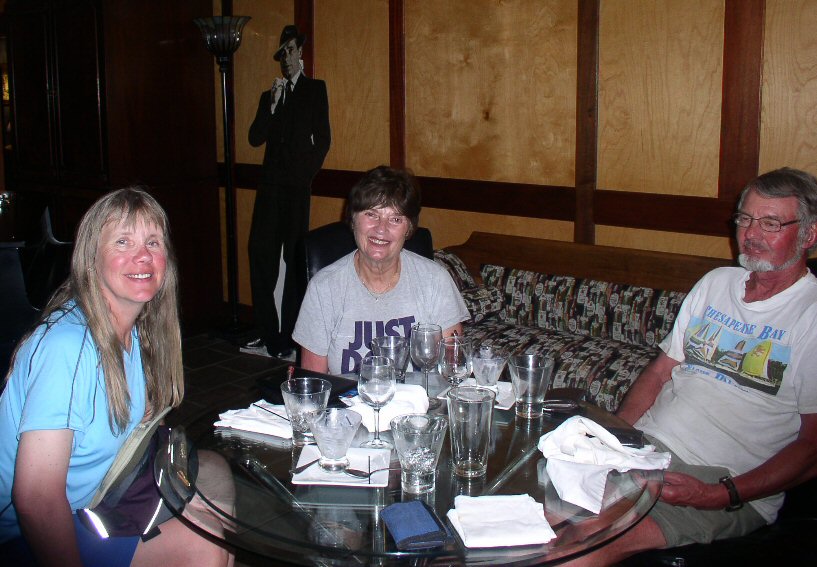 Relaxing after a long hot day at what the locals referred to as "The Inn"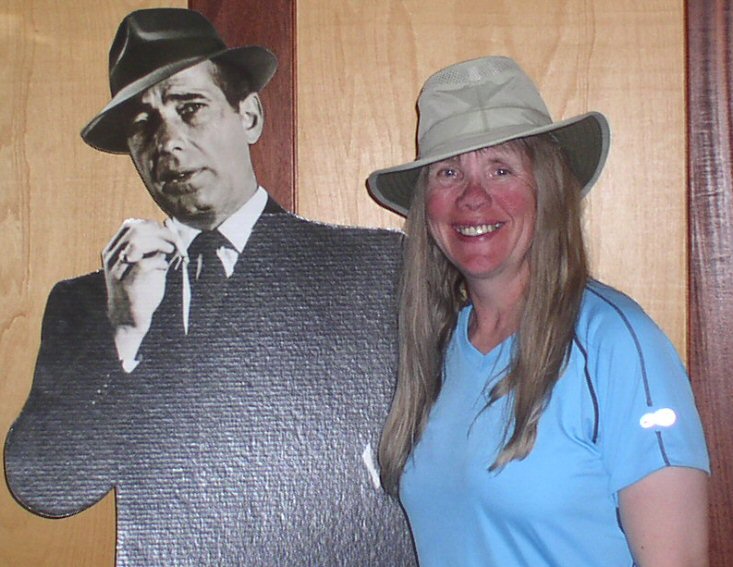 "Here's looking at you, kid!"
We settled into our berths and put up our tents in the still sweltering heat before finally retiring to the restaurant at "The Inn" next door where we enjoyed a wonderful meal in air-conditioned splendor. We must have consumed at least a gallon of water (and other liquids!) apiece after our long day in the hot sun but we eventually rehydrated and toddled off to our tents and another blissful night's sleep.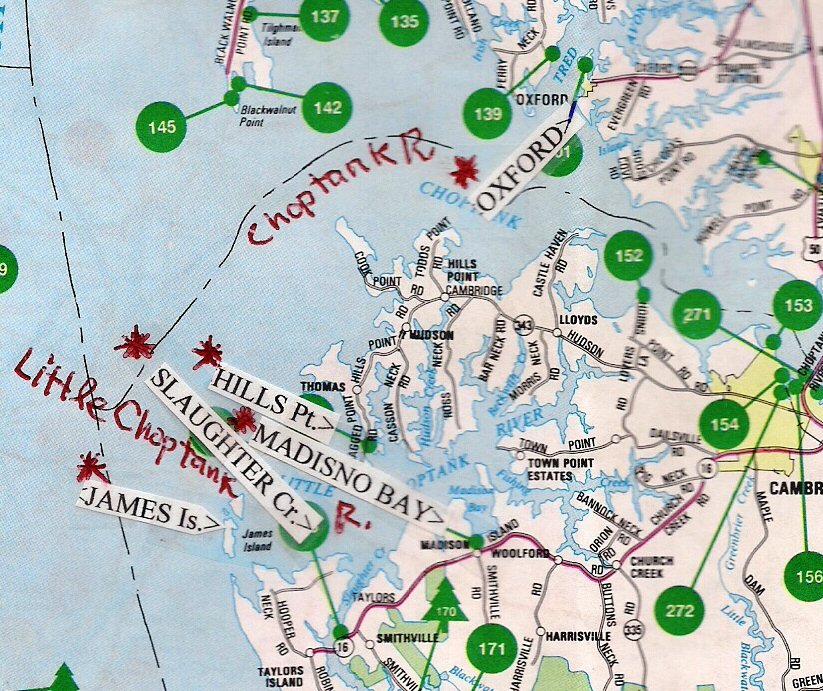 Tuesday dawned sunny and hot again with a forecast of light north winds and more record-breaking temps. We set out after breakfast, planning to sail west out into the bay and then run south towards Little Choptank River and Slaughter Creek, our next stop. Leaving Tilghman Is. proved to be a bit of a struggle for Dick and Jane as they were caught in a rather strong tidal current coming through the narrows and they had to fight their way out to the bay under sail alone. We eventually met out in the bay however, settled back and let the wind carry us southward . Though a bit light, the wind was consistently 5-10 kts and we made our way slowly down the bay towards Slaughter Creek on this, the longest leg of our trip.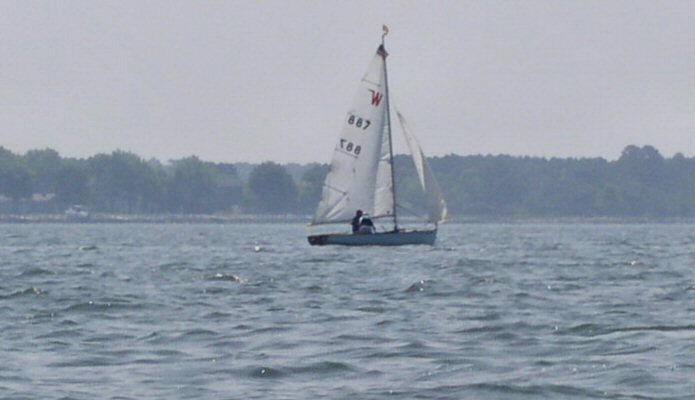 Blue Mist
headed for the Little Choptank River
Being on a run, we felt the full effect of the oppressive heat and we worried about Dick and Jane, both in their 70s, and how the heat might affect them. We needn't have worried, however, and Blue Mist drew steadily away from us. Several hours into our cruise, though, Fran and I noted that Dick and Jane were headed into Brannock Bay apparently mistaking it for the mouth of the Little Choptank River still several miles to the south. Realizing that this was a blind alley we hung back trying to get their attention. Eventually they realized we were not following them and sailed out after us.

When they caught up with us, I explained their error we sailed on towards Slaughter Creek. Dick allowed that perhaps having the GPS on was perhaps not such a bad thing after all(!) Late in the day, we found the entrance to Slaughter Creek and sailed slowly towards our marina about two miles up the creek. This is an absolutely stunning area, teeming with duck and other waterfowl in the marshes, creeks and ponds. Dick says that according to author James Mitchner in his book Chesapeake, the ducks and geese here were hunted commercially in the past with great success giving rise to the somewhat off-putting name Slaughter Creek. In our time there, we saw hundreds of mallards and drakes, geese, eagles, ospreys, hawks, heard fox and coyote in the distance and saw deer feeding in the meadows. Truly a special place.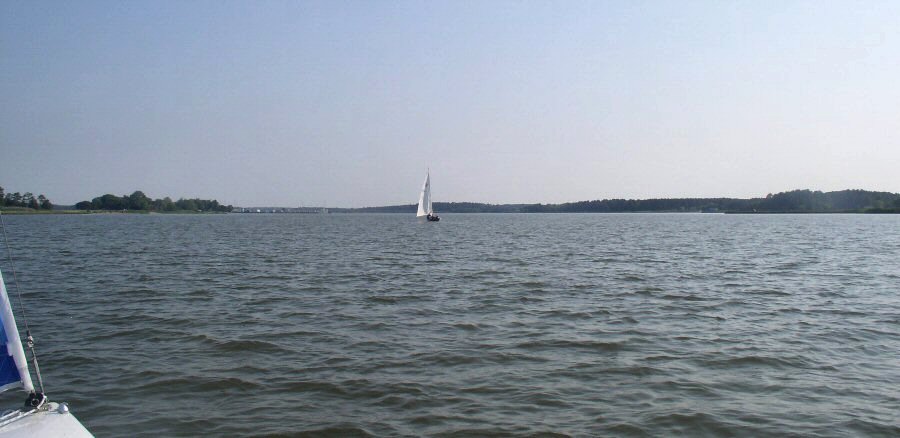 Sailing up Slaughter Creek - click
here
for larger image
..........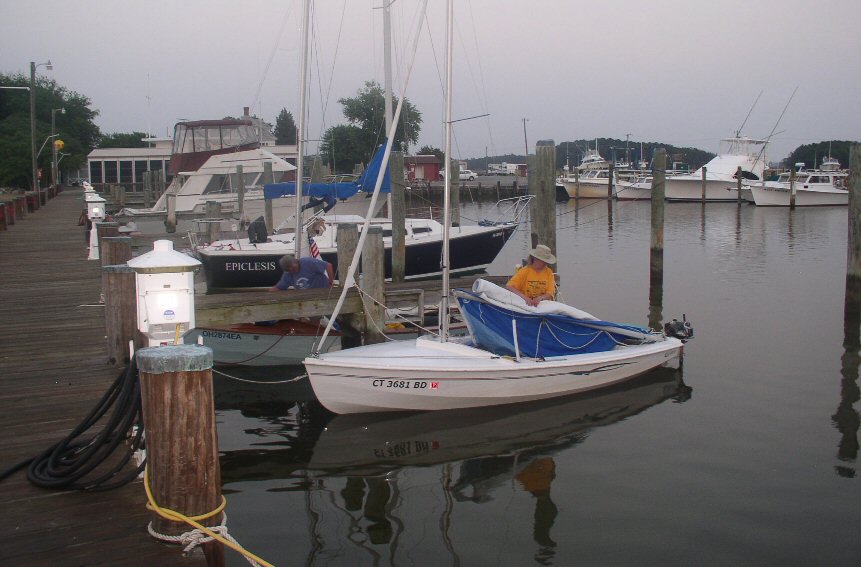 Setting up the tents at Slaughter Creek - click
here
for larger image
..........
We set up camp in the marina which thankfully had a pool and shower and ate in a nice low-key and inexpensive restaurant down the road a mile or so and again proceeded to drop the local water table a few feet as we rehydrated after a long day in the hot sun.

The next day dawned sunny and hot (again!) with the threat of late day thunderstorms. We were all pretty wrung out from our long days in the sun so it didn't take much convincing when Dick and Jane suggested taking a day off. We spent a relaxing day recuperating in the shade next to the pool watching the antics of the local flora and fauna before enjoying another delightful meal at our new favorite restaurant and retiring to the comforts of our private floating paradise and going to sleep to the sounds of the water lapping at the side of the boat and the quacking of the ducks off in the distance.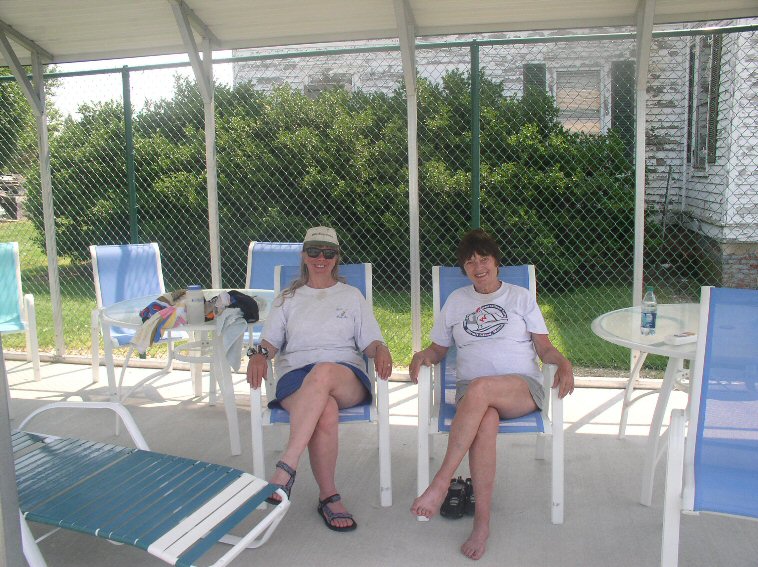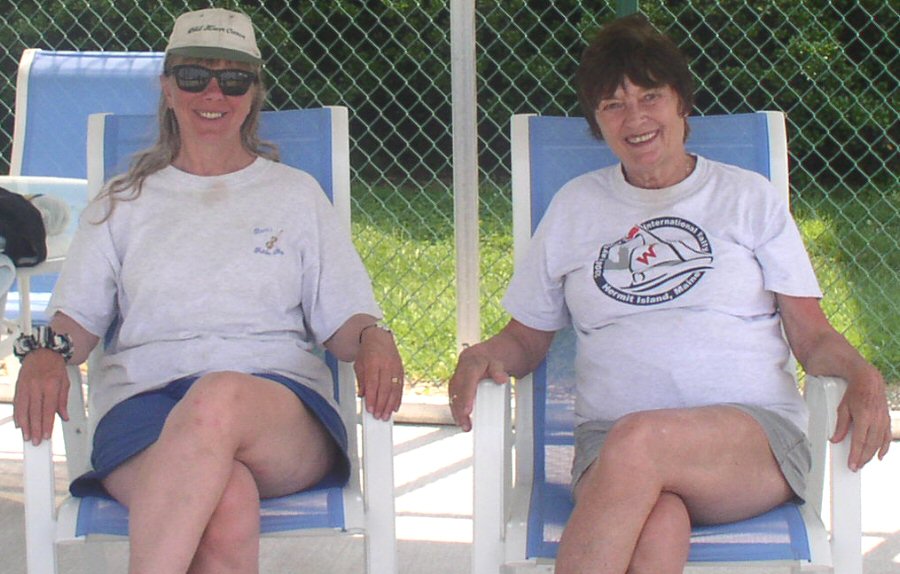 Relaxing by the pool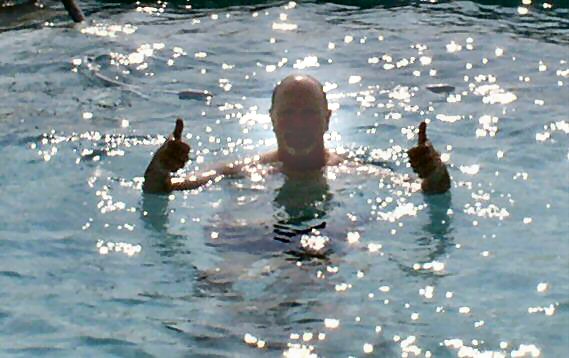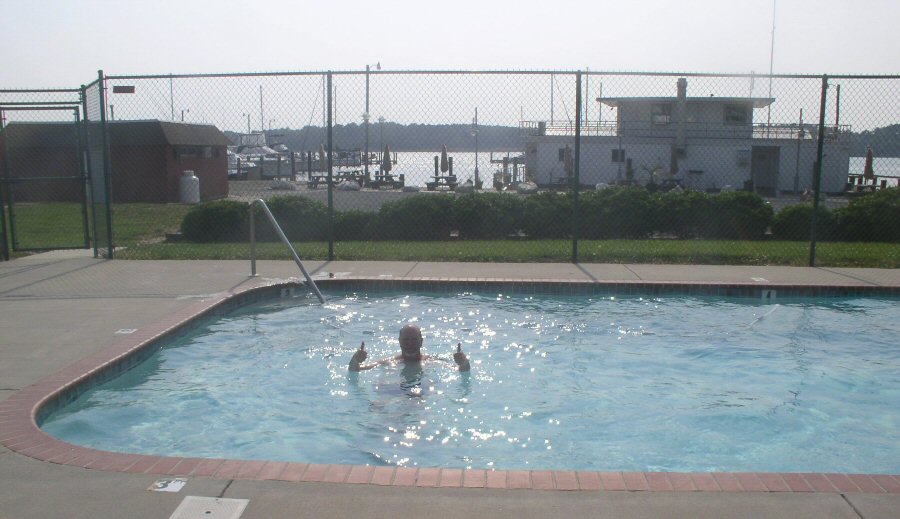 Ahhh! - click
here
for larger image
..........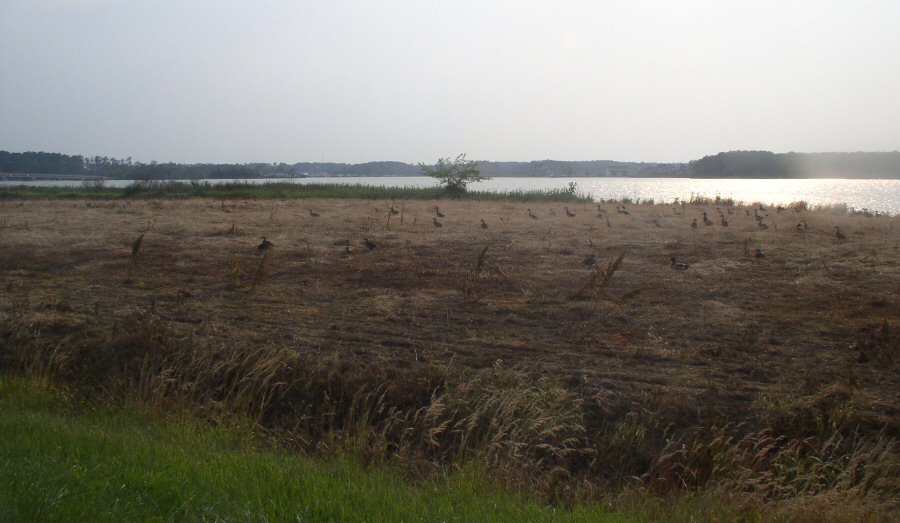 Ducks everywhere! - click
here
for larger image
..........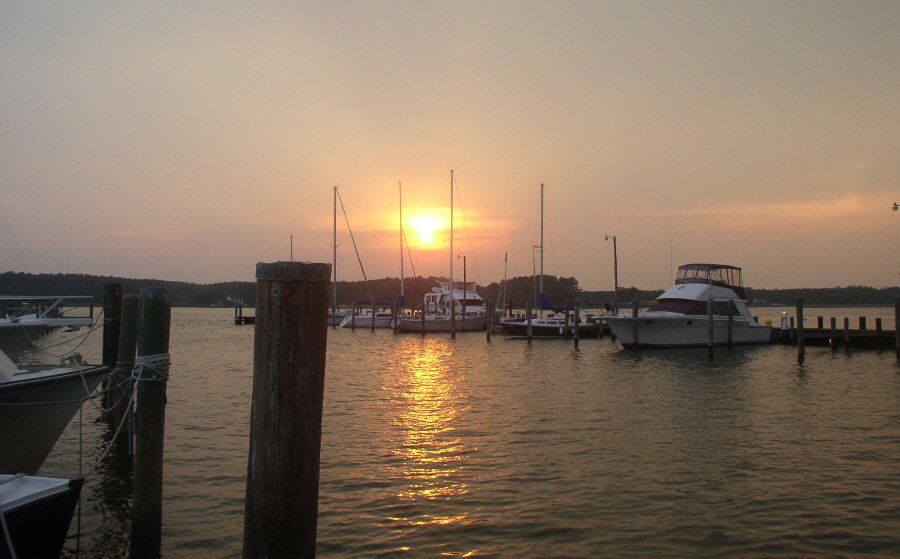 Beautiful sunsets - click
here
for larger image
..........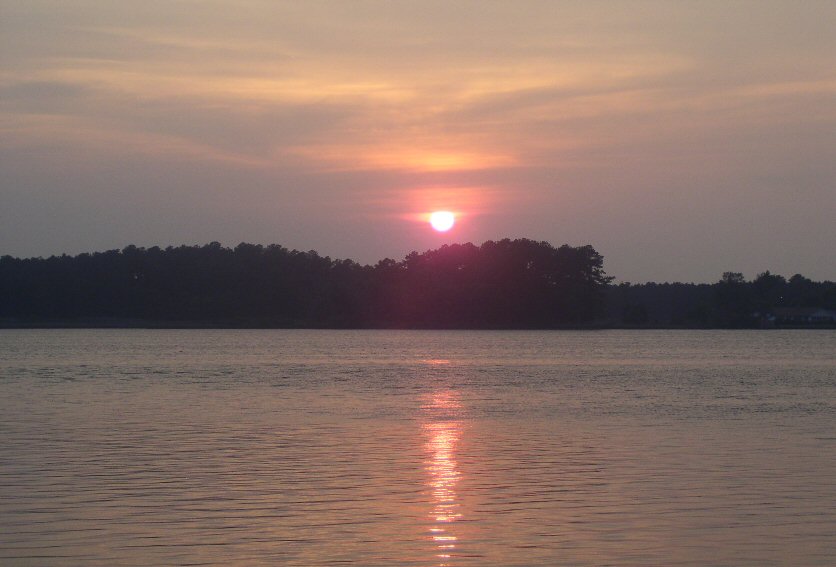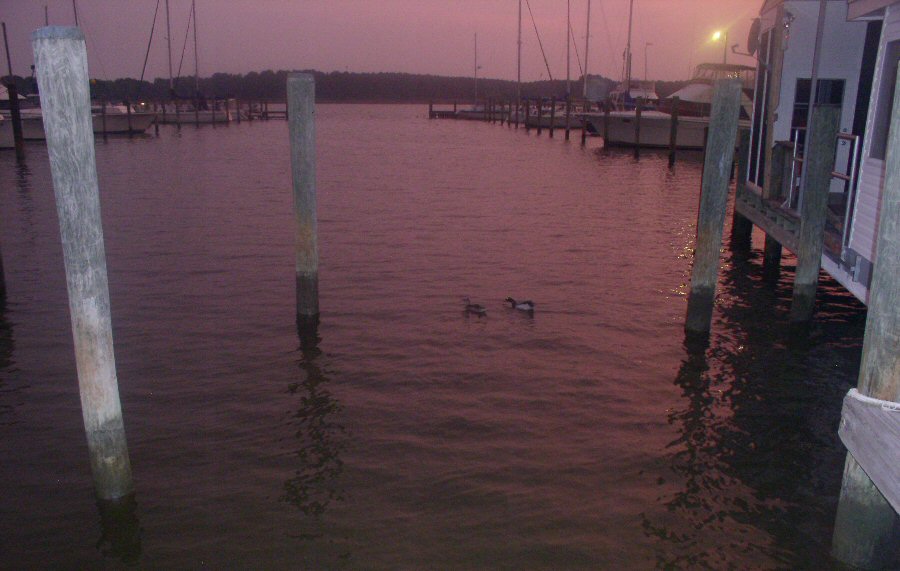 Great company and good times




We woke the next day to something of a surprise. During the night the wind had clocked around 180° and intensified, almost blowing Fran off the dock at one point! The temperature had cooled a bit but we now had an army of whitecaps marching up the creek at us on the back of a stiff north wind and a small craft advisory in place for the day. A quick consultation among the group and the decision was made to scuttle our plans and stay put for another day.

I could read the disappointment in Dick's eyes. I knew he had worked long and hard to bring this cruise about and now it seemed the weather was just not going to give us a break. The forecast was for more of the same the next day and we made tentative plans to abort our sail back up to Oxford, a sail which I'm sure was bound to be uncomfortable beating into the face of three-foot seas and 20-25 kt north winds. The next day we again awoke to the wind singing through the rigging. We arranged to borrow a car from the marina owner and drove around to Oxford to collect our trailers.

Though it was foreshortened by the weather and perhaps by our lack of experience and confidence, we had a great time on this, our second Chesapeake cruise. Dick and Jane proved to be wonderful cruising partners and we hope to cruise with them both again in the future. Both Fran and I are eager to revisit the beautiful area around Little Choptank River and hope other Wayfarer cruisers will do the same.



Jeff Kirk
CL16 2774 Liberty