This trip started one year ago with my introduction to Wayfarer cruising through Margaret Dye's book. In no time at all, I experienced two-footitis, and replaced the CL14 which I had been sailing for 10 years in Toronto's Outer Harbour with W8231. The learning curve was steep, including progressively longer solo ventures into Lake Ontario and along the shoreline, gaining confidence in the Wayfarer's ability to handle a wide variety of cruising and racing conditions. I also learned more about the Wayfarer through replacing fittings and refinishing seats and centerboard. This included an incident when a shroud bolt sheared in modest winds requiring on the water repairs and judicious return to the Outer Harbour Centerboard Club, from which I sail.
Through the Canadian and US Wayfarer web sites and cruise logs, plus numerous questions to Uncle Al, all of the components needed to plan and conduct my first week-long cruise were assembled. From the cruise logs, I gathered that most cruises were relatively relaxed sailing with the occasional day of exhilaration. Little did I know that the inverse would be true for our trip? During the 2009 sailing season I did a number of solo shakedown cruises, but none longer than an overnight. They provided valuable lessons in navigation, living and cooking on board, and anchoring - all relatively new to me, on the water. I did fall back on almost 40 years of mountaineering and backpacking low impact camping experience to guide many of our plans.
Thanks to the many sources of information about local cruising areas, I settled on the Georgian Bay, with the intention of doing a solo cruise along the route described in the
2001 Georgian Bay cruise report
. The North Channel is reputed to be a most spectacular sailing area, and a natural destination from a Toronto base.
Fortunately for me, when I described my plan to my sailboat racing partner Scott, he immediately asked if I would be interested in being joined by an experienced crew, namely himself. This was a no brainer, and we agreed to finalize plans for the trip when I had returned from competing in the Ironman triathlon in Lake Placid, New York, at the end of July. I intended this cruise - especially with an excellent crew - to be a relaxing break from triathlon training.
As it turned out, the week of sailing was only possible with Scott on board, and I could not think of a better partner to sail with. Scott has been sailing as long as I have, and had cruised with his brother on a Wayfarer in the Yukon, as well as being familiar with the Georgian Bay area as a youngster. Our years of racing together allowed us to work as a team, especially when each days conditions inevitably became challenging.
Although I had keelboat cruising experience, I had never completed more than an overnight trip in my own sailboat. Nor had I loaded a boat on a trailer, or towed it. My anchoring experience and sailing in much over 12-knot winds was limited. The trip was meant to get the process started, and expose me to all the basic cruising tasks, in hopes of many more trips in the future. My intended relaxing holiday though, morphed into a constant state of anxiety while in motion, offset by temporary states of rest when anchored and secure.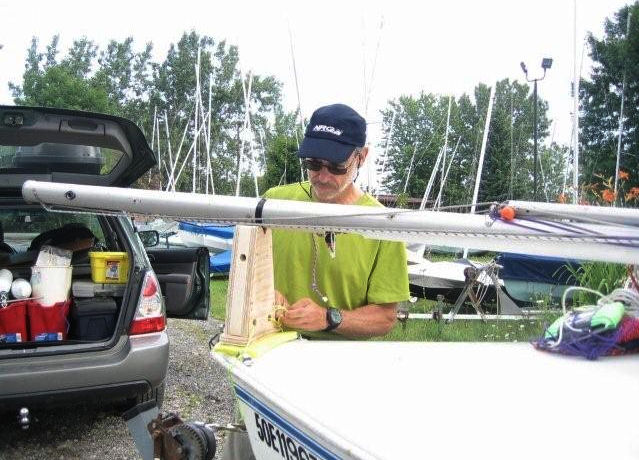 departure & mast support
Our trip started on my return to Toronto, and the confirming phone call that Scott was available and ready for the planned trip. Scott was to organize the food (I later found out he had worked as a summer camp cook for geological survey teams) and I was to look after all else. We met at the OHCC to load the Wayfarer on my boat trailer, and assess any further needs. I had completely rewired the trailer earlier in the spring, yet one of the rear light lenses had been broken in storage and needed replacement, (lesson learned: in the future I would opt for a lighting board rather than conventional trailer lighting) and we decided that an additional mast support was needed at the bow. Scott being a highly skilled furniture designer and wood worker proceeded to take a few measurements and produce a custom support in no time. Thursday was spent assembling the food and all necessary cruising items with the agreement to make an early start Friday morning, in hopes of missing the August long weekend traffic.
Friday, July 31 Toronto to Killarney to Covered Portage Cove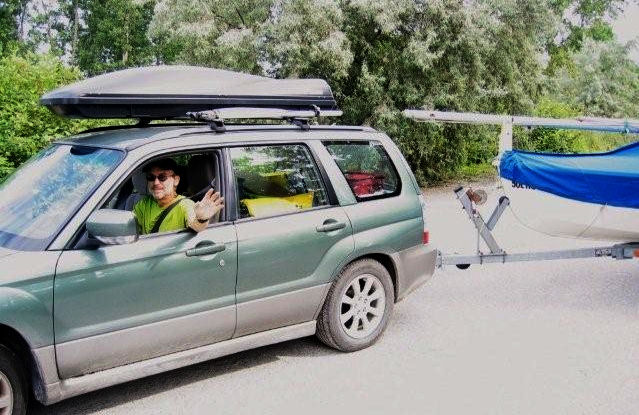 departing from the OHCC


I picked Scott up at his house and we pared down the food piled on his dining room table to a reasonable quantity. It seems that Scott shopped as if he were feeding a geological survey crew. Loading the food and his personal gear in the car, we proceeded to the Outer Harbour Centreboard Club to pick up the Wayfarer on the trailer and head north. My first trailer experience was in now to be in Toronto long weekend commuter highway traffic. I needed to remind myself constantly that I was towing something bigger than my car. My anxiety was unnecessary, and all went smoothly. After about 30 minutes we pulled into a service area to check the tires and confirm bearings were not hot, as well as pick up some coffee. The next five hours of driving went quickly as Scott told story after story of his past adventures.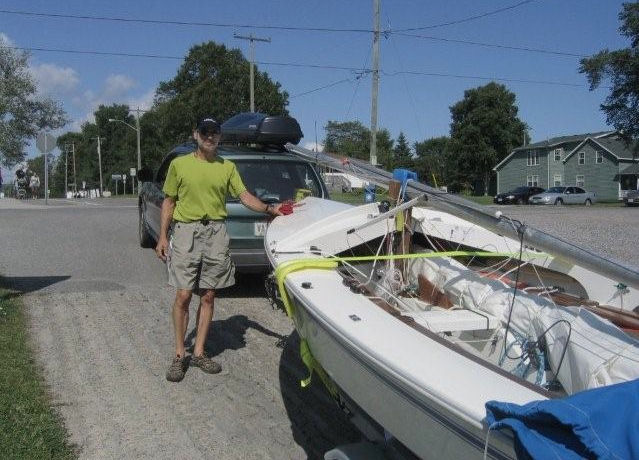 launching in Killarney
We arrived in Killarney before 5pm. As reported in other cruise logs, the main street ends at a boat ramp. (The adjacent fish shop charges $7.50 each for put-in and take-out.) Parking for vehicle and trailer are conveniently located behind the church about one block away, with a daily "donation" of $5. By Toronto standards we were ahead of the game. The weather was clear, so we loaded the Wayfarer, stored the vehicle and cast off. Although the wind was not strong, it was on our nose for the length of Killarney channel, and we were continuously tacking as we made our way out to Killarney Bay, to the amusement of local residents lounging on shore. I had both paper charts and a GPS. The rapid departure did not give me the opportunity to plan a route, but fortunately we identified an anchorage which turned out to be Covered Portage Cove, a very popular spot for the night. Due to our shallow draft, we were able to access a quieter portion of the bay, to allow both good anchorage as well as access to shore as needed. The anchors set well in the mud and weed bottom. Generally the two anchors I carried, a 5-lb Bruce, and a larger guardian anchor complemented each other and held well. I am constantly amazed how the Wayfarer swings at anchor, which is quite unsettling without the boom tent, but virtually unnoticeable with the tent up and the view of surroundings blocked.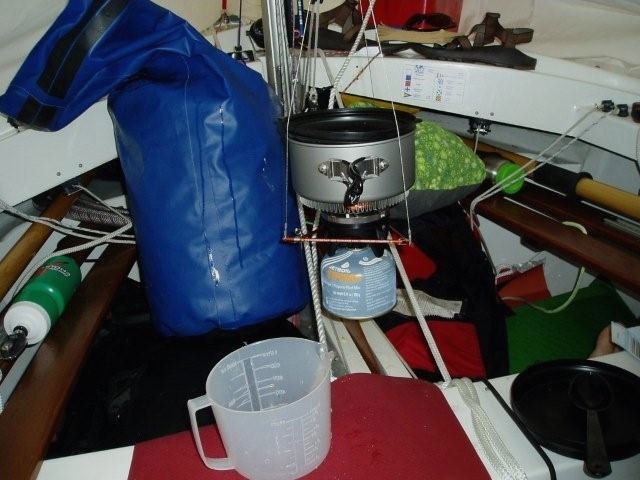 cooking set-up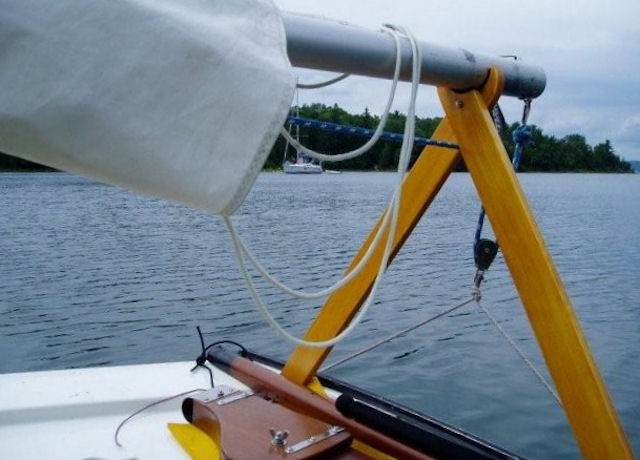 boom crutch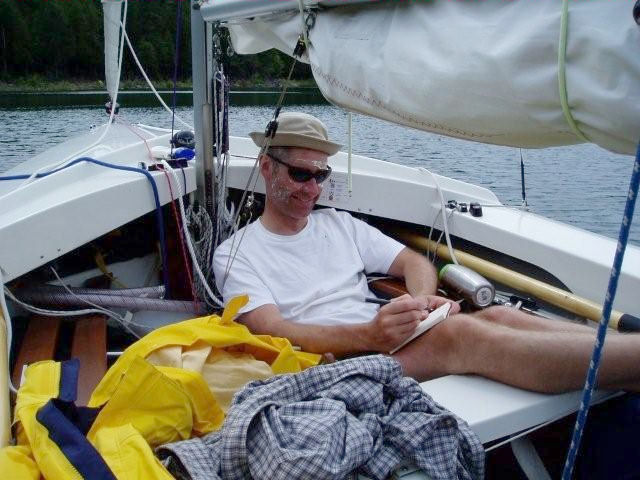 Scott relaxing on board
I had researched and practiced cooking on the Wayfarer, and had purchased a Jetboil camping stove. It had the advantage of being very efficient due to a heat exchanger system on the pot, use of a gas cylinder avoiding liquid fuel spills, and had and add-on suspension system, allowing the entire cooking system to be suspended from the boom. This was an inverted gimballed arrangement which worked perfectly, adjusting to any motion of the Wayfarer with no hazard of hot pots or lit stove falling over. With dinner complete, we set the Wayfarer up for sleeping with Thermarest pads, sleeping bags and enclosed the Wayfarer with a boom tent obtained from Hans Gottschling. Scott was later to say that it was amazing that the boom tent was both easy to set up and worked so well. Sleeping in the confined quarters was a learning experience. Scott initially tried sleeping with his head forward, ala Frank Dye, but that lasted only one night. It took a few days of experimentation to determine the ergonomics of comfortable sleep.

August 1. Covered Portage Cove to Frazer Bay
We got a late start, following breakfast and a visit to shore. Sailing west through the Lansdowne Channel, we were continuously tacking into the increasingly stronger winds. As we rounded Badgeley Point, Frazer Bay was filled with whitecaps and waves. The 15-knot and higher wind forecast was to plague us for the next week. It seems that this year has had much higher winds than was typical. The conditions were certainly more than our comfort level allowed, and we had previously agreed that as a first venture into multi-day cruising, we would sail conservatively. We rounded the point and tucked into the first inlet to assess our next steps. A careful look at the chart showed a better protected Boyle Cove further east, and we proceeded to this location to anchor for the day. The afternoon was spent swimming, eating lunch, and taking it easy. Swimming from the boat gave the opportunity to practice using the main sheet as a foot loop to get back in the Wayfarer, should that ever be needed in a man overboard circumstance. It rained later in the afternoon and more heavily during the night. The boom tent worked well. Through the entire cruise, very little water entered the Wayfarer, all of which found its way to the bailer scuppers, and could easily be sponged out.

August 2 Frazer Bay to Stoney Point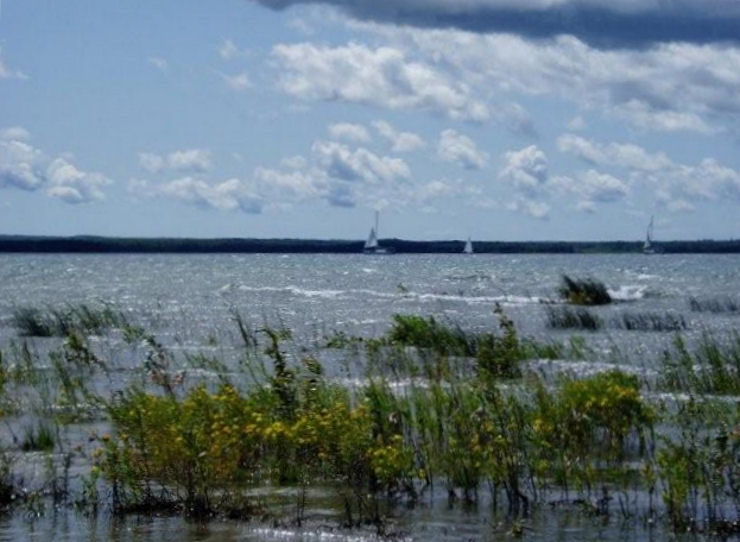 View from Stoney Point
We were up at 6am, as we found was both natural and needed due to the daily wind patterns. The forecast was for 20-kt winds gusting to 40kts from the west, so we needed to sail early to limit our exposure to the higher wind and seas. Under the forecast conditions, we may have been wiser to sail north or south, rather than into the wind. Our objective was Little Current. The mailsail was reefed by 10:30 am, and once again we sought refuge in a bay protected by Stoney Point identified on the chart as Shoal Bight. Once again we found a soft bottom for anchoring, and in addition tied the stern to shore for ease of access. Following lunch we hiked across Stoney Point to the North Channel, allowing us to confirm that the sailing conditions were well beyond our comfort level. Keelboats were motoring into the wind. Scott pointed out poison ivy on our walk, and whether it was here or from another anchorage, I developed a mild case of this affliction. Caution is advised. Each day's high winds diminished to calm at nights, and at various times mosquitoes became an annoyance. In anticipation of this, I had brought a mountaineering bivy sack, which although confining kept the bugs out. There must be a better solution using mosquito netting, but I have not found it yet.

August 3 Stoney Point to Rouse Island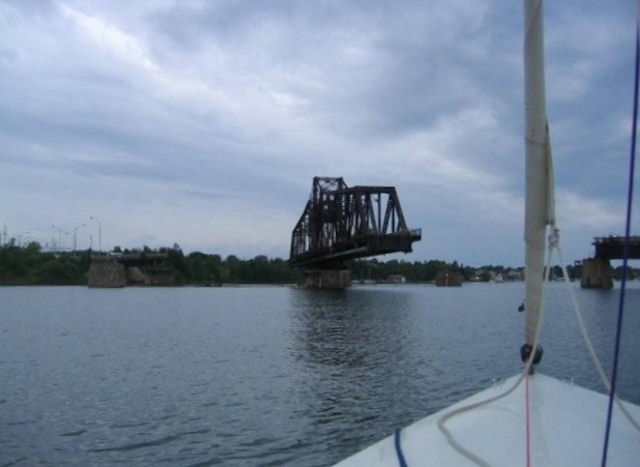 Little Current bridge
Red sun in the morning. Hmmm. We dressed for the worst. We intended to be at the Little Current Bridge crossing this day, somewhat later than the original schedule. Foregoing breakfast (and to Scott's dismay, coffee) we were sailing before 7 am. Once again the winds started to increase with some rain, but as we approached the bay near Strawberry Island, the winds became shifty and variable. At times I felt I was heading away from our destination, and we clearly were not going to meet the 9 am bridge opening, despite a valiant rowing effort on Scott's part with the oars. We chose to anchor near the bridge to wait for the 10 am opening, rather than wear ourselves out manoeuvring around the wind shifts and other boats queuing up. As the appointed hour approached, we retrieved the anchor and reached back and forth near the channel marker, waiting for signs of the bridge moving. In retrospect it was much like the start of a race, and that is something that Scott and I were comfortable with. Most race starts are not constrained by bridge abutments, larger boats motoring across the line, and the prospect of a massive bridge crushing your mast. Once through the gauntlet, we tied up at the public dock while Scott took the opportunity to phone home and pick up coffee and breakfast. It was a cool, cloudy day, threatening rain, yet we had achieved our objective of passing the Little Current Bridge, and felt very good about that. The facilities at Little Current had been vastly improved since 2001. Finger docks were filled with a large variety of sailing and motor yachts and clean washroom facilities are available. Our 16-foot dinghy felt particularly small in this company. There is no charge for day use, but overnight charges were near $2 per foot. I thought about the 40' Hunter adjacent to me paying $80 per night, and remembered why I was sailing a Wayfarer.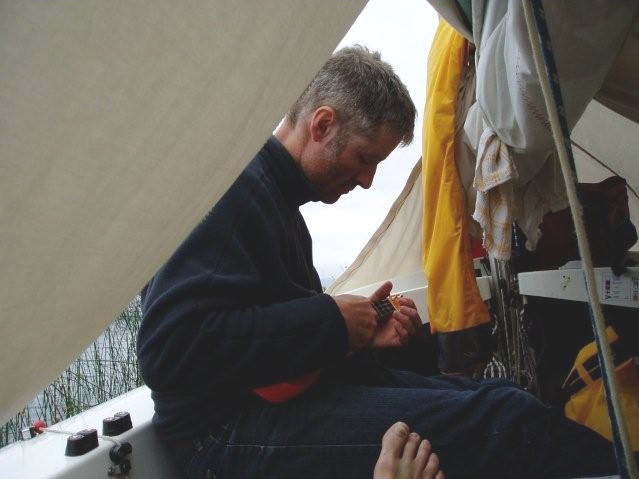 Scott playing Emergency Ukelele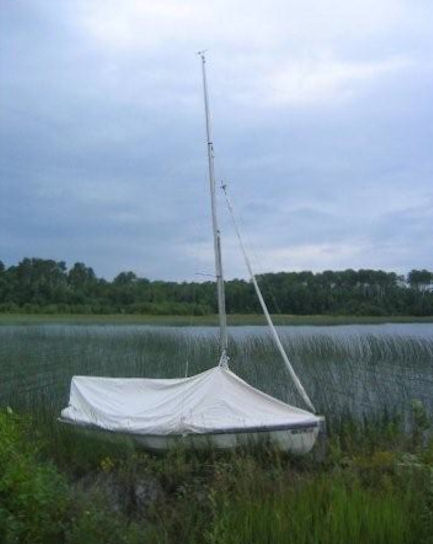 Rouse Island anchorage
With breakfast and phone calls complete, it was still early in the day, so we cast off with the intention of sailing as far west as conditions would allow. As we passed the Waubuno Channel the winds and waves were piping up again, and with reefed mainsail, we entered the anchorage between East and West Rouse Island. We were now being blown to the northern end of the bay, at great speed. In an attempt to stabilize our situation, we dropped anchor, but the anchor dragged, and we found ourselves stopped by reeds at the shallow North end with no harm done. Thankfully, the bay was not filled with shallow rocks. Out came the oars and we fought our way to the west side of the bay, where more protection was available, tying onto shore. Once again our sailing day was shortened by wind and waves. Lunch was followed by a short walk, dinner and a quiet evening. Scott brought out his
emergency ukulele
. This was a bright orange colour ukulele intended for those quiet times when Scott's urge to create music could not be restrained.
The dinner/tent set-up ritual had now become quite efficient, almost effortless. As it became dark, the strong winds of the day abated, and we were faced with ... mosquitoes. After an hour, the annoying insects became too much and we pulled back the tent to row further out into the now calm bay. It did not really help reduce the mosquito density, but we anchored and pretended to sleep. Through the night there was a thunder storm, and I reflected on the
discussion about lightning
in the Wayfarer Institute of Technology web site. Counting the number of seconds between lightning flash and thunder, indicated that the storm was sufficiently far away as to not be an immediate concern. Scott was not so convinced.
Near 5 am, the wind did pick up, and it appears that it clocked 360°, allowing the anchor rope to wrap around the rode and dislodge the anchor. Scott said he could see the panorama of our bay through the screened stern boom tent window just prior to our being blown into the reeds once again. So much for a good night's sleep, and confidence-building anchorages. We rowed back to our "dock" and accepted that the day would soon begin.

August 4 Rouse Island to Mosquito Harbour
Throughout the cruise, we could easily receive marine weather broadcasts on the handheld marine transceiver I had brought. At one point I had explained to Scott the various protocols for transmitting, should we need to. We had heard reports of a keelboat Mayday call. The forecast for the day was 20-25 kt winds and 1-2 meter waves. We no longer felt we could progress westward, and resigned ourselves to an idle day, when one of the keelboat sailors also anchored in the bay rowed his inflatable tender over to chat. He suggested Mosquito Harbour at the north end of the Waubuno Channel was a more pleasant location. Within 20 minutes we were sailing for this anchorage, through increasing wind, but at least we were moving. The bay was west facing and we were blown into it but found a more protected niche on the north shore. The holding was good for our anchor although large submerged logs had the potential for fouling the anchor, and we spent some time setting the anchors to allow easy retrieval. By the time we had tied off the stern, whitecaps and waves were invading our bay, but we were reasonably protected. Another short day, with swimming and some short hikes on the trail and dirt roads which appeared as if a developer had ambitions for the adjacent land. Walking to the exposed open water north of Northwest Point confirmed our decision to stay put: high winds and whitecaps filled the view. We were joined by two larger motor launches, which with all their power and manoeuvrability chose to anchor for the night. Towards the end of a quiet afternoon the owner of one of the boats rowed his inflatable over to us to chat. Asking whether we were daysailing and in need of accommodation for the night, we assured him that we were all set for the evening. He referred to sailboats as "stick boats" and we understood that to mean that many of the keelboats spend the greater part of their time motoring in the North Channel. Having no motor, we sailed, rowed or anchored. We did appreciate his concern for our well being. Oddly, we were not bothered by mosquitoes in Mosquito Harbour, and the incoming high pressure system brought cool dry weather, allowing one of the most restful nights of the cruise.

August 5 Mosquito Harbour to Covered Portage Cove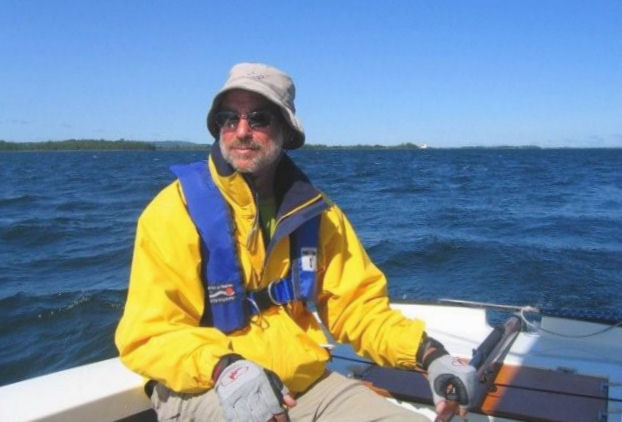 return from Little Current - Ted at helm
We had passed our cruise midpoint and it was time to start working our way back to Killarney. With strong winds again forecast for the day, we were up at 6 am and sailing 30 minutes later. Waubuno Channel was manageable, but rejoining the main bay raised the question, "Is it time to reef?" I had learned that if you ask the question, it is likely already too late, and Scott at this point had developed good skill at reefing the main. We had roller furling on the jib, but reducing the headsail did not work well. Now with the wind astern, I aimed to maintain a broad reach to reduce accidental gybe potential, and we sailed at 5-6 kt boat speed back to Little Current. The unexpected appearance of a huge cruise ship bound for Little Current further added to the increasing challenge of sailing. Fortunately they were clear ahead by the time we were in the narrower channel. Rounding up to the finger docks had its moments, but a second try, aided by a few helpful sailors on the dock, allowed us to tie off while waiting for the next bridge opening. Scott was off once again for phone calls, coffee and breakfast. The current in this channel apparently changes both speed and direction, and on this day it seemed rather strong flowing in an easterly direction, pushing us towards the bridge. Unsure of how long we would need to travel the distance from the dock to the bridge, we cast off 15 minutes before the hour, resulting in about 20 minutes of tacking back and forth in the channel and attempting to avoid the other boats queuing up for the morning. The wind required an angular approach to the bridge, and once again our many race starts allowed us to cross the line without being called over early, or being crushed by either a larger boat or swinging bridge. Fortunately there was no general recall.

Typically, we would plan to take each section of the day separately, evaluating the safety of continuing and constantly on watch for protected shelter. The west wind was likely as strong as we had experienced in previous days, but now we were sailing on a broad reach. The apparent wind was much less, and we were no longer pounding into large swells. In fact we were riding the swells, at upwards of 6 knots, and at times surfing. We seemed to be sailing at least as fast as the larger boats surrounding us. I marvelled at the stability of the Wayfarer in all of the rough conditions we had experienced and it gave great confidence to be out in the larger open water. We had now been sailing continuously for 6 days – more continuous sailing than I had ever previously done. We were moving at great speed, and rather than risk a change in weather by stopping for lunch, we headed back to Badgeley Point. What had taken us 2 days to sail was now completed in 2 hours. We considered the alternative route south of Badgeley Island, but once again winds and wave had become intimidating by noon, and we opted for the more protected Lansdowne Channel. Rather than immediately returning to Covered Portage Cove, we poked our nose into a number of smaller bays along the way. The fluky winds, and rock-studded bay thwarted our efforts to anchor resulting in our re-entry to the Lansdowne channel under jib alone. This was relatively new to me, and the jib pulled us along at 5 knots, with no concern for accidental gybes. All seemed good, until we found ourselves approaching Covered Portage Cove with the need to sail upwind. A previous experience in these winds suggested that the jib would not get us where we needed to go. We attempted rowing, but the wind was too strong. We unfurled the jib and sailed into open water to raise the main. Without the ability to sit head to wind, raising the main, even as reefed, failed and the bolt rope escaped from the mast track, followed by the halyard swage jamming in the mast sheave. So much for a relaxing sail.

This was one of our longest days on the water and we later decided that our conservative earlier days were a good choice. In spite of the confusion, it was a credit to our sailing relationship that we could assess what needed to be done next, talk it out, and solve the problem. We found a quiet recess in the cove to bring the Wayfarer to shore, secure it, and lower the mast while on the water, to allow access to the mast head. Our little drama was somewhat comically conducted adjacent to a couple of huge cruisers, complete with multiple generations of grandchildren through grandparents, all obliviously acting as if they were on holiday. With the mast lowered, I worked my way over the slippery rocks to the mast end, now some distance from the stern and with a lot of manipulation the swage was freed, and the halyard returned to its proper position. Gaining experience raising and lowering a mast on the water is useful, but not recommended for a multi-day cruise. Needless to say, the forestay cotter pin ring liberated itself, and fortunately I had multiple bits and pieces in a repair box to allow replacement. Carrying a leatherman tool was really useful. With the mast up again, raising the main allowed beating into the bay to our quiet cove with only a bit of pinching to avoid the exposed rocks and anchored boats. A big sigh of relief was given once the anchors were set and holding. It was time to get out the "emergency ukulele" and offer thanks to the sea cruising gods for another safe anchorage. (Sea gods appear to like bluegrass music)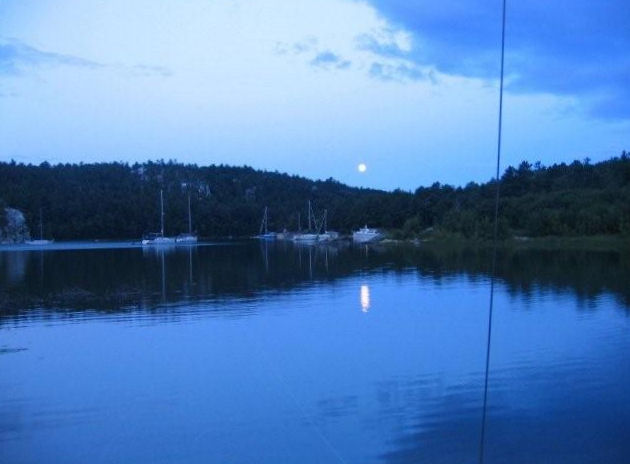 Covered Portage moon
Our cruise was close to complete. From Covered Portage Cove it was even possible to access the cell phone network and send text messages home to say all was well, and we would be returning Thursday evening.

August 6 Covered Portage Cove to Killarney and Toronto
We awoke at 6 am on the final morning, and were sailing shortly afterwards, navigating around Sheep Island to the relatively obscure channel inlet to Killarney. I had relied extensively on a GPS with marine charting for our navigation, backed up by paper charts. Throughout the cruise I found it quite challenging to both focus on the helming and sail management, and know where on the paper chart we were. The GPS solved this admirably, and served as a constant reminder that should the GPS fail, a high level of chart reading skills would be needed.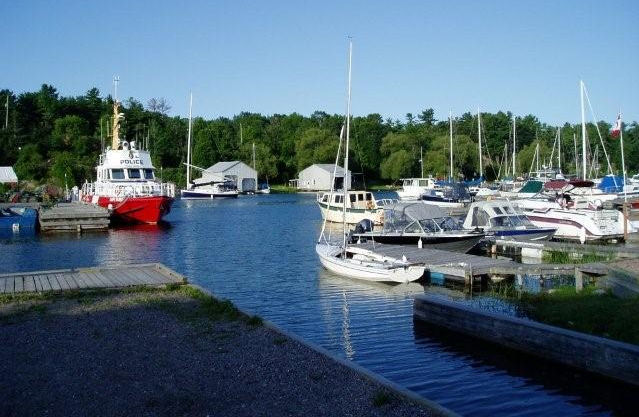 return to Killarney Harbour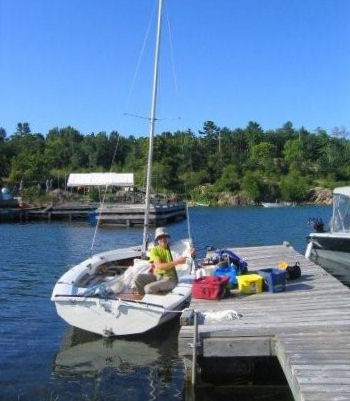 unpacking and preparing to haul out

Our last morning was the most relaxing sailing of the week, with relatively light winds. We were back to reaching up Killarney channel and a quick rounding up to miss the coast guard rescue vessel filling the bay at the boat ramp got us to the unloading dock unscathed. Our first priority was to have a real breakfast, and coffee, followed by retrieving the car and trailer and packing for the drive home.

We were really pleased to have successfully completed our planned cruise, adapting to the strong wind and wave conditions in a safe manner, in a boat which was smaller than any we had seen in the week.

Although a week of relaxing sailing full days was not realized, our first "real" cruising experience exposed us to a wide variety of sailing and challenged our ability to sail safely in conditions approaching the limits of our comfort level.

Spending a continuous week sailing gave rise to thoughts of how our future cruises might be different. Sailing in this area requires constant vigilance regarding water depth and submerged rocks. We encountered the occasional unexpected shallows, frequently hidden by rough water. During the week, we had decided to leave the rear seats in place, although many cruisers choose to remove them. I found the sailing more comfortable with this seating arrangement, and the storage capacity of the Wayfarer did not cause crowding. We were curious whether any modifications had been considered for reducing the mainsail height, and raising the goose neck, giving more headroom and visibility when sailing upwind especially in higher wind conditions. Scott used a conventional racing life jacket, but I found the inflating life vest quite comfortable. The rings on the vest, intended for a safety line when solo sailing, served well to secure the wrist loop of the handheld GPS, which then could be tucked in my jacket pocket until needed. The GPS was then readily available for quick checks, but not otherwise in the way. The last item regarding boat set-up was another reminder of the importance of checking equipment. At the end of the cruise, I lightly tugged on the forward hiking strap and the securing line broke due to abrasion during the trip. This could have been quite disastrous on the number of occasions when Scott hiked out during a gust. Keeping an eye on such fittings and fixtures at the end of each day is a worthwhile task.

As a novice cruiser and Wayfarer owner, I also learned that a sailboat takes a beating during road travel and a week of cruising. Awareness of the potential of damage is an important component of damage control, and inevitably post-cruise cleanup and (minor) repair are needed. The hull did receive a minor coating of road asphalt from highway maintenance patches, and I would explore purchase of an undercover for future trailering. The positive side of this was that the day following our return, I turned the Wayfarer on its side, and swabbed the hull with solvent, cleaning debris, inspecting and patching minor damage and loose keel band screws. Minor touch-up of wooden seats, centerboard and rudder were also needed, preparing for the remainder of the sailing season.

This cruise would not have been as successful without the information gained from the Wayfarer cruise logs, helpful suggestions from Uncle Al and his many worldwide Wayfarer contacts, and Scott's participation. Thanks to all.

Ted Rosen
W8231