the Chesapeake Bay Wayfarer Cruise 2008
Saturday 31 May
: Smith Island to Crisfield - 2
photos mostly by Uncle Al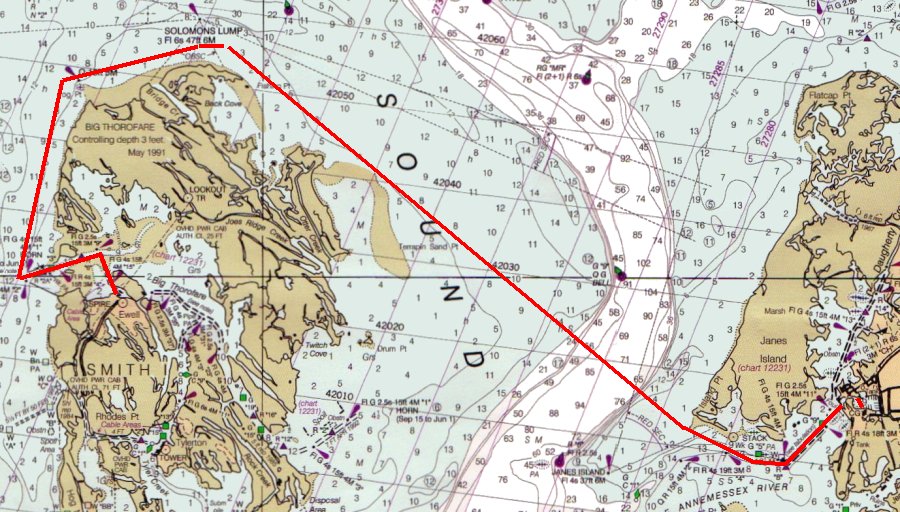 Our final day's sail: Smith Island to Crisfield


- for full-size chart, click

here


...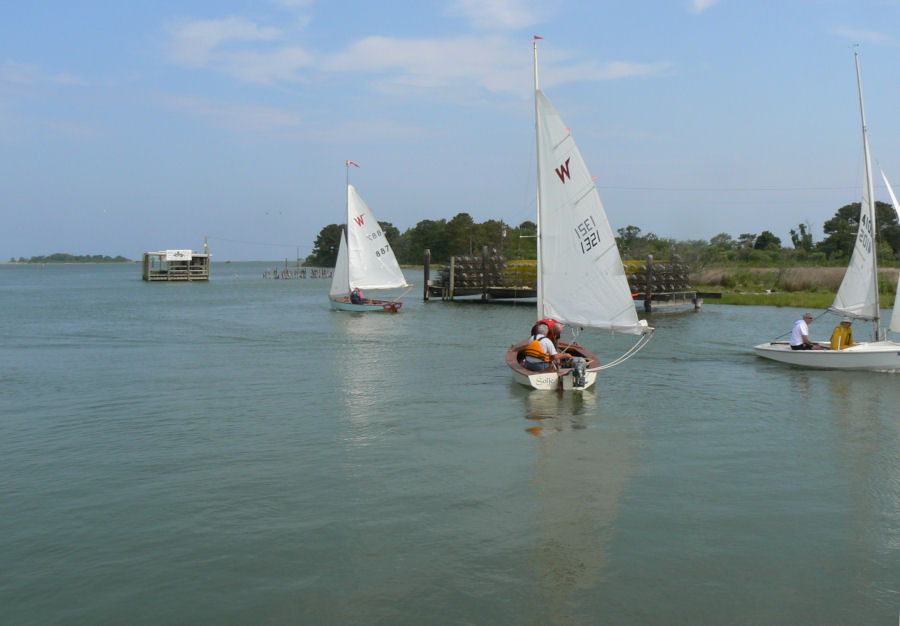 In light of the supposed 15 to 25 knots of SW wind outside the harbour ...
- for full-size pic, click here


...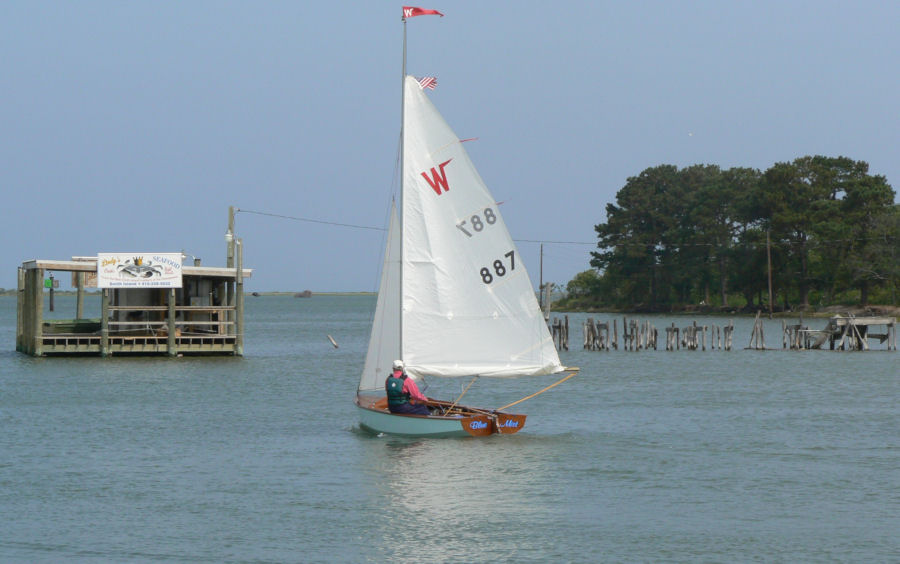 ... everyone shortened ...


...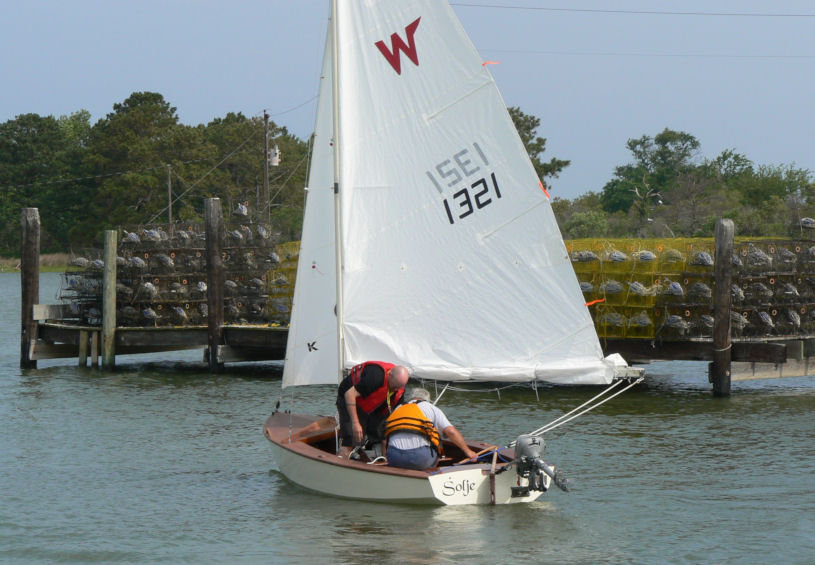 ... sail in ...


...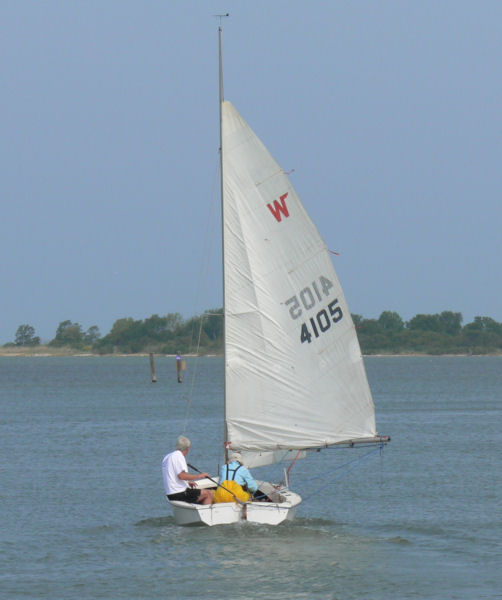 ... one way or ...


...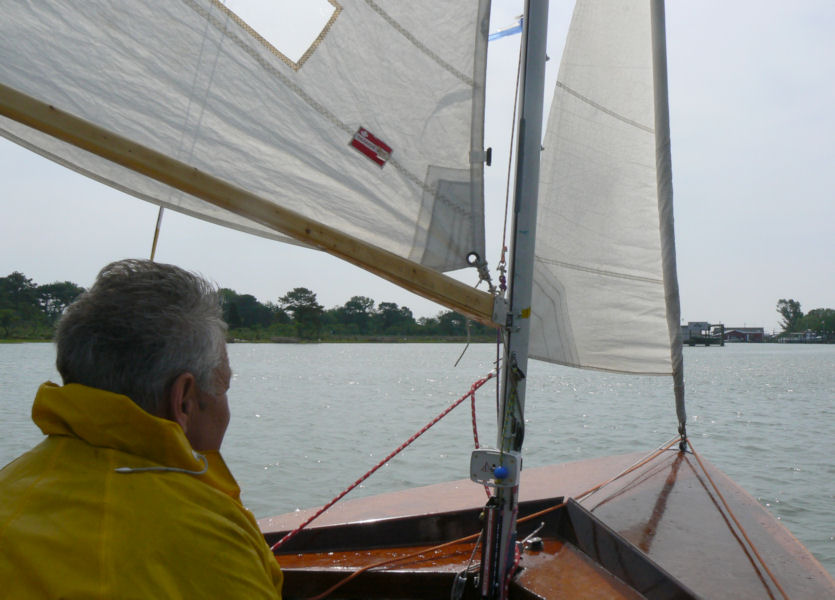 ... another. Note the snazzy mini-jib we have on
The Nutshell
. Hans and I were the last to leave. We had gone less than half a mile up the channel, when we saw Tony and Mary, anchored off to the right of the channel in shallow water with their sails down and their rudder blade snapped off! Hans and I were sent for help, so we beat back up the channel to the marina. Before we could locate Pauli and organize help, this very kind ...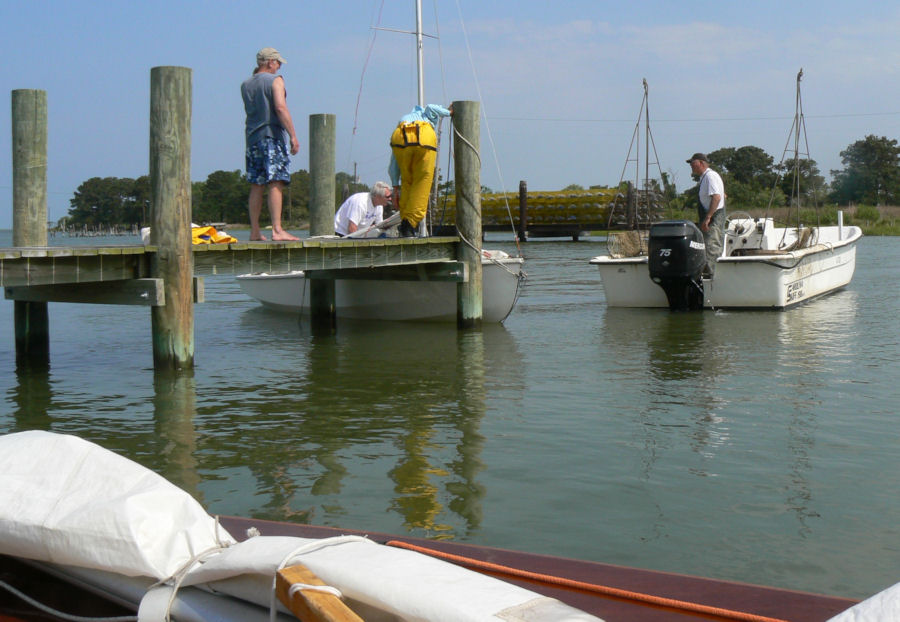 ... gentleman arrived at the marina with

Trouble

in tow.


...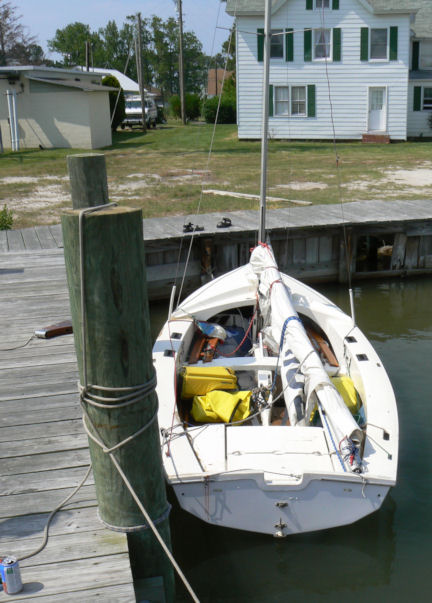 In the end, Tony and Mary arranged to leave

Trouble

and her ...


...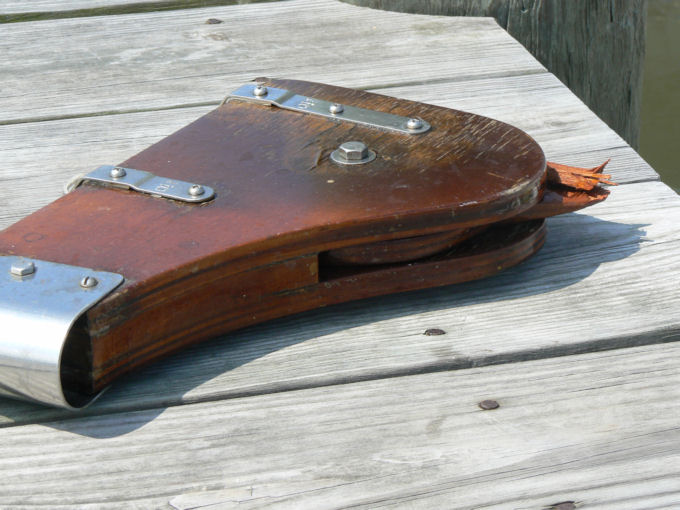 ... broken rudder behind at the Smith Island Marina, take the Ferry back to Crisfield (I can't think why we didn't give Tony and Mary a ride, though we did bring back some gear for them, as I recall) and return the following weekend with a replacement blade so that W4105 could be repatriated. This was done, though the following week's Smith-to-Crisfield sail in very oppressive heat and virtually no wind does not seem to rank highly in Tony's list of favourite sails he's ever done. Meanwhile ...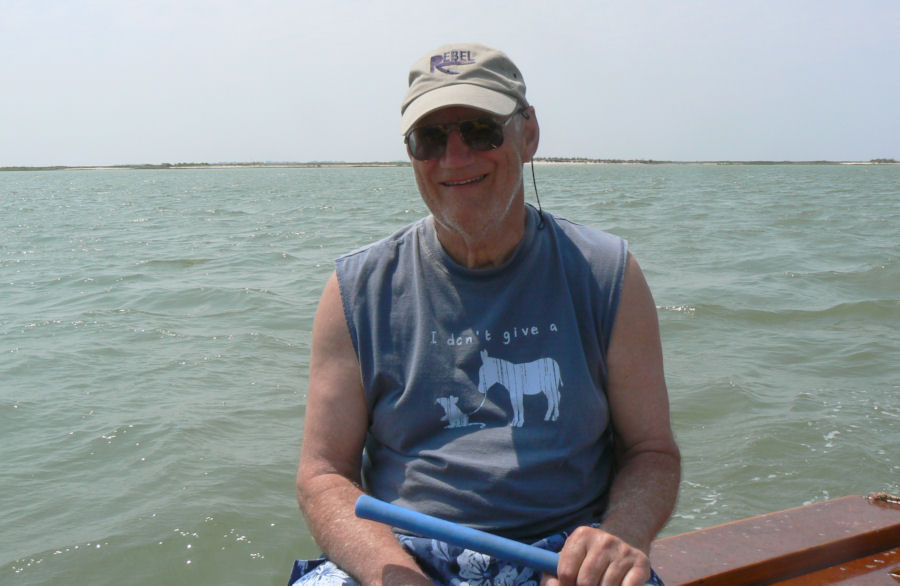 ... Al and ...


...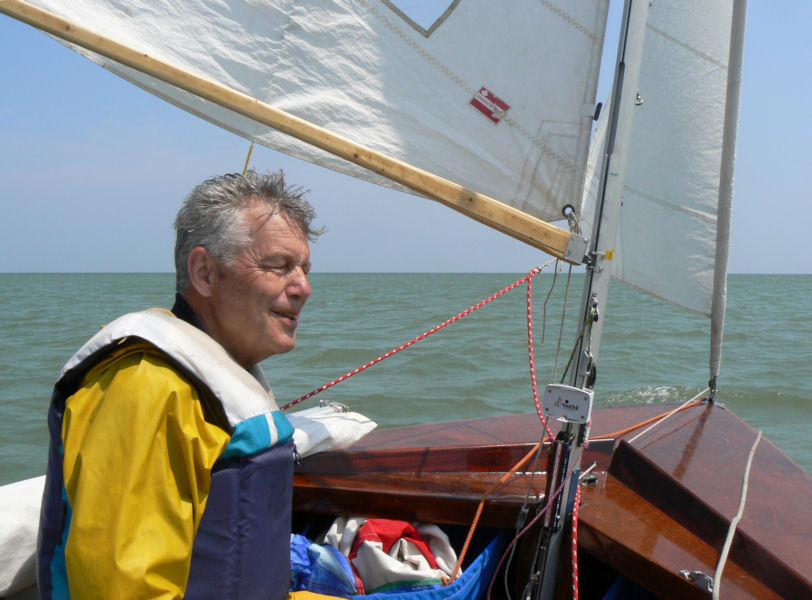 ... Hans and I settled in for a sail towards the north end of Smith that seemed to take forever. The wind was perhaps 8 to 10 knots at the best of times, and we ultimately decided the easiest thing to do would be to hoist the spinny. Which we did. We might get a stiffer breeze once we got around the north tip of Smith, we thought, and chose to stick with our trysail. Alas, as we rounded the north tip of Smith onto a closehauled course that was almost letting us lay Crisfield, the wind was only blowing about 5 knots from SSE, not the promised 15 to 25 SW. So we sat with the board full up, and switched back back to full sail, and were soon sailing along, about 10° short of laying Crisfield on starboard tack. It was a pleasant sail. Dick and Gary were, of course, long gone and Hans and I had Chesapeake Bay more or less to ourselves. And we lucked in: the winds slowly but surely veered and increased steadily.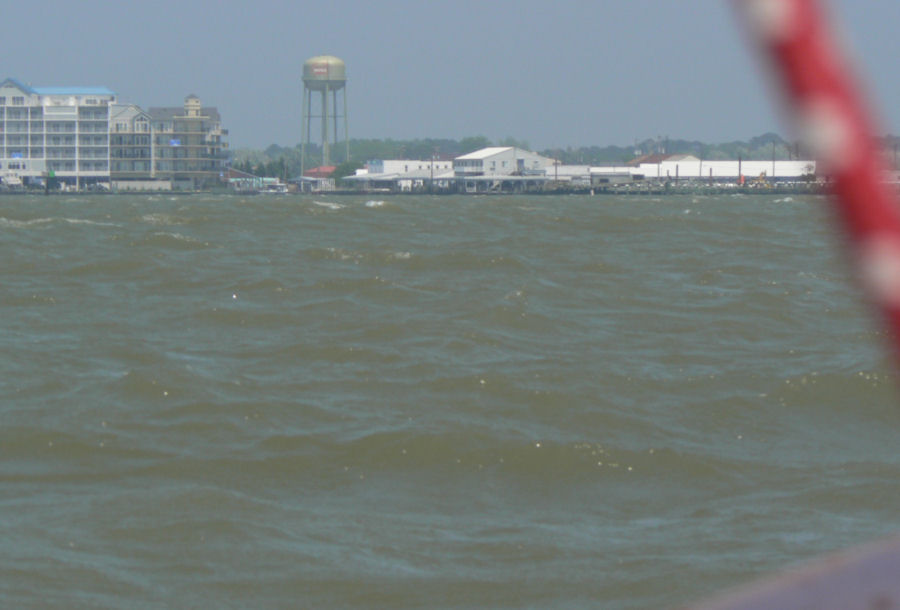 By the time we reached the entrance to Crisfield's harbour and prepared to turn onto a NE heading, the wind was indeed blowing a good 15 to 25 out of the SW, and
The Nutshell
was merrily planing along on a beam reach, even with the main partly eased. We could have hiked and gone even faster, but remembered Tony's broken rudder and decided not to tempt fate. Too bad, though, that no one was there to take our picture, before we ...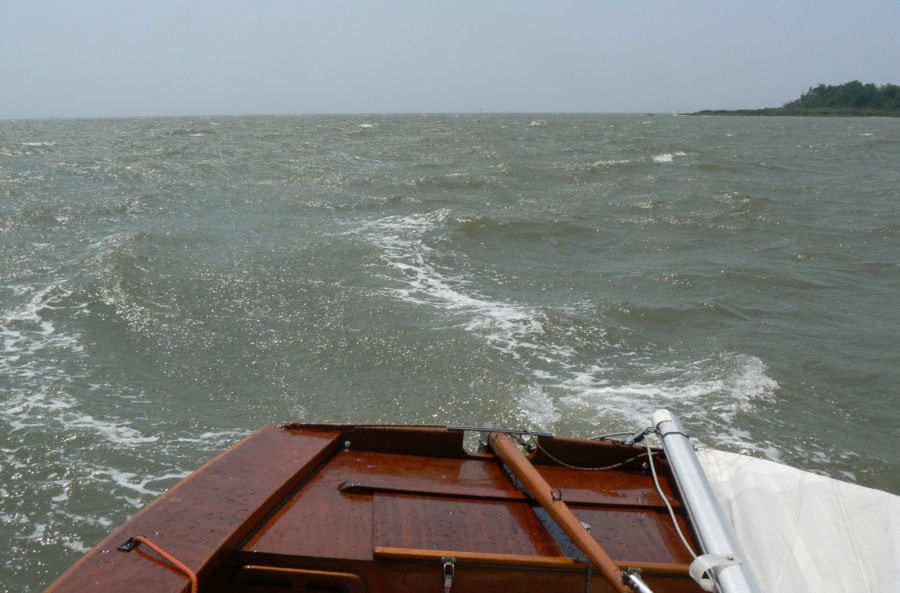 ... reached the channel and took down our main to do the dead run in to Somers Cove under jib alone. Here you can see from our wake, that even under jib alone, the winds were enough to speed us right along. To put the strength of this breeze into proper perspective, I can inform you that the wind was strong enough to blow my perfectly good, mostly full, can of beer off the dock at the haul-out ramps while I was waiting for Hans to bring back the van and our trailer from the Marina.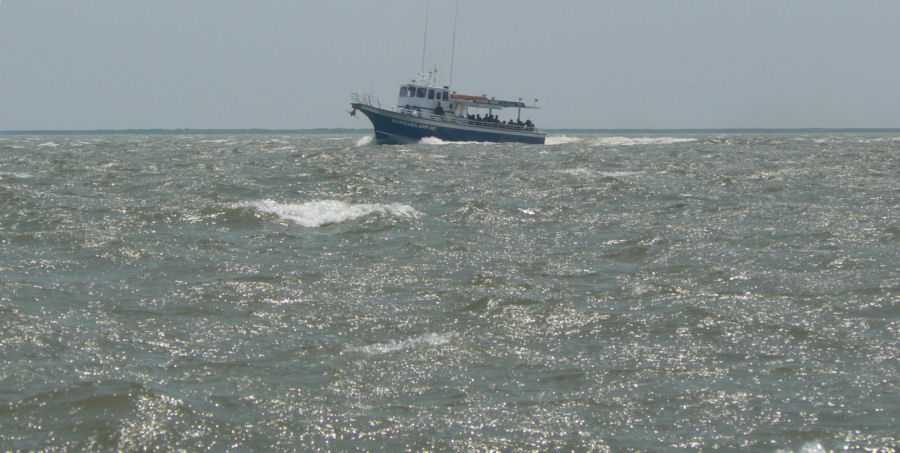 Under jib alone, the ride to the cut leading into Somers Cove was indeed very pleasant and relaxed, and I got to play duelling cameras with people on tour boats for a bit. We were 99% certain that we would have a run through the cut into Somers Cove. But after that, we would need to work a bit, since the last short bit - crossing Somers Cove to the ramps - promised to be close-hauled. Sure enough, we ran through the cut with ease, and then pointed up and were just nicely able to lay the ramps area - even under jib alone. The only fly in the ointment was that the cove was pretty much filled with keelboats riding out this "storm" at anchor. Still, I aimed at a gap between two of them, sailing a closehauled course that would just nicely let me clear the leeward one, and still lay the docks at the ramps. With our board full down and the jib in for a beat, we were moving well as approached the leeward boat's anchor line which I expected to clear with perhaps 10 feet to spare. What followed belongs in the category of
Leave well enough alone!!
As we prepared to cross in front of the anchor line, I had a nervous flash as the worst-case scenario popped into my head: Wouldn't it be horrible if the jib sheet came undone just as we were about to cross in front of that anchor line??!! So I (foolishly) reminded Hans to make sure that the jib stayed in good and tight. I should have just kept my mouth shut instead. I don't know what he heard, but I do know that there was some quick fumbling under the downed main which covered much of the jib sheet, and then, just at the absolutely worst time, the jib was suddenly flogging. There wasn't even time to scream: "Get the fucking jib in!" before we were hung up on the keelboat's anchor line. Of course in this much wind, even the luffing jib had enough windage to quickly and easily pivot our bow towards the anchored boat. We fended off desperately, nudged him gently once or twice, and as we drifted down the side of his yacht, the owner muttered in a most aggrieved tone: "The other guy hit us, too!" God, how I hate to look inept!! It's much worse than losing a race that didn't need to be lost!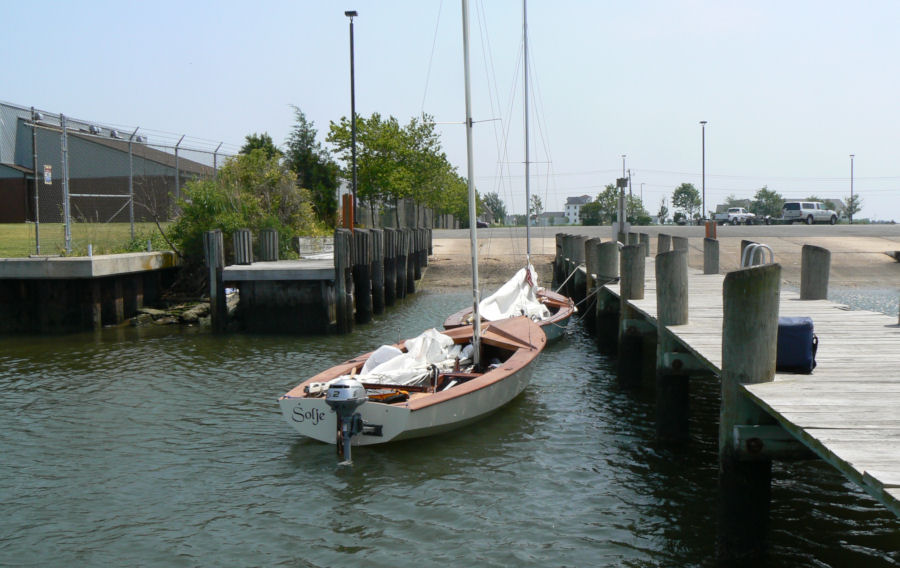 Once clear of the anchored yacht, we cranked things back in before we could hit anything else, and proceeded to confirm the fact that it is indeed quite possible to beat in a Wayfarer under jib alone - for sure in fairly flat water. Soon we were tied up behind Gary's and Dick's boats at the end of the leeward-most dock. Haul-out went without a hitch (so to speak!) - if you don't count the fact that the wind blew my perfectly good, nearly full can of beer off this dock. Hans and I were the only ones who stayed the night in Crisfield where we checked into the one motel that is ...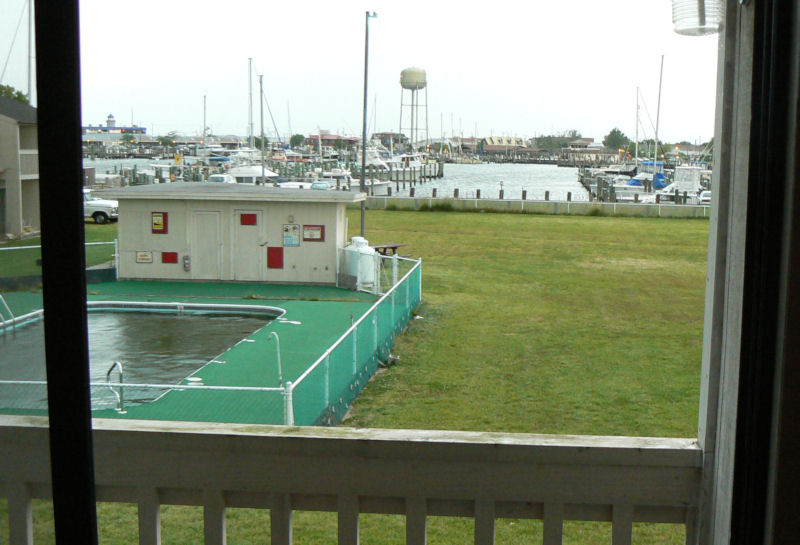 ... right on Somers Cove. We had a nap in our cove-view room before our planned dinner at
The Cove
restaurant where we had very much enjoyed our meal celebrating the end of the previous year's cruise. We woke up to very threatening-looking skies, and before we had finished showering ...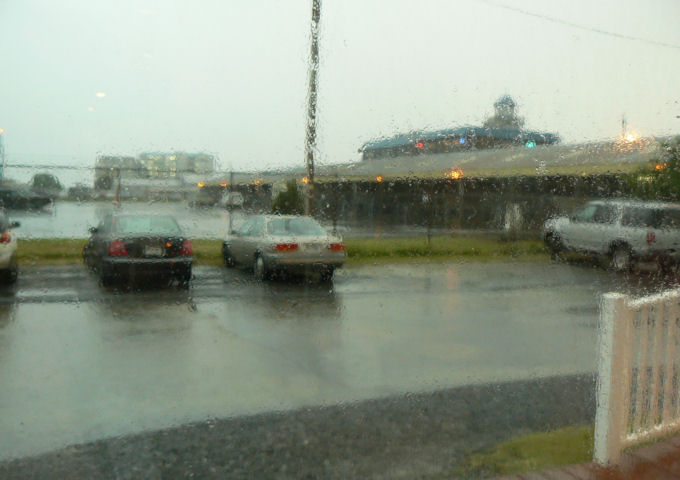 ... the heavens had opened up, accompanied by some nice, juicy squalls. A sobering reminder of what nastiness even a lovely place like the Chesapeake Bay can dish out at any time! We weren't sorry to have missed experiencing this stuff out on the water.


...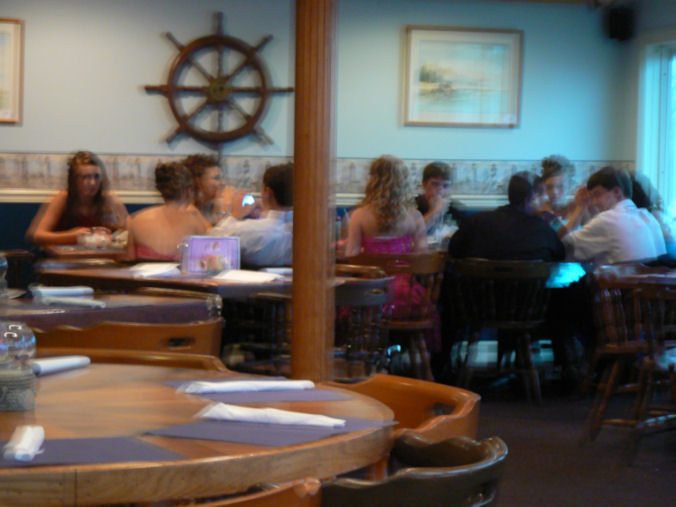 Hans and I were somewhat wet by the time we rushed into

The Cove

for our supper.
It was apparently Prom Night in Crisfield, judging by the beautifully dressed group of young people that were also dining.


...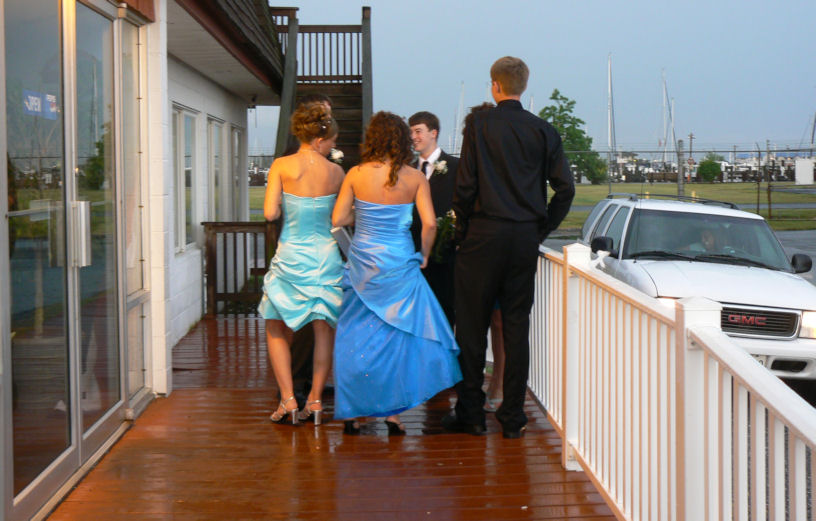 Some of them were rewarded for waiting, and avoided a soaking as the downpour ended perhaps half an hour later.
Hans and I made it an early night and started our long, uneventful one-day drive back home early the next morning. The rest of the gang soon reported in by email, and it was nice to know we'd all made it home safe and sound.