"I was alone in the house" said the lady dressed in the period costume of 1860, "when a cold wind blew down the chimney and a door slammed." Out of the kitchen window I could see a fully rigged sailing ship on the lawn. The house was half a mile from the sea. "A young man stood beside me and asked if he could look around the house. I offered to show him but he said that he could find his own way. I never saw him or the ship again." A chill ran down my back. Many men and ships had been lost in this area. We considered rigging
Naomi
with full sail and towing her slowly across the lawn at dusk but adjudged this to be politically incorrect.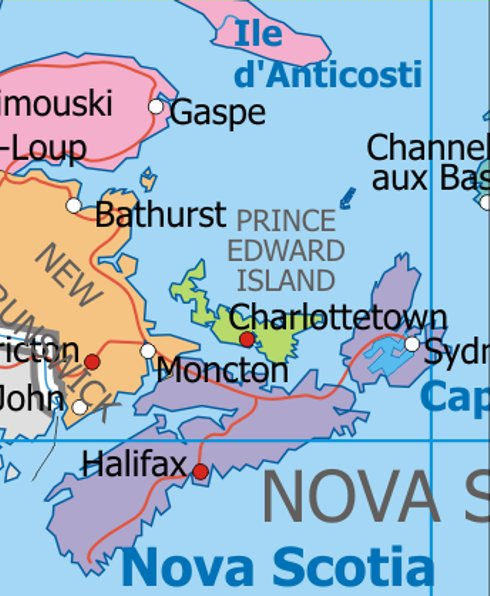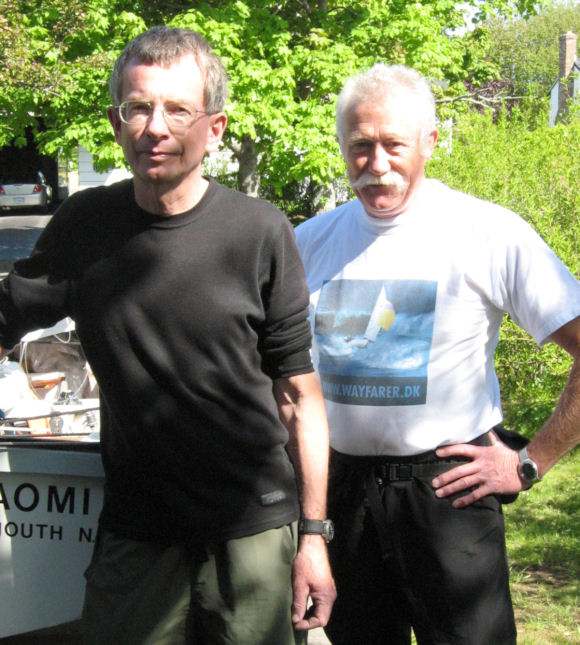 Jim Fraser
(above left)
and I were on a cruise in Prince Edward Island (PEI) and were visiting the Green Park Shipbuilding Museum in Malpeque Bay. In the mid 1800's, over 300 ships were built here and sailed to Great Britain with cargoes of wood. Health and Safety was not the first priority.
ii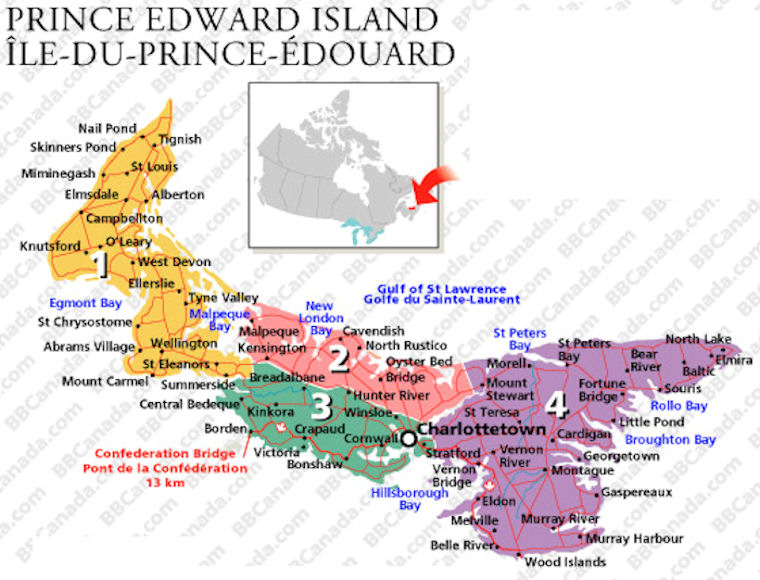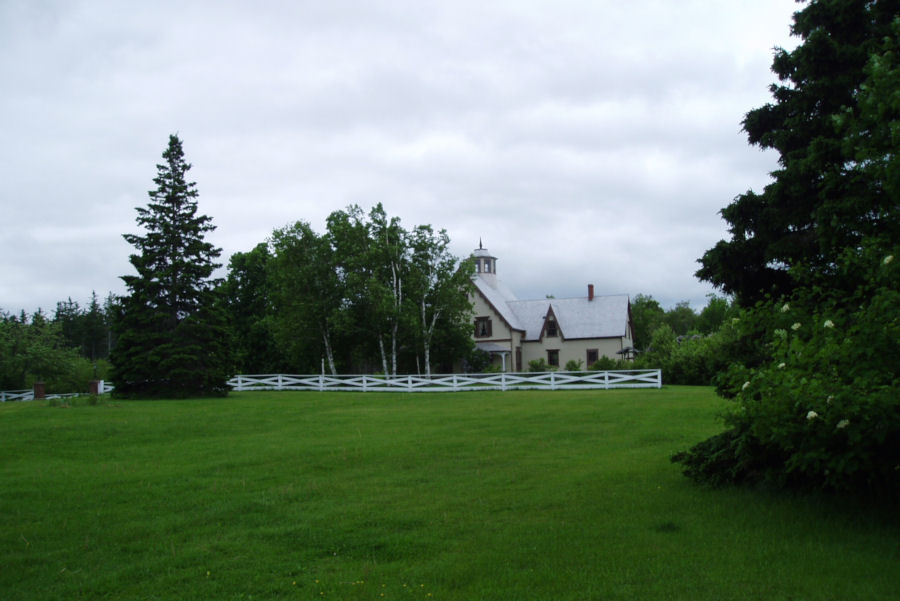 Yeo homestead, Green Park.
The shipbuilding museum was based around the house of
James Yeo from Devon one of the successful shipbuilders of that era.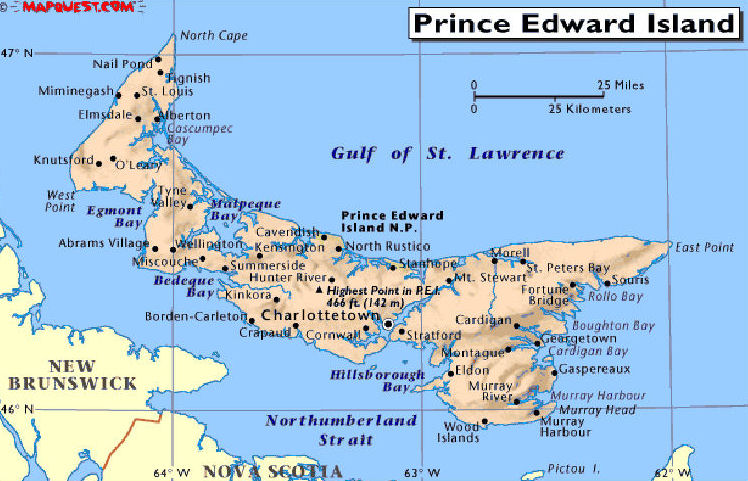 PEI is 170 miles long by 50 miles wide and looks like a superb Wayfarer sailing area.
It is a quite low-lying sandy island with many huge bays often protected by barrier beaches.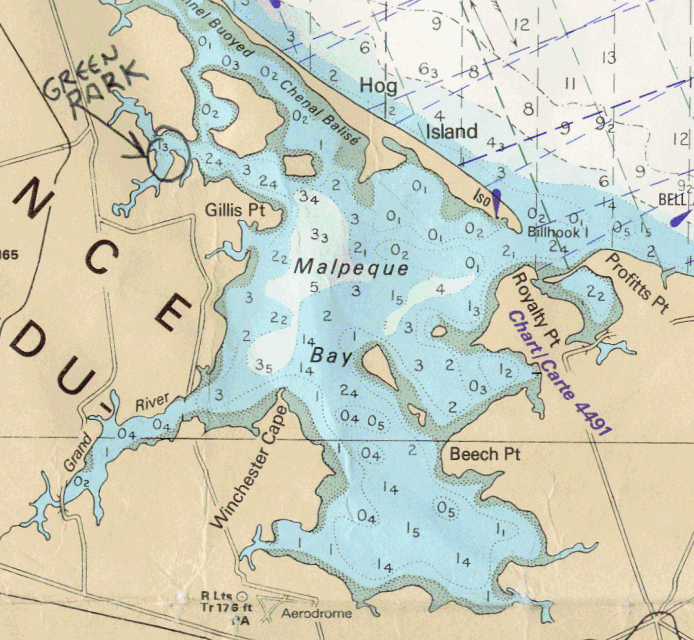 Malpeque Bay is 10 miles by 5 miles and is famous for oysters and other shellfish.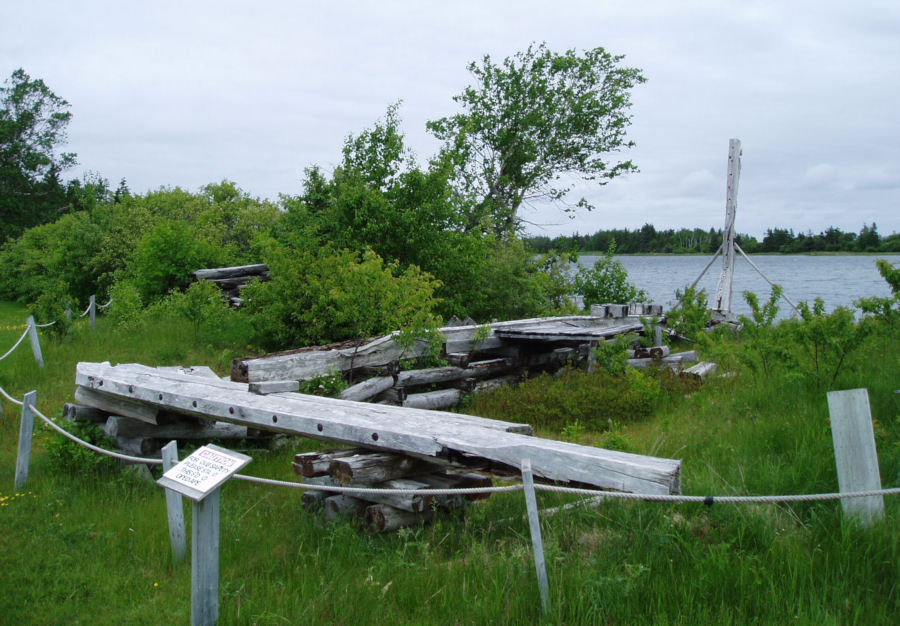 Remains of the shipyard, Green Park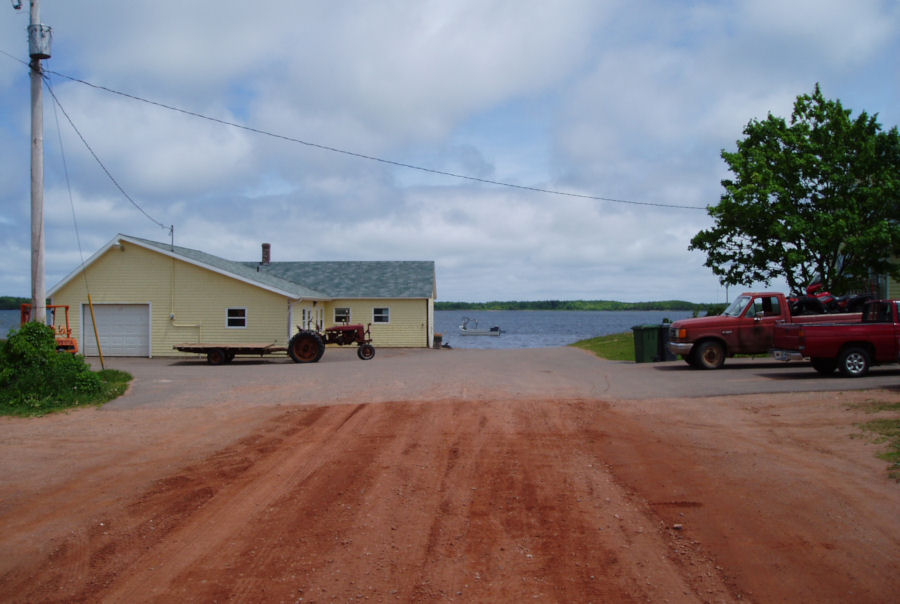 Malpeque Bay, the ...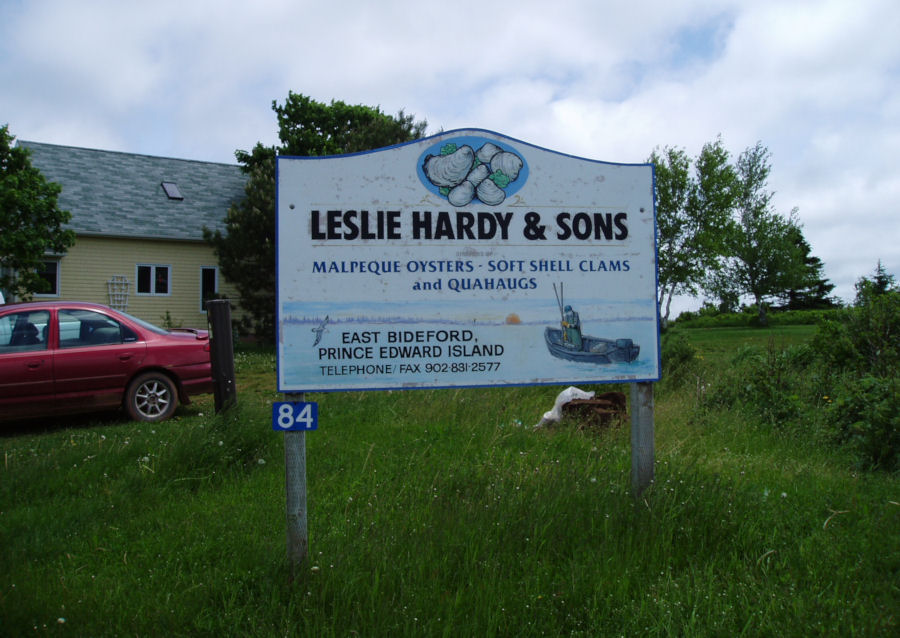 ... shellfish plant
We visited the shellfish museum in Bideford (yes, we actually did sail the boat on occasions!) and were given freshly opened oysters to try - delicious! I must say the Canadians do museums well. The lady there didn't have any shellfish related ghost stories but did tell us where we could buy oysters and clams if we didn't want to dig them for ourselves.

It has become one of my aims in life to increase Jim Fraser's interest in food. Jim's idea of a Wayfarer cruising breakfast had been to eat cold sardines out of the tin. We have now progressed to Aunt Jemima's pancakes, bacon and fried potatoes. Jim has even become our AJ's expert. I know how proud Jamie Oliver must feel!

We wanted to try our own oysters and quahogs (a sort of giant clam - no not the sort that divers get their boots stuck in - somewhere in-between). Following the lady's directions (it's a good job we did, as there were no signs) we arrived at the shellfish factory. A big dog approached the car. "You get out and speak to it in Canadian," I said. It was quite friendly really. We entered the factory. Bods in rubber gear stood around amid piles of shellfish and eyed us suspiciously. Presumably we looked like Government Shellfish Inspectors.

"Do you sell oysters?" we asked brightly. "What sort do you want?" the head bod asked. This stumped us. Obviously a GSI would know the answer to this trick question so we were revealed as bona fide buyers and they became very helpful. The lady told us that the Russians eat them raw with a slug of vodka poured on. We left with a box of medium-sized oysters and diver-sized quahogs. We did pass a liquor store on the way back to camp but thought the vodka method a bit extreme, even for us.

Back at camp (yes, we did camp) we prepared the chilled chardonnay and considered how to open the oysters. We had watched the lady in the museum do it and it looked rather dangerous. Eschewing shucking we decided on the heat method. We chucked them into a pan of boiling chardonnay and they obligingly opened for us. They were nice fried with bacon and potatoes. The boot-sized quahogs were as tough as boots but tasted good. Apparently they are normally minced and made into clam chowder.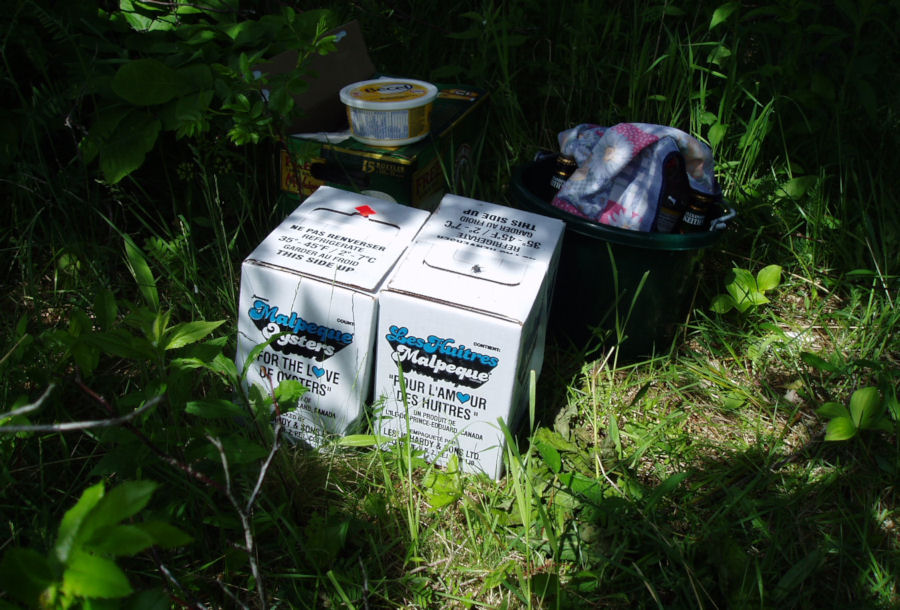 Says Jim: "My Cape Breton co-workers would consider this a full-course shellfish supper as is."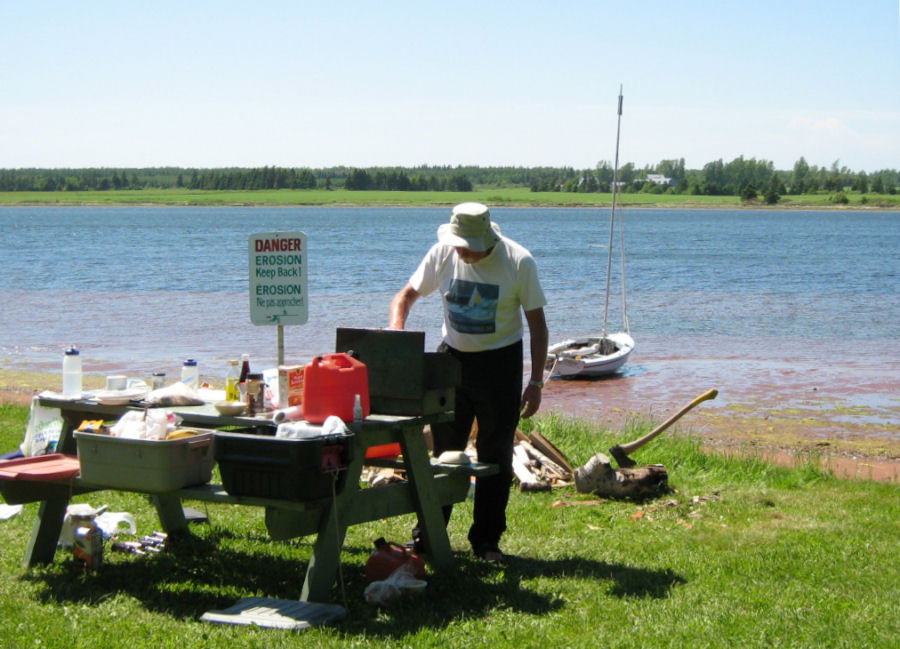 Allan, the Master Chef prepares ...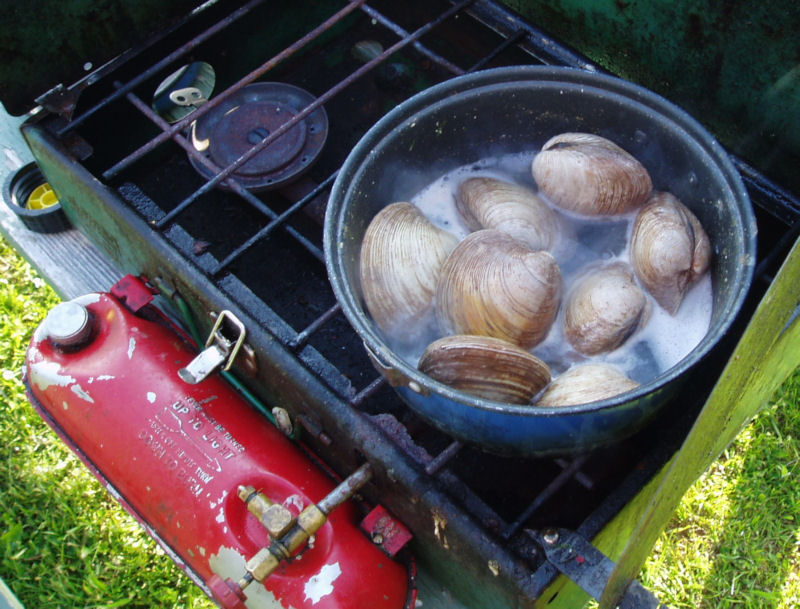 ... an exotic ...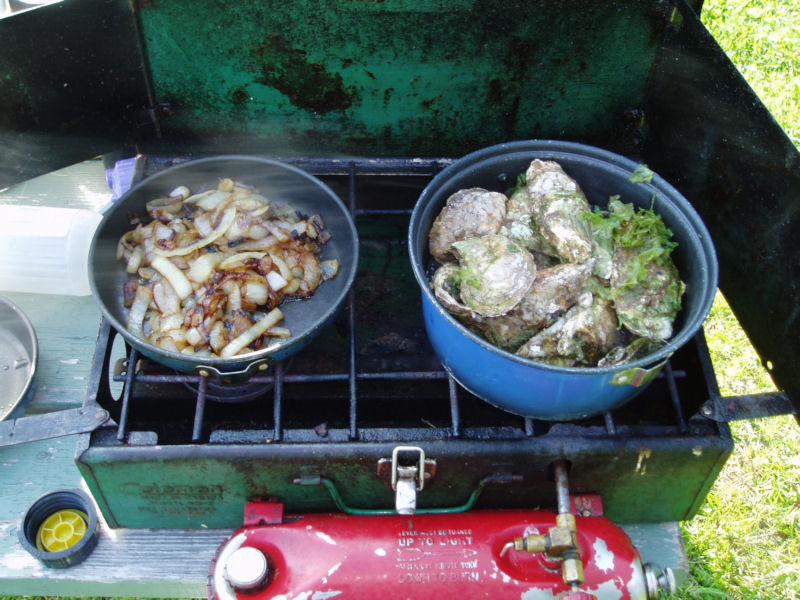 ... meal.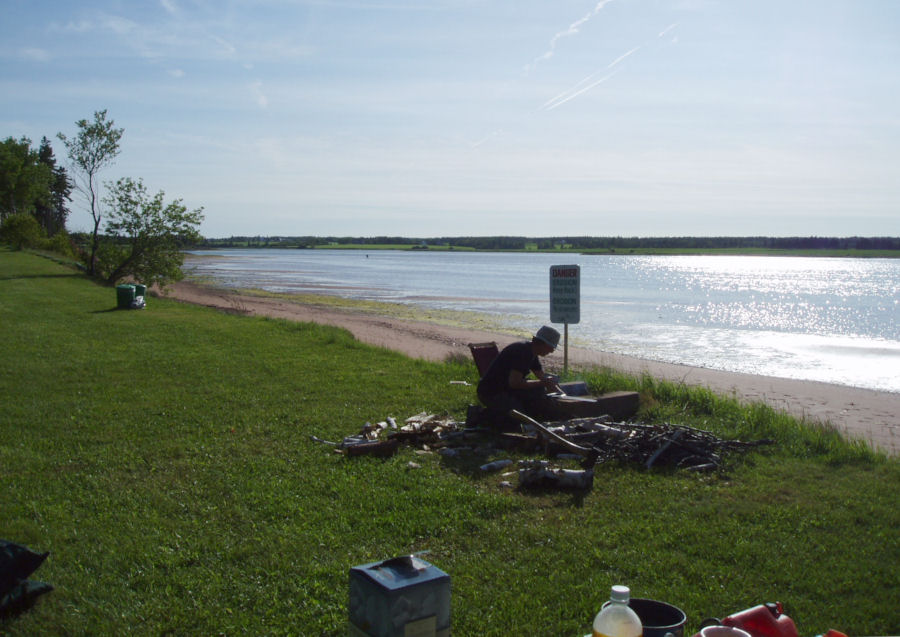 Savouring our meal, surrounded by "all our guests"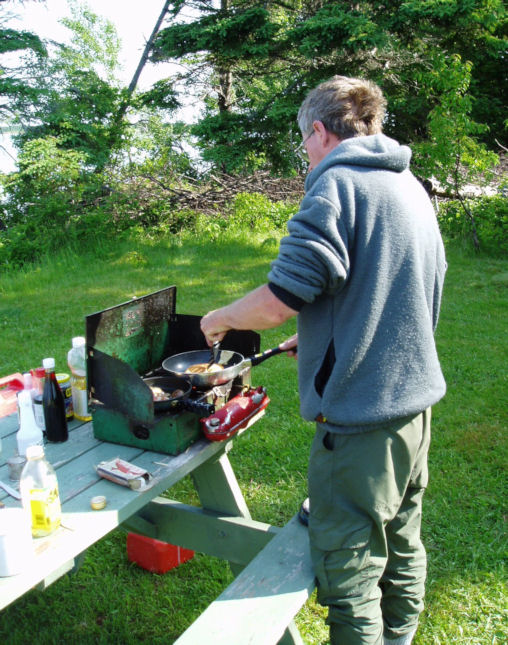 Back to pancakes and bacon in the morning; maybe for my go as Master Chef tonight,
I'll make us both a bowl of oatmeal and open two cans of sardines.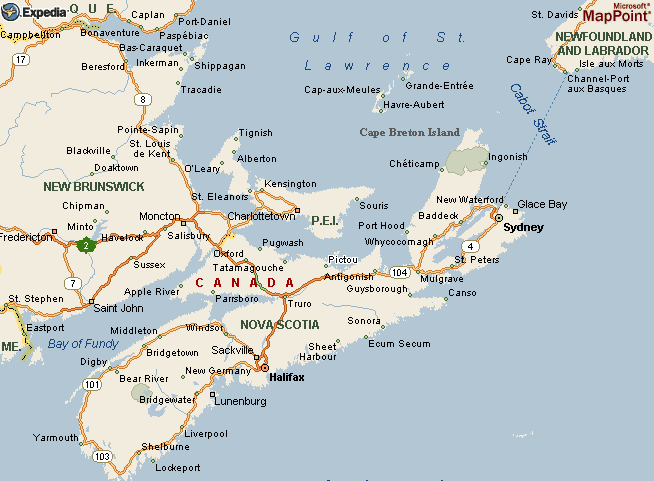 Our cruise had started with a drive from Jim's home, in Dartmouth, Nova Scotia (near Halifax),
to Pictou on the north coast of the Province.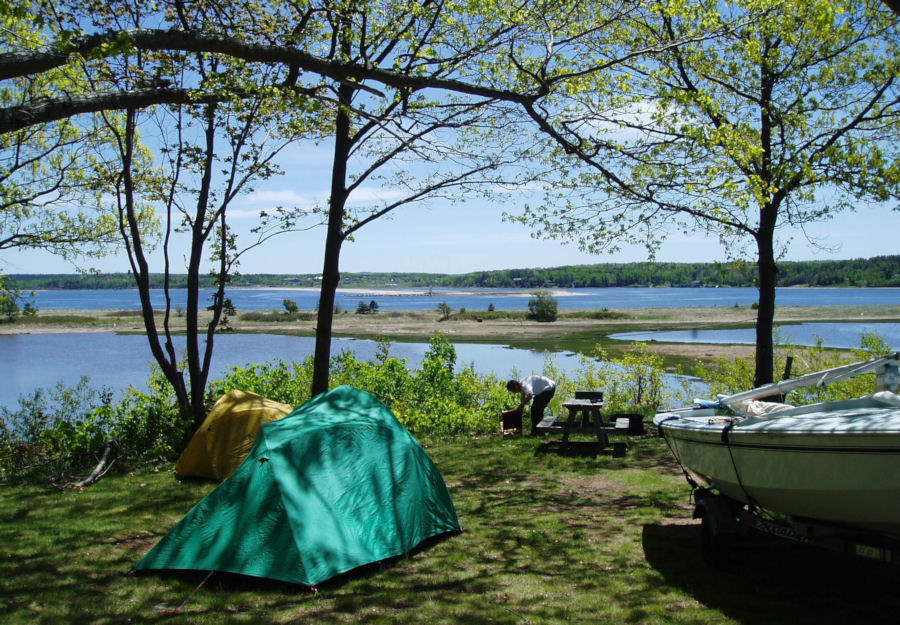 Pictou: Campsite overlooking the Narrows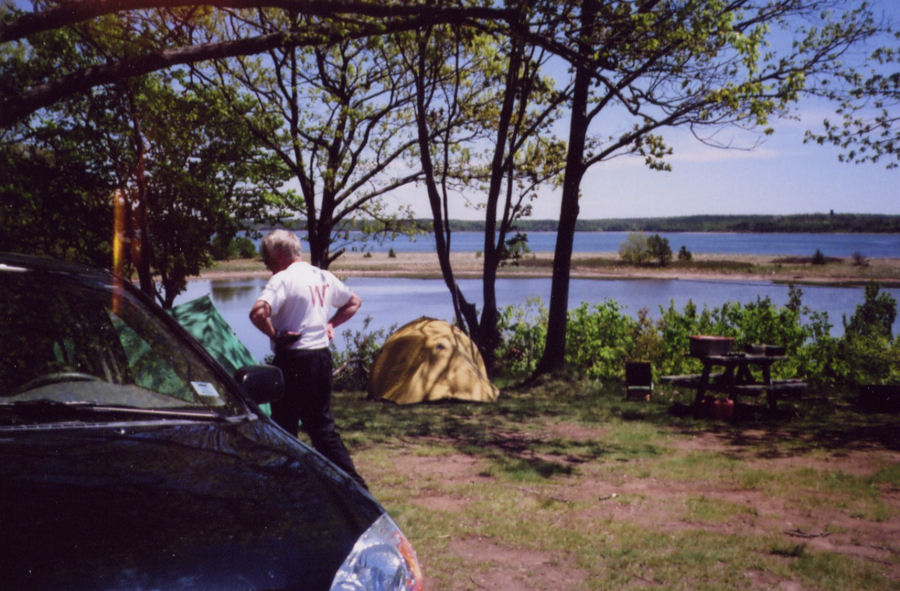 Pictou Harbour Approaches
We camped at a small campground and launched
Naomi
at a launch ramp into Pictou harbour. It was a good opportunity for a shakedown cruise - Canada's sailing season had only just started - it was the 10th June. The north shore of Nova Scotia is in the outer Gulf of Saint Lawrence and has much different weather from the Eastern Shore, which is in the Atlantic. The water is warmer and there is hardly any fog. We listened to the forecast on VHF, the Eastern Shore was socked in with fog - just as we had been last year. This year's cruise was to be in PEI and we needed to make our way to the ferry. The weather was deteriorating but we wanted a last sail in Nova Scotia.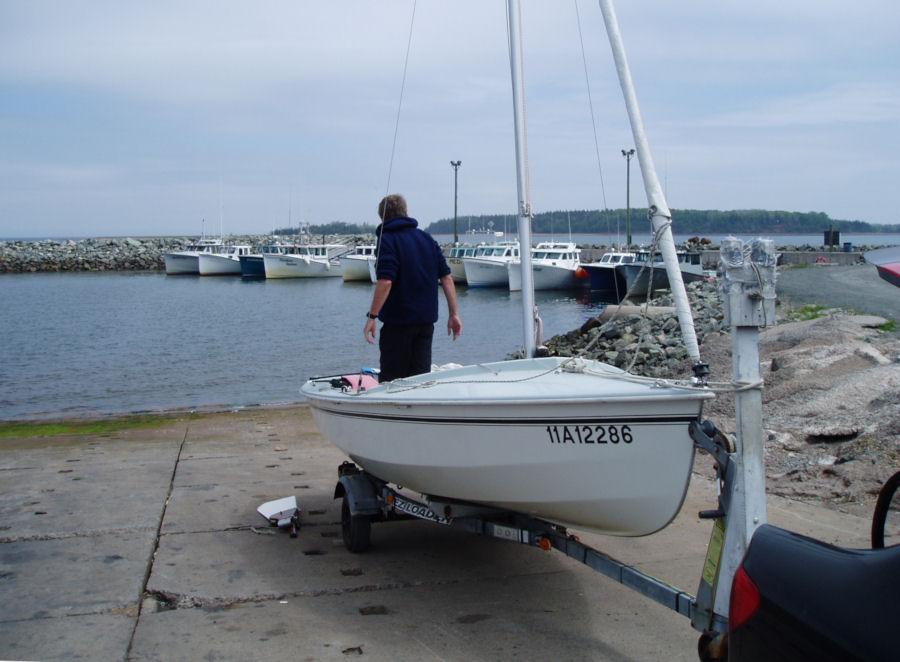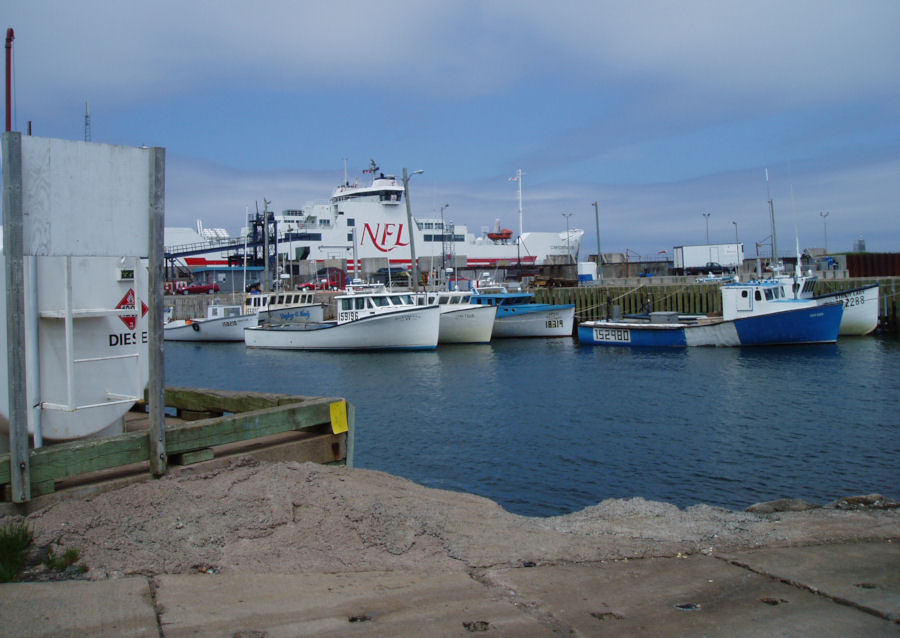 The launch ramp near the ferry terminal gave us access to Caribou Bay.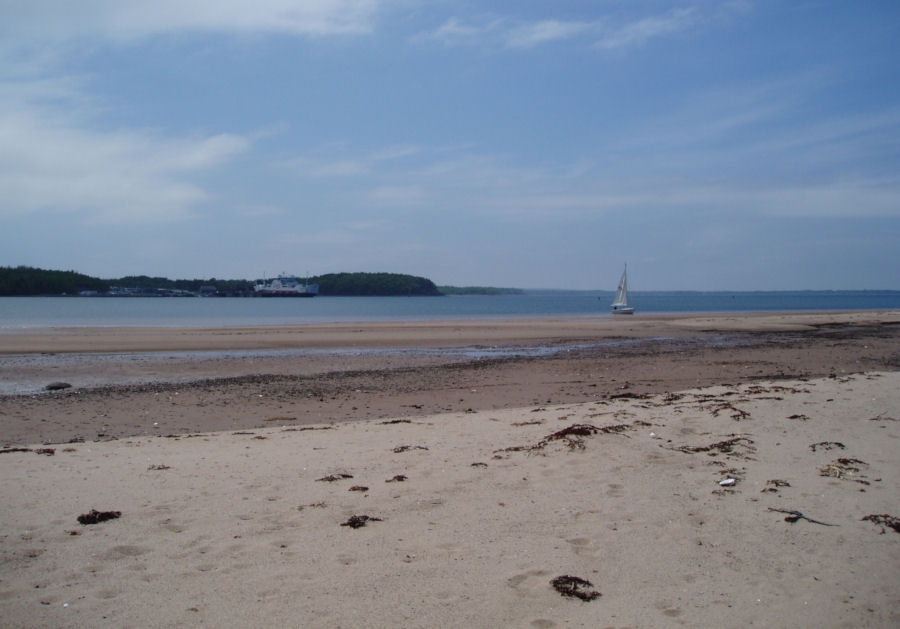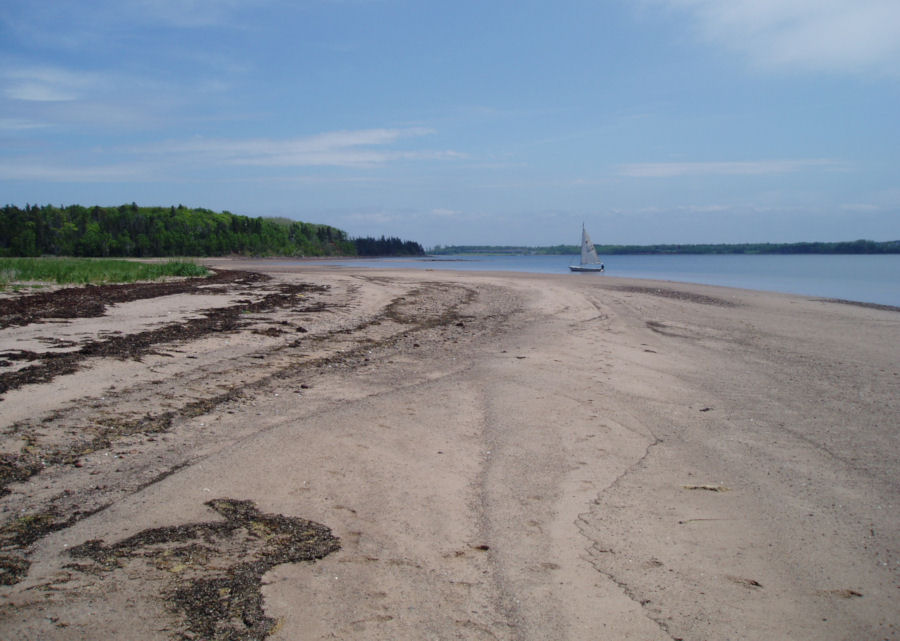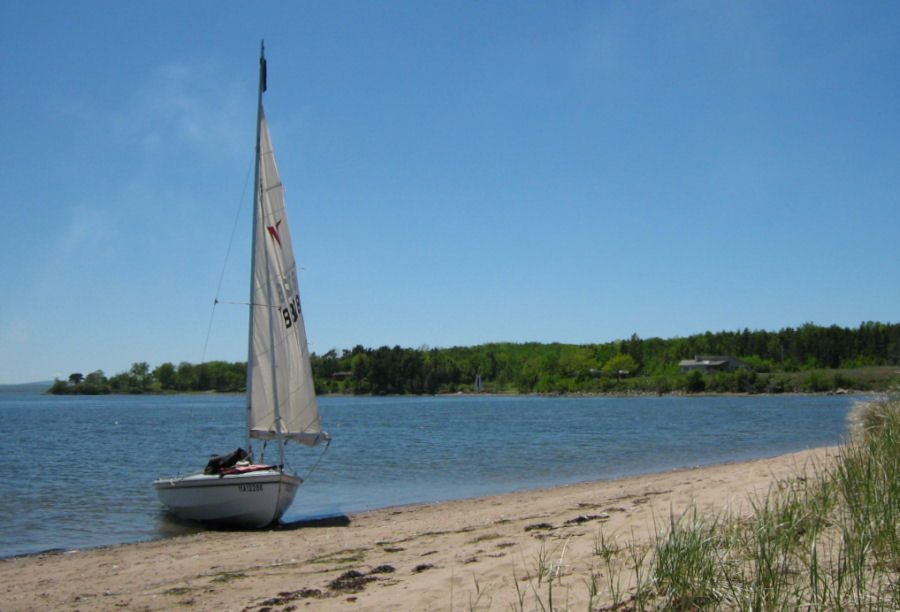 Pictou Harbour from the ...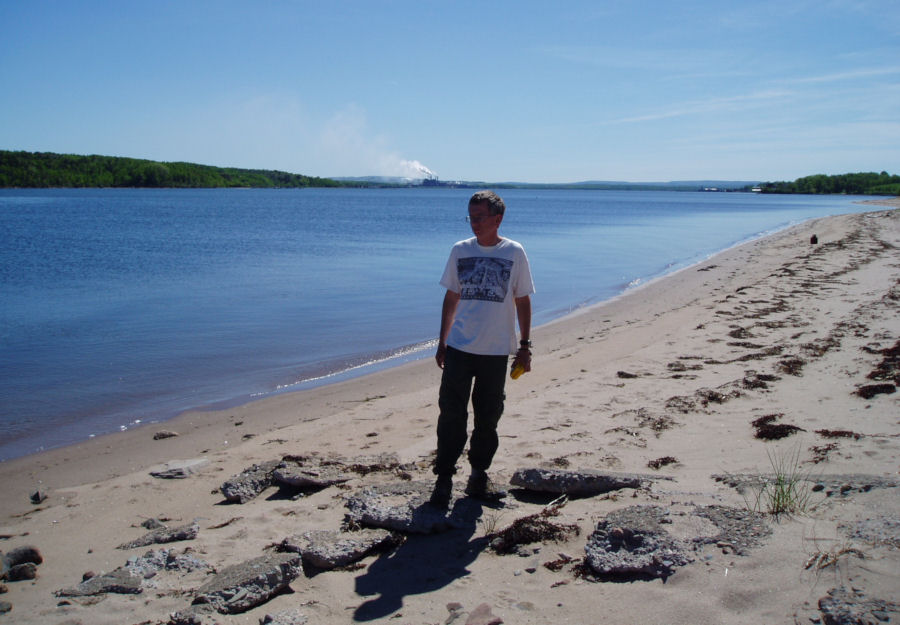 ... narrows at Pictou Roads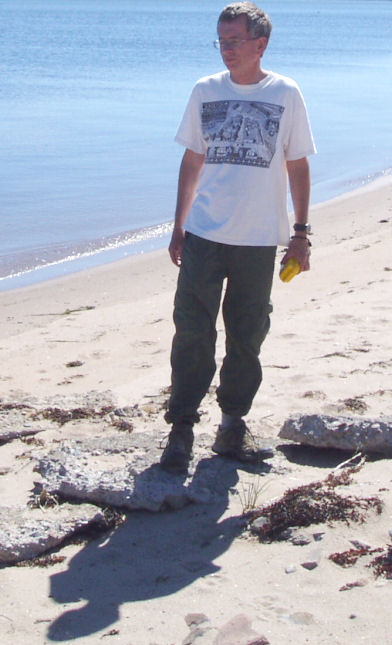 Jim Fraser


We sailed around, thrilling the lobster fishermen, and had lunch on a lonely sand spit in company with a deer. It was windy. Next day it poured with rain, the conditions you dread when breaking camp. Stuffing everything into the car and boat we headed for the ferry. We were allocated the upper deck and had to climb a steep ramp of polished lattice steel. Jim's car was nearly sideways with the wheels spinning as he hauled
Naomi
, filled with wet camping gear, to the top. For once we envied our fellow travellers in their giant 4x4's.
...