the Chesapeake Bay Wayfarer Cruise 2007
Crisfield - Smith Is. - Tangier Is. - Watts Is. - Crisfield
Friday 1 June - 2
photos mostly by Alan Asselstine and Uncle Al


...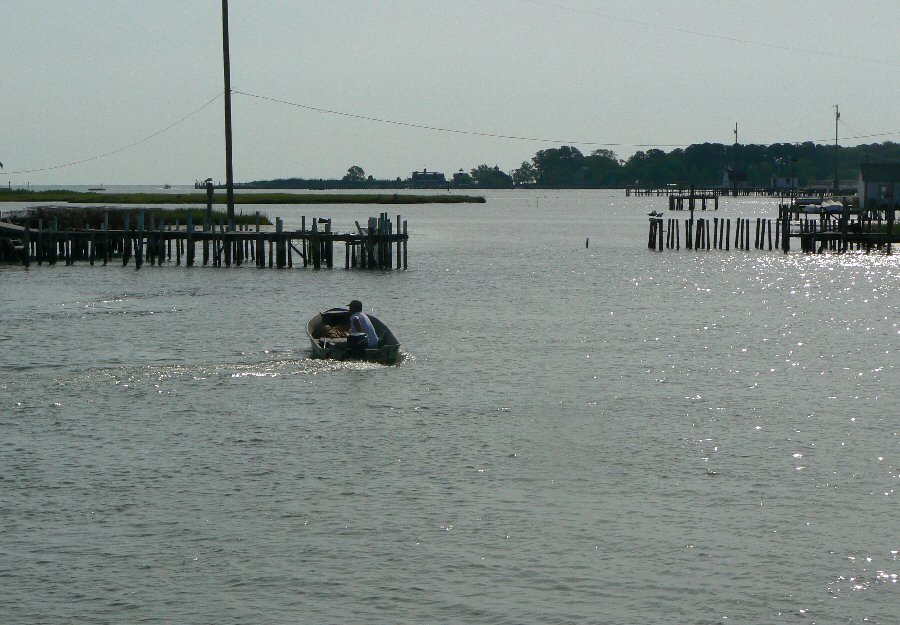 As we prepared to head east out of the harbour, the morning's sun quite clearly outlined the power lines our masts would run into if we made the mistake of taking the short-cut through this gap. - click here to see full-size pic


...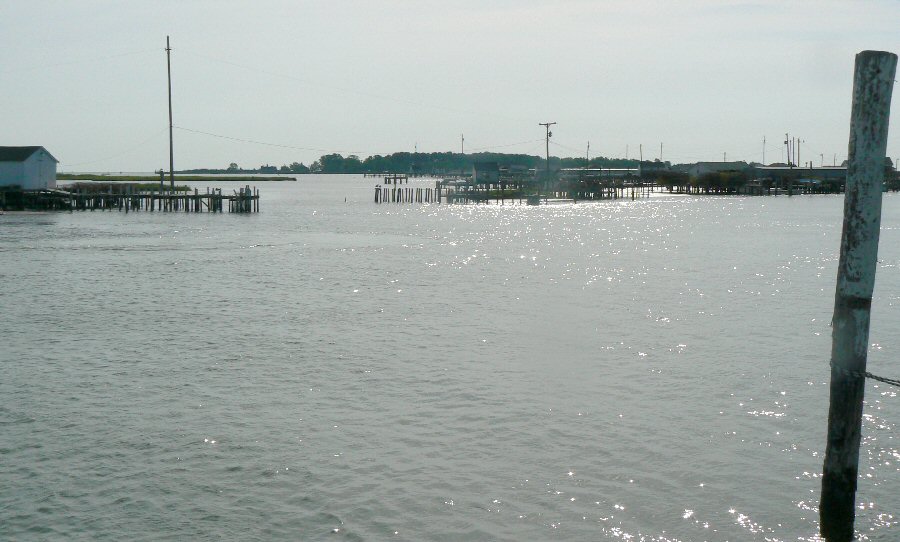 Instead, we will take the dog-leg to the right ... - click here to see full-size pic


...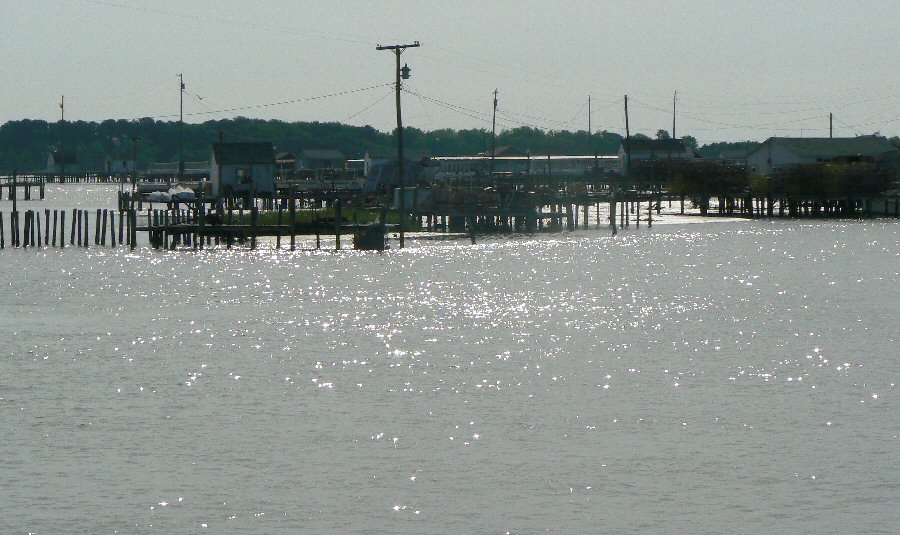 ... first to exit the harbour before turning SE towards Watts Island as indicated in red on ...


...



... the chart above.


...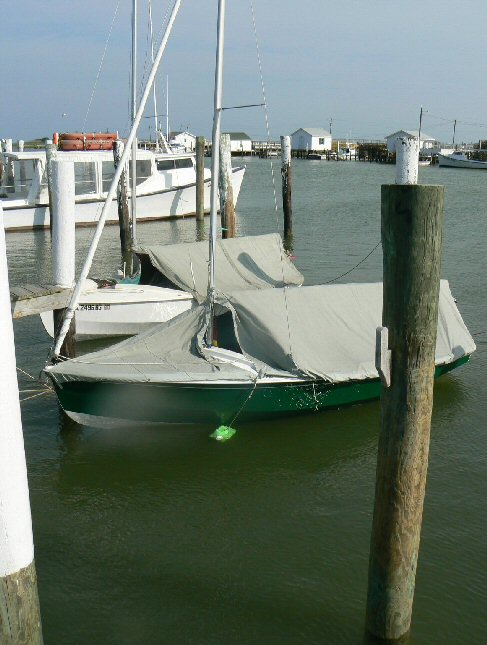 Apologies for the added nautical touch: the bit of dried salt water spray that is henceforth adding a blurry spot to further photos by Uncle Al. Note, too, the floating ...


...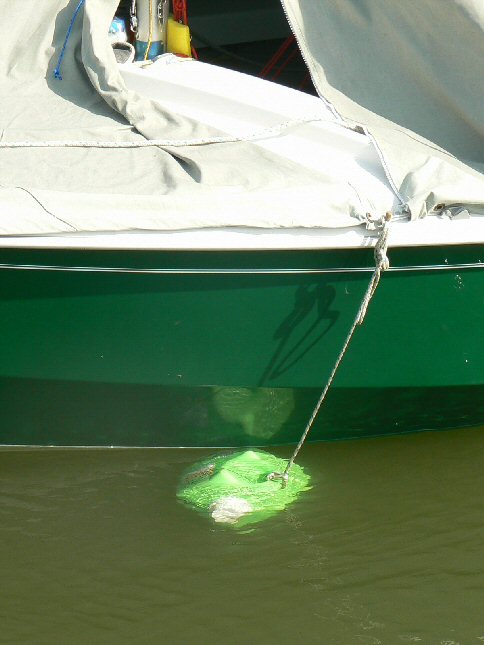 ... chamber pot getting a thorough rinse. Meanwhile, Hans and I were holding a crew meeting which reached the unanimous decision that we would just as soon head back to Crisfield today, having had our fill of sailing for the moment. We would accompany the others to Watts Island where we would peel off towards Crisfield without landing.

...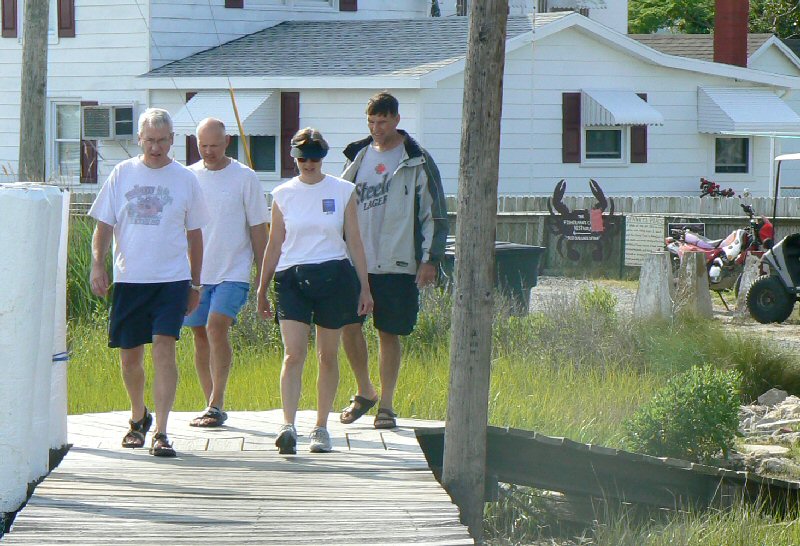 Mary had gone up to meet Tony and the others whom she met returning from the

Chesapeake House

.


...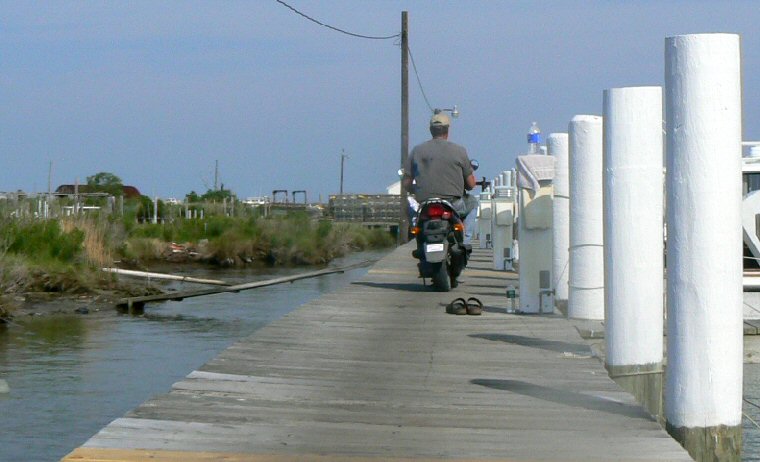 One of the locals takes the fast way along the dock.


...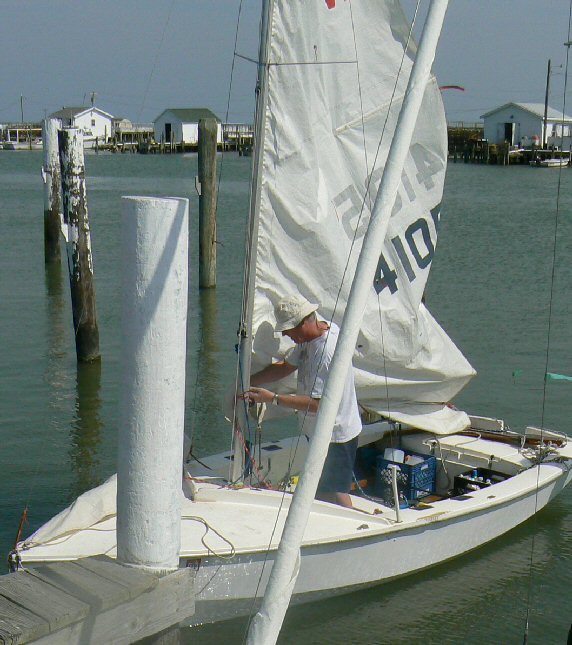 Tony wisely see a request from his crew as a chance to ...


...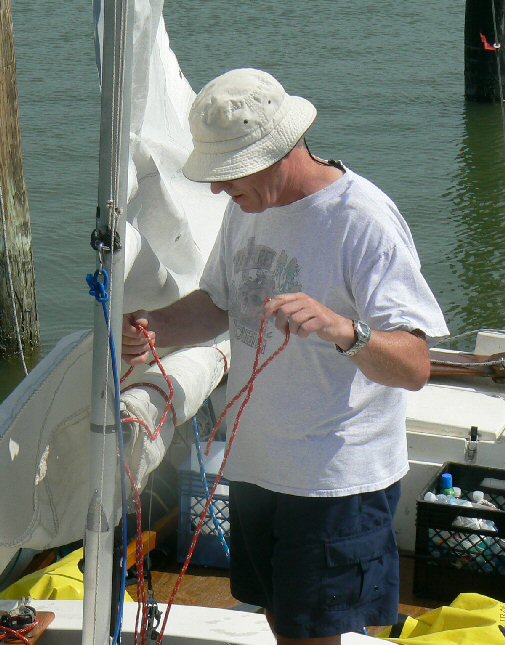 ... try out his jiffy reefing system.


...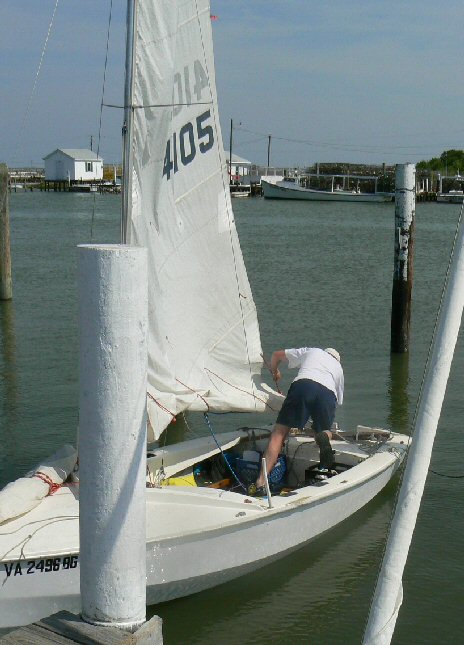 Looks pretty good ...


...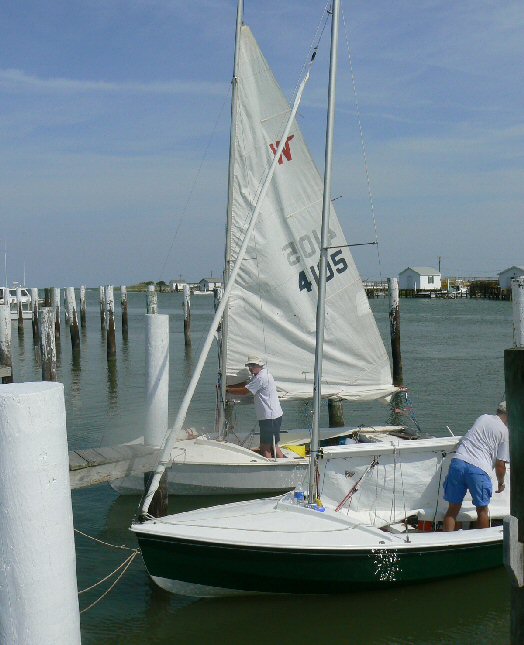 ... so far in a breeze that has us conveniently ...


...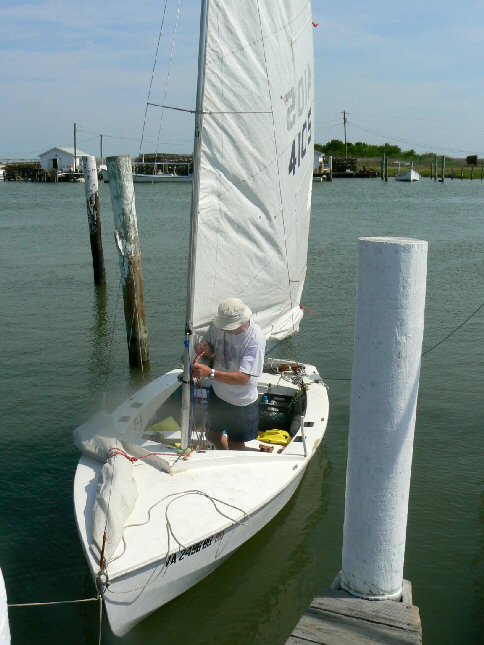 ... head to wind as moored. The trick for most of us will be to back out past the third (outer) set of pilings without getting tangled up in them, there being really no room to do a U-turn and sail out frontwards.


...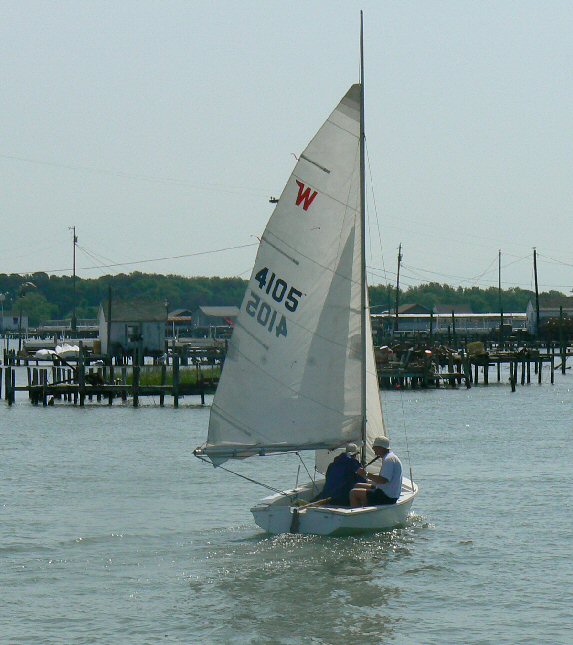 Tony and Mary make it without incident and their reefed main looks good.


...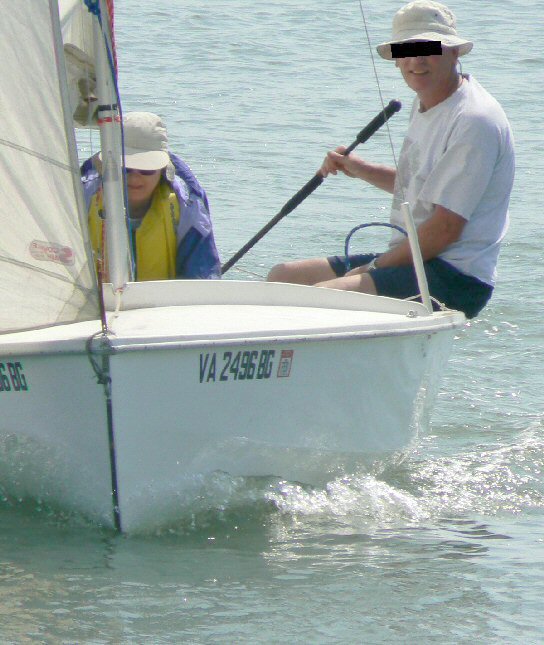 This sailor asked to remain anonymous because he doesn't want to be seen reefed.


...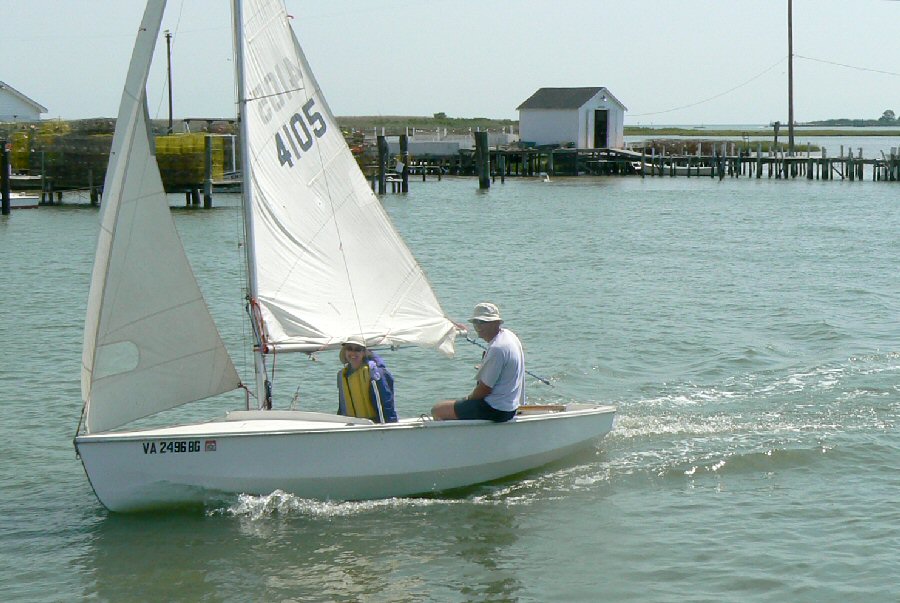 Now the unknown sailor and Mary watch to see how well the others match 4105's graceful exit while they zip ...


...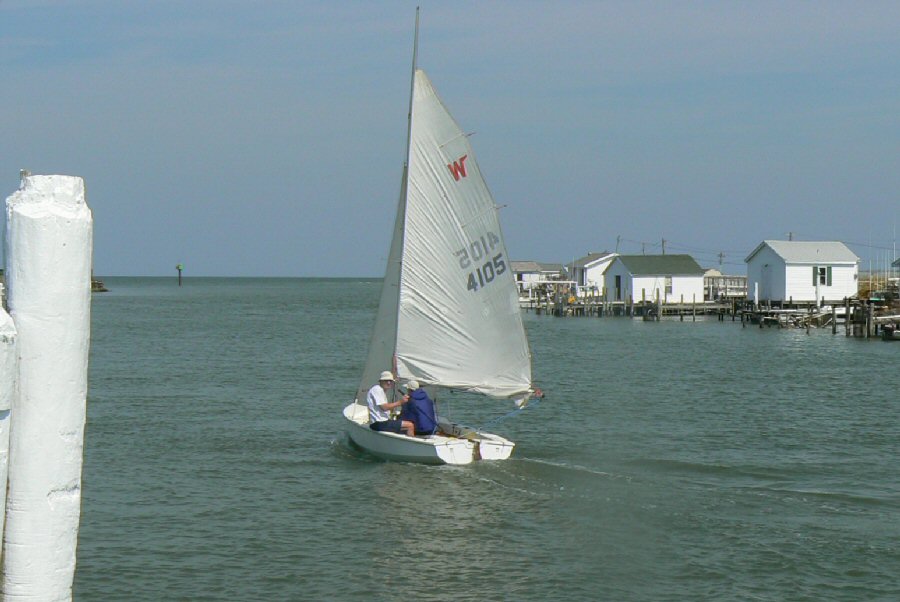 ... up and down the harbour.


...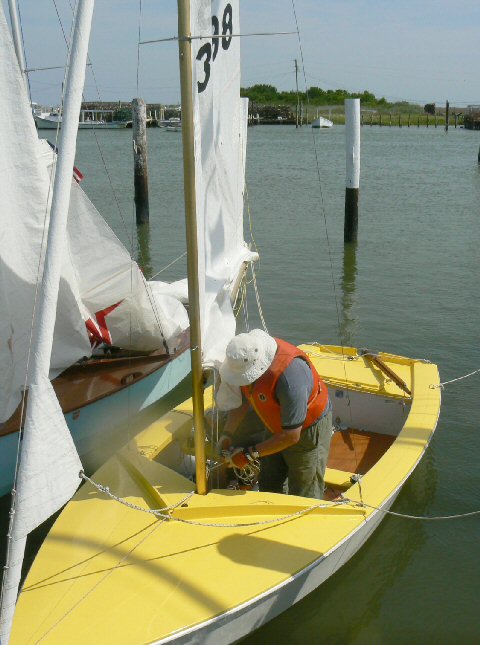 Also reefing is André who will face the additional challenge of not fouling the ...


...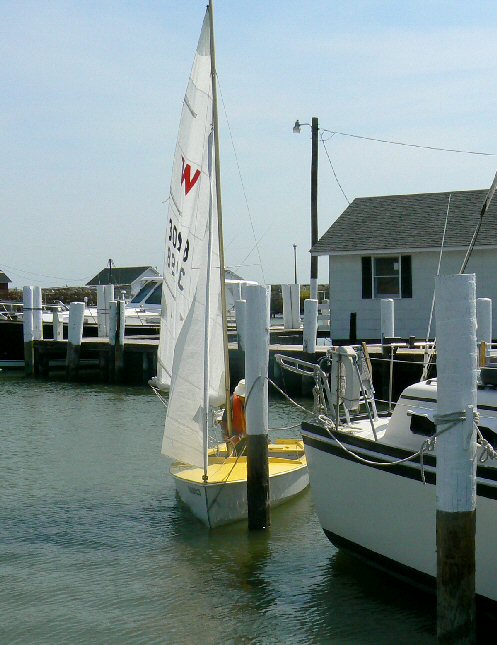 ... big yacht moored next to him. Walking his boat backwards, piling by piling, he is now in a position to ...


...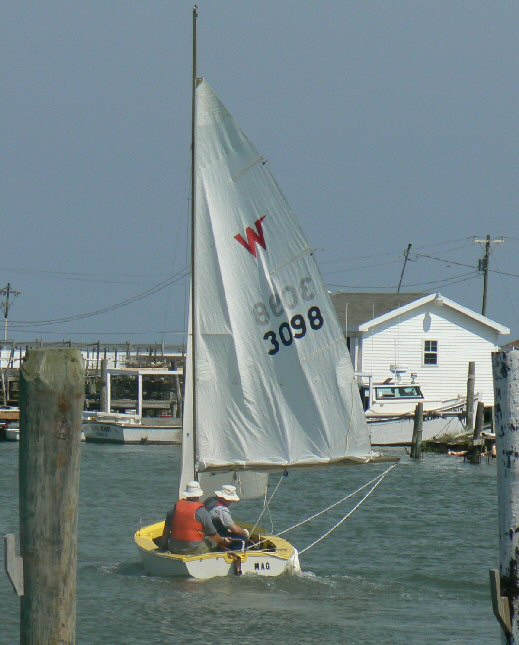 ... bear off and sail away. See! Nothing to it!!


...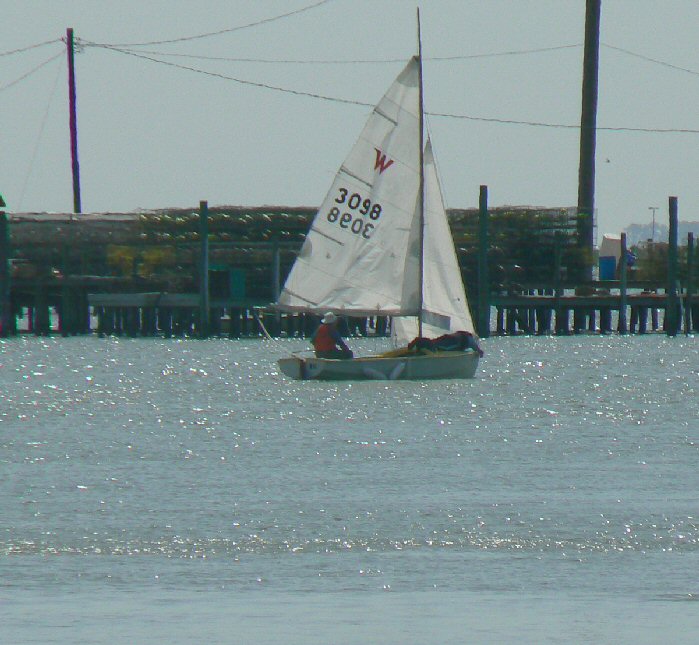 André then wisely assumes the

relaxation position

(sideways to the wind, both sails luffing and board full up)
while Roger gets set to remove the painter and, one presumes, the fenders.