Wayfarers Complete Sailing the Entire Coast of Norway
by Circumnavigating the North Cape
the log
(added 27 Dec 2014 from the UK Wayfarer News, Spring 2006)
http://www.wayfarerjoller.dk/4935/
even more pictures and better text (141230)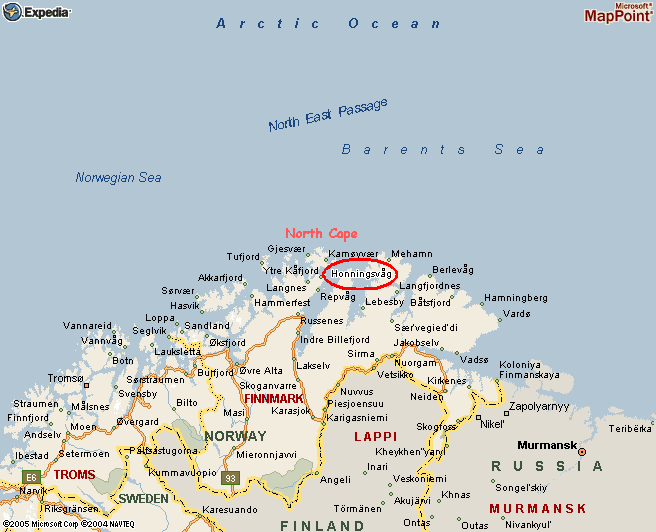 ----- Original Message -----
From: KEN/K.H.Jensen
To: Al Uncle Schönborn ; Allan W7556 Parry ; SVH/Sven H. Jensen ; KRI/ Kr.Th. Jensen ; Rolf Hartvig-Hansen ; Frank W48 Wanderer Dye ; Poul Ammentorp ; Elof-Karen W5131 Andersen ; Kjell W4878 Gjære ; Bente Tom W6220 Damgaard ; Ralph M. Roberts ; Egon W9283 Madsen ; Neel J. & Bo Christensen ; Søren Sanger Rønn
Sent: Wednesday, June 22, 2005 8:40 AM
Subject: North Cape 20-21 jun 05
Hello WAYFARERS - North Cape News of 2005 JUN 22 !
Very late to bed last night after driving 650 km from the morning at Honningsvåg by North Cape we were lucky to catch the last flight in the evening from Kirkenes by Russian border, to fly 1hr. 50min back here to Oslo, where we by car northbound had used 30 hours continuous driving being 4 drivers taking turns to drive the car with the trailer behind pulling Wayfarer 4935 - gorgeous trip!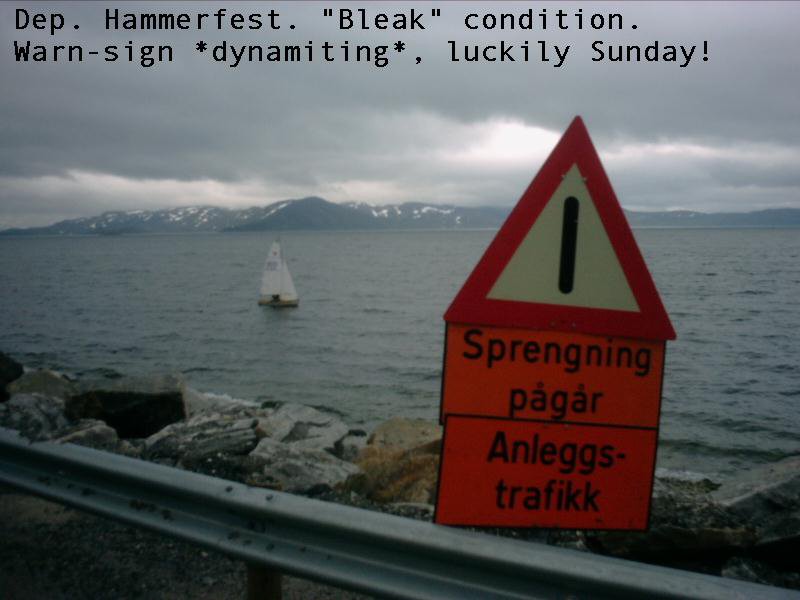 From the North Cape plateau 307 m above sea level, we watched the Arctic Ocean below and down there W4935 had passed by 2½ hours earlier. We had been out from the nightstop place Gjesvik (where we all four slept in a small cabin on a jetty by the harbour with W4935 - who used 10½ hours from Hammerfest to there - tied up below) on a "Bird Safari" to see *bird mountains* with sea-eagles and the largest single colony of 360.000-400.000 pairs of Puffins (Norw. 'Lundefugl') called the Sea-Parrot in some languages.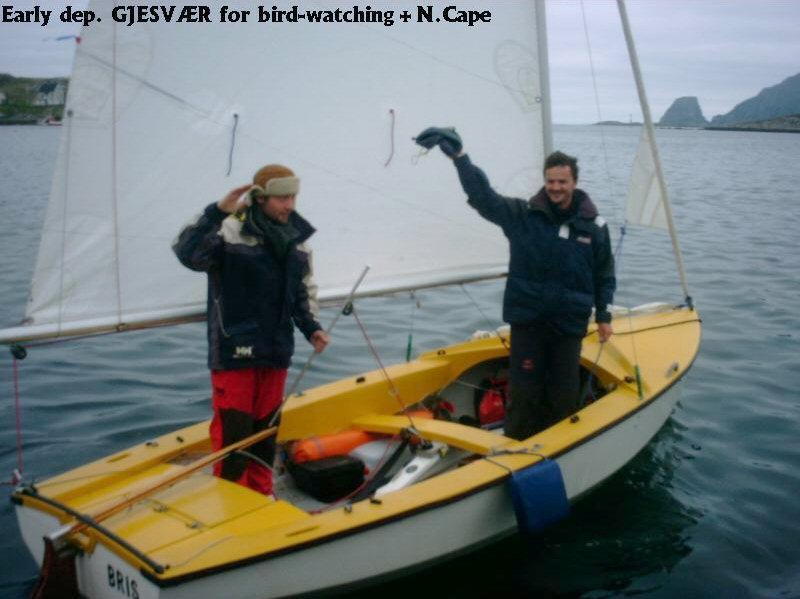 Paid a lot of money for that whereas Jon Saxhaug & Jo Herstad in W4935 did the sightseeing free of charge! They later ran into double reefed mainsail and small jib conditions, and strong currents before being becalmed at *Kinnarodden* (meaning the point/cape by Kinna before/west of Gamvik), where they floated about enjoying fresh caught Cod with wine and later Coffee avec - some kind of tasty fluid added while hailing the midnight sun or fog! Last message from last night (21st JUN 05)!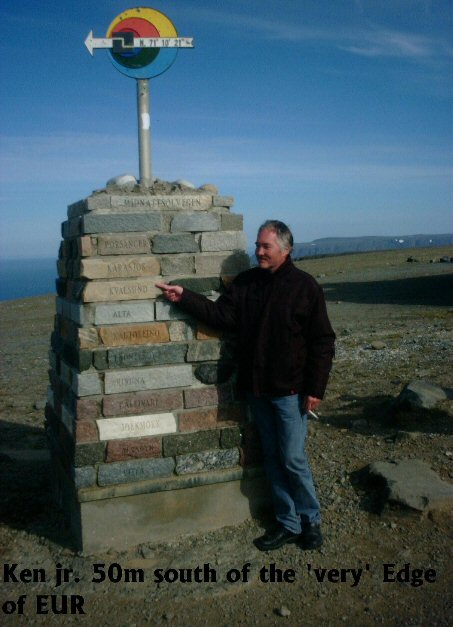 Ken Jr. 50 m. south of the very edge of Europe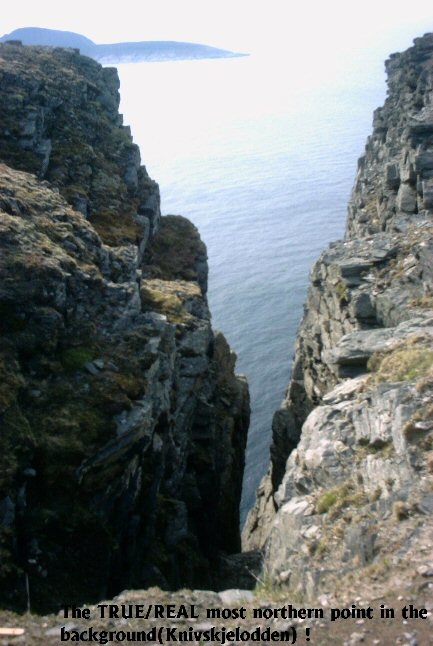 The real northernmost point of Europe in the background
At N. Cape I climbed - demanding work - down to Hornvika (narrow bay) where King Chualonghorn of Siam in 1907 with party in boats had landed and climbed up 307 meters to walk on the plateau. In the Panorama Building - built into the rocky north face of N. Cape - there is a Panorama showing this and also a small Thai Museum (like a small WAT temple) with a statue of the great King Chualonghorn much admired for his doings - among others opening up Siam towards the West, and having a fine relationship with the Kings and Kingdoms of Scandinavia. Impressive to think that nearly 100 years ago, he walked around up here, and indeed you really had to walk and climb then !
W4935 voyage covered by W1348 as reporter - with K.jr. + K.sr. being 'pit'-crew/support team for the first phase.

Ken W1348 "Maitken".

further late up-date from Ken:

----- Original Message -----

From: KEN/K.H.Jensen

Cc: Ragnar Kvam jr.

Sent: Thursday, June 23, 2005 10:00 AM

Subject: N.Cape 20-21jun05




Hi Uncle Al,

Sorry about their names. Little help to you they are known here(!): Skipper/0wner W4935 Jon Saxhaug (kayakked from Trondhjem to Hammerfest some years back) and crew Jo Herstad (kayakked from CPH to Oslo some years back).

Got this morning, 2005 JUN 23, the following SMS in Norwegian:

*Hard vind, ingen vind, stekte torskefileter, tåke, så sol og regn og liten kuling. Kom surfende inn tetrapode-moloens havneåpning i Berlevåg m. liten fokk og klossrevet storseil. Skikkelig W-turseiling! Ank. 03.00, drikker øl nå kl. 3 morgen under cockpitteltet, mens regnen trommer. Vest-kuling varslet, forventer liggedag! Vi har da ferie!*

In English: "Hard/strong winds, no wind, fried cod-filéts, fog, then sun in a break, rain and incr. "liten kuling" (gale-force about 12-14m/sec. Ken). Came surfing into Berlevåg through the gap of the 'tetrapode-breakwater' pier-heads on small jib + double-reefed main. Real W-cruising! Arr. at 03.00 a.m. now drinking beer under cockpit-tent while rain is pouring/drumming the canvas. Westerly galeforce warning is on, expect lay-over day. We are on vacation and mid-summercruise aren't we!?"

All the best Al to you and yr. Wayfarers - have a fine midsummer! W-rgds. Ken sr.
----- Original Message -----

From: KEN/K.H.Jensen

To: La-iad Nice Petsud

Sent: Sunday, June 26, 2005 7:12 AM

Subject: Midsummer 05

PS. If interested in WAYFARER W4935 passing North Cape check this:

At present (2005 JUN 25) W4935 is sheltered after sailing out of strong gale force winds (*stiv kuling*) into Hamningsberg, EastFinnmark, outside mobile phone coverage!

Select

www.wayfarerjoller.dk

klick *Nyheder* in left margin to choose the two first phases of the trip. Ken/W1348.
----- Original Message -----

From: KEN/K.H.Jensen

To: Rolf Hartvig-Hansen ; Al Uncle Schönborn

Sent: Sunday, June 26, 2005 9:18 AM

Subject: Latest W4935-News!




Just received 2005 JUN 26 at14:49 EUR.

"Ahoy Ken ! We have now just arrived Vardø. Only W-trysail, running in 'liten kuling' (F 6 ~ 12-14 m/sec. Ken) from NNW, 3 - 4 meter waves, however no spray! A real faboulous trip, marvellous seaworthy 'ship', quite outstanding! Had a Cafe-owner from Hamningberg along, who never sailed before, got seasick, but still very upbeat. At a Thai Cafe in Vardø, we're smiling all over from glorious 'summer-cruise' ! Nice day to you" Jon & Jo

Norw.;

"O'hoy Ken! Vi har akkurat ank. Vardø. Bare 'W-trysail', lense i liten kuling, 3 - 4 meter bølger, ingen sprut! Fabelaktig tur, en sjødyktig skute, helt fremragende. Hadde med Cafe-eier fra Hamningberg, som aldrig seilt før, sjøsyk og svært positiv. Thai Cafe i Vardø, smiler over en herlig sommertur! God dag fra Jon & Jo."

----- Original Message -----

From: KEN/K.H.Jensen

To: Al Uncle Schönborn

Sent: Monday, June 27, 2005 9:20 AM

Subject: Nordkapp





Hi Al,

Latest SMS from this morning:

"Hard on the wind, tack-tack, lots of wind! Went into Kiberg (see map above) in the night. Now running SW. Sun, good speed. Happy ship!" Jon

Norw.:

"Hård motvind X-på-X, mye vind; gikk inn til Kiberg i natt. Nå lens SV-over. Sol, god fart. Happy ship!" Jon

Picture INFO:

N.Cape at Lat. N. 71* 10' 21" and plateau 304 m above Sea Level. Most Nothern Spit/tongue of land of Norway is the low point, Knivskjellodden, on the left at Lat. N. 71* 11' 08" about 8,5 km West of N.Cape.

Best W-regards Ken
----- Original Message -----
From: KEN/K.H.Jensen
To: Al Uncle Schönborn
Sent: Monday, June 27, 2005 5:42 PM
Subject: Nordkapp voyage completed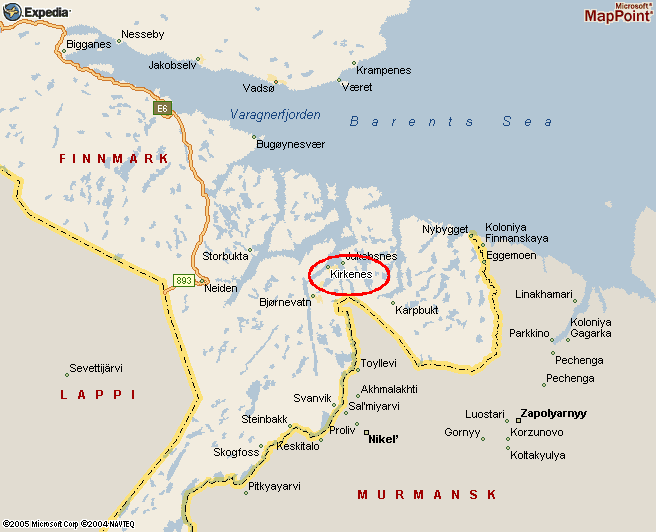 Hi Al,




... The boys of W4935 arrived this evening at Kirkenes and are now enjoying beer and potatoes. They really appreciated my *W-trysail* in rough conditions with 3-4 meter waves into Vardø. Tomorrow they'll start the very long car-journey southb. for Oslo. Happy indeed I am now, and shall pour myself a WHISKEY to celebrate the safe arrival!

W-regards Ken

......