At dawn, I drifted down the
Wallace
River
, through the Wallace marshes and beneath the causeway.
I hoped the wind would remain light.
In
Wallace
Bay
, the wind freshened though. Soon I reduced sail as
Naomi
began to bash into the backs of waves.
She could easily broach and capsize which is not a good idea, especially when cruising single-handed.
As the wind increased, I put a double reef in the main.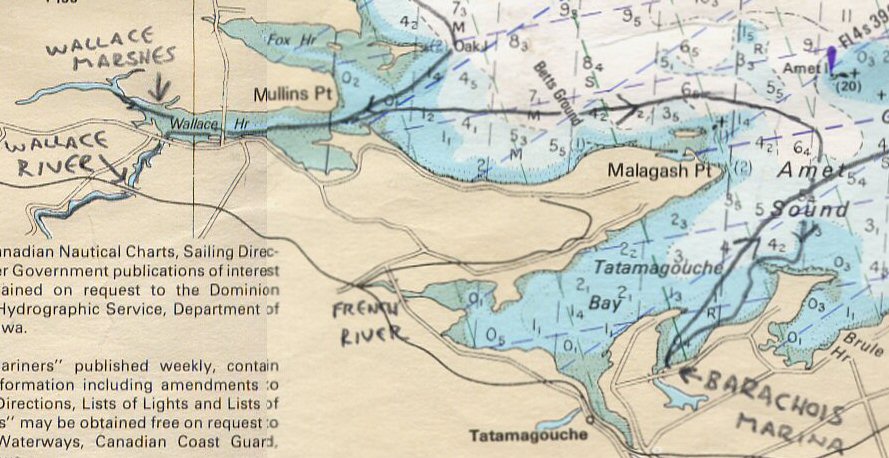 Because I was concerned about rocks off Malagash Point, I continued seaward to round the starboard buoy marking Washball Reef.
I failed to spot this buoy and ended up sailing further offshore into Amet Sound than necessary.
When I turned to windward in order to tack up
Tatamagouche
Bay
, I felt the weight of the wind.
What followed was a long miserable slog up
Tatamagouche
Bay
. With a working jib and a double-reefed main,
Naomi
couldn't point high enough to cover ground to windward efficiently. My 150-lb. human ballast meant I still had to luff the main often and frequently hike out.
Naomi
's hull oil-canned when she dropped off wave crests and into the troughs.
Water sprayed over the foredeck and onto the dinghy's floor. My intentions were to sail to the head of
Tatamagouche
Bay
and anchor near the mouth of
French
River
. From there, I'd walk along the Trans Canada Trail into Tatamagouche and stock up on provisions and call Gail.
This tedious beating wasn't much fun. Plan B arose. Sailing under a lee from
Brule
Shore
, I furled the jib and dropped the main.
Then I fired up my 2HP Honda motor and puttered along the coast to
Barachois
Harbour
.
Here I took a berth at the marina before sorting out my gear to dry.
The marina owner offered me a ride into Tatamagouche for supplies and later I settled down to an evening of snacks and wine.
By 1900, I was alone at the marina.

I spread my food, clothes, and reading material in the marina clubhouse which overlooks the bay.

As I relaxed in my chair and contemplated the scenery, I knew I could get used to this style of cruising.